25 Best Sports Movies of All Time, Ranked
There's something about the thrill of the action, the sound of the crowd and the journey towards redemption that turns sport from a simple game to an emotional experience. The best sports movies capture that same energy and reflect it in a way that makes us feel as though the players are real and the result actually matters. It's a big reason why sports films have become part of the Hollywood process. Every year we see more and more sports movies hit the cinema, proving that our love for the game transcends the players and the field.
You'll also like:
50 Best Action Movies Of All Time, Ranked
24 Best Horror Movies on Netflix Right Now
25 Best Heist Movies of All Time, Ranked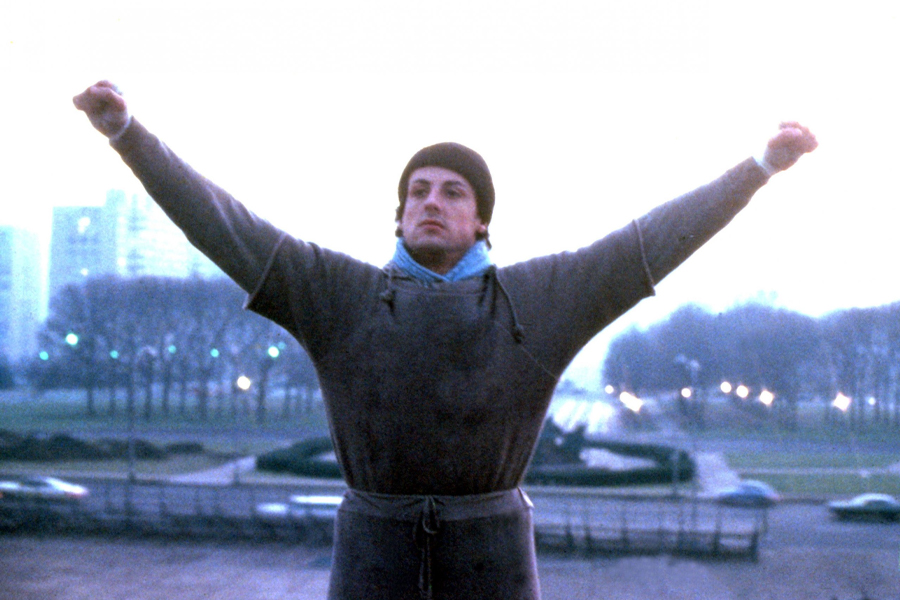 What Makes a Good Sports Movie?
Almost all of the best sports movies focus on one key narrative, redemption. In most cases you see a rags to riches type player, who has all of the potential but just never quite got there, giving it one last roll of the dice. This story is probably best exemplified in Rocky, with an ageing amateur boxer attempting to break into the industry.
In a similar vein, the second classic sports movie convention is the comeback. A champion has fallen and while their friends, family and the world pits them as washed up, they believe there's still more in the tank. Throw in  couple of training montages (preferably on the beach) and you've got yourself one of the best sports movies of all time. There's a reason why this one is a cliche.
All in all, the best sports movies of all time have some basic similarities. They all revolve around a drive to win, a desire to be remembered and the need to mark a lasting impact, much like the real athletes they represent.
Best Sports Movies of All Time
If you've found yourself scoping though streaming platforms in an attempt to find the best sports movies, don't worry, we've got you covered. We've put together a list of the top films in the genre, but before you go in on us for not including Any Given Sunday, just know that our list comes by way of critics' choice. The movies on this list have been selected based on their Rotten Tomatoes ratings from over 20 different critics, giving a comprehensive and impartial rundown of the best sports movies of all time. Without further ado, let's get into it.
Here is a list of the 25 best sports movies of all time, ranked.
1. The Wrestler (2008)
Mickey Rourke's performance in the 2008 smash drama is nothing short of breath-taking. Playing an ageing wrestler attempting to reclaim his glory as an entertainment icon, Rourke perfectly captures the loneliness of past-fame and the struggle to stay relevant beyond your 40s. Instead of the sold-out arenas he wrestled in front of in the 1980s, Randy 'The Ram' Robinson has been reduced to community centres and high school gyms, but his passion and dedication for the sport knows no boundaries. When a sudden heart attack throws his life in disrepair, Randy is forced to take stock and reconsider his life choices. While The Wrestler is undoubtedly one of the best sports movies of all time, at its heart, it's a film about the struggle to make things right before it's too late.
Sport: Wrestling
Released: 8 January 2009
Director: Darren Aronofsky
Featured Song: The Wrestler
2. Creed (2015)
Bringing the Rocky franchise into a new era, Creed tells the story of Adonis Johnson Creed, the son of former heavyweight champion Apollo Creed. As an up and coming fighter attempting to follow in his father's footsteps, Adonis turns to a familiar confidant, Rocky Balboa (Sylvester Stallone). The film hinges on this sense of identity and Michael B. Jordan's performance as the disgruntled but dedicated lead is stellar. Stealing the show, however, is Stallone, who picked up a Best Supporting Oscar nod for this outstanding and heart-breaking role reprisal.
Sport: Boxing
Released: 26 November 2015
Director: Ryan Coogler
Box Office: 173.6 million USD
3. Ford vs Ferrari (2019)
One of our favourites, for sunglasses style alone, Ford vs Ferrari pairs two of the best actors this millennium, Matt Damon and Christian Bale together for a high-octane racing adventure. Based on the true story of visionary American car designer Carroll Shelby and fearless driver Ken Miles, who banded together to build a revolutionary race car for Ford  to take on Ferrari at the 24 Hours of Le Mans in France in 1966. Even if you aren't a fan of motor racing, you can't deny Ford vs Ferrari is one of the best sports movies in recent memory.
Sport: Motor racing
Released: 30 August 2019
Director: James Mangold
Box Office: 225.5 million USD
4. I, Tonya (2018)
Aussie icon Margot Robbie absolutely tore up the silver screen with her portrayal of the wildly unhinged champion figure skater Tonya Harding. In this surprisingly funny but ultimately dark sports movie, we learn a little more about Harding's infamous attack on fellow Olympic competitor Nancy Kerrigan. The true story shocked the world when it was reported in the 1980s and more than 20 years later I, Tonya confirmed our obsession with the insane is very real and very active.
Sport: Figure skating
Released: 1 February 2018
Director: Craig Gillespie
Box Office: 53.9 million USD
5. National Velvet (1944)
You may not have heard of this classic sports film, but we highly recommend adding it to your watch list. In this film, a duped ex-jockey named Mike Taylor (played brilliantly by Mickey Rooney) forms an unlikely bond with a young girl named Velvet. The pair's mutual love of horses sees Taylor agree to help Velvet in her cunning plan to enter a race disguised as a jockey. Winning the race is just the beginning in this heart-warming tale of horse-racing and redemption. Believe it or not, but the 11-year-old playing Velvet is actually screen legend Elizabeth Taylor in her first ever role.
Sport: Horse racing
Released: 4 October 1945
Director: Clarence Brown
6. Fighting with my Family (2019)
There's no doubt this one may cause a few eyebrows to raise, but Fighting with my Family has proven to be a big hit with viewers. Telling the inspiring true story of WWE Superstar Paige, who, upon securing a spot in the lucrative sport, must learn to adapt to the cutthroat world of professional wrestling. Sure, this one is a family-film that is more than a little cheesy, but it's good for a cheap laugh and a few smiles. Also, The Rock.
Sport: Wrestling
Released: 27 February 2019
Director: Stephen Merchant
Box Office: 41.5 million USD
7. Free Solo (2018)
Award-winning documentary maker E. Chai Vasarhelyi and world-renowned photographer Jimmy Chin's 2018 film Free Solo is just about the most tense sports movie on the planet. Created in conjunction with National Geographic, Free Solo follows climber Alex Honnold as he prepares to climb the world's most famous rock; the 3,000ft El Capitan in Yosemite National Park. Even crazier, he does it all without a rope. If you want to sweat buckets, Free Solo is the best sports movie we can think of.
Sport: Climbing
Released: 28 September 2018
Director: E. Chai Vasarhelyi, Jimmy Chin
8. Maiden (2019)
Telling the inspiration true story of Tracey Edwards, a 24-year-old charter boat cook who became the skipper of the first-ever all-female crew to enter the Whitbread Round the World in 1989, Maiden is a wild ride. Battling sexism, a loss of sponsors and potential of death, Edwards and her crew trudge on. Even with speculation and doubt surrounding her every move, Edwards was able to traverse the high seas and her all-male competition in one of the most courageous moves in sports history. A great sports movie for anyone looking to be inspired.
Sport: Sailing
Released: 13 March 2018
Director: Alex Holmes
Writer: Alex Holmes
Box Office: 3.5 million USD
9. The Hustler (1961)
Paul Newman at his absolute best. Newman's 'Fast' Eddie Felson character has become the archetype antihero; a cool, smooth-talking customer who doesn't take no for an answer. The movie follows Eddie's match against billiards champion Minnesota Fats, which is made all the more difficult as his attention perpetually falls to the stunning but misguided Sarah. A sordid tale of gambling, prostitution, lies and coercion, The Hustler is complex film that was well before it's time. Lucky for us, it's still available to watch.
Sport: Billiards
Released: 25 September 1961
Director: Robert Rossen
10. Murderball (2005)
A sports film unlike any other, Murderball tells the remarkably story of wheelchair rugby. The documentary features interviews from players and athletes, many of which lost their mobility due to debilitating injury. While brutal and bloody, Murderball does have some heart-wrenching moments. Just listening to the athletes explain the importance of organised sport and community is truly inspiring. As far as the best sports documentaries go, this one is a must-watch.
Sport: Wheelchair rugby
Released: 15 September 2015
Director: Henry-Alex Rubin, Dana Adam Shapiro
Box Office: 1.75 million USD
11. The Endless Summer (1966)
When it comes to surf filmmakers, Bruce Brown is stands tall above all others and his 1966 movie The Endless Summer is a big reason why. The iconic sports movie was Brown's first to receive a nationwide release, taking the genre to new heights. In his narration, Brown jokes that if someone had enough time and money, they could literally follow the summer around the globe. Grabbing two of his surfing buddies, Robert August and Mike Hynson, the trio decide to do just that. One of the best sports movies ever made.
Sport: Surfing
Released: 15 June 1966
Director: Bruce Brown
Writer: Bruce Brown
12. Bull Durham (1988)
A blend of comedy, romance and drama, Bull Durham isn't your average sports movie. When perennial minor-leaguer Crash Davis (Kevin Costner) is assigned to habitual losers the Durham Bulls, he takes talented but dim-witted player Nuke LaLoosh (Tim Robbins) under his wing. Things get a little interesting when both Crash and Nuke wind up falling for team mascot Annie (Susan Sarandon). Despite how ridiculous those names and that plot sounds, Bull Durham is a surprisingly good sports movie. Probably one to watch with a loved one.
Sport: Baseball
Released: 15 June 1988
Director: Ron Shelton
Writer: Ron Shelton
13. Moneyball (2011)
The movie that saw Jonah Hill taken seriously as an actor, Moneyball explains the birth of sports' obsession with stats. The true story details how Oakland A's general manager Billy Beane (Brad Pitt) flipped the baseball world on its head by recruiting the right players for the job, not just the best players they could find. The unique approach to list management has become the norm nowadays, but it's great to see how the movement took shape. Definitely one of the only good sports movies that celebrates the statisticians.
Sport: Baseball
Released: 19 September 2011
Director: Bennett Miller
Box Office: 110.2 million USD
14. Hoop Dreams (1994)
A documentary that showcases the tough road from inner-city Chicago to the high-flying world of professional basketball, Hoop Dreams is a brutal tale of setbacks, false-starts and disappointment. While the sports movie follows two young men through their high-school careers, basketball is the least of their concerns. Both face parental drug addiction, family poverty, and inner-city violence, as well as the usual obstacles that arise in competition, including physical injuries. A true eye-opening experience, Hoop Dreams shows the dark side of sports that regularly goes unseen.
Sport: Basketball
Released: 5 September 1996
Director: Steve James
Writer: Steve James, Frederick Mar
15. Rocky (1976)
If it was up to us, this one would definitely be higher but alas, Sylvester Stallone's iconic film Rocky makes it in at number 15. In this 1976 release, Stallone gives us an unforgettable performance as Rocky Balboa, an amateur boxer from Philadelphia who is gifted a surprise shot at the heavy championship. While the premise is a little far-fetched, the raw grittiness of Stallone's troublesome relationship with his trainer Mickey and the awkwardness of attempting to woo his crush Adrian is too real to ignore. Definitely one of the best sports movies ever made.
Sport: Boxing
Released: 17 March 1977
Director: John G. Avildsen
Writer: Sylvester Stallone
16. Horse Feathers (1932)
Another icon, Horse Feathers is a classic Marx Brothers comedy. Sure, you could argue this isn't really a sports movie at all, but the premise does revolve around rigging a University football game by bringing in a couple of ring-ins. Worth it for the advice scene alone.
Sport: NFL
Released: 10 August 1932
Director: Norman Z. Macleod
Producer: Herman J. Mankiewicz
17. Raging Bull (1980)
One of the best sports movies of all time, Raging Bull is a masterclass in acting and direction. The film stars Robert De Niro as the enigmatic Jake LaMotta, a former middleweight boxing champ whose in-ring efforts were overshadowed by a troublesome domestic life. Throughout the Martin Scorsese-directed masterpiece, De Niro plays LaMotta in both present and past scenes, a move that was considered unheard of at the time. His method acting approach was on full show in Raging Bull, with the actor gaining a staggering sixty pounds in order to accurately portray La Motta's fall from grace. Not just one of the best sports movie of all time, but one of the greatest films, period.
Sport: Boxing
Released: 26 February 1981
Director: Martin Scorsese
Box Office: 23.4 million USD
18. Next Goal Wins (2014)
Back in 2001, the tiny pacific island of American Samoa suffered a record football defeat at the hands of Australia. The 31-0 loss made the team the laughing stock of the sport, but legendary coach Thomas Rongen sets his sights on changing that. What awaits him on the island, however, is the "by far the worst standard" of football he's ever seen. Despite a team too unfit to play a full game, an emotionally scarred goalkeeper grappling with sexual identity issues and the team's best player being sent away for military duties, Rongen remains committed to making things work. Next Goal Wins is an inspiring sports movie that proves sometimes it's not about winning, just about playing the game.
Sport: Football
Released: 25 April 2015
Director: Steve Jamison, Mike Brett
Producer: Steve Jamison, Mike Brett, Kristian Brodie
19. When We Were Kings (1996)
This documentary shines a light on the most famous boxing match of all time. With never-before-seen footage and interviews, the audience learns a lot more about Muhammad Ali and George Foreman's iconic 1976 Rumble in the Jungle. Much more than just a fight, this sports film explores the match's cultural significance, exploring the relationship between African-Americans and the African continent during the Black Power era, including the brutality of then-dictator Mobutu Sese Seko.
Sport: Boxing
Released: 3 April 1997
Director: Leon Gast
20. The Bad News Bears (1976)
This underdog story is classic sports comedy at its funnest. Featuring a rag-tag bunch of misfit kids led by an ex-minor league baseball player turned professional pool cleaner, the Bad News Bears is a story of hope. The quintessential 70s summer camp flick, this one will definitely put a smile on your face and have you rooting for the underdog.
Sport: Baseball
Released: 7 April 1976
Director: Michael Ritchie
Writer: Bill Lancaster
Box Office: 42.3 million USD
21. The King of Kong: A Fistful of Quarters (2007)
If you haven't checked this one out, do yourself a favour and whip it out. While you could arcade games aren't really sports, it hasn't stopped one middle school science teacher from dedicating his life to the art of Pac-Man and Donkey Kong. In The King of Kong, we watch this obsessed 'athlete' battle a hot sauce mogul for the Guinness World Record Donkey Kong score. This is sports film at it's most tense.
Sport: Arcade
Released: 28 February 2008
Director: Seth Gordon
Writer: Seth Gordon
22. Undefeated (2012)
How would you feel if you hadn't won a playoff game in 110 years? That's what faced the Manassas Tigers back in 2009 before former high school football coach turned lumber salesman Bill Courtney volunteered to lend a hand. A true story of overcoming the odds, Undefeated is one of those sports films that makes you believe in the impossible.
Sport: NFL
Released: 17 February 2012
Director: T.J. Martin, Daniel Lindsay
Box Office: 562,218 USD
23. Win Win (2011)
Paul Giamatti makes good films, there's no denying that, and Win Win is no exception. While it may have slipped under the radar when it was released in 2011, the film is an absurdist tale of wrestling, deception and doing whatever it takes to keep the dream alive.
Sport: Wrestling
Released: 18 March 2011
Director: Tom McCarthy
Writer: Tom McCarthy
Box Office: 11.9 million USD
24. Million Dollar Baby (2004)
Clint Eastwood's 2004 epic Million Dollar Baby is still just as important and relevant today as it was when it was first released. Telling the story of veteran boxing trainer Frankie Dunn (Eastwood), a tough, no-nonsense man who has dedicated his life to ring, the film is a tale of redemption. With little left to fight for, Dunn's life is turned upside down when a young female fighter enters his gym and his life. She has no experience, no technique and no quit in her, forcing Dunn to reassess everything he's worked so hard to build. Absolutely stunning piece of filmmaking.
Sport: Boxing
Released: 3 February 2005
Director: Clint Eastwood
Box Office: 216.8 million USD
25. The Life and Times of Hank Greenberg (2000)
The ultimate 'almost' story, this film details the life of the legendary Bronx-born Jewish baseball player Hank Greenberg. The hitter came close to breaking Babe Ruth's record for the most home runs in a single season, but his biggest influence was off the mound. The film examines how Greenberg's status as a major star gave hope to American Jews who faced religious bigotry during the Depression and World War II. Trust us, this is one of the best sports movies of all time.
Sport: Baseball
Released: 12 January 2000
Director: Aviva Kempner
Honorable Mentions
These are the films that didn't quite make the Rotten Tomatoes cut, but we still believe the deserve a mention when it comes to the best sports films of all time.
Any Given Sunday (1999)
One of Al Pacino's most iconic roles, Any Given Sunday shows football at its most entertaining. Pacino plays a veteran football coach who is struggling, both with his team's losses and his own fallout with the team's owner. Worth watching for his inspiring mid-game speech alone.
Sport: NFL
Released: 16 December 1999
Director: Oliver Stone
Goon (2011)
If you've been wondering what happened the Seann William Scott, Goon is the answer. In this goofball comedy, we see Stiffler play a kind-natured but dim-witted hickey fan who winds up being an enforcer on a low-level league team. Oddly inspiring and good for a few laughs, you can watch Goon over and over.
Sport: Hockey
Released: 6 January 2012
Director: Michael Dowse
Coach Carter (2005)
Samuel L. Jackson as a badass inner city basketball coach who battles race issues and education inequality. This is a story of resilience, not just sport.
Sport: Basketball
Released: 13 January 2005
Director: Thomas Carter
Southpaw (2015)
Another great boxing movie, this one featuring Man of Many favourite Jake Gyllenhaal at his absolutely most shredded. This one is a tear-jerker.
Sport: Boxing
Released: 20 July 2015
Director: Antoine Fuqua
General FAQs
What is the most successful sports movie of all time?
The highest-grossing sports movie of all time is The Blind Side, which grossed a total of USD$256 million at the box office.
What is the best sports movie?
According to film review and news site Rotten Tomatoes, The Wrestler is the best-rated sports film of all time.
Has a sports movie ever won the Best Picture Academy Award?
In 1981, Chariots of Fire won the Best Picture Academy Award, making it the first sports film to win the accolade.
You'll also like:
50 Best Action Movies Of All Time, Ranked
24 Best Horror Movies on Netflix Right Now
25 Best Heist Movies of All Time, Ranked