There are certain cinematic moments that will stay with you forever. Like Game of Thrones' Red Wedding or The Knock Scene from Breaking Bad, some series have that innate ability to tug at the heartstrings and leave you devastated. However, if you're looking for real heartbreak, one scene trumps all. No, not Wallace's death in The Wire, but the deeply distressing end to Kevin's Famous Chilli. 
For fans of The Office, Kevin's Chilli marks one of the most devastating moments in the entire series. Originally appearing in Episode 26 of Season 5, the short clip sees the bumbling Kevin Malone, played expertly by Brian Baumgartner, attempting to raise the spirits of his dejected Dunder-Mifflin co-workers by bringing in his culinary specialty. And while it all goes wrong for Kevin, it doesn't have to for you.
Welcome to the Binge List, our culinary, cocktail-heavy expedition through the wide world of cinema. Curated by yours truly, this content series combines the best movies, beverages and meals to add to your binge list, providing a full stay-home itinerary. Watching psychotic serial killer Dexter Morgan lovingly prepare a healthy breakfast, what could be better? Maybe Paulie's Prison Sauce from Goodfellas? Or perhaps shovelling a tasty burger from Pulp Fiction's Big Kahuna Burgers in your mouth is more your style? Nightmares aside, film and TV are full of great food moments and we're diving into a tasty one. Fire up the grill, slap on a streaming service and settle in – the menu has been set.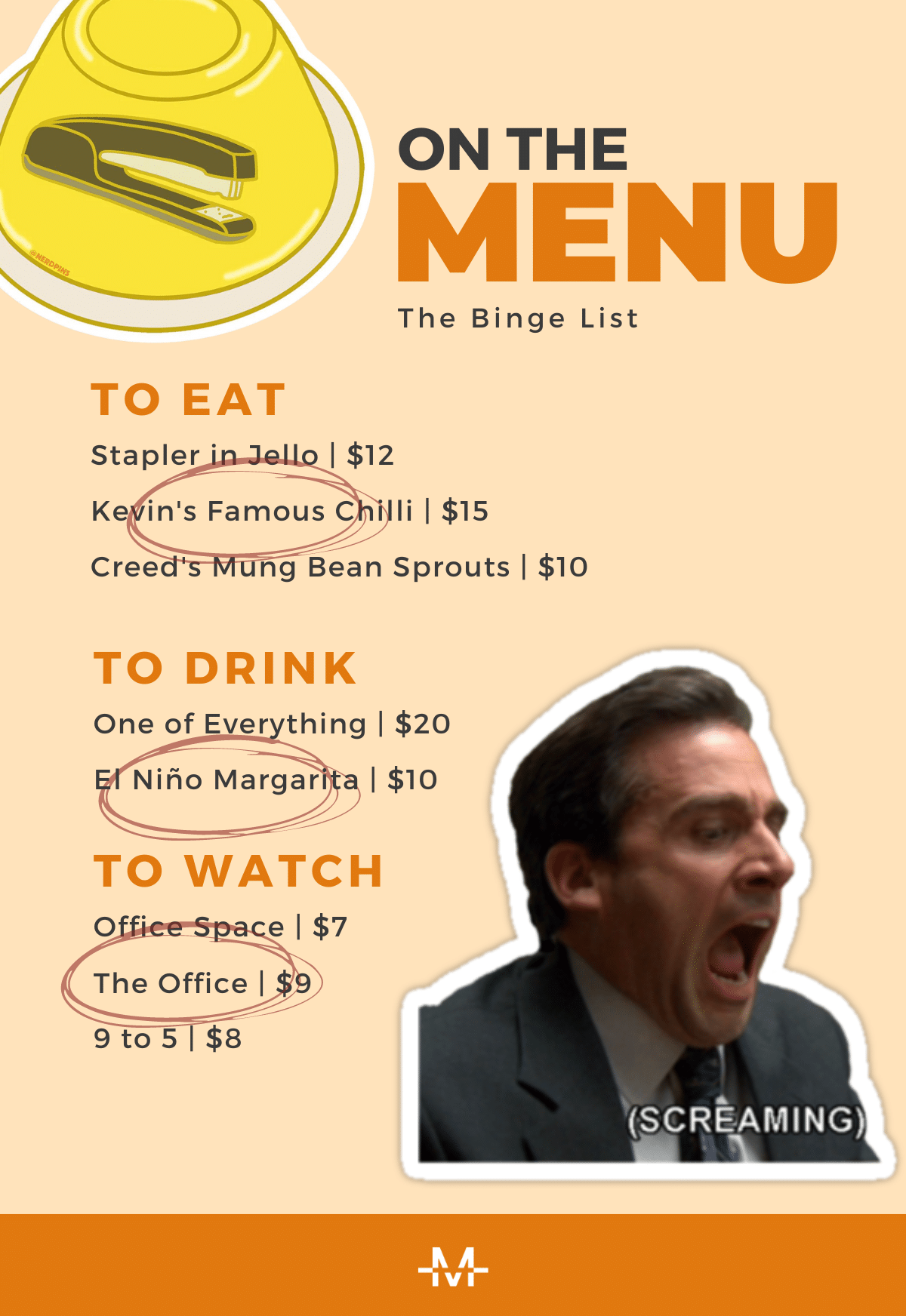 To Watch – The Office
The U.S. adaptation of Ricky Gervais' corporate workplace comedy may have taken a few seasons to find its feet, but no one can deny the impact of The Office. A documentary-style series set at a paper company based in Scranton, The Office follows the beleaguered Dunder-Mifflin staff, led by the fearless, albeit slightly incompetent Michael Scott (played by Steve Carrell) and aided by prankster sales executive Jim Halpert (John Krasinski), receptionist Pam Beesly (Jenna Fischer) and assistant to the regional manager, Dwight Schrute (Rainn Wilson).
Over nine seasons, the team grapples with bird funerals, attempted vehicular manslaughter and any number of George Foreman grill-related injuries. And despite The Office being off the air since 2013, fans have yet to stop quoting iconic moments from the series, none more noteworthy than Kevin's Famous Chilli. Like a true Greek tragedy, it starts out so strong.
Kevin, a generally unenthusiastic worker shows a vigour for his namesake chilli that is infectious, particularly as the bumbling accountant reveals it's a "recipe passed down from Malones for generations" and "probably the thing I do best". However, in trademark Kevin style, it all goes horribly wrong. The journey from car park to office kitchen proves a bridge too far when he unceremoniously drops the massive silver crockpot storing the family delicacy all over the floor. Naturally, he attempts to scoop it back into the pot which makes for some unsettling albeit hilarious viewing.
In a recent interview with EW, actor Brian Baumgartner described the moment as a "really a fun scene to shoot because it was just me and kind of unlike anything else, really, that ever lived on the show — sort of an entire scene playing out under a monologue by the character. That chilli moment, it's about an ordinary guy who doesn't do a lot well, but he does chilli well. And you throw in some laughs and obviously… it doesn't succeed. But you hear in his voice how excited he is to be sharing this thing that he does well, and he says, 'It's probably the thing I do best.' I hope, in addition to making people laugh, that that's why people still continue to talk about that scene."
To Eat – Kevin's Famous Chilli
So, if you've been watching The Office and you've found yourself with a hankering to discover just what Kevin's ill-fated flavour bomb tastes like, you're in luck. Just last year, a TikTok user in the United States unearthed an Easter Egg of epic proportions, discovering the recipe for Kevin's Famous Chilli buried in the Terms of Use of streaming platform Peacock. Amazingly, the recipe, which includes a frankly wild number of spices, was laid out in full, finally answering a question that had plagued Office fans for years.
Best of all, you don't need a forensics licence to make it. Many of the ingredients we needed were already in our pantry, but for everything else, we turned to Uber Eats. The platform to get almost, almost anything just bumped up its grocery and alcohol offering, dishing out a $0 delivery fee on orders of $20 for Uber One members, and with foodie favourites Coles, Woolworths and IGA on-platform, you can make sure your pantry is stocked.
Kevin's Famous Chilli Ingredients
4 dried ancho chillies
2 tablespoons neutral oil (vegetable, canola or grapeseed)
3 pounds ground beef (80/20 or 85/15 lean)
2 medium yellow onions, finely chopped
6 cloves garlic
1 large jalapeño, finely chopped
1 tablespoon dried oregano
2 teaspoons ground cumin
1/4 teaspoon cayenne pepper2 tablespoons tomato paste
2 (12-ounce) bottles of beer (lager or pale ale)
3 cans pinto beans, drained and rinsed
3 cups beef stock
2 ½ cups chopped ripe tomatoes
2 tablespoons kosher salt
Chopped scallions, shredded Jack cheese and sour cream, for topping
Kevin's Famous Chilli Recipe
Tear ancho chillies into pieces, discarding seeds and stems. In a large heavy pot or Dutch oven, toast chiles over medium-high, stirring occasionally until very fragrant, 3 to 4 minutes. Transfer toasted ancho chiles to a food processor or spice mill and process until very finely ground. Set aside.
Add oil to pot and heat over medium-high. Add ground beef and cook, stirring occasionally to break beef into small pieces, until well-browned (about six minutes). Using a slotted spoon, transfer beef to a plate and set aside.
Add onion to pot and cook briefly over medium-high until barely softened, about two minutes. The secret is to undercook the onions.
Using a garlic press, press garlic directly into the pot, one clove at a time. Then stir in jalapeños, oregano, cumin, cayenne pepper and tomato paste. Stir and cook until fragrant, about two minutes. Add beer and continue to cook, stirring and scraping the pan, for about seven minutes.
Meanwhile, put beans in a large bowl and mash briefly with a potato masher until broken up but not fully mashed.
Add mashed beans, stock, tomatoes, salt and cooked beef to pot. Cover and bring to a simmer. Reduce heat to low to maintain simmer and cook for two hours so everything gets to know each other in the pot. Remove from heat, uncover and let stand for at least one hour (can also be refrigerated for eight hours or overnight).
Reheat gently, taste and add more salt if necessary, and serve with your favourite toppings. We recommend chopped scallions, shredded Jack cheese and sour cream.
To Drink – El Niño Margarita
When it came time to select an Office-themed drinks list, there was a lot to choose from. While we could have opted for a mini bottle of Champagne, à la the Diversity Day episode or even the Jägermeister shots from Kelly's Diwali celebration, we instead went for the El Niño Margarita from The Client.
In this season two episode, Michael and Jan meet with a representative from the local county in an attempt to become the paper supplier for the entire county. In trademark fashion, Jan keeps things all business but Michael takes it upon himself to order a round of El Niño Margaritas. After several hours of drinking and bantering, the pair book the deal, leading to a steamy yet incredibly awkward celebratory make-out session between Michael and Jan.
While we can't guarantee this cocktail will net you a big deal (or a semi-toxic relationship) like Michael and Jan, there is good news – It won't cost you a quid. You can source all the ingredients you need from your local bottle-o with a just few clicks on the Uber Eats app. See? It's not even that hard…that's what she said.
El Niño Margarita Cocktail Ingredients
60ml ounces herradura tequila
30ml gran gala
30ml Cointreau liqueur
120ml prepared sweet-and-sour mix
30ml orange juice
1 orange slice
cherries
El Niño Margarita Recipe
Chill a margarita glass.
Pour all ingredients except for orange slice and cherry into a blender.
Flash blend all ingredients.
Rim a large Margarita glass with coarse salt.
Pour into Margarita glass.
Garnish with orange and cherry.
Or if you're feeling adventurous, you could give Michael Scott's 'One of Everything' cocktail a run (please don't actually try this). Equal parts Scotch, absinthe, rum, gin, vermouth, triple sec and two packs of Splenda, this nightmare is enough to make you forget the horrors of spilling 20 gallons of chilli on the break room floor. RIP Kevin's Famous Chilli April 30, 2009 – April 30, 2009.