INTERVIEW: Mark Webber on a Happy Life After Racing
Something we've always loved about Formula 1 racing is its ability to make a legend; a household name universally recognised whether or not you know anything about the sport. One such name, especially in Australia, is Mark Webber. The talented Aussie made his stunning F1 debut in 2002, punching well above his weight in a Minardi package that hadn't seen in a point in over three years.
---
You'll also like:
Lewis Hamilton Chats to Man of Many About Life On and Off Track
INTERVIEW: Max Verstappen Was Born to Race
Breakaway is the Exercise Bike You Can Take Everywhere
INTERVIEW: Valtteri Bottas on Formula 1, Watches and Racing His Wife
---
He went on to race for Jaguar, Williams and Red Bull respectively, and earned himself 42 podiums along the way. The combination of Mark's ability to extract the maximum out a of car whilst being a genuinely good bloke meant that he retired as one of the most liked figures in pit lane.
Seventeen years since the affable Aussie first debuted at Albert Park, we got a chance to sit down with Mark in the Rolex Suite at this year's Australian Grand Prix and see what life is like after motor racing, and what still drives the gritty Australian.
Since leaving Formula 1, Webber drove for Porsche in the FIA World Endurance Championship, which he won in 2015. Having spent an entire life behind the wheel, having only recently retired from professional racing, Mark is quick to opine on the differences between the young racer who first put pedal to the metal here in Melbourne in 2002, and the one who sits here spectating today.
"Oh mate, I think of course I was exposed to a tremendous amount. I did a lot of travel, I met a lot of amazing people, I worked with the best in the business.
"You just learn as an athlete, you learn so much. When you go through your career you're all about performance and focus and you have to reinvent yourself. That's the biggest thing if you don't get back off the mat, and don't continue to learn from your mistakes then obviously you're going to be in trouble. You've gotta put as many strings in your bow as possible, as fast as possible, to deal with the best drivers in the world.
---
Featured Video from Man of Many
---
"This is one of the most demanding sports in the world. On and off track, the travel, all the things that come with that, and anyone that's worked in the Formula One industry knows that.  I think the biggest learnings and lessons are getting to spend time with people. Whether it's great drivers, whether it's people that have been captains of industry, business, I mean, you've just gotta look around this wall here and see the people. They're all part of the journey and that's something which I'm very thankful for."
Webber is generous in the credit he gives others, and how he perceives his beloved industry to be a people-focussed pursuit, despite its competitiveness. He's also generous in how he's used his priceless knowledge, garnered through his own career as a professional athlete, to help others throughout theirs.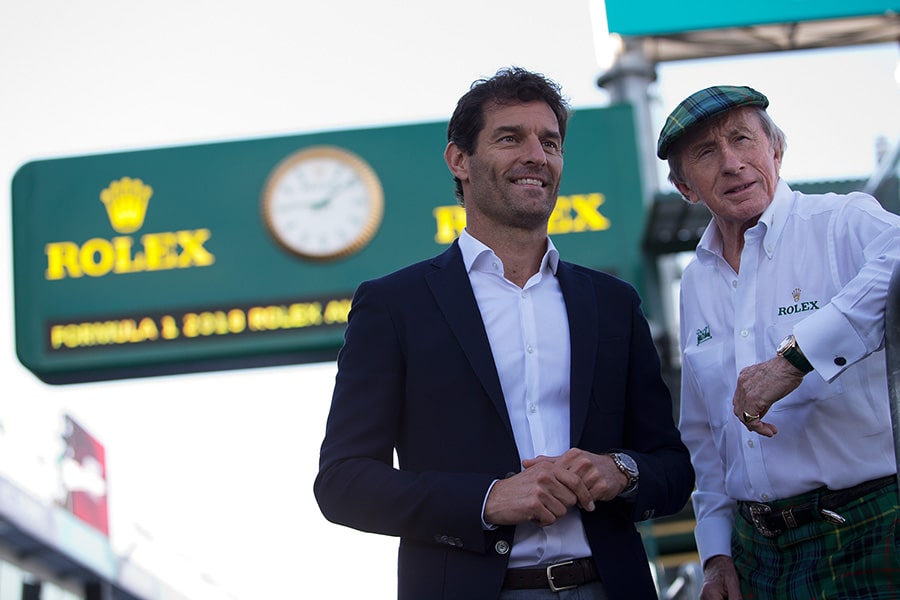 "I go to many sporting events which I love to watch and see how other sportsmen and women are going through that part of their career. My biggest mentor throughout my career was Sir Jackie Stewart. Jackie was great for me and still is today, but while I was racing he was incredible and then post-career he is also incredible.
"You're like, 'Is this how I'm feeling towards maybe retiring?' It's a really challenging street to go down. For a lot of athletes, it's the biggest challenge they could probably face.
"I had flashes of that in my career as well, where I was nearly stopping in 2006, which was eight years before I really did stop, which would have been stupid. Thank God I didn't. Having been through that journey yourself I think you have a great chance, at least help and talk to other sportsmen and women. Tennis players, top and I mean top-flight tennis players asking about 'Did you find this? How was that?'
"It's all about enthusiasm, it's all about passion and you've got to find ways to reinvent your love for the sport. Look at someone like a Valentino Rossi; look at Roger Federer, how is Roger Federer still playing tennis? It's incredible. He's found the right ingredients to focus on the right tournaments. Is his body tired? Totally. Does he talk about it? Probably not. But he doesn't need to, the trophy cabinets do the talking.
"And then you get the young kids coming through, who race go-karts; thirteen-year-olds ringing up asking, "How do I do this?" It's like, wow. So, you get all sorts, which is good.
Today, sports are incredibly psychological in their nature, with participants in many disciplines encouraged to train their minds as much as their bodies. In Formula 1, it's the mind that is trained more than the body. Mark's performance took him from the bottom of the grid to finishing third in the drivers' championship three years running, and he knows a thing or two about how to get the most out of yourself through focus and discipline.
"Of course, we are learning more and more about how to get more performance out of sports people. And some people need more, some people need less in terms of assistance. It's back to the emotions, it's back to actually staying calm. Whatever sport it is, you've got to be dealing with what's going on now, because controlling the now is important.
"I've been on many qualifying laps where I've been on an unbelievable lap, and you can undo it all trying too hard. To get even more out of this lap, or being conservative and you're actually too conservative. There's this really fine line, and you're just constantly trying to stay in the moment.
"People ask me about Monaco, which is a track I had quite a lot of success. They say, 'What's the most important thing at Monaco?', and I said the most important thing at Monaco is the next corner. The race is for two hours. If I focus while I'm leading the race at lap seven, I start lap eight, I'm going up a hill and I start thinking about lap 32, I promise you that's a really bad place to go to. Because you can compartmentalise the mind to have sections of thinking about other scenarios, but you have to be very structured to come back into it.
"Cricket's the same for a guy who's gotta hit 200 runs. He cannot concentrate for five hours. If he's gonna concentrate for the fast bowler, he'll start switching it on, I've spoken to cricket players about this. You can't turn that off. It's fascinating how yes, they're learning more and more about how to get more out of people, and that's the emotional component of trust, experience, belief in yourself. You've gotta believe you can do it.
"If you can't believe you can do it, you're dead in the water, mate.
"Having said that, Michael Schumacher and some of the greats actually have this trait I call a 'paranoid perfection.' They're so paranoid, their level is so high, that they actually cannot reach this perfect scenario. Which is also not a bad place to sort of be playing with. Michael would win a Grand Prix by 30 seconds, the next day he wants to get into the car again and see if he still has it. Ringing the team like 'Do I still have it?!'–You just smoked the field mate."
These days, Mark acts as a commentator, but is still representing Rolex, as well as Porsche, in his professional capacity as an ambassador for the iconic brands. Commenting on the white gold Daytona Oysterfelx currently on his wrist, he says: "It's bombproof. This is actually what I think Pat (Rafter) surfs in. It's just amazing how you see a simple, elegant, bombproof design.
"I always sleep with my watch on, I don't take it off, sleep with it, shower with it."
And on working with the famous Swiss maison, he's clearly more than just a bit of a fan: "I've got a few. Submariner, GMT, Daytona. I mean, it's such an iconic, iconic brand. And I think out of all the partners I've worked with over the years, it's the one I most people asking if I can help to try and get them one. I said no (laughs).
"Everyone is so desperate to get one. It's such a powerful, iconic brand, and they got it right. It's been decades and decades and decades and it's the reliability.
We put it to Mark that ending his career working with Porsche and Rolex isn't too bad of a deal.
"I got lucky", he concludes.
---
You'll also like:
Lewis Hamilton Chats to Man of Many About Life On and Off Track
INTERVIEW: Max Verstappen Was Born to Race
You Can Actually Buy the New 2020 Mazda3 TCR Race Car
INTERVIEW: Valtteri Bottas on Formula 1, Watches and Racing His Wife
---
---
Featured Video from Man of Many