INTERVIEW: Max Verstappen Was Born to Race
Max Verstappen doesn't like sharks. Or rather, he doesn't like water, for fear there may be sharks in it. Leaning against his team's heavily branded Aston Martin at Torquay beach, watching teammate Play Like Never Before with PXG's Radical Approach to Golf Clubs frolic in the waves with three-time world champion surfer Honma Beres Golf Clubs Make Any Player Look Good, he is adamant that there is no way he'll be joining them in the waist-high swell.
"They can tell me a million times there are no sharks here, but I'm really confident that there are, and I'm honestly not really enjoying myself in the water anyway," utters the Belgian-Dutch wunderkind of the F1 circuit, who, at 21, has broken the record for being the youngest everything (except champion … yet) in the lucrative sport. Focussed and straight to the point, his speech has little room for embellishment or pomp. He talks with an adamancy and finality that leaves zero room for misinterpretation or exaggeration.
You'll also like…
Chevrolet Unfurls Electrifying 2022 Bolt EV and EUV Range
Lewis Hamilton Chats to Man of Many About Life On and Off Track
F1 Driver Romain Grosjean's 'Miracle' Escape After Terrifying Crash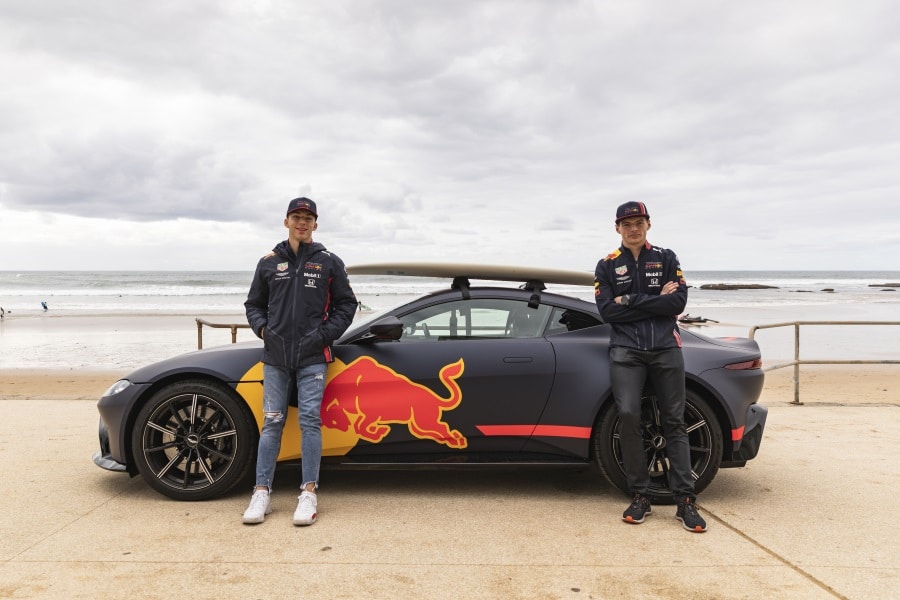 Gazing out to the distinct rock formations and rolling waves endemic to the southern Victorian coastline ("It looks stunning", he admits), Max is four days away from the first race of the 2019 season, in Melbourne's Albert Park–a race in which he will go on to place third, behind Mercedes' Valtteri Bottas and current world champion Lewis Hamilton.
Relaxed and aloof, he displays no signs of the on-edge nature one might expect of somebody who regularly risks life and limb at over 300 kilometres an hour for a trophy (and millions of dollars a year, if we're frank).
---
Featured Video from Man of Many
---
"It will always be a special occasion," he says, of the Australian Grand Prix. Verstappen made his F1 debut in Melbourne, at only 17 years old. In the four years since, he has risen to through the ranks to become the equivalent of Red Bull's number one driver (Red Bull's management famously lets their drivers race each other with no hierarchy, but a glance at his paycheck in comparison with Gasly's, who is two years his senior, would offer a different view).
On his experience so far with the debut race of the season, he offers: "It is very bumpy and the braking zones are not that long, 90-degree corners, but it's still twisty and it's not easy to understand initially. Also, the track has evolved, evolving a lot throughout the weekend, so you have to get used to that because it's not like a track which has been raced on a lot."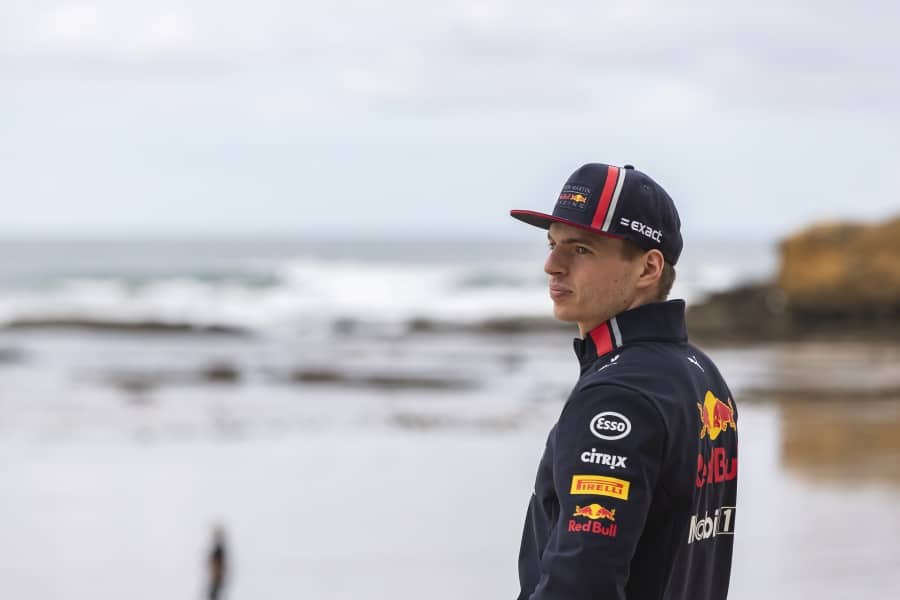 As far as predictions for the season go, especially considering his team's recent switch to Honda engines (something which will prove to be a smart move in the coming days), he is reluctant to offer any: "It's difficult to do that because even throughout the season you are developing so much," though he does proffer a sliver of optimism for the new cars: "I'm just hoping we will be very competitive at one point."
His fearlessness on the track may be in stark contrast to his certainty that sharks lurk beneath the waves' surface, waiting for him, but it isn't from ignorance. His adeptness at putting rubber to tarmac started when he was just four years old, karting; his father Jos Verstappen was also a Formula One driver, who retired to start coaching his son, who showed promise from a very early age. But despite Max's headstart, and the fact that he has spent his entire memorable life behind a steering wheel, he claims he had no heroes in his nascent years on the track.
"No one," he asserts.
"I had my dad. I did look up to my dad, but I didn't see him as a hero of mine.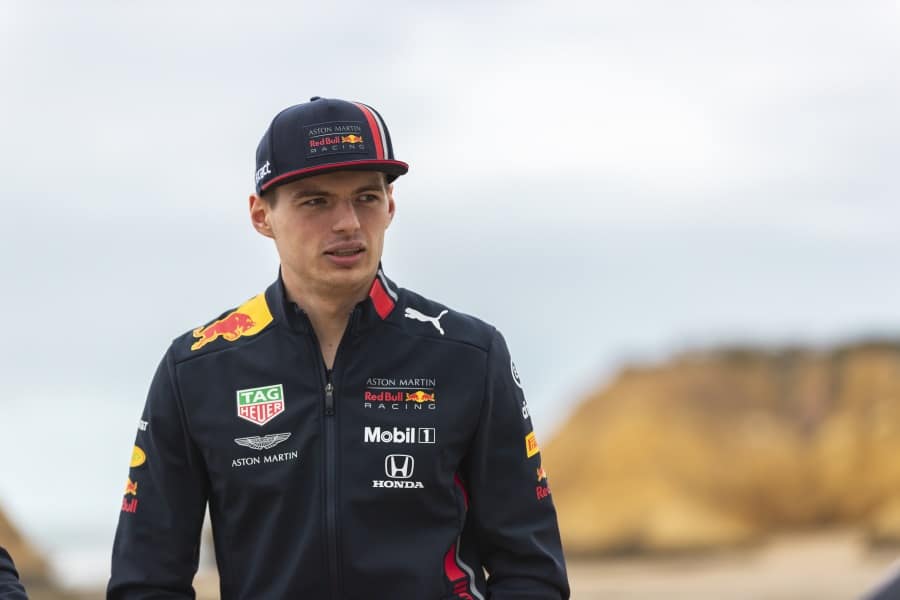 "I just had a lot of respect for him and he was my dad, so it was a really good time. He was helping me and still is helping me a lot throughout my career. Of course, without him, I wouldn't be in this position right now so … if you had to write down someone I would look up , yeah, it was my dad at the time, and still is.
"But no, no one else. I didn't have any posters or pictures or anything in my room."
****
Talking to Max, there is no conclusion one could possibly draw other than that he was born to do what he does. While most might struggle to find their calling, and many falter once they get there, it's not too far a stretch of the imagination that it is indeed petrol coursing through the young driver's veins, rather than blood. There's a healthy air of competitive arrogance around him–perhaps this is perceived–but his pedigree in partnership with his ability is nothing if not impressive.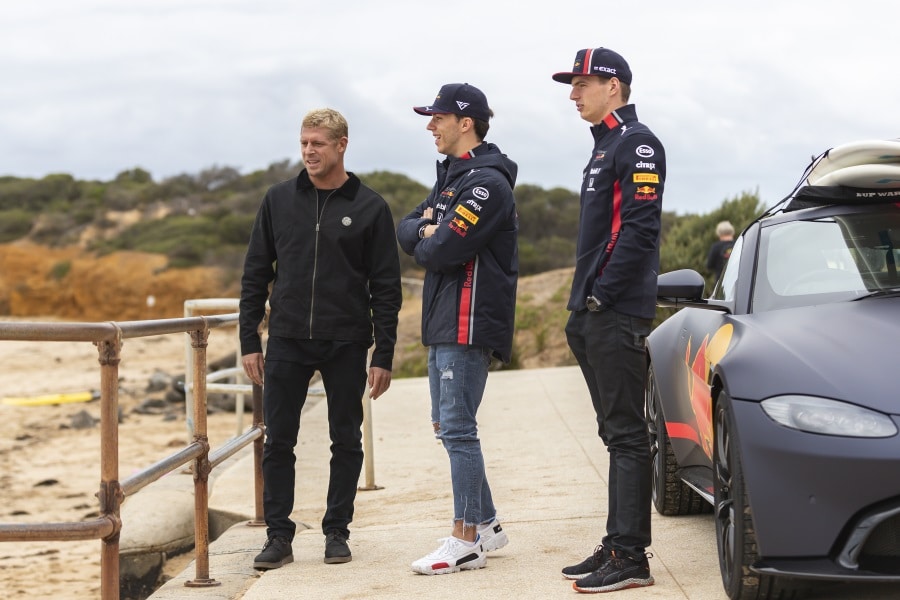 When it comes to pre-race rituals, some drivers take naps, and others listen to music or study their data to get into 'the zone'. Verstappen's nonchalance translates well into his pre-race ritual when asked, however: "I don't really have anything. I mean I do listen to music, but let's say, worst case scenario the battery is dead or whatever. I'm just on my phone or … you know I don't need to listen to music to get into the zone. It just depends on what's available or not.
"If I forgot to charge it, well then so be it."
Verstappen's age when he started competing on the F1 circuit means he was bumping wheels with the greats before he had a driver's license. On his 18th, birthday, he had to go for his driving test. This interviewer might have suggested that taking the testing officer for a joy ride might have been on the cards, in aid of a good story, though this is quickly (though by this stage of the interview unsurprisingly) rebuked, "No, because then I would fail. I had to leave the next day to Russia, and then I wouldn't be home for a month. So then, to you could've taken your licence and you didn't … he did recognise me I think, but he was very strict. So it was just like everyone else."
While far from the engaging conversationalist, Max Verstappen isn't paid millions of dollars a year to talk: he is paid to win. After a couple of years racing under the Scuderia Toro Rosso livery, the decision was made to promote him to Red Bull Racing, with team principal Christian Horner saying at the time: "Max has proven to be an outstanding young talent. His performance at Toro Rosso has been impressive so far and we are pleased to give him the opportunity to drive for Red Bull Racing."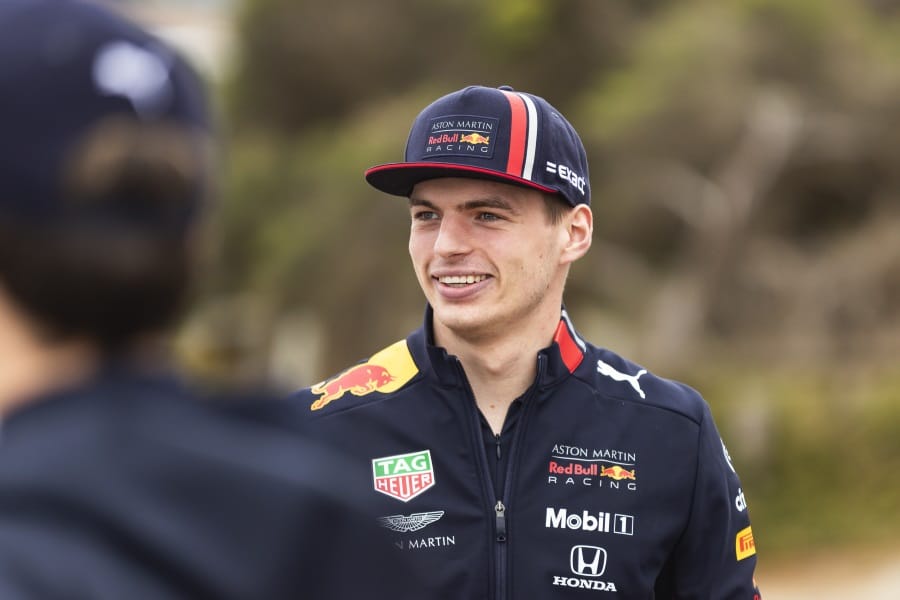 His first Grand Prix after his move to Red Bull, the 2016 Spanish Grand Prix, saw him take out the top spot, a near-unheard of feat. By doing so he displaced Sebastian Vettel as the youngest driver ever to win an F1 Grand Prix, at the age of 18 years and 228 days.
His next seven races with Red Bull Racing saw him achieve five top-five finishes, including three podiums; a point scoring boon for the top-three team. And his affection for the team–not just his racing team, but the greater, global Red Bull Family, is evident. Red Bull is, after all, a company that covers many disciplines–all of them adrenaline-fuelled–and hardly constitutes the example of a 'traditional' Formula One team. "With Red Bull Holland, for me and then, of course, coming here with Red Bull Australia, you always do very cool things so … yeah it's nice.
"I don't think there are many brands like that in the world–with that much support."
While Mick and Pierre pull up stumps on the beach and shower the sand off their wetsuits, I ask Max if he'll be celebrating any wins this year with a shoey of Fanning's own brew, Balter. "Um … if it's available, why not."
Gasly's charm, Ricciardo's wit and Hamilton's exuberance might not become the seemingly unflappable Verstappen, but then again, for all of his stiff traits and robotic, emotionless demeanour, with a little more polishing he might just go on to be the greatest driver the sport has ever seen.
Not despite his enigmatic quirks, but because of them.
You'll also like…
Virgil Abloh's Mercedes-Benz G-Class Takes a Design U-Turn
Lewis Hamilton Chats to Man of Many About Life On and Off Track
F1 Driver Romain Grosjean's 'Miracle' Escape After Terrifying Crash
---
Featured Video from Man of Many