A look inside Hedi Slimane's Celine Menswear SS20 Show
With Celine's first Menswear collection fresh on the hangers of stores globally, the French fashion house was busy preparing for the penultimate show of Men's Fashion week in Paris. But while Celine is new to the menswear game, it's creative director, most certainly is not.
Hedi Slimane made his name as creative director of Dior Homme, wrapping slim, elongated silhouettes in razor-sharp, indie-rock inspired pieces. He was the first menswear designer to receive the CFDA award for International Designer, his monochromatic photography developed a cult-like following (His diaries are worth a few days of your time), and in 2012, Slimane brought his androgynous aesthetic to Yves Saint Laurent (leaving 'Yves' at the door in the process).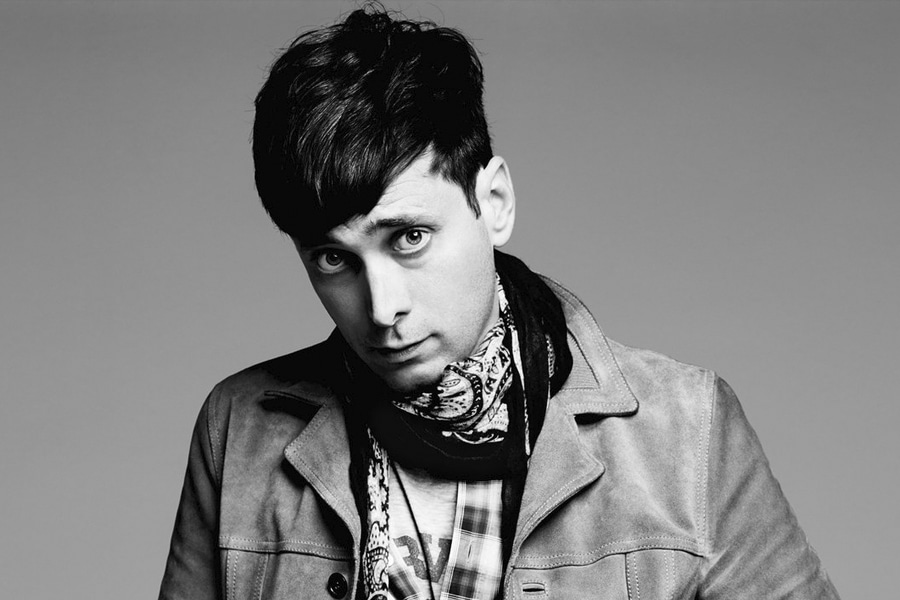 Last year, Slimane was handed the keys to the Celine Castle (which sparked a Philo fan-infused mosh pit), relaunched the logo (sans accent), and was given the task of introducing a maiden Menswear range to the famous house. His collections thus far have stayed true to his ethos, mixing underground movements from bygone eras and injecting them straight into his garments. Like the music he follows, Slimane's brand of attractive alchemy is best showcased live. So, with an invite to Celine's Spring Summer 2020 show in my hot little hands, I headed to Paris to see what all the noise was about.
My invitation to the show was simple: a book, a time, a place and a date (In Slimane typography, of course). Inside featured very little clues other than 5 lift-out prints from artists: David Kramer, André Butzer, Carlos Valencia, Darby Milbrath and Zach Bruder. The book looked far too pretty to be tearing out artwork, so I placed it back in its sleeve and headed to the show.
With the Tour Eiffel in the background and the Dôme des Invalides in the fore, the stage was set for an iconic evening at Place Vauban. The sweaty media pack and hordes of fans had clearly been there a while as I approached a wall of suited security. Once inside the Celine structure, I sifted through the darkness using the flash-illuminated faces of Bodega (who composed the soundtrack for the show) to find my seat.
A voice in French commanded: "silence s'il vous plait", the flashes stopped flashing, chatter turned to silence, and the room was finally tranquil. There was a long pause before a bass guitar riff blared through the speakers in sync with a red curtain bring illuminated on the runway. The spellbinding bass was joined by some heavy breathing, the curtain raised unhurriedly, revealing a nonchalant model leaning casually inside a cage of lighting. The whole assembly slowly started floating down the runway like some kind of elegant, post-punk cloud. The bass and breathing intensified in sync with the raising of the light structure, then all of a sudden, "bang", Monsieur Nonchalant lept into gear and we were away.
The sequin-infused slim suit bounced down the runway with a gentle nod to the Slimane of old, but with a twist. Most suits featured subtle pinstripes and chalk detailing, adorned on slightly flared trouser legs and roomier jackets. The only things skinnier than the ties were the belts, and with a subtle shimmer coursing through the fabric, you couldn't help but picture a 70's era David Bowie, prancing through the night.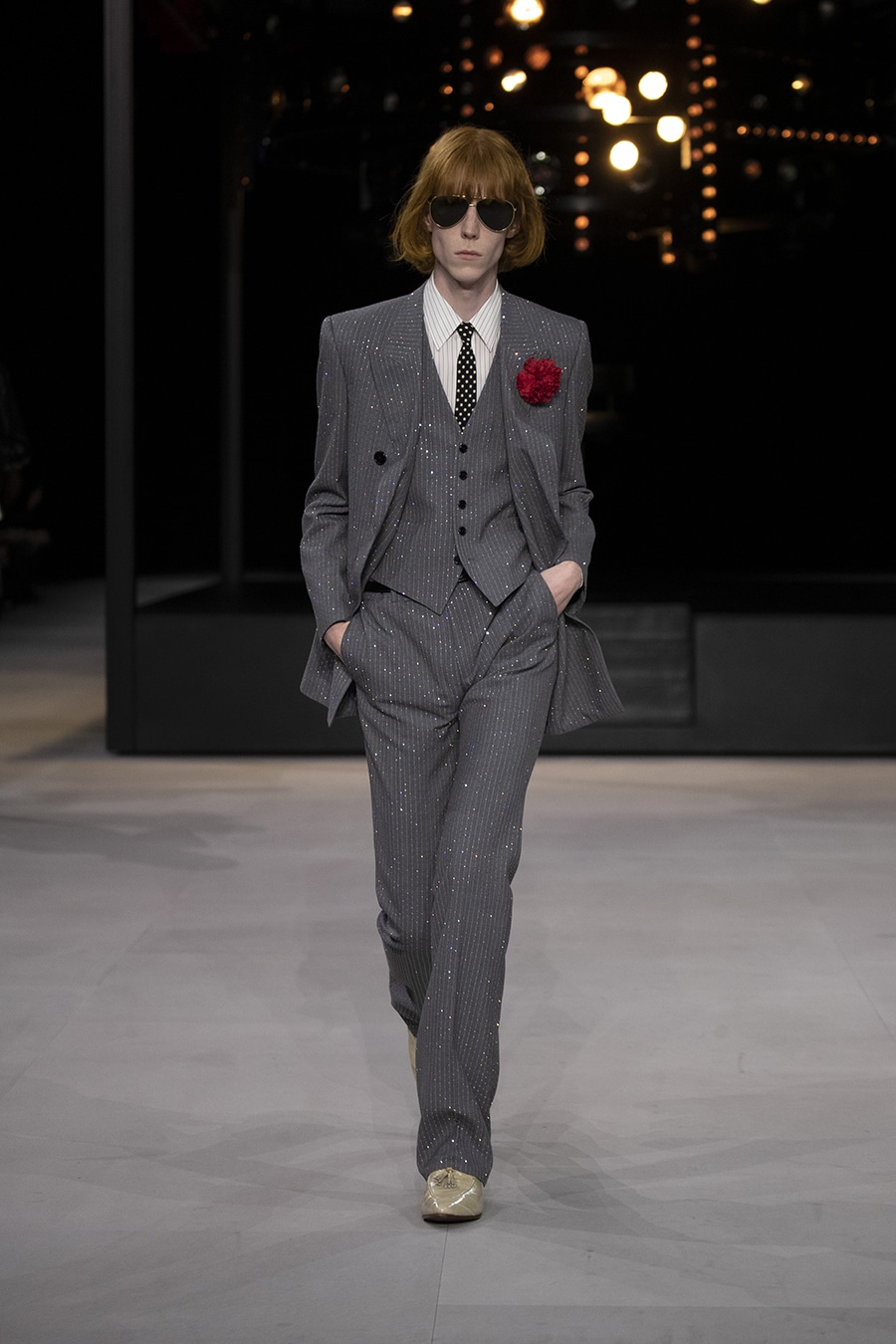 As the frequency of models increased, so did the size of the lapels. There were hints of 1970's California with a dash of femininity (Starsky and Hutch pour femme?) in the form of boxier jackets, unbuttoned shirts and flared, footpath grazing trousers. Silhouettes were purposefully varied through the torso, providing visual movement which contrasted nicely with arm-hugging sleeves.  White tank tops were constantly peeking out behind larger collars and while shirts were tucked, the exposed chest allowed for some casual élégance.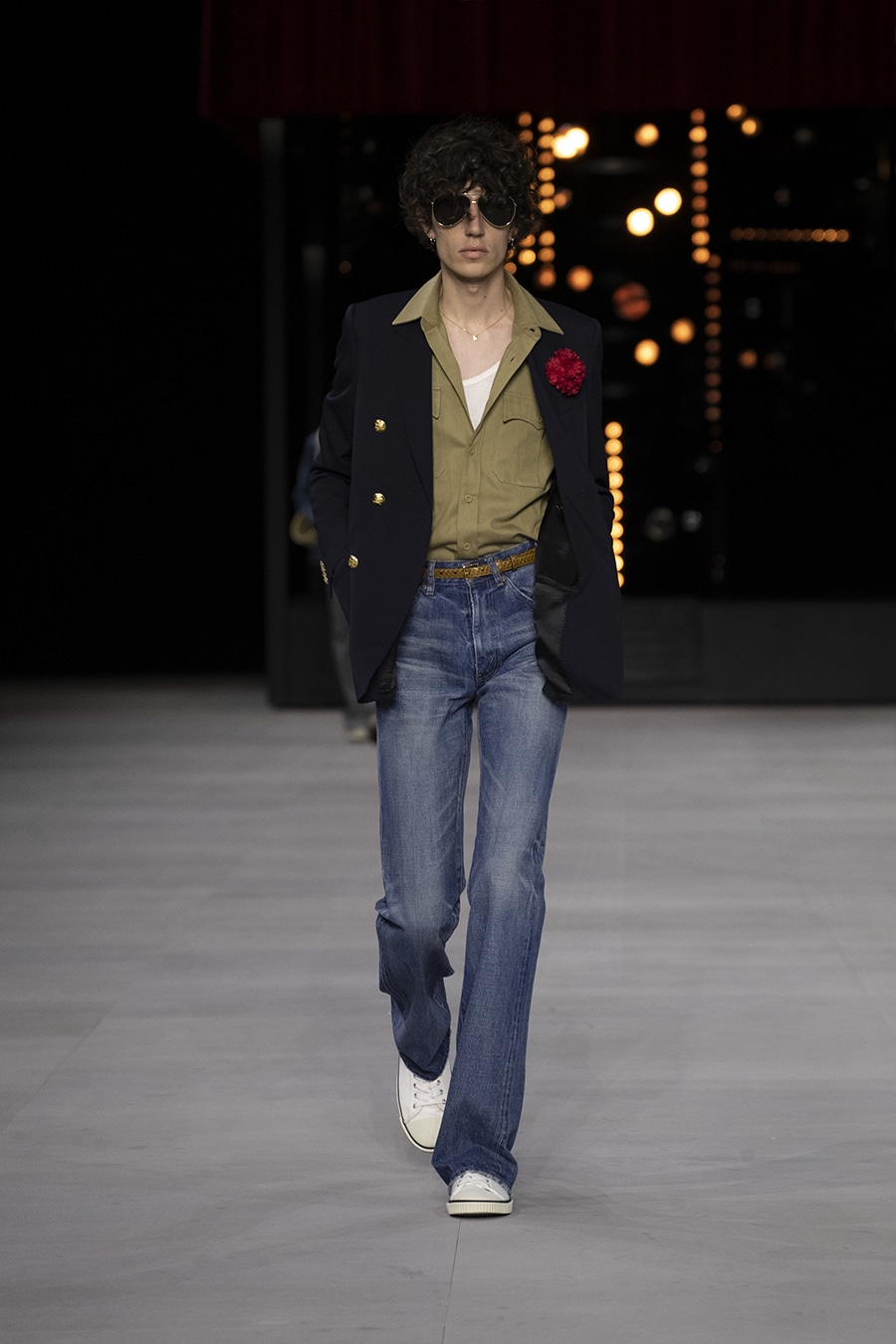 But the 70's throwbacks weren't limited to the American continent. There was plenty of European flair courtesy of some Serge Gainsbourg-inspired pieces. Oversized cream cardigans and straw hats were paired with scarves and baskets, providing a little dapper to the darkness, and the more formal double-breasted jackets would have had Gianni Agnelli handing over some Lira.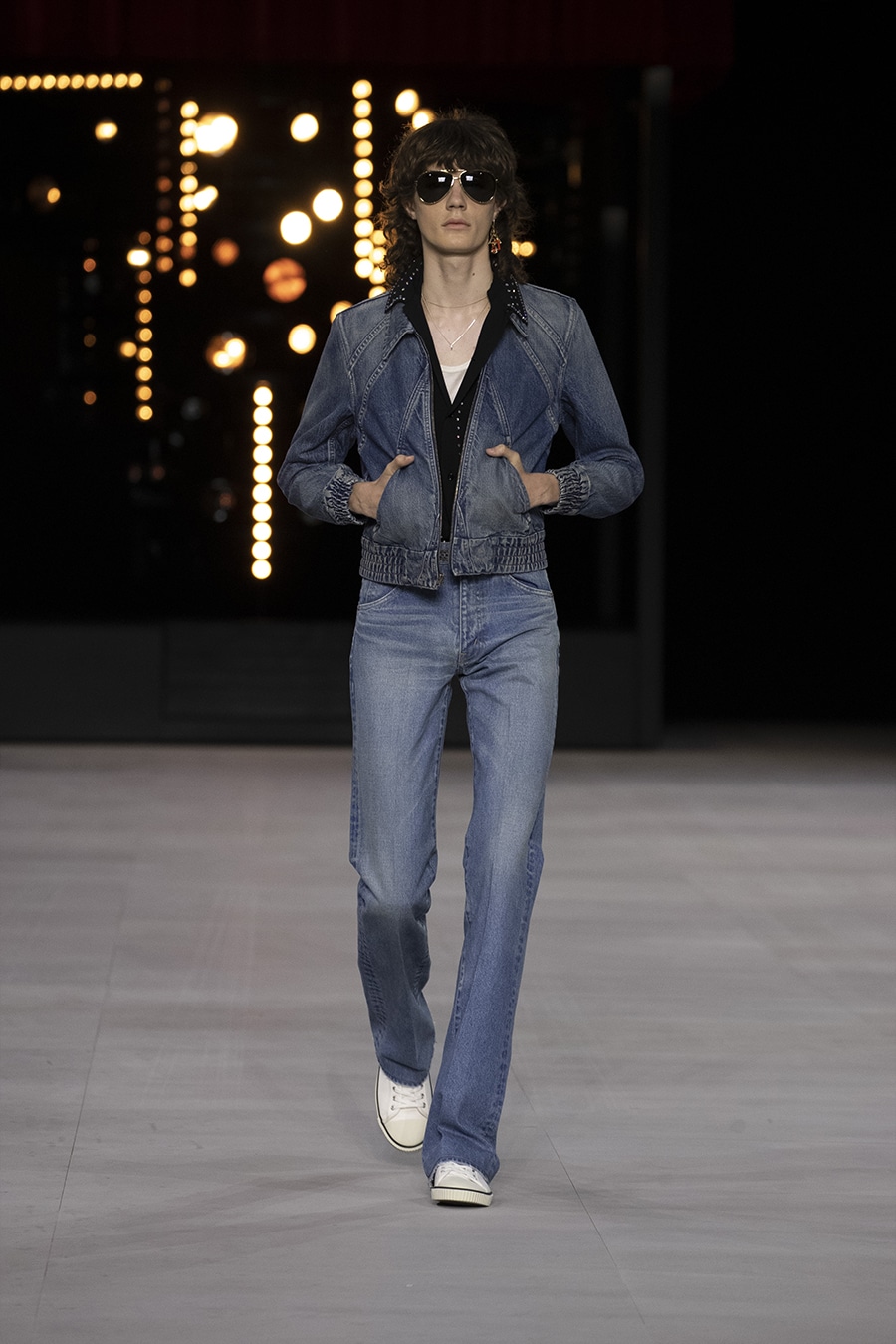 Oh, and denim. Denim was back with a vengeance. What the collection lacked in colour variation (mid-tone is the new-tone), it more than made up for in shape and detail. Jeans were slightly flared and high waisted, while jackets were acidic and studded. The punk-inspired outerwear juxtaposed tastefully with some more subtle, indigo denim shirts. But if you were worried about overdosing on denim (yeah, right), there were plenty of statement pieces to shimmer on your shoulders.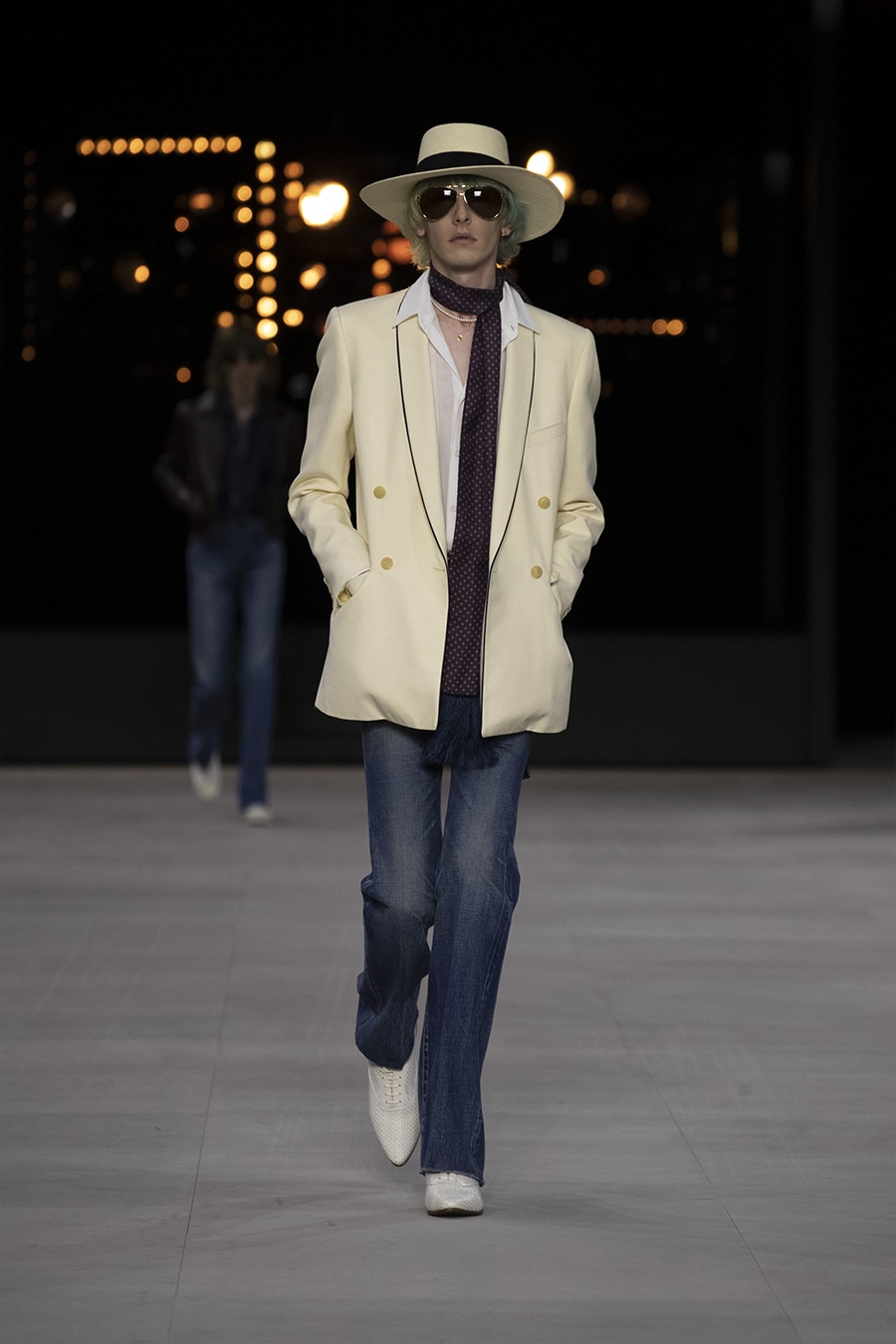 Bespoke fabrics played well with some more casual cuts, such as a blue velvet track jacket (which will have your dad pulling out his photo album), and various shimmering bomber jackets. There were some oversized trench coats thrown in for the seasonally confused, and while I never thought pairing overalls with a formal jacket would every work, thanks to Celine, you could very well be hosting your own haute couture hoedown.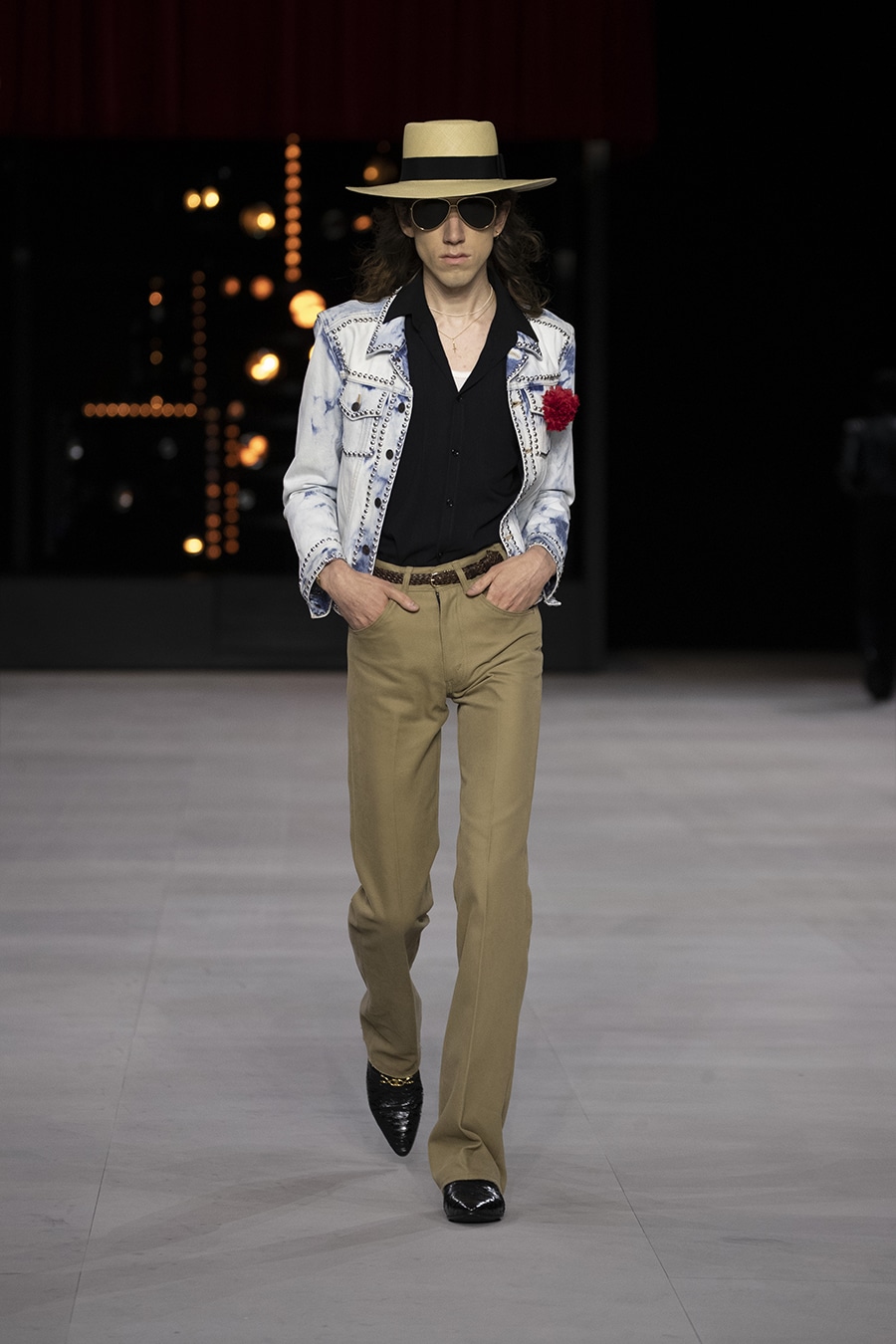 Boots were famously narrow with pointed toes and risen heels, but if shimmering-gold boots aren't quite your jam, white canvas flats provided a versatile footwear option. Fittingly, the final look of the show was a black tuxedo featuring a slightly oversized double-breasted jacket and a slightly undersized bow tie, synonymously blending Slimane's rock edge with Celine's grace.
The models re-appeared en mass (like a Bowie gig at The Roxy just evacuated), Hedi made his textbook 1-second thank-you wave, and before you could say " hypnotic circus ", the show was over.
The retro collection was quite playful by Slimane standards, while still maintaining purposeful and undeniably sophisticated. There was a distinct variety in silhouettes and influences, almost encouraging you to mix pieces with your dad's old wardrobe. There were so many combinations that shouldn't work, yet did, and in a show that went from overalls to capes real quick, it all, somehow, remained cohesive.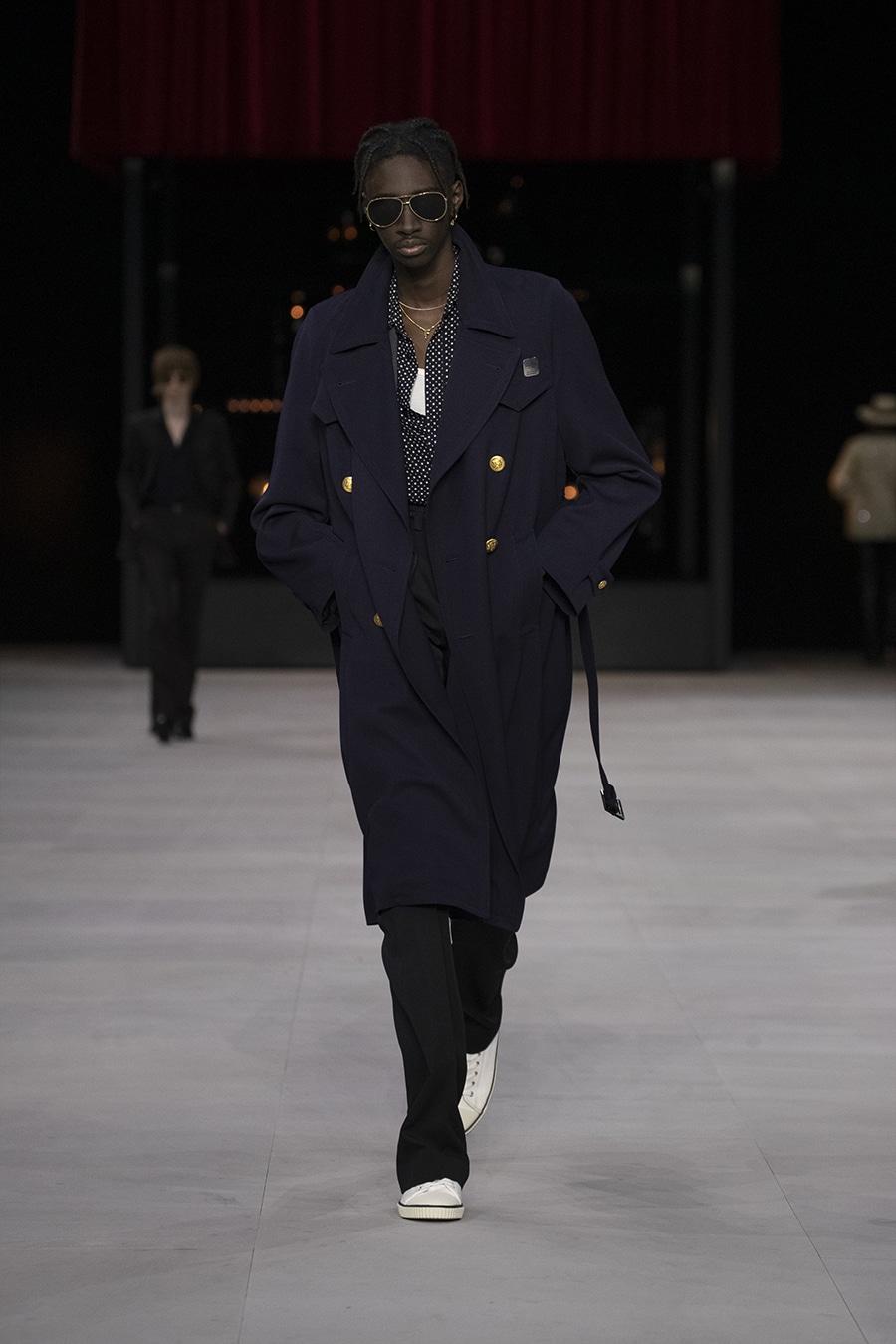 Slimane clearly has an unmatched ability to use the underground music, art and youth culture he immerses himself in, and actualise his vision in the form of a collection. Often criticized for being ego-centric, there's always been some pushback with Hedi Slimane's design ethos, regardless of which house he represents. But in an industry as volatile, chaotic and fickle as the fashion world, there is something magnetic about his tenacity.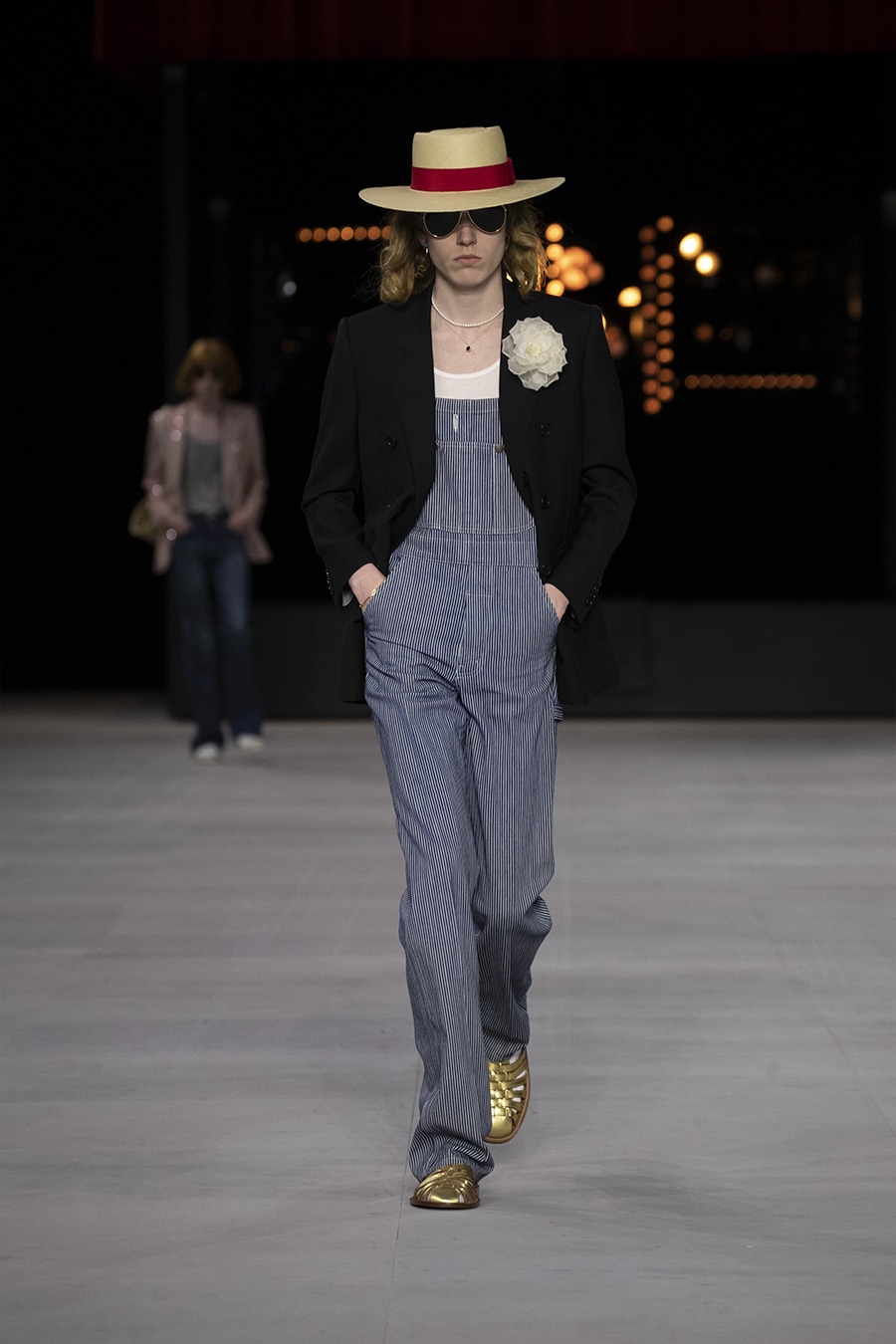 Like what Massimo Tamburini was for motorcycles or Giorgetto Giugiaro for cars, there are cases when a designer's aesthetic is instantly recognizable, regardless of the house in question. And with menswear currently growing quicker than womenswear, it's Slimane's aesthetic that LVMH and Celine are banking on.
I re-emerged to the sun setting on an almost perfect Paris evening, still processing the fashion theatre I just witnessed and kept thinking about the David Kramer quote embellished on one of the tote bags from the show:
"I have nostalgia for things I probably have never known."
It seemed, for a brief moment at least, I had well and truly been immersed in Slimane's Celine Soliloquy.
You'll also like:
For the Best Men's Wedding Rings, Call in the KAVALRI
Scotch & Soda's Springs 2022 Collection Proves Timing is Everything
The Wind Up – Watch News #171
---
Featured Video from Man of Many