11 Best Chelsea Boots for Men
Though Chelsea boots have been in existence since the 19th century, they remain a quintessential staple in the contemporary man's wardrobe. The timeless silhouette and minimalist design of these boots allow them to easily assimilate into your current sartorial rotation, with their versatile nature lending them to a variety of looks from casual wear to semi-formal occasions. So, with that in mind, what is the best Chelsea boots outfit?
You'll also like:
10 Best Australian Boots Brands to Give You a Leg Up
The Performance Underwear That Your Package Deserves
How to Wear White Shoes with Black Jeans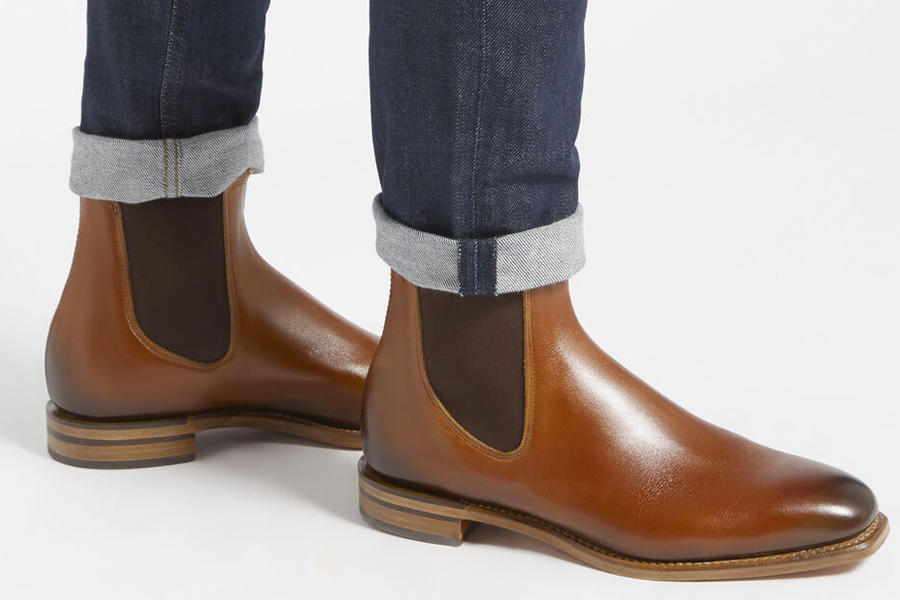 What is a Chelsea Boot?
Chelsea boots are a laceless shoe designed to slip on and off the foot. Traditionally, they are comprised of two parts; the vamp and the quarters, each constructed from a single piece of leather. The vamp and the quarters meet at the ankle, where they are connected by an elastic or vulcanised rubber gusset which extends to just below the ankle. These boots typically have rounded toes and low heels, and often feature a small heel tab designed to pull the boot on and off with ease.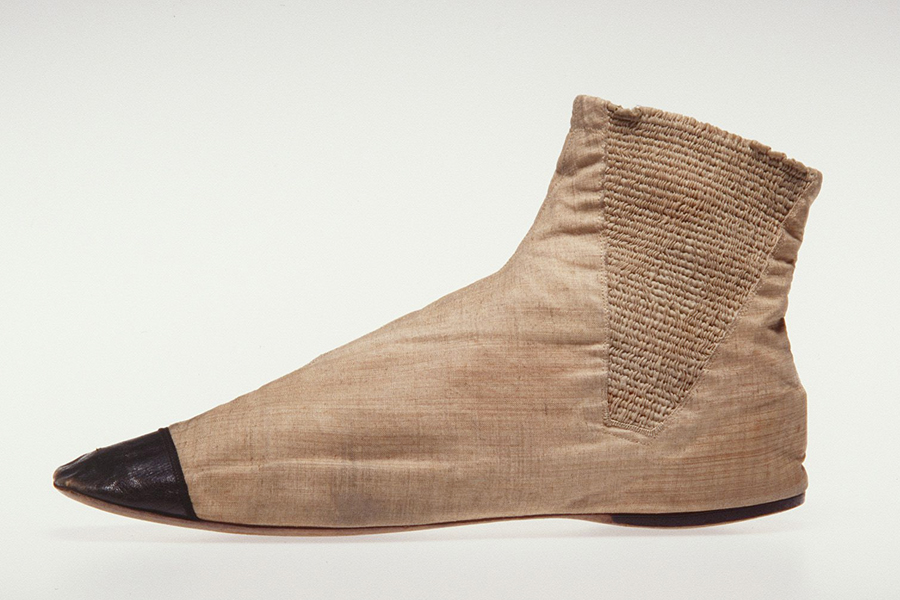 History of the Chelsea Boot
A quintessentially English footwear style, Chelsea boots date back to the Victorian era. They were invented in 1851 by J. Sparkes-Hall, a bootmaker for Queen Victoria, and were worn by both men and women. The boots were originally invented as riding boots, later forming an element of the British mod movement, thanks to them being co-opted by The Beatles during the 1960s.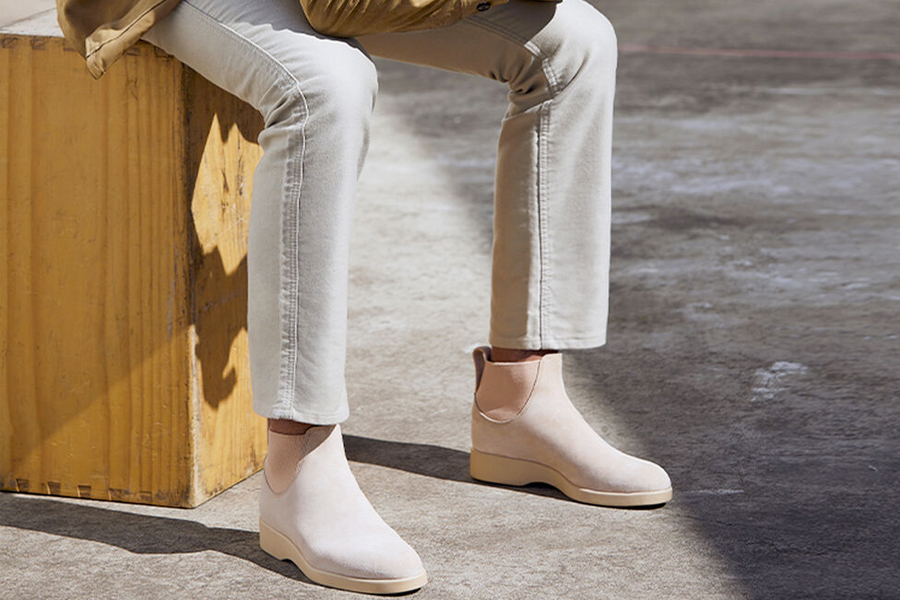 Types of Chelsea Boots
The two main materials used for boots are leather and suede. Leather Chelsea boots are a versatile option and can be dressed up or down; their sleek aesthetic working synergistically with the boots' simple silhouette. If you wondering how to wear Chelsea boots, the black leather version is a refined option that can even be worn with semi-formal and formal outfits in lieu of dress shoes, while the brown leather variety works well with casual, smart casual, and semi-formal looks.
The textured nature of suede imbues a classic boot with a sense of edge, making it an ideal option for casual wear. Black or grey suede shoes are well suited to urban casual looks, while brown suede varieties give off a country vibe. When opting for suede Chelsea boots, ensure you treat your boots with a water-resistant suede protector before wearing, to prevent any weather-related damage.
11 Best Chelsea Boots for Men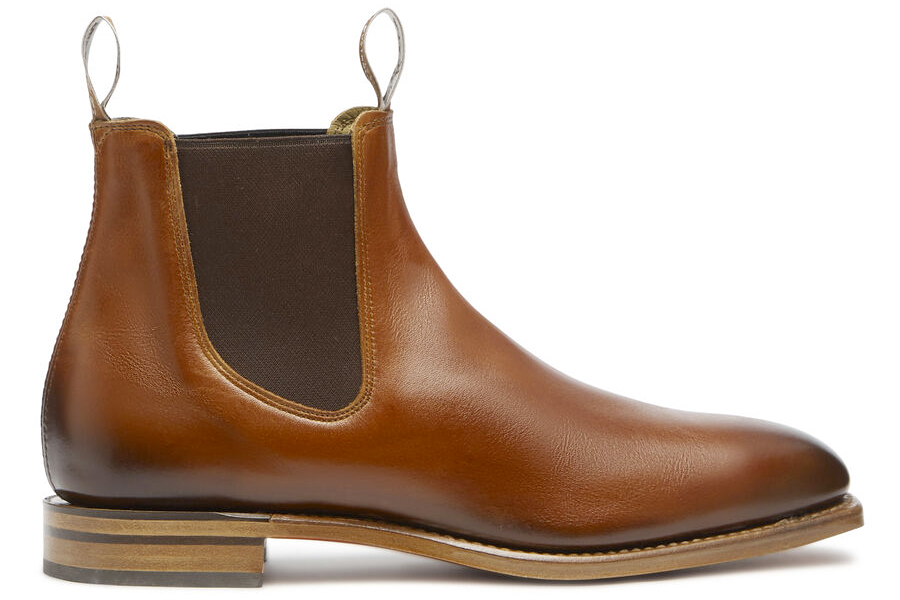 1. R.M. Williams
An Aussie icon, R.M. Williams has been making some of the best quality Chelsea boots anywhere in the world. The brand offers a range of streamlined, slip-on footwear that is ideal for any situations, whether its black Chelsea boots with a suit or with your favourite pair of ripped jeans.
Founder: Reginald Murray Williams
Founded: 1932
Headquarters: Adelaide
Parent organisation: RMW Bidco Pty Ltd.
Subsidiary: R.M. Williams Agricultural Holdings Pty Ltd.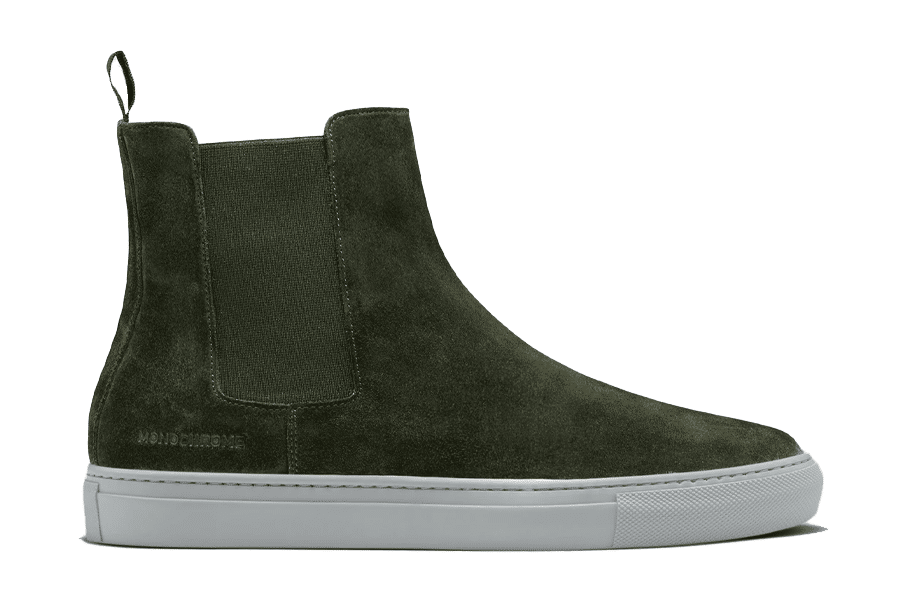 2. MONOCHROME Chelsea Sneaker
Sydney based premium sneaker brand Monochrome takes a modern approach to the classic Chelsea boot style. This iteration sees a tennis outsole in place of the traditional heal. The Olive green suede upper combines with the Grey Margom rubber outsole to create a contemporary view on a classic design with modern functionality. All Monochrome shoes are handcrafted in Italy from premium Italian full-grain leathers and suedes. In fact, all of the raw materials are sourced from within Italy and are made in the famous Le Marche region, known for its history in shoemaking. These are the best Chelsea boots for the man who wants to be stylish no matter the occasion.
Made in: Italy
Headquarters: Sydney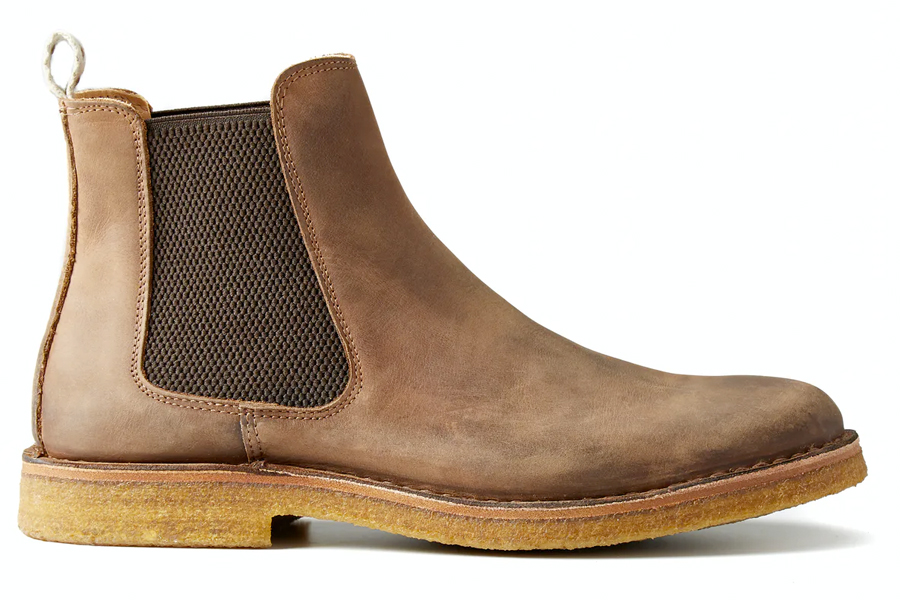 3. Astorflex
Made from healthy, eco-friendly leather, Astorflex offers a collection of stylish, classic shoes and its Chelsea boots are among the brand's finest. The ultra-comfortable boots are made using high-end Italian construction for a superior fit.
Founder: Ferdinando Travenzoli
Founded: 19th Century
Headquarters: Italy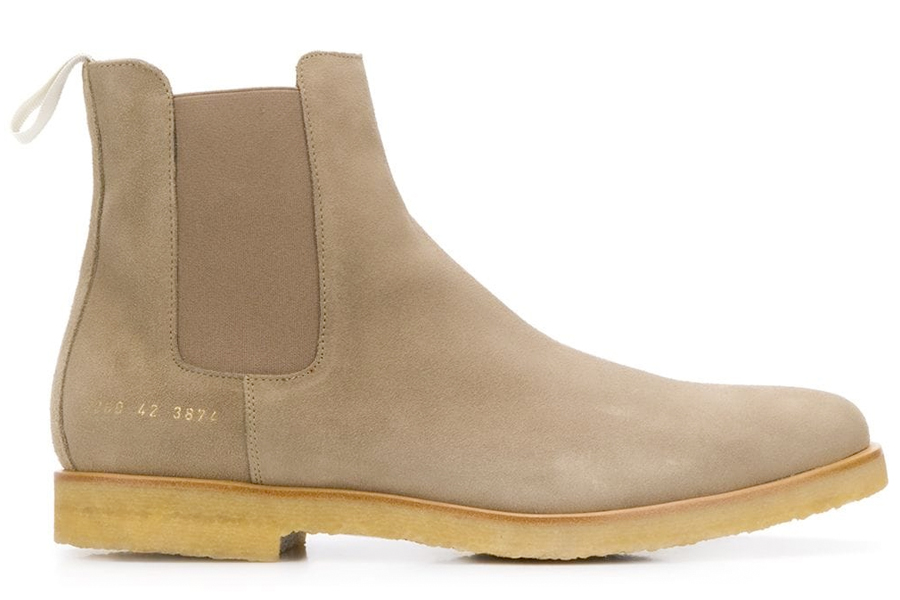 4. Common Projects
Best-known for its low-top minimalist sneakers, Common Projects has branched out in recent years, offering some of the best Chelsea boots on the market. If you are wondering how to wear Chelsea boots, you can take a sneaker approach with the Common Projects, styling them with jeans for a streetwear vibe. After all, no man's outfit is complete without the iconic Common Projects embossed lettering on the heel.
Founded: 2004
Founders: Prathan Poopat, Flavio Girolami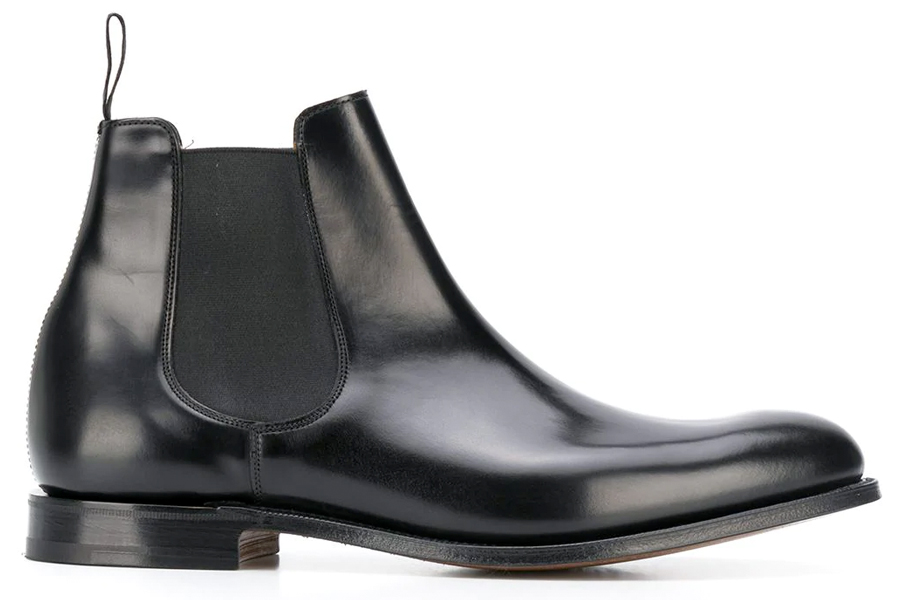 5. Church's
This British footwear brand offers some of the most high-class Chelsea boots men can buy. The fine leatherwork captures some of the classic working-class construction the brands style is renowned for.
Headquarters: London, United Kingdom
CEO: Anthony Romano (2016–)
Founded: 1873
Parent organisation: Prada
Founders: Thomas Church, William Church, Alfred Church
Subsidiaries: Church Hong Kong Retail Ltd,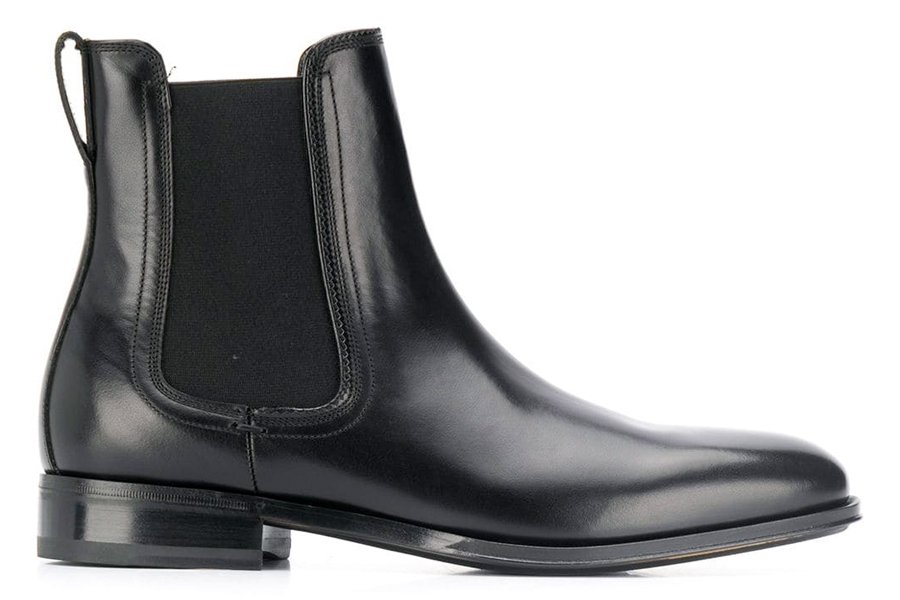 6. Salvatore Ferragamo Chelsea Boots
Renowned for using the highest quality materials for its footwear, Salvatore Ferragamo has collated a collection of Chelsea boots that bears no exception. The expert craftsmanship is on display in this range of timeless shoes. Complement your outfit with the high-end collection.
Headquarters: Florence, Italy
Founder: Salvatore Ferragamo
Founded: 1927, Florence, Italy
Parent organisation: Ferragamo Finanziaria SpA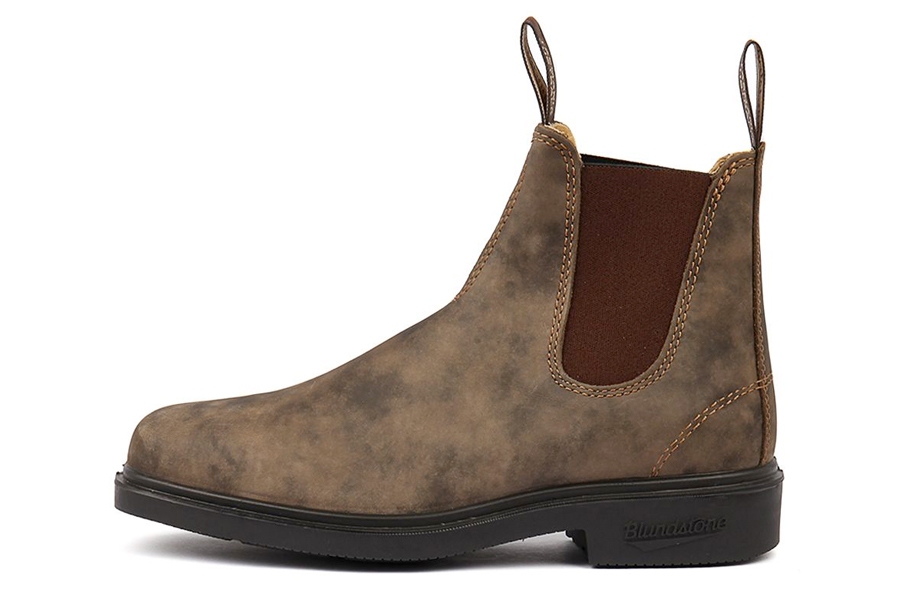 7. Blundstone
With a story that starts in the 1800s, Blundstone knows a thing or two about making great boots. The Tasmanian family business has a collection of Chelsea boots men simply can't get enough of. Reliable, durable and stylish, these are some of the best Chelsea boots Australia has produced.
Headquarters location: Hobart
Founded: 1870
Type of business: Private
Founders: John Blundstone, Eliza Blundstone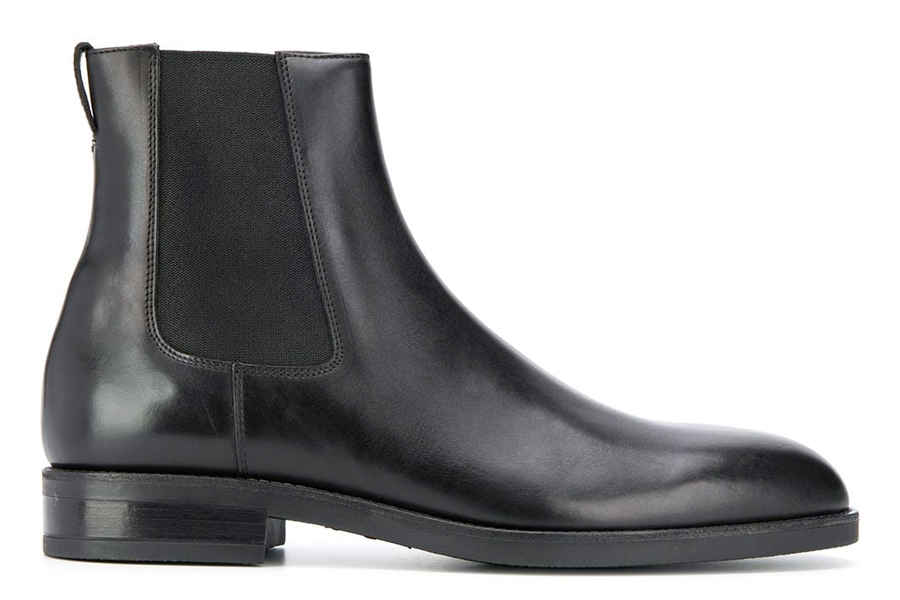 8. Paul Smith
For the Chelsea boots outfit that is a little more adventurous, Paul Smith is our go-to. The elegant and fashion-forward footwear incorporates sophisticated takes on the timeless silhouettes, with a few cheeky colour combinations thrown in.
Headquarters: Nottingham, United Kingdom
Founder: Paul Smith
Founded: 1970
Parent organisation: Paul Smith (Holdings) Limited
Subsidiaries: Paul Smith LLC, Paul Smith (Japan) Ltd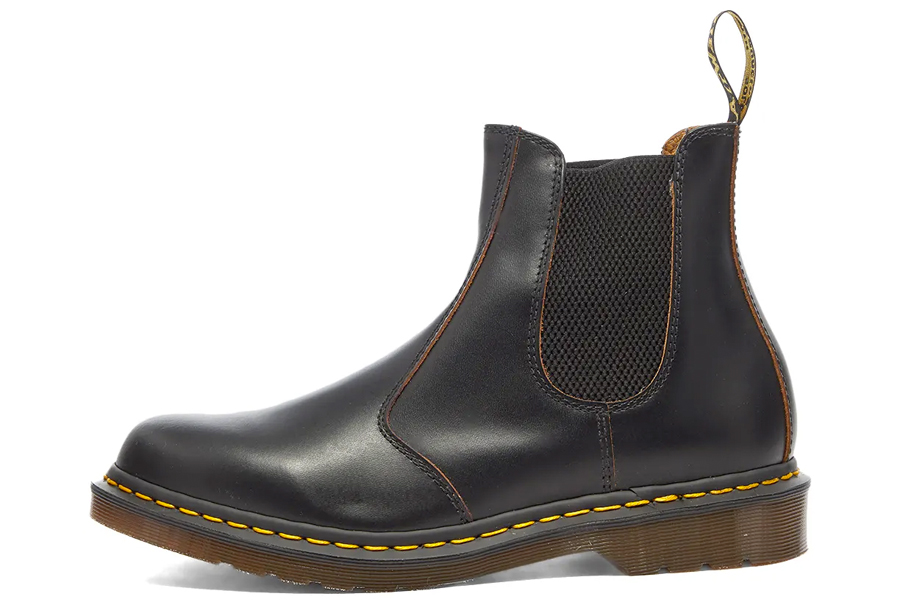 9. Dr Martens
A classic Chelsea boots outfit needs a classic brand and there is none more iconic than Dr Marterns. Best-worn by the punks and beatniks of the 1970s British underground, this silhouette is as suited to the recording studio as it is the boardroom.
Founded: 1947, Seeshaupt, Germany
Headquarters: Wollaston, United Kingdom
CEO: Kenny Wilson (2018–)
Founders: Klaus Maertens, Herbert Funck
Parent organisations: R. Griggs Group Ltd., Permira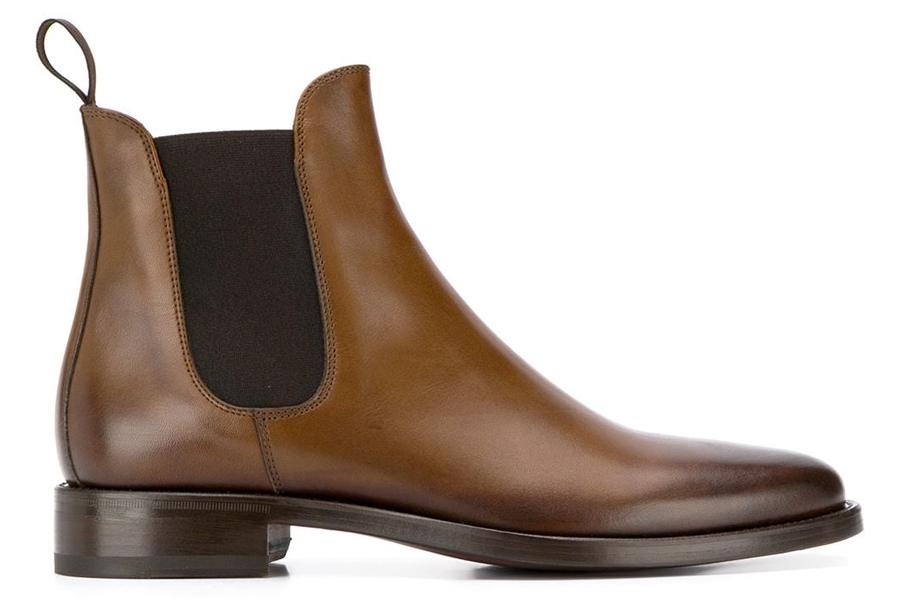 10. Scarosso
Made in Italy, Scarossa boots combine the old-school shoemaking philosophy with modern design and sustainable practices. The artisanal techniques and luxury materials make the Scarossa Chelsea boots a great option.
Founders: Marco Reiter, Moritz Offeney
Founded: 2010
11. Alexander McQueen
These boots were made for stomping. The Alexander McQueen Chelsea boots are designed for the modern man.
Headquarters: London, United Kingdom
Founder: Alexander McQueen
Founded: 1992
CEO: Emmanuel Gintzburger (9 May 2016–)
Creative director: Sarah Burton
Parent organisations: Kering, Kering Holland N.V.
How to Wear Chelsea Boots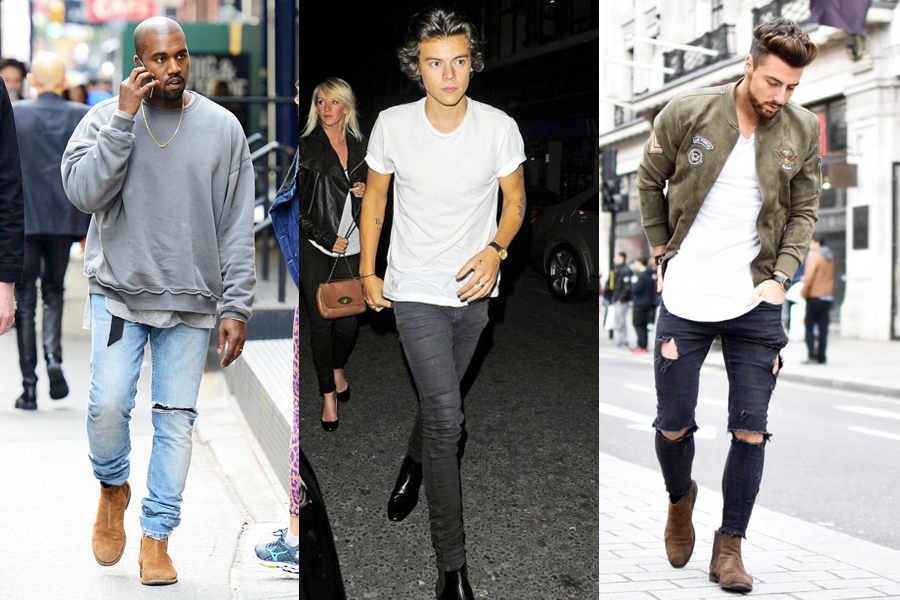 Casual
Both leather and suede Chelsea boots can be worn for casual looks, though suede gives off a more relaxed vibe. Chelsea boots and jeans make for a chilled, pared-back look; opt for slim-cut jeans over skinny or straight leg varieties, as this will ensure the hem of your jeans sit nicely over the top of the boot without constricting or drowning it. You can also try cuffing or pin-rolling your jeans to get the most out of your Chelsea boots outfit.
Brown or tan suede boots pair well with distressed denim, while brown or black leather Chelsea boots work well with slim-cut indigo or black denim jeans. Try teaming black Chelsea boots with slim-fitting black jeans and a white t-shirt for a foolproof casual weekend look, or try wearing tan boots with black or faded blue denim, a t-shirt, and a bomber jacket.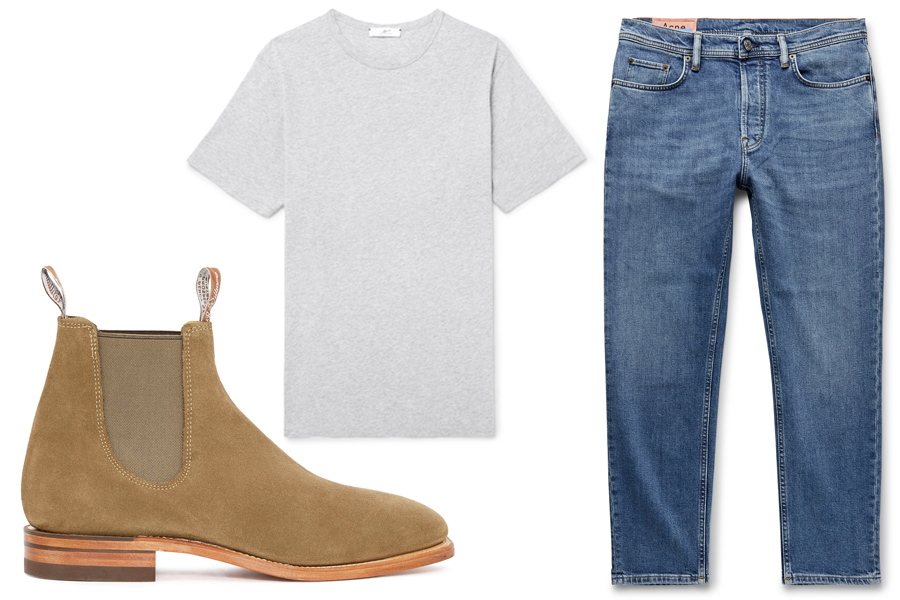 Shop the look:
R.M. Williams Craftsman Boot – Buy it here
Mr P t-shirt – Buy it here
Acne Studios' slim-fit, tapered jeans – Buy it here

Smart Casual
Their sleek, minimalistic silhouette allows Chelsea boots to be worn for smart casual outfits. Both leather and suede boots can be worn in a smart casual outfit, however black leather is always a safe bet. A pair of black leather Chelsea boots can add a sense of refinement to classic outfits like a roll neck or mock neck sweater, black jeans or chinos, and an overcoat.
Grey suede boots also make for an interesting sartorial option; try teaming them with black or charcoal slim-cut chinos, an oxford shirt, a crew neck sweater, and a structured coat. Alternatively, elevate the humble hoodie by pairing it with a structured coat, slim-cut denim or chinos, and a pair of black or dark brown leather Chelsea boots.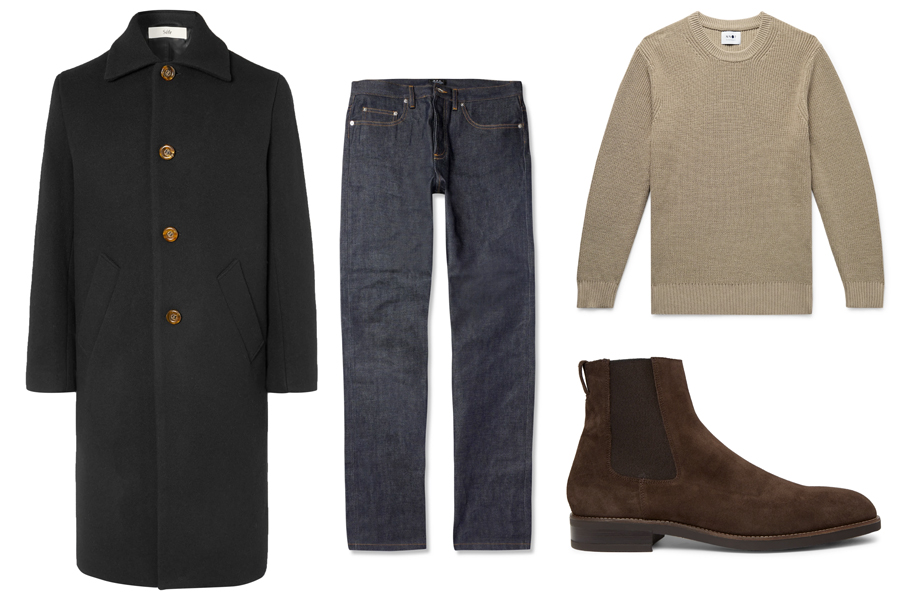 Shop the look:

Business Casual
Chelsea boots needn't be relegated to weekend wear; their versatility allows them to be worn throughout the week with business casual outfits. When wearing them to work, opt for a simple silhouette in black or brown leather and team your boots with office-appropriate separates, like slim-cut chinos, an oxford shirt or thin roll-neck sweater, and a blazer or structured coat.
Try wearing black leather Chelsea boots with black chinos, a white oxford shirt, and a grey blazer. Or, pair brown leather boots with camel chinos, a maroon or rust roll-neck sweater, and a windowpane or checked blazer.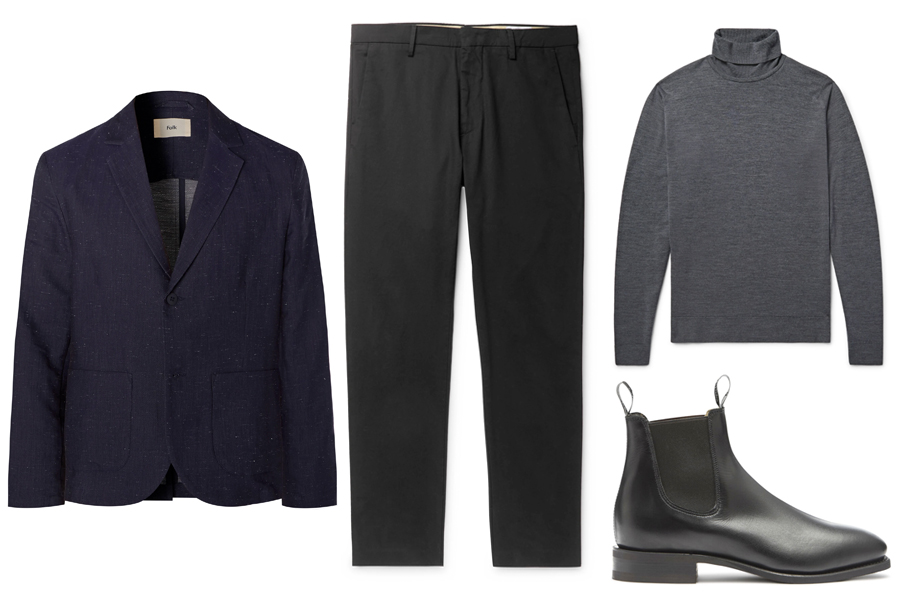 Shop the look: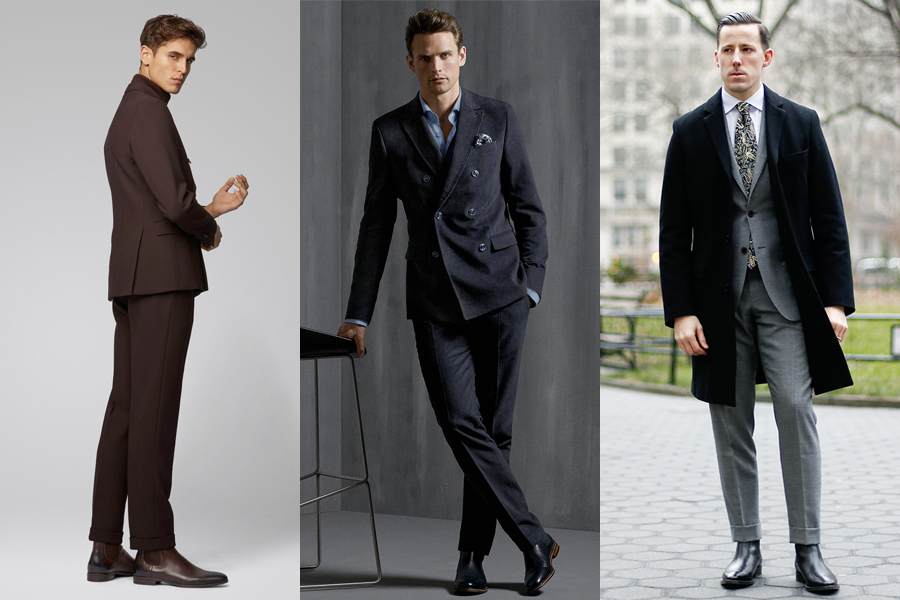 Semi-formal
Their sleek appearance allows Chelsea boots to be incorporated into the modern man's semi-formal attire. Chelsea boots make an ideal footwear alternative to derby shoes, monk straps, and loafers, and can easily be worn with a suit. Like with semi-formal attire, stick to leather varieties. To add a sophisticated touch to your Chelsea boots outift, you can even opt for a pair in dark brown or black patent leather.
For black or grey suiting, it's best to stick with black (potentially patent) leather boots, navy suits pair well with black or brown boots, while camel or tan suits should be teamed with brown boots. If you're feeling experimental, you can try styling oxblood Chelsea boots with a camel, dark brown, grey, or charcoal suit.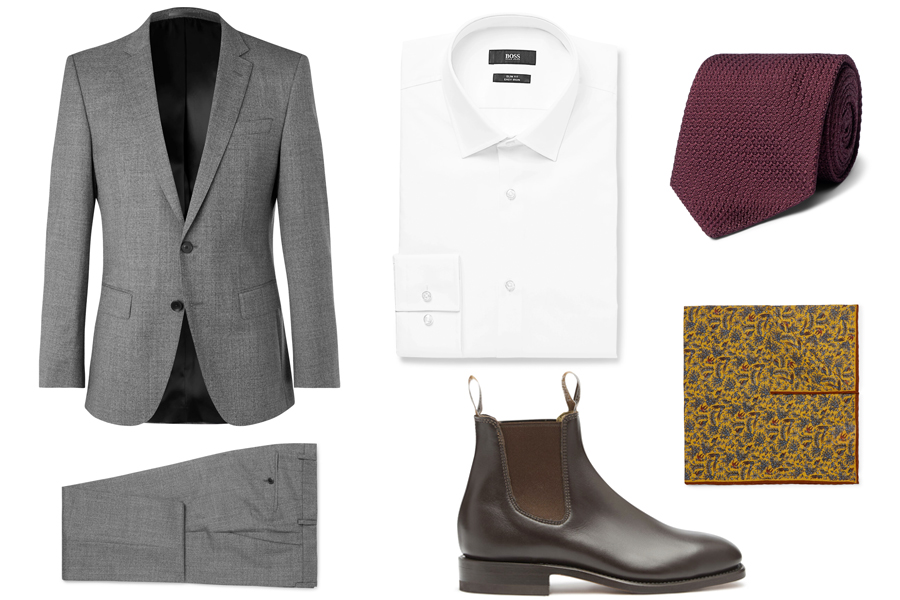 Shop the look:
General FAQ
What pants go with Chelsea boots?
Chelsea boots can be worn with jeans, chinos, or suiting separates in slim cut, tapered varieties.
Are Chelsea boots in style 2019?
Trends come and go, but Chelsea boots are a timeless footwear option. These versatile boots are always in style and can be teamed with outfits ranging from casual to semi-formal.
Can you wear Chelsea boots to a wedding?
Chelsea boots can be worn to work, business meetings, on the weekend, and even to weddings; provided the wedding isn't black tie.
Do you tuck jeans into Chelsea boots?
No, the hem of your jeans or trousers should sit just above or on the top of your boot. If your jeans are too long, you can try pinrolling or cuffing them.
What is the best colour for Chelsea boots?
Brown and black Chelsea boots are always versatile options, however grey suede or oxblood leather also make for interesting sartorial options.
You'll also like:
10 Best Australian Boots Brands to Give You a Leg Up
Drink Champagne and Dance All Night with Pacifico Optical's Lola Frames
How to Wear White Shoes with Black Jeans