Style Guide: How to Dress Like Every BTS Band Member
BTS is undoubtedly the most popular boy band on the planet. Rising to the top of the charts with catchy tracks and vibrant personalities to match, the Korean troupe is fast-becoming the biggest cultural phenomenon on earth. When they're not spending their time writing, singing and touring, however, the BTS band members are caught flaunting some of the cleanest and most progressive outfits in music. With a worldwide audience, a massive fanbase that follows the band everywhere they go. As such, there's a pressure on the band members to stay on point with style. When it comes to BTS fashion, they exceed all expectations.
If you are not a super fan you might have some waking up to do, there's a lot to unpack with this transcendent boy band. The BTS band members are as recognisable and popular as the group itself, with individual characteristics that fans idolise. The synchronised dance moves, bubbly attitudes, and relatable personalities are prime characteristics for total industry domination, and they're almost there. While on their way to industry domination they've become some of the most fashion-forward figures in the industry. Showcasing the ability to blend pieces together from nerdy fashion brands such as WTAPS, Acronym, Neighbourhood and Raf Simons (Calvin Klein), with mainline designer garments from Gucci and Louis Vuitton.
We've broken down each members style in our Style Guide: How to Dress Like BTS Band Members. So check them out below and pick up some tips to get you started on your K-pop fashion journey.
You'll also like:
10 Spots for the Best Korean BBQ in Sydney
Every PS5 Game and XBOX Series X Game Available Right Now
Restore Rather than Replace with the DIY Kintsugi Kit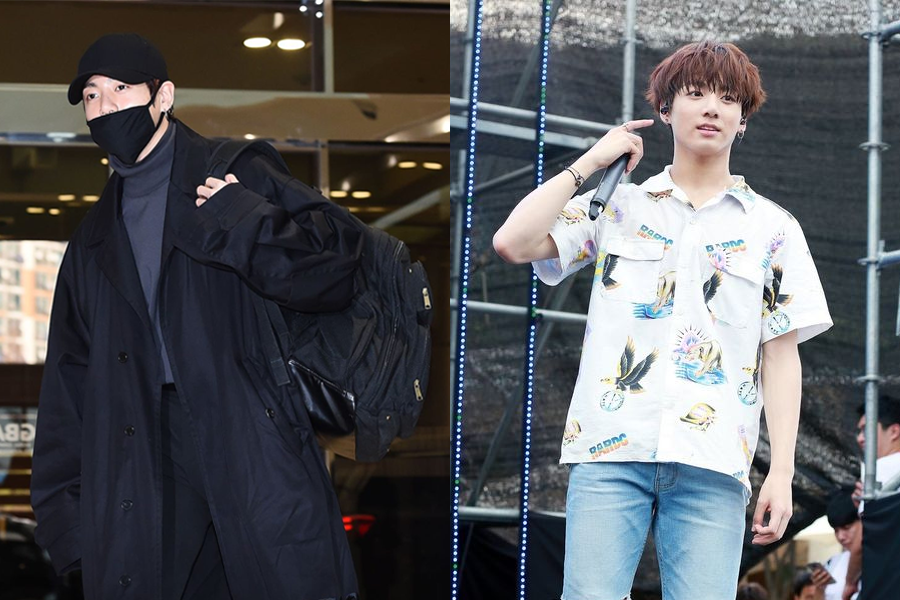 Jung Kook
It isn't easy to stand out amongst a group of stylish young men. Even as the youngest member of BTS, Jungkook still manages to show off his own unique style. Joining BTS at just 15 years old, Jungkook is already regarded as one K-pops most in-demand and talented singers. Like many other successful artists his age, Jungkook has his sights set on film-making and fashion. If his TikTok videos are anything to go off, we think he might serve as the director of some big Netflix films in the future.
Put lightly, Jungkook's fashion is striking. Sometimes the sheer magnitude of the outfit is enough to quiet a room. While he loves rocking Undercover and Raf Simons outwear, his style is multi-faceted. In the warmer months, he is regularly seen rocking button-up shirts from the likes of Gucci and Prada. If you're looking to pull off a simple Jungkook fit, we recommend starting with a bowling shirt or double-breasted button-up from the likes of WTAPS or Monitaly. Pair a nice shirt with a pair of Saint Laurent denim jeans or Calvins, and finish it off with some Visvim sneakers and you're set.
Born: 1 September 1997 (age 23 years), Mandeok-dong, Busan, South Korea
Height: 1.79 m
Full name: Jeon Jung-kook
Favourite Brands: Gucci, WTAPS, Calvin Klein, Raf Simons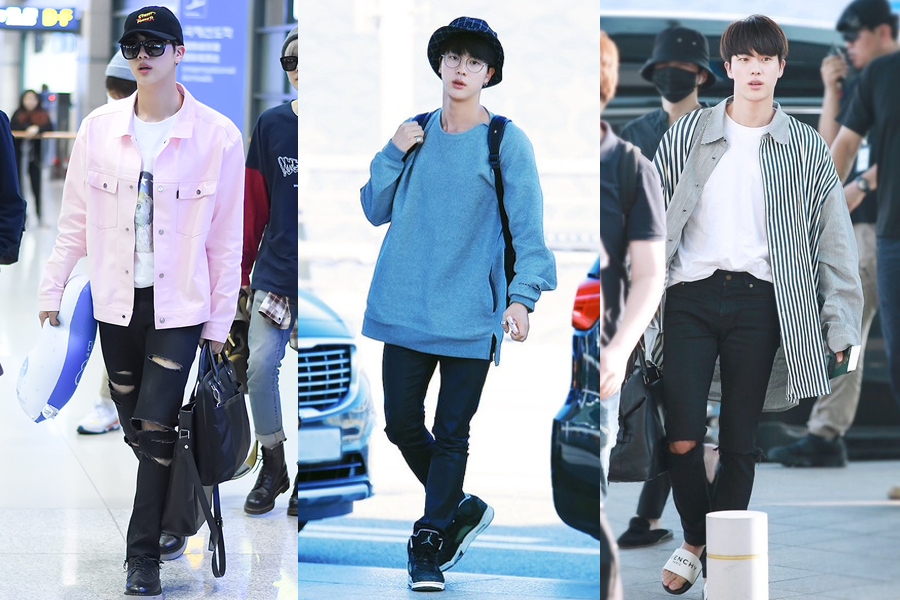 Jin
Originally interested in being an actor, Jin is the oldest BTS band member. Hilariously, Jin goes by the nickname 'worldwide handsome', introducing himself as such in 2017. He was originally scouted for the BTS band due to his looks, so maybe this self-praise has some truth to it. Being the quietest member of the band, Jin likes to keep his style fairly understated. Jin rocks oversized outerwear pieces and likes to pull off a pink outfit every once in a while. Pink is his favourite colour.
If you're looking to rock oversized outerwear make sure you aim to be proportionate and balanced. Don't purchase items that are two sizes too big. Aim for tailored items that are purposely built to have an oversized fit. Look for a wider shoulder, sleeve, and waist. You don't want to look like you're still growing into your outfit. Do as Jin does, add some well-fitted denim jeans with a hole or two to really get into character. Depending on your style you can add some sneakers, dress shoes or even designer slides as we see Jin do on a regular basis. Pink might be Jin's favourite colour but it doesn't have to be yours, adding a pastel is always a trendy way of drawing some attention to your new outfit.
Born: 4 December 1992 (age 27 years), Gwacheon-si, South Korea
Height: 1.79 m
Full name: Kim Seok-jin
Favourite Brands: Balenciaga, Gucci, Raf Simons, Visvim, Off White
Suga
Suga had to earn his place in the BTS band. While he is a hustler in every sense of the word he also struggles with anxiety. Writing songs since he was 13, he honed his craft working late nights in a recording studio during his teenage years. Sometimes referring to himself as 'genius Suga', his sense of style is simpler and more reserved than some of the more flagrant members of the group.
To get the Suga style you must love quality leather and black. Suga wears some of the nicest leathers on the market and his style might even be referred to as 'softcore' by today's standards. He likes to pair a leather jacket with a plain black shirt and black denim jeans, usually Calvins or Saint Laurents. Contrasting hair colour will usually appear alongside light eye shadow and darker mascara. When Suga isn't wearing a nice leather, he's keeping it simple with a black overcoat or jacket from Visvim or Mastermind Japan. Ultimately, black on black on black on monochrome is the way to go.
Born: 9 March 1993 (age 27 years), Taejeon-dong
Height: 1.74 m
Full name: Min Yoon-gi
Favourite Brands: Mastermind Japan (fave), Visvim, Gucci, Balenciaga
J-Hope
Undoubtedly the best dancer in the BTS band, J-Hope has made a name for himself on the dancefloor. Prior to joining BTS, he was a member of the dance troupe Neuron where he won multiple competitions. With this slick dance moves you might be fooled into thinking he can't sing, but don't for a second think he treats his music or his style as second place.
His sunshiny personality adds an exuberant flair to his fashion choices. J-Hope likes to rock unconventional pieces that lean towards bright colours and bold combinations. If you're looking to rock a J-Hope inspired outfit, comfort is the name of the game. Shorts are always an option, J-Hope loves rocking denim shorts, camo shorts, and 5-inch inseam options from the likes of Patagonia. Add a dad cap or bucket hat to match your J-Hope fit and you'll be looking like the dance king himself in no time.
Born: 8 February 1994 (age 26 years), Ilgok-dong, Gwangju, South Korea
Height: 1.77 m
Full name: Jung Ho-seok
Favourite Brands: Raf Simons, YEEZY, Louis Vuitton, JW Anderson, Off White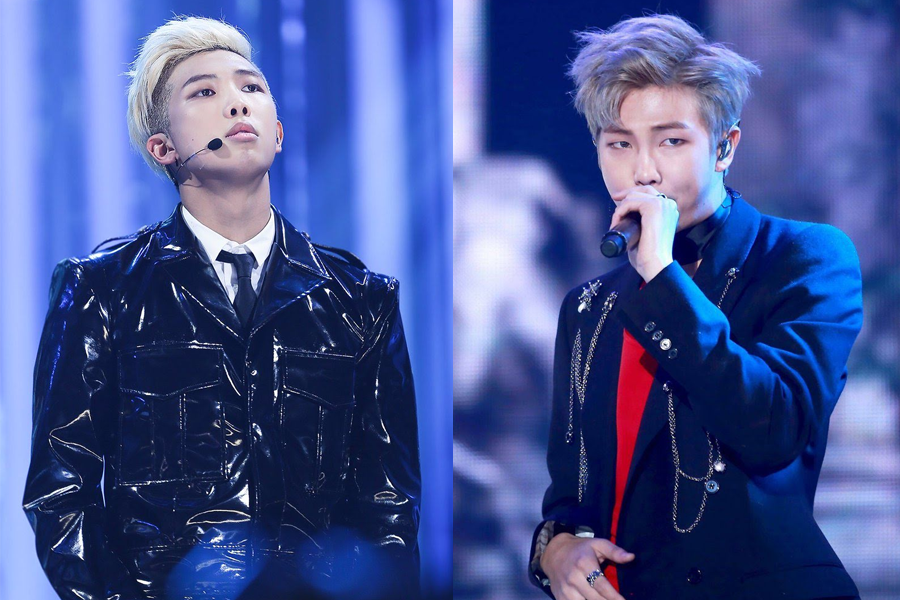 RM
RM came up through Korea's underground rap scene, becoming the first member of the BTS band in 2010. Rap Monster taught himself English by watching Friends. He was the first member of the group, as such, he takes on the role of the group leader. Although he's the 'leader', he doesn't make decisions for the BTS band on his own. The band usually makes decisions in a democratic fashion, with a round of Rock, Paper, Scissors. This method of decision making extends to his outfits, where he will pair unique pieces that otherwise might never find a place together.
His style has changed greatly over the years. RM loves to experiment with unique looks and just throw on pieces until he finds a winning combination. He loves Japanese streetwear and streetwear in general. Laidback looks are his favourite off-stage and combinations include bright coloured outwear from WTAPS and denim shorts from Visvim.  If you're looking to rock an RM inspired outfit you can't really go wrong with a matching short sleeve shirt and shorts combination.
Born: 12 September 1994 (age 26 years), Yeoui-dong, Seoul, South Korea
Height: 1.81 m
Full name: Kim Nam-joon
Favourite Brands: Yohji, Y-3, WTAPS, Neighbourhood, Visvim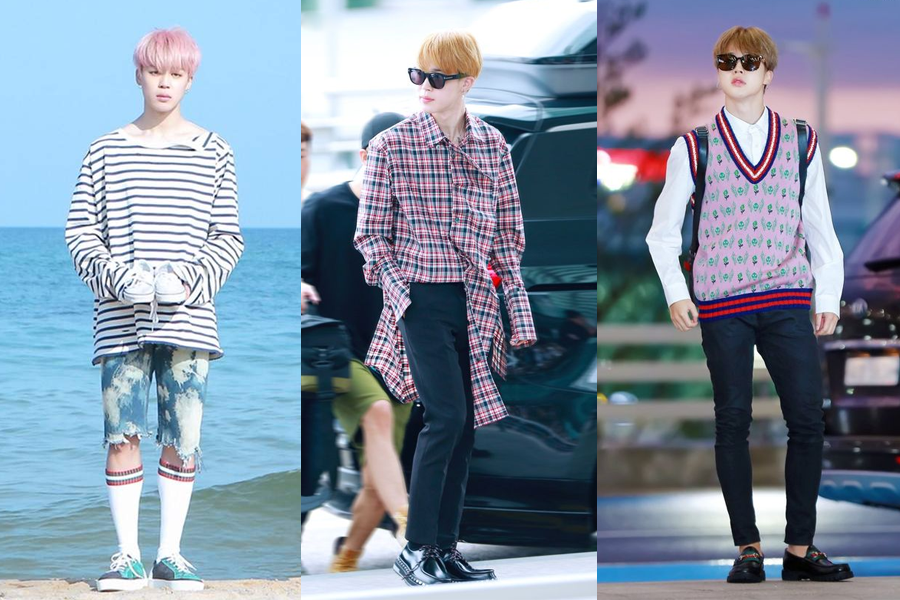 Jimin
Well known for his dancing and innocent look, some say Jimin was born this way. Jimin is another one of the bands best dancers and he has manufactured a successful solo career with tracks such as "lie" and "serendipity". As a part-time philanthropist, he regularly gives back to his home town of Busan.
We think Jimin might hold the crown for the most stylish member of the BTS Band. His chic and so effortlessly cool aesthetic is reminiscent of other top tier celebrities like A$AP Rocky and Timothy Chalamet. Jimin will pair a vibrantly patterned shirt from the likes of Gucci and Raf Simons with some plain coloured trousers from Calvin Klein and show off exactly why we love Jimin as a fashion king. Wanting that Jimin look? Aim for a patterned shirt with an oversized fit, and pair it with some washed denim for a casual fit. Alternatively, shop around for some Raf designed Calvin Klein's and pair it with some Gucci trousers and brogues for a  fashion-week ready look.
Born: 13 October 1995 (age 25 years), Geumsa-dong, Busan, South Korea
Height: 1.74 m
Full name: Park Jimin
Favourite Brands: Raf Simons, Gucci, Prada, JW Anderson, Thom Browne, Balenciaga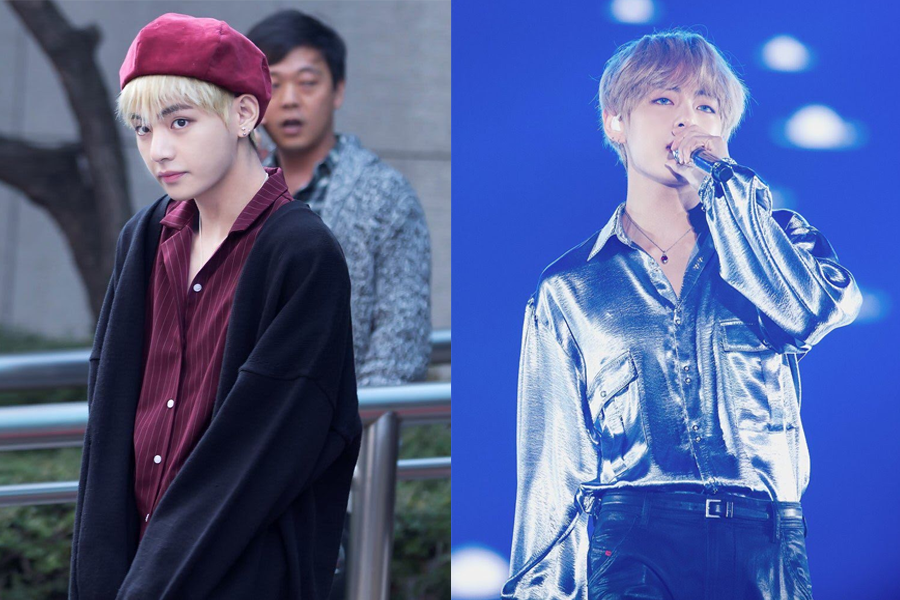 V
If you want to become a K-pop superstar looks are everything. Members of the BTS band think V is "really cute" but note he "acts like a brat", we think that's just his persona kicking in. V has always been into music, he began playing the saxophone at school. Today, V has cemented a strong solo career with tracks like 'Scenery' racking up over 60 million listens on the bands streaming pages.
V has a taste for high fashion, he probably has the most defined style amongst the BTS band. He appears to get most of his style inspiration from the lookbooks of Gucci and Louis Vuitton. His outfits look like they're taken straight off the pages of a lookbook, with wide flowing trousers and silk button-ups making up the majority of his wardrobe. Getting a look like V's isn't too challenging. While the outfits are spectacular, there's not a whole lot to unpack with his very defined style. Pair a boldly coloured button-up with some wide-leg trousers of your choice and you're 90% of the way there. Add some minimalist jewellery, and a pair of dress shoes and you've got a look V would be proud of.
Born: 30 December 1995 (age 24 years), Bisan-dong
Height: 1.79 m
Full name: Kim Tae-hyung
Favourite Brands: Gucci, Louis Vuitton, Hermes, Burberry
General FAQ
What does BTS stand for?
BTS stands for the Korean expression 'Bangtan Sonyeondan', which translates into Bulletproof Boy Scouts.
Why is BTS so popular?
If the catchy songs, synchronised dance moves, and personal characteristics aren't enough to comprehend. The fashion and style expressed by the 7 members should be.
Do any BTS members have girlfriends?
None of the BTS band members have come out publicly with relationships.
You'll also like:
10 Spots for the Best Korean BBQ in Sydney
Every PS5 Game and XBOX Series X Game Available Right Now
Restore Rather than Replace with the DIY Kintsugi Kit