7 Ways to Dress Like Lewis Hamilton
The F1 season is set to kick off this weekend, and there is no bigger name in the game than Lewis Hamilton. Widely regarded as one of the greatest drivers of all time, the British Formula One racing driver is also pretty impressive off the track. Of late, Hamilton has flitted from the F1 to the fashion week circuit; attending shows by the likes of Versace and Missoni, and releasing multiple collaborations with American designer Tommy Hilfiger.
Whilst not yet a full-fledged style icon, Hamilton's sartorial style shows promise, with the Brit experimenting with streetwear, bold tailoring, and accessories. Here's a list of seven ways to cop the Lewis Hamilton fashion style.
You'll also like:
Top F1 Drivers 2020 Salaries Revealed
Lewis Hamilton Chats to Man of Many About Life On and Off Track
Style Guide: How to Dress Like Ryan Reynolds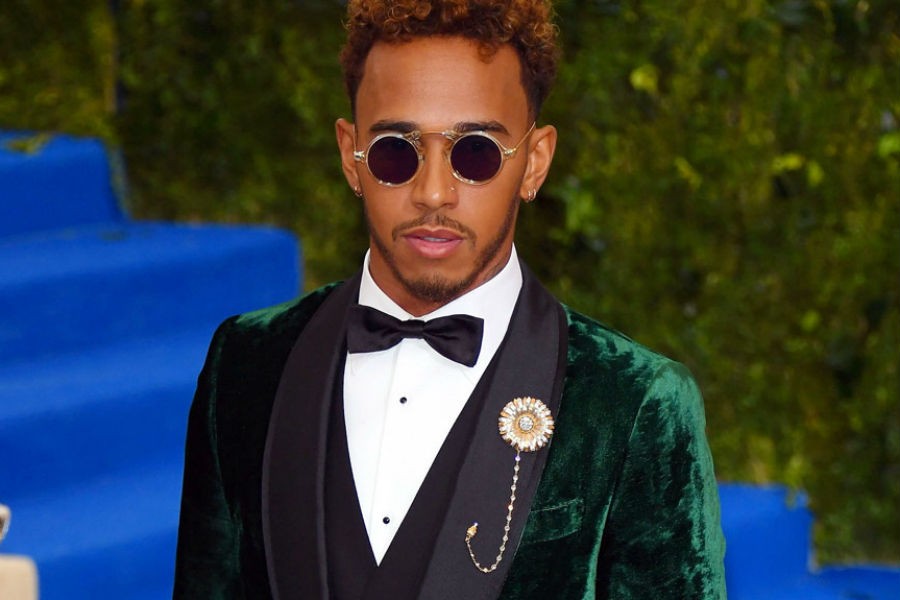 1. Tonal Tailoring
Lewis Hamilton rarely appears in black tailoring, instead opting to inject colour into his suiting choices. The F1 racer typically maintains the same silhouette when selecting suits; a slim cut single-breasted jacket and tapered trousers with little to no break. Hamilton has found what works for him and his body, successfully utilising the same formula over and over again, whether it's an emerald green velvet shawl collar tux to the met gala, or bright red suit with peak lapels to a Vogue party.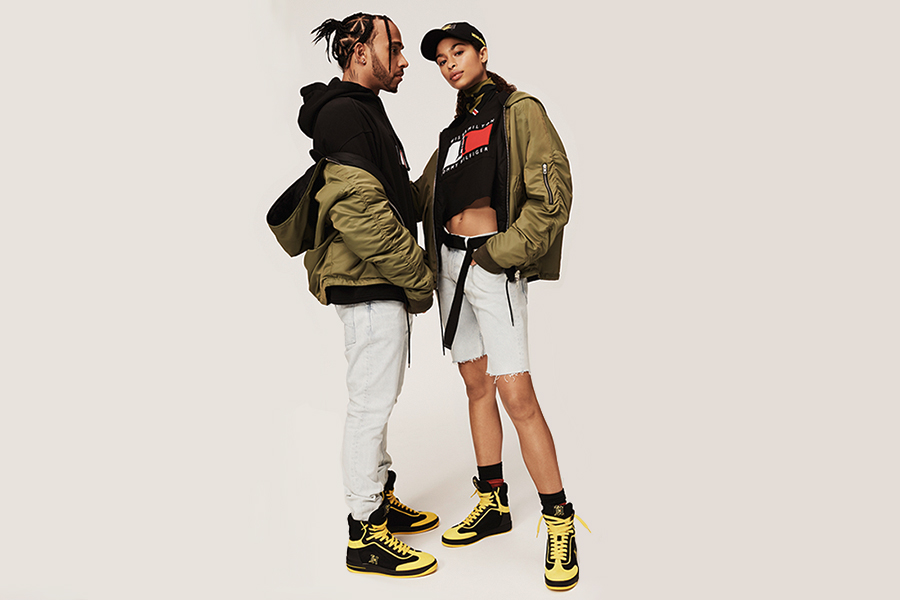 2. Vegan Vibes
The British race car driver has been a vocal vegan for a couple of years now, and recently collaborated with Tommy Hilfiger to launch a vegan fashion collection for Spring 2020. A continuation of their TommyXLewis collab, the range has a streetwear aesthetic, consisting of tracksuits, sneakers, t-shirts, hoodies, utility vests, bomber jackets, and baseball caps. The Lewis Hamilton fashion collection was made with materials from eco-friendly company Sorona, such as organic cotton, vegan down, and recycled water bottles.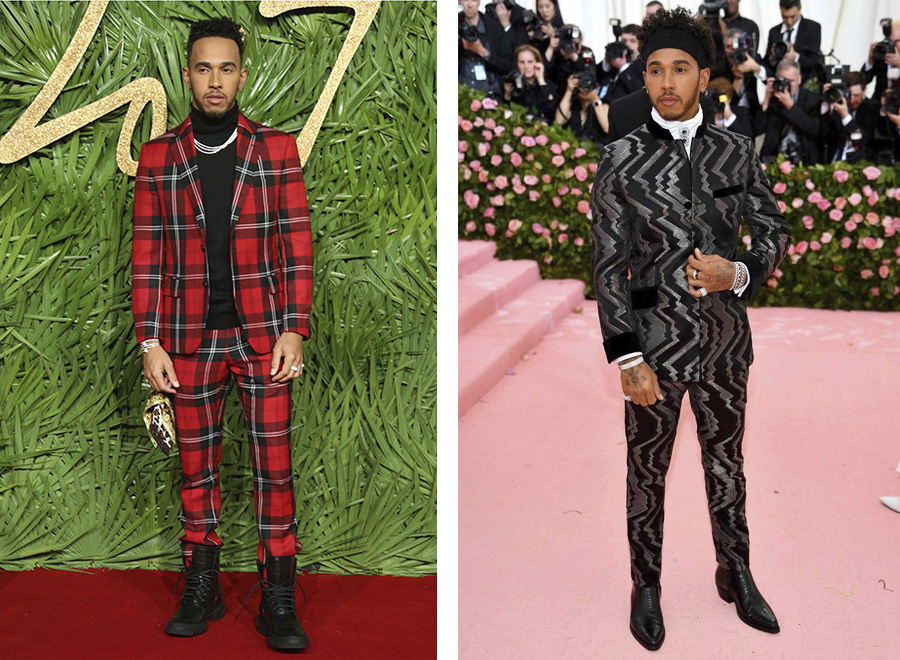 3. Playful Patterns
In lieu of traditional suiting styles, a good pattern is straight out of the Lewis Hamilton fashion playbook. Often the F1 champ is seen sporting polka dots, paisley, and houndstooth patterned suits. Our favourites? The metallic zigzag graphic suit he wore to the 2019 met gala, courtesy of Tommy Hilfiger, and the red tartan Versace suit he sported at the 2017 British Fashion Awards. Though classic styling etiquette dictates that when wearing overly patterned suits, accessories should be minimal to non-existent; Hamilton nonetheless pulls the look off with some bling.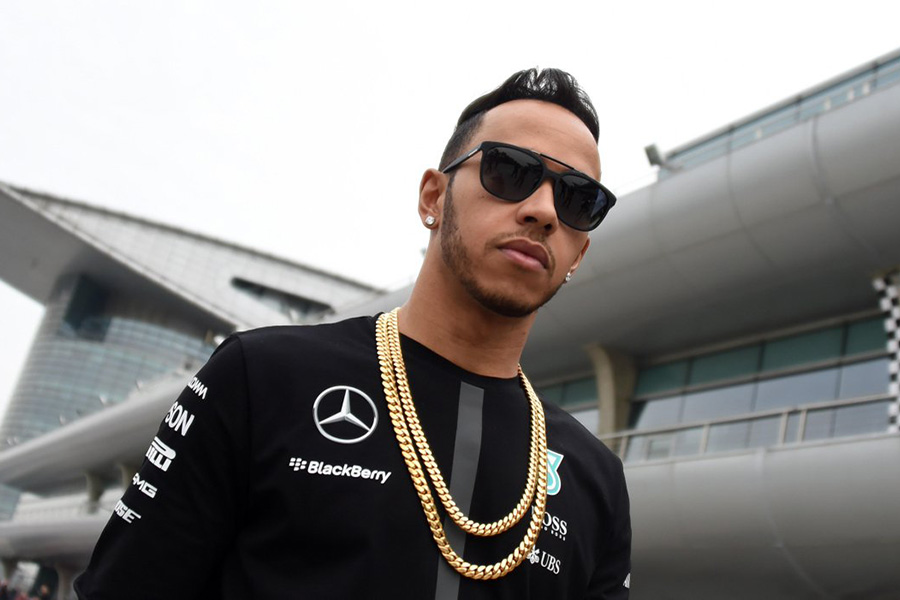 4. The Bling King
Both on and off the track, Lewis Hamilton is rarely seen without his statement gold chains and chunky diamond ring. The F1 driver also regularly sports Cartier jewellery, often seen wearing the love bracelet and Panthère de Cartier necklace from the French luxury house. Fortunately, as the world's highest-paid racecar driver, Hamilton has the cash to indulge his penchant for jewellery.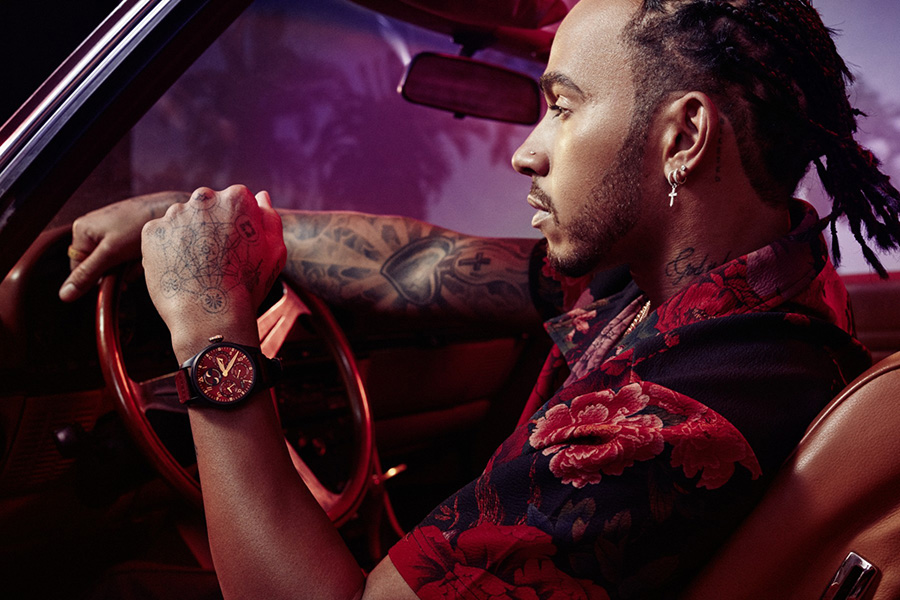 5. Watch Out
No Lewis Hamilton fashion guide would complete without touching on watches. The style icon's love of jewellery extends to timepieces, with the Brit often seen sporting a custom IWC Top Gun watch on his wrist, estimated to be worth around $60k. Late last year, Hamilton also collaborated with the Swiss watch manufacturer on a stunning Big Pilot Perpetual Calendar timepiece. The resultant limited edition watch (just 100 pieces were made) is a celebration of the F1 driver's unique style; a burgundy dial set in black ceramic, with a burgundy textile strap.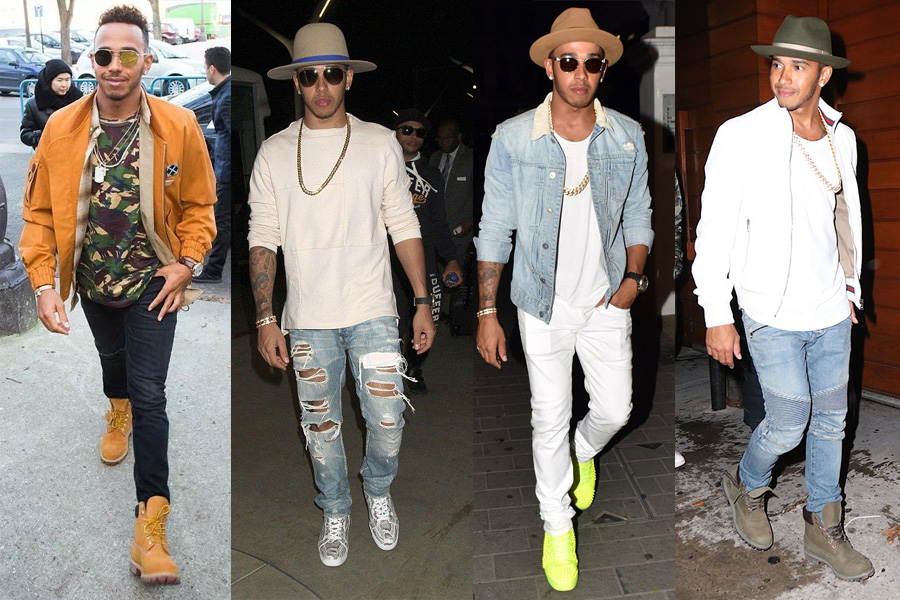 6. Elevated Everday Essentials
Minimalism meets maximalism with Lewis Hamilton's casual outfits; simple yet luxurious, accentuated by the Brit's signature accessories. The F1 driver generally follows the same formula, favouring longline t-shirts teamed with skinny jeans (distressed optional), hi-top sneakers or Timberland boots, and a staple jacket (think leather motorcycle jacket, suede bomber, satin bomber, or a shirt jacket). To top it off, Hamilton throws on a silver or gold chain and his oft worn around Thom Browne sunnies.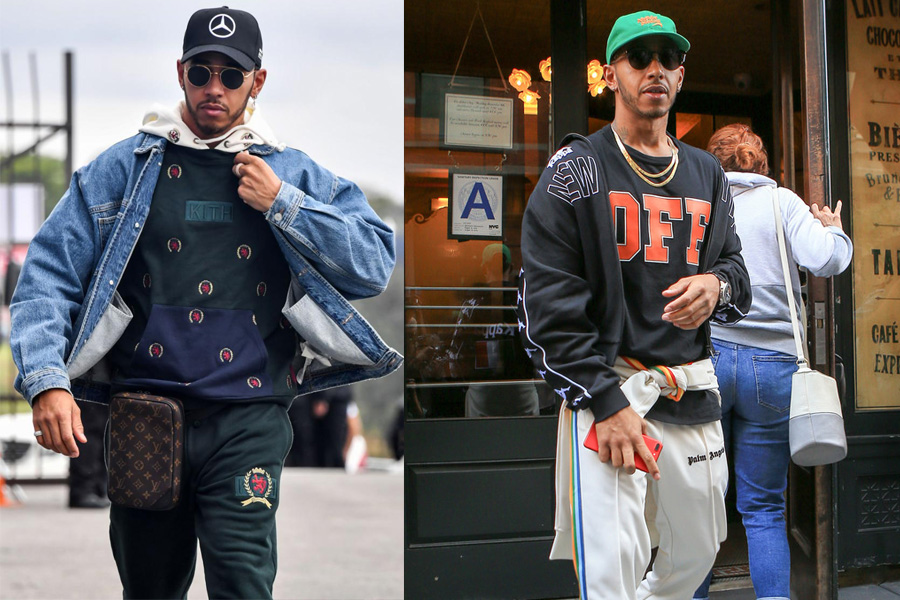 7. Logo-Maniac
Lewis Hamilton has embraced the sartorial zeitgeist of our time, consistently sporting logo-clad looks. Whether it's a Louis Vuitton bum bag teamed with a Kith hoodie, or an Off White t-shirt paired with Palm Angels trackies, Hamilton regularly makes logomania work for him.
You'll also like:
Interview With James Bond Spectre Stunt Driver Mark Higgins
IWC's New Spitfire Campaign Film Starring Lewis Hamilton
Style Guide: How to Dress Like Chris Hemsworth

General FAQ
What clothes does Lewis Hamilton wear?
Lewis Hamilton is becoming known in the fashion world, the F1 driver experiments with streetwear, bold tailoring, playful patterns, and accessories.
Does Lewis Hamilton design clothes?
Lewis Hamilton has released multiple collaborations with Tommy Hilfiger, including a vegan fashion collection for Spring 2020.