If we can start with something of a cliché, we men have a habit of letting the side down when it comes to our suiting selections. Whether this is due to limited interest, a lack of courage, or just a shortage of good old-fashioned nous, all too many of us just roll out the same tired old suit for every special occasion, but we're here to change all that.
Enter our guide to mixing and matching, which will help you sharpen your style, upgrade your garb, and add a wow factor to your wardrobe. Basically, we're here to help you get the most out of your suiting and explore how a handful of smartly chosen items can open up a world of versatility, whether you're dressing up, dressing down, or anywhere in between.
The Power of a Neutral Base
There's never a better time than right now to start building a flexible suiting wardrobe. Doing so will mean you'll be ready to turn heads by the time the wedding and racing seasons are back in full swing and increasing your options will also help to elevate your daily dressing between now and the next nuptial celebration.
There are three items that sit at the core of your suiting setup: your blazer, trousers, and shirt. For the moment, let's focus on the first two. A strong mix-and-matchable foundation comes by embracing neutral colours. These include classics like black, grey, and navy, or more adventurous but still muted shades of sky blue, beige, brown, and dark green. All of these colours enable you to mix your blazer and trousers in pretty much any combination and come up looking like some kind of sartorial soothsayer.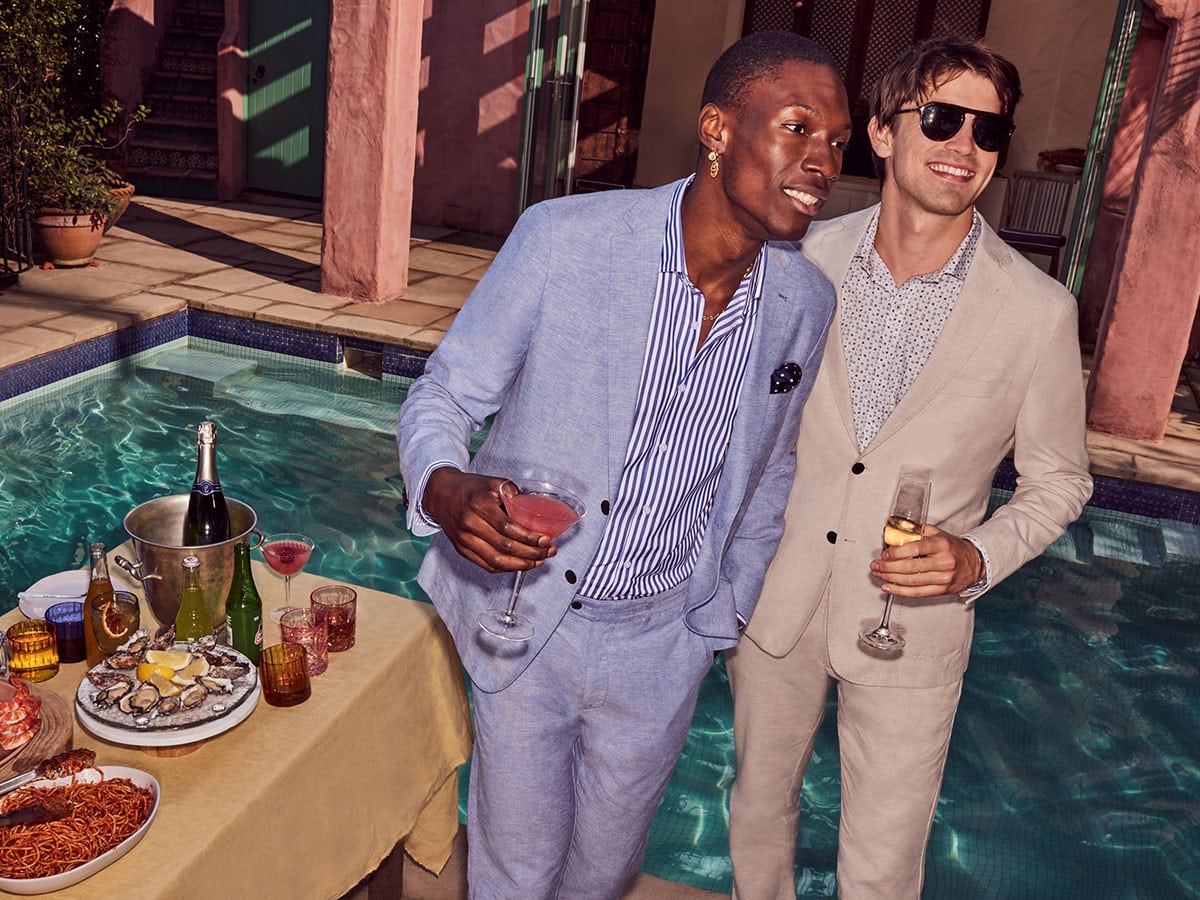 For example, by pairing a navy blazer with your beige suit's trousers you're unlocking a whole new aesthetic. The same goes for your dark green blazer and black trousers, or your… Well, you get the picture. The results of this can create a less formal look, or just render a traditionally formal look more interesting.
Using the blazer independently of the suit also ensures you'll get more use out of it. In addition to matching it with trousers from your other suits, you can give it the smart-casual treatment by pairing it with chinos, jeans, or even (deep breath) shorts. That's when you know you've truly mastered the mix-and-match arts.
The Rules of Colour
An awareness of how colour works is crucial when it comes to pairing a range of suiting elements with one another. Fortunately, following the advice outlined above regarding neutral colours will also keep you safely inside the bounds of the Three Colours Rule. This states that if there are more than three colours in your outfit, it's going to be more challenging to achieve a harmonious overall look.
Ideally you want your base colour to be around 50-60 per cent of your outfit (in our case this would be the blazer), complementary colours to be around 30 per cent (trousers), and the remaining 10-20 per cent accounts for your shirt.
These can't be just any trio of colours, though. Colour Theory throws more guidelines our way, stating that there are three main colour schemes in clothing: complementary colours, analogous colours, and monochromatic colours. These aren't hard and fast rules, but if you're in doubt when it comes to your colour selection for any outfit—not just suiting—you can just follow one of these three approaches…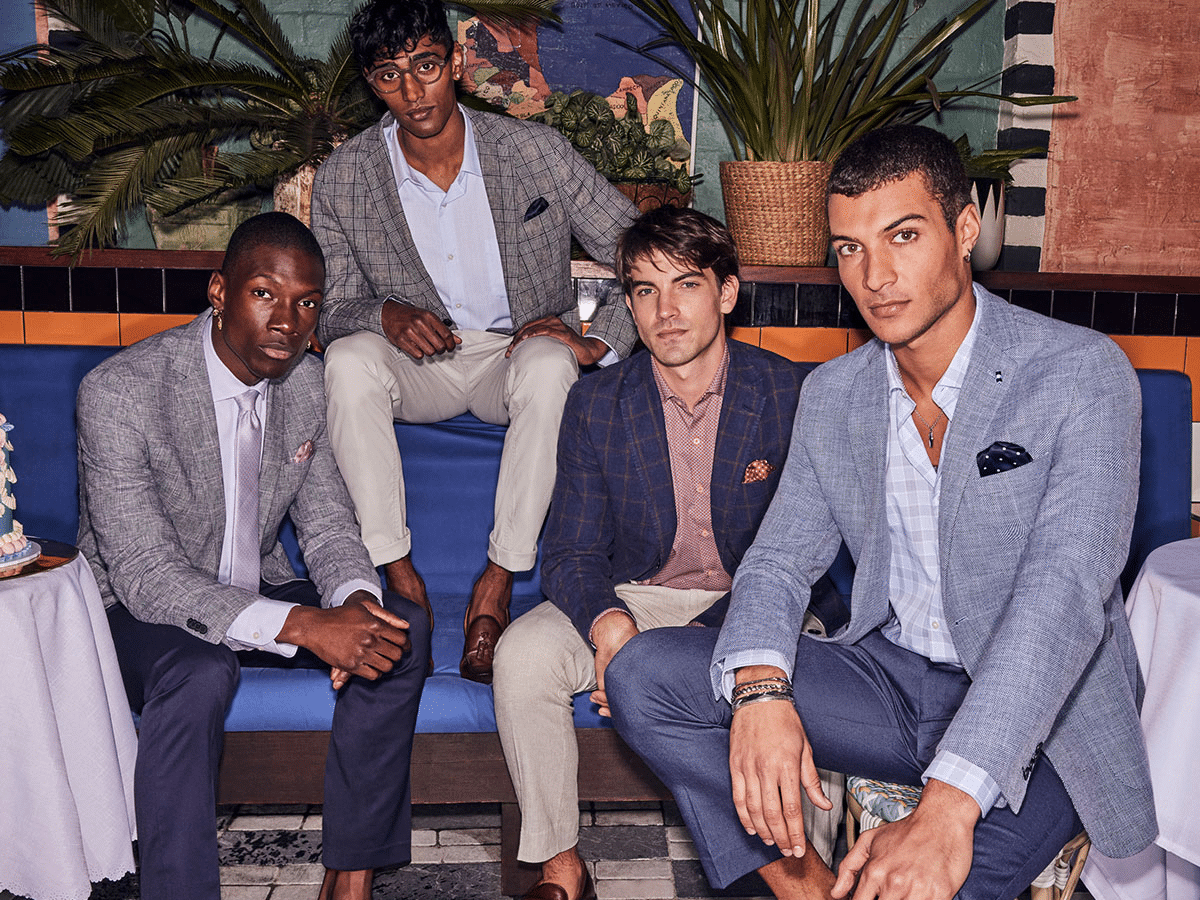 Complementary Colours
Sitting opposite one another on the colour wheel, complementary colours can be used to create a look that's high impact. Think red and green, purple and yellow, or blue and orange. You'll often find sporting teams using these for that very reason. But because of that it's an approach better suited to more casual wear and one you'll want to be wary of when it comes to suiting, particularly given the neutral base we've already established. Accessories can definitely benefit from following this rule, but the base elements less so.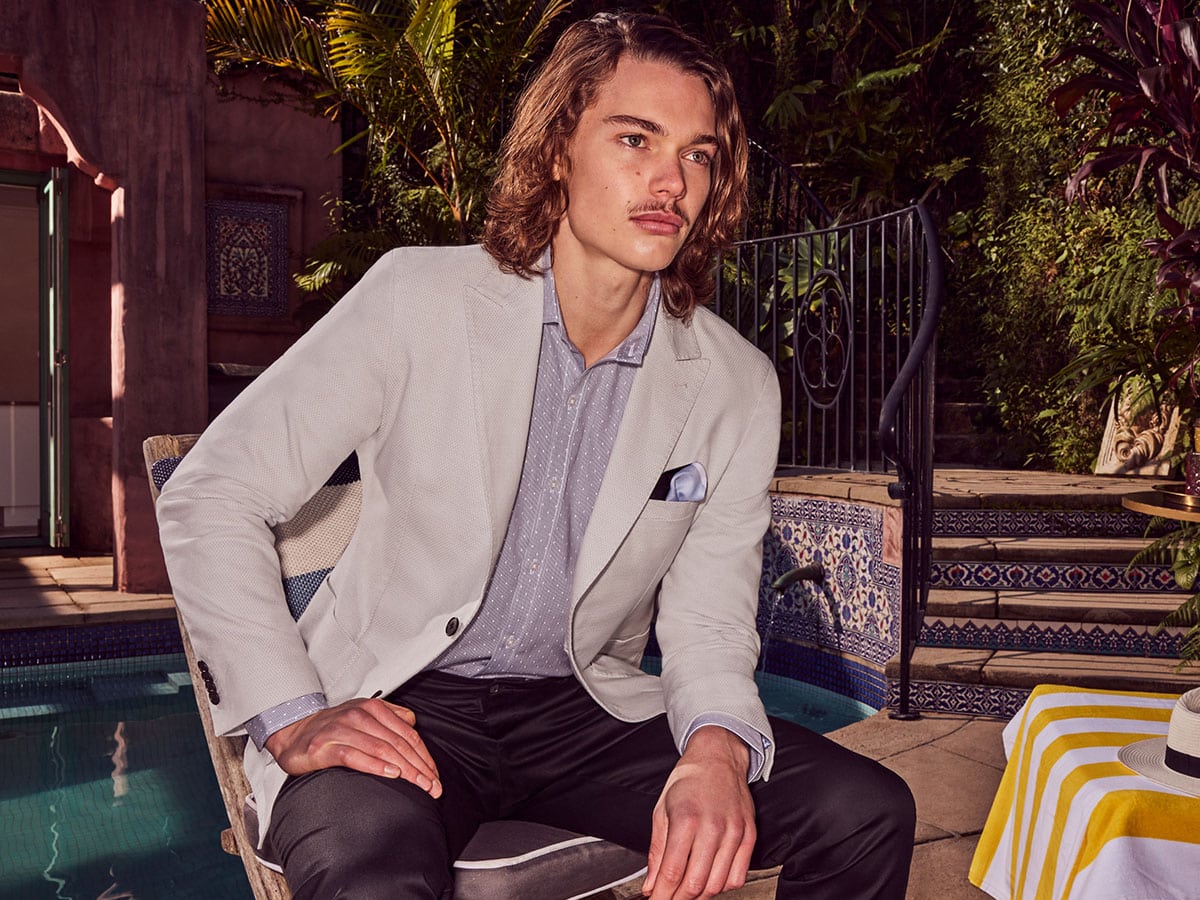 Analogous Colours
Analogous colours are more useful when it comes to suiting. Sitting adjacent to one another within the colour wheel, they help to build a look that's cohesive—for example, blue, green, and teal work well—creating a stage on which accessories like a pocket square or tie can be the star of the show.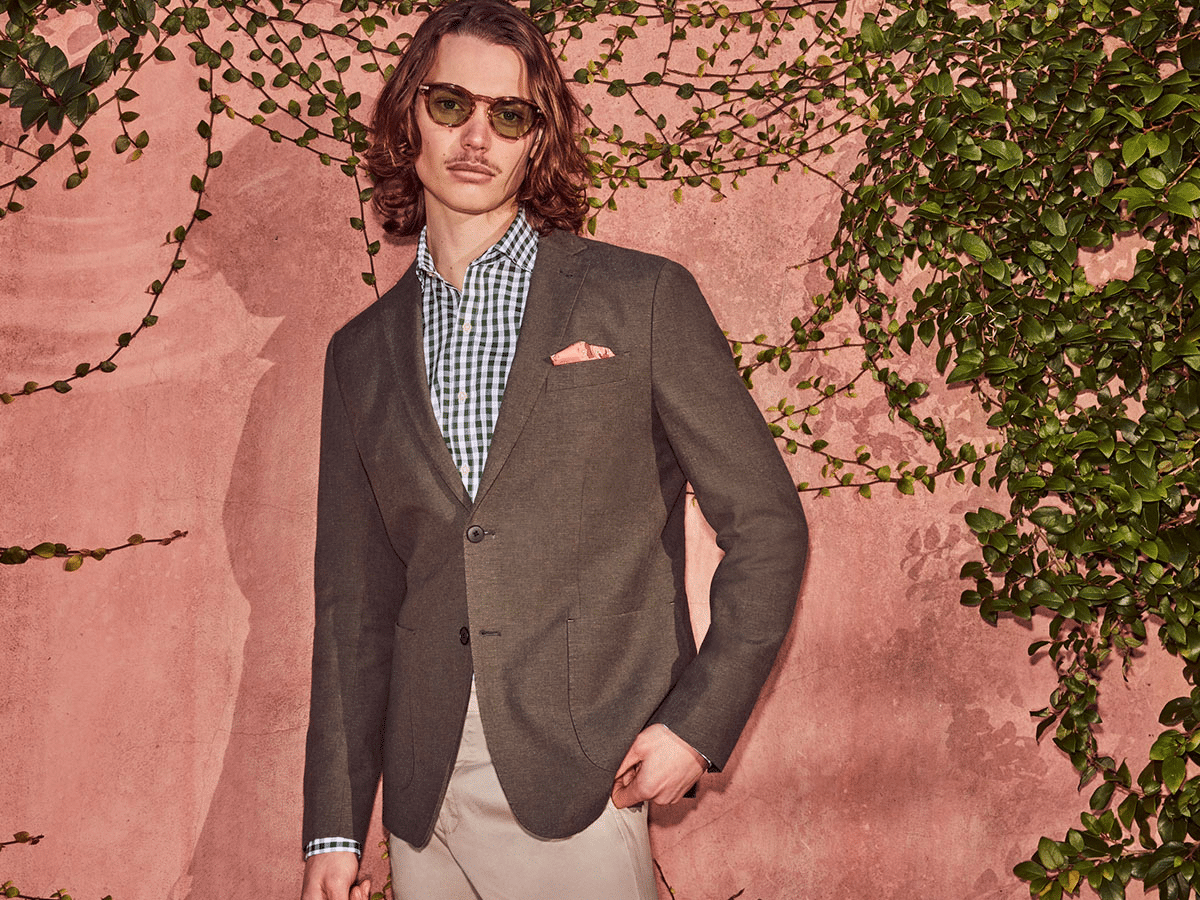 Monochromatic Colours
The monochromatic approach involves using a range of shades within a single colour. This creates a streamlined look that's pretty easy to throw together. In terms of mixing and matching, this can be a good excuse to introduce elements of pattern into an ensemble, while keeping the overall colour scheme monochromatic. For example, you can mix and match a light grey checked blazer together with darker grey trousers for a seriously sophisticated look.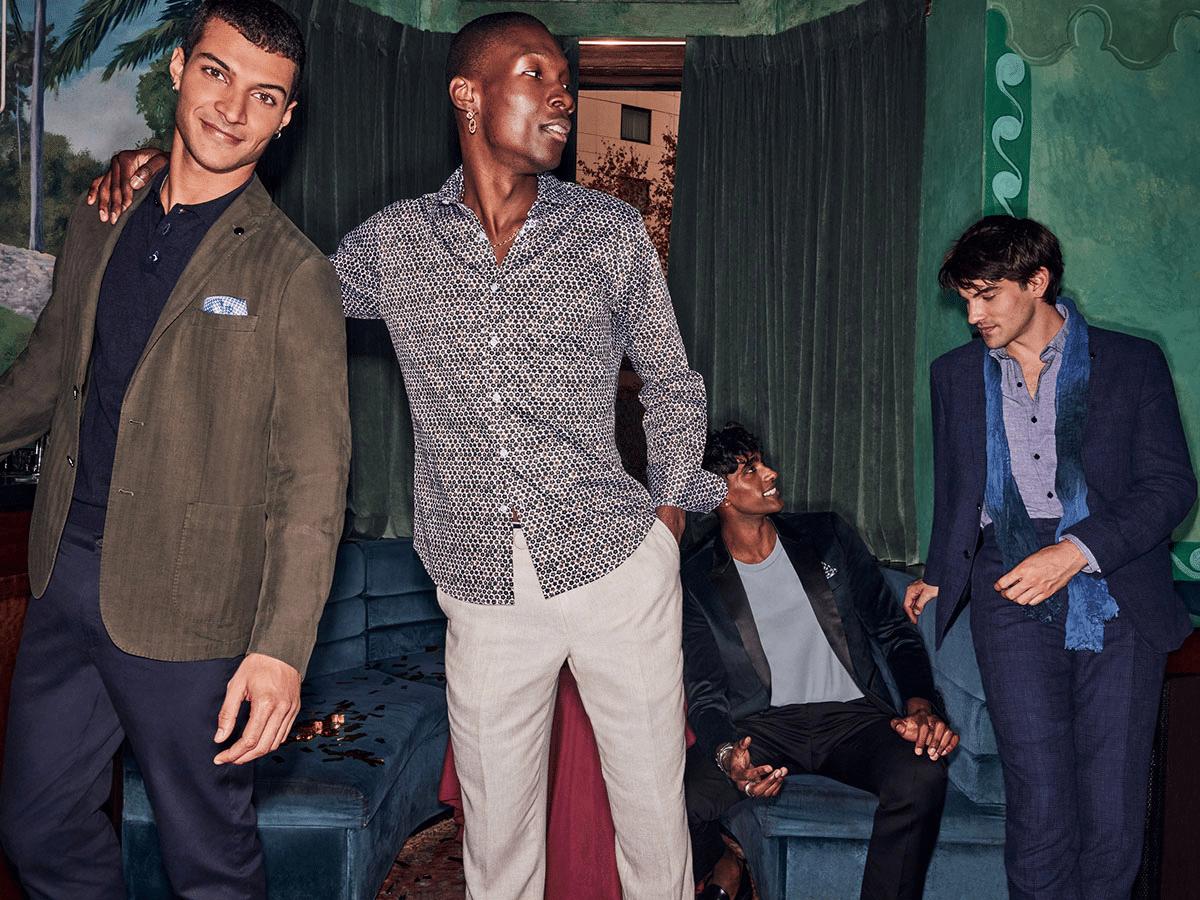 Prints, Patterns, Fabrics & Fibres
There's more to mixing and matching than just colour. Elements like fabrics, patterns, and prints all play a key role in the final result. When it comes to suiting fabric, we highly recommend making linen your go-to. This is a fabric with a lot of versatility built-in, enabling you to dress it up or down, depending on the event or dress code, and it helps you moderate your body temperature too – keeping you cool in summer and warm in winter.
One of the benefits of having a subtle, muted foundation for your suit look is that it frees you up to be more playful when it comes to your shirting and accessories. Whether that's exploring the luxurious floral patterns crafted by the world-renowned Liberty Fabrics, a strong check or geo print, or a bold candy stripe, it's remarkable what an effect simply trying out a range of shirts can have on a final ensemble. Mix and match, indeed.
This also applies to accessories like your tie and pocket square. While we'd recommend plain accessories if you're going for a patterned shirt and vice versa, experimenting with these elements is a fantastic way to stand out from the crowd, which is made that much easier if you've built that solid neutral suiting foundation we discussed.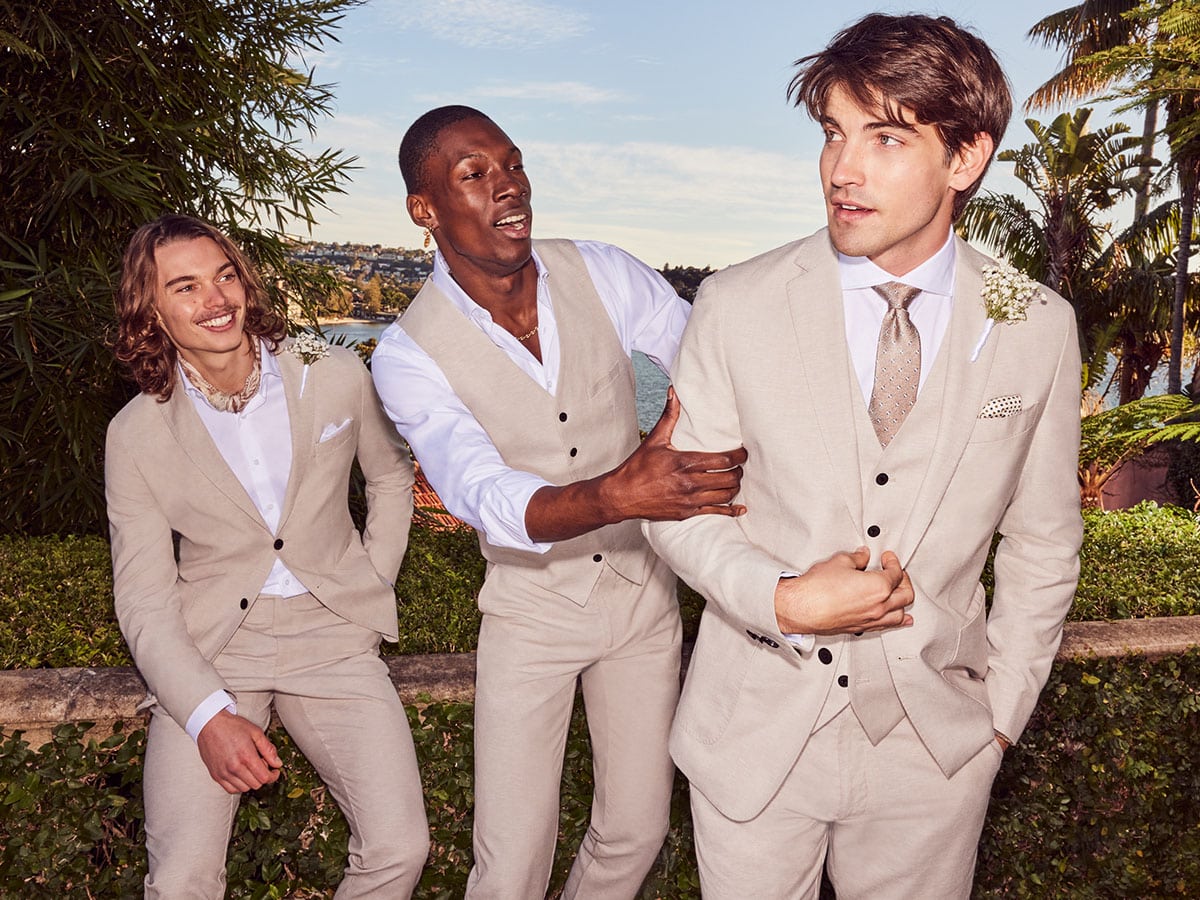 Your Ultimate Mix & Match Destination
Whether you have a number of suit-essential events lined up over the coming months (weddings, parties, races, etc.) or it's just time for a general sprucing up of your wardrobe, Van Heusen's new season range has been intentionally designed to let you put everything we've covered here into practice. From a broad range of sharp linen suits in neutral tones (both patterned and unpatterned), to shirting that covers everything from the traditional to the more daring, as well as a deep bench of accessories for that perfect finishing touch, you'll find everything you need to bring a new level of flexibility and creativity to your suit game (and your day-to-day wear, too).
To elevate your look, discover the latest range at Van Heusen below.