10 Pompadour Haircut & Hairstyles for Men
Ahhh, the classic men's pompadour haircut. If nothing else, a quality pomp proves the best looks never really go out of style. And for those who don't have a visual just yet, picture Elvis Presley shaking his hips and rocking a hairdo that's big up top (particularly toward the front) and slick or short around the sides. Now you're getting it. Fun fact: the pompadour haircut goes all the way back to 18th century France and was originally a women's hairstyle named after Madame de Pompadour, mistress to Louis XV. It wasn't until centuries later that figures like Elvis, Johnny Cash, and James Dean transformed the pompadour into one of the coolest men's hairstyles to date. It's in fact so cool that it's making a major comeback. Of course, like all things 21st century the men's pompadour is privy to a ton of variables in terms of length, volume, shape and texture. Read on for a breakdown, followed by a list of 10 Pompadour Haircuts & Hairstyles for Men.
This article is part of our Trimmed & Terrific Series.
---
You'll also like:
How to Pull Off a Quiff Haircut & Hairstyle
Long Haircuts and Hairstyle Tips for Me
10 Faux Hawk Haircuts & Hairstyles for Men
---

What is a Pompadour?
Put simply, a men's pompadour haircut features long hair swept up and back at the top and flanked by slick sides or shorter sides. The hair is usually the tallest and most voluminous at the front, receding in size and scope as it flows back.
Since men's hairstyles and face shapes vary, there are accordingly a slew of pompadour haircuts to choose from. Generally speaking, however, pompadours fall into two categories: classic and modern. The "classic" pomp includes longer, slick back sides once touted by the likes of Elvis and Johnny Cash. The "modern" pomp shortens the sides by way of an undercut, fade or taper, and commonly takes more risks at the top to create a firmer sense of distinction.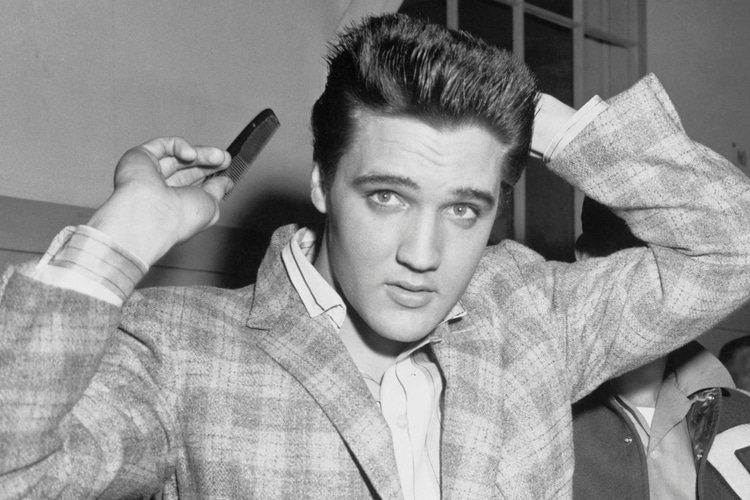 Styling a Pompadour
If you're exploring a new hairstyle for the first time, we always suggest going to the best barber in town and showing him or her exactly what you want (or what you think you want). That barber will also give you plenty of pointers as far as sustaining the aesthetic at home. Nevertheless, here is how you style a men's pompadour haircut by your lonesome:
Rinse your hair using shampoo and conditioner.
Towel dry your hair until it's damp, but not fully dry.
Blow dry your hair on the light heat setting while using a round brush to shape the pomp. Brush your hair according to how you want the pomp to look, but generally go up at the front and then back while tracing the brush strokes with the hair dryer.
Grab some pomade and rub it into your hands, then apply it your hair in an even fashion using your fingers. Apply more pomade if and when necessary. If you're rocking a "classic" pompadour haircut, consider working the pomade in from the sides first.
With the pomade now in your hair, grab a comb. Start at the front of the top and comb up and then back, following the movements of the comb with your fingers to keep the hair in place and to control height. Let the hair rest into place.
One extra pointer: If you're struggling to maintain height at the front, you can also put your hand in the middle of your scalp during step 5 and lightly push your hair forward. Then start combing upward at the front.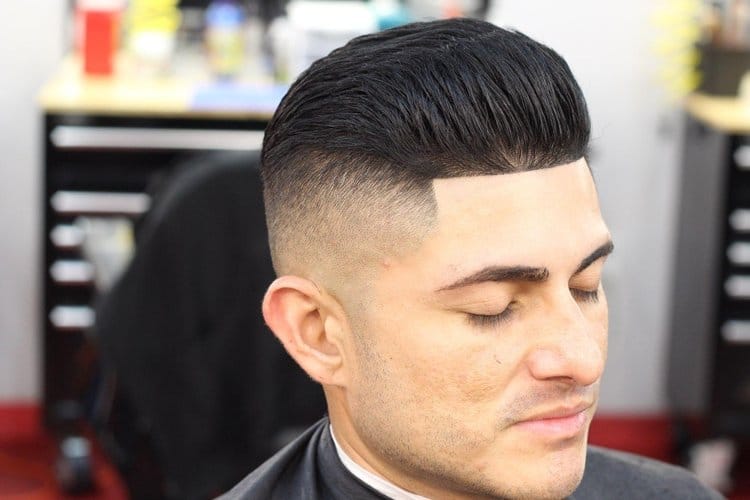 10 Pompadour Haircuts & Hairstyles For Men
Men's hair is like men's clothing–you dress according to your physical contours and wear it as a way to express yourself. That means finding a pompadour haircut that speaks to you on a personal level and furthermore blends brilliantly with the natural shape of your face. Scope the following 10 pompadour haircuts to get your journey started right.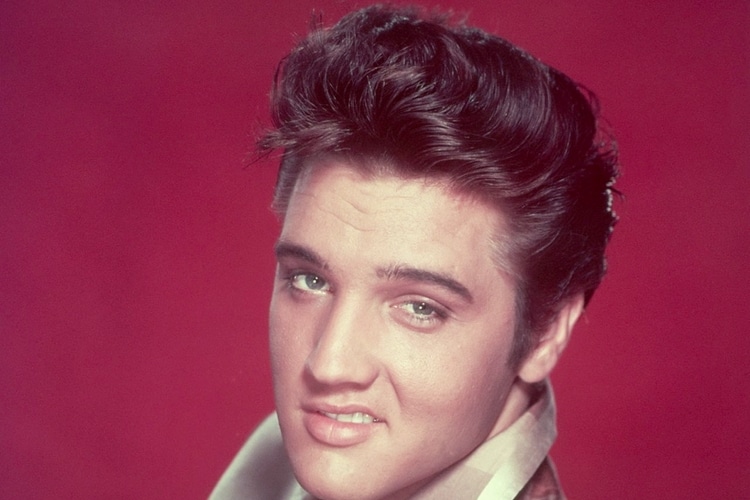 1. Classic Pompadour Haircut
If you're a vintage man living in the modern world, go full rockabilly by sporting a classic men's pompadour haircut. Voluminous and slick, it looked great then and looks great now.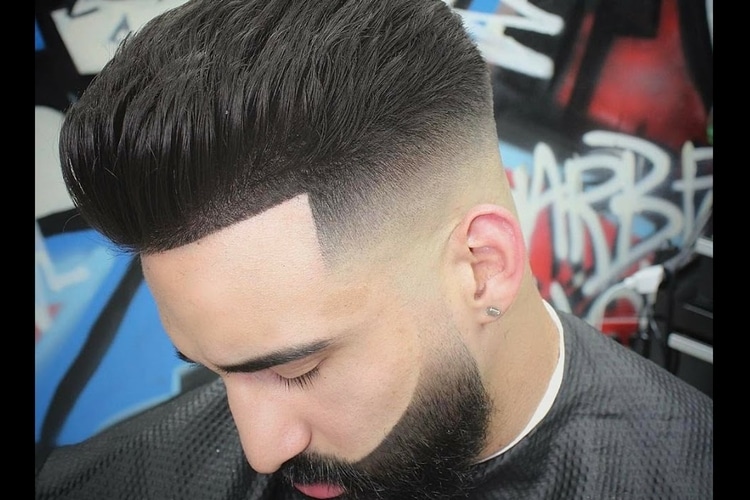 2. Pompadour Fade Haircut
Grab an electric clipper (or better yet, have your barber grab one) and buzz around the sides for a solid fade. Meanwhile, now flanked by a buzz cut, the hair on top has never looked so full and impressive.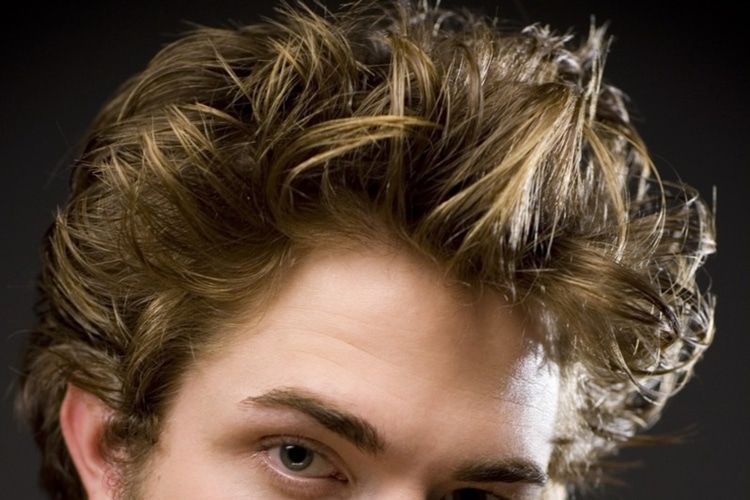 3.  Messy Pompadour Haircut
Finding that perfect balance between messiness and striking allure is a tightrope act, but if you can pull it off you're a champ. Use some hair product and the magic of your fingers (or your barber's fingers) to employ an extra level of texture up top. The resulting look is both untamed and unforgettable at once.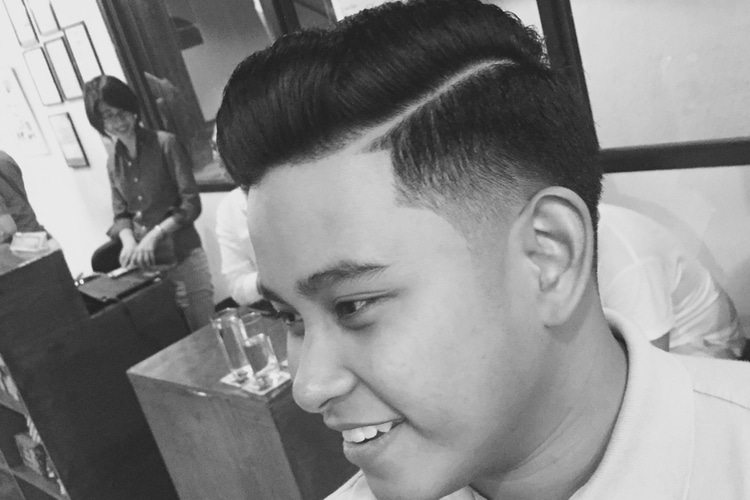 4. Side Part Pompadour Haircut
The side part is hot right now. Combine the best of two stunning styles by pairing a distinguished side part with that brilliant pomp. When styling the hair, be sure to comb sideways as opposed to straight back, aka "duh".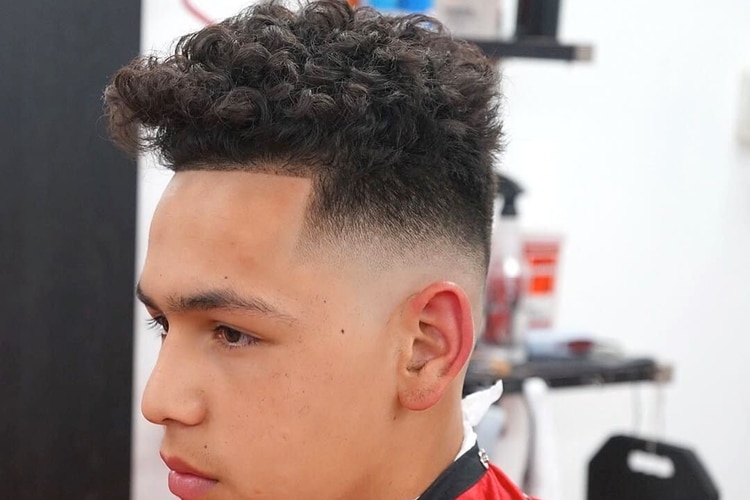 5. Curly Pompadour Haircut
Do you have curly or extra wavy hair? Good news! You can still rock a quality pompadour. Our recommendation is to opt for a shorter cut up top to keep things manageable. Of course, if you have plenty of hair product and time to spare, by all means go full fro. Couple that with a nice taper or fade and you're ready to roll.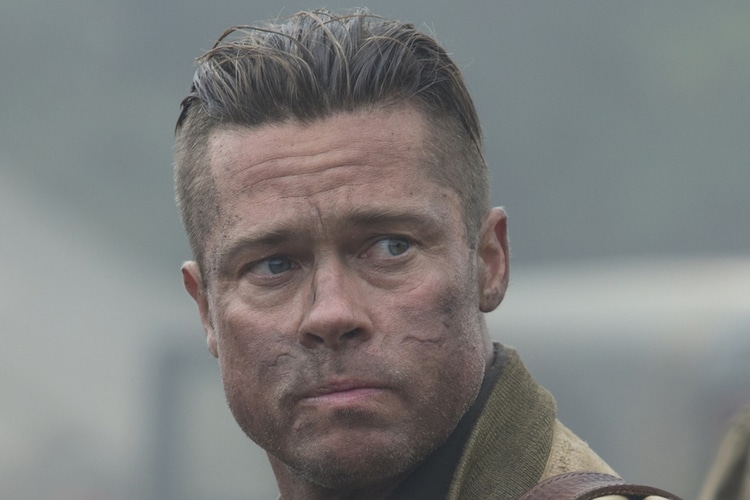 6. The Short Pompadour Haircut
Sure, you can go long and tall or you can keep those follicles tighter to the crown while looking just as sharp (if not sharper). We love the short pomp and so should you.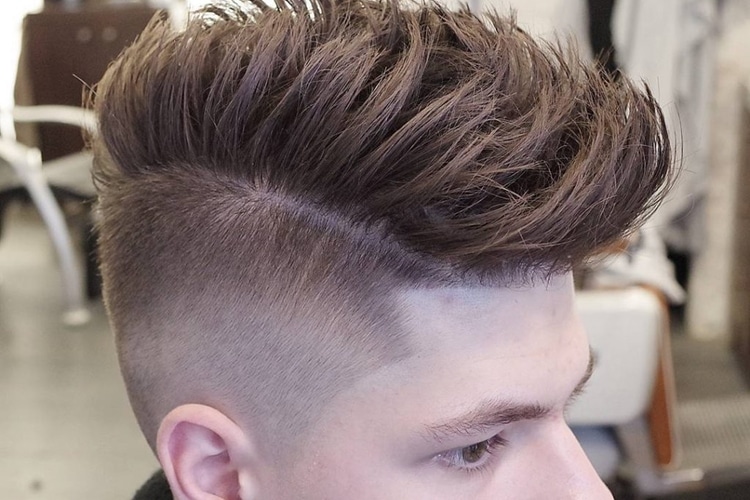 7. Side Swept Pomp Fade Haircut
A quality side swept pomp fade entails going extra short around the sides and then sweeping your long hair across on top. It's handsome, modern, voluminous and distinct.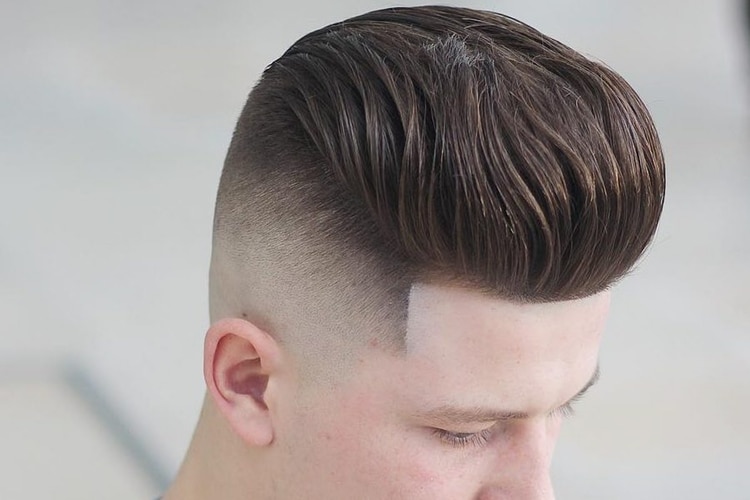 8. Long and Tall Pompadour Fade Haircut
With the right hair product, anything is possible. Emphasise length and volume by growing your hair out and slicking it up at the front and then back. Surround that with a nice fade and you'll be turning eyeballs everywhere you go.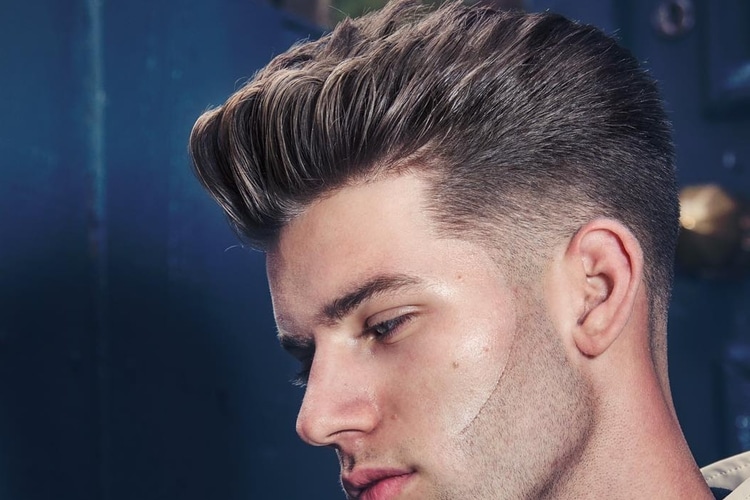 9. Textured Pompadour Haircut
Similar to the messy pomp but more precise, the textured pompadour haircut aims for more layering up top. The result is definitely sharp, but less wild.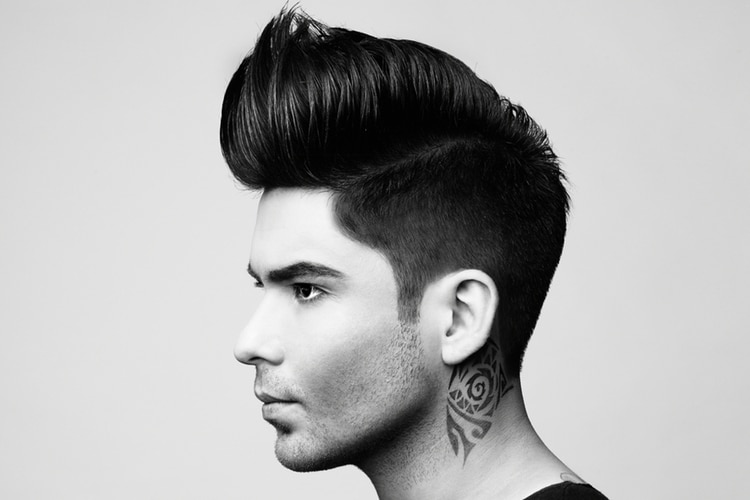 10. The Pomp Faux Hawk Haircut
Work those cut throat lines, parts and angles to create a distinguished strip up top. Apply plenty of hair product to keep the look intact. As opposed to the far more raucous mohawk, a quality faux hawk is approachable and classic.
On the lookout for more men's hairstyles, haircuts and pointers? Be sure to check out our article on 10 Faux Hawk Hairstyles & Haircuts for Men or How to Pull Off a Quiff Haircut & Hairstyle.
This article is part of our Trimmed & Terrific Series.
Have you subscribed to Man of Many? You can also follow us on Facebook, Twitter, Instagram, and YouTube.
---
You'll also like:
How to Pull Off a Quiff Haircut & Hairstyle
Long Haircuts and Hairstyle Tips for Me
10 Faux Hawk Haircuts & Hairstyles for Men
---