It's tough out there spending a few hours at a luxury golf course, but someone has to do it. Man of Many co-founder Frank Arthur was up to the task and he headed to the stunning Magenta Shores Golf & Country Club to meet with pro golfer Dimi Papadatos for a round of nine holes. The day was a bit wet and the skies were overcast, but that wasn't going to stop these two gents from putting TAG Heuer's new Connected Calibre E4 Golf Edition smartwatch to the test.
If you live in Australia and follow golf, then you know that Dimitrios "Dimi" Papadatos is a name to look out for. The Greek-Australian pro recently won the VIC Open and also placed in the top 10 at the NSW Open. He's currently overseas competing in the Challenge de España, followed by a string of additional DP World Tour events. Meanwhile, he's only 30 years old, which means he has a long career ahead of him.
As for our distinguished co-founder Frank Arthur, he's no slouch on the course. Then again, he doesn't exactly stand shoulder-to-shoulder with a pro like Papadatos. Sorry Frank, but you're going to have to tame that slice if you want to compete with the big boys. Nevertheless, he proved himself a great sport as the two men went from one hole to the next, testing TAG Heuer's latest Connected smartwatch along the way. You can watch them in action in our adjoining video.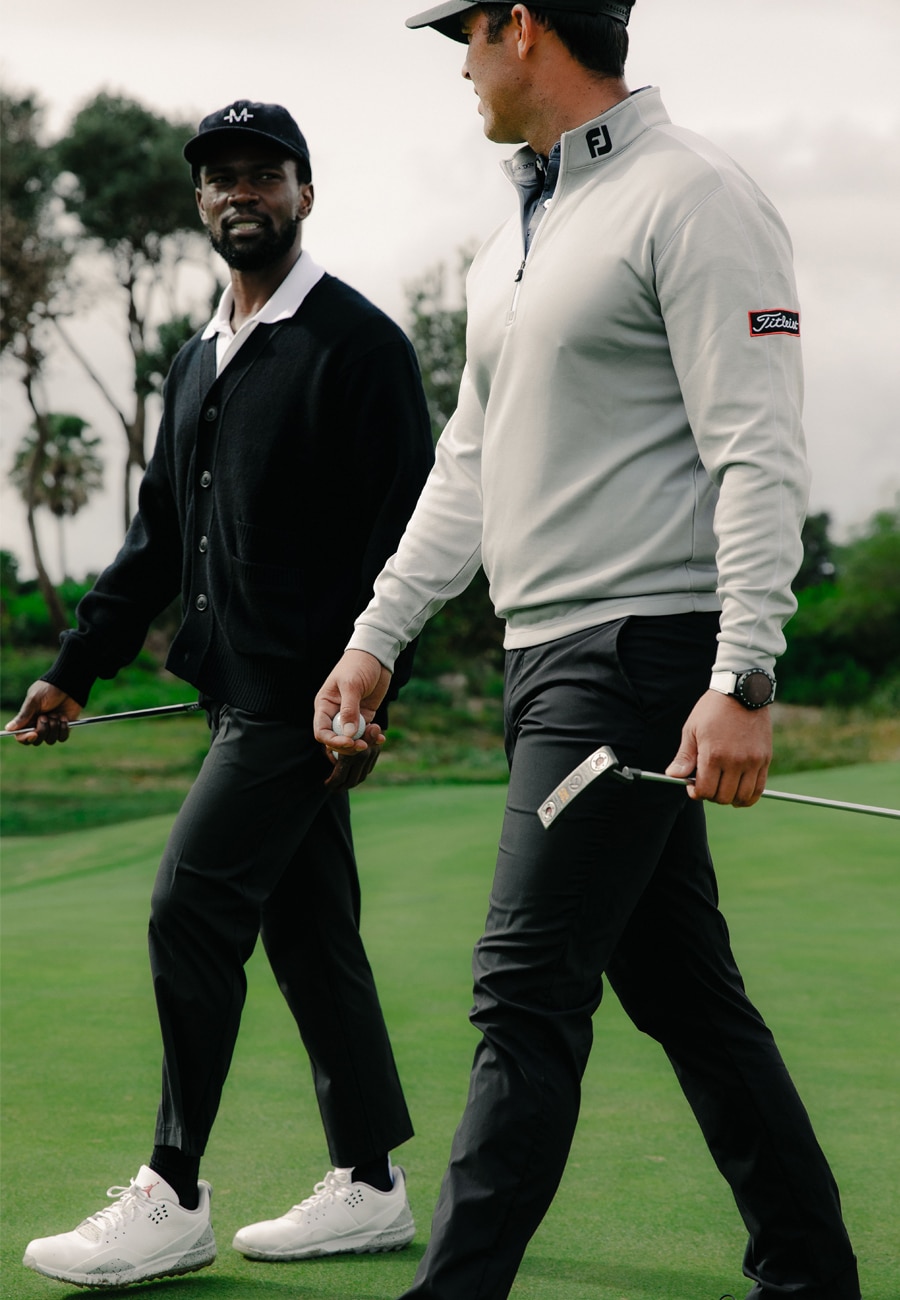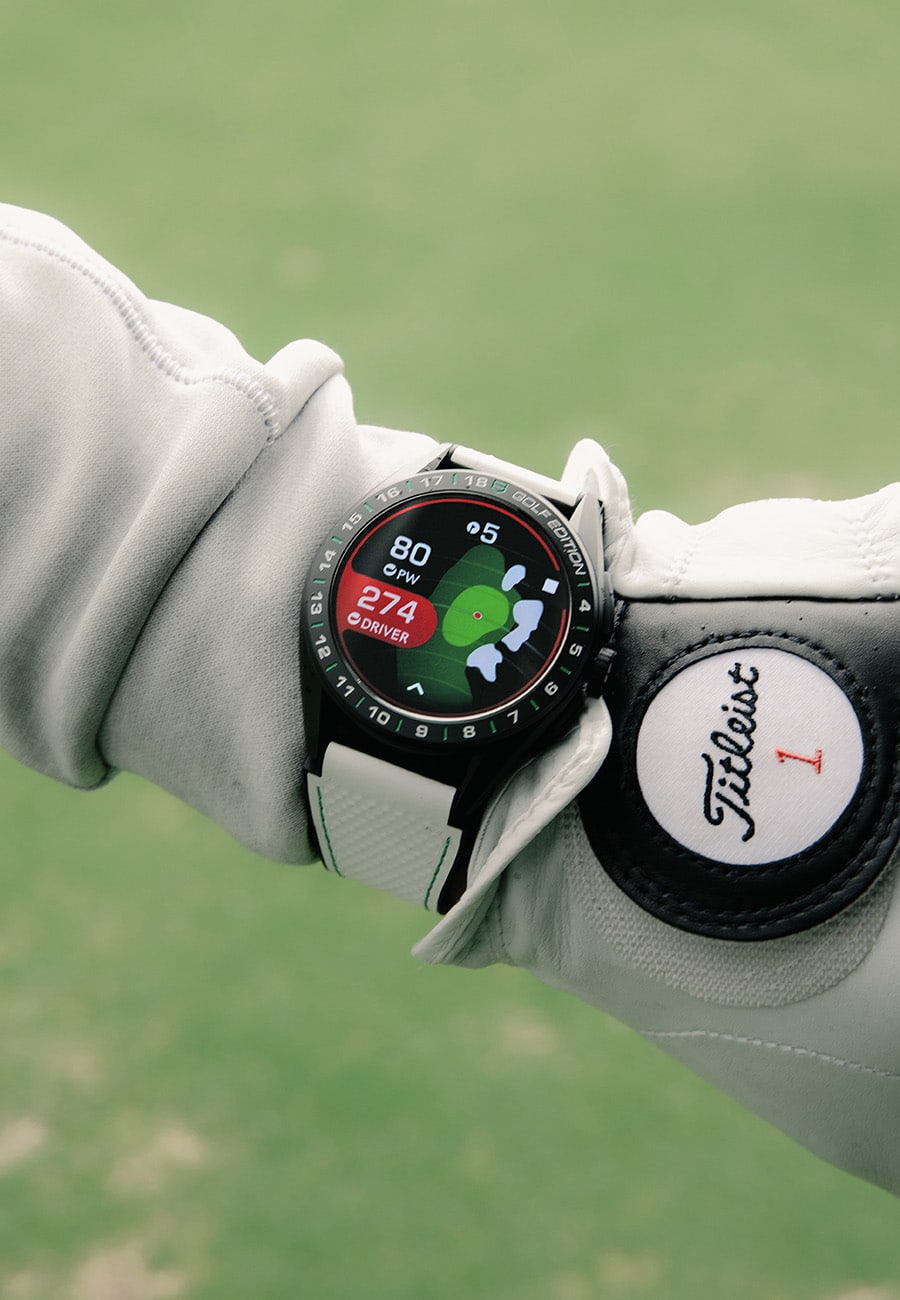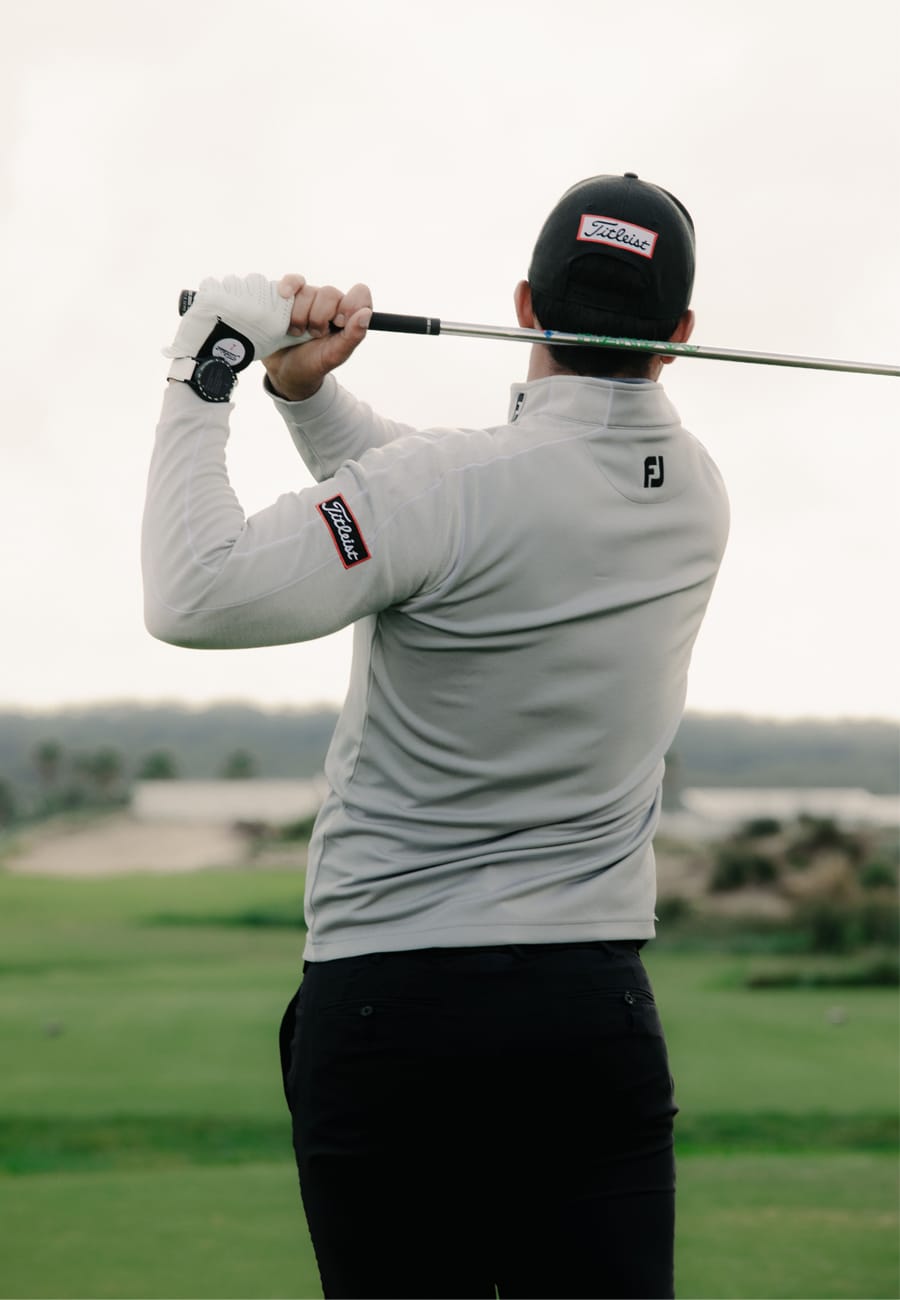 It's a testament to both Papadatos and TAG Heuer that he guestimated a distance of about 270 or 275 on his first swing, to find that the watch's Automatic Swing Detection read 274. The day was off to a great start indeed. Here's a rundown of the key features uncovered by Frank and Papadatos as they took to nine holes:
1. 2D Maps
With access to over 40,000 courses worldwide, the redesigned interface makes it easier than ever before to navigate the 2D course maps, and clearly displays hazards and distance in high resolution. By using the crown, users can now scroll up and down the fairways to inspect important information such as bunkers or the start and end of greens. Furthermore, as the software tracks your rounds over time, the watch will even provide club recommendations like a sleek caddie on your wrist.
2. Drive Shot Tracking
One of the more exciting features is the new automated swing detection, which utilises a built-in accelerometer and gyroscope to track shots from the tee box. The watch automatically detects when the wearer performs a swing on the tee area, meaning golfers don't have to remember to track their drive, ensuring that the data is captured. As Dimi demonstrates in the video, every player wants to know how far they hit a drive after smashing one down the middle!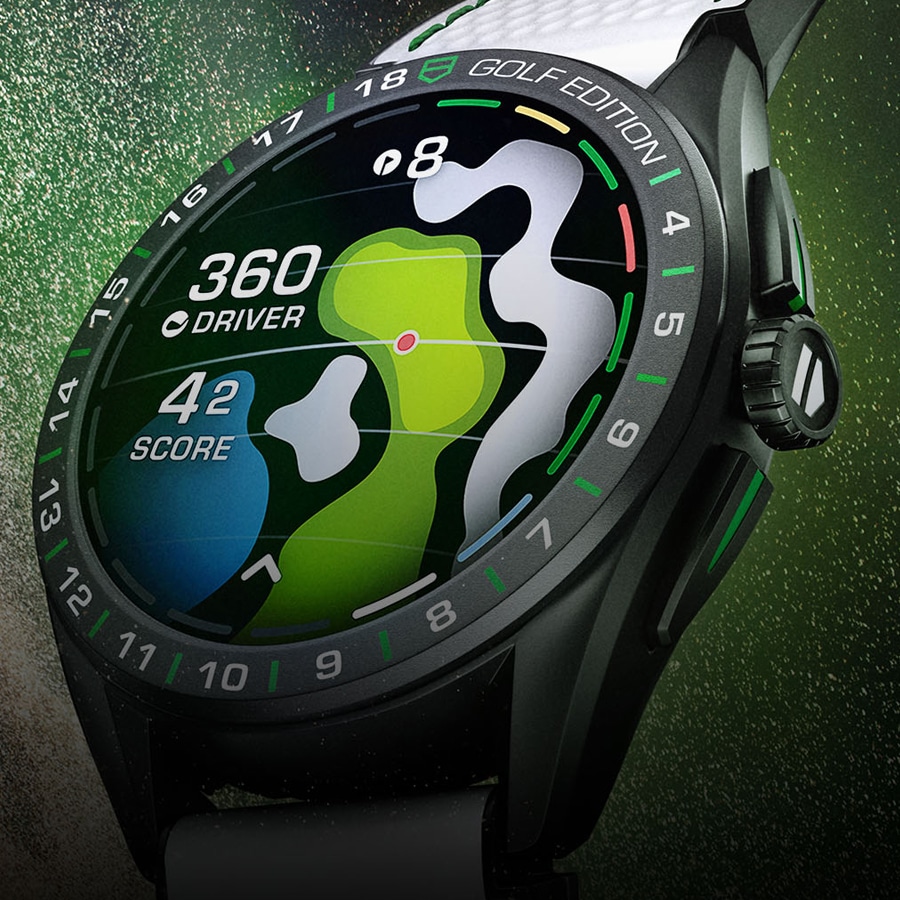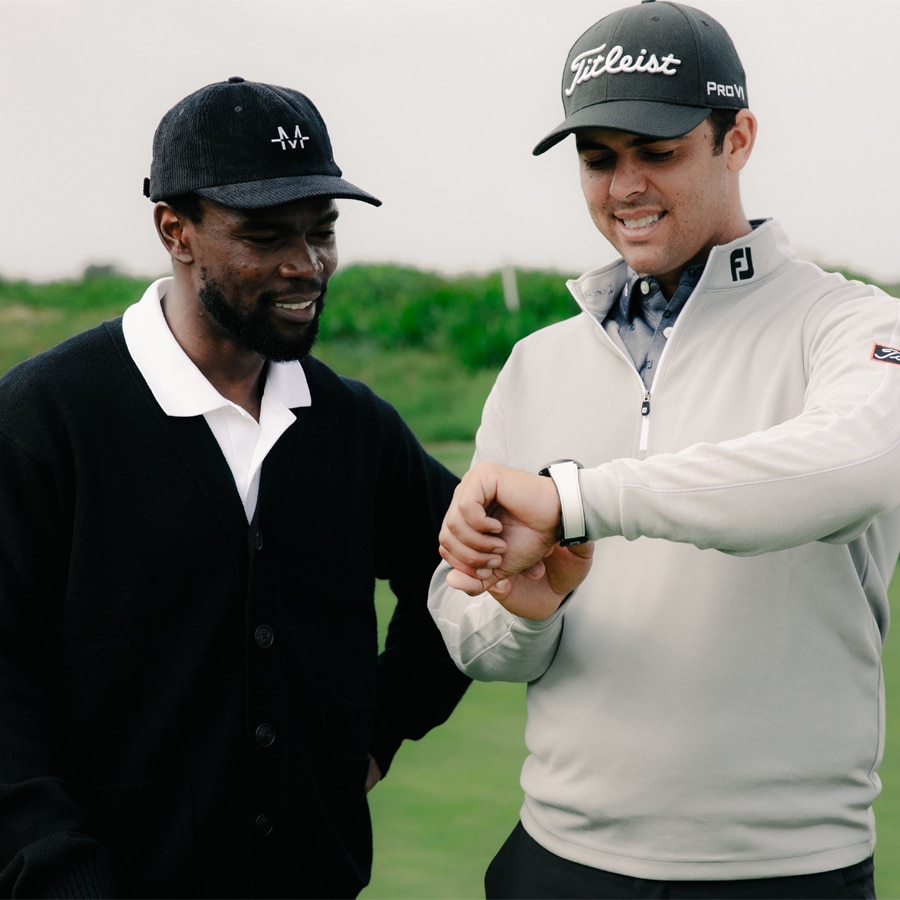 3. An 18-Hole Bezel
Flanking the watch interface is an 18-hole bezel, which functions as an 'at a glance' scorecard. Once you log in the number of strokes, it will light up with a colour that correlates to either birdie, par, bogey, or double bogey. This is not a tool that will help improve your game, but it's cool to see how you're tracking throughout the round. You can also keep a digital score through the adjoining app.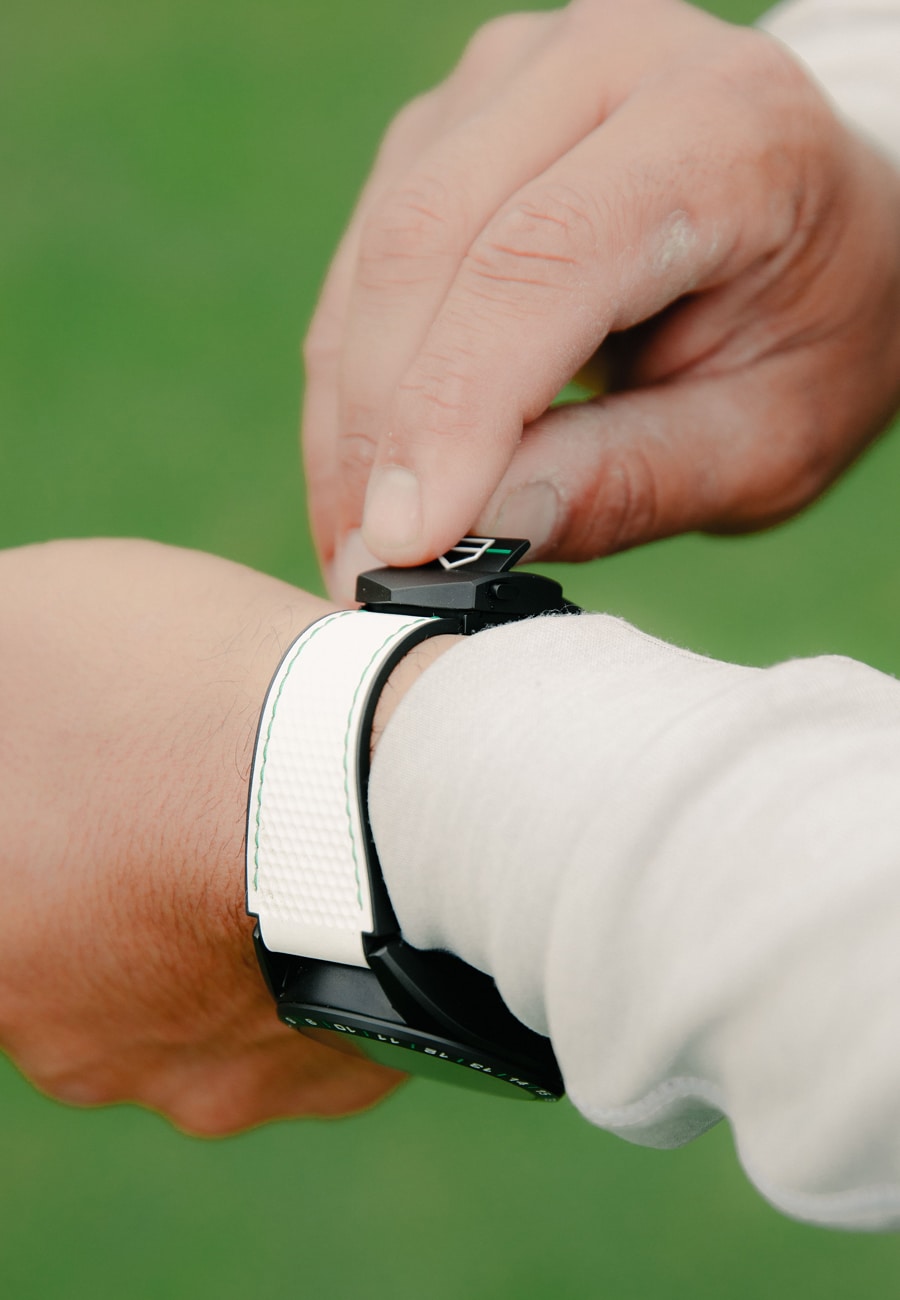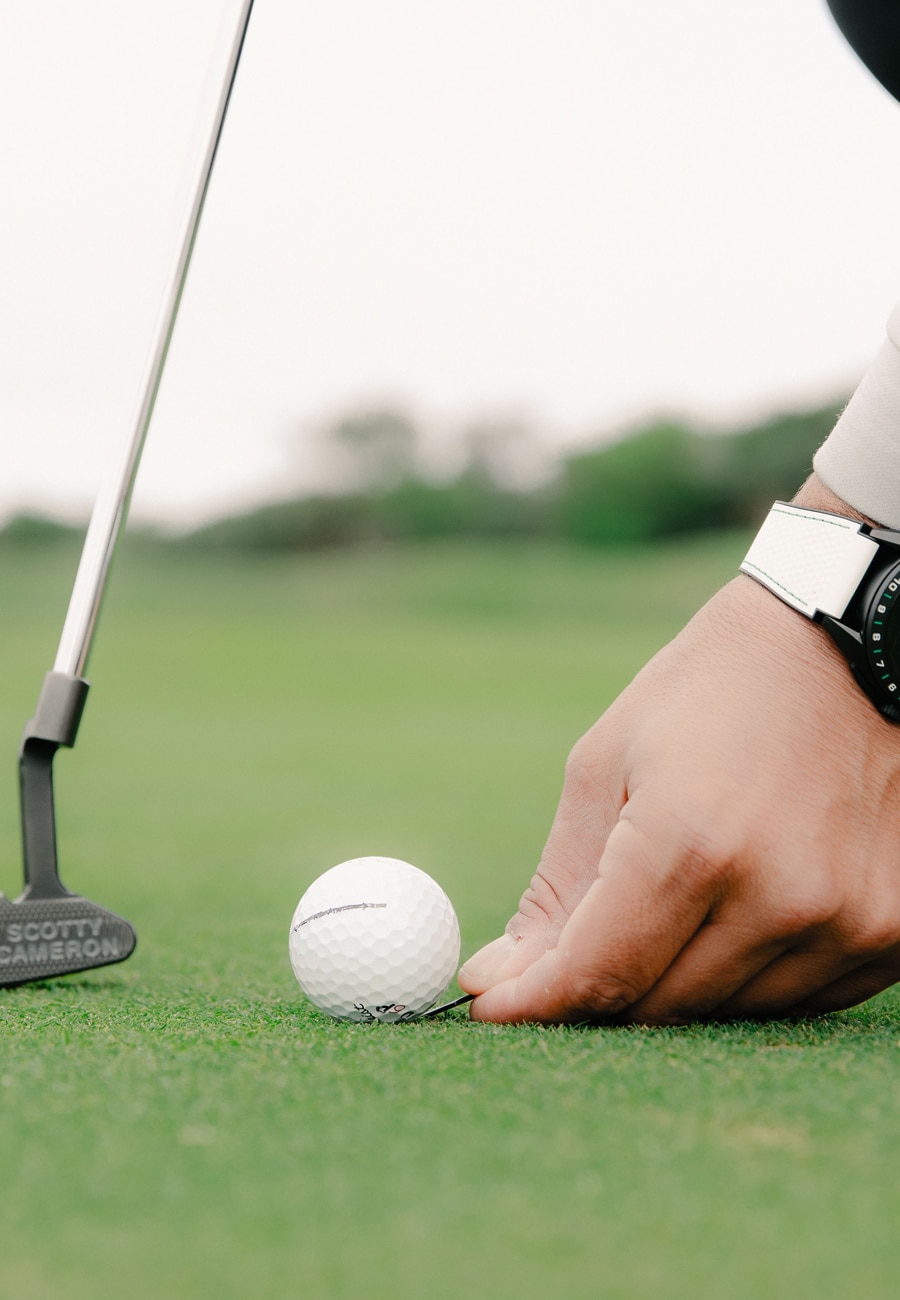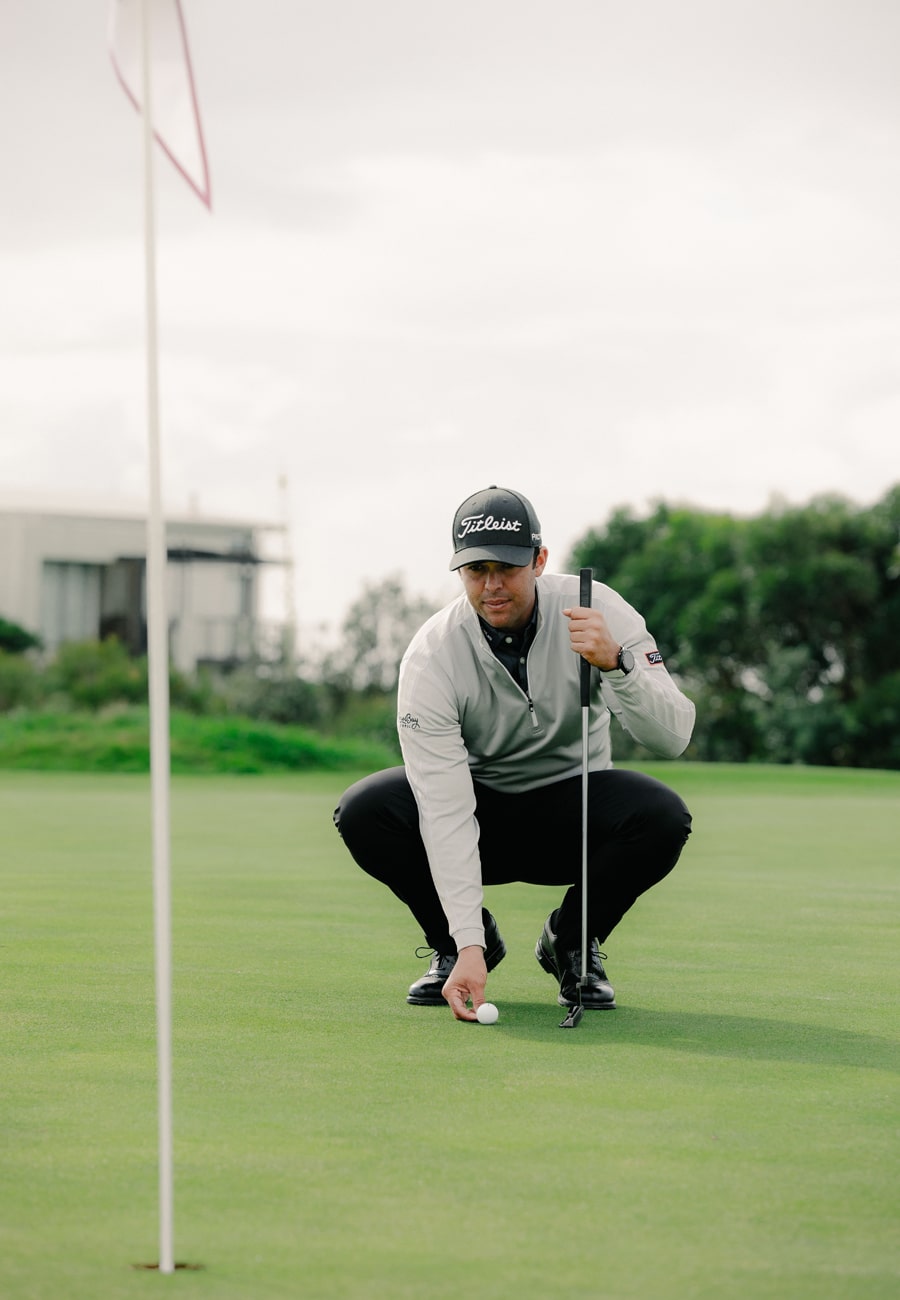 4. Built-in Magnetic Ball Marker
Having a ball marker magnetically attached to the watch spares users from having to carry a marker in their pocket. There's nothing worse than walking towards your ball on the green, only to fumble around in your pocket to no avail. Its convenience in its purest form, further proving TAG Heuer has left no stone unturned in the design process. Additionally,  The arrow on the marker also allows players to line up their putts with more accuracy.
5. Redesigned Face
Papadatos was quick to point out the sleek design of TAG Heuer's new Connected Golf Edition smartwatch. With players top of mind, the new Golf Edition comes with golf-inspired faces for when on the links. They've used a simple three-hander layout with the dimples of a golf ball as the backdrop, which pairs nicely with the texture of the strap. For back at the clubhouse or in the office, TAG Heuer has redesigned some of the classic Connected faces, integrating some trademark green accents.
6. App Compatibility
Using the app is a great way to review and measure your performance post-round. Tracking key metrics like scores, shots, putts and more, the app will create various performance summaries once finished for the day. These include:
PDF-style Round Recap
Hole by Hole Scorecard and Map
Club Distances
Greens in Regulation
Putting Tracker
TAG Heuer Connected Calibre E4 Golf Edition
In addition to the features mentioned above, TAG Heuer's Connected Calibre E4 Golf Edition offers 3D renderings of the ball's trajectory, a club recommendation tool, detailed overviews of previous shots, and more. Oh, and did we mention that it also offers precise fitness tracking? Combine that with the high-resolution 2D maps, digital score-keeping, built-in ball marker, adjoining app, and other glorious features, and you have a full arsenal of vital resources at your disposal.
TAG Heuer's latest smartwatch comes available in five new golf-inspired interfaces and with a variety of different straps. From one variant to the next, a stylish and even slightly avant-garde design language persists. The watch's innate versatility is matched by the fluid nature of its interface, which can switch between analogue-style and digital modes in a heartbeat.
Already an icon in the world of sports watches, TAG Heuer brings the same tier of quality and performance into their Connected series. We had a blast putting the new E4 Golf Edition to the test and relished its seamless legibility and consistent accuracy. We'd like to extend our warmest thanks to golf pro Dimi Papadatos and to the Magenta Shores Golf & Country Club for the incredible experience. See you on the green!