11 Best Notebooks That Are Not Moleskine
When it comes to the best notebooks, we absolutely love Italian brand Moleskine and their endless array of luxury products. However, if you're looking for an alternative to Moleskine, you can do no wrong with the top notebooks listed below. Each one will ensure that your memos, notes, sketches and ideas get the home they deserve. From the affordable and basic to the high end, we've got you covered. Here are the 11 Best Notebooks That Are Not Moleskine. Grab one today.
---
You'll also like:
Take Note: Word. Terrain Series Notebooks
12 Mind Hacks for Productivity
Protect Your Creative Ideas in Style with Bellroy's Notebook Cover
---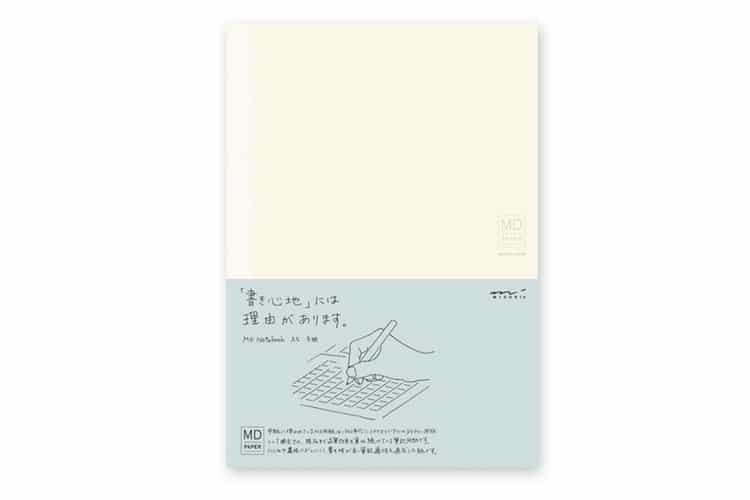 Midori MD Notebook
From Japan's Midori comes the minimalist and affordable MD Notebook. It weighs just over half a pound and touts creamy A5 grid paper. Expect the absence of bleed-through, no matter what colour pen or pencil you might be using. This is indeed one smooth note-taking operator.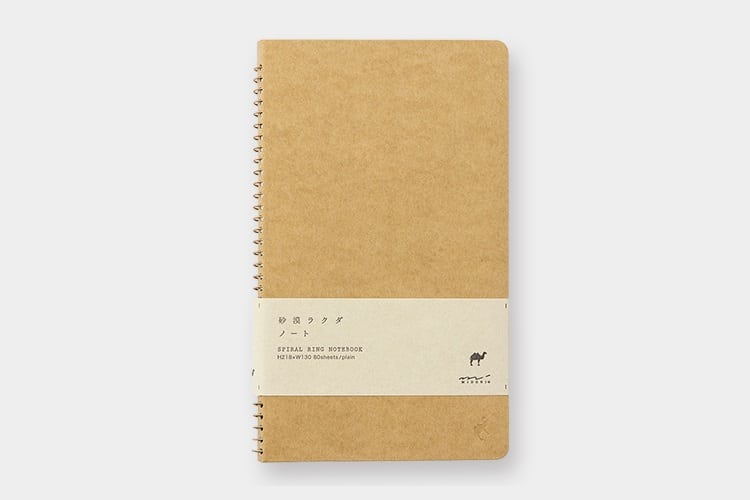 Midori Spiral Camel
Japanese stationary brand Midori once again delivers a beautiful and optimal notebook. Ideal for sketches, the Midori Spiral Camel includes paper that's as "white as a field of snow polar bears walk, rough as a desert where camels travel", according to the brand. It also has deep pockets, a display window, and a sturdy cover of resin and paper. Each notebook is bound by hand in Japan and all the more distinguished as a result. You'll feel more creative just by owning one.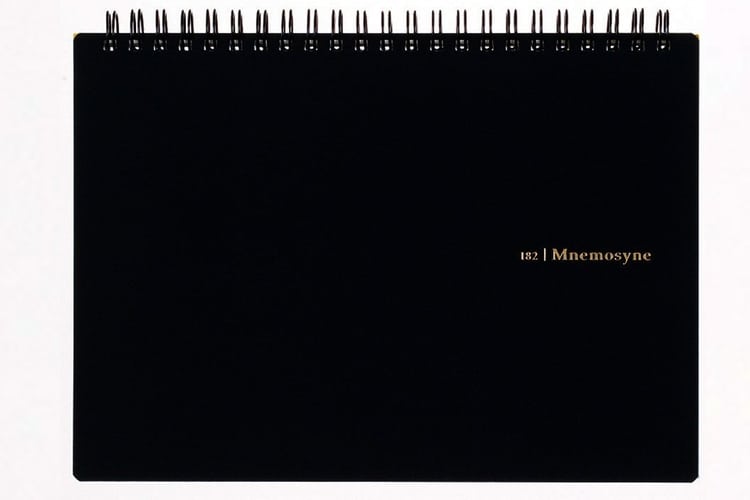 Maruman Mnemosyne 1 Hardcover Executive
In terms of bang for your buck, the Marumen Mnemosyne Executive is easily one of the best notebooks on the market. Between the stately hardcovers you'll find 70 acid-free, micro-perforated white pages adorned with light gray square grids. The notebook is compact enough to fit in your briefcase or carry, and sophisticated enough to turn heads at the next business meeting. At the top of each page is a blank header with a space for the date, and on the back is a blank sheet. That's all joined by firm binding and a durable poly front cover. Use the versatile and affordable notebook for sketching out ideas, scheduling meetings, jotting down memos and so much more. They don't call it the Executive for nothing.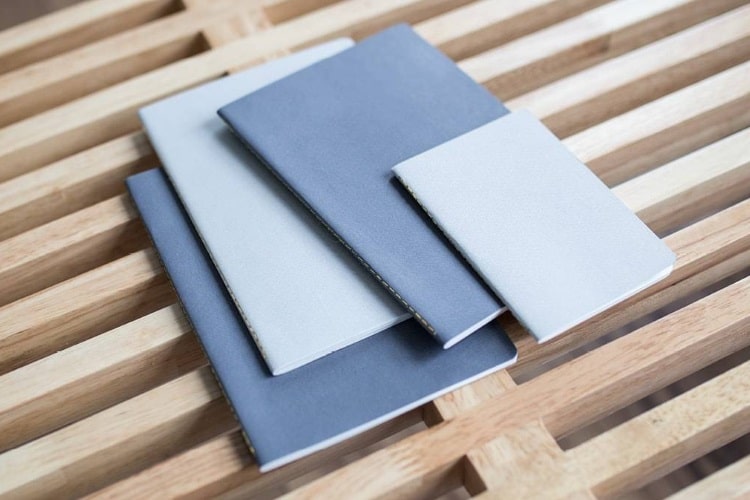 Baron Fig Apprentice
Truly built to last and available in three sizes is the Baron Fig Apprentice. One look at the dreamy softcover (which comes in a shade of either Light Gray or Charcoal) is all it takes to fall in love with this inspired accessory. Resilient stitch binding ensures the notebook won't let you down no matter what you put it through. At the smallest end of the spectrum is the pocket sized edition, which fits right where you expect it to. You get a three pack per order, so go nuts with ideas and drawings and whatever else strikes your fancy.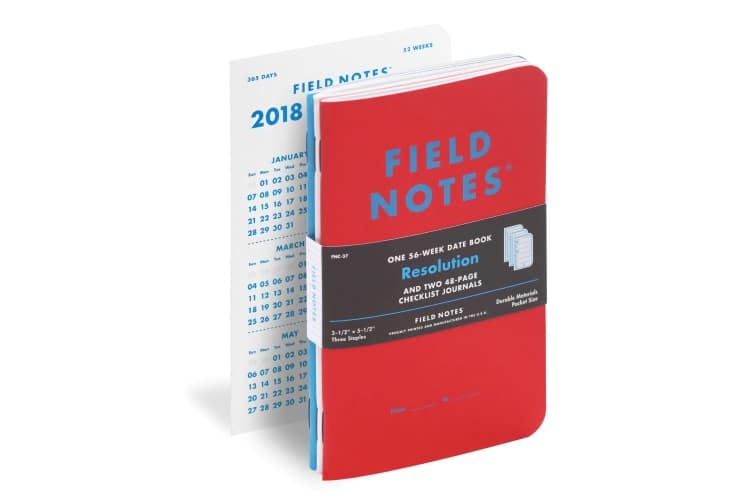 Field Notes
Perfect for the modern day renaissance man, Field Notes Notebooks come in a broad range of colours, covers and styles. Get the Resolution Edition for planning out events and appointments. Get the Campfire Edition when you want to go full Henry David Thoreau and record your thoughts in the wilderness. Heck, just get them all!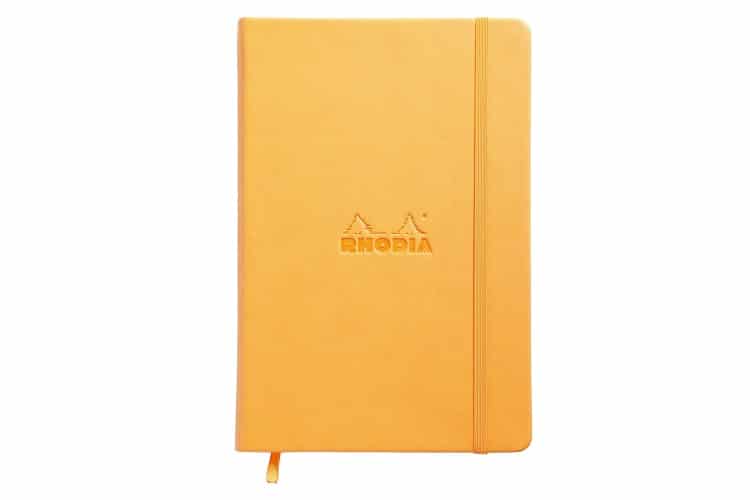 Rhodia Pads
Some people like boxes, others prefer lines, and then some dig dots. If you're the dot-grid type, then Rhodia Pads are the notebooks for you. Favoured by architects and graphic designers, each one includes 80 sheets of acid-free, micro-perforated paper with light purple dots placed at 5mm intervals.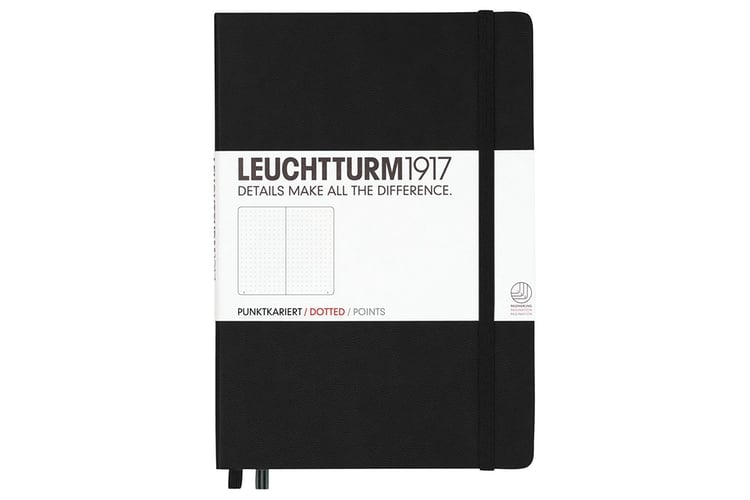 Leuchtturm1917
Inside the Leuchtturm1917 Hardcover Notebook are 249 numbered pages, dotted lines, a blank table of contents and an expandable inside pocket. Also featured are stickers for labeling and a built-in place-keeper. The notebook functions as an organiser, day planner, diary, journal or whatever you want it to be. The paper is acid-free and ink proof, meaning no bleed through.
Whitelines Notebooks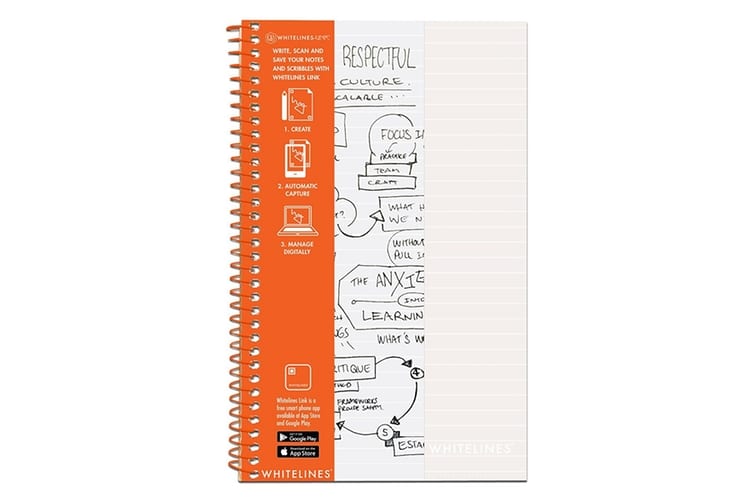 Whitelines Notebooks might look fairly basic at first, until you realise they're bolstered by 21st century technology. Specifically, each notebook syncs with an app on your smartphone, thereby making a digital copy of everything you write down on the lined paper. Throw in a completely affordable price and this savvy accessory is a steal!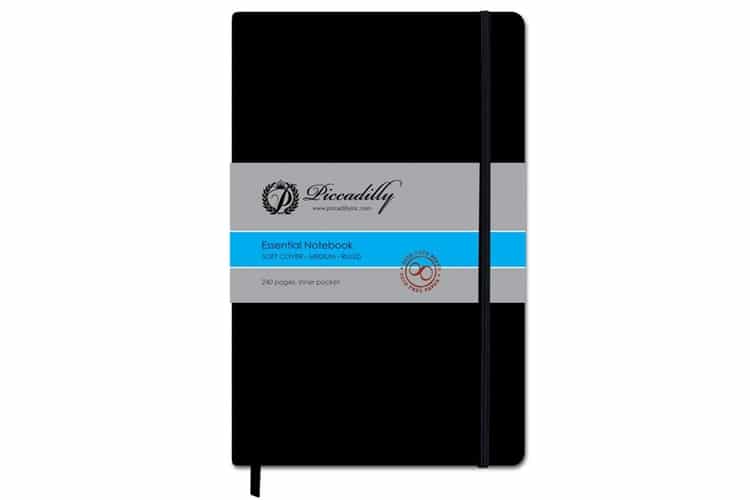 Piccadilly Notebook
Keeping it classic, straightforward and clean are Piccadilly Notebooks. Each one houses 80 pages of acid-free, off-white paper behind the monochromatic softcover. If you don't want to overthink the whole notebook buying process, grab one of these and be done with it.
Fiorenti CIAK Journal
European leather goods company Fiorenti delivers a copious variety of notebooks, journals, memo pads, planners and sketchbooks. The CIAK Journal in particular makes for a beautiful addition to any writer's arsenal. Choose between two sizes, eight colours and either ivory or multi-colour pages. Meanwhile, each journal features premium, soft leather covers. That makes these high quality notebooks as fun to touch as they are to rewarding to write in.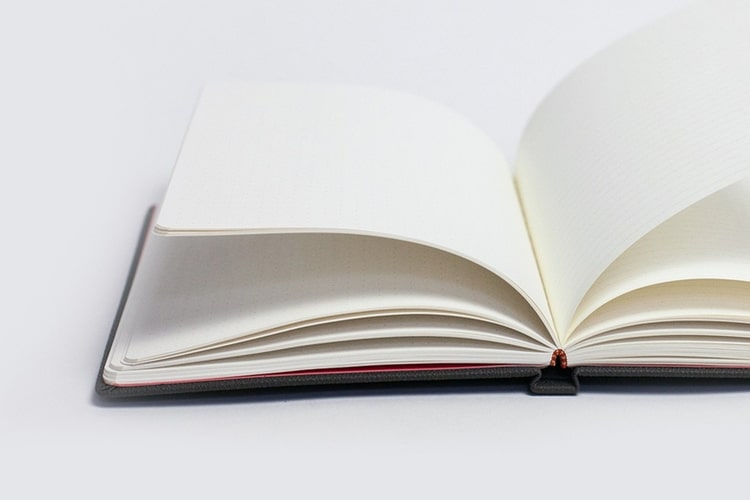 Code & Quill
For those who like the best of all worlds, look no further than the legendary notebooks from Code & Quill. Each one was designed by creatives, for creatives. Accordingly, there's no shortage of options. For instance, each notebook includes a dot grid on the left hand page for drawings, and an indentation rule on the right hand page for notes and lists. The paper is supremely thick and bound by the best binding on the market. True to its name, Code & Quill invites coders, artists and creative writers alike to partake, with the versatile layout to show for it. These are hands down some of the best notebooks money can buy.
---
You'll also like:
Take Note: Word. Terrain Series Notebooks
12 Mind Hacks for Productivity
Protect Your Creative Ideas in Style with Bellroy's Notebook Cover
---
Have you subscribed to Man of Many? You can also follow us on Facebook, Twitter, Instagram, and YouTube.