40 Most Ridiculous Halloween Costumes of 2020
Spooky to kooky, if Halloween is good for anything it's watching people dress up and walk around in the weirdest and wackiest costumes. Better yet, it's a glorious example of the depravity of man. Anything and everything from the past 12 months is fair game when it comes to Halloween costumes. It doesn't matter if it's crude, offensive, obnoxious or downright uncouth, if it exists, someone has made a bad, or sometimes sexy, Halloween costume version of it. Get amongst it, ghouls and goblins, here is a list of every ridiculous Halloween costume 2020 has brought us.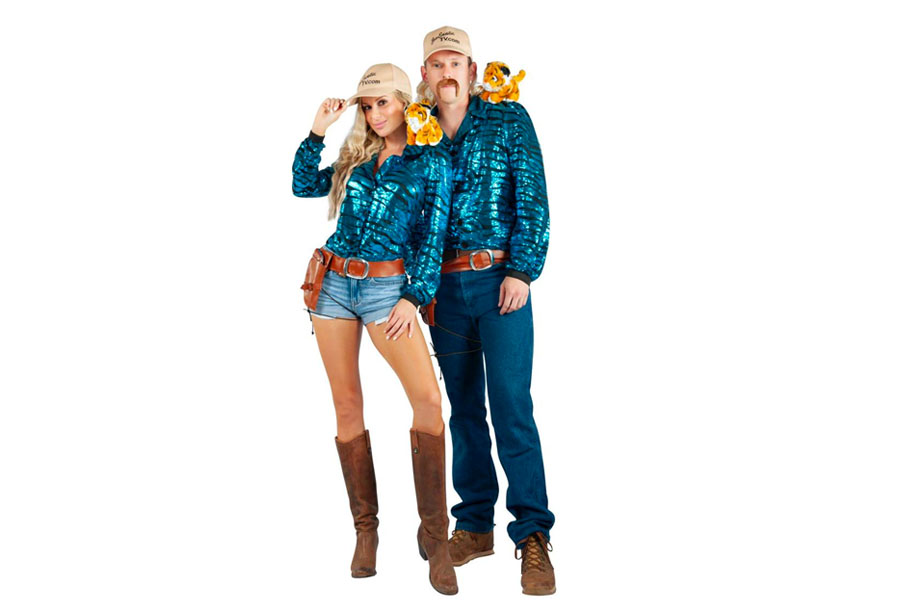 1. Joe Exotic 'Tiger King'
As one of the most ludicrous personalities of 2020, Joe Exotic is bound to feature at least four times at every Halloween costume party this year. It seems almost strange to think Tiger King actually hit our screens this year. The cultural phenomenon was one of the biggest revelations of lockdown and what's more, the simple nature of the aesthetic makes it one of the easiest 2020 Halloween costumes to pull off. To be fair, a gun-toting, mullet-sporting redneck with several attempted murder charges to his name – What's not to love?
What you'll need: Cowboy boots, moustache, obnoxious shirt
You'll also like:
The Manson Family 'Murder House' is Up For Sale For $2.2 Million
20 Scariest Horror Movies of All Time According to Science
27 Best Memes of 2020 (So Far)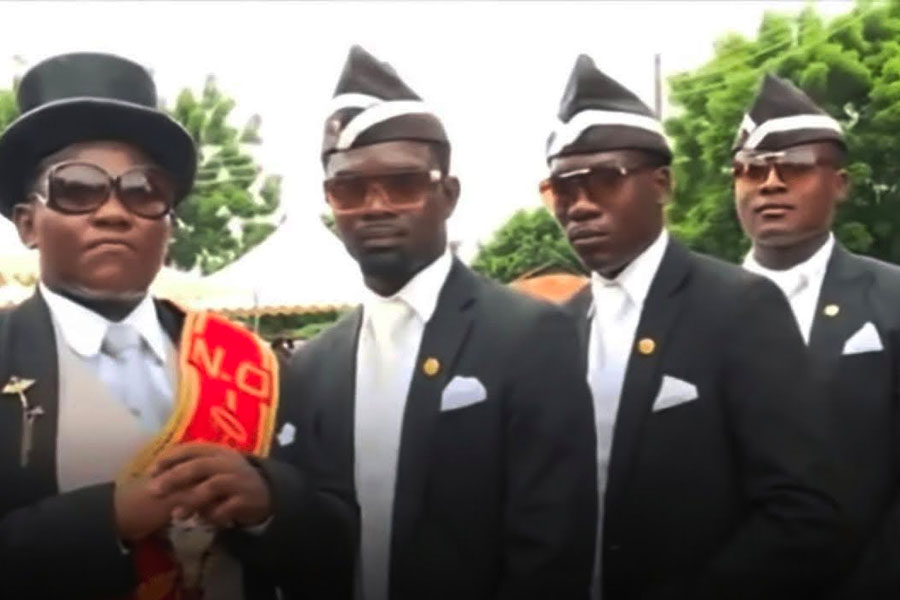 2. The Dancing Pallbearers
Who would've though a couple of flamboyant pallbearers at a funeral in Ghana would go on to be the symbol of optimism we needed this year. If you plan on pulling this 2020 Halloween costume off, you're going to need a couple of friends and a big old coffin. Props aside, a nice black suit and suave hat is all you need to kick this one off.
What you'll need: Suit, coffin, a few friends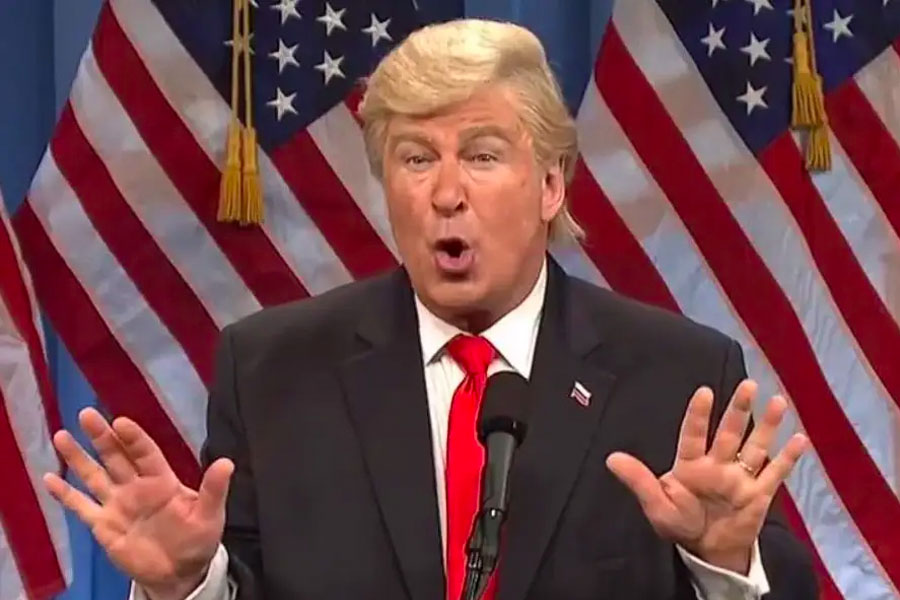 3. Donald Trump
He's probably the most recognisable and contentious person in the world right now and thus, an easy target for some Halloween shenanigans. US President Donald Trump's unique style of talking, use of hand movements and seeming inability to stand upright without looking like he's falling forward have made the Commander in Chief instantly spoof-able. Grab your red hats and purse those lips, you're going to see a lot of Donalds this year.
What you'll need: Wig, suit, the ability to talk with your hands
---
Featured Video from Man of Many
---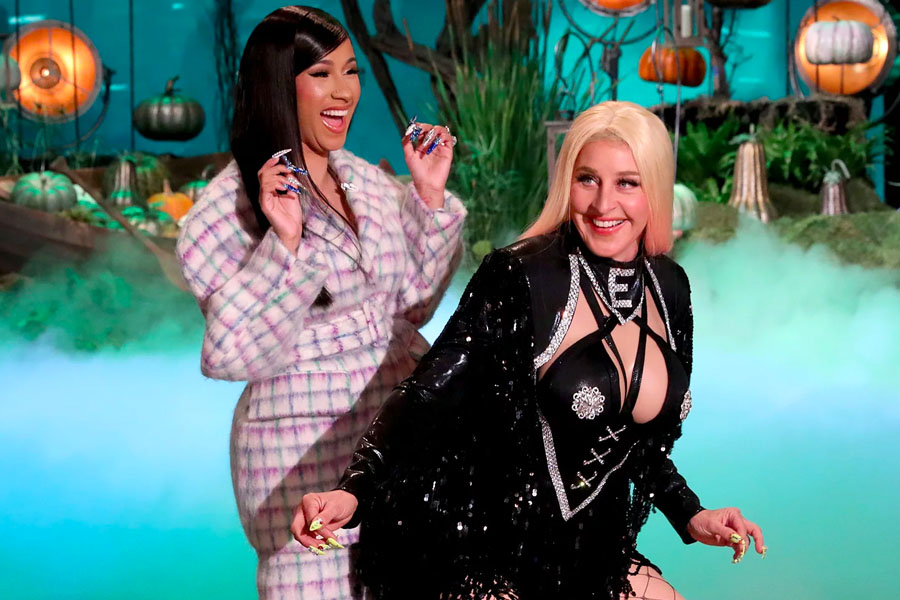 4. WAP
While it's not that unusual for Halloween parties, in 2020 you better believe there is going to be some "whores in the house". Cardi B and Megan Thee Stallion's provocative hit WAP was pretty much the biggest song of the year, highlighted by an even more memorable video clip. Certified chic.
What you'll need: A lot of skin, not much shame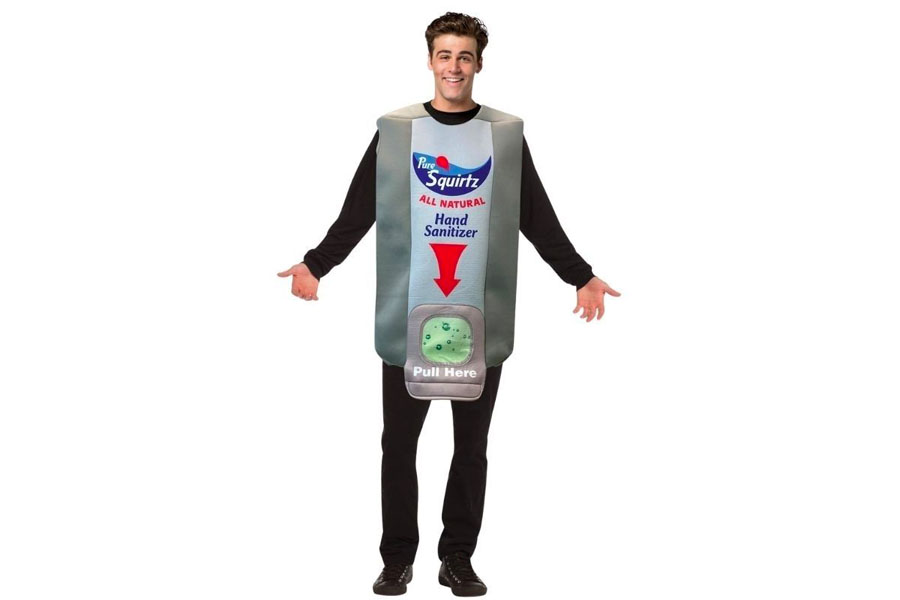 5. Hand Sanny
The most precious commodity of 2020, Hand Sanitiser proved to be the ultimate bargaining tool and symbol of status. If you had your own bottle of sanny, you were one of the lucky few this year. Don't be surprised if you see a couple of human bottles running around this Halloween asking for a pump.
What you'll need: A long rectangular outfit, pump-action head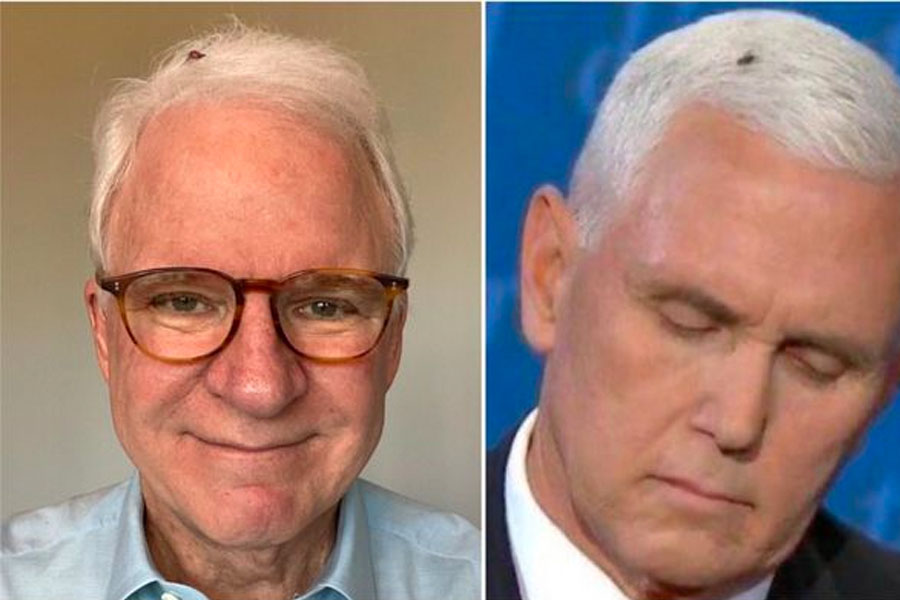 6. Mike Pence with a Fly on His Head
A little more relevant and a little more niche. This is fairly easy to put together but a little harder to explain. When US Vice President Mike Pence took to the stage for a speech, he wasn't alone. For over four minutes Pence had a fly stuck on to his expertly zhuzhed hair. Highly recommend this one as a 2020 Halloween costume if you plan on latching on to someone this Saturday.
What you'll need: Hairspray, fake flies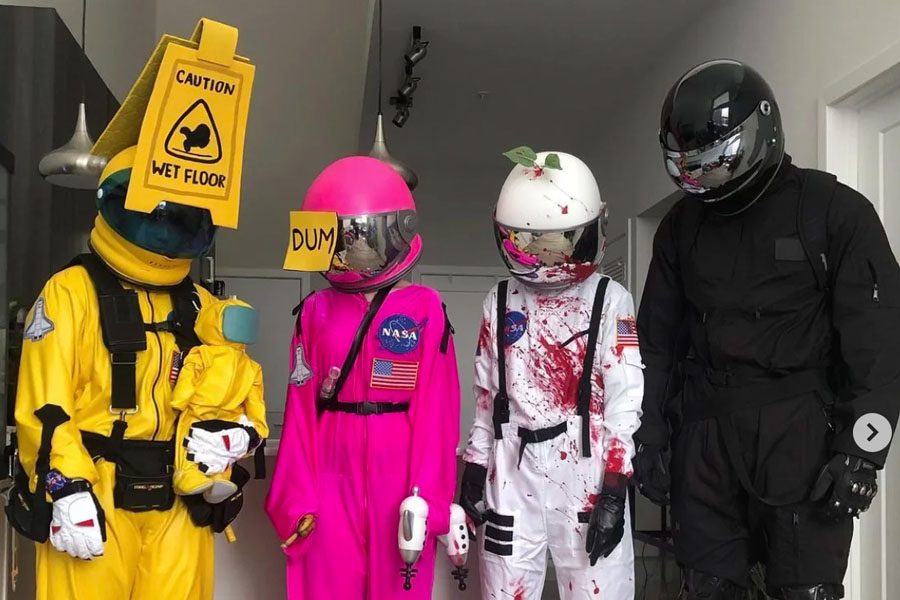 7. Among Us Character
That's suspicious. The bizarre game that caught our lockdown attention and became the biggest pop-culture hit of 2020 makes for an instantly recognisable Halloween costume. Betray your friends and vent through the night with this one. All you need is a coloured jumpsuit and a helmet. Too easy.
What you'll need: Coloured jumpsuit, helmet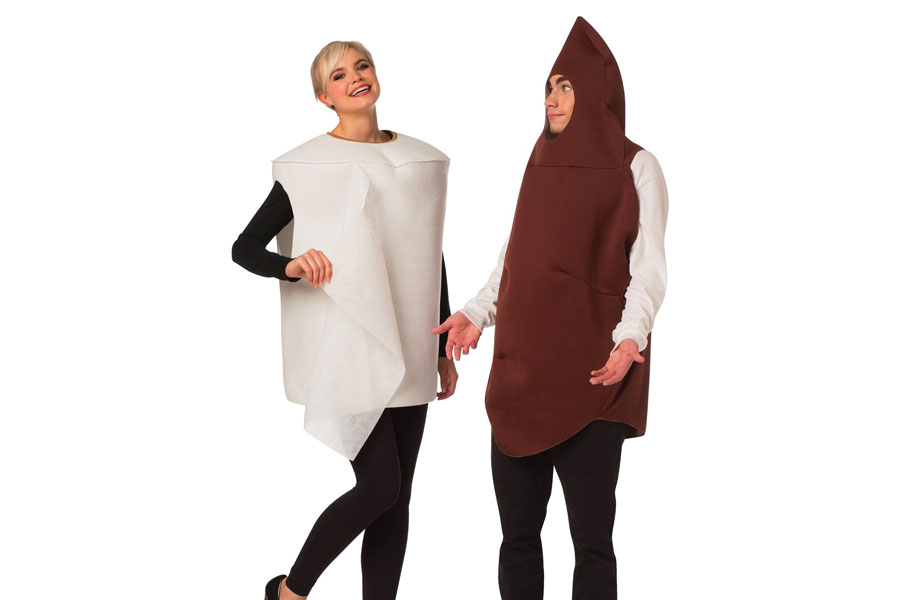 8. Toilet Paper
Like the Hand Sanny, in 2020 we found ourselves clambering to get our hands on that sweet, sweet toilet paper. There were fights in the supermarket, thieves targeting the TP section and more than a few handbags stuffed with the office's supply. This Halloween, the option is simple. Roll in to the party looking extra fly.
What you'll need: White tube, some extra rolls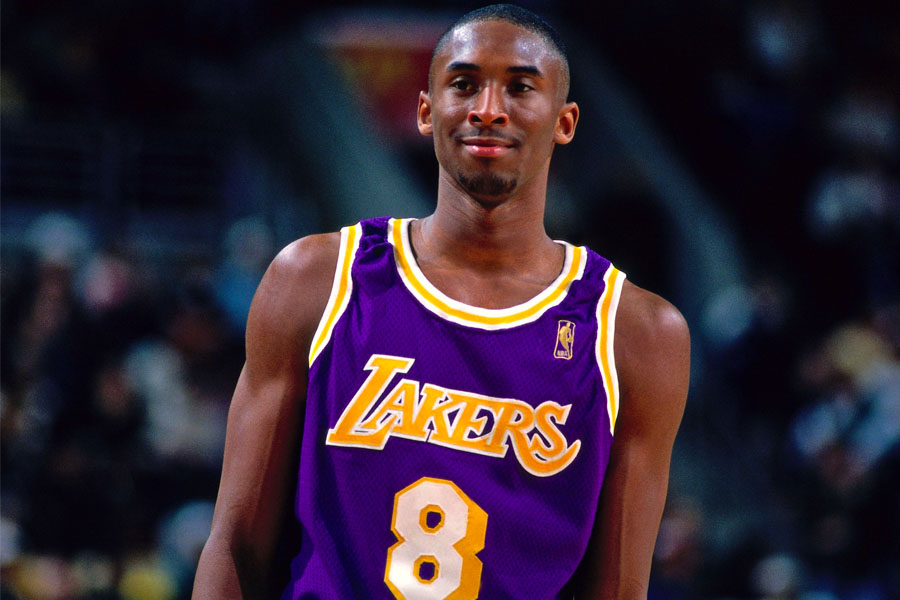 9. Kobe Bryant
The world lost an icon this year when NBA legend Kobe Bryant tragically passed in a helicopter accident. One of the most unique and recognisable players to have ever hit the court, Bryant's trademark snare and gritty determination make for an easy option this Halloween. The hardest part about putting this costume together will be choosing between number 8 and number 24.
What you'll need: Kobe Bryant Lakers jersey, Mamba mentality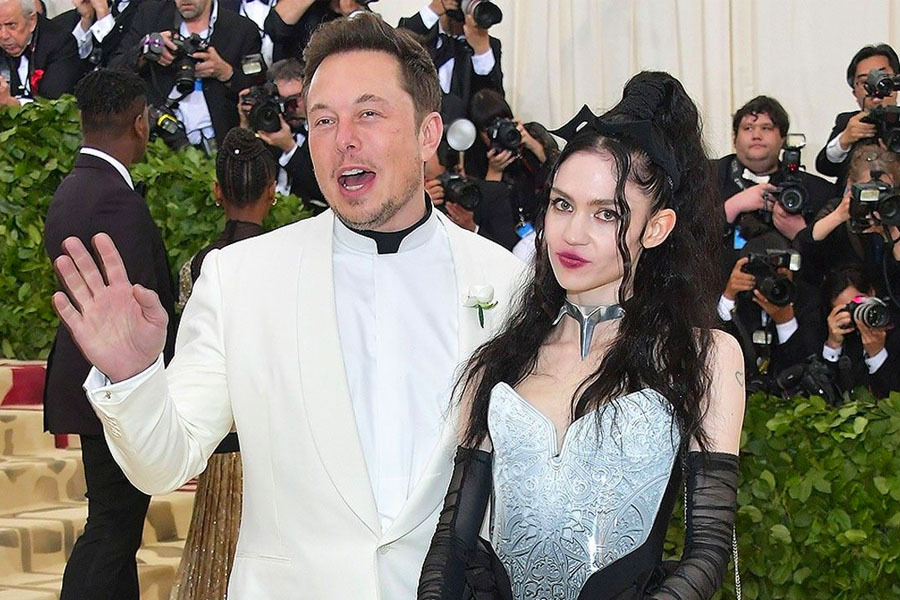 10. Elon Musk & Grimes
The world's most obscure couple, Tesla chief Elon Mush and his avant garde partner Grimes have been everywhere this year, mostly because they opted to name their baby an indecipherable and unpronounceable name. While it's a solid 2020 Halloween costume idea for couples, we'd probably steer clear of anyone willing to opt for this one at a party.
What you'll need: A lot of money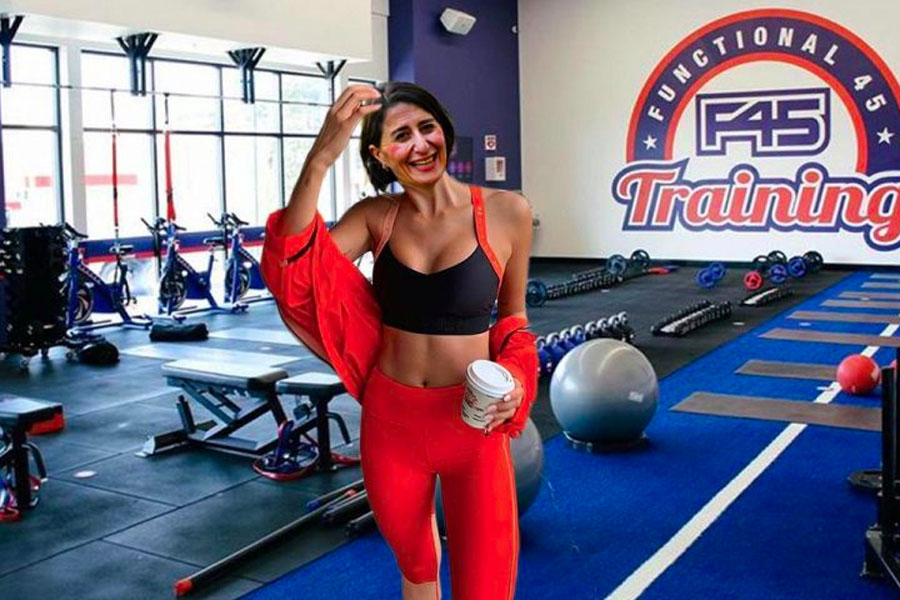 11. Hot Mess Gladys
After NSW Premier Glady Berejiklian came under fire for a steamy relationship with a corrupt colleague, the memes started rolling in. Leading the charge was satire publication The Betoota Advocate which labelled the politician Hot Mess Gladys, a Northern Beaches-esque, active wear sporting party-girl who isn't opposed to a few 'Live, Life, Love' posters. This 2020 Halloween costume is a little more obscure but easy to pull off.
What you'll need: Active wear, coffee, crystals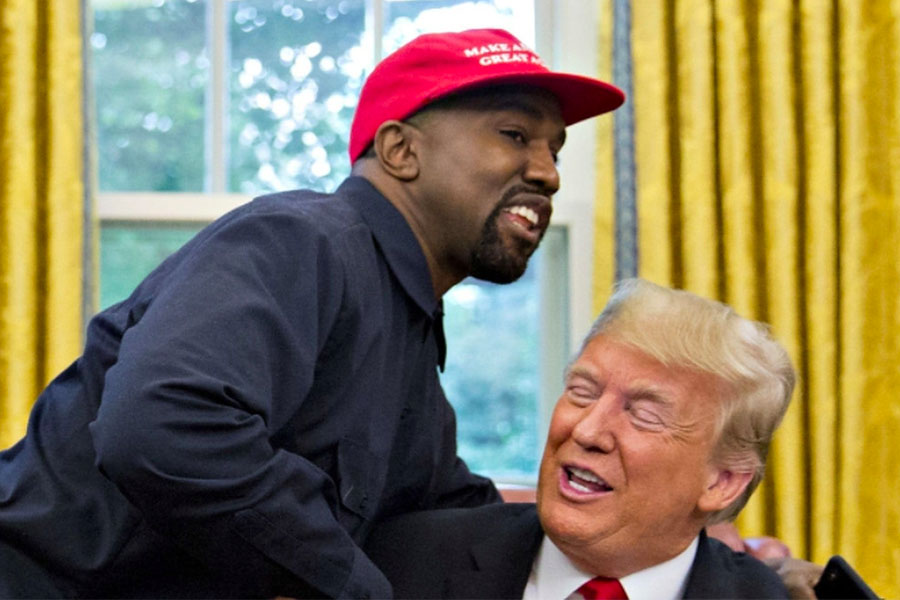 12. President Kanye
He may have missed the deadline for a number of states, but Kanye West isn't letting that stop his presidential run. The hip-hop star is surging ahead with his campaign and pumping out bizarre videos to prove the point. Nevertheless, President Yeezy makes for a perfect 2020 Halloween costume idea.
What you'll need: Yeezy clothing, Grammy-winning musical career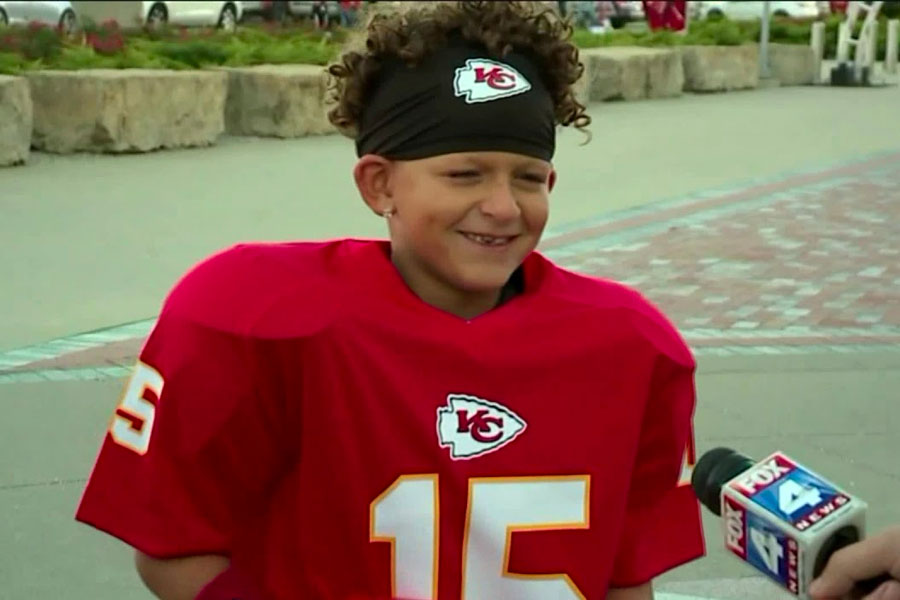 13. Pat Mahomes
The NFL superstar who signed the richest contract in sports history, Patrick Mahomes is a 2020 legend. For Halloween this year, you can expect to see US football fans hitting the cities in droves sporting the trademark number 15 Kansas City jersey.
What you'll need: Patrick Mahomes Kansas City jersey, $500 million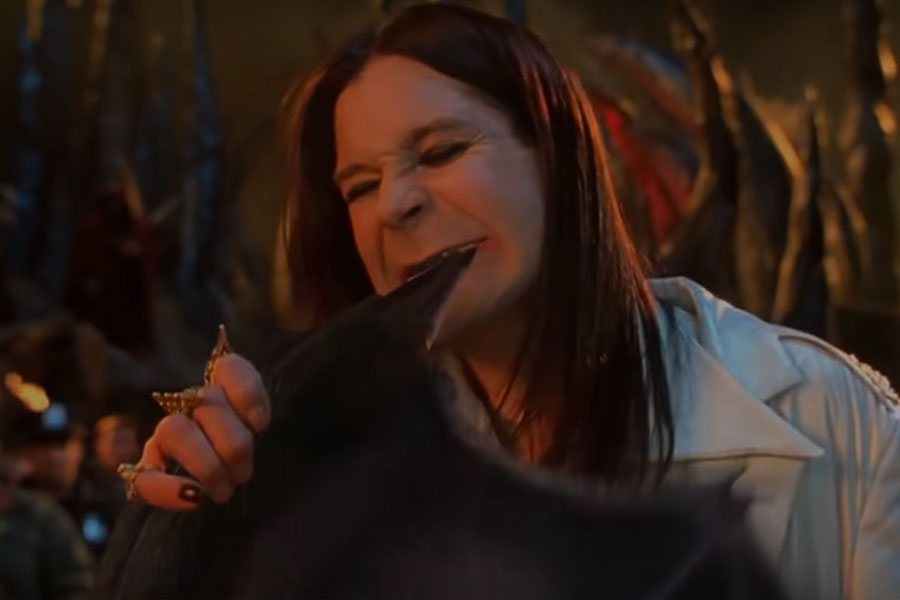 14. Man Eating Bat
Look, COVID is no joke, but Halloween is all about playing up the terrifying things that happened over the year. With Bat Soup well and truly off the menu for the next little while, this one could go down well, or like a lead balloon. Make sure you read the room.
What you'll need: Plastic bat

15. Dwight Schrute
The ignorant slut himself. This isn't exactly 2020 specific, but The Office's Dwight Schrute is the perfect Halloween costume every year. It's simple to pull off, instantly recognisable and will more than likely lead to someone shouting The Office quotes at you for the rest of the night. Be prepared to talk bears, beets and Battlestar Galactica.
What you'll need: Glasses, tie, yellow shirt, Schrute bucks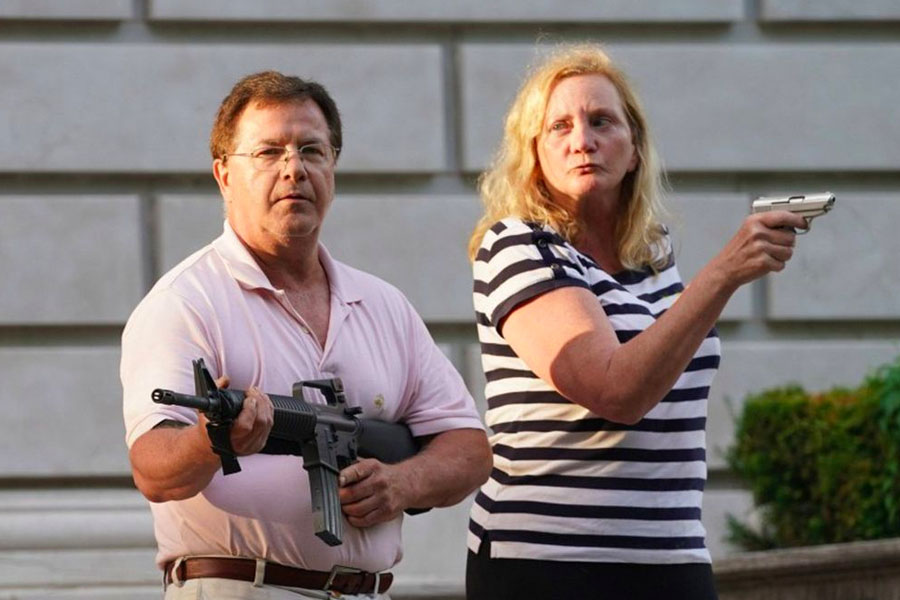 16. Ken and Karen Couple
When a St Louis couple rushed to their front porch to brandish assault rifles at a group of passing protesters, the world collectively groaned with second hand embarrassment. The ultimate Karen and Ken couple had been identified. The good news is, these deplorable deadsh*ts make for a tremendously easy 2020 Halloween costume. Hands up!
What you'll need: Assault rifle, khakis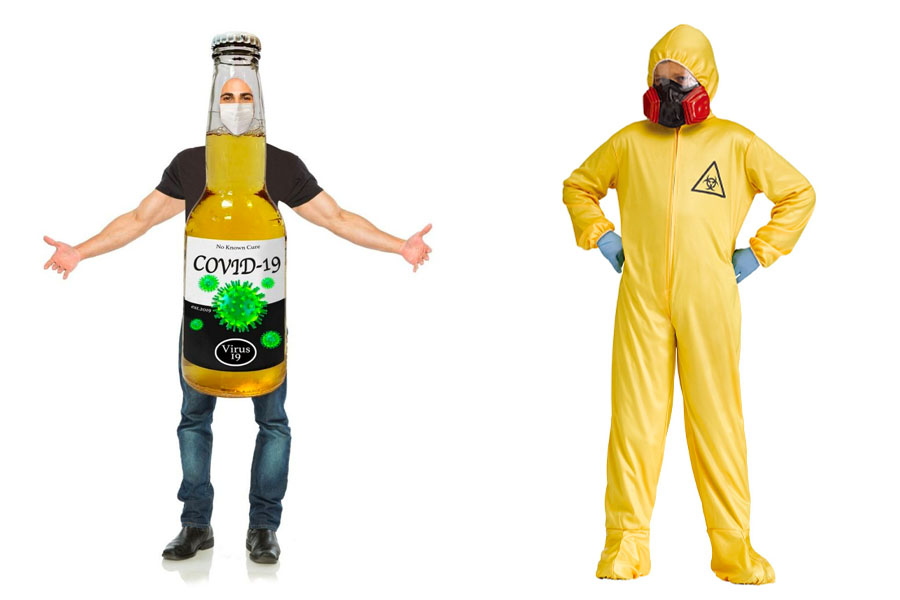 17. COVID 19
Crack out the hazmat suit and slip into the quarantine mode. We know that 2020 has been a bit of a write-off and COVID-19 is solely to blame, but there's some merit in making the most of the situation. Let's face it, there's going to be a lot of dudes running around dressed in Corona outfits this year.
What you'll need: Hazmat suit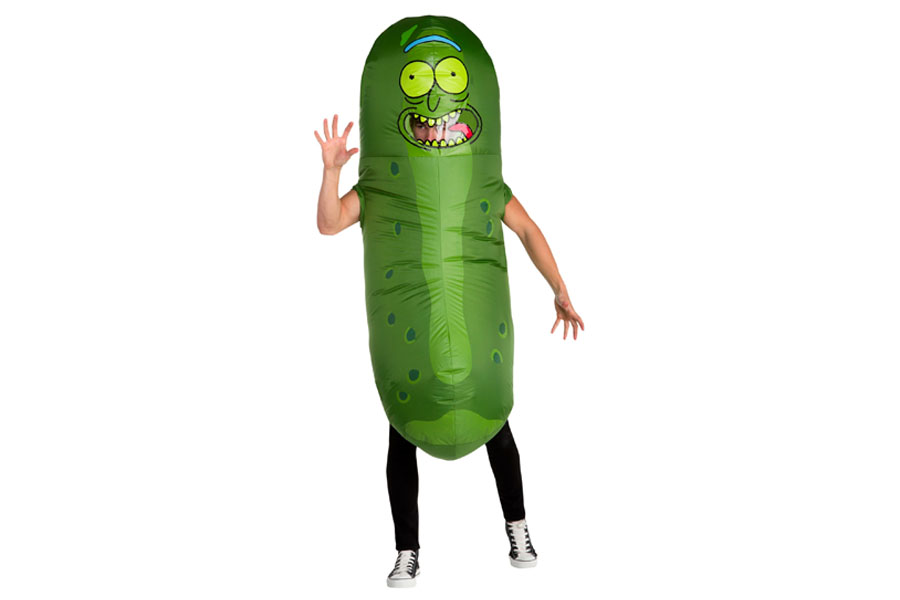 18. Pickle Rick
The most iconic episode of Rick & Morty ever is sure to make a return to the Halloween costume stakes in 2020. Long and green, you can pretty much pull this off using whatever spare art supplies you've got leftover from last Halloween.
What you'll need: Green rectangular outfit, an above average knowledge of Rick & Morty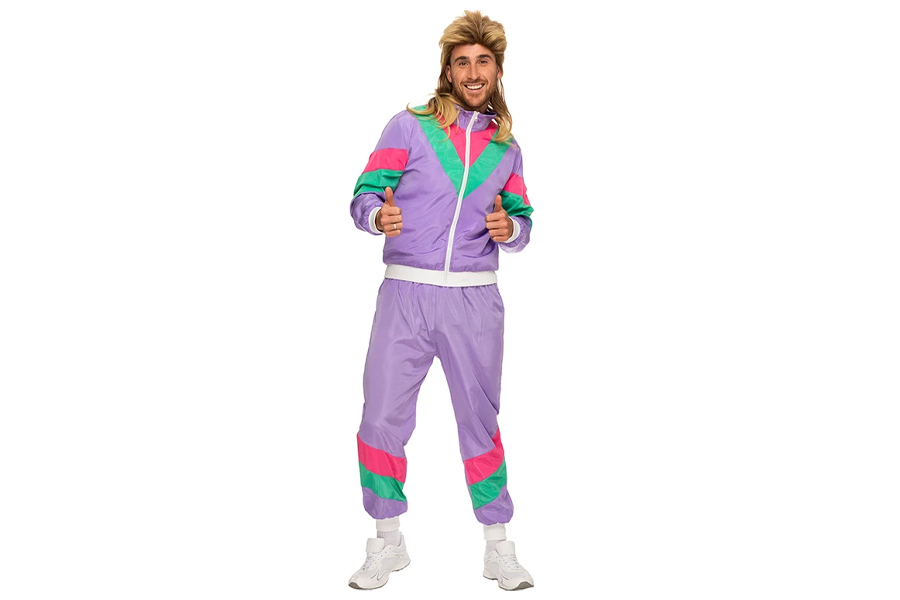 19. 80s Jogger
80s fashion made a big return this year and with so many of us only allowed to jog as exercise during lockdown, the tracksuit became a staple.
What you'll need: Fluro tracksuit, headbands, New Balance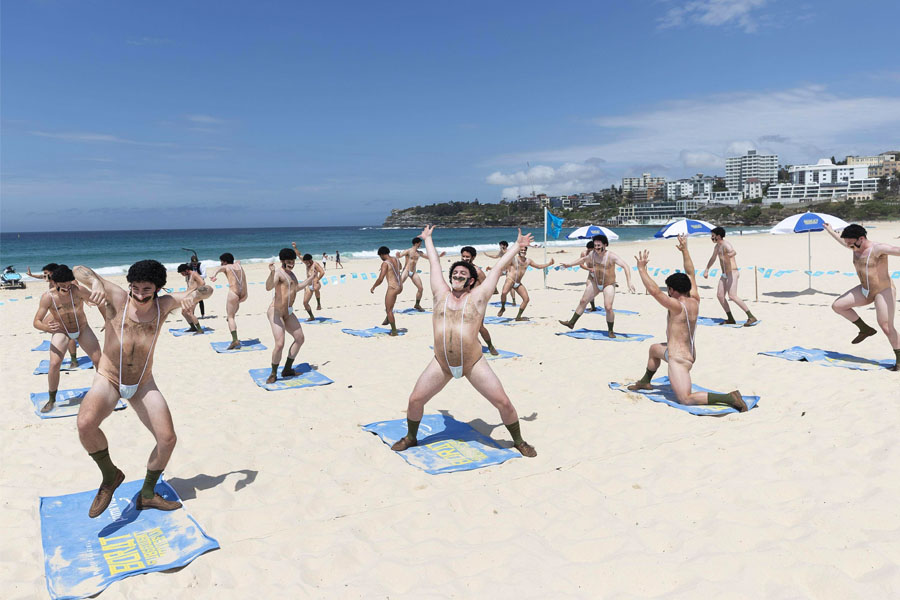 20. Borat
With Borat 2 hitting Amazon Prime Video last week, you better believe Halloween is going to feature more than a few Kazakh journalists. Grab a moustache, don the wig and share some skin. The season of sin is here.
What you'll need: Mankini, skin, moustache, wig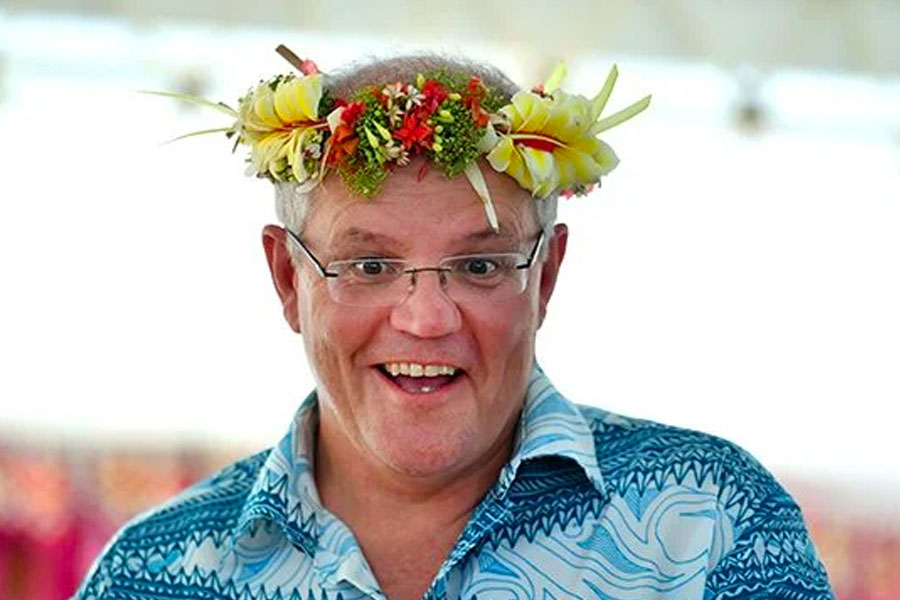 21. Hawaiian Holiday ScoMo
Let's not getting into why he was on holiday or what was happening back home at the time, let's just focus on the classic combo of Hawaiian shirt, thongs and shakkas that became our Prime Minister's trademark earlier this year. Chances are, you can pull this ensemble straight out of your dad's summer wardrobe.
What you'll need: Hawaiian shirt, shakka, thongs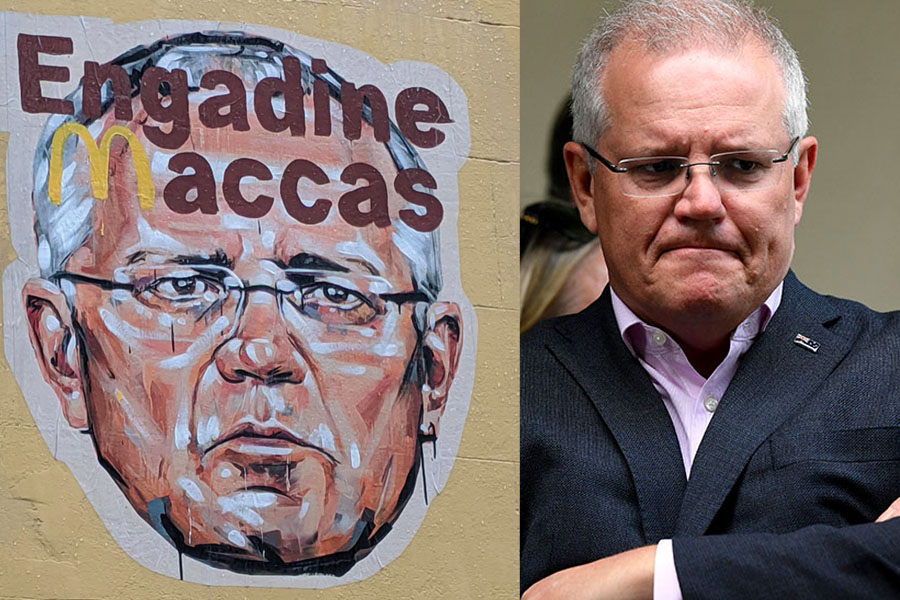 22. Engadine Maccas ScoMo
Less of a costume and more of a vibe; Engadine Maccas ScoMo sees our fearless leader looking sheepish and a little worse for wear. While no one has confirmed whether ScoMo really did soil himself in the McDonald's bathroom after the 1997 NRL Grand Final, the damage is done.
What you'll need: Regret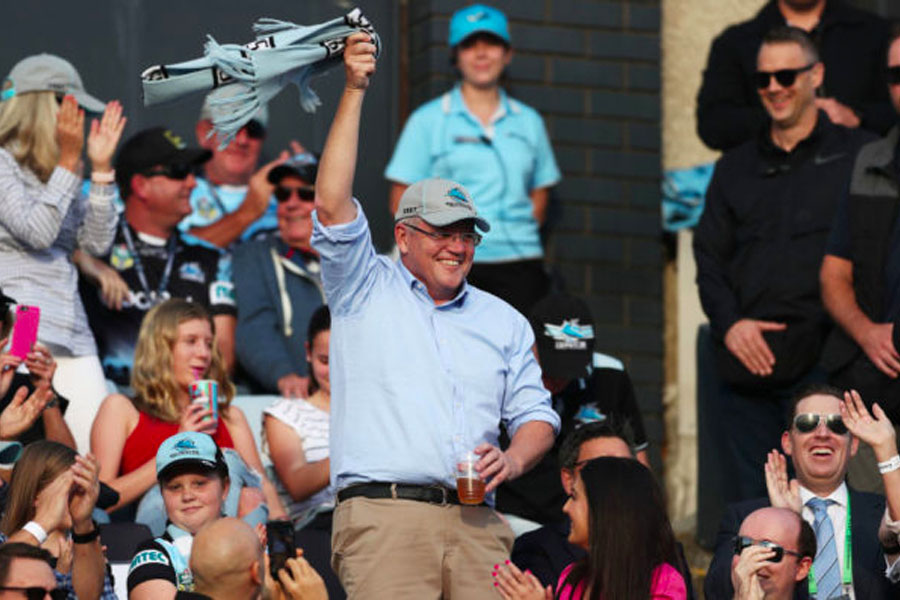 23. Sharkies Final ScoMo
Like you uncle who got stuck into the Chardonnay a little too early on Christmas day, ScoMo's impromptu performance at the Sharks final will go down in history. Top button undone, khakis in featuring prominently and a crowd of horrified onlookers surrounding, this Halloween costume should be surprisingly easy to accomplish.
What you'll need: Khakis, Blue button-up, Cronulla Sharks scarf, a few schooners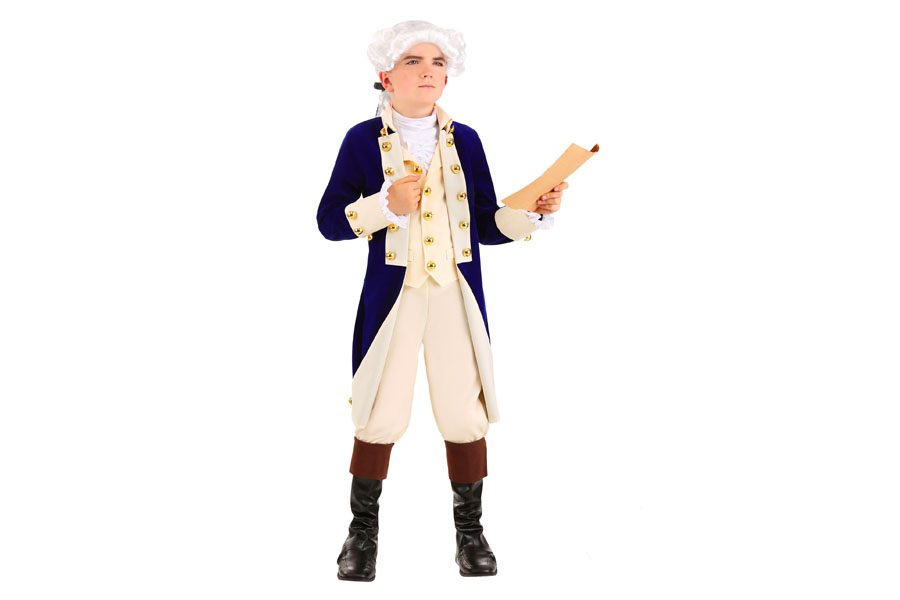 24. Alexander Hamilton
After a long wait, the hit musical Hamilton finally made its way onto streaming services, landing on Disney+ earlier this year. The record-breaking phenomenon remains one of the biggest stage shows of all time and as such, deserves to be recognised this Halloween. Be warned, we doubt you'll find an authentic Hamilton costume last minute, but nevertheless, it's worth a look.
What you'll need: Might need a professional for this one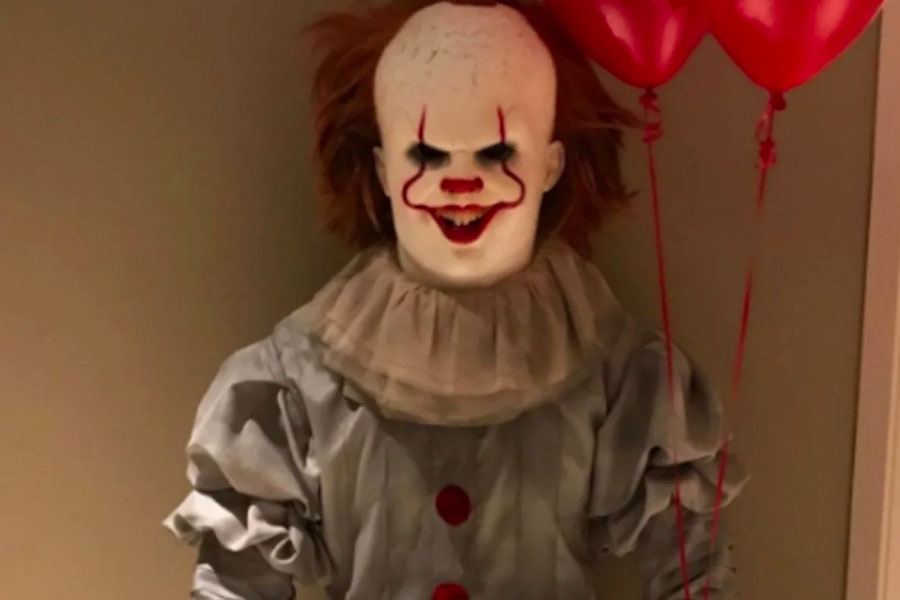 25. Pennywise
Everybody loves a clown and Halloween is the ideal time to get your creep on. As the creature from Stephen King's It, Pennywise remains one of the most recognisable Halloween costumes ever and for anyone adept at make-up, surprisingly simple to recreate.
What you'll need: Clown makeup, balloon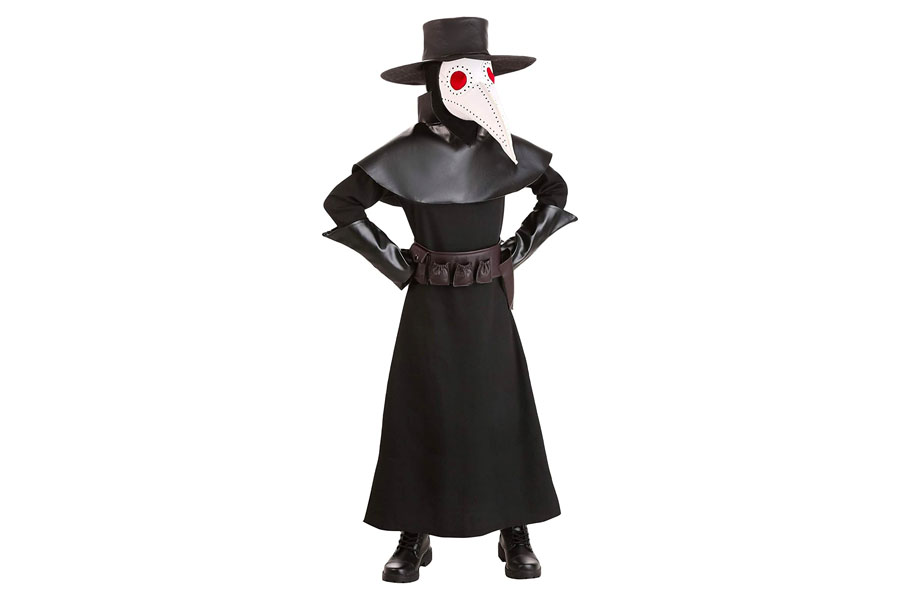 26. Plague Doctor
Plague doctor costumes have always popped up at Halloween but this year, the attire is especially relevant. With the world turning to face masks and PPE to steer clear of COVID-19, we've started to see some history fans recreate the classic ensemble. Scary but safe, that's the message for Halloween 2020.
What you'll need: If you own this already, this is probably your only chance to get it out
27. Carole Baskin
Did she do it? Who knows, but Joe Exotic's arch nemesis Carole Baskin makes for an interesting character. With not one but two new TV series set to premiere about the big cat collector, there's no denying Carole was one of the breakout stars of 2020. Be sure to complete the look with a crazy cat shirt, flower crown and missing husband.
What you'll need: Crazy cat shirt, flower crown

28. Fat Thor
The Avengers: Endgame scene that nobody saw coming, Chris Hemsworth's portrayal of Fat Thor is iconic. The jacked-up superhero as an ageing, overweight goon is a winner in our books and a great Halloween costume for anyone who has packed on the pounds this year. Embrace it, you now have the body of a god.
What you'll need: Hammer, beard, Diabetes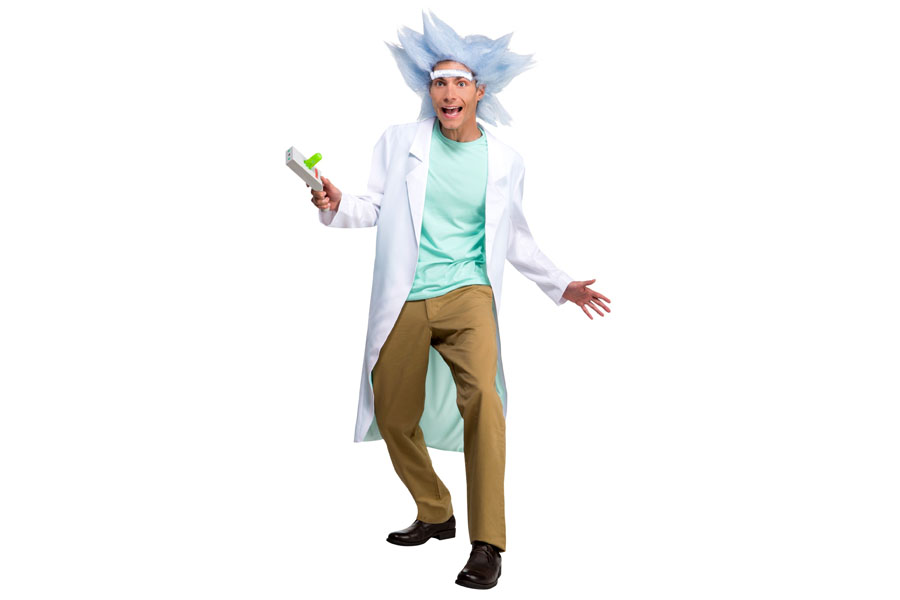 29. Rick From 'Rick & Morty'
Aw geez, as the brilliant scientist grandfather from the Adult Swim series Rick and Morty, you're definitely bound to find some Ricks rolling around the streets this Halloween.
What you'll need: Lab coat, aqua shirt, crazy hair wig, phaser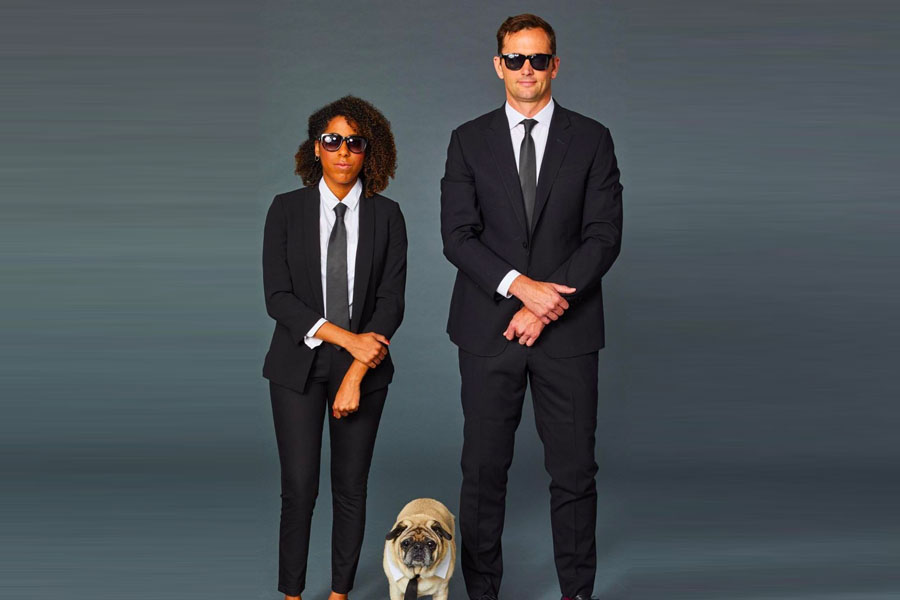 30. Men in Black
A classic but still worth a run. If you've completely blanked on an idea for Halloween this year, grab a suit, a white shirt and a pair of sunglasses. Too easy.
What you'll need: Black suit, white shirt, sunglasses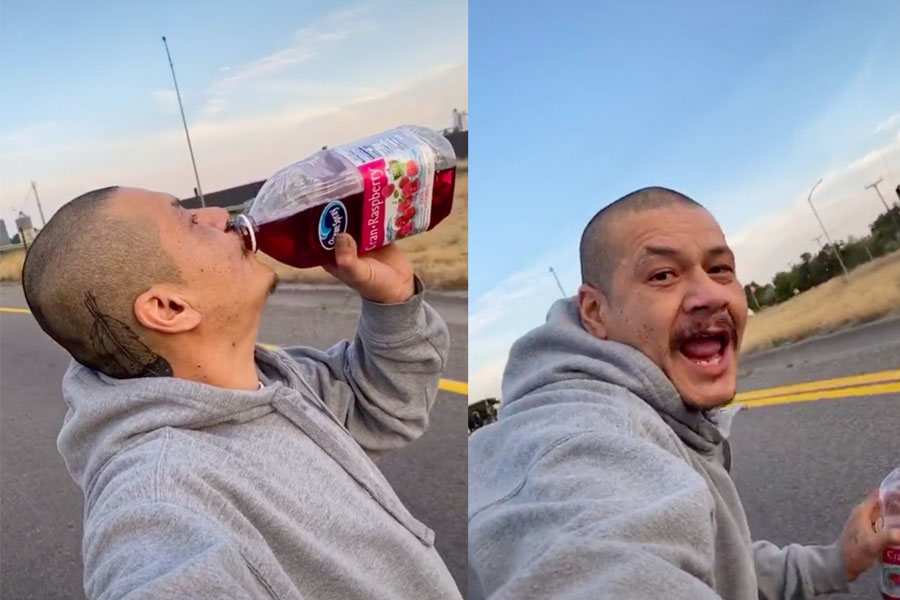 31. Doggface208
There was a good couple of weeks there where you couldn't go ten minutes on the internet without seeing this clip. Often replicated, Doggface208's ultra-positive video saw him classic skateboarding to Fleetwood Mac whilst drinking Ocean Spray. Turns out, that was exactly the kind of vibe we needed in 2020.
What you'll need: Grey hoodie, Ocean Spray, skateboard, good vibes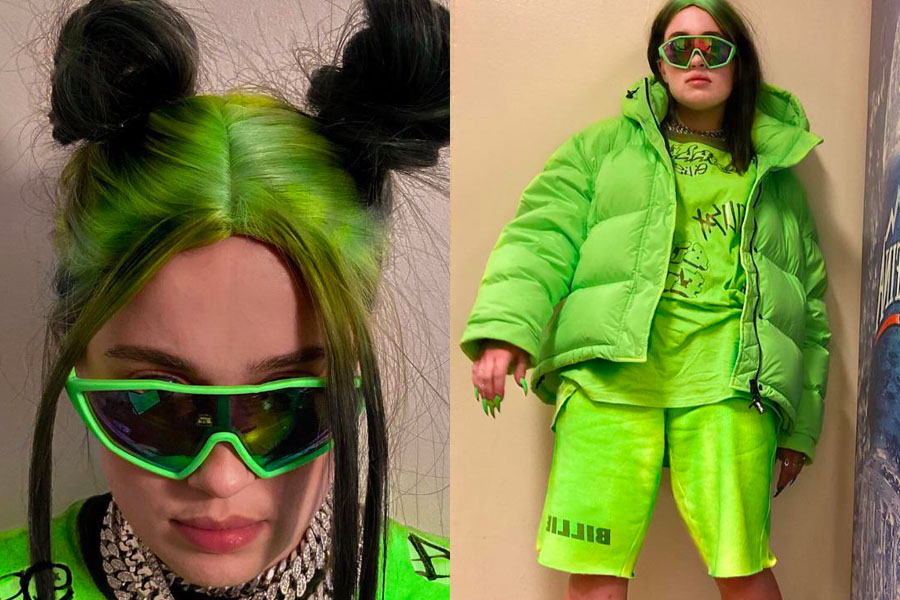 32. Billie Eilish
She topped pretty much every category you can this year, but teenage songwriter and performer Billie Eilish's unique clothing style makes her an obvious 2020 Halloween costume target. Grab your dad's oversized jackets and shirts and head for the neons, this one is a time.
What you'll need: Fluro ski suit, goggles, oversized clothing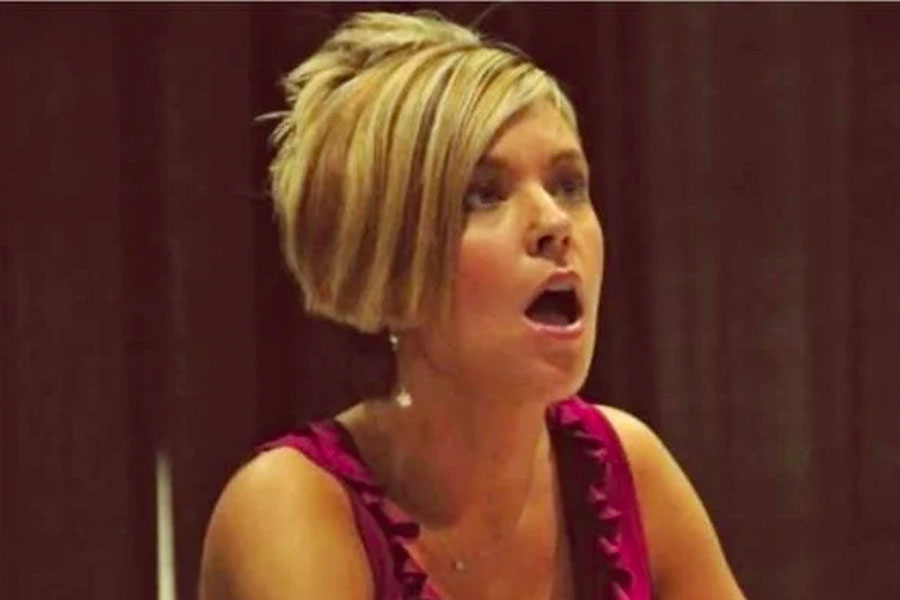 33. Karen
COVID definitely brought out the Karens. The classic 'speak to the manager' haircut, coupled with a sense of entitlement few could comprehend, this aesthetic is one that is sure to make an appearance on Halloween this year.
What you'll need: 'Can I speak to the manager' cut, Live, Laugh, Love posters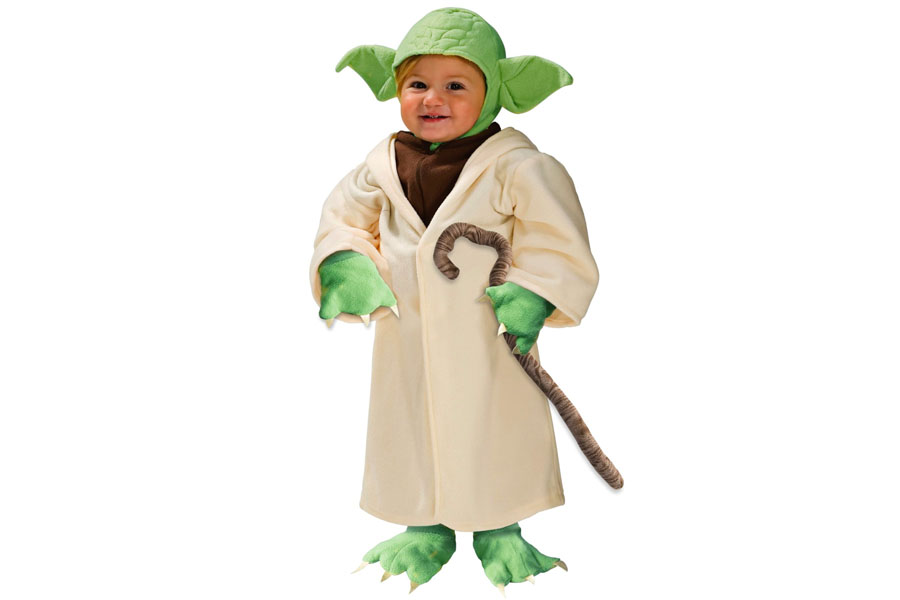 34. Baby Yoda
The child from The Mandalorian is just about as cute as anything we could imagine this year. For a Halloween special, crack out the green face paint and wrap yourself in a blanket. Everybody loves Baby Yoda.
What you'll need: Green face paint, blanket, staff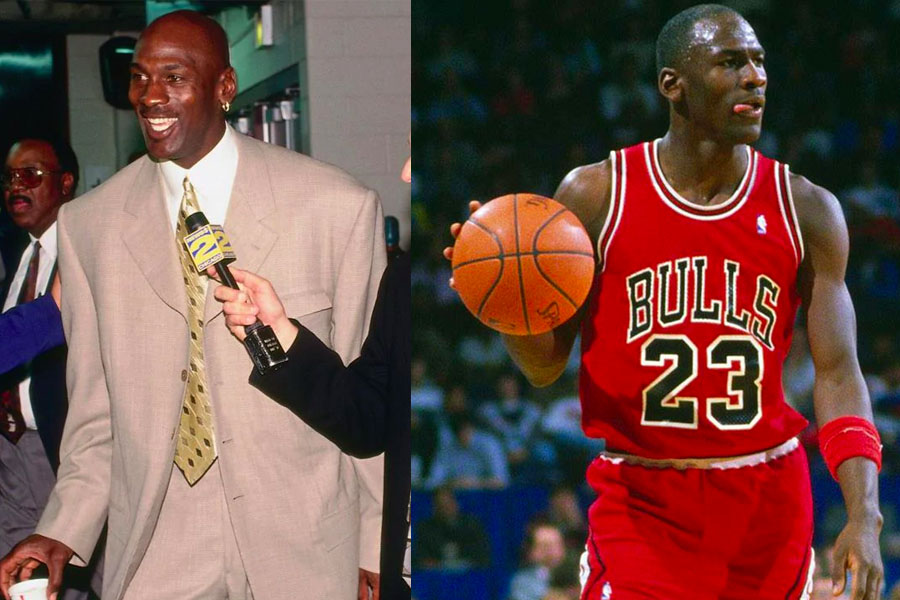 35. Michael Jordan
He dominated the courts for years but in 2020, Michael Jordan dominated our television screens. The ESPN docu-series The Last Dance became the network's most successful feature of all time, drawing millions to its weekly episodes. In 2020, you'll definitely find a few Chicago Bulls wannabes running around with their tongues out.
What you'll need: Michael Jordan jersey, basketball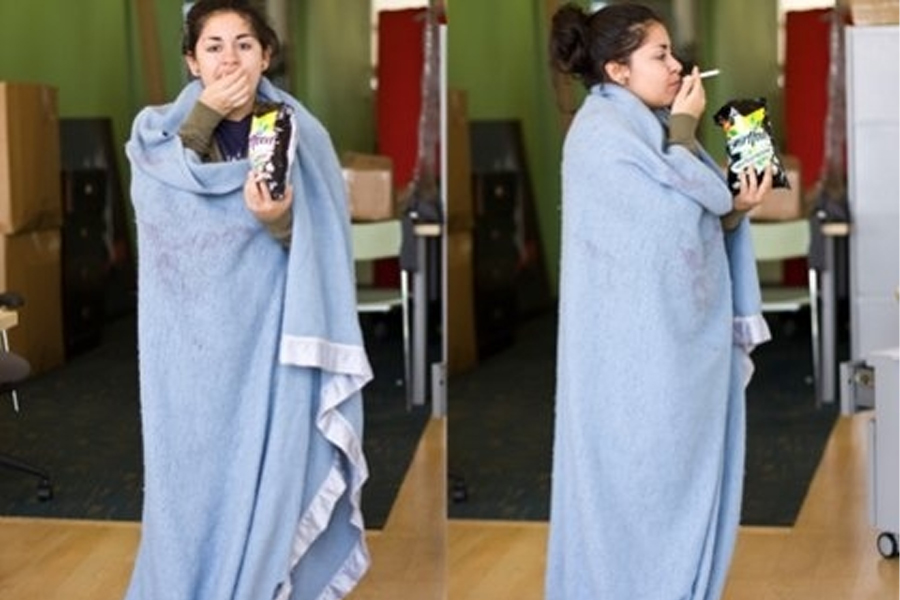 36. WFH
Don't act like you didn't look like this all lockdown.
What you'll need: Blanket, no shame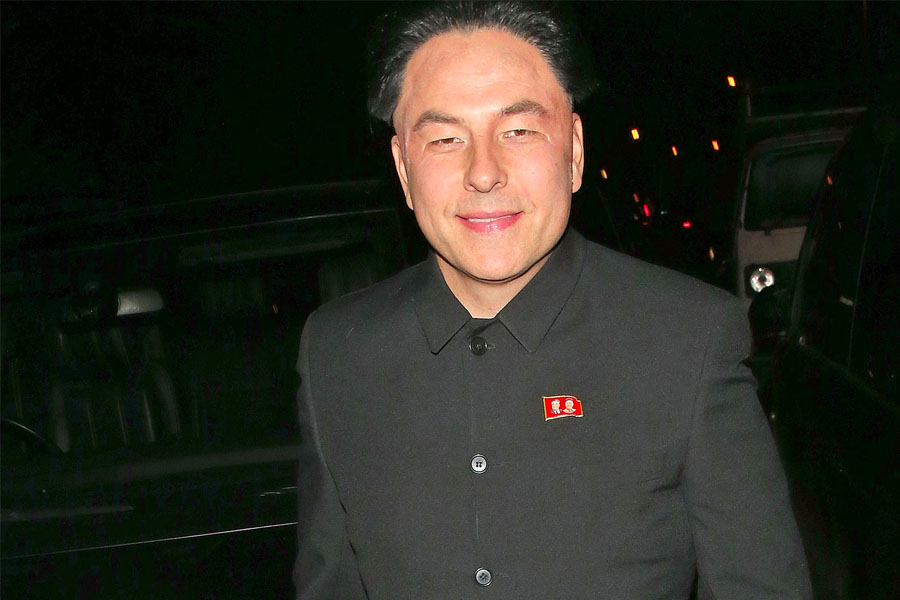 37. Kim Jong-Un
As it seems to every year, rumours of North Korean leader Kim Jong-Un's demise began to spread like wildfire in 2020. In fact, at one point, people were suggesting the head of state had been replaced by a not-so-great lookalike. Whatever the case, semi-dead Kim Jong-Un makes for a ripper 2020 Halloween costume.
What you'll need: Military suit, sweet fade, questionable health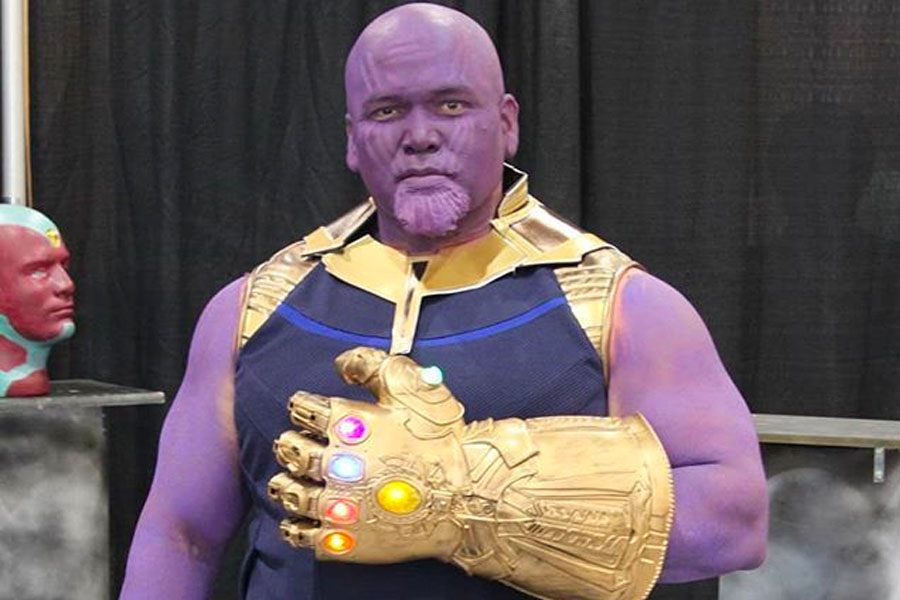 38. Thanos
The infinity stones in his possession, Thanos is an unstoppable force and one of the geekiest costumes you could possibly pull together. Sure, we love The Avengers as much as the next guy, but this is a big call.
What you'll need: Purple paint, shave head, gold glove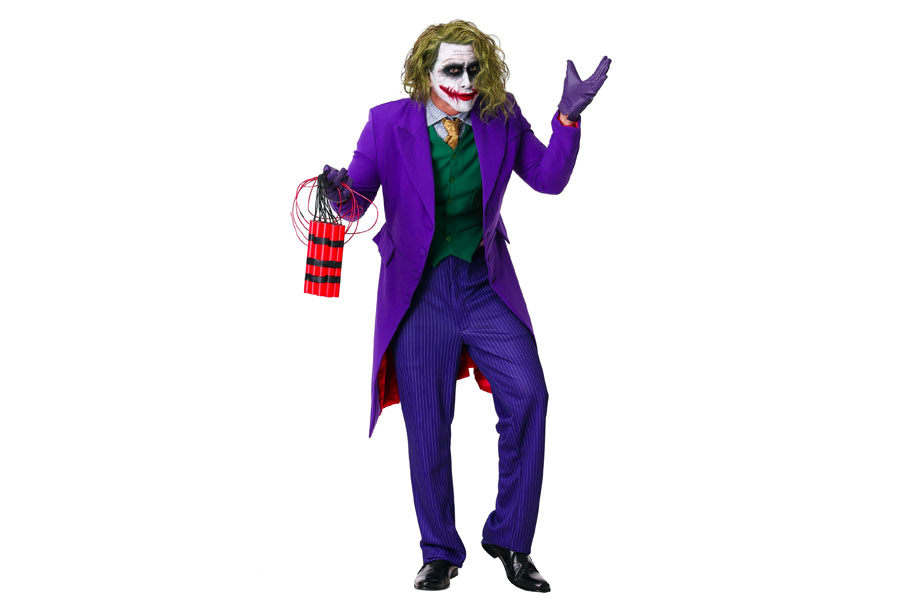 39. Joker
The 2019 hit film broke records and caused mass hysteria, but there's no doubting we all love a good Joker costume. Crack out your sister's makeup kit and don't be afraid to colour outside the lines.
What you'll need: Purple suit, face paint, green waistcoat, dyed hair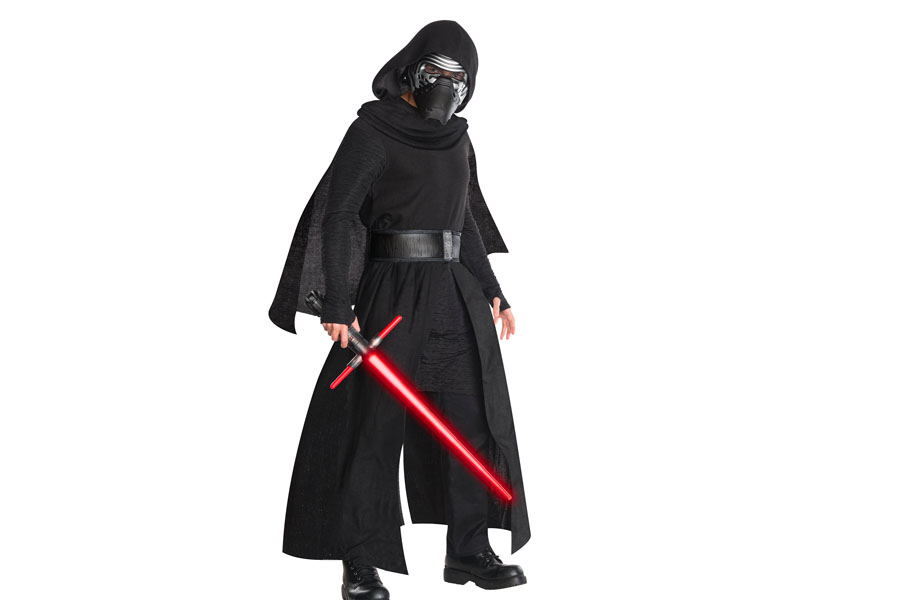 40. Kylo Ren
Big, beefy Kylo Ren is also likely to get a run this year, after all, who doesn't love a bit of action? While the movies that feature the character don't quite live up to Star Wars fans' expectations, the hooded villain's aesthetic is top notch.
What you'll need: Red lightsabre, black cloak, helmet
You'll also like:
The Manson Family 'Murder House' is Up For Sale For $2.2 Million
20 Scariest Horror Movies of All Time According to Science
27 Best Memes of 2020 (So Far)
What are the popular Halloween costumes this year?
Following massive pop-culture appeal the biggest Halloween costumes for 2020 are Joe Exotic, Cardi B from the WAP music video and Donald Trump.
What Halloween costumes are all black?
If you are looking for a Halloween costume in all black, aim to play Morticia Addams, a priest, Catwoman or Bellatrix Lestrange.
What is the easiest Halloween costume to pull off?
It's a classic that never goes out of style. Chuck a bedsheet over your head and cut two eye holes to become a pretty average ghost.
---
Featured Video from Man of Many