19 Crimes Stays Rogue Launching Limited Edition Pale Ale
Named for the 19 crimes that could turn a convict into a colonist in Australia in 18th century Britain, 19 Crimes embodies the rebellious spirit of rule breakers and law defying citizens. That rogue mentality has led the Treasury Wine Estates to add craft beers to its repertoire, including a limited edition Pale Ale. 19 Crimes originally launched in Canada in 2011 before spreading into the US in 2012. It then branched into Australia in 2014.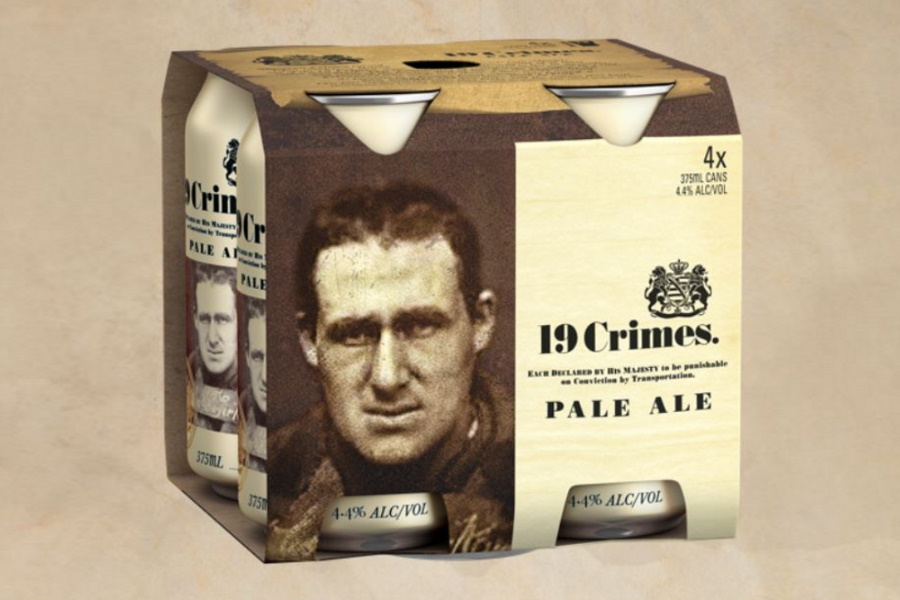 "19 Crimes is a true juggernaut," says 19 Crimes Senior Brand Manager Laura Wenn, "experiencing phenomenal global success and gaining traction quickly and organically here in Australia since launching in 2014." The growth has led 19 Crimes to become a $26 million brand in Australia, making it the top contributor to the growth of Australia's wine market. 19 Crimes is the number 1 contributor to Chardonnay and Shiraz growth. Backed by that kind of success, the company is now turning its attention to craft beer. "Creating a Pale Ale felt like a natural, obvious next step for the brand as we know that our wine consumers equally enjoy discovering craft beer," explains Wenn. "Almost 50 percent of purchases by craft beer drinkers are for beers they have never previously tired and we also know that craft beer buyers are 10 percent more likely to purchase wine than the average liquor shopper. We are confident that the 19 Crimes Pale Ale will prove successful with millennials thanks to its crisp taste, distinctive packaging, and our 'talking' augmented reality label."
The augmented reality packaging portrays a 19th century mug shot of a convict-colonist sent to Australia. Using an app, you can hear and see the picture tell its story. The limited edition Pale Ale from 19 Crimes is launching through Cellarbrations, The Bottle-O, IGA Liquor, and Ritchies liquor outlets.
General FAQ
Why is the wine called 19 crimes?
19 Crimes is named for the 19 different crimes that could hold a sentencing of being transported to Australia from Britain in the 18th Century.
What type of wine is 19 crimes?
Australian wine brand, 19 Crimes, specializes in value-priced red blends made grape varieties like Shiraz, Pinot Noir, Cabernet Sauvignon, Grenache, Durif, and Mourvedre.