10 Best Non-Alcoholic Ciders
Thinking about taking a break from the booze? For those who are or those who just can't get their tastebuds around kombucha, non-alcoholic cider might be the beverage to rock your socks. While it's no new phenomenon, alcohol-free cider has recently taken a back seat to the "new" non-alcoholic posh players like gin and wine. We're here to reinstate the humble cider to its rightful position in the non-alcoholic beverage popularity contest. To get you started, back on the wagon, or equipped with dependable alcohol-free cider recommendations, we have listed 10 of the best below with some are even being vegan friendly and gluten-free.
Best of Non-Alcoholic Ciders
Best for Craft Brewing: Small Acres Cyder – Sparkling Apple and Pear Non-Alcoholic Cider
Best for Beer Drinkers: The Hills Cider Company Non-Alcoholic Apple
Best for Dry/Crisp Flavours: Bilpin Cider Co Non-Alcoholic Apple Cider
Best for Sweet Flavours: Kopparberg Non-Alcoholic Strawberry and Lime
How We Chose This List of Best Non-Alcoholic Ciders
This list was compiled through personal experience and online research, plus through commentary from drinks critics and expert reviewers. Man of Many only looked at ciders with a rating of 4.0/5 or higher through Dan Murphy's reviews and took into account the major gripes and positives from the public. The research also included a series of reviews from prominent critics and online publications, allowing us to cull it down to the best non-alcoholic ciders.
Best Non-Alcoholic Ciders
Choosing a list of the best non-alcoholic ciders to drink, there's a lot to consider. Putting the research through its paces, this list looked at the prominent alcoholic cider brands that have dictated the market and deep-dived into their new booze-less endeavours. Additionally, there are a number of new players on the scene that have started from ground zero (quite literally) and continued to surge ahead with 0.0 per cent ABV. If you are wanting the best-tasting alcohol-free cider, we've got you covered.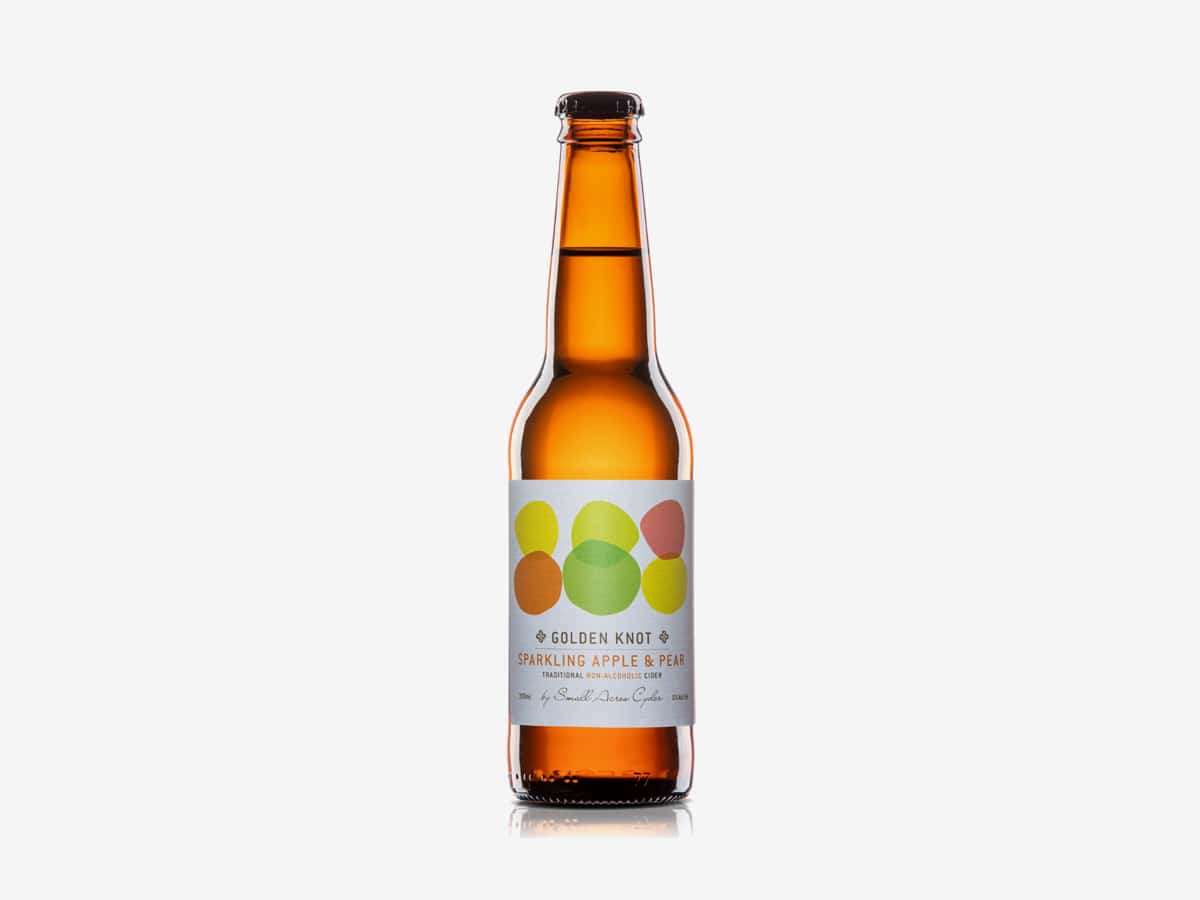 1. Small Acres Cyder – Sparkling Apple and Pear Non-Alcoholic Cider
Best for: Craft Brewing
When it comes to the best non-alcoholic ciders on the market, we had to go boutique. The team over at Golden Knot Non-Alcoholic ciders create handcrafted releases from freshly crushed apples and pears, and you can really taste the difference. The blend of 80 per cent apples and 20 per cent pears ticks all the boxes and we loved the unique mixed flavour profile. Better still, it comes with no added flavourings, sugars or concentrates, isn't diluted with water and it's vegan and gluten-free. Trust us when we say, this one is a thirst quencher for adults and kids.
Tasting notes: Crisp and fresh with a strong apple base
Region: Central West, NSW Australia
Price: 24 x 330ml bottles $85
RELATED: The Best Non-Alcoholic Drinks Guide
---
Featured Video from Man of Many
---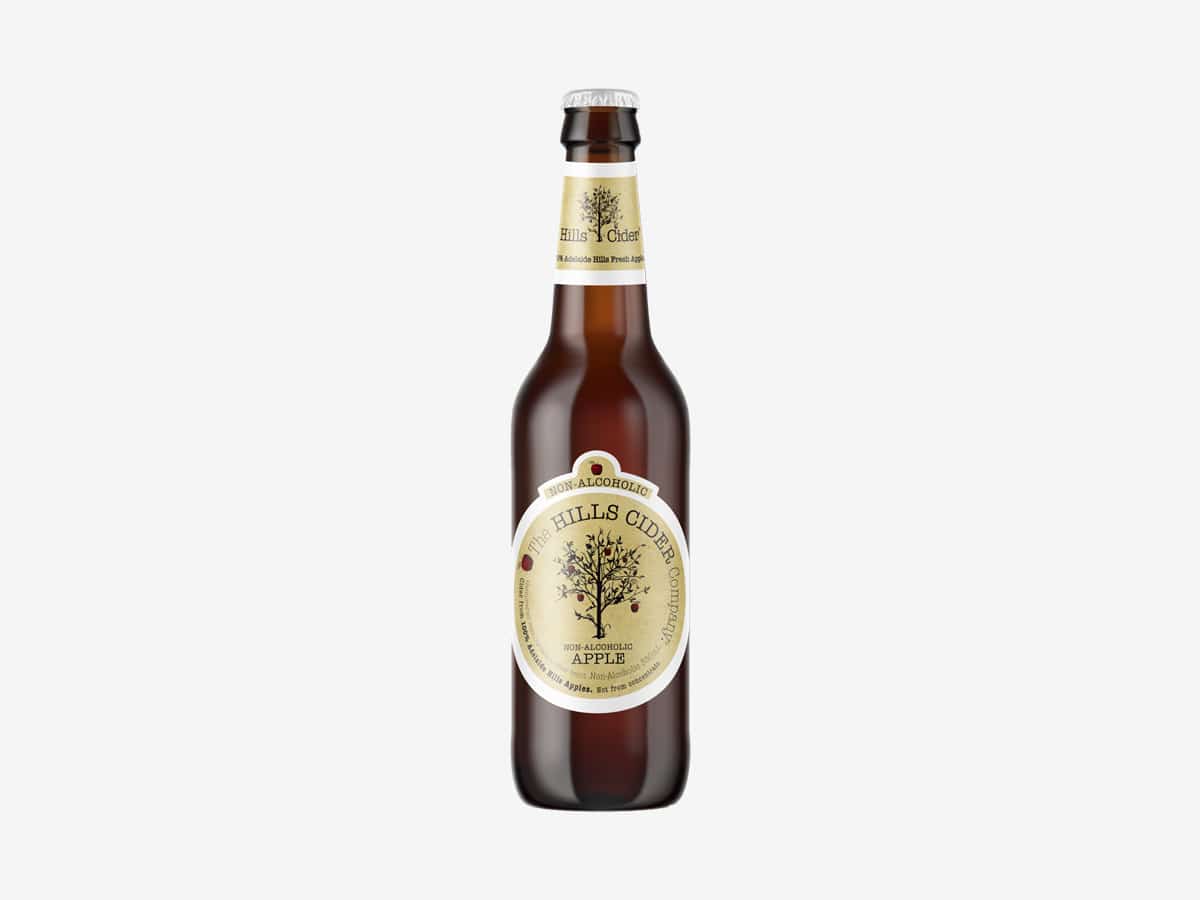 2. The Hills Cider Company Non-Alcoholic Apple
Best for: Beer Drinkers
This non-alcoholic apple cider is made from 100 per cent Australian-grown, crisp apples and pears from the Adelaide Hills. We love The Hills Cider Company release because it's not as sweet as other ciders. Being a more natural 'land to hand' process, we can definitely taste how fresh the brew is, and can appreciate their dedicated support to local farmers. A bright and fresh palate shows slightly sweet and luscious apple characters, with layers of lemon and lime sherbet.
Taste: Bright and fresh green apples layered with lemon and lime sherbet, vanilla, and custard apple.
Region: Adelaide Hills, Australia
Price: 24 x 330mL bottles $59.99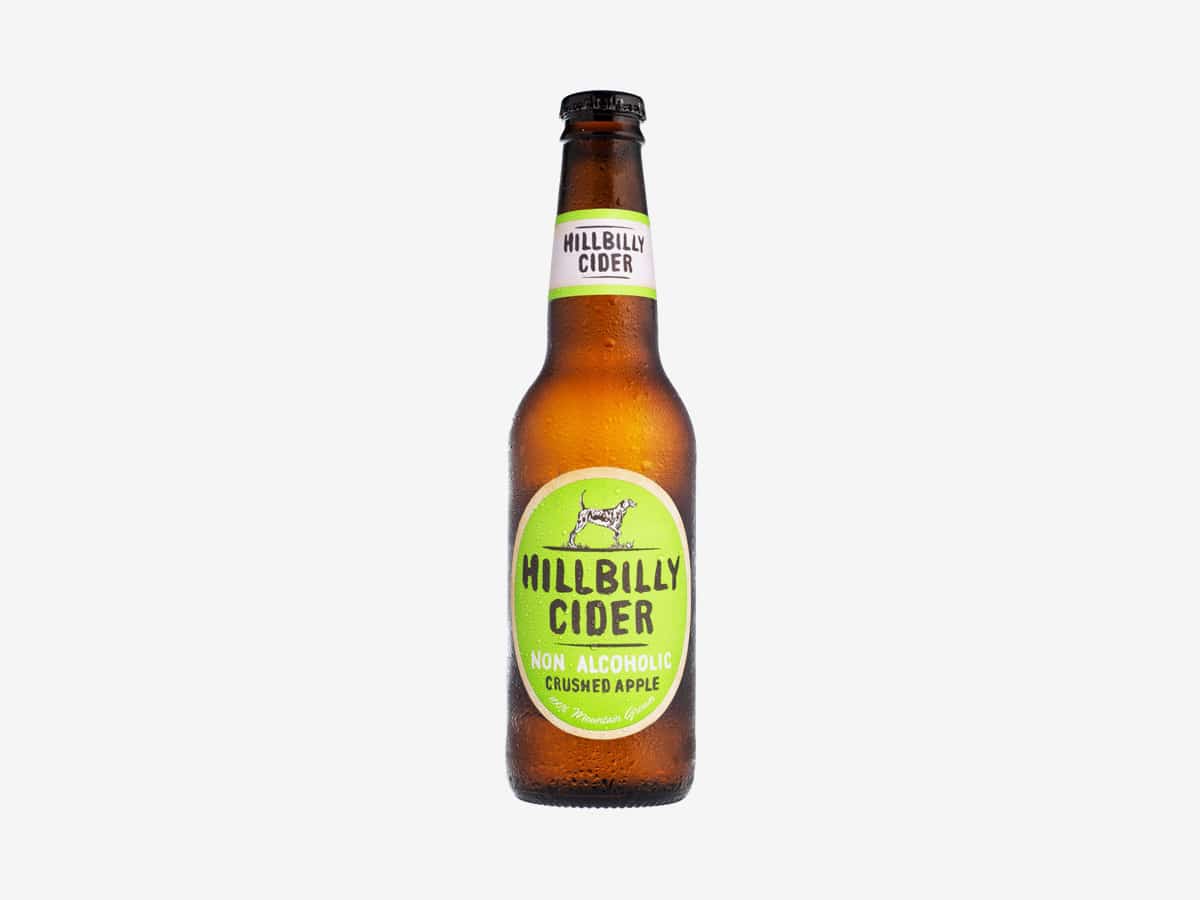 3. Hillbilly Crushed Apple Non-Alcoholic Cider
A brew made simple, with 100 per cent whole crushed mountain apples at altitude. Being the only cider in the world made with the Julie™ apple, you know you're getting a truly unique cider experience. This particular apple, grown exclusively in the Tangara Nursery in Tasmania, is said to have a taste of strawberry, pineapple and a hint of pear- you could only imagine how incredible that would make this alcohol-free cider taste. The Hillbilly Crushed Apple Non-Alcoholic Cider is an easy-to-drink cider crowd-pleaser with plenty of sweetness without being overwhelming.
Tasting notes: A well-rounded crisp, apple taste with an apple orchard aroma
Region: Bilpin, Blue Mountains
Price: 24 x 330ml bottle $85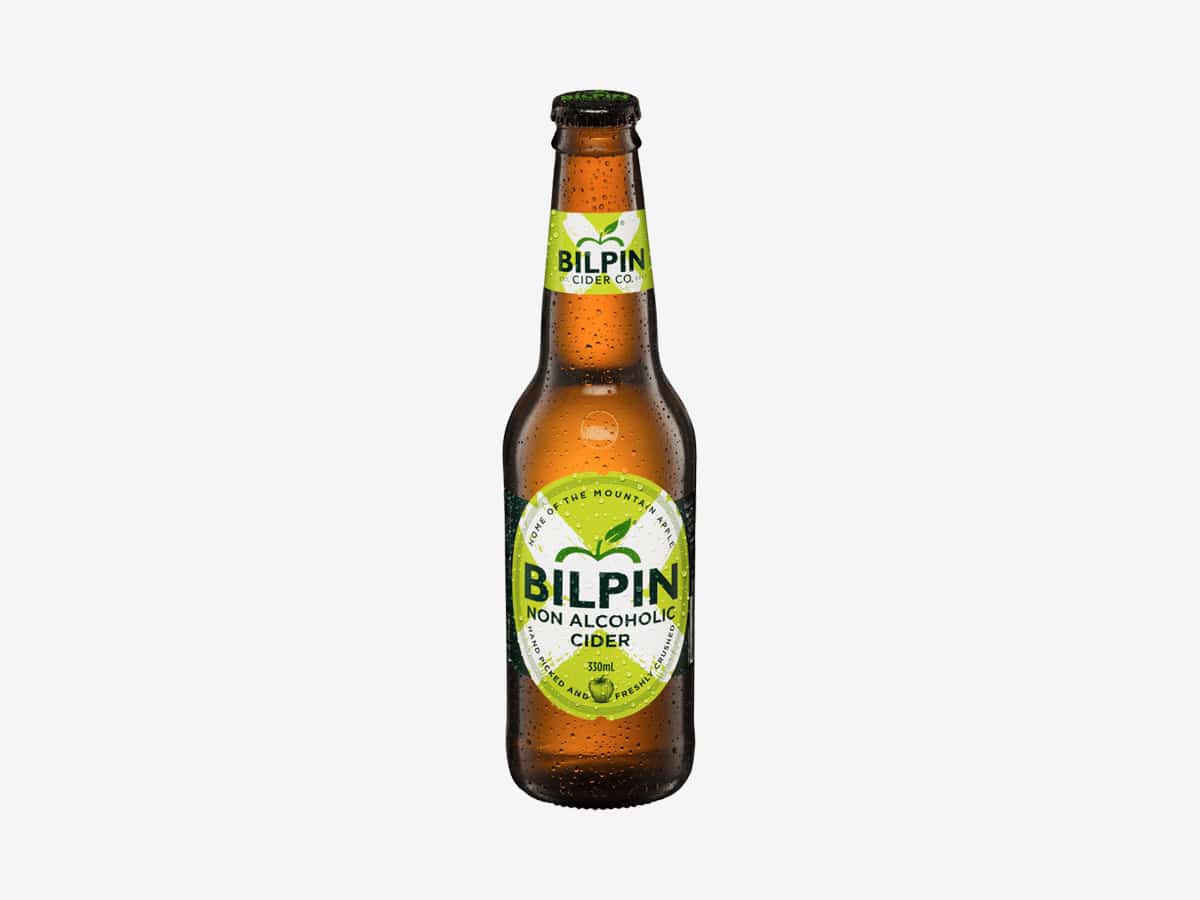 4. Bilpin Cider Co Non-Alcoholic Apple Cider
Best for: Dry/Crisp Flavours
This non-alcoholic cider has been referred to as a "Goldilocks" of ciders, not too dry, not too sweet – just right. Made only using freshly crushed Granny Smith, Pink Lady and Red Delicious apples to retain fresh fruit's natural sweetness. Bilpin's brew provides a genuine cider experience, with every batch tasting marginally different than the next. If you're looking for an ultra crisp, light cider with a slight tang finish, this might be your brew.
Tasting notes: A pure apple flavour with a subtle sweetness and taste that will delight
Region: Bilpin, Blue Mountains NSW
Price: 24 x 330ml bottles $65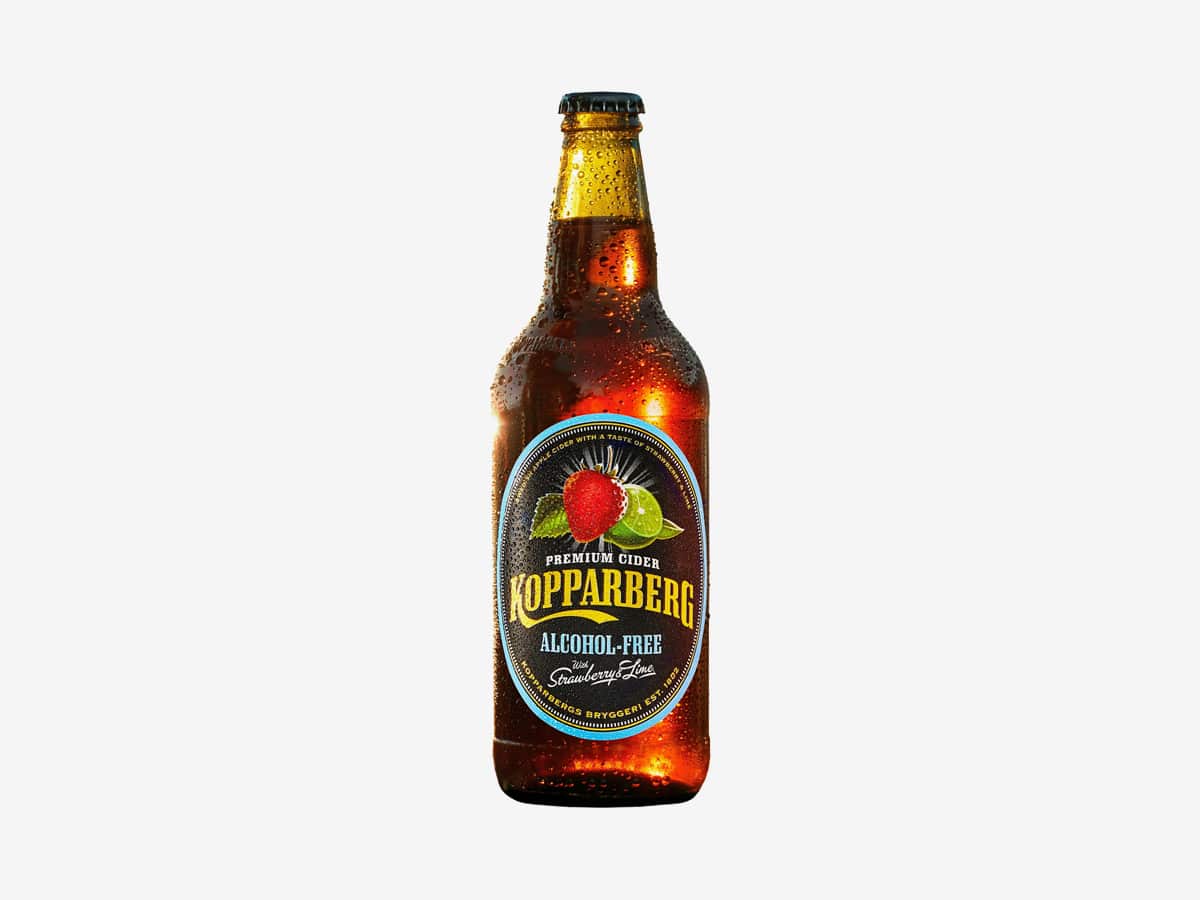 5. Kopparberg Non-Alcoholic Strawberry and Lime
Best for: Sweet Flavours
With the aroma of strawberry, rose oil, and Turkish Delight, this cider is perfect for those looking for something on the sweeter side. This clear pink beverage is full-flavoured, encompassing nostalgic strawberry and cream flavours. The Kopparberg Non-Alcoholic Cider's sweet factor is high but is balanced perfectly with a hint of fresh lime citrus- perfect over ice on a summer's day.
Tasting notes: like strawberries in apple juice, a citric lemon/lime base to balance and a dry sweet finish.
Region: Kopparberg, Sweden
Price: 4 x 330ml bottles $7.50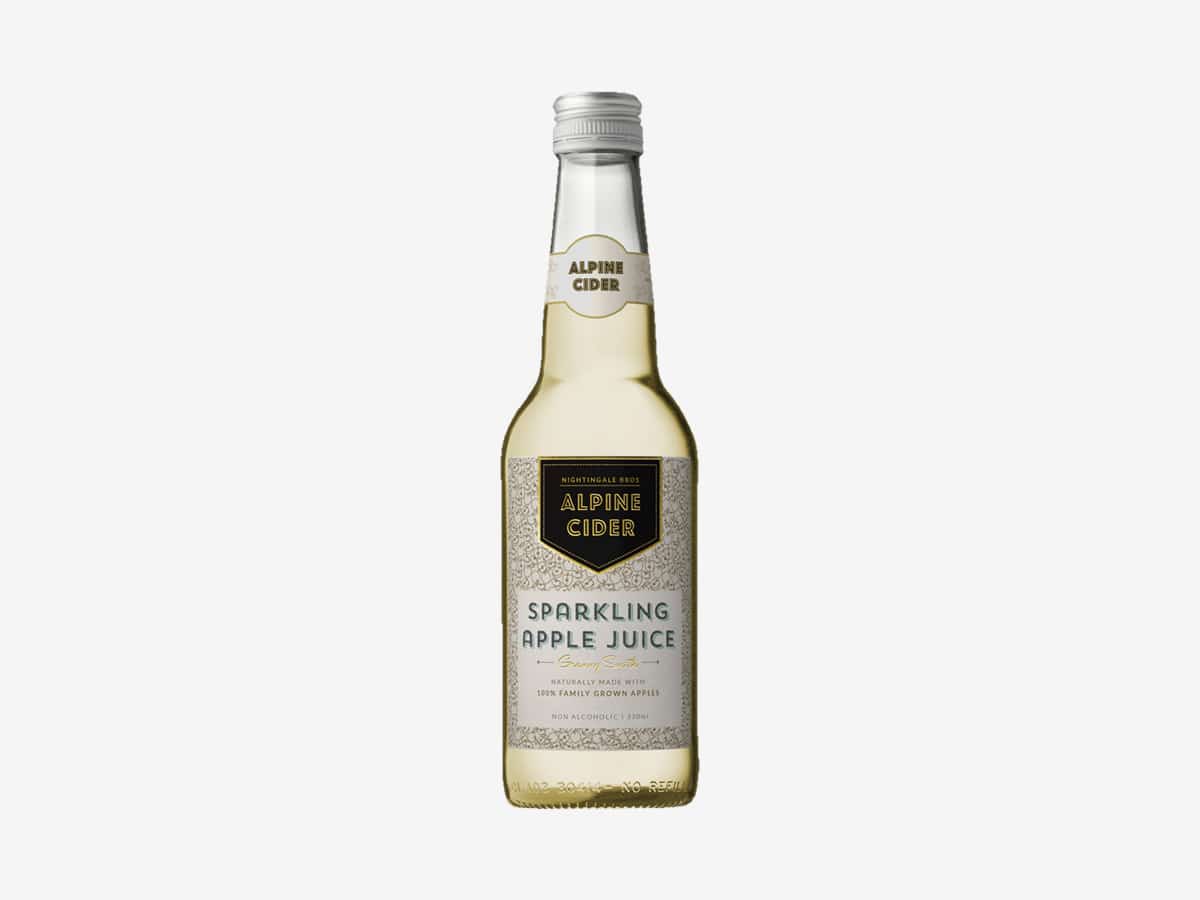 6. Alpine Cider Granny Smith Sparkling Apple Juice
Alpine Cider supplies red and green apple ciders that are similarly sweet and refreshing with a crisp, bubbly finish. Made with hand-picked Granny Smith Apples, this non-alcoholic apple cider is fabulously light, tasting both tart and sweet. We can certainly get around this straightforward crisp and carbonated beverage.
Tasting notes: Clean, crisp, sweet and tangy
Region: Wandiligong Victoria
Price: 24 x 330ml bottles $64.99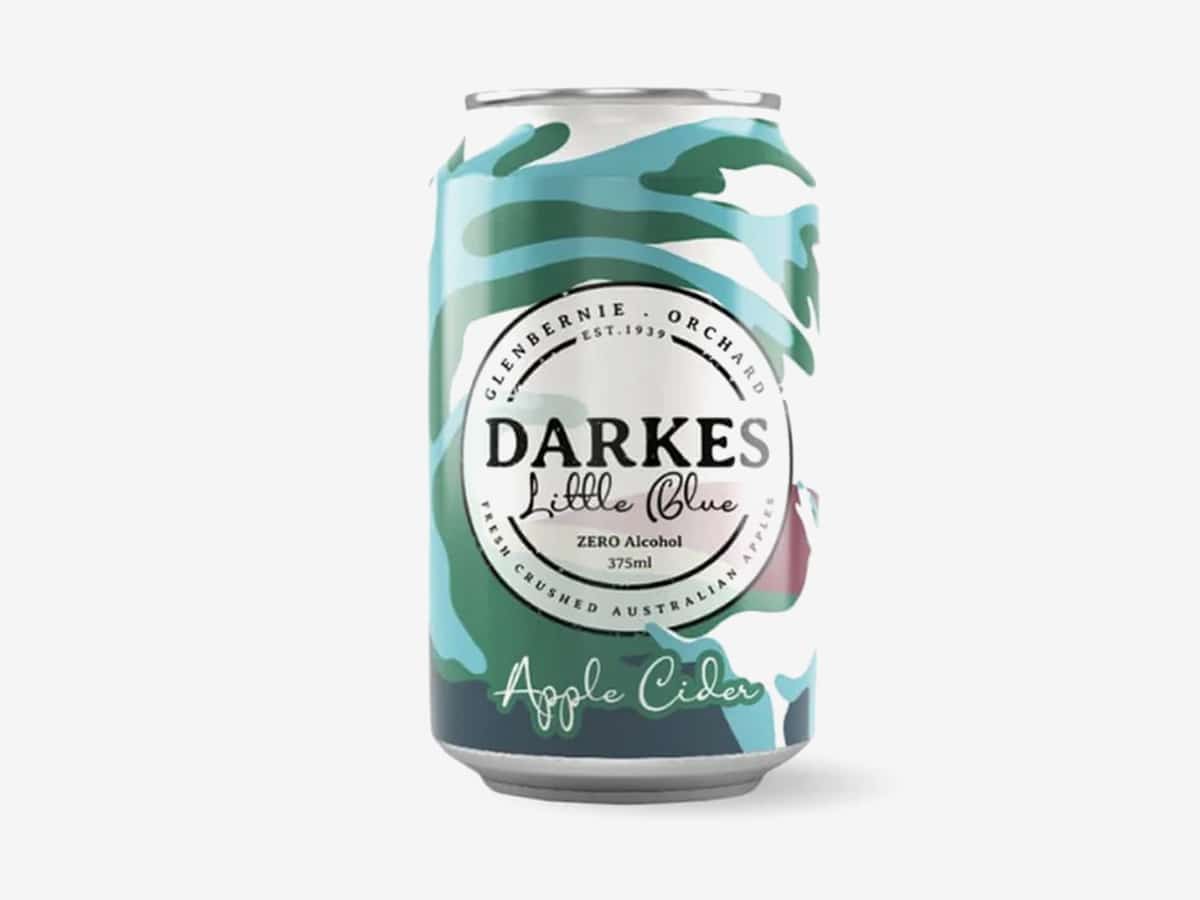 7. Darkes Cider Little Blue Apple Cider
Little Blue Apple Cider is a zero-alcohol apple cider that doubles as the perfect mixer for vodka or gin. Produced on an award winning sixth-generation family farm, this cider is ideal on a hot day served over ice with lime or mint. As you begin to drink the Little Blue cider, you may be fooled into believing you're sipping a hard cider- they just don't taste non-alcoholic. They are crisp, with just the right amount of sweetness.
A Tasting notes: A full bodied sparkling cider, a sweet and tangy combination.
Region: Glenbernie, Victoria
Price: 24 x 350ml cans $75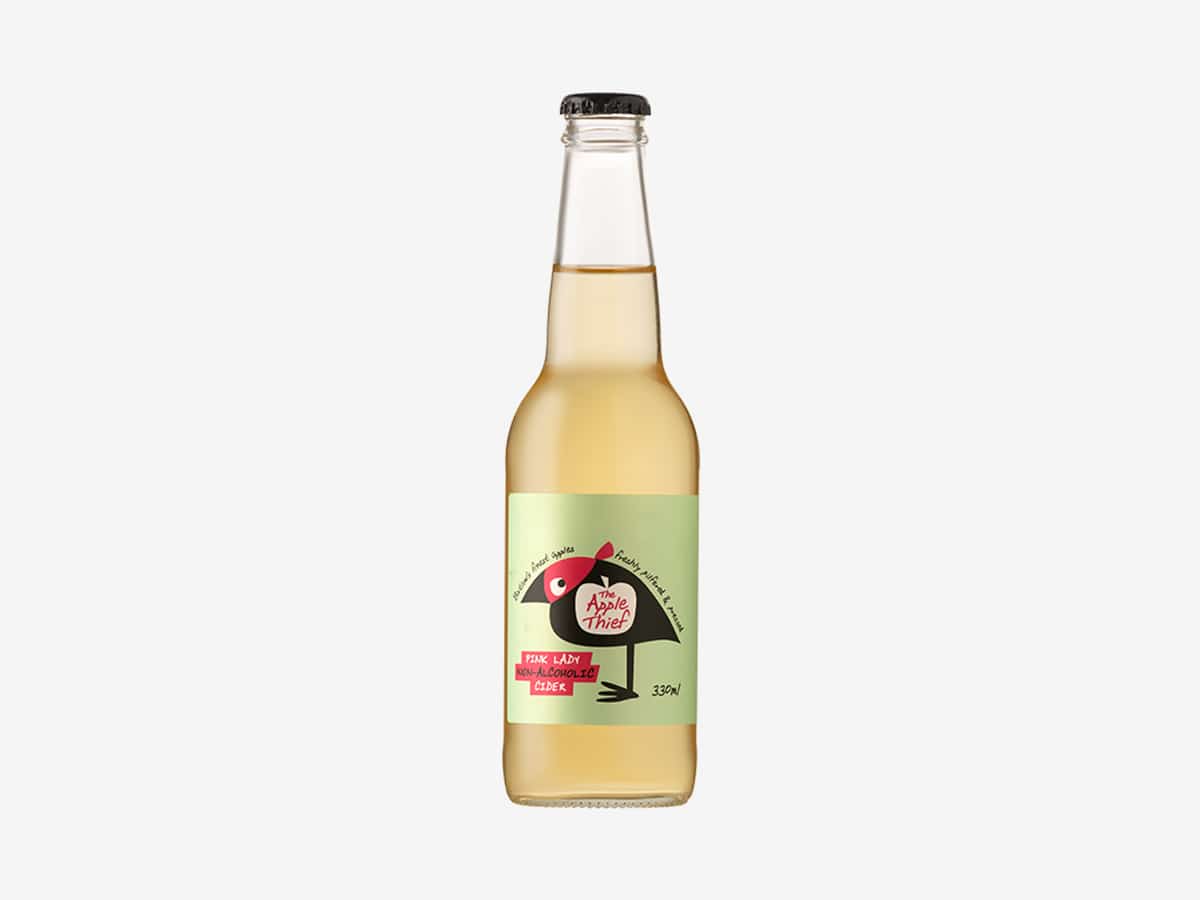 8. Apple Thief Pink Lady Cider
From the NSW Snowy Mountains region of Batlow, this cidery is located within a sub-alpine climate – the ideal spot for growing the tastiest and juiciest apples. As you would expect, the Apple Thief Pink Lady Cider is beautifully refreshing, smooth and sweet, made with deliciously sweet Pink Lady apples. This cider is also great for those more health-conscious folk being all-natural, 100 per cent pure apple juice, gluten-free and vegan friendly.
Tasting notes: A medium/sweet flavour with a touch of tart to finish.
Region: Batlow, NSW
Price: 4 x 330ml cans $18.99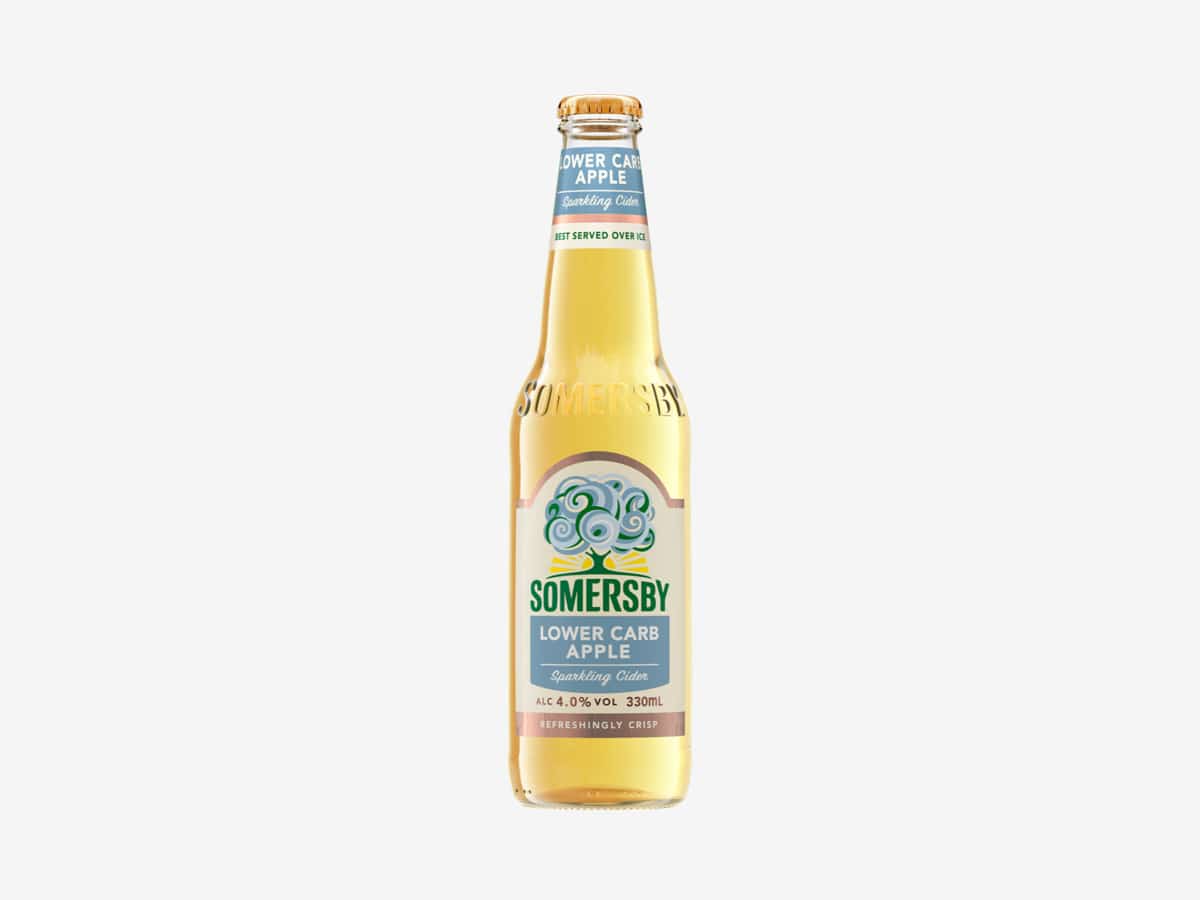 9. Somersby Non-Alcoholic Apple Cider
An easy-drink non-alcoholic cider with long-lasting fruit flavours and sparkling sweetness. This Somersby release is a uniquely balanced, fruity, and sour beverage, making it an incredibly refreshing choice for your summer's afternoon. This particular alcohol-free cider reminds of your childhood Pop Top days, only better.
Tasting notes: A robust and fresh apple taste with blooming floral notes.
Region: Denmark
Price: 6 x 330ml bottle $22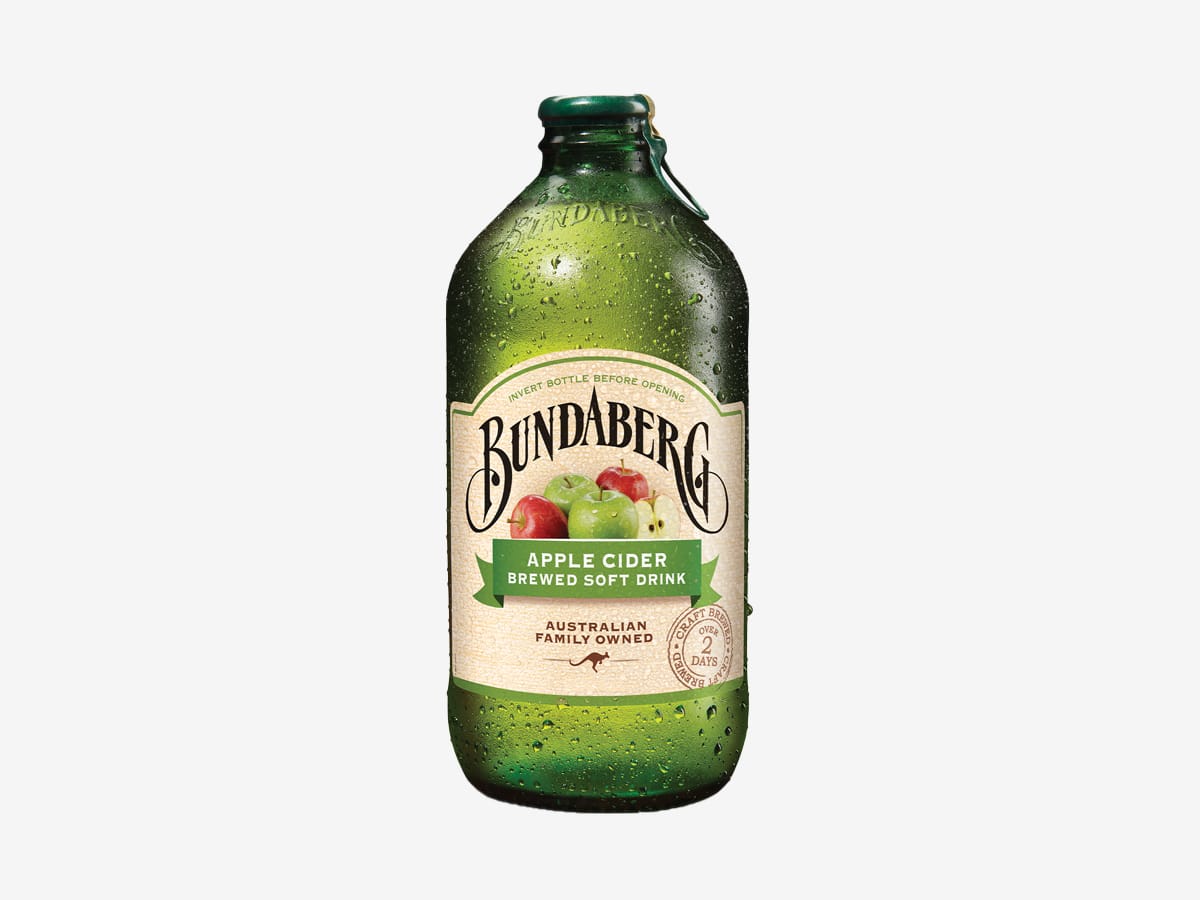 10. Bundaberg Apple Cider
Bundaberg's "Brewed Soft Drink" Apple Cider is slowly prepared over two days using 70 per cent apple juice. Juicy and fragrant Granny Smith and Royal Gala apples are sourced from specially selected orchards to make what is truly a premium cider. The Bundaberg non-alcoholic apple cider is deep, well-brewed and with a light sweetness and crisp finish.
Tasting notes: Crisp, sweet and refreshing
Region: Bundaberg Queensland
Price: 24 x 375 ml bottle $30.99
What is Non-Alcoholic Cider?
Concisely put, non-alcoholic cider is everything a hard cider encapsulates – a crisp, light, and sweet taste of fermented apples – just without the 4-5 per cent. Where there once was a stigma around non-alcoholic beverages, there is now a growing reception. The pandemic marked a dramatic shift in sales and interest in non-alcoholic beverages worldwide, which is set to grow to 31 per cent by 2024. The beer and cider sector leads the march, taking a 92 per cent share of all low and non-alcoholic market sales globally. In Australia, we designate non-alcoholic cider, however, in North America, the term 'cider' simply refers to any form of the liquid not containing alcohol. If drinks are looking for something that has an alcoholic twist, they might find themselves chasing a 'hard cider'.
How is it made?
Non-alcoholic cider undergoes a similar process as its alcoholic counterpart. When using apple cider as an example, both hard cider and non-alcoholic cider begin as the raw, purer version of apple juice. Sugar is then added and the apple juice undergoes a process of fermentation that results in alcoholic cider. Therefore, alcoholic-free cider is fundamentally swanky fruit juice.
Is it Good for You?
Opting for a non-alcoholic version of any beverage will always have less damage to your health than choosing the alcoholic alternative. However, according to Live Longer, non-alcoholic cider tends to have more sugar and calories then other non-alcoholic alternatives like alcohol-free beer and wine. If you're looking specifically to keep an eye on your waistline, it is well worth looking at various brands as some are better than others in the caloric department.
How Does Non-Alcoholic Cider Taste?
Non-alcoholic ciders come from a variety of fruits and therefore offer a variety of tastes. Obviously, pears and apples spring to mind when it comes to this beverage, but non-alcoholic ciders can also be made from strawberries, peaches, plums, etc. Overall, ciders can be classified from dry to sweet, and be tangy, bold, subtle, earthy or light.
Alternatives to Non-Alcoholic Ciders
If you're not quite aboard the non-alcoholic cider train or you're looking for something a little different in the booze-free scene, why not check out our articles on some of the other great drams from across the world?
General FAQs
What is the healthiest non-alcoholic cider?
According to Women's Health Magazine, Strongbow Cider Gold Apple, Stella Artois Cidre, Angry Orchard Green Apple Hard Cider and Austin Eastciders Ruby Red Grapefruit Cider are a few of the healthier hard cider options (and most likely non-alcoholic cider options as well).
How many calories are in non-alcoholic cider?
According to LiveLight, The Hills Cider Company Virgin Apple Cider has 739 kilojoules per serving (330ml)
Is Kopparberg non-alcoholic cider good?
The Kopparberg non-alcoholic cider has a 4.5-star user review rating – not bad at all.
---
Featured Video from Man of Many