8 Best Speyside Scotch Whisky Brands
Scotland is home to an array of great whisky regions but the most revered has to be Speyside. Located in the Strathspey area of Northeastern Scotland, it's home to more than 60 whisky distilleries, laying claim to a rich history of spirits production. Most notably, Speyside is renowned for its stunning array of single malts from iconic brands such as The Glenlivet, Glenfiddich, The Macallan and The Balvenie. Here, we're taking you on a journey through the best Speyside scotch whisky brands, revealing the drams you need to put on your hit list. Read on to discover the best Speyside whisky for every budget, taste and flavour profile.
Best Speyside Whisky Brands at a Glance
RELATED: Want to know everything there is to know about whisky? Check out our comprehensive guide to the classic spirit in all its forms.
1. The Macallan
Address: Easter Elchies, Aberlour AB38 9RX, United Kingdom
Owner: Edrington
Founded: 1824; 199 years ago
Founder: Alexander Reid
Core Expression: The Macallan Sherry Oak 12 Years Old
There are few distilleries more well-known than The Macallan. Located in Craigellachie, Moray, Scotland, The Macallan is a distillery known for its award-winning single malt Scotch whiskies. Founded in 1824, it was one of the first legally licensed distilleries in the country. It's well-known for its Sherry Oak, Double Cask, Rare Cask, and collectable (sometimes very expensive) whiskies. If you're just starting your journey with the Speyside Scotch brand, we definitely recommend The Macallan Sherry Oak 12 Years Old with its notes of dried fruits, sweet sherry, and rich, oaky wood.
In addition to crafting delicious Speyside scotch, The Macallan has firmly moved into the luxury arena. Over the last decade, the brand has emerged as one of the most lucrative investment whiskies, with 7 of the top 10 most expensive whiskies ever sold at auction coming from the Speyside distillery. More recently, the premium producer released the world's biggest whisky bottle, standing at a whopping 5'11". Despite being something of a marketing gimmick, the release, which was dubbed 'The Intrepid', sold for an incredible $1.95 million.
In terms of the flavour profile and release information, The Macallan has managed to delicately walk the line between complex notes and easy-to-drink flavours. The brand's recent releases focus on the connection between whisky and coffee, while the ultra-premium M Editions have become must-haves for whisky collectors and investors. If you can get your hands on a new bottle of The Macallan, regardless of age statement or collection, you'll be in for a decadent experience.
Buy it here (Dan Murphy's) Guide to The Macallan Buy it here (The Whisky Exchange)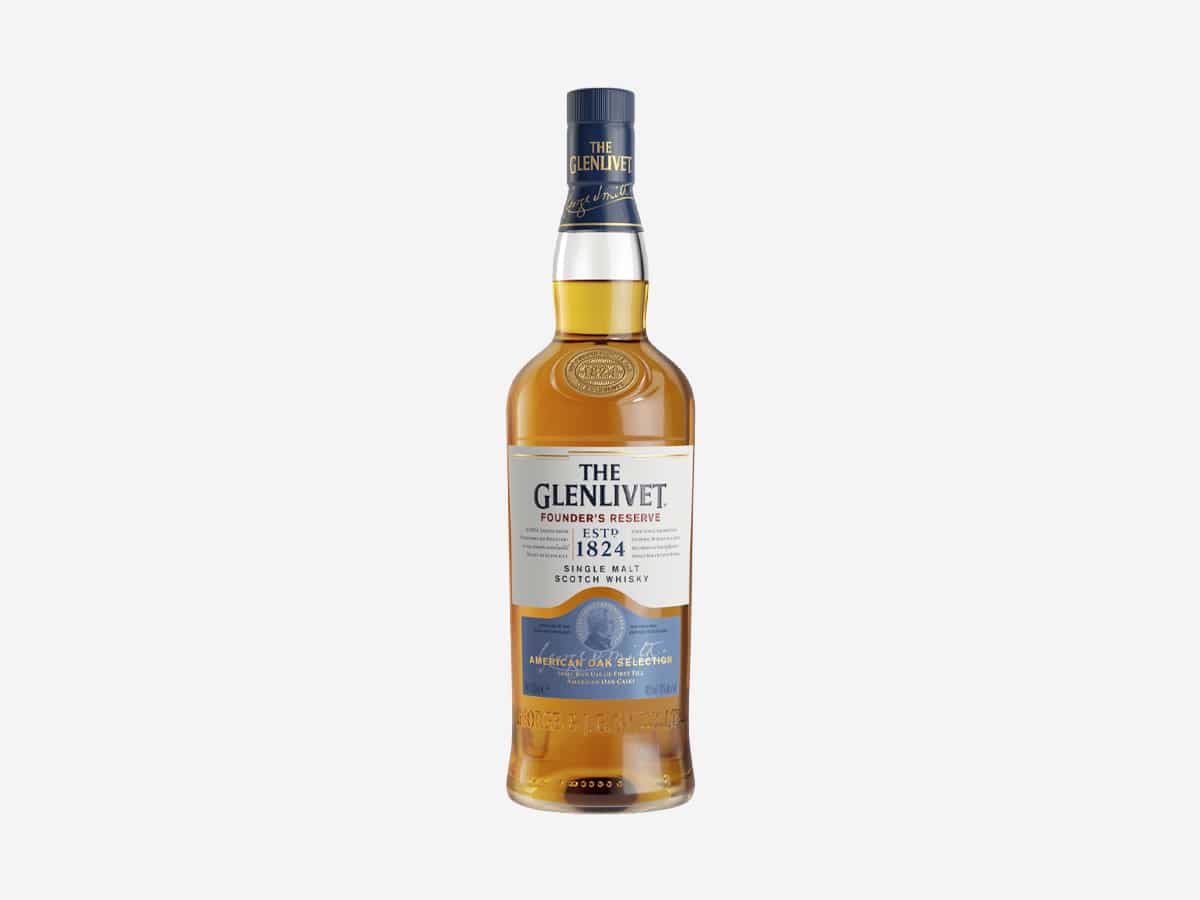 2. The Glenlivet
Address: Glenlivet, Ballindalloch AB37 9DB, United Kingdom
Owner: Pernod Ricard
Founder: George Smith
Founded: 1824
Core Expression: Founder's Reserve Single Malt
If there's one distillery that can challenge The Macallan for brand recognition, it's The Glenlivet. Located near Ballindalloch, Moray, Scotland, it's the oldest legal distillery in the parish of Glenlivet with its founding in 1824 (the same year as The Macallan). While you can't go wrong with any of The Glenlivet's expressions, we suggest trying its Founder's Reserve. Matured in traditional oak as well as first-fill American casks, it's known for its complex flavour profile featuring ripe pears, candied orange peels, and sticky toffee pudding.
For beginners, The Glenlivet 12 Year Old is perhaps the best example of the house spirit. A straightforward drop, this affordable Speyside scotch is a full-blown sensory experience, complete with a nose that shows coffee, caramel, vanilla and stone fruits. Rich, slightly oily, and with a pleasant sweetness, the 12 Year Old finds that perfect balance between fruity and creamy.
For experienced whisky lovers, The Glenlivet is a long-cherished favourite, but in recent years, the Speyside whisky brand has been no stranger to experimentation. The Glenlivet Code, for example, was a limited edition single malt that arrived with no tasting notes, while the 12 Year Old Illicit Still was a nod to the industry's contentious past.
Buy it here (Dan Murphy's) Guide to The Glenlivet Buy it here (The Whisky Exchange)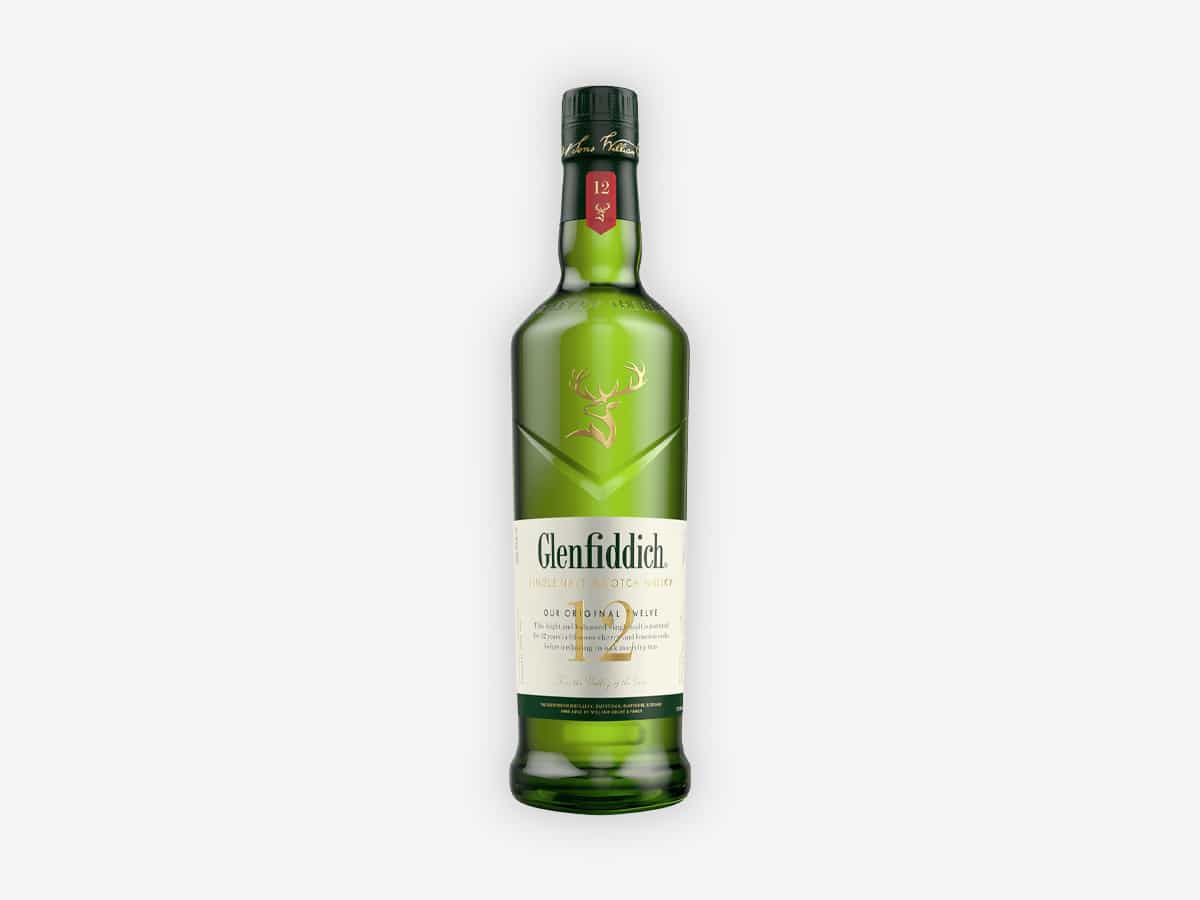 3. Glenfiddich
Address: Dufftown, Keith AB55 4DH, United Kingdom
Owner: William Grant & Sons
Founded: 1887, Dufftown, United Kingdom
Founder: William Grant
Core Expression: 12 Year Old Single Malt
There's a very logical reason why this popular single-malt whisky brand has a stag as its logo. The distillery gets its name from the Scottish Gaelic phrase Gleann Fhiodhaich which translates to "valley of the deer". Of the big three (The Macallan and The Glenlivet are the others), Glenfiddich seems like it's most interested in experimenting and pushing the envelope. This is clear with its expression that's aged in IPA casks.
Besides this and other unique offerings, you can find some classic single malts like Glenfiddich 12, the most-awarded single malt in the world. It's known for its oaky, fruit, citrus peel, and gently spicy flavour profile.
In recent years, Glenfiddich has swayed to the premium side of the Speyside whisky equation, most notably with the 'Time Reimagined' collection. A decadent range of 50, 40 and 30-year-old drops, the rare whiskies typified what Glenfiddich is renowned for – experimentation backed by experience.
For us, the top of the range is still the Glenfiddich Grand Cru, a 23-year-old single malt that was finished in French Cuvée casks. One of the richer whisky experiences we've had the pleasure of tasting, this release was completely unforgettable. If you can ever get your hands on a bottle, you highly recommend snapping it up.
Buy it here (Dan Murphy's) Guide to Glenfiddich Buy it here (BWS)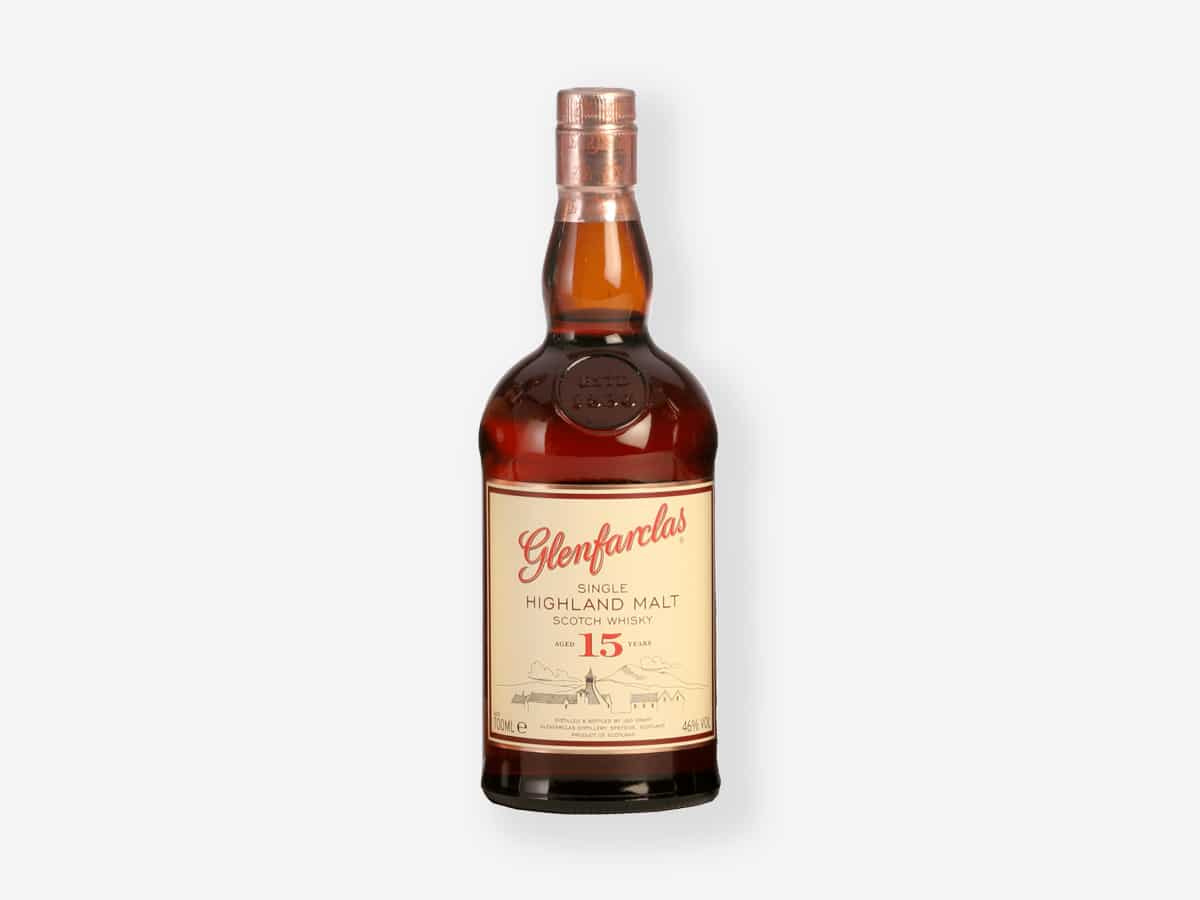 4. Glenfarclas
Owner: J. & G. Grant
Founded: 1836
Founder: Robert Hay
Core Expression: 15 Year Old Single Malt
Located in Ballindalloch, Moray, Scotland, Glenfarclas is home to the largest stills in Speyside. It's been run by the same family for six generations and is known for its use of Spanish sherry casks to age its expressions. If you ask us, one of the best is Glenfarclas 105.
While it doesn't carry an age statement, it's believed that this 120-proof single malt is matured between 8 and 10 years in a combination of sherry casks and ex-bourbon barrels. This results in a complex sipper loaded with flavours like dried cherries, caramel, sherry, oak, candied orange peels, and light spices.
As Australians, we couldn't help but love it when Glenfarclas teamed up with our very own Lark Distilling Co. to celebrate the Tasmanian distillery's 30th anniversary. The Rare Cask Series Glenfarclas release brought the two traditionalists together, with the Glenfarclas 28 Year Single Cask Scotch finished in casks that once held Glenfarclas 20-Year-Old Single Malt Scotch Whisky.
Buy it here (Dan Murphy's) Guide to Glenfarclas Buy it here (Nick's)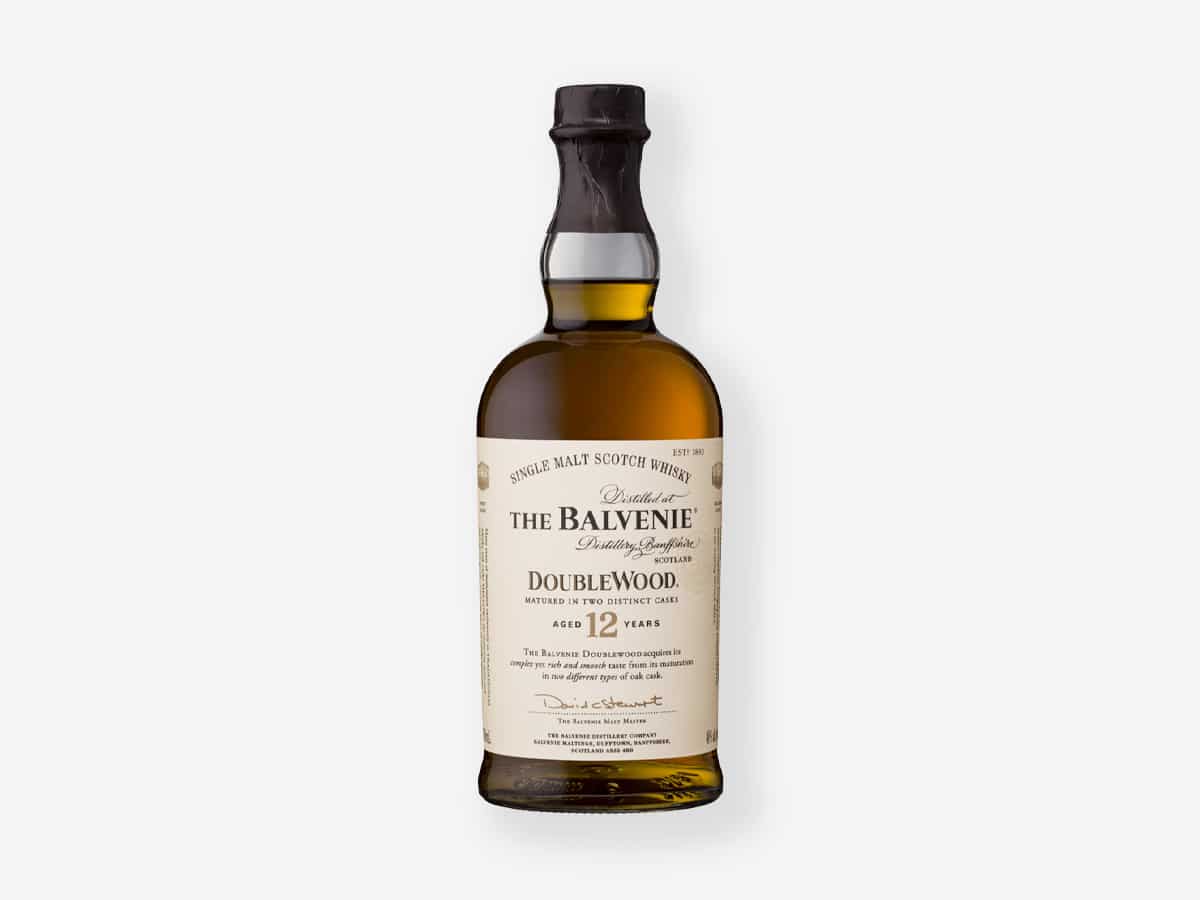 5. The Balvenie
Address: Balvenie Distillery, Dufftown, Keith AB55 4BB, United Kingdom
Owner: William Grant & Sons
Founded: 1892
Founder: William Grant
Core Expression: DoubleWood 12 Year Old Single Malt
Located in Dufftown, The Balvenie has been crafting high-quality single malts since its genesis in 1892. It's known for its sweet, honey backbone in all of its expressions. It's the kind of distillery that produces nothing but memorable expressions. Our favourite is the very unique, flavourful 14-Year-Old Caribbean Cask. Finished in rum casks, this popular single malt is known for its nose of tropical fruits, rum, and oak and palate of mango, toasted vanilla, and candied orange peel.
Like Glenfiddich, The Balvenie is no stranger to experimentation, with the brand regularly undertaking some unique projects. The Balvenie 25 Rare Marriages cask, for example, celebrated the art and skill of marrying traditional oak with liquid from European and American casks, while The Edge of Burnhead Wood was a spectacular homage to the craftspeople behind the drop.
Buy it here (Dan Murphy's) Guide to The Balvenie Buy it here (Whisky Exchange)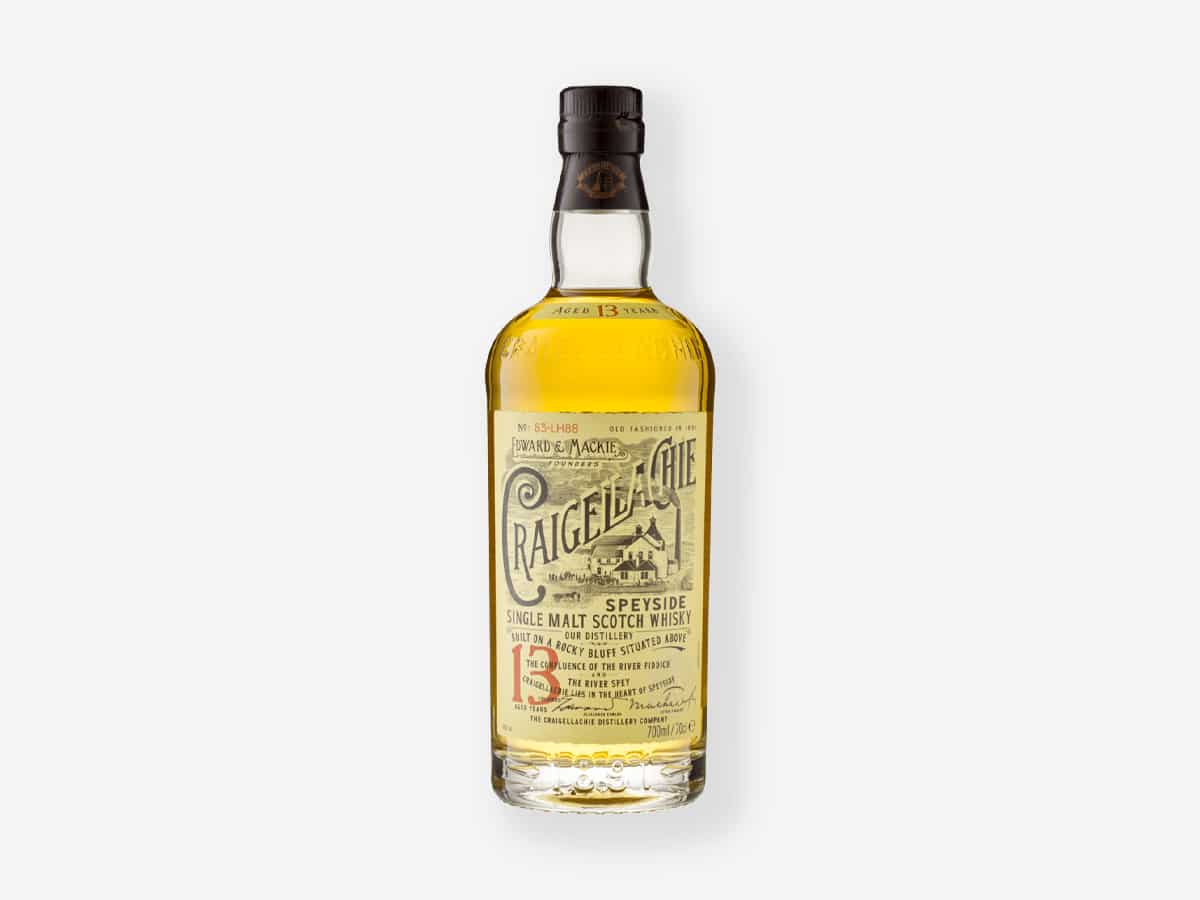 6. Craigellachie
Address: Craigellachie Distillery, Hill St, Craigellachie, Aberlour AB38 9ST, United Kingdom
Founded: 1891
Owner: Bacardi
Core Expression: 13-Year-Old Single Malt
Often referred to as the 'bad boy of Speyside', Craigellachie has historically been one of the main single malts (Aberfeldy and Royal Brackla are the others) that are used in Dewar's blends. In 2014, Dewar's launched its "Last Great Malts" range. This is when many drinkers first got associated with Craigellachie. In the years since, we've fallen in love with its Craigellachie 13. Matured in a mix of ex-sherry and ex-bourbon barrels, it's known for its flavours of toasted marshmallows, dried tropical fruits, sweet sherry, and gentle wintry spices.
Buy it here (Dan Murphy's) Guide to Craigellachie Whisky Buy it here (Nick's)
7. Mortlach
Address: United Kingdom, Keith, Dufftown
Owner: Diageo
Founded: 1823
Core Expression: The 16 Year Old Single Malt
Mortlach is well-known as one of the main single malts used in the Jonnie Walker range of blends. Diageo, which owns Mortlach and Jonnie Walker, has also released a range of single malt whiskies. Known affectionately as the "Beast of Dufftown", Mortlach is known for its rich, full-flavoured, complex whiskies. One of the best is Mortlach 16. Matured solely in Sherry casks, It's known for its palate featuring candied apples, clover honey, dried apricots, and sweet sherry.
Buy it here (Dan Murphy's) Guide to Mortlach Whisky Buy it here (Master of Malt)
8. Cardhu
Address: Knockando, Charlestown of Aberlour, Aberlour AB38 7RY, United Kingdom
Owner: Diageo
Founded: 1824
Founder: John & Helen Cumming
Core Expression: 12 Year Old Single Malt
Cardhu was founded in 1824 by a former whisky smuggler named John Cumming and his wife Helen. It might not have the universal name recognition of some of the brands on this list, but it's producing some impressive, noteworthy whiskies. If you're just at the beginning of your Cardhu journey, we suggest grabbing a bottle of its Cardhu 12-Year-Old. Known for its mix of honeyed sweetness, dried fruits, rich, oaky wood, it's the kind of whisky you'll go back to again and again.
Buy it here (Dan Murphy's) Guide to Cardhu Whisky Buy it here (First Choice)
Things to Consider for Speyside Whisky
If you're new to Scotch whisky, you might not know that there are five specific regions, each with a slightly different (and sometimes really different) flavour profile. They are the Lowlands, Highlands, Campbeltown, Islay, and Speyside (some people add the islands other than Islay to the list as well). We could spend multiple articles writing about the various whisky regions, but today we're most concerned with Speyside.
Speyside whisky is a unique category that encompasses the very best of Scotland's iconic production process. With a rich heritage and boundless fields in which to grow, mature and harvest barley, the Speyside region is a seriously impressive piece of land. When it comes to buying a Speyside whisky, however, there are a few things to consider.
Key Brands
While the Highlands is the largest whisky region by size, Speyside, named for the River Spey, is by far the most saturated with distilleries. Of the more than 140 whisky distilleries in Scotland, more than sixty of them are located in Speyside. This includes household names like The Glenlivet, Glenfiddich, and The Macallan and lesser-known, while still highly regarded, distilleries like Cardhu, Strathisla, and Craigellachie.
Flavour Characteristics
When looking to Speyside for a bottle or three remember that it's a region with varying different flavours. A region like the island of Islay is known almost exclusively for peat-smoked expressions. Speyside doesn't have this guarantee. Don't assume that a bottle from one Speyside distillery will have all the same characteristics of another. Also, while many distilleries age or finished in ex-sherry or ex-bourbon barrels, not all of them do. Make sure you do your research before diving in.
Unlike the robust, rich, peat-smoked whiskies from Islay, Speyside whiskies are known for their complex flavour profile. Crisp apples, pears, candied orange peel, toasted vanilla beans, rich oak, and dried fruits are common flavours. On top of this, the region is well-known for its sherry-matured and finished whiskies. These expressions tend to also have fruity, almost dessert-like qualities.
Price
Like all regions, Speyside whiskies range from affordable to sell-your-house expensive. If you're looking for a great bottle at a lower price, you're going to want to look toward 10, 12, and 13-year-old expressions and no age statement offerings. The myth that Scotch whisky is unaffordable is just that, a myth. There are countless reasonably priced, high-quality bottles.
Alternatives to Speyside Whisky
If you're not quite aboard the Speyside scotch whisky, or you're just looking to find out which international spirit tickles your fancy, why not check out some of our other drinks articles?
Whisky Types
Whisky by Region
Price
Great Whisky Gifts
You'll also like:
How Man of Many Chose the Best Speyside Scotch Whisky Brands
With more than 10 years of experience reviewing beer, wine and spirits, Man of Many's team of editors has selected a list of the best Speyside scotch. Additionally, author Christopher Osburn has more than 15 years of experience writing about alcohol and lifestyle topics across the globe. As our resident drinks expert, is the perfect person to unpack this mixture of flavours.
Speyside Whisky FAQs
What are the most popular Speyside whiskies?
Not only are The Macallan, The Glenlivet, and Glenfiddich the most popular whisky brands in Speyside, they are arguably the most popular brands in all of Scotland. There's a reason that you know these three brands even if you're not an avid single malt Scotch drinker. They're massively big productions, with even bigger advertising budgets.
What type of Scotch is Speyside?
This is a difficult question. It's hard to say that Speyside is simply one type of scotch whisky. While most Scotch whisky from Islay would be considered peated Scotch, whiskies from Speyside are (in general) unpeated. There are myriad single malt whiskies and many brands that are used in noteworthy blended whiskies.