The Secret Behind the Perfect Old Fashioned
Old Fashioned Week just came to a close and if you participated, you might have noticed something peculiar. While simple by design, this popular whiskey-based cocktail can vary wildly in terms of execution and taste. Some bartenders use simple syrup while others muddle a sugar cube. Often but not always, a cherry is involved. Dingy dive bars will use small ice cubes but modern bars will employ a single, giant cube. Despite all these potential variables, however, you learned that one ingredient matters more than anything else: a quality whiskey.
Whereas some mixed drinks aim to conceal the base liquor, a proper old fashioned takes things in the opposite direction. The world's most famous spirit-forward cocktail, this one tends to highlight the natural flavours of its foremost ingredient. Quality is therefore imperative because the whiskey itself plays a predominant role in the outcome. Should your the bartender grab the cheapest booze out of his well, you can expect to feel the heat and taste the burn. Should he reach for something like Woodford Reserve, you might very well be sipping on the best and most nuanced cocktail you've ever tasted.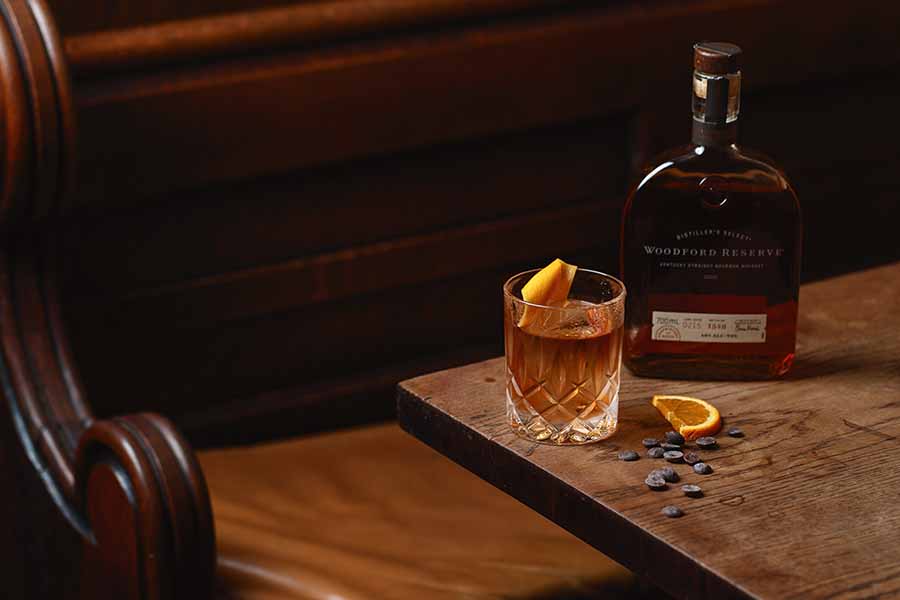 Why Woodford Reserve? Because their product is expertly crafted and impressively versatile. Not ones to mess with perfection, the distillery never tinkers with their dependable mash bill (recipe: 72% corn, 10% Barley and 18% Rye). Even when they experiment with additional cask maturation, it's with the intent of bringing out the buried components of their flagship expression. No matter what the release, the dynamism remains palpable and so too does the quality. Balancing over 200 flavours within its dense and creamy body, the whiskey offers different but equally pleasant experiences with every sip.
Whether you're making an old fashioned at home or ordering one at the bar, Woodford Reserve takes this extraordinary cocktail to new heights. The whiskey's creamy texture and versatile character blend perfectly with the other ingredients, cultivating a glorious sense of interplay. With its aromas and tasting notes of dried fruit, custard, vanilla, and citrus, one might even say that Woodford Reserve already exhibits the natural qualities of an understated old fashioned. Bring a little orange peel, sugar, and bitters into the mix and you're simply swimming in flavour.
Old Fashioned Week has just ended, but the world-famous spirit lives on. Here's hoping you went out and supported your local bars and restaurants, many of which can use all the help they can get. You might have discovered some favourite new watering holes along the way, where the bartender or mixologist has proven himself a master of the old fashioned. The next time you sidle up to the bar, ask them to use Woodford Reserve as the base. Like that, you've just made a great thing even greater.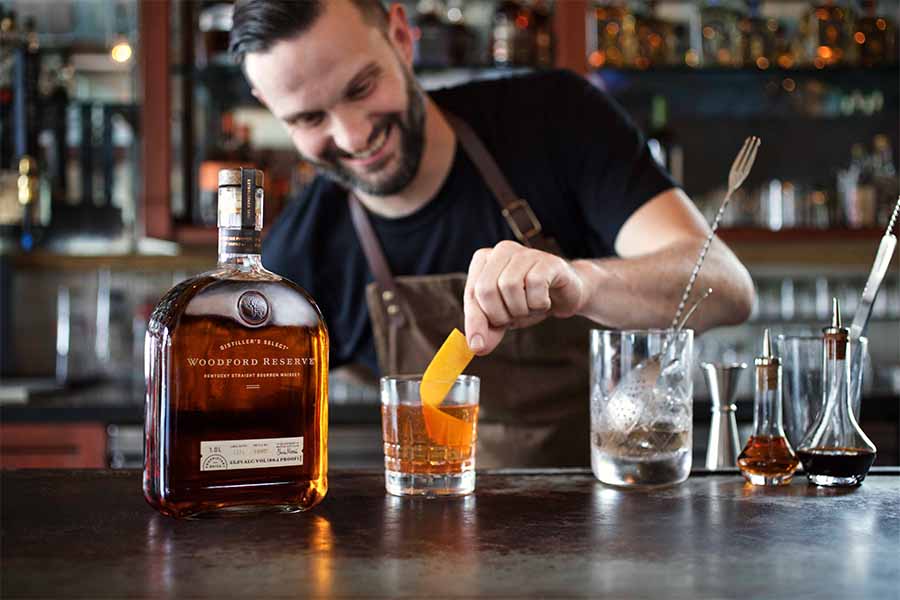 Woodford Reserve Old Fashioned Cocktail Recipe
INGREDIENTS:
60 ml Woodford Reserve Straight Bourbon Whiskey
15 ml Demerara Syrup
3 dashes Angostura® Bitters
2 dashes Regans'® Orange Bitters
INSTRUCTIONS:
Add ingredients to the mixing glass.
Add ice to mixing glass and serving glass.
Stir ingredients for 30-40 secs.
Strain into serving glass.
Garnish with a lightly expressed orange peel.
Sip and enjoy. Ahhhhhhhh…