Feel-Good Friday: August 19 – High Vibration
Congratulations, you've just put another work week in the history books. Whether you're winding down or winding up, we've put together an epic list of everything that's on offer over the break. So as you allow the positive energy to enter your soul, take a look at our latest edition of Feel-Good Friday.
You'll also love:
Feel-Good Friday: August 12 – Mixed Bag of Goodies
Feel-Good Friday: August 5 – Waves of Wellness
Feel-Good Friday: July 29 – The Future is Now
St. ALi Hand Out Good Vibrations for Youth Mental Health
Embracing what Feel-Good Friday is all about, St ALi is literally handing out good vibrations next week. The coffee connoisseurs are asking fans to support youth mental health on Tuesday August 23 at the newly revamped ST ALi Canteen, 30 Collins Street Melbourne. St. ALi will be hosting a day of good vibes from 7am-3pm donating all proceeds from coffee sales for the entire day to Youth Foundation, headspace. It's a chance to try the newest blend, Good Vibrations, a delicious coffee brew with a purpose.
The Australian Bureau of Statistics' latest National Health Survey found that almost 19% of Australians aged 15 to 24-years-old experience depression. These overwhelming statistics resonate deeply with ST. ALi and headspace. As such, $1 from each Good Vibrations bag sold will be donated to headspace, to support the great work they do. Good Vibrations is found exclusively at Coles Supermarkets in Victoria, New South Wales and ACT.
Indulge Your Senses with Glenmorangie's Delicious & Wonderful World
For one night only, Glenmorangie's award-winning Single Malt Scotch Whisky will take to the sky for an unforgettable high-rise experience in Sydney's highest bar, Bar 83.  The iconic Scottish distillery, led by Director of Whisky Creation Dr. Bill Lumsden, is inviting guests on August 26 to experience new flavours and possibilities within the world of single malt.
While enjoying multiple bespoke cocktail creations, attendees will experience an exclusive light and sound show co-created by iconic Australian pop duo, Client Liaison. Additionally, dessert king Reynold Poernomo will be in the house serving delectable goodies to pair with your delicious beverages. A night that can't be missed, we've already ordered our tickets and we recommend you do the same. To reserve your spot for a night of sensory delight, head to the Glenmorangie website.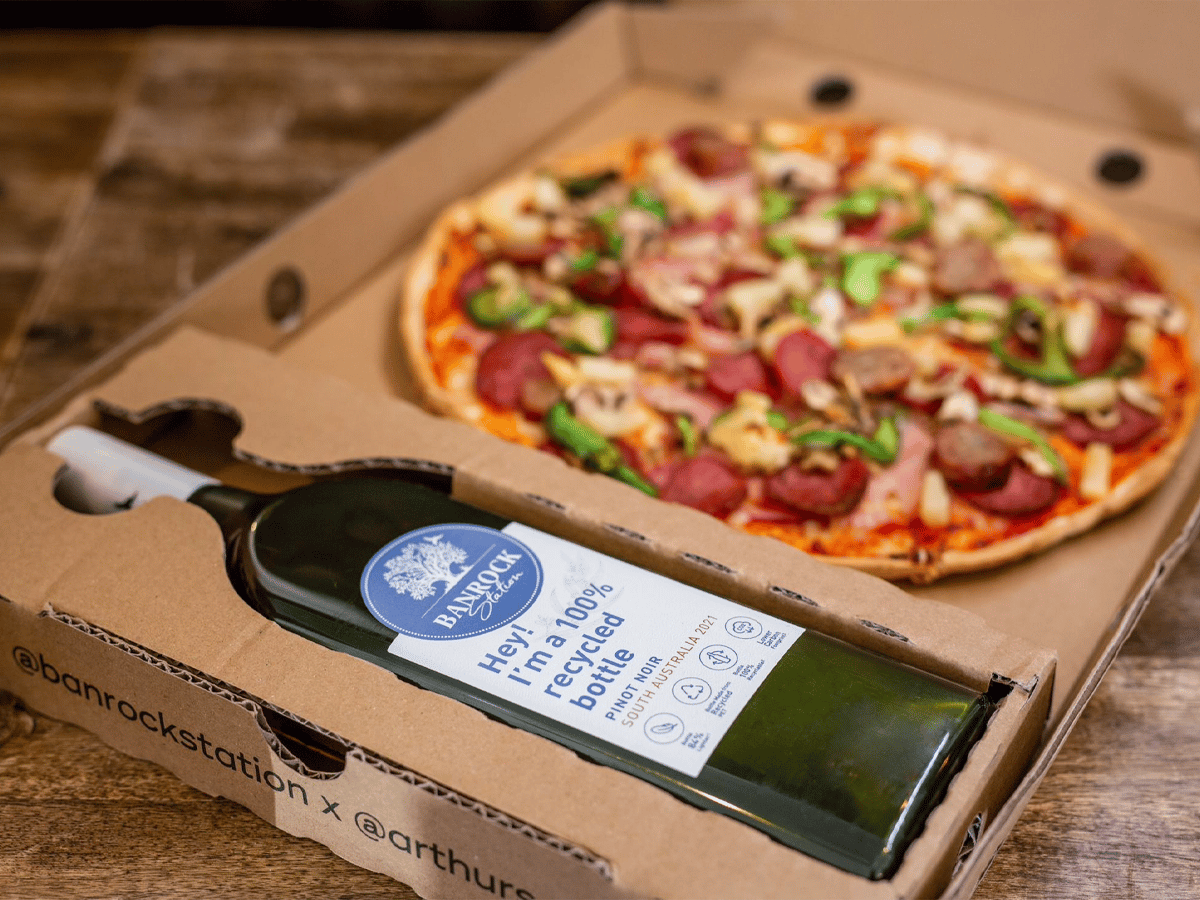 Image: Supplied
Pizza and Free Pinot for the Planet
Leading sustainable wine brand Banrock Station has partnered with Arthur's Pizza to showcase their innovative, new eco-friendly FLAT wine bottle and offer Sydneysiders a free bottle of Banrock Station Pinot Noir with pizza delivery orders from Arthur's Pizza during
15th – 25th of August 2022.
The new Banrock Station eco-flat wine bottle takes sustainable sipping to new heights.  Made from 100% recycled PET, it's 84% lighter and boasts a significantly reduced carbon footprint compared to a standard glass wine bottle . The eco-flat wine bottle also fits perfectly in a bag, is easy to store in a fridge or esky and is ideal for picnics, travelling, camping or glass-free events. For more information on this limited edition offer, head to the Arthurs Pizza website.
Mrs Sippy Bali Wants You to Get Pump'd
One of Bali's best pool clubs has made a triumphant comeback, with the vibrant Mrs Sippy Bali reopening its doors in April 2022 with an incredible musical line-up in tow. The sprawling Seminyak oasis – home to Bali's largest saltwater pool – is ready to turn heads, partnering its relaunch with a menu full of old favourites, and a stellar line-up of international entertainment on the cards. Mrs Sippy Bali is excited to welcome its first hip hop event on Friday August 26, with Miami-born rapper Lil Pump leading the charge. An electrifying place to spend all day (and all night), Missy Sippy Bali is open from 10.00am daily.
Single O coffee Launch Parachute World(ish) Championships
Calling all Aussie baristas. Single O has just announced their coffee Parachute World(ish) Championships. Twelve competitors from each state will compete, with the winner from QLD, NSW and TAS getting a two-night trip to Melbourne to join the VIC winner and compete in the grand final. Each competitor will receive some empty Parachutes (single-serve drip coffee bags), whole bean origin and a kettle and put their brewing knowledge to the test.
The winner will receive a trip to Japan, where the drip coffee bag was invented, including flights and three nights accommodation. Best of all, they'll be offered the opportunity for their recipe and name to be featured on a limited run of Single O parachutes sold across their retail and online channels. With the QLD event already done and dusted, the competition heads to Single O Cafe in Surry Hills tonight 19 August 5pm-7pm. Tickets are $10 each and include free beer from Botany locals Slow Lane Brewing.
Borneo Orangutan Survival Australia Pledges to End Illegal Wildlife Trade and Unsustainable Palm Oil Practices
Today, Borneo Orangutan Survival (BOS) Australia, who raise money to support the largest great ape conservation program in the world, continues its bid to garner the nation's support in what they say is a critical and urgent time to fight the extinction of great apes, with the launch of two global initiatives on International Orangutan Day – the Palm Oil Pledge, and the Wildlife Trade Pledge.
With only 55,000 wild Bornean orangutans estimated to be left in the wild, they face many threats, with deforestation, habitat loss, illegal hunting, and illegal wildlife trade being the main threats to their
well-being, survival, and population. The two new Pledges aim to encourage the public to become part of the solution by signing the Pledges online and learning practical steps to end these damning industries.
AFL Legend Brendan Fevola Launches Mad Mex's New Plant-Based Range
Mad Mex, one of Australia's leading fast, casual Mexican restaurants, is pitting beef against plant power by challenging Australians to see if they can taste the difference between its meat and plant-based mince. Mad Mex is the first and only Mexican restaurant brand to create vegan mince as part of its menu. The Mexicali Mince contains no meat but still has an authentic Mexican meat taste. The mince incorporates a mix of Mad Mex's signature sauces and spices that deliver an unbeatable tasty and saucy filling, that might even be better than the real thing.
Mad Mex has partnered with a renowned carnivore and former AFL player Brendon Fevola "Fev" to trial these new tasty 'flexitarian' options and launch its new Powered by Plants menu items. Fev said:  "I love meat. I must admit I was sceptical of the taste and flavour of plant-based food. I've tried them before and it hasn't tasted nice. This tastes exactly like meat, I can't tell the difference. That's the biggest surprise to me. I'm focused on my diet right now and if there's a way I can make healthier choices and still get the same flavour and taste, then I'm all in".
To celebrate the new range, Mad Mex is offering customers a free Mexicali Mince Taco when they purchase any main meal from the 15th -21st August, nationwide. All people need to do is say "Mission Mexicali" at outlets to receive the complimentary taco and taste the Powered by Plants range. For more information on the offer, head to the Mad Mex website.
You'll also love:
Feel-Good Friday: August 12 – Mixed Bag of Goodies
Feel-Good Friday: August 5 – Waves of Wellness
Feel-Good Friday: July 29 – The Future is Now