18 Best Meat Pies in Melbourne
The meat pie is the darling of Australian cuisine and in many ways is a reflection of our culture – a place where ideas and influence from across the globe come together to achieve great things. The criteria for the best pies in Melbourne is simple enough: flaky pastry, premium ingredients and rich filling hot enough to burn through your palate if you're not careful. It's what makes up that filling where things get interesting. It can vary from classic chunky beef and gravy to Thai green curry chicken, or scallop and saffron, to beef bourguignon or rosemary lamb. Pies are multiculturalism packed into a pastry shell.
In comfort food season, there is nothing more comfortable than an Aussie meat pie, so we've taken a look at 18 of the best meat pies Melbourne has got to offer. This list judges each pie not only by the golden hue of their flaky exterior but also by the content of their character, in this case, the piping hot delights under each pastry lid.
You'll also like:
20 Best Hidden Bars in Melbourne
27 Joints for the Best Burgers in Melbourne
17 Cool Restaurants in Melbourne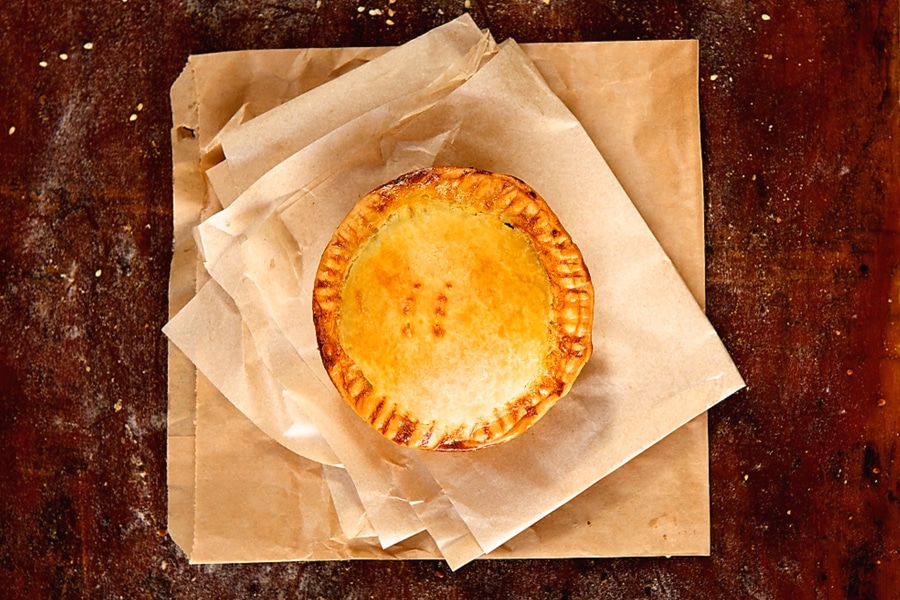 1. Fatto a Mano
The pies at Fatto a Mano are just one reason this Fitzroy bakery has accumulated a cult following over the years. The husband and wife duo behind the restaurant have over 50 years' experience between them which is evident as soon as you take a bite of the mushroom, spinach & halloumi pie. There are also gluten-free options so everyone can join in the fun.
Address: 228 Gertrude Street, Fitzroy VIC 3065
Phone: (03) 9417 5998
Trading hours: Tue-Fri 6am-6pm, Sat 6am-3pm

2. Boscastle
After inspiration struck during a stint in a North Cornish village in England, Boscastle's founder and head pie-maker returned to Melbourne with a vision to produce classic Cornish Pasties with premium Aussie ingredients. After 28 years, Boscastle has become a veritable pastry empire, supplying pies across the country as well as out of their Pie HQ in Melbourne. The Black Angus beef is a crowd favourite.
Address: 260 Barkly Street, Brunswick VIC 3056
Phone: +61 3 9387 5700
Trading hours: Mon-Fri 10am-5pm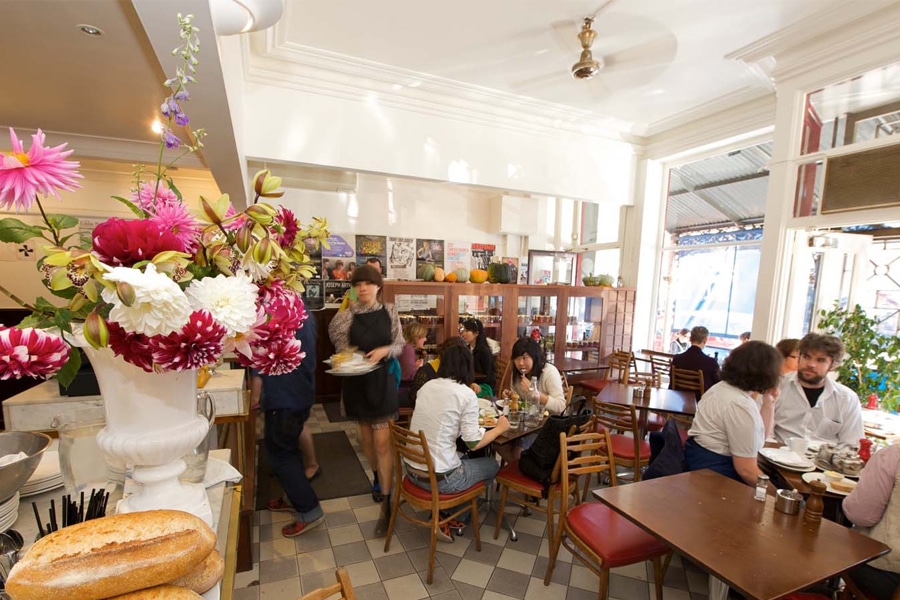 3. Babka
Throwing in a little Eastern European influence, Babka has been keeping Melburnian brunch enthusiasts satisfied for over 15 years. Alongside all the bakery staples and some more unusual offerings (borscht and a blintz anyone?), there are 6 different house-made pies to choose from. The beef, red wine and mushroom is a standout – liberal amounts of wine create a rich flavour while softening the beef to melting point.
Address: 358 Brunswick St, Fitzroy VIC 3065
Phone: (03) 9416 0091
Trading hours: Tue-Sun 7am-7pm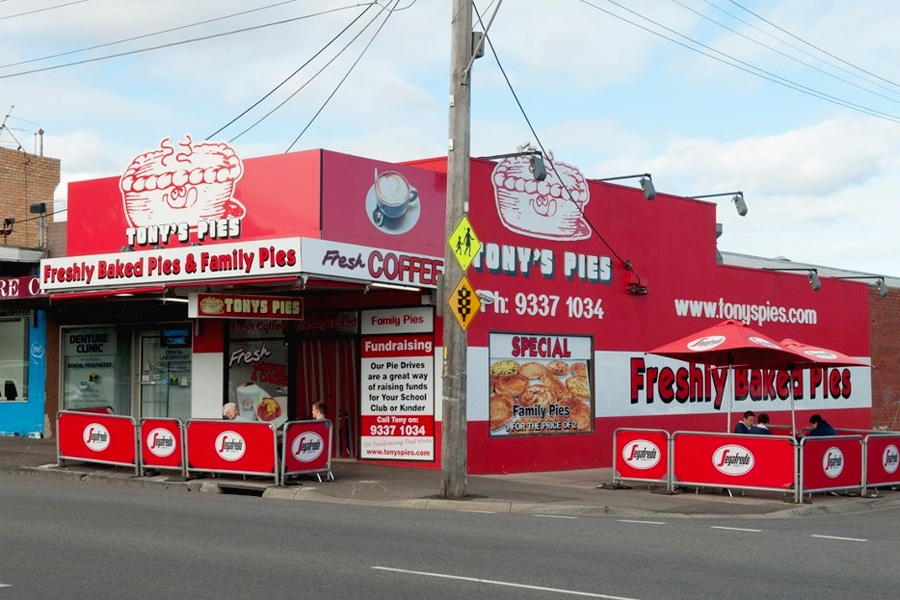 4. Tony's Pies
The blend of herbs & spices that helped Tony's Pies along to legendary status among Essendon locals is so hush-hush he won't even tell his own son, the shop's co-owner, what they are. Grab one of Tony's classic chunky beef pies, pull up a chair under the umbrella out the front and engage in a passionate debate as to whether tomato sauce belongs on a meat pie. Hint, it does.
Address: 309 Buckley St, Essendon VIC 3040
Phone: (03) 9337 1034
Trading hours: Mon-Fri 6am-6pm, Sat 6am-5pm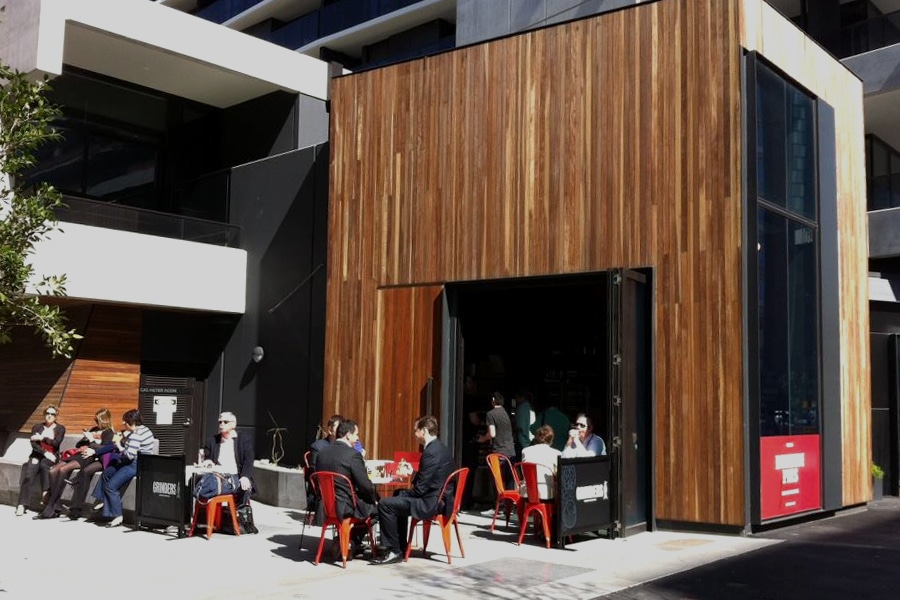 5. Dinkum Pies
If you're after a bite on the run, you can't go past Dinkum Pies. A self-styled icon of the Melbourne pie shop scene, Dinkum has been baking meat pies, pastries and sausage rolls for more than 40 years. Their sunny laneway patio is the perfect place to gobble down a pie or two before brushing piles of crumbs off your pants and continuing on your way.
Address: 29 Block Place, Melbourne, VIC 3000
Phone: (03) 9654 6792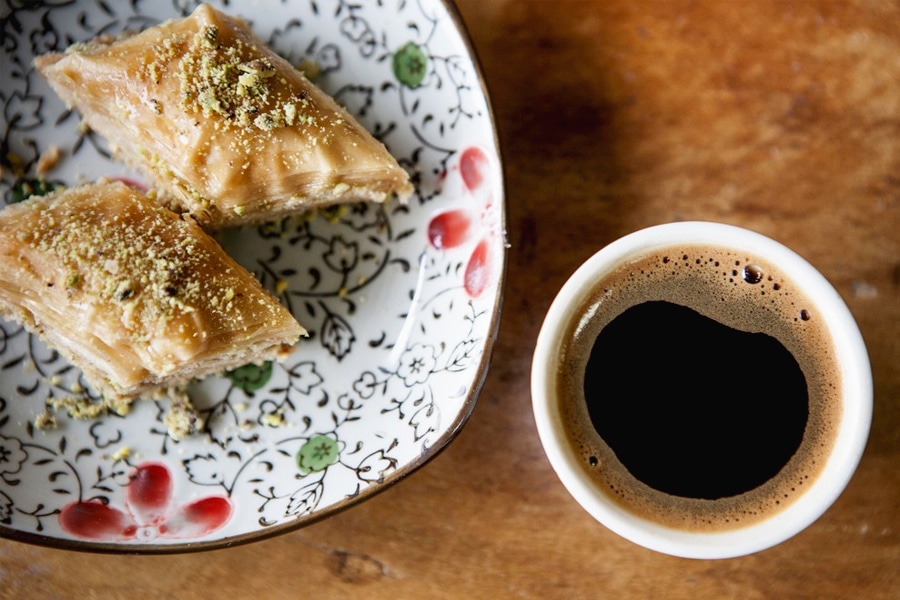 6. A1 Bakery
Where would modern Australian cuisine be without the comfort and aromatic delights of Lebanese food? A1 Bakery in Brunswick puts a Middle Eastern spin on the bakery pie, and the results see punters from across Melbourne travel to chow down on these cheesy, chewy tidbits. The cheese and spinach triangle is the crowd favourite here, and A1 keep a constant stream marching out of the ovens.
Address: 643-645 Sydney Rd, Brunswick, VIC 3056
Phone: (03) 9386 0440
Trading hours: Mon-Wed & 7am-7pm, Thu-Sat 7am-9pm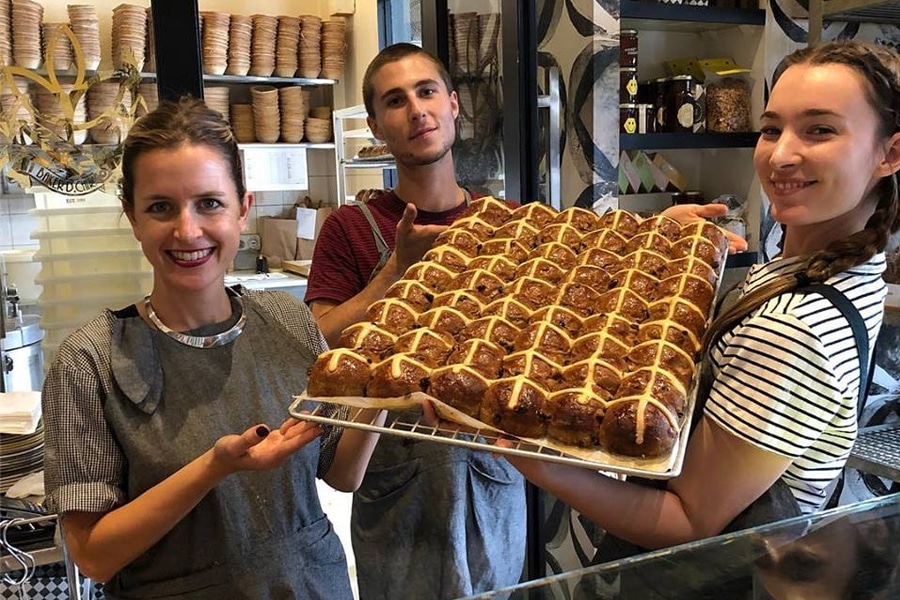 7. Baker D. Chirico
With three locations across the city, Baker D. Chirico may be best known for their world-class sourdough, but the magic rubs off on their beef ragu pies too. This pie strikes a delicate balance between aesthetic value, taste and pragmatism – the light, buttery pastry is golden brown and flaky, yet it is substantial enough to stop the rich beef stew filling from falling out the bottom and ruining your pants.
Address: 183 Domain Road, South Yarra 3141
Phone: +61 3 9820 2248
Trading hours: Tue-Sun 7:30am-3:30pm
Address: 149 Fitzroy Street, St. Kilda Victoria 3182
Phone: +61 3 9534 3777
Address: 178 Faraday Street, Carlton Victoria 3053
Phone: +61 3 9349 3445
Trading hours: Tue-Sat 7am-5pm, Sun 7:30am-5pm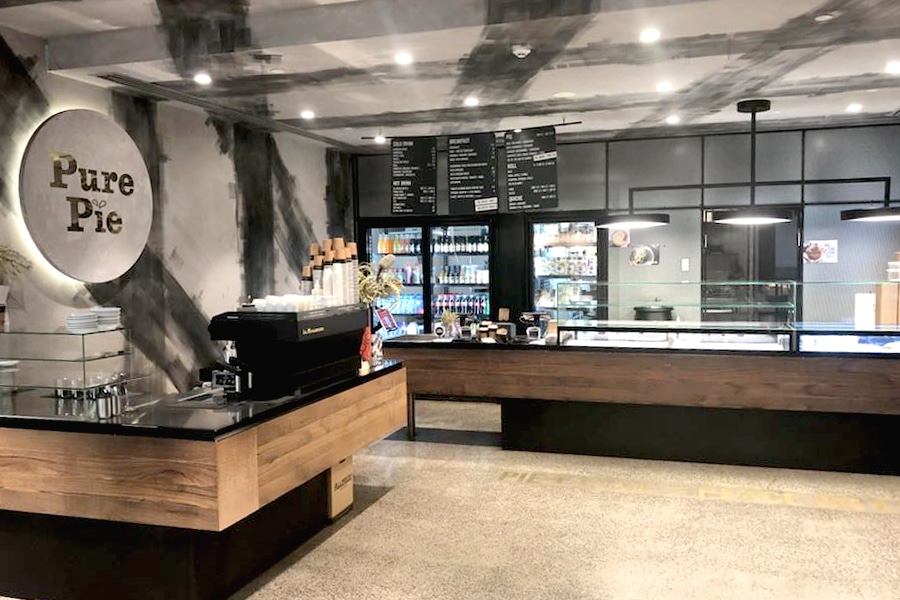 8. Pure Pie
Pure Pie offers only four choices of savoury pie, but when your pies are this good, you don't need to overdo it. Choosing between them is so difficult you may as well be deciding which limb to remove. We suggest starting with the braised beef, Guinness & cheddar pie, with chunks of free-range Victorian beef swimming in a dense Guinness and thyme gravy and encased in a hand-crimped sour cream and butter pastry. Need we say more?
Address: Shop 42A/727 Collins St, Docklands VIC 3008
Phone: +61 3 9629 6090
Trading hours: Mon-Fri 6am-5pm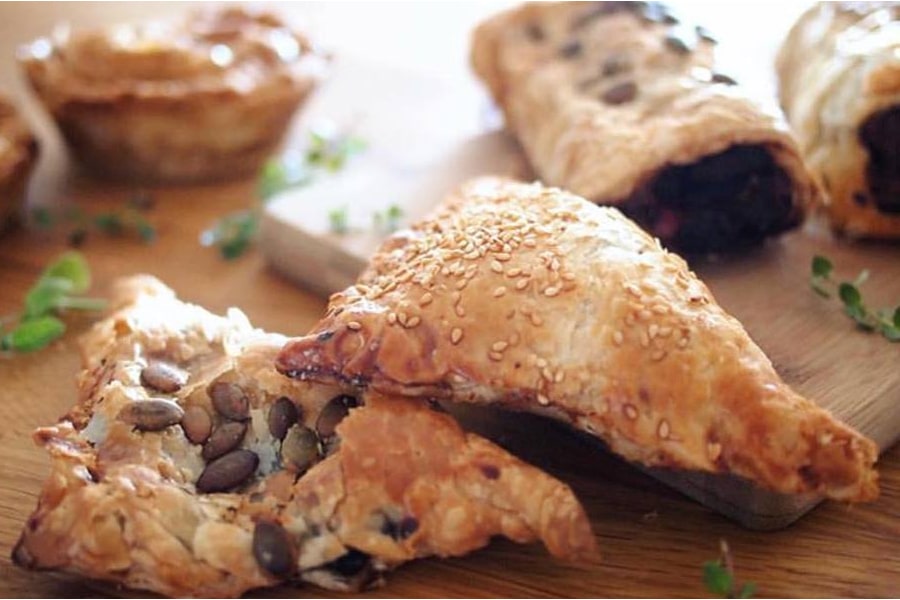 9. Green Refectory
The pies from Green Refectory are everything a pie should be; homemade from fresh ingredients, capable of being eaten anywhere, tasty and not too hard on the back pocket. Their mince beef, tomato and oregano pie check all those boxes. Coming in at a refreshing $4.20 a pop, it's a blast from the past and a reminder that a great Aussie meat pie doesn't need to be overly fancy.
Address: 115 Sydney Rd, Brunswick VIC 3056
Phone: +61 3 9387 1150
Trading hours: Mon-Fri 6:30am-8pm, Sat-Sun 7am-7pm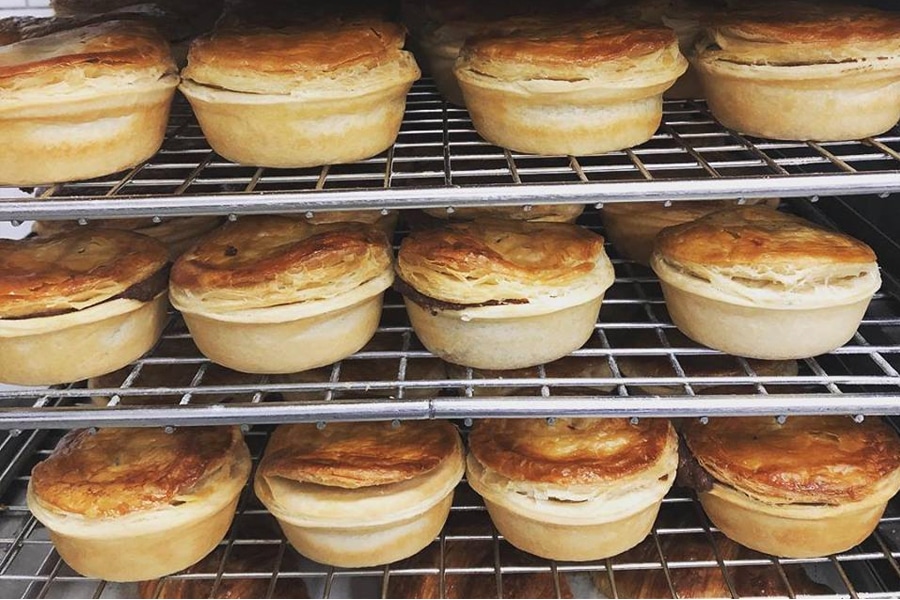 10. Candied Bakery
Injecting some American influence into the Melbourne bakery culture hasn't affected Candied Bakery's ability to whip up a killer Aussie meat pie. Their classic beef pie benefits from a secret ingredient that adds richness and depth and couldn't be more Australian: Vegemite. This meaty morsel is rounded out with no less than five layers of flaky pastry and not a vegetable in sight.
Address: 81A Hudsons Rd, Spotswood VIC 3015
Phone: +61 3 9391 1335
Trading hours: Tue-Sat 7am-3:30pm, Sun 7:30am-3:30pm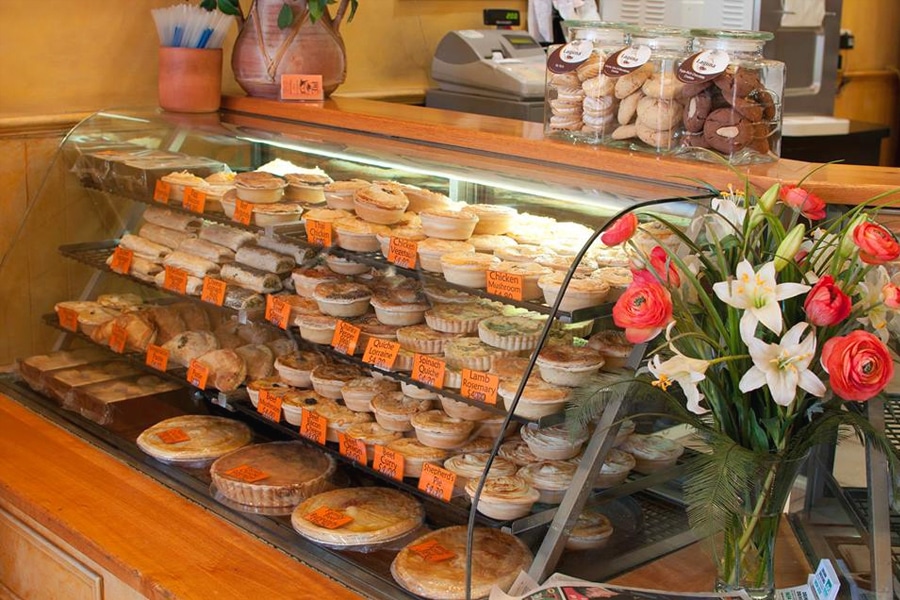 11. Richmond Pie Shop
With almost 20 different pies on the chalkboard, Richmond Pie Shop is the go-to pie shop for punters after a pre- or post-footy feed. It's so close to the MCG you could munch on their renowned chunky pepper steak as you amble over, enjoy the chicken and mushroom you've stashed in your jacket at halftime and indulge on a chunky Angus beef on the walk home.
Address: 200 Swan St, Richmond VIC 3121
Phone: +61 3 9421 2711
Trading hours: Mon-Sat 7am-5pm, Sun 8am-5pm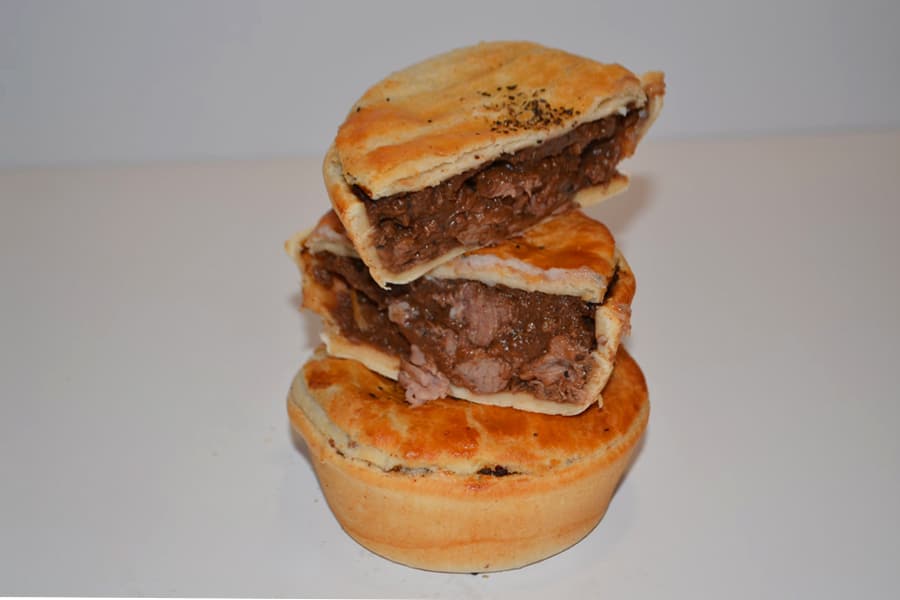 12. Keith's Pies
Keith's has been satiating Melbournians' hunger for all things pies and pastries since the early 60s. These guys are the masters of the traditional meat pie from the good ol' days, yet they aren't afraid to embrace modernity – they're one of the only entries on this list you can order by Ubereats. Their chicken Thai green curry pie will embrace you like an old friend while giving you a much-needed yet gentle kick of heat all at once.
Address: 119 Burnley St, Richmond VIC 3121
Phone: +61 3 9428 7502
Trading hours: Mon-Fri 5am-3pm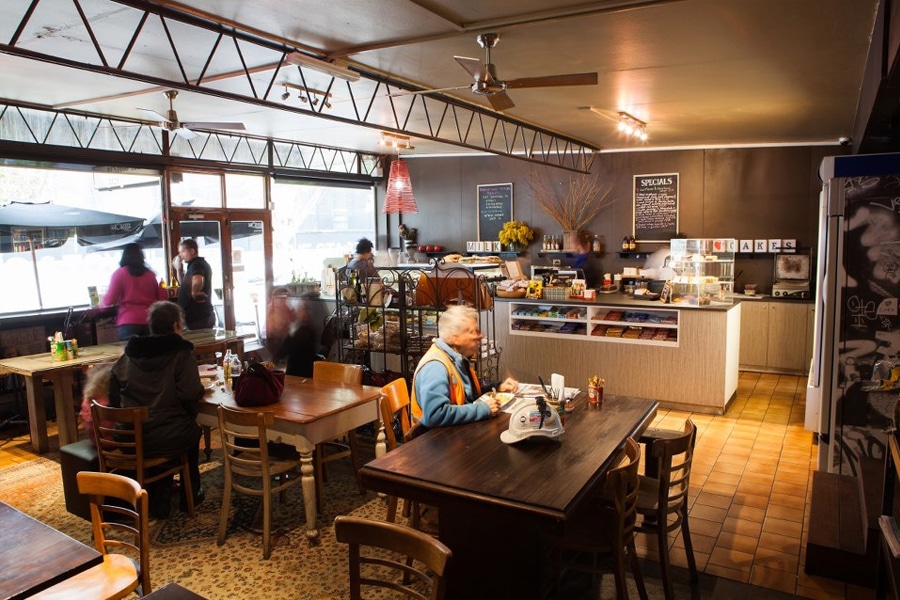 13. Bendigo St Milk Bar
A contemporary urban revival of the small-town corner store, you'll come to the Bendigo St Milk Bar for the coffee and conversation and stay for their sensational pies. Their plain beef number takes inspiration from a translation of a traditional spanakopita recipe, so you can expect the flaky pastry goodness to be on another level. And what would a true milk bar experience be without a sherbet bomb from of the glass jar on the way out?
Address: 37 Bendigo St, Richmond VIC 3121
Phone: +61 3 9428 4196
Trading hours: Mon-Fri 6:30am-4pm, Sat 7am-4pm, Sun 7:30am-4pm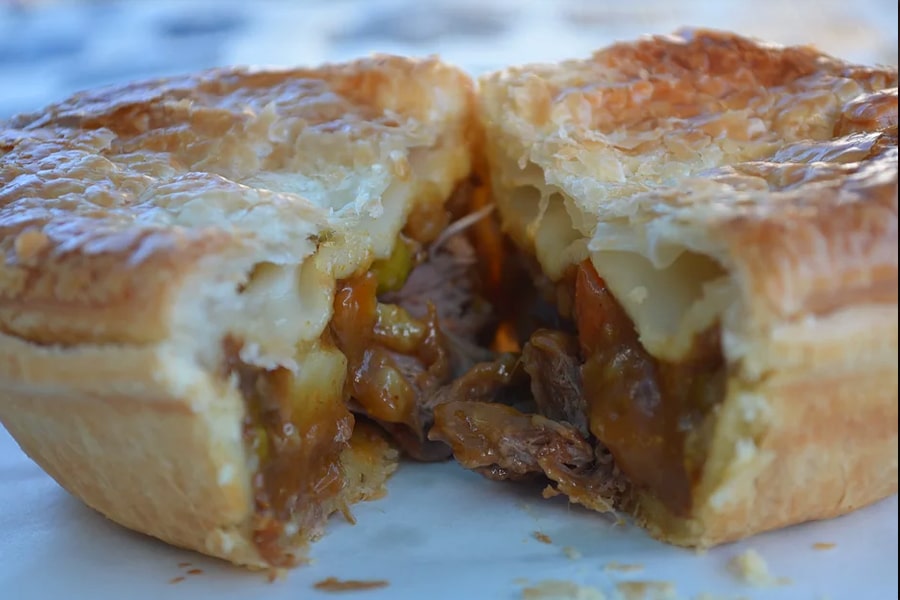 14. Gourmet Pies Truck
With 25 years of experience in some of Melbourne's top culinary institutions, the chef behind Gourmet Pies has got so many awards for his pies he's running out of room in the truck to put them. The Gourmet Pies truck will make you work a little harder for your feed. However, the quick social media investigation and subsequent scramble to the correct farmer's market will make the scallop and saffron or the pulled lamb and caramelised onion pie feel like a little reward.
Address: Brunswick, Melbourne
Phone: 0413 812 006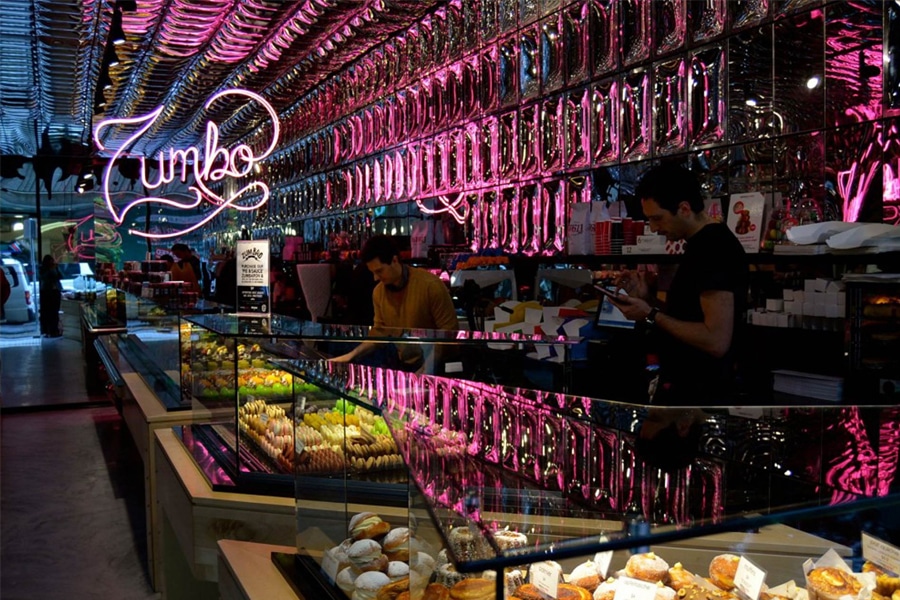 15. Zumbo
The king of the devilishly intricate and deliciously complex desserts likes to keep it fairly simple when it comes to his meat pies. But then again, if anyone can get away with a hamburger/pie combo it's the pastry kingpin himself. Forgoing the pastry lid for a hamburger bun, the rest of the pie is rather straightforward. Although forgoing the theatrics of Zumbo's famous sweets, the hamburger pie is different enough to keep things interesting.
Address: 14 Claremont St, South Yarra VIC 3141
Phone: 1800 858 611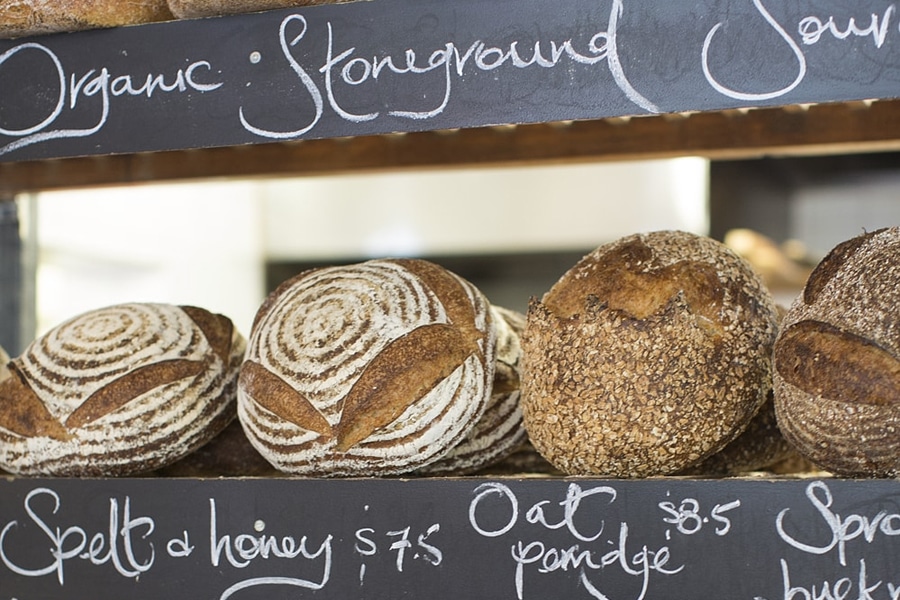 16. Tivoli Road Bakery
There's something extra special about a meat pie when it comes from the mind and hands of a master baker. The chicken, leek, mushroom and mustard pie from Tivoli Road Bakery is just that. If you need a little something to help fight off the winter blues, chances are it's being pulled out of the ovens at this South Yarra bakery any minute now.
Address: 3 Tivoli Rd, South Yarra VIC 3141
Phone: (03) 9041-4345
Trading hours: Mon-Sun 7:30am-1pm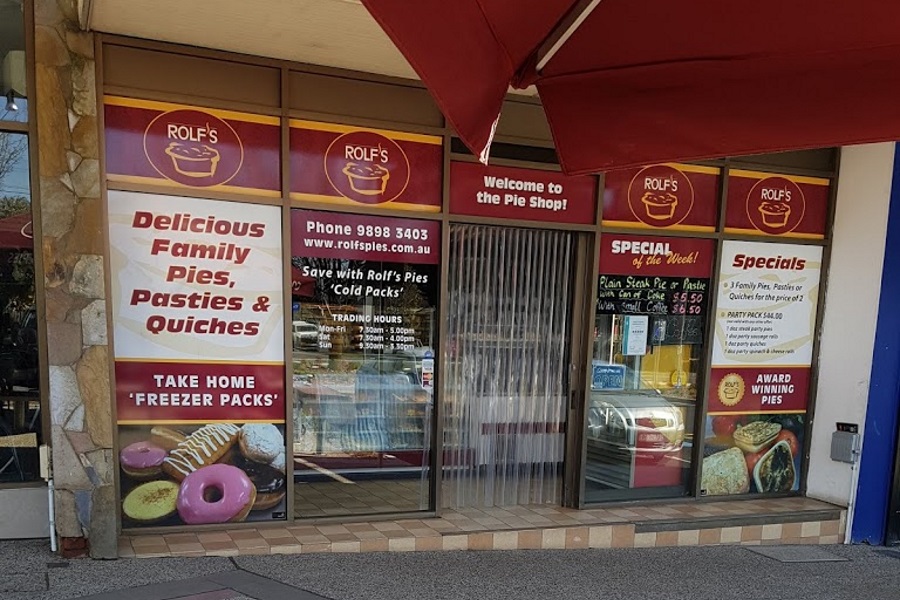 17. Rolf's Pies
The secret to staying warm during Canada's miserable winters is decidedly simple: add maple syrup to everything. Rolf's Pies understood this principle when they dreamt up their Canadian maple steak pie over 35 years ago, and it's been keeping Melbournians toasty ever since. This pie, with its rich steak filling marinated in maple syrup and simmered with caramelised onion and fresh basil, has won multiple awards.
Address: 181 Middleborough Rd, Box Hill South VIC 3128
Phone: (03) 9898 3403
Trading hours: Mon-Fri 7:30am-5pm, Sat 7:30am-4pm, Sun 9:30am-3:30pm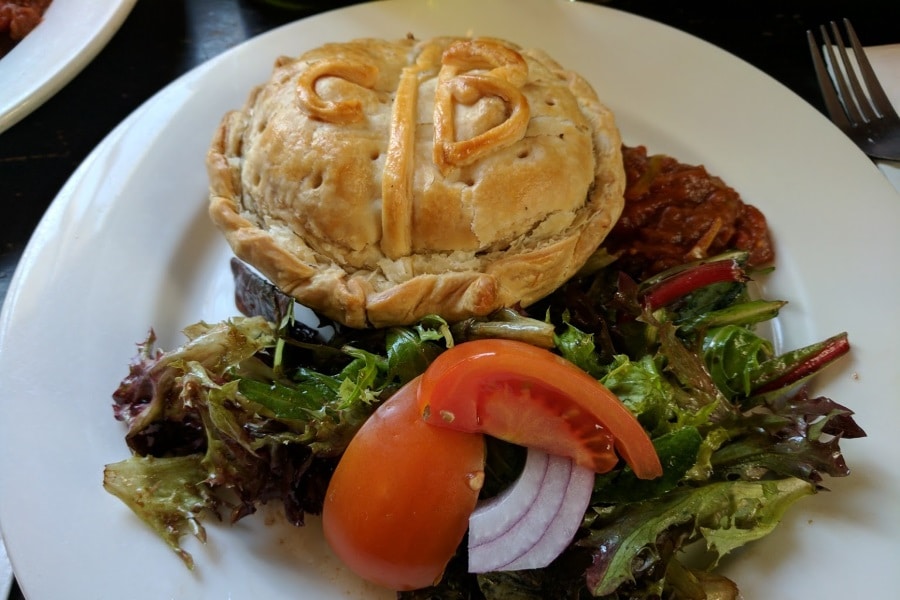 18. The Alcaston House Café
Situated across from Parliament House, The Alcaston House Café is one of Melbourne's more unassuming spots to hole up and enjoy a great pie on a cold winter day. The jury's out between the beef and red wine or the shepherd's pie – each perfected over months of refining and both reminiscent of country homestyle quality. In the name of fairness, try both and come to your own conclusions.
Address: 2 Collins St, Melbourne
Phone: (03) 9650 9387
Trading hours: Mon-Fri 7am-3pm

You'll also like:
21 Best Japanese Restaurants in Melbourne
16 Best Ribs in Melbourne
49 Best Bars in Melbourne For a Good Night Out
What is the best pie in Australia?
In 2020, Rolling Pins Pies & Cakes won best plain meat pie in Australia and Four Seasons Patisserie & Bakery won best gourmet pie in Australia
Who won the best pie in 2020?
For the third year in a row, a bakery in Victoria has received the award for the best pie in Australia.