43 Date Ideas in Melbourne
If you're searching for unique date ideas in Melbourne to help you get passed the first date and onto a second date, there are plenty of creative ways to impress your significant other. You could visit an escape room, or be brave enough to go on one of the Melbourne Gaol night tours, you could visit a theme park or gaze at stars in the night sky at the Melbourne Planetarium.
Melbourne is filled with unique date ideas, the Queen Victoria night market has welcomed love for generations while the Salsa Foundation has been spicing up romantic nights for years. Whether you're after a relaxing date or an action-packed night of fun things to do, our team of expert adventurers and editors have directly sampled some of the best date ideas all over Melbourne, and have compiled an independent list of their favourites.
Date ideas in Melbourne at a glance
Our list of best date ideas in Melbourne goes like this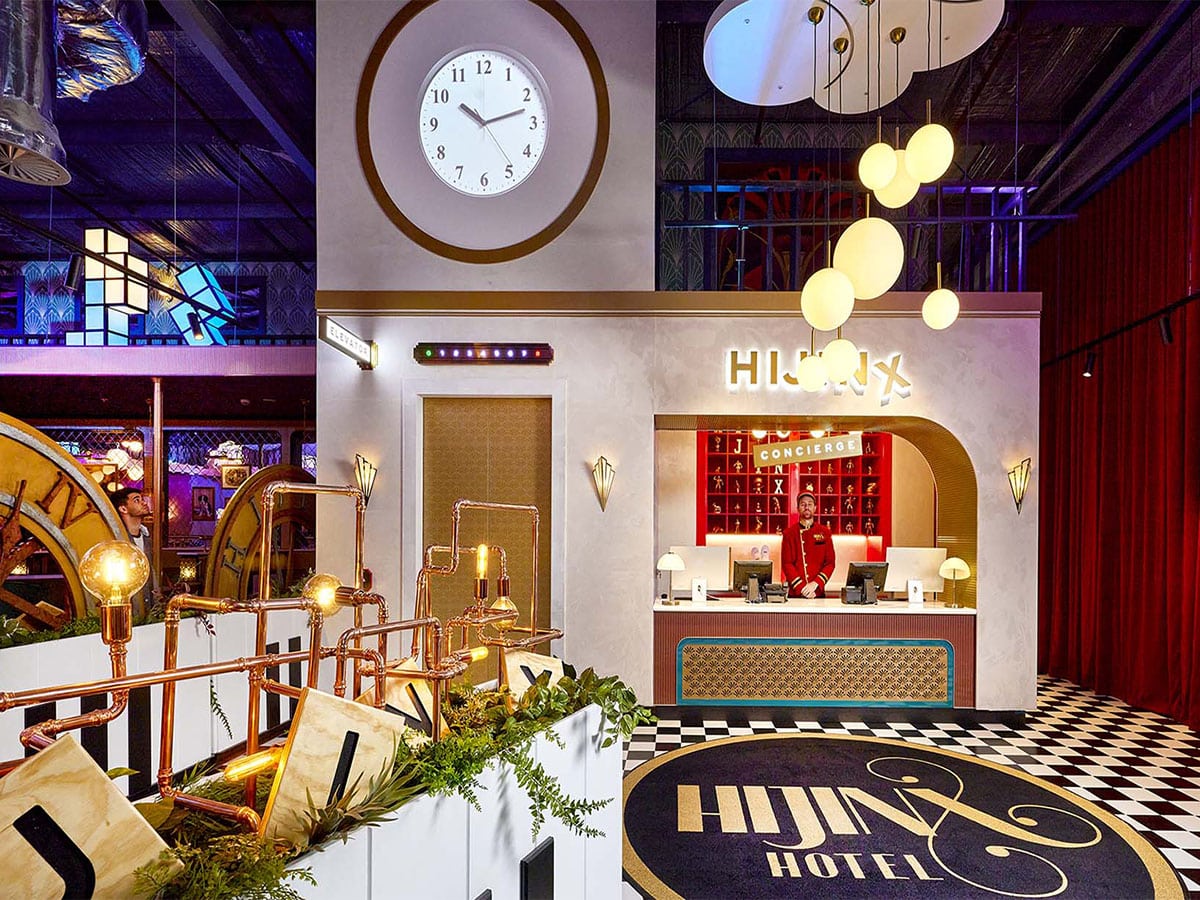 1. Escape Room at Hijinx Hotel, Chadstone
You don't have to look much further than the fictional, Hijinx Hotel in Chadstone Shopping Centre for a perfect night on the town. This is a great spot for a first date as you break the ice over an escape room (and drinks). Located in the new section of the famous Chadstone Shopping Centre, the location couldn't be better for a date night that covers all bases, and hopefully has you moving to some of your own. While the hotel poses as an escape room, it's more of a drinking spot channeling nostalgia and theme park vibes. You can head to Piccolina Gelateria after you finish from the Willy Wonka-esque fictional hotel, or you can shop till you drop, grab a bite to eat or catch a movie. Chadstone is a safe bet for a great date, there's plenty to do and the Hijinx Hotel is teaming with possibilities.
Address: 1342 Dandenong Rd, Chadstone VIC 3148
Hours: Mon-Thu 10 am-11:00 pm, Fri-Sat 10 am-1:00 am, Sun 10 am-11:00 pm
Prices: Adults $25 per person, Under 18s $20 per person, per set
What We Like: The concept is a bar fronting as a fictional hotel demanding guests check-in and complete challenges rather than get stuck in a room for two hours. It's highly 'Instagramable' and makes for a fun way to get to know your date while showing them your fun side.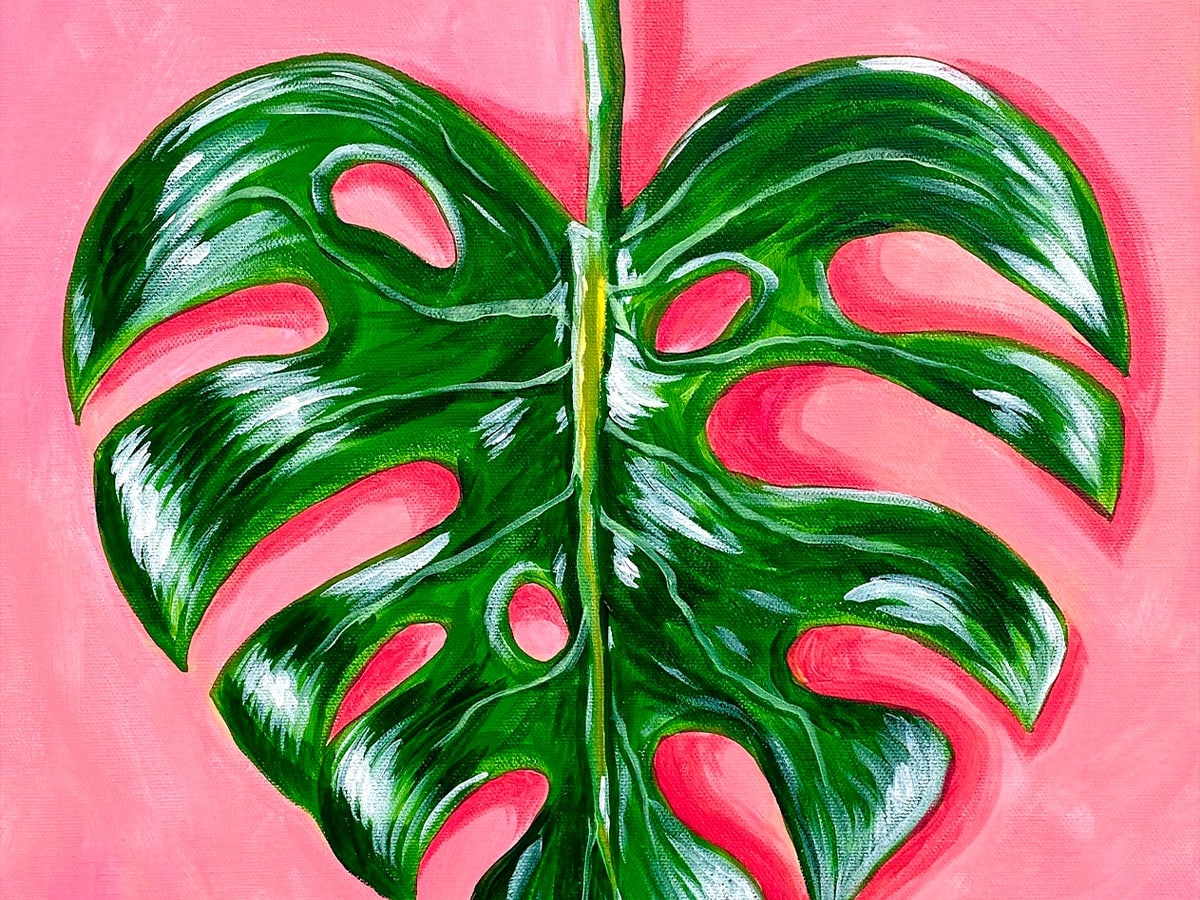 2. Sip and Paint with Champainting, South Melbourne
For a unique date night in Melbourne, you can't go past a sip-and-paint session. You're guaranteed a date that doesn't skimp on wine, gets the creative juices flowing and makes a romantic night a fun night at the same time. All you have to do is bring a date and your own wine and nibbles. No previous painting skills are required. This fun date is all about having a laugh.
Address: 206 Clarendon Street, South Melbourne, VIC 3205
Hours: Mon-Thu 10 am-9 pm, Fri-Sat 10 am-10 pm
Phone: 0499 007 234
Price: $60 per person
What We Like: You can bring your wine and feel like you're in an art gallery, channelling your inner artist. It's the perfect activity to plant seeds for a second date while making a first date fun, easy and not severe.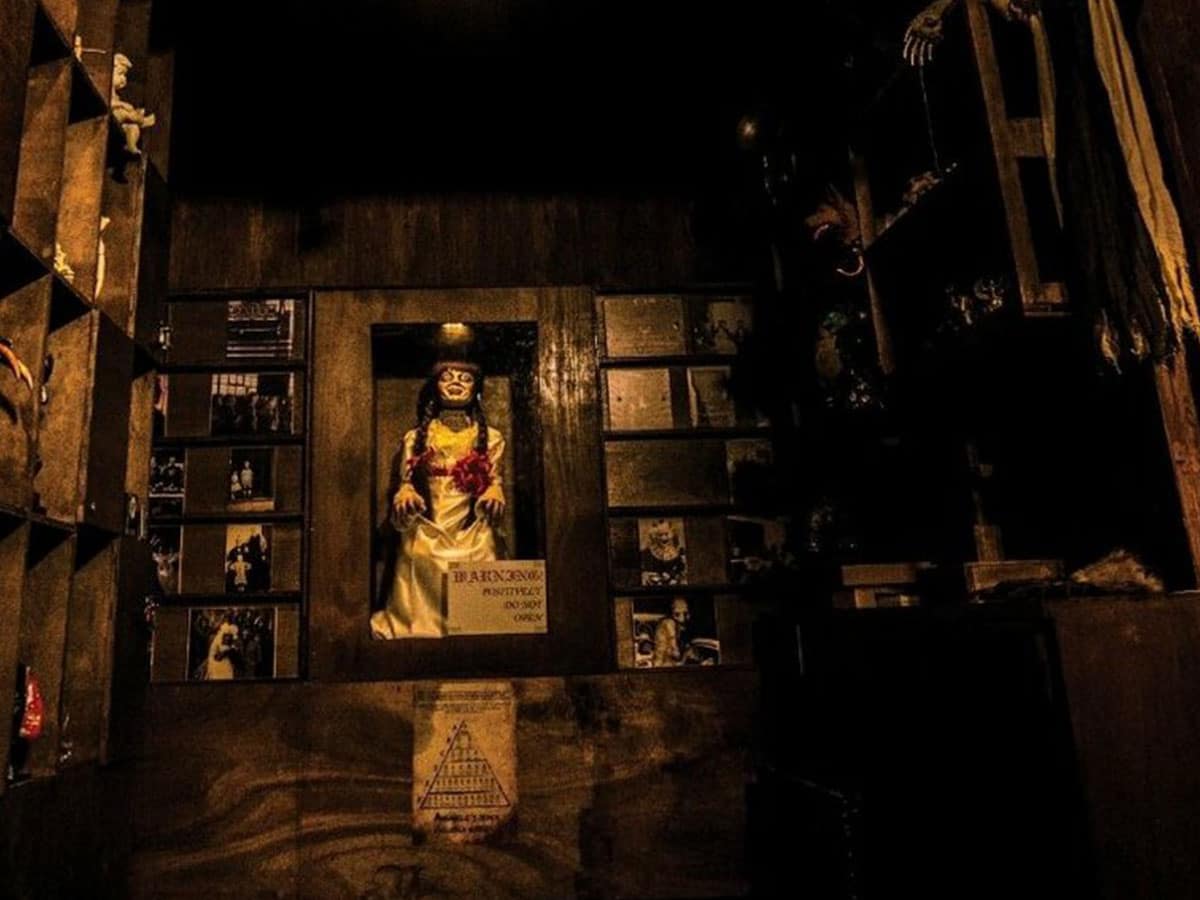 3.  Head to LOST in Melbourne Escape Rooms
If you're looking for a cute or romantic date in Melbourne, this one isn't for you. Escape rooms are all about spooky adventures with a bit of critical thinking thrown in for good measure. You can choose from various options, some more frightening than others. Take this opportunity to show your special someone what you've got, there's nothing more attractive than a problem solver. To get through an escape room unscathed, you'll need to channel your inner Sherlock Holmes, and you'll need to work with your partner, which should test your mind-reading skills as well as your leadership skills.
---
Featured Video from Man of Many
---
Address: 298 Flinders Ln, Melbourne VIC 3000
Hours: Mon-Thu 1-10 pm, Fri 1-11:30 pm, Sat 10 am-11:30 pm, 10 am-10 pm
Phone: 03 9621 1374
Prices: $54 Per Person
What We Like: It's perfect for getting rid of first-date nerves and awkward silences due to the thrilling activities and atmosphere.
LOST in Melbourne Escape Rooms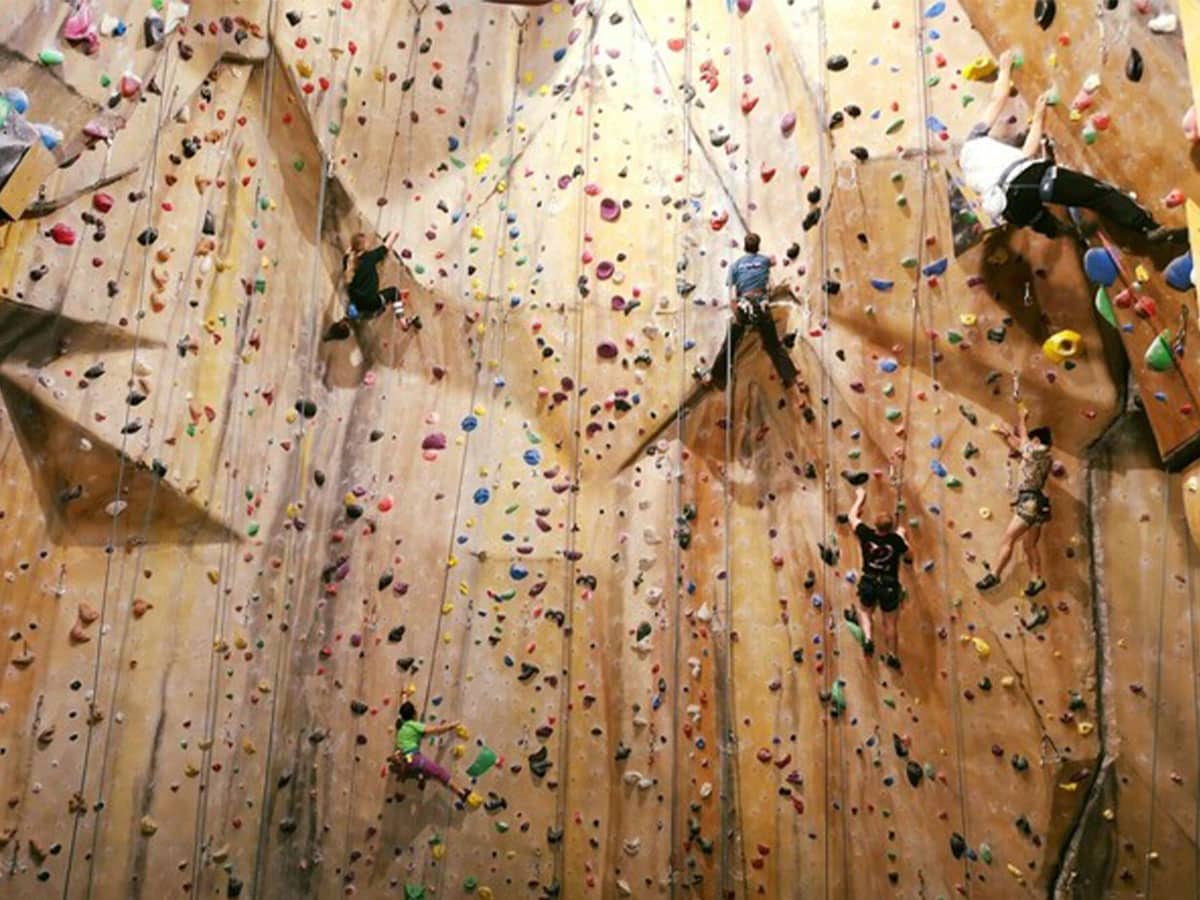 4. Rock Climb at Hardrock Climbing, Melbourne CBD
Rock climbing is the adventure sport of the year and a sure way to shake things up. Whether you're a seasoned climber or an absolute beginner, you and your date could get to some sweaty fun with your clothes on at any of the spots on our list of the 15 Best Indoor Rock Climbing & Bouldering in Melbourne. It's one of the more active date ideas in Melbourne, so consider your fitness level and that of your date.
Address: 4/8 Franklin Street, Melbourne, VIC 3000
Hours: Mon-Fri 2-10 pm, Sat-Sun 11 am-7 pm
Phone: 03 9631 5300
Prices: Climbing Entry $22, harness hire $6, shoe hire $6. Total $34
What We Like: hardrock climbing is an action-packed date, the perfect opportunity to show what you've got, and it will eliminate those butterflies in the stomach whilst taking your date game to new heights.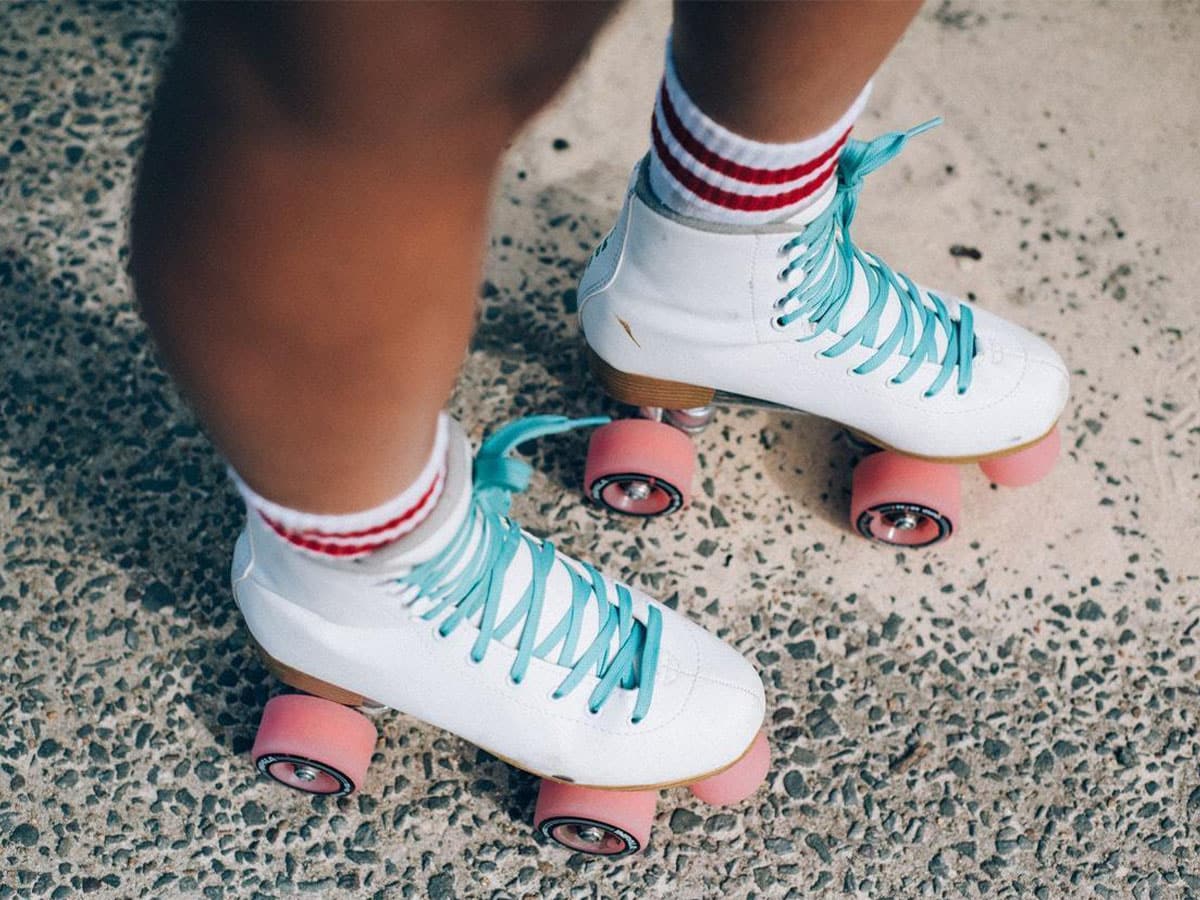 5. Rollerblade around Melbourne with Bayside Blades
Explore the grounds of Melbourne while rollerblading, with skates hire from Bayside Blades. As one of the more active date ideas in Melbourne, grab a pair of inline skates and glide around the city. Bayside don't allow retro roller skates for outdoor hire, so inline skates are your best bet for this date. This activity is the perfect way to break the ice and engage in some healthy competition. Hopefully, everyone's bones stay intact as you whiz around. For your safety, the tour sticks to relatively smooth surfaces.
Address: 4/200-208 Boundary Road Road, Braeside VIC 3195
Hours: Tue-Fri 10 am-6 pm, Sat 10 am-5 pm
Phone: 1300 665 272
Price: 2 hours $40, all day $50
What We Like: This Melbourne date is old school, creative and ideal if you and your date have a sporty side.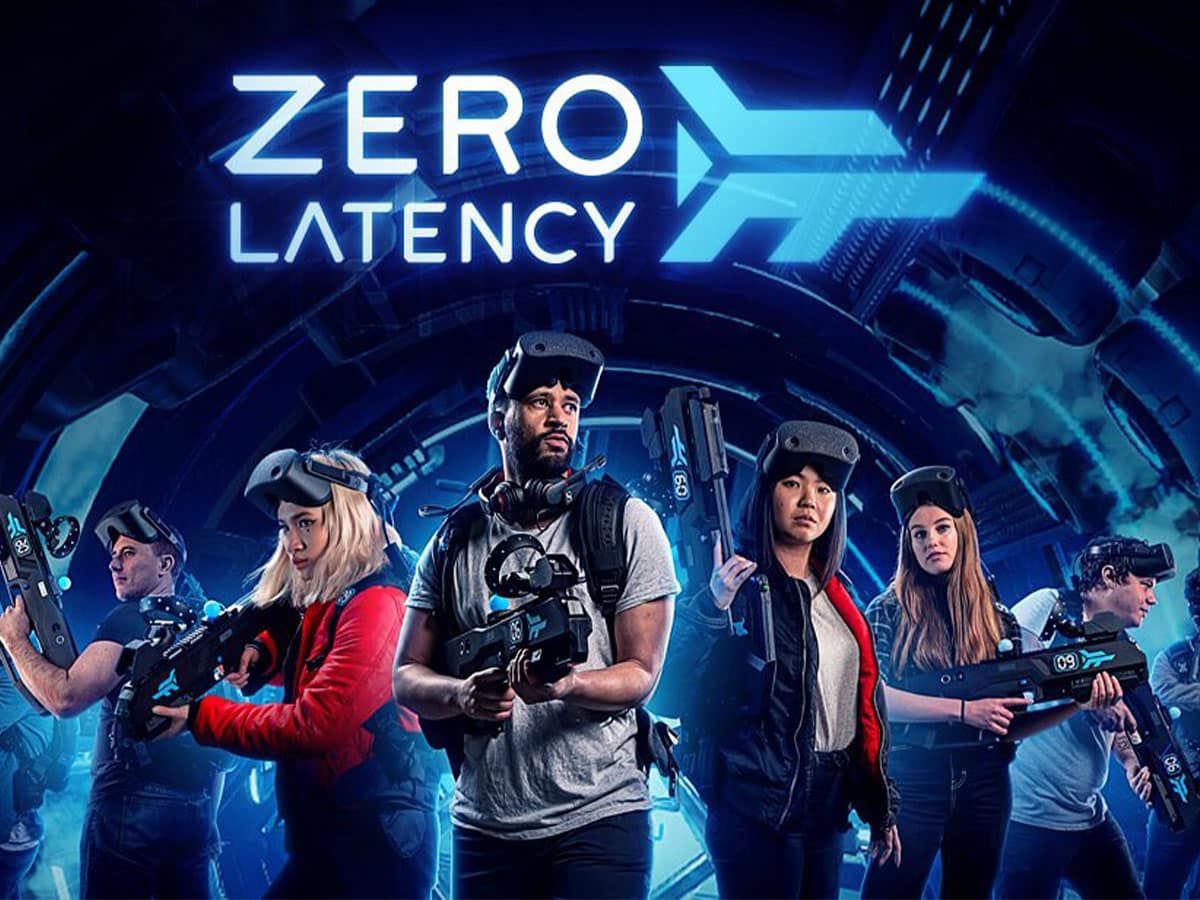 6. Play a Virtual Reality Game at Zero Latency VR, North Melbourne
Try a virtual reality date at Zero Latency, where the adrenaline flows and a memorable date is on the books. You'll experience one of the best free-roam virtual reality experiences where you can play alongside your date in games such as Zombie Survival, Undead Arena, Sol Raiders and more. It's far more immersive than you think and each mission varies in game time and theme. This is also a great outing idea for couples doing a joint date night, so you can put your teamwork to the test!
Address: 22-32 Steel Street, North Melbourne, VIC 3051
Phone: 03 9021 8812
Hours: Tues-Thurs 5-11 pm, Fri 2:30 pm-12 am, Sat 9 am-12 am, Sun 9 am-11 pm
Prices: $59 for 30 minutes playing Outbreak Origins
What We Like: This is taking arcade games to the next level, providing an easy and low-key date experience straight out of a futuristic sci-fi film we've seen before.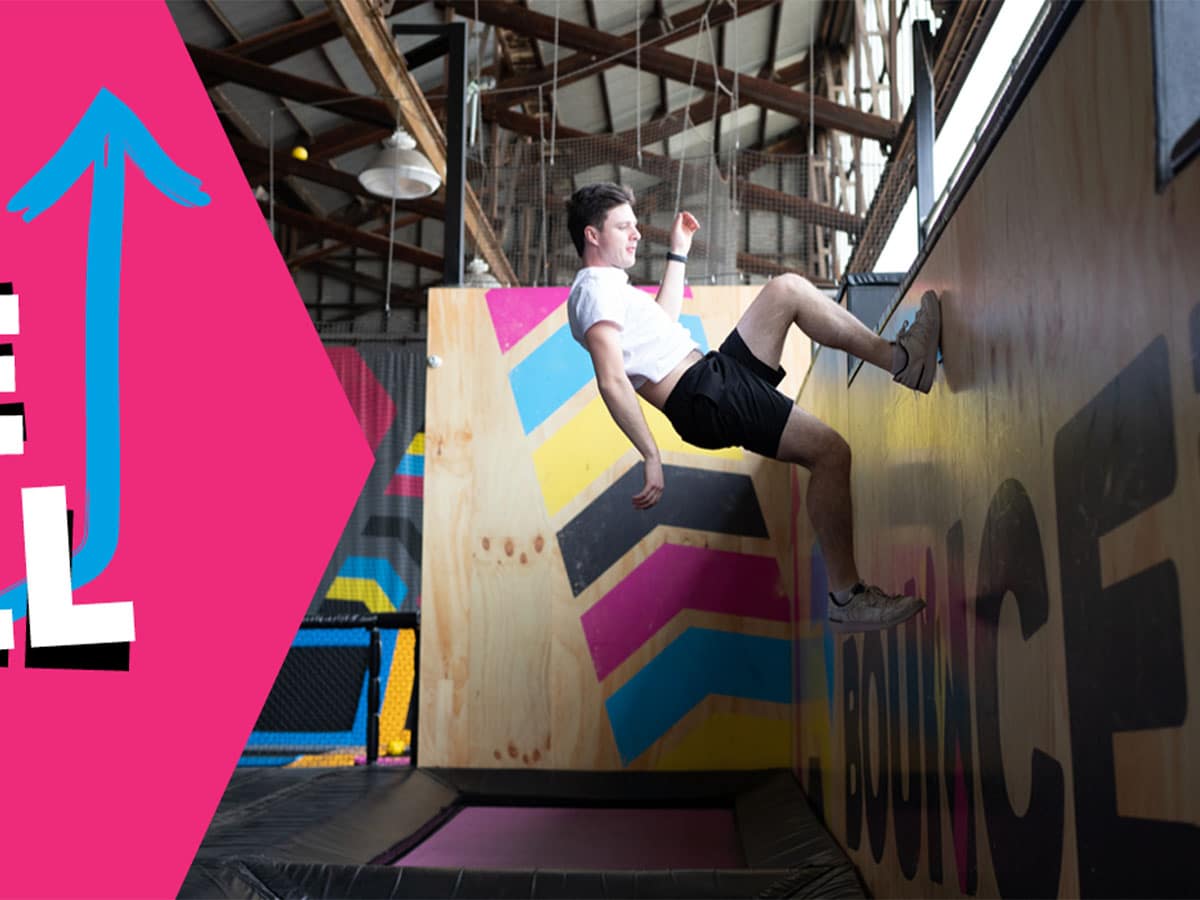 7. Get Silly at the BOUNCEinc Trampoline Parks
Bounce Inc is where free spirits can let go with a fun first date that will bounce you into anyone's good books. With 3000 square meters of interconnected indoor trampolines, battle beams, dodgeball, a cliff jump and more, it's a fun first date to help break the ice and get a little silly. They also have multiple locations across Melbourne for your ease of access.
Hours: Mon-Sat 9 am-9 pm, Sun 9 am-7 pm
Phone: 03 9131 5099
Prices: Visit Tickets & Prices on the site for packages.
What We Like: This is a great time to hone in on your subtle flirting game by impressing your date with a cliff jump at BOUNCEinc; as House Of Pain once said, jump around!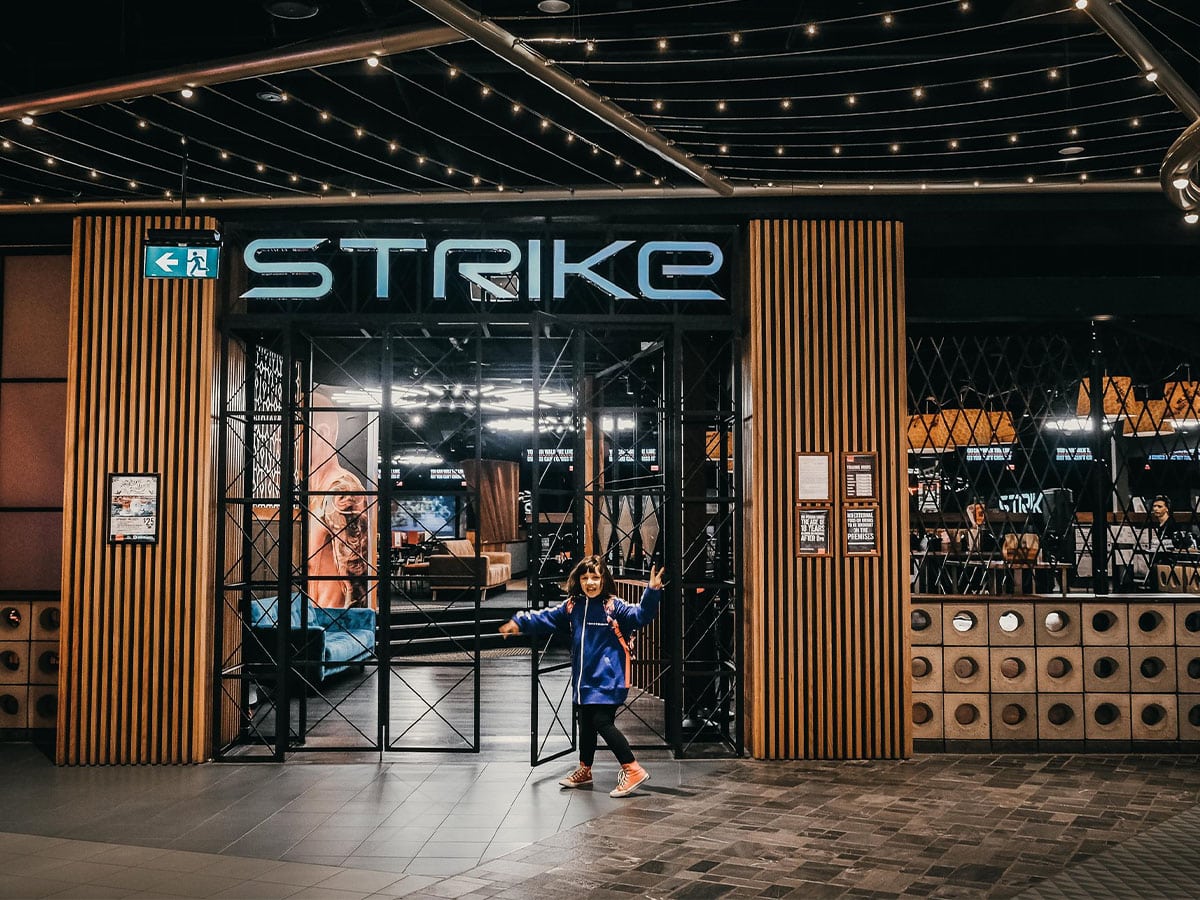 8. Ten Pin Bowling, Strike Bowling, Melbourne Central
Ten Pin Bowling at Strike Melbourne Central is a perfect classic date night idea in the heart of Melbourne. Plus, it has the added benefit of having a fully equipped kitchen when you get the munchies and a complete cocktail bar to knock back a few. Bowling makes for a ideal date idea as it allows you and your partner to get to know each other in a fun and relaxed atmosphere, taking the pressure off a traditional date.
Address: Shop 305, Level 3/211 LaTrobe Street, Melbourne VIC 3000
Hours: Mon-Thu 11 am-11:30 pm, Fr 11 am-1 am, Sat 10 am-1 am
Phone: +61 1300 787 453
Prices: $36-$44 for 2 adults with 2 games of bowling
What We Like: Your next date night is all about not striking out, but if you do, it's a sure way to show your date you can bowl and have fun at the same time.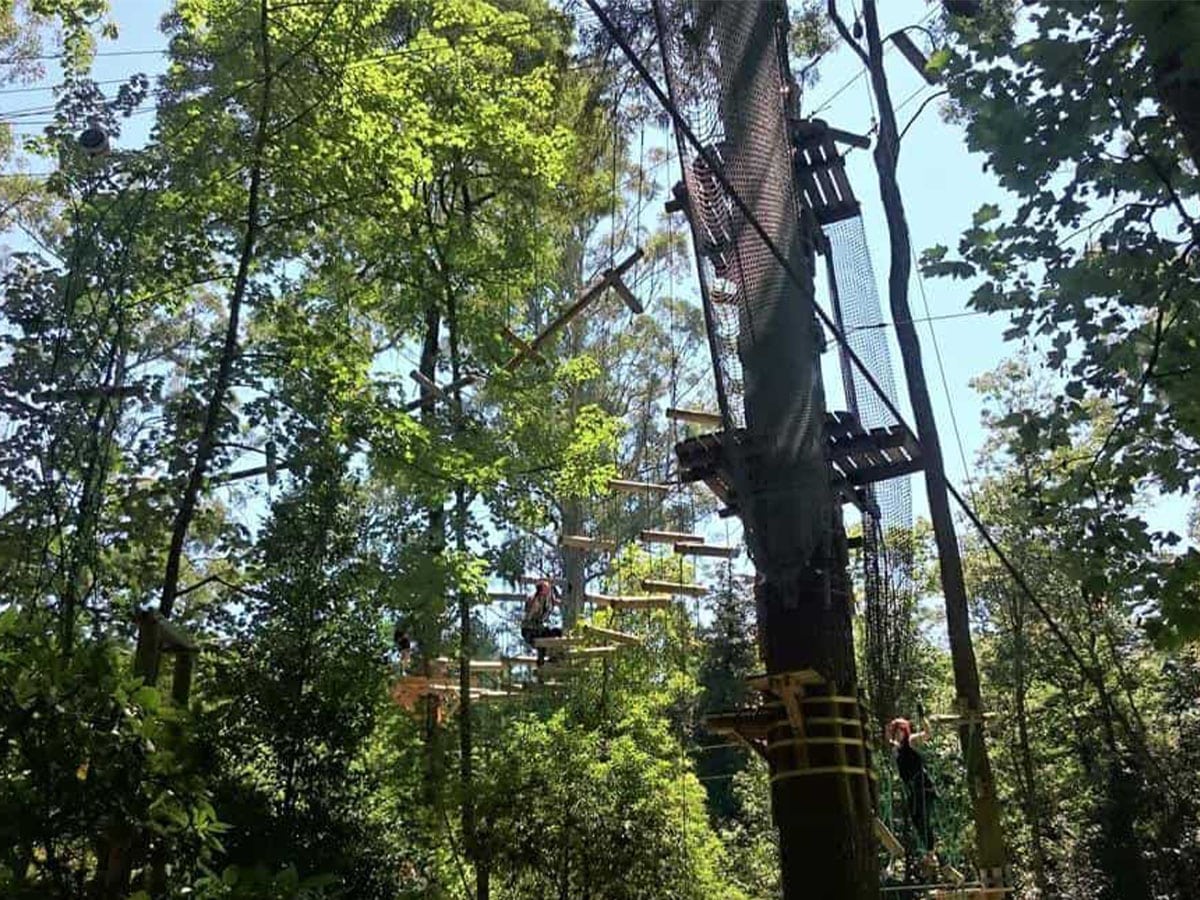 9. Seek Thrills at Trees Adventure Glen Harrow Park
You and your date could be soaring through the treetops of the Dandenong with flying foxes, tight ropes and tunnels at Trees Adventure Park. Whether it's zip lining or doing a ropes course, this is the ultimate fun dating idea in Melbourne for thrill-seekers and adrenaline junkies.
Address: Old Monbulk Rd, Belgrave VIC 3160
Phone: 03 8202 5036
Hours: Mon-Tues 11 am-5 pm, Wed-Fri 10 am-5 pm, Sat-Sun 9 am-5pm
Prices: Visit their Prices section for packages.
What We Like: This is the perfect opportunity to get out in mother nature and let her do the heavy lifting; all you have to do is channel your inner Tarzan.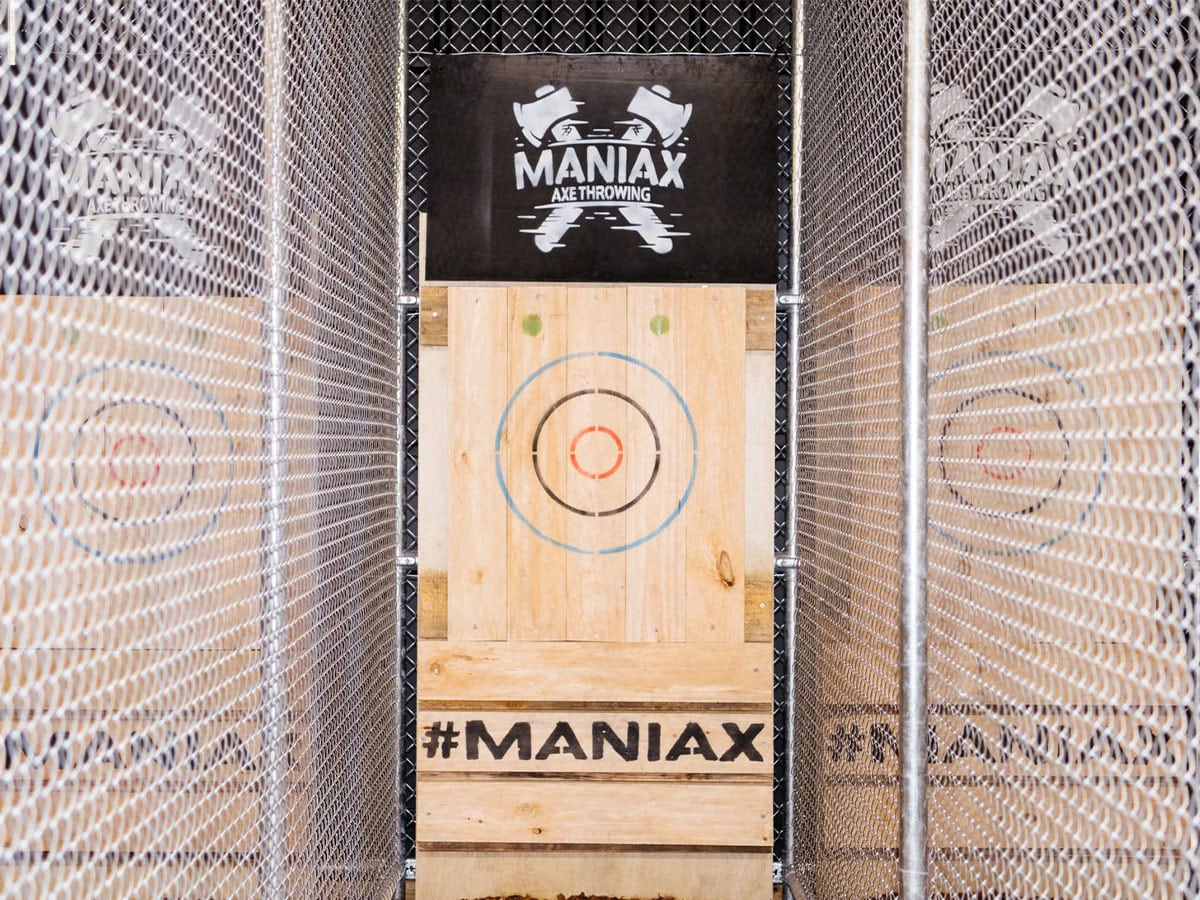 10. Axe Throwing at MANIAX Axe Throwing
This will be a date they'll never forget. Bring your date to Maniax Date Night Axe Throwing session and learn how to throw and compete in a tournament for the ages. Axe throwing is a surprisingly romantic couples thing to do in Melbourne. With locations in the CBD and Abbotsford, unleash all your energy on this active date. Where else can you throw an axe without fear of onlookers calling the cops?
Address: 19-21 Russell Street, Abbotsford, VIC 3067
Phone: +61 1300 986 480
Hours: Mon 2 pm-9:00 pm, Tue-Fri 12 pm-9:00 pm, Sat-Sun 9 am-9:00 pm
Prices: $55 per person
What We Like: Axe throwing in Melbourne is like playing pool; it's competitive, involves focus and can be very competitive, don't take it too seriously.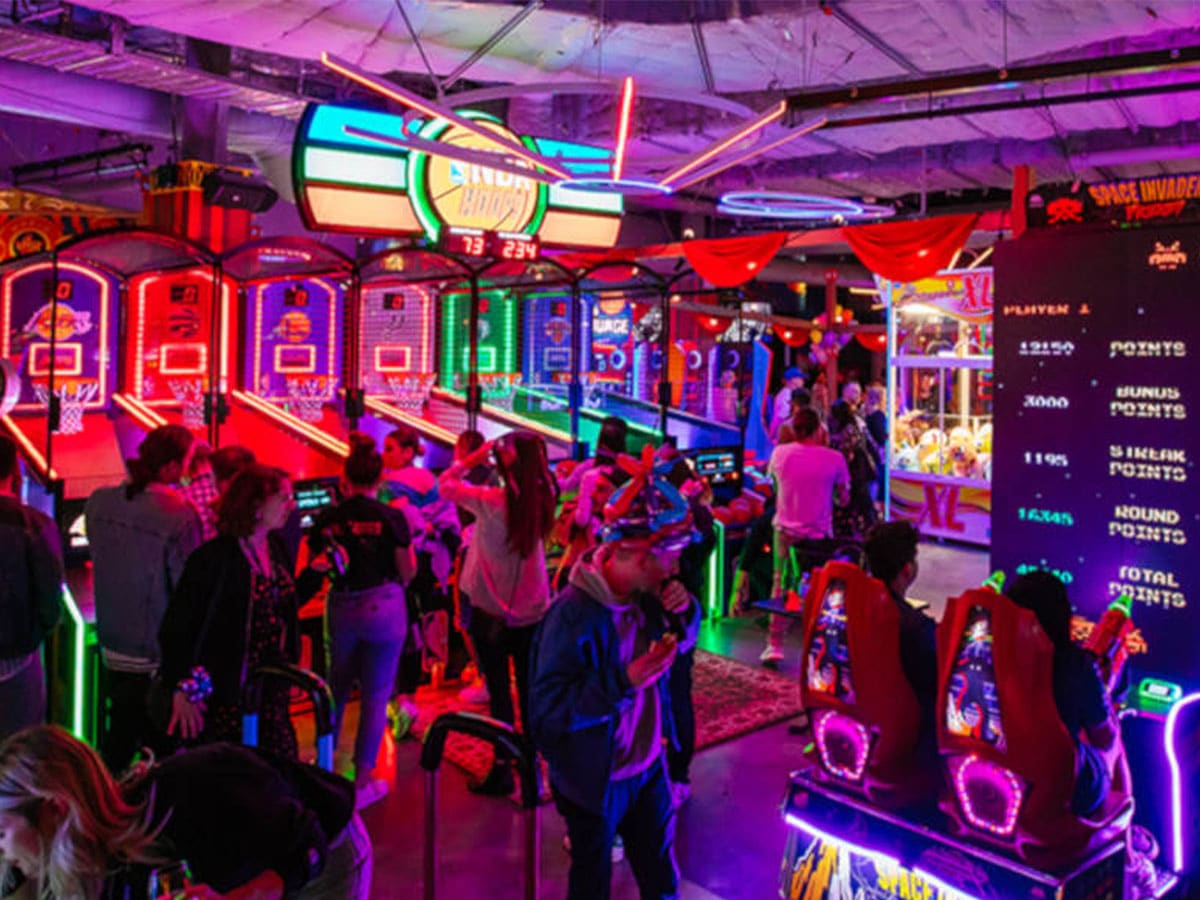 11. Visit the Archie Brothers Cirque Electriq Melbourne
For that 90's arcade nostalgia, check out Archie Brothers' Cirque Electriq. They've got bowling, 67 arcade and ticket games, an XD Theatre, Dodgems and more. If you're feeling particularly brave and want to put your singing skills to the test, there is also a karaoke bar. A full-service cocktail bar and gourmet kitchen will complete your date.
Address: The District, 440/440 Docklands Dr, Docklands VIC 3008
Phone: 1300 888 386
Hours: Mon-Thu 10am-10pm, Fri-Sat 10am-12am, Sun 10am-11pm
Prices: Entry is free, an activity card is $30
What We Like: Nothing is more date-worthy than a night playing arcade games, winning tickets and being disappointed by the gift you win for them. Romantic things are based on arcade date stories, so why not write your own?
Archie Brothers Cirque Electriq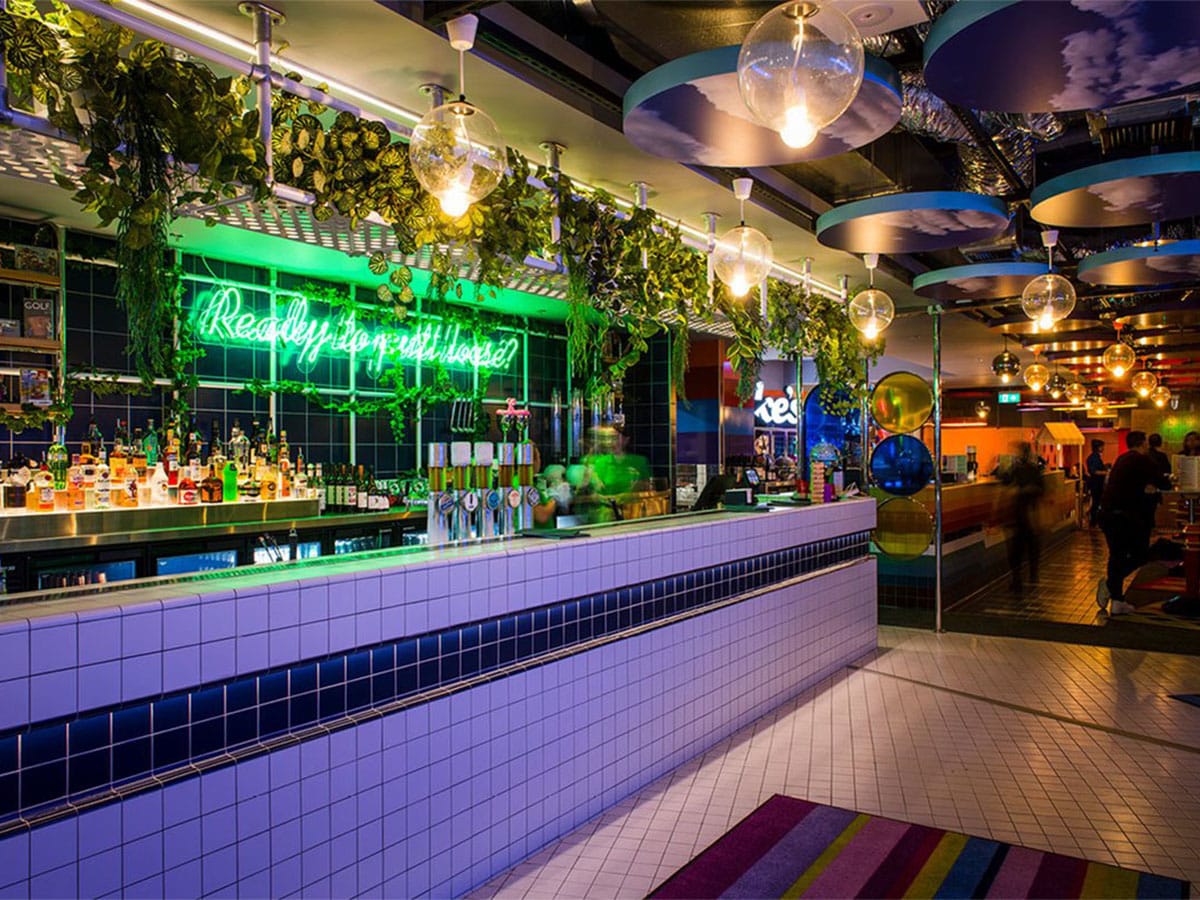 12. Play Mini Golf at Holey Moley Golf Club Crown
There's no better way to win over a date than losing to them on purpose at a game of mini golf. Holey Moley is more than just your average putting range. It's located within the Crown Casino, so you'll have plenty to do before and after your date (should it go well). Playing mini golf through bright lights and brighter cocktails means you and your significant other will have plenty to laugh about.
Address: Level 1, Metropol Precinct – Crown Entertainment Centre, 8 Whiteman St, Southbank VIC 3006
Phone: 1300 727 833
Hours: Mon-Wed 12 pm-11 pm, Thu 12 pm-12:00 am, Fri 12 pm-2:00 am, Sat 10 am-2:00 am, Sun 10 am-11:00 pm
Prices: $18-$20 for 9 holes
What We Like: Mini golf dates are a sure way to the next date, there's hardly any room to mess this up. Remember what Chubbs Peterson once said, "It's all in the hips."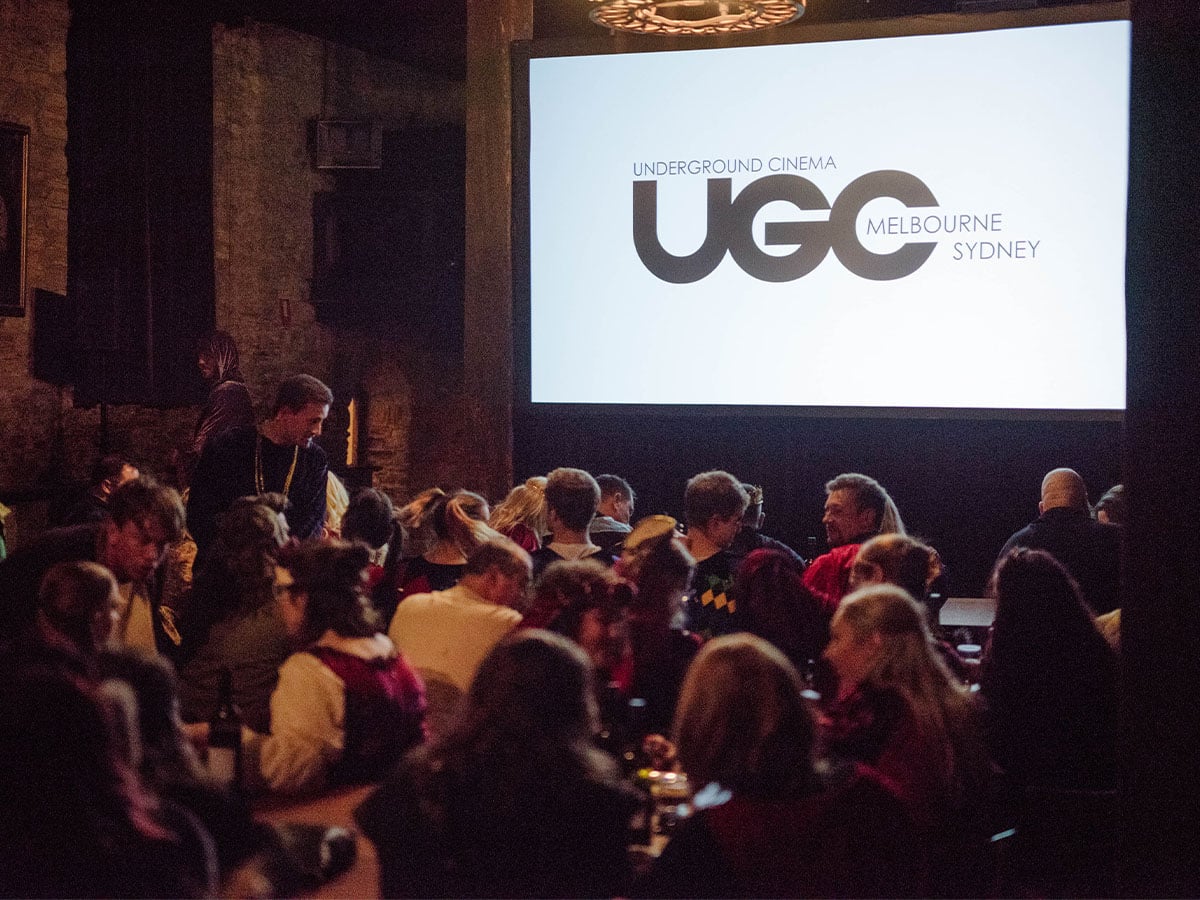 13. Indulge Your Senses at the Immersive Underground Cinema
At Underground Cinema, you're promised an unforgettable couple activity when you become a part of the story—finding out the movie's theme and arriving dressed up at the location. Upon arrival, actors perform scenes from the film and will have you guessing right till the end. This is an exciting night-time date activity, designed to immerse all your senses. Enjoy your night with a side of fava beans and a nice chianti.
Address: Secret Location, Melbourne VIC 3000
Contact: [email protected]
Worlds: Budapest Hotel, Classics, Hotel, Delirium, Kingdom, Gattaca, Silence of the Lambs and more.
What We Like: Who doesn't love an underground cinema? This is a mysterious and spontaneous date, coupled with immersive cinema for an unforgettable night.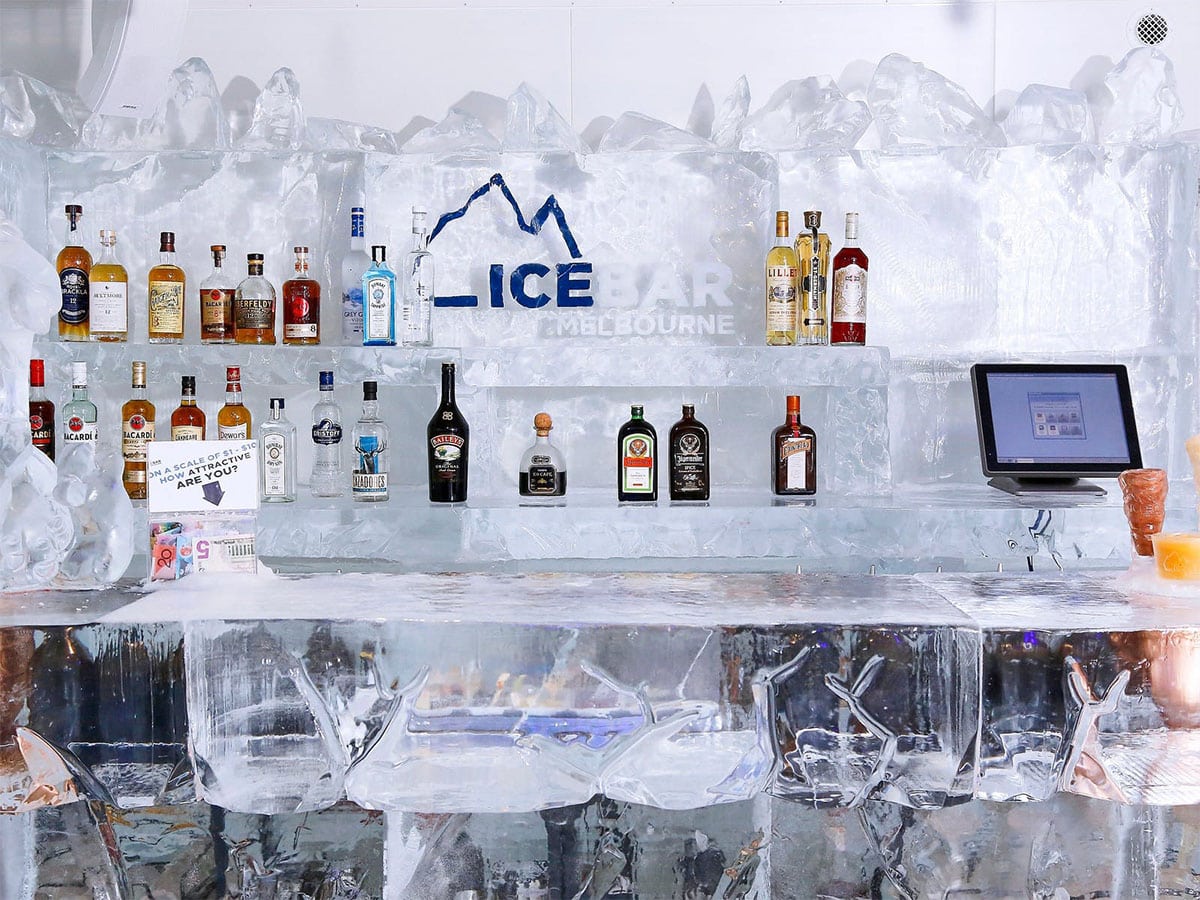 14. Cool Down at Icebar Melbourne
Cool things down at the coolest place in town, IceBar Melbourne. This is the only ice bar in Australia and a great novelty bar to see how long you can withstand the cold. Open every day till late, this 45-minute session means you channel your inner Andrew Huberman and Joe Rogan whilst sipping on cocktails and experiencing the coolest date you've ever been on. If you or your partner aren't big on booze, a non-alcoholic package is also available, for $42 per person.
Address: The Atrium Federation Square, Melbourne VIC 3000
Hours: Thurs-Sun 12-8 pm
Prices: $45 for standard adult ticket including snow gear, $55 for deluxe adult ticket including snow gear and one ice drink and an ice shot, $65 for a premium adult ticket including snow gear, one cocktail, one ice shot and one JPEG photo
What We Like: IceBar Melbourne is perfect for those who want to catch a drink and a cold. Of course, we're kidding, but it is fantastic to cool down and get to know one another in a different setting.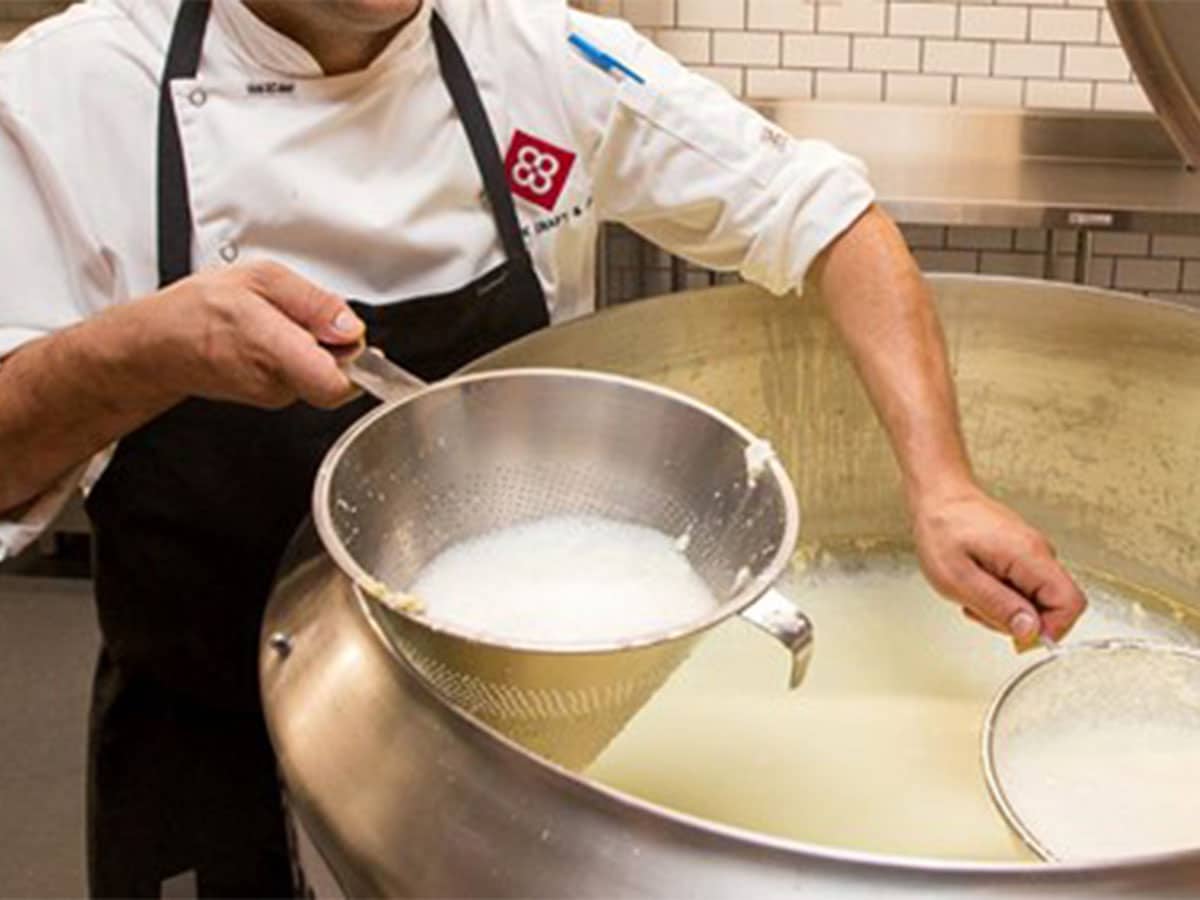 15. Take a Cheese Making Workshop at the Craft & Co
Try your hand at one of the more hands-on date ideas, cheese making with The Craft & Co, and take home a little edible memory of this excellent first date in Melbourne. Create your mozzarella using traditional Italian recipes from Naples, and learn how to make your cheese at home. A craft beer or wine and a cheese plate, and pizza are included. If cheese making isn't your vibe, gin and cocktail making masterclass are also on offer.
Address: 390 Smith Street, Collingwood, VIC 3066
Phone: +61 3 9417 4755
Hours: Wed-Sat 12 pm-11 pm, Sun 12 pm-6 pm
What We Like: What could be better than a night of mozzarella, cheese plates, craft beers and red wine? This cheese-making workshop will give you a new skill and a romantic rendezvous you'll never forget. Bonus points if your date isn't lactose intolerant.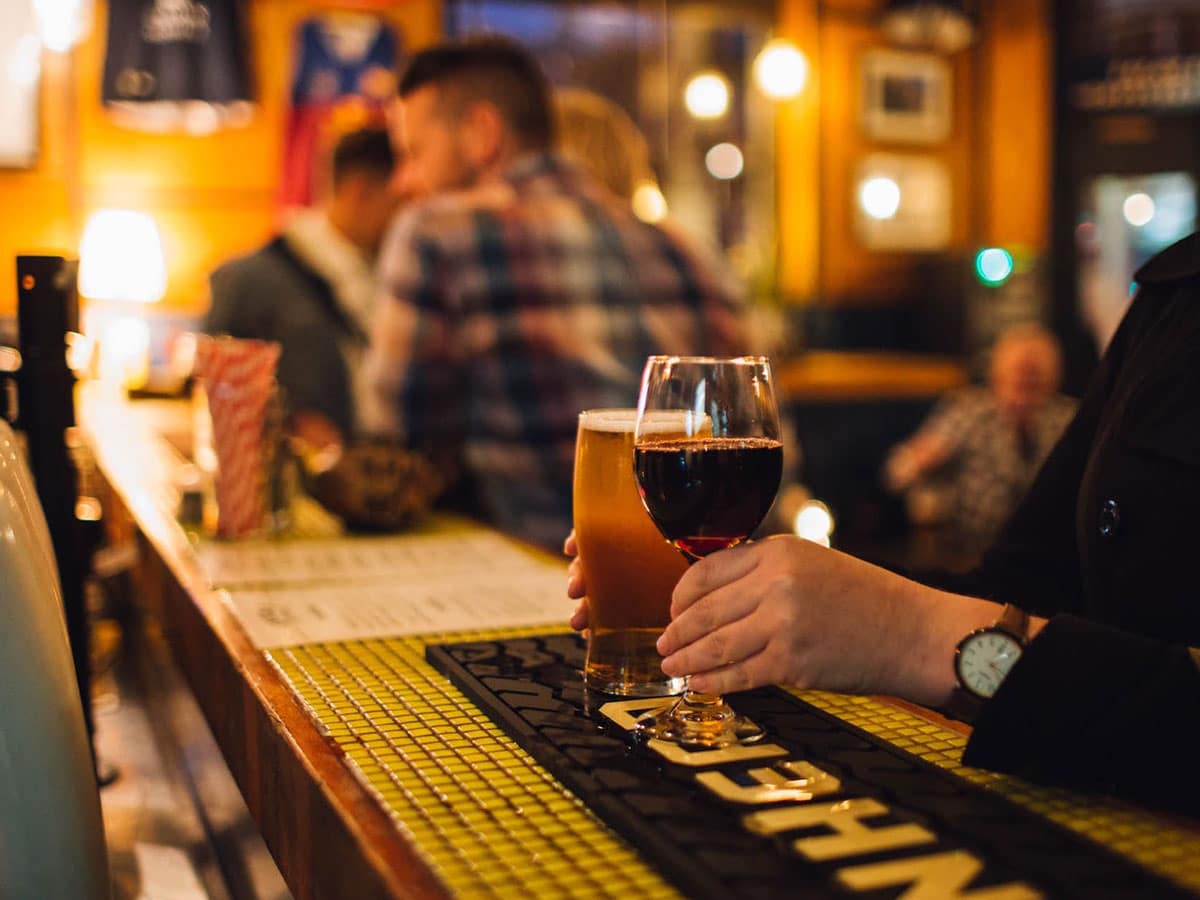 16. Drinking History Tour with Hidden Bar Tours Of Melbourne
With more bars per capita than any city worldwide, Melbourne has a lot of history. Fun fact: Melbourne first mayor was a brewer, so it's no surprise a tipple-filled date idea made this list. Over 3 hours, you can go on the ultimate bar hopping adventure and take the this Drink History Tour. Discover Melbourne's hidden laneway bars and fascinating history, or check out Fitzroy's trendy restaurants and hip bars.
Address: The Atrium, Federation Square, Melbourne VIC 3000
Hours: Open 24 hours
Prices: $149 per person
What We Like: This date night is a surefire way to have boozy conversations and plenty of craft beers and classic cocktails. It's perfect for anyone who needs an excuse to take their date somewhere more than a standard bar.

Drinking History Tours – Hidden Bar Tours Of Melbourne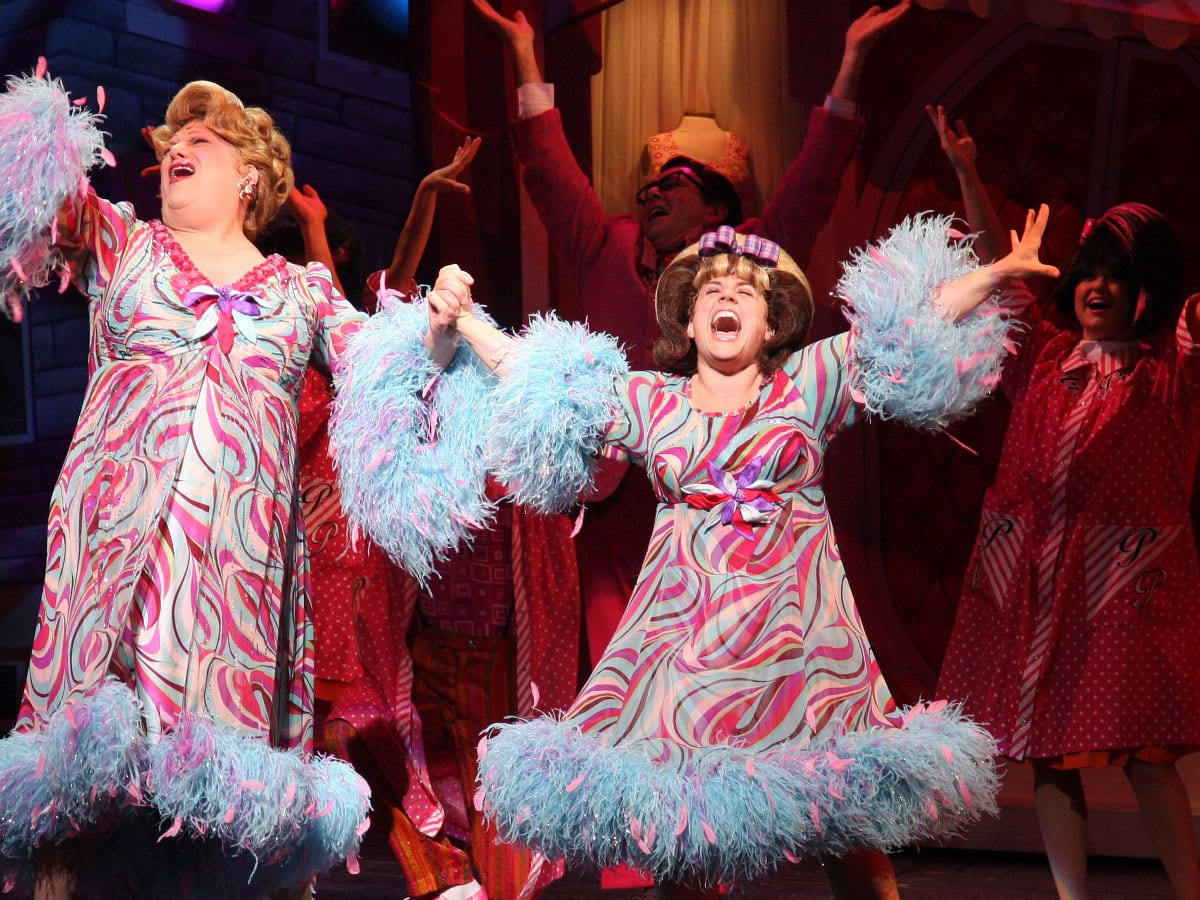 17. Catch a Show at Southbank Theatre
Take in a show at the Southbank Theatre, as part of the Melbourne Theatre Company for the night. As one of the largest theatre companies in the world and with up to 12 plays annually, a night at the theatre is a significant date alternative to catching a movie at the cinema. Located in the iconic Melbourne Arts Precinct, the diversity of shows portrayed span from comedy to drama to realism. Be prepared to experience a range of emotions with your date!
Located in: The University of Melbourne
Address: 140 Southbank Blvd, Southbank VIC 3006
Prices: Show prices differ, check the website for what is showing
What We Like: Shake things up a little, the cinemas can be great, but nothing can replace live music and entertainment.
18. Karaoke at Ichi Ni Nana Izakaya
Talk about romantic things to do in Melbourne! You can impress your date with your singing skills with a classic karaoke session at Ichi Ni Nana Izakaya. This Izakaya now boasts karaoke where you and your date can belt out your favourite tunes while enjoying a little drink and snacks – so all of the good stuff is in one place. If your original date doesn't work out, never fear, for speed dating is here. Ichi Ni Nana Izakaya is all for sushi and love, so check out their speed dating nights for the quickest conversation starter you've ever experienced.
Address: 127 Brunswick Street, Fitzroy VIC 3065
Hours: Mon-Fri 5-11:30 pm, Sat 5-11:30 pm, Sun 5-11 pm
Phone: 03 9417 4127
What We Like: If you love sushi, music and pop tunes that'll make your heart melt, embark on an experience that'll make both your stomachs and guilty pleasures happy.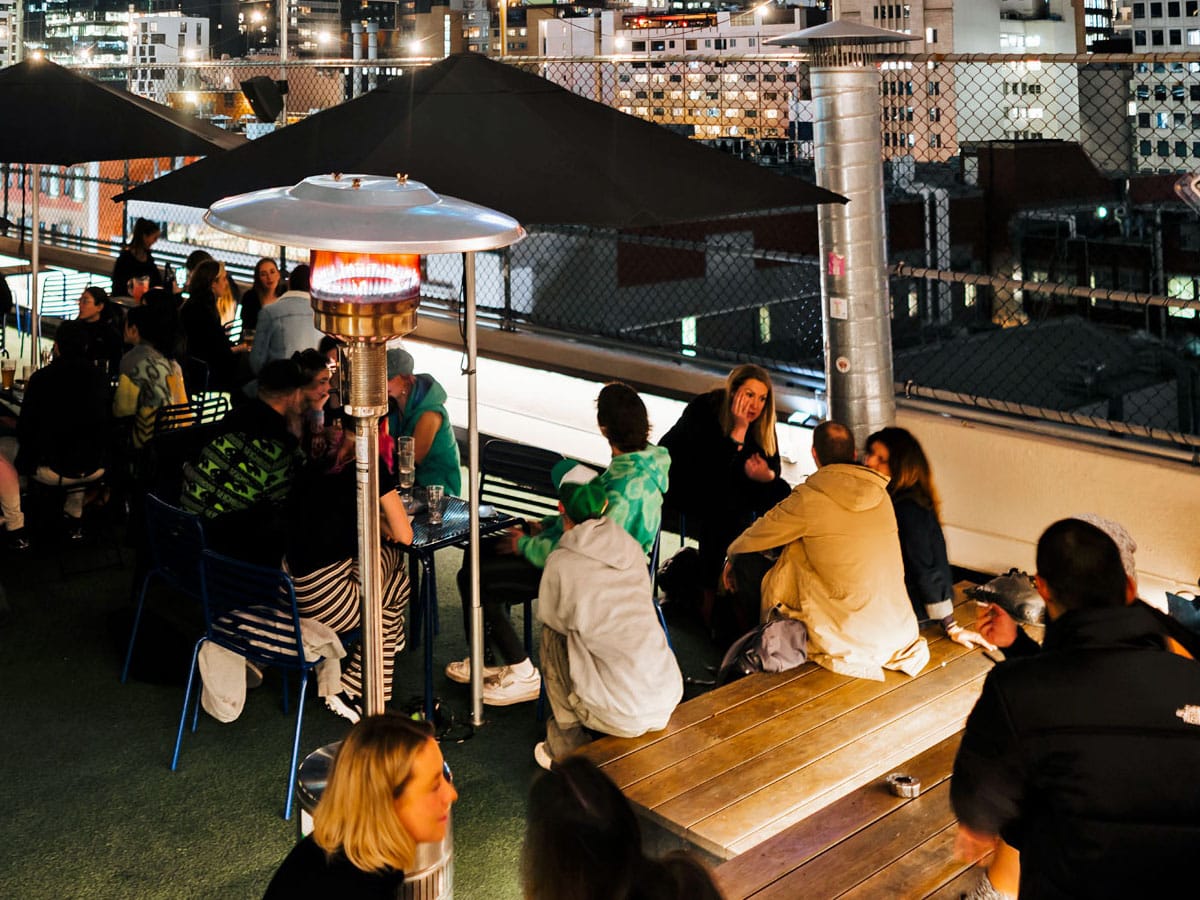 19. Burgers And Beers At Curtin House
Take your to-date seven stories up on Curtin Houses' rooftop bar for burgers and beers with a beautiful view of the CBD skyline. There's even a rooftop cinema during the summer for some outdoor cinema viewing fun. With the perfect food, perfect view and a buzzing, vibrant atmosphere, you can't go wrong with this night-out!
Address: Level 7/252 Swanston St, Melbourne VIC 3000
Hours: Mon-Sun 12 pm-1 am
Prices: $20 beer and burgers
What We Like: There's nothing better than a Melbourne rooftop in summer with golden ales flowing and fresh cocktails being sipped by those who are on their first date or returning for their second date. It's the perfect spot for a summer date and a great place to get to know someone.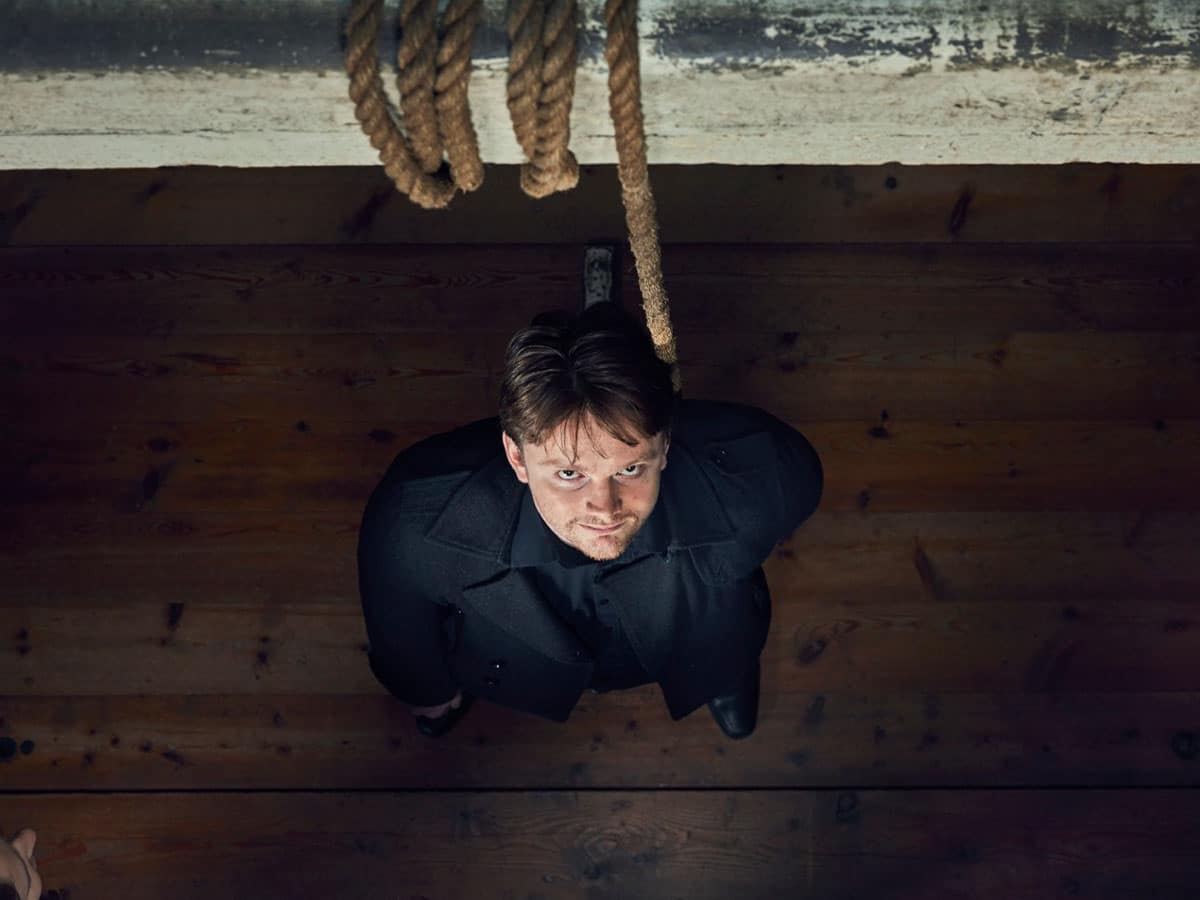 20. Explore the Hangman's Night Tour – Old Melbourne Gaol
You don't have to wait until Halloween for spooky date ideas and a fun date night. With an Old Melbourne Gaol Night Tour, take the hangman's night tour and let the hangman guide you through the Gaol's disturbing history. This is the ideal date night if you're both more on the adventurous side. If this specific tour isn't up your alley, couples can also get locked up in the city watch house or hunt for ghosts together. Though the Gaol is open from 10 am, a night-time booking is recommended to make the most of the eerie experience.
Located in: RMIT University
Address: 377 Russell St, Melbourne VIC 3000
Hours: Mon-Sun 10 am-5 pm
Prices: $40 per person
What We Like: Night tours can be the perfect date if romantic things aren't your thing. Just be sure to do something a little more light-hearted on the next date. Otherwise you may not go on a third.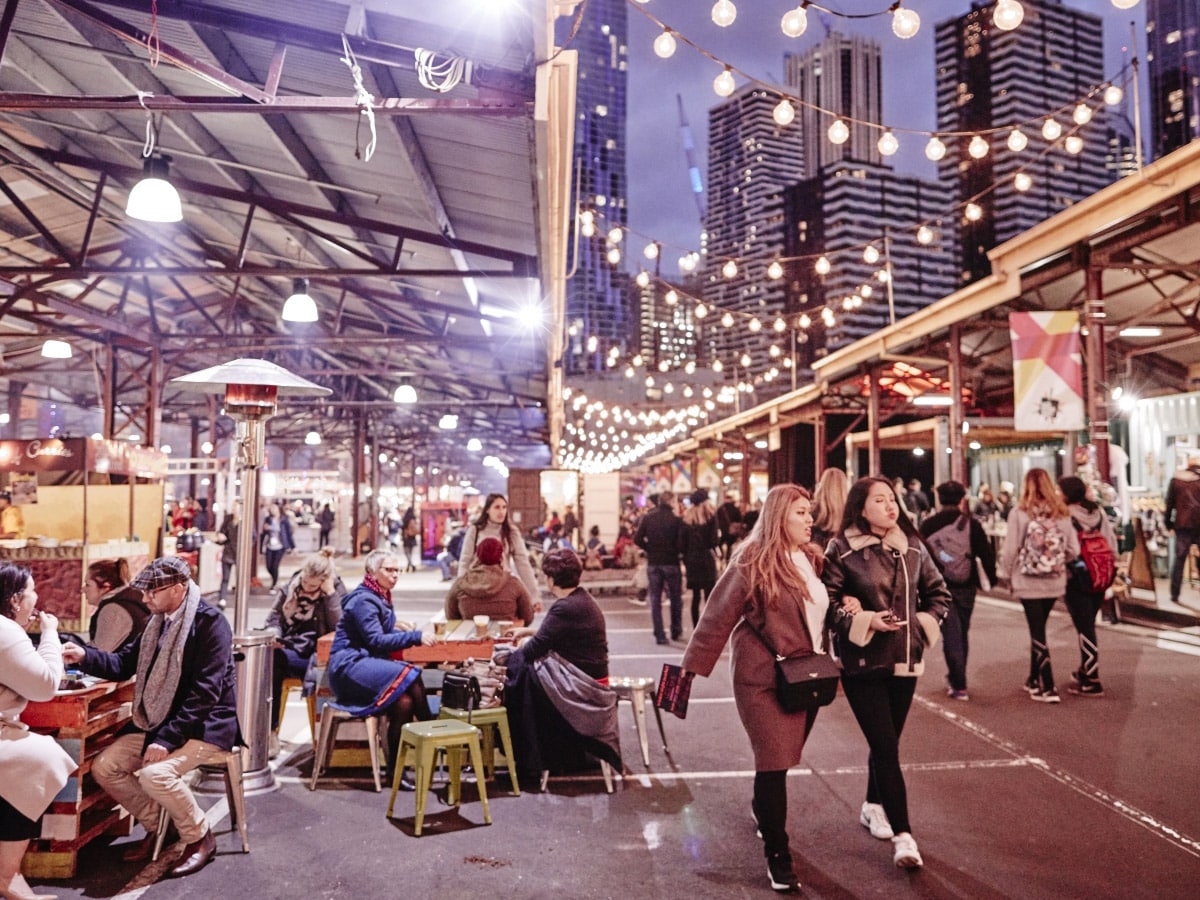 21. Take a Night Stroll through Queen Victoria Night Markets
Why not visit the Queen Victoria Night Markets for date night? There's always something new and exciting to see, with proof that cheap date ideas in Melbourne can be good. So check the calendar via the link below, find some sights, sounds and tastes and get amongst the locals without spending a lot of cash.
Address: Queen St, Melbourne VIC 3000
Hours: Wednesdays 5 pm-10 pm
Prices: Free
What We Like: There's nothing more 'Melbourne romantic' than a trip to the market of markets. Try cuisines from worldly places, experience the chilly Melbourne winter, pack your beanies and warm clothes, or hold hands? It's a romantic and subtle nod to old-school dating in the city.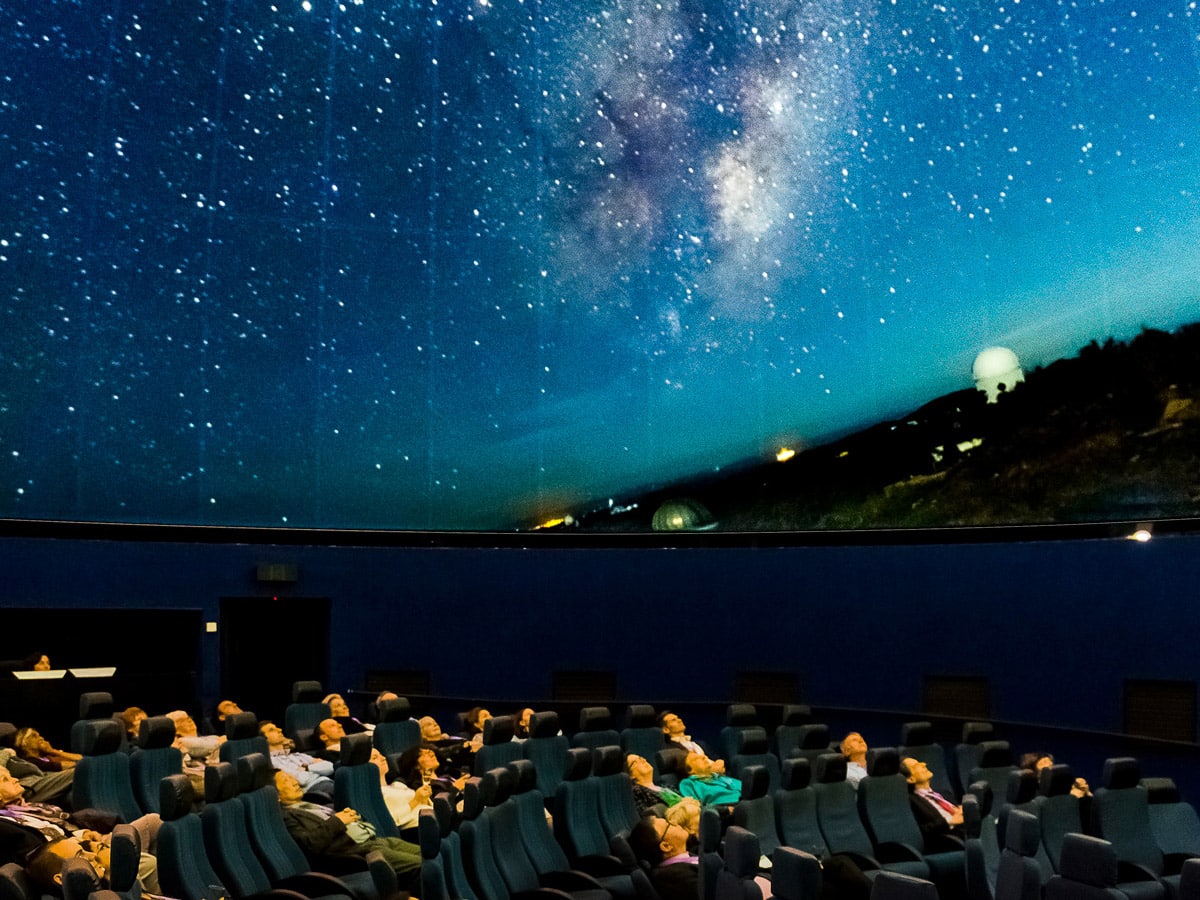 22. Gaze at the Stars at Melbourne Planetarium
Recline under the stars at this romantic date night idea in Melbourne. The Planetarium is a simulated night sky where you can learn the wonders of the stars for a cute date in Melbourne. They're more advanced than you recall from school trips and offer a uniquely immersive environment.
Address: 2 Booker St, Spotswood, VIC 3015
Hours: Mon-Sun 10 am-4:30 pm
Phone: 03 9252 2300
Prices: $20 per person for a full dome experience
What We Like: Watch stars glow in the dark and planets spin around you. The planetarium is like an adult magic show and is perfect for a particular date night where the night sky will act as your guide, transporting you from the southern hemisphere and past the atmosphere of your home world.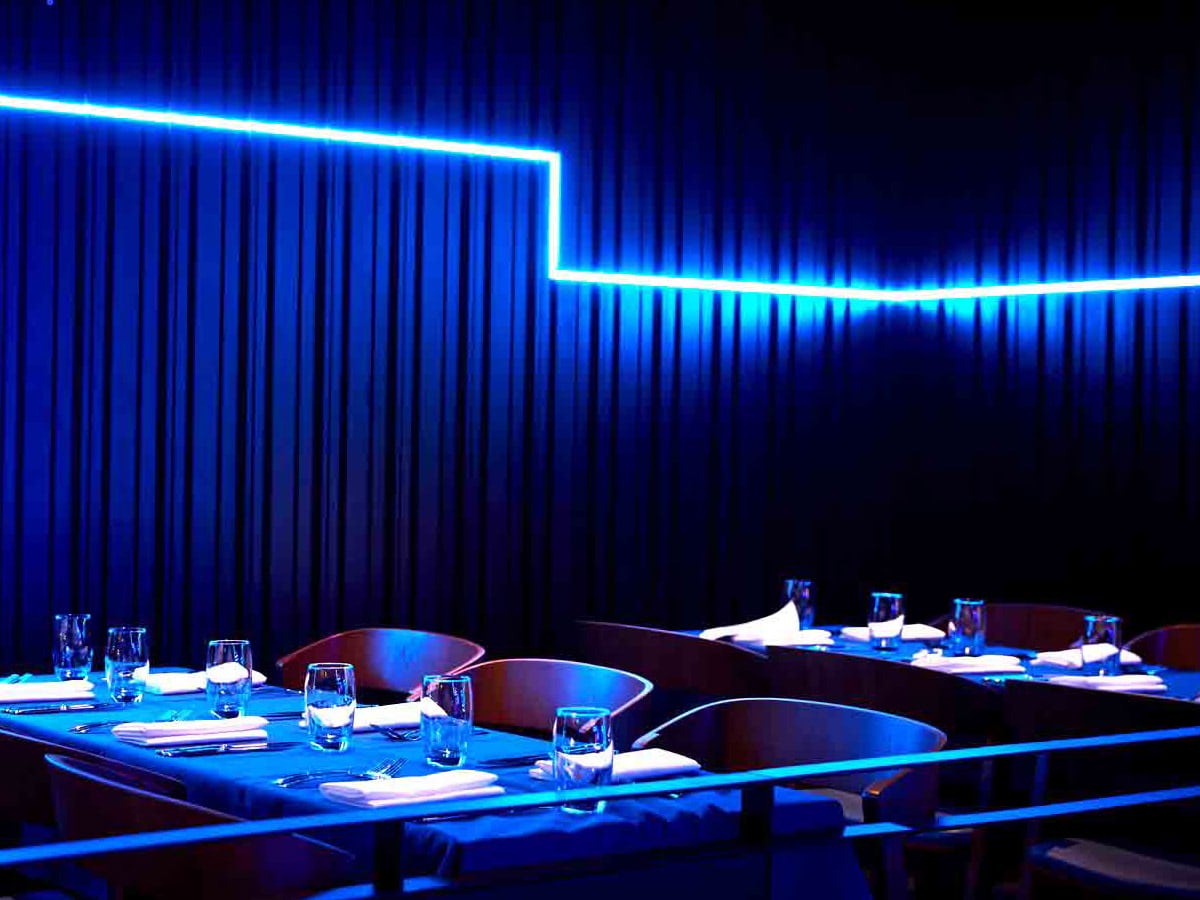 23. Tap your Feet to Jazz at Bird's Basement
Explore the world of jazz for some swingin' live music. The first-class jazz venue offers international and homegrown music talent to delight your ears and have you clicking your fingers and shuffling your feet. This date night will take you on a musical journey that will feed the soul and nourish the senses. Any date who doesn't like jazz cannot be trusted, so take this as a great opportunity to uncover any red flags that may be before you.
Address: 11 Singers Lane, Melbourne VIC 3000
Hours: Fri-Sat 6 pm-12 am
Email: [email protected]
Prices: Depending on what show you catch the prices will all differ, however, they can start at $39 + a booking fee
What We Like: If there were ever an open love letter to Jazz, it would have been written here. What could be better than live music, over one hundred cocktail choices and food inspired by Middle Eastern and Greek cuisines?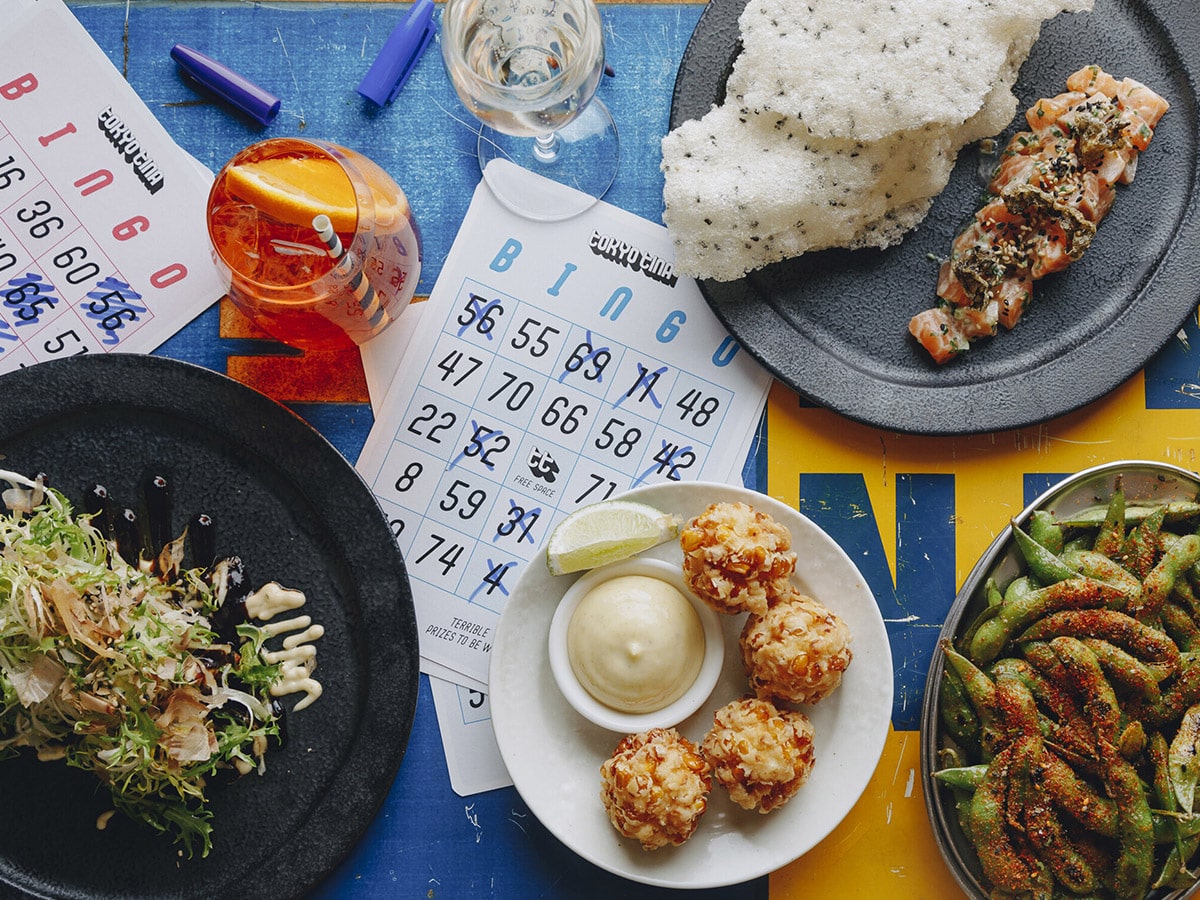 24. Bingo and Karaoke at Tokyo Tina
Switch things up with some bingo and brunch at Tokyo Tina's Bingo Academy. Get a bottomless boozy brunch plus bingo every Saturday from 1 pm till 3 pm, or belt out some tunes at the private karaoke rooms. The bingo and karaoke keeps things fast-paced while the brunch allows you to kick-back and make some conversation.
Address: 66A Chapel Street, Windsor, VIC 3181
Phone: +61 3 9525 2774
Hours: Sun-Thu 12 pm-10 pm, Fri-Sat 12 pm-12 am
Prices: If you want to stay for bingo you'll need to choose from one of two options, the $55 per person food only menu or the $79 per person bottomless booze and food menu.
What We Like: Between the 2 activities and food, Tokyo Tina strikes a perfect balance between light-hearted fun and a nice meal.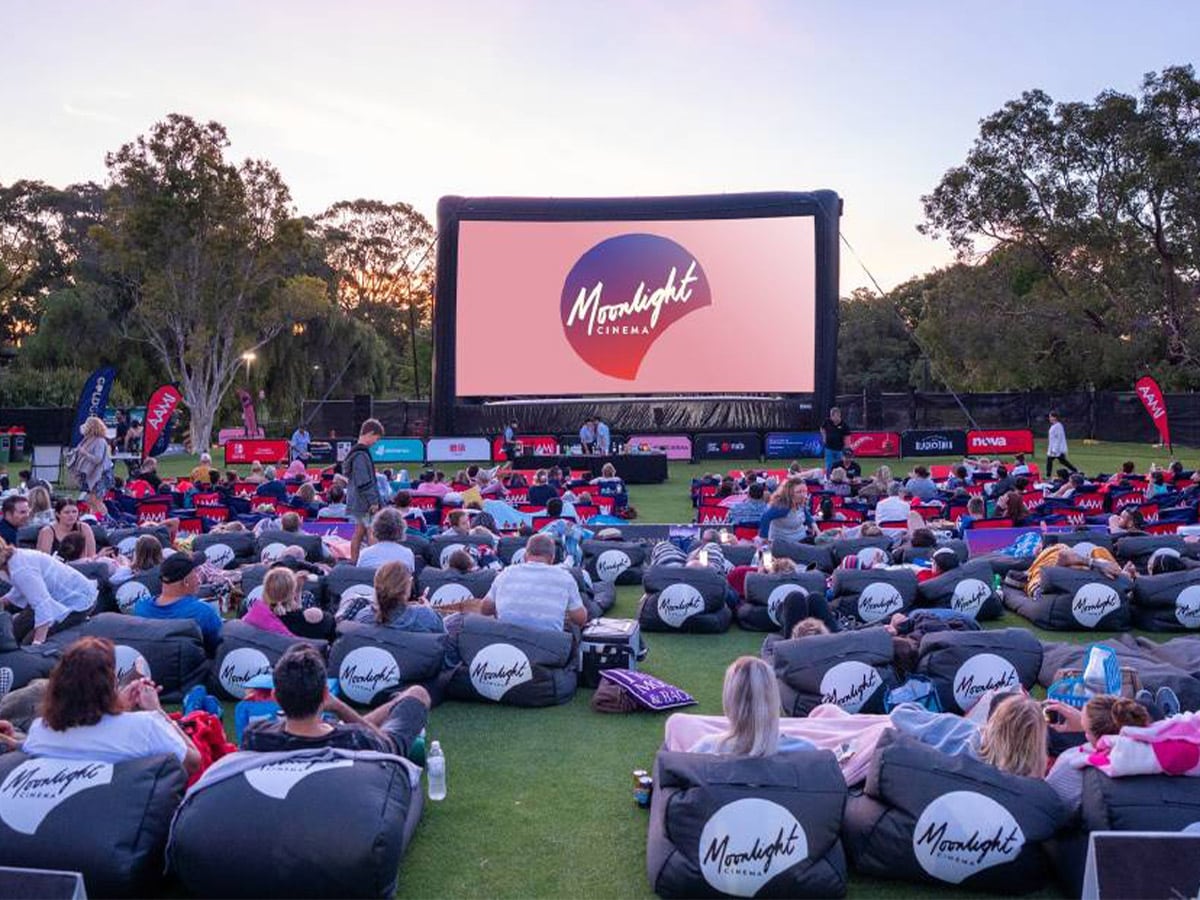 25. Watch a Movie at the Moonlight Cinema in the Royal Botanical Gardens
Possibly one of the best spots for a picnic in Melbourne is the Royal Botanical Gardens, and during the summer months, it is the perfect open-air cinema in the city. There's unbelievable flora and fauna, beautiful greenery, an Ornamental Lake and flowery scents making this one of the most romantic date nights you can organise. If you want to recreate the scene from The Notebook, you can even go looking for your date among the many bean bags in the Royal Botanical Gardens, as the Moonlight Cinema is the perfect night. The Moonlight Cinema opens on the 1st of December this year, and it books out fast. You can book your tickets online to prevent any disappointment.
Address: Birdwood Ave, South Yarra, VIC 3141
Phone: +61 3 9252 2429 or +61 3 9252 2300
Prices: A limited number of Bean Beds are available for hire at the venue for $10
What We Like: It's an old-school date perfect for romance, summer nights by the Ornamental Lake and clear skies.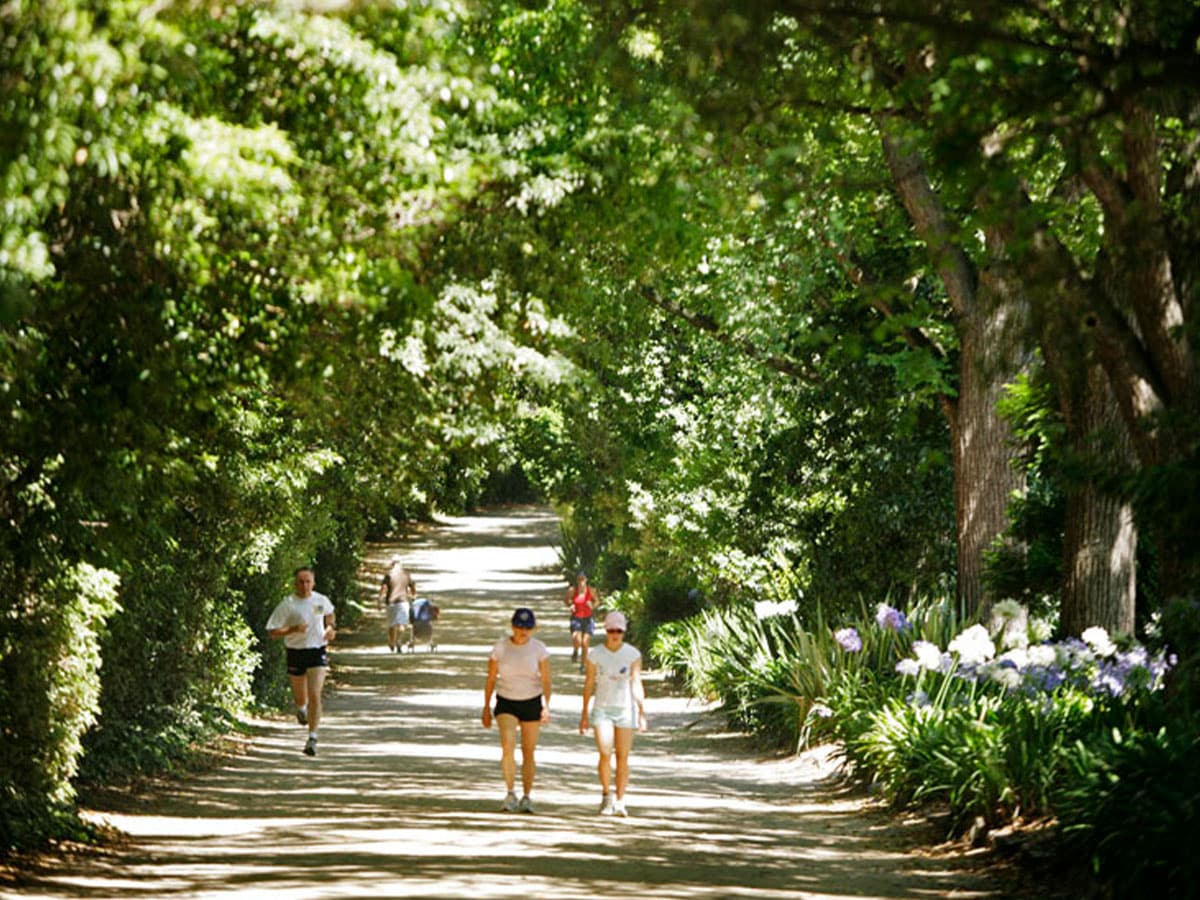 26. Go for a Walk Along the Tan Track
Affectionately known as the tan track, the track was constructed in the early 1900s as a horse-riding track but is now a lovely spot for a jog or stroll. It was one of the most popular date ideas during the lockdown, and plenty of couples together now started with a walk around the tan. A tan track walk is a fantastic date if you're on dating apps like Hinge and Bumble. It's non-invasive, easy to organise and not severe enough to scare your special someone away. Be sure to grab a coffee from the Gilson or have a drink at the Botanical Hotel after, it should all go as you have planned.
Address: Birdwood Ave, South Yarra, VIC 3141
Distance: 3.8km track
Hours: The beauty of this is it never closes.
What We Like: An active date made better by excellent cafes nearby the tan track and famous restaurants like the Botanical Hotel and Scott Pickett's Matilda.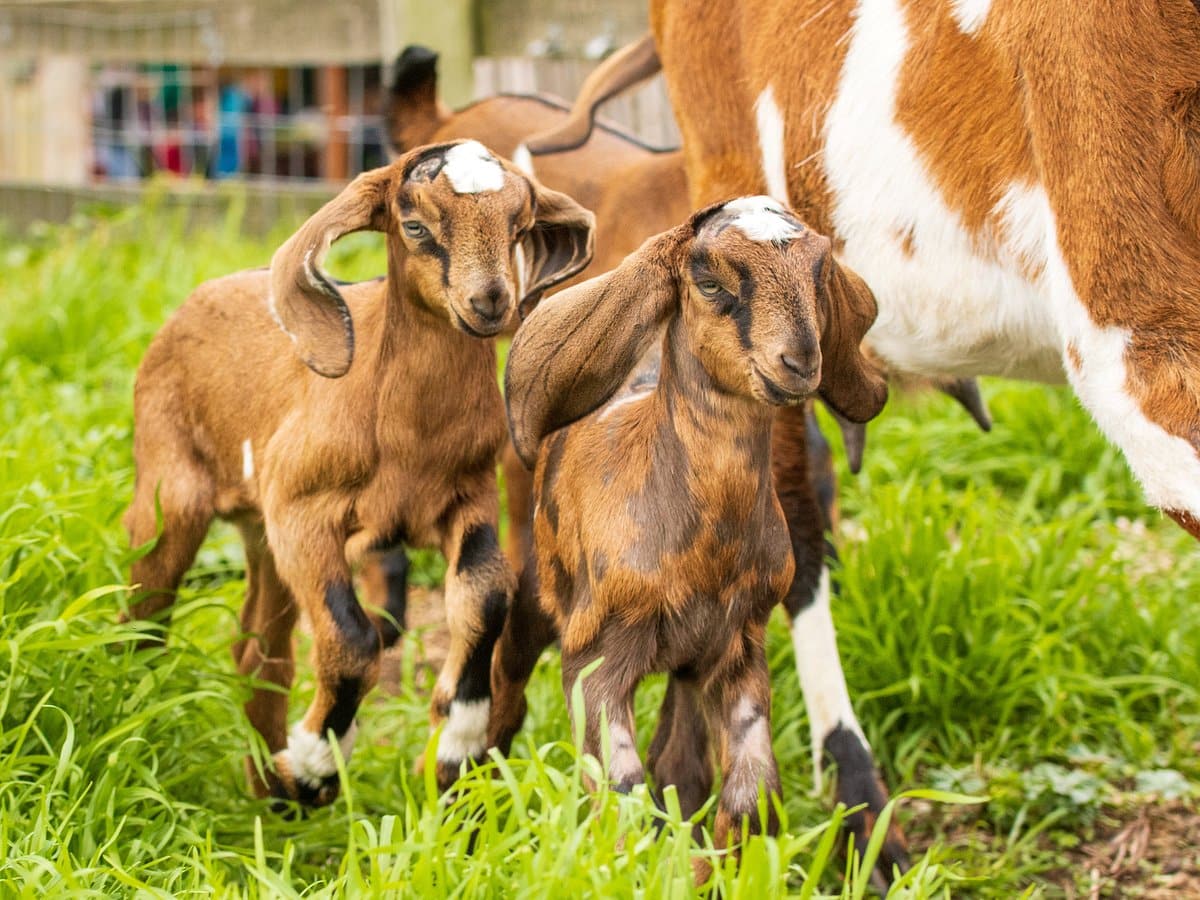 27. Get Close to Furry Farm Animals at the Collingwood Children's Farm
Get out of the city and cosy to some furry farm animals at the Collingwood Children's Farm. It's always good to get away from the CBD and de-stress by playing with some sweet little farm animals that are sure to melt your date's heart. Visit the Farm cafe for fresh espresso shots or a hot almond cappuccino; who knows it may warm up more than your belly. Collingwood Farm is indeed targeted at kids, but who wouldn't love getting up close to cute animals on a date?
Address: 18 Heliers Streets, Abbotsford, VIC 3067
Phone: +61 3 9417 5806
Hours: Farm 9:15 am-4:45 pm, Farm Cafe 9 am-4 pm
Prices: $17 per person
What We Like: Unique date ideas like this one are great for animal lovers and those who enjoy coffee dates. It's like the perfect animal adventure park that's local and is one of the fun things you can do that isn't too far or too expensive.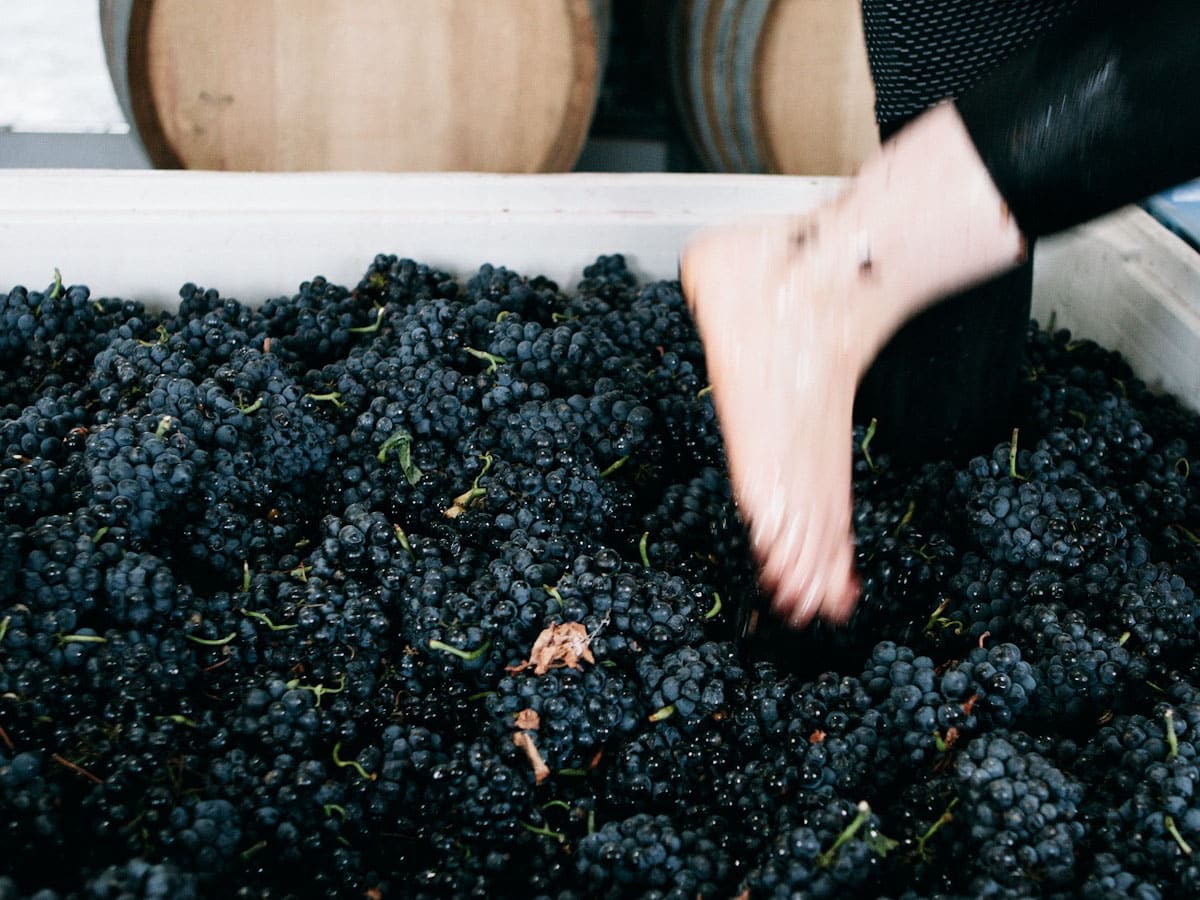 28. Grape Stomping at Noisy Ritual
A haven for food, music and booze lovers, Noisy Ritual, will give you that truly unique date night. Make your wine from grape to glass and even do some grape stomping along the way. The wine stomping is only available via membership (Feb – April of each year), but otherwise, they're open as a bar from Thursday, Friday, and Sundays if you want to pop in for some wine, cheese or a tasting flight!
Address: 249 Lygon Street, Brunswick East VIC 3057
Phone: 03 8394 2772
Hours: Thu 5 pm-10 pm, Fri 5 pm-11 pm, Sat (sometimes), Sun 1 pm-7pm
Prices: $150 Vintage wine making class
What We Like: An urban winery like Noisy Ritual provides some of the best unique date ideas in Melbourne, blending more than just wine, you'll become a specialist in all romantic things after this date, and it's all about looking forward to the next one.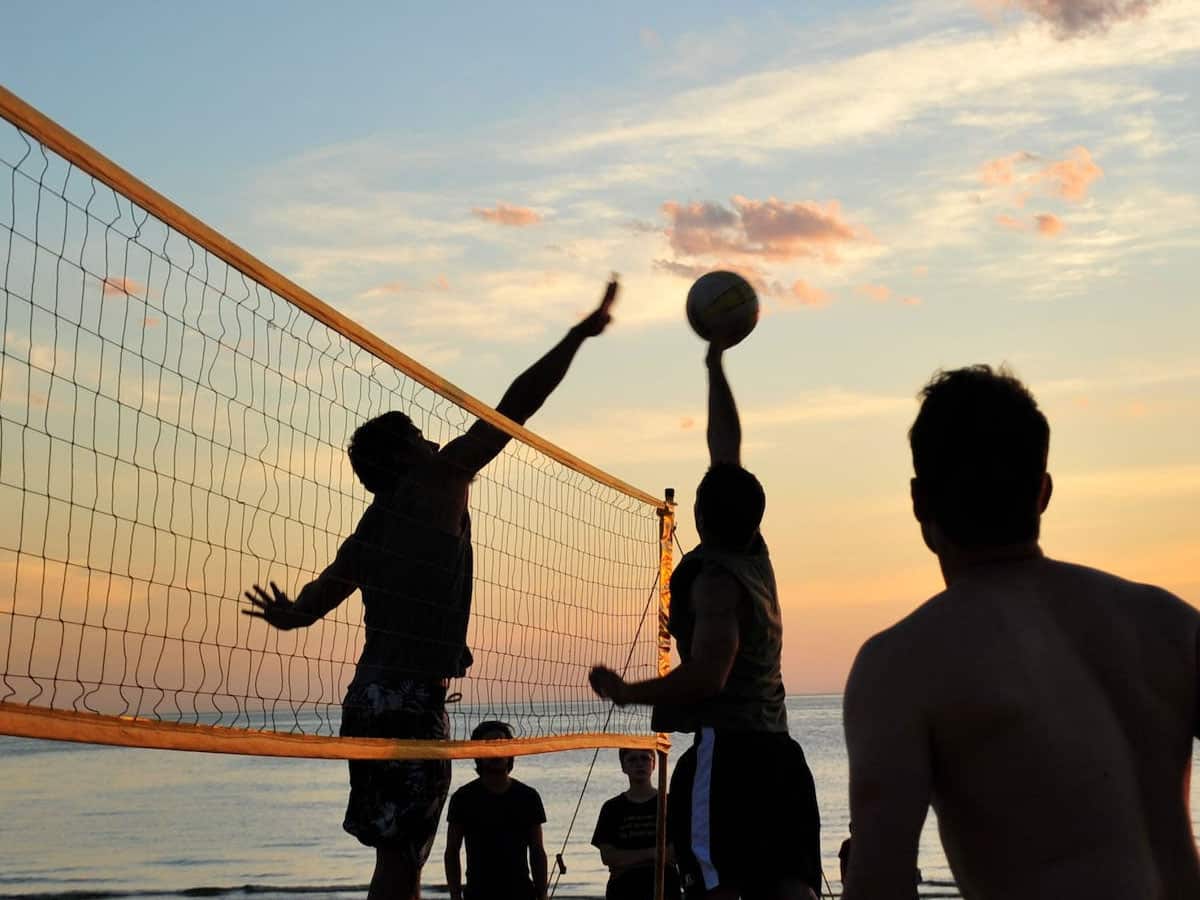 29. Play Volleyball with Republica Social Beach Volleyball, St. Kilda Beach
Jump into summer the right way with a date on the beach playing Volleyball. Every Tuesday, Wednesday and Thursday, Republica throws beach volleyball events, including pizza at the night's end and a free Corona. It's great for active couples, who have a slight competitive streak, and you don't need to find players to fill the team unless you want to.
Address: 1A-D, 10-18 Jacka Boulevard, St Kilda Sea Baths, VIC 3182
Phone: 0422 242 308. But you will need to email your details to [email protected] to register.
Hours: 6 pm – 8 pm (till sunset)
Season: Republica Social beach Volleyball runs only during daylight savings
Prices: $30 per player
What We Like: Amazing for a beach day date in summer. If you're heading to St Kilda in winter, it's beautiful for a stroll on the beach. However, you'll need to dress warm.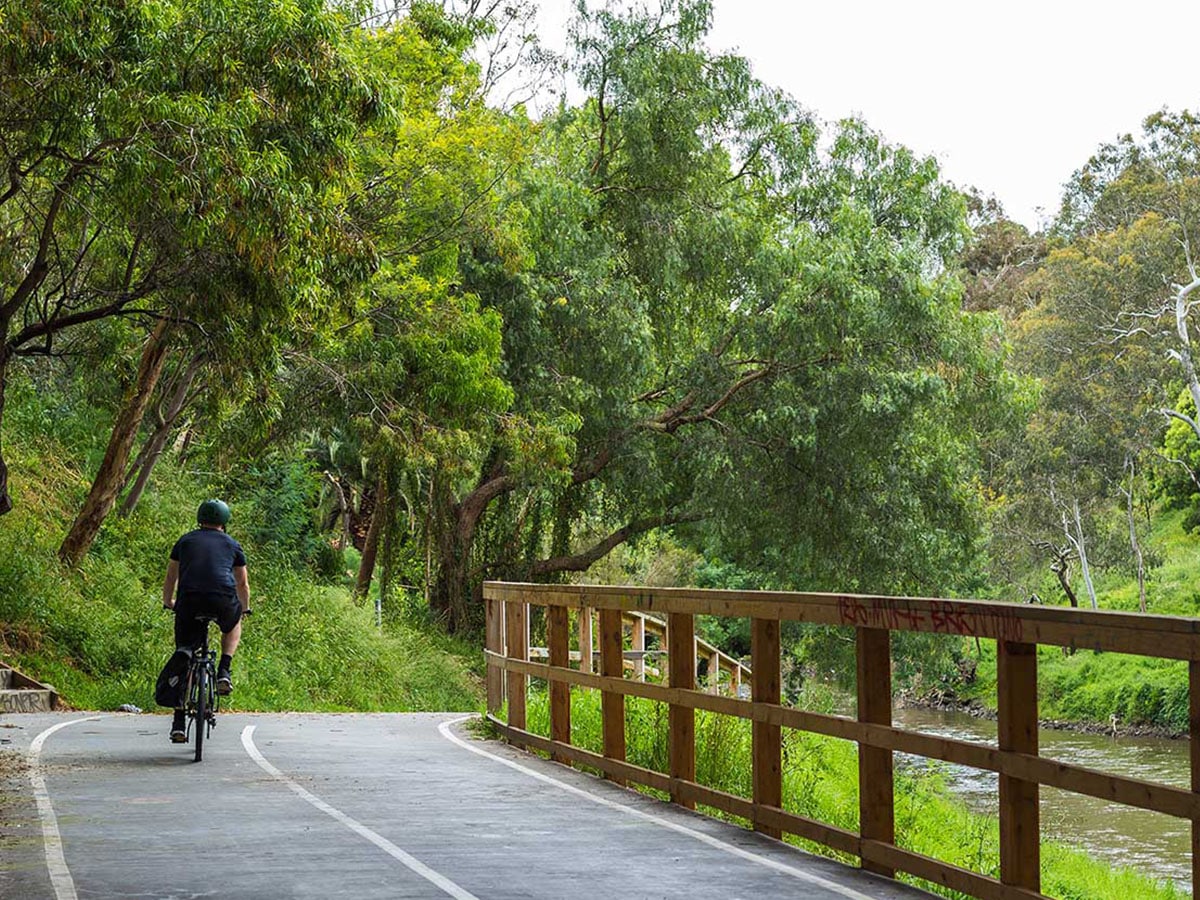 30. Take a Bike Ride along the Yarra River
Why not ride a bike around the city and learn about Melbourne's rich history and culture along the way? Blue Tongue Bike's tours follows iconic landmarks around the city. Blue Tongue Bike's guided tours are also available in a Brews n Bikes variation, where you can discover Melbourne's best craft breweries. This outing is perfect for a day time date, where you can get active during the ride and then cool down with a few pints afterwards!
Address: 20 Rebecca Walk, Melbourne VIC 3000
Prices: The Classic Tour is $99 per person and the Brews n Bikes Tour is $149 per person
Phone: +61 490 553 673
Hours: Mon-Sun 9:30 am-6 pm
What We Like: A low-maintenance date, this is ideal for active couples who like the outdoors and want get to know each other in a relaxed setting.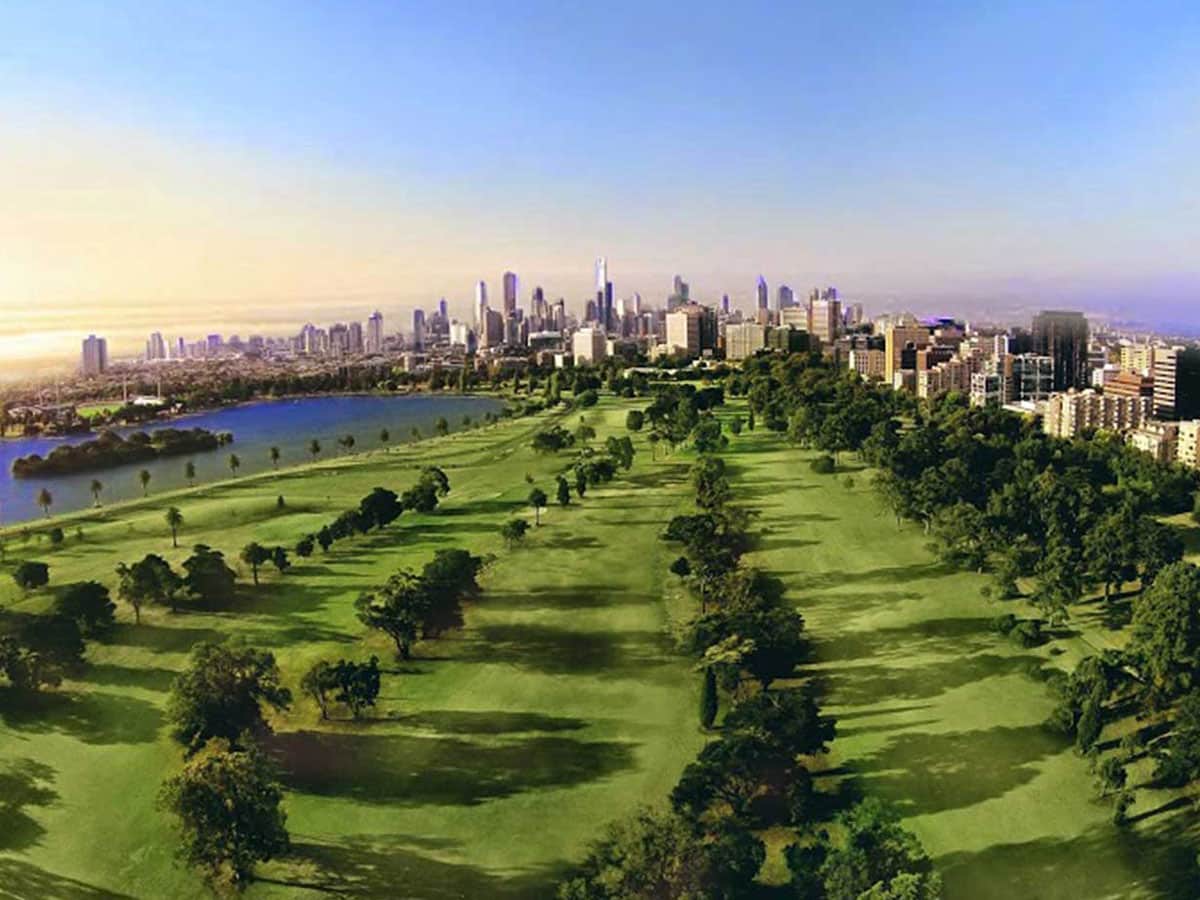 31. Hit the Driving Range at Albert Park
Hit a few balls at the Albert Park Driving Range for a sporty date during the weekend. Whether you're a seasoned golfer or a complete novice and prefer a mini golf session instead, Albert Park will care for you and your date because it's all about having fun and enjoying your time together. What makes Albert Park the perfect spot is, it's location against the stunning backdrop of Melbourne.
Address: Aughtie Dr, Albert Park VIC 3206
Phone: 03 9510 5588
Hours: Spring / Summer season from 6 pm-8 pm and Winter season from 7 am – 5:30 pm
Prices: Mini golf is $25 per player, 9 holes is $32 per player and 18 holes are $47 per player.
What We Like: Close to the Botanic Gardens and located on Albert Park Lake, you'll enjoy a beer and teeing off on a warm summer's night; just be sure to bring your Happy Gilmore swing.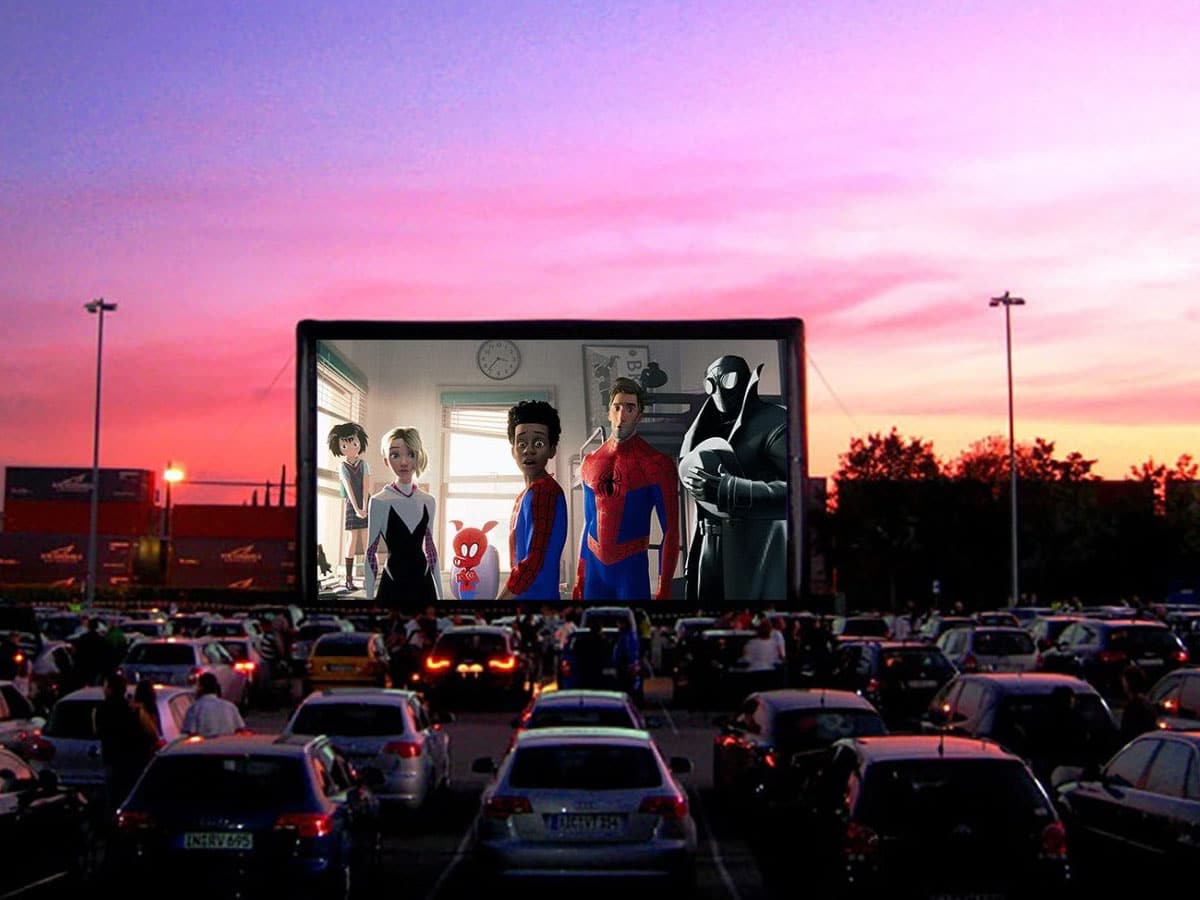 32. Catch A Drive-In Movie in Dromana Drive In
For cinema viewing done a little differently, experience a movie at Dromana Drive In. The quintessential dating go-to when you're not sure what to do but the comfort and seclusion of your car outweighs sitting in a cinema full of strangers. This cinema also has an authentic 50s style American diner so you and your partner can snack on classic nibbles during the movie.
Address: 133 Nepean Highway, Dromana, VIC 3936
Phone: +61 3 5987 2492
Hours: Opening hours are based on school holiday timings. Check their Opening Times for specific hours.
Prices: $16 per person
What We Like: There's something innately human about a drive-in movie; it's famed as the old-school heartthrob date that's fuelled love stories for centuries. Why not make a weekend of it and stay in the Mornington Peninsula?
Dromana Drive-In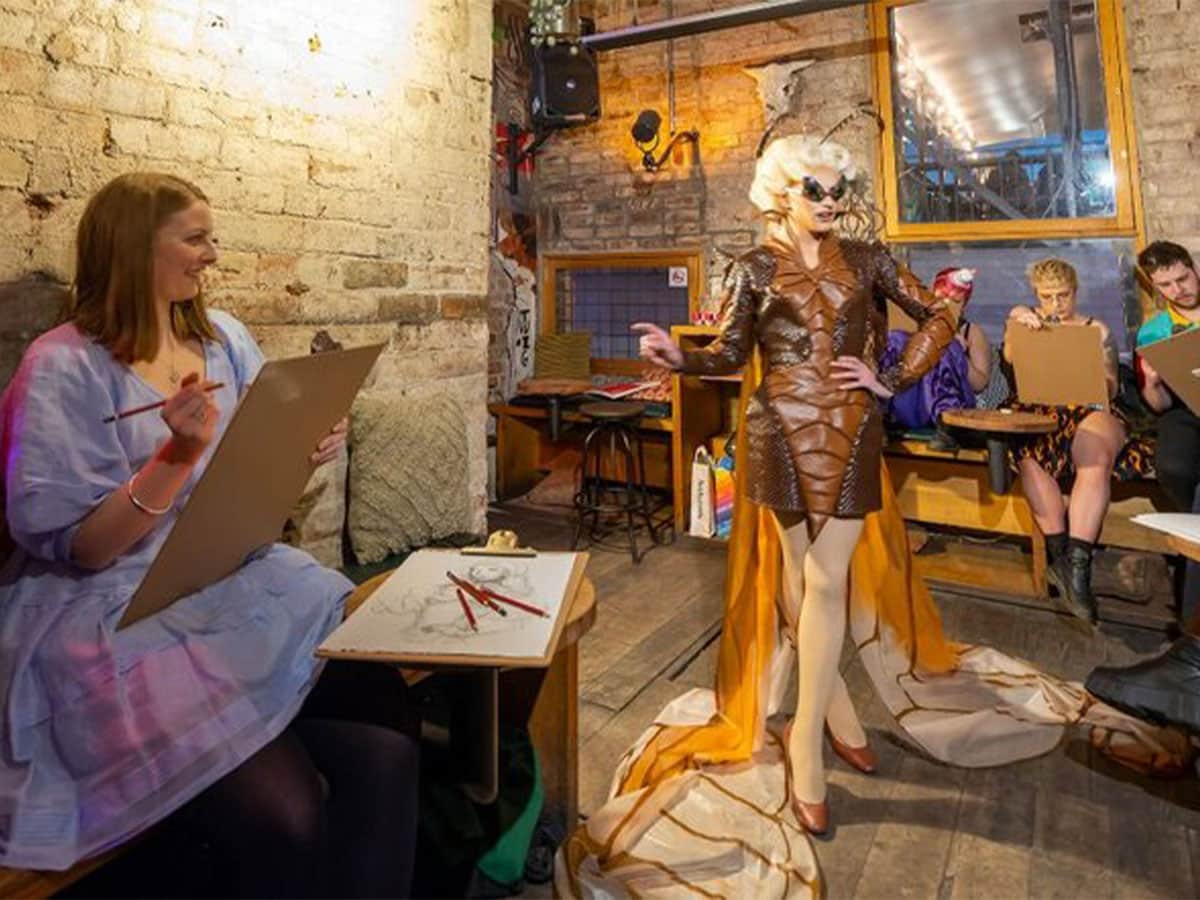 33. Imitate Life at a Drawing Class at The Butterfly Club
Try a life drawing class with Drawing Straws at The Butterfly Club on Tuesdays at 7:30 pm. The wickedly fun drawing classes have a burlesque theme, and you can continue your date by enjoying a show and a drink after your sketching session. Perfect to let loose in a fun and vibrant setting!
Address: Carson Place, Little Collins Street, Melbourne, VIC 3000
Phone: +61 3 9663 8107
Hours: Mon-Sat opens at 5:30 pm. Closing hours are dependent on the vibe.
Prices: $22 per person
What We Like: As far as date ideas go, this is one of the most enjoyable date nights you can experience when first getting to know someone. So bring your own drinks, kick back and bring your best Picasso arm.
Drawing Straws at The Butterfly Club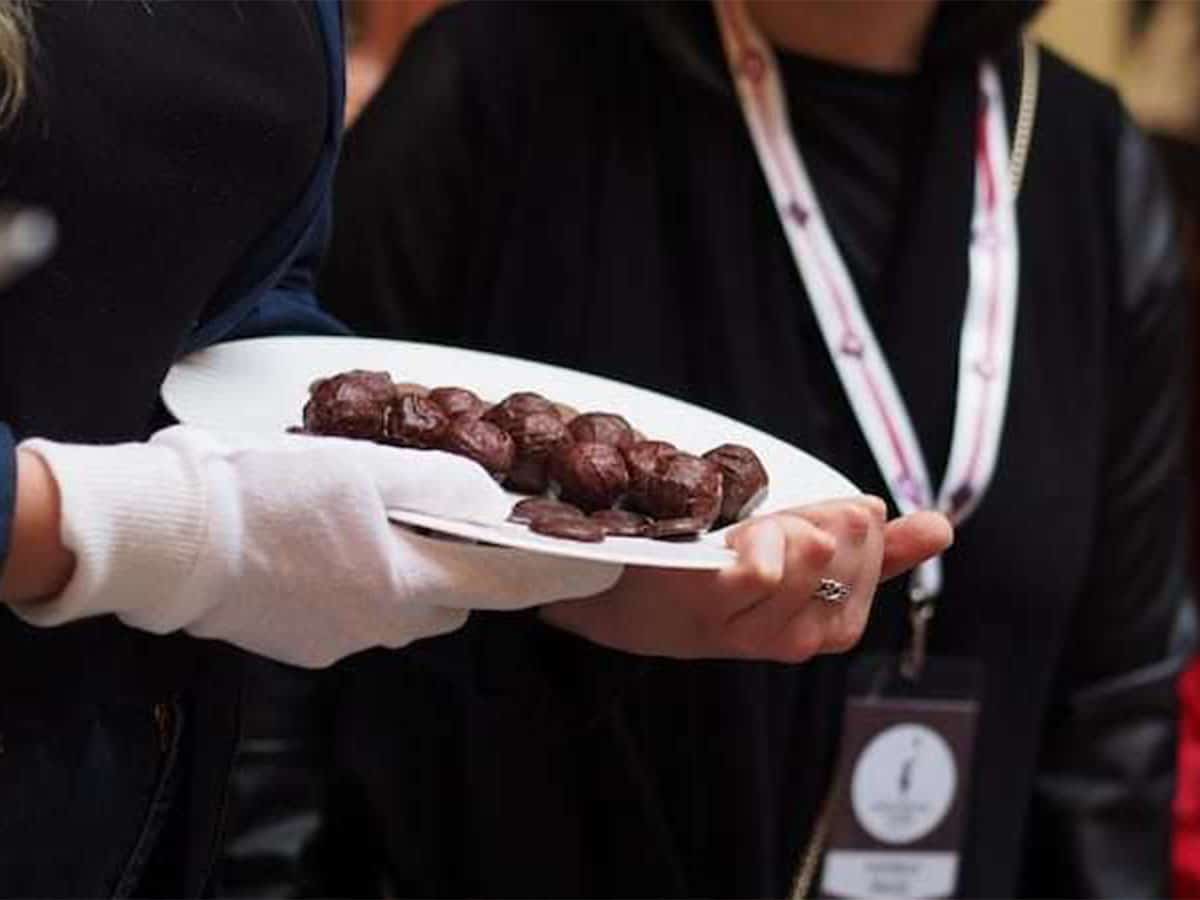 34. Go on a Chocolate Walking Tour
This is one for the chocoholics who just can't help themselves. Take a Chocolate Walking Tour for the ultimate expedition through Melbourne's secret lanes and arcades and discover Melbourne's treasured chocolatiers. Available in 2 delectable variations, Melbourne Lanes and Melbourne City, this is your chance to explore this rich city with a little bit of sweet romance.
Address: Melbourne Lanes meets outside The Block Arcade on Elizabeth Street, Block Court. Melbourne City meets outside St. Paul's Cathedral, Flinders Street.
Phone: 1300 915 566
Hours: Melbourne Lanes is a 3-hour tour starting at 10:45 am. Melbourne City is a 2-hour tour starting at 2:15 pm.
Prices: Melbourne Lanes is for $99 per person and Melbourne City is for $59 per person.
What We Like: A unique date idea perfect for a sweet tooth and backed by romance and chocolate, and those two make a potent combination when put together.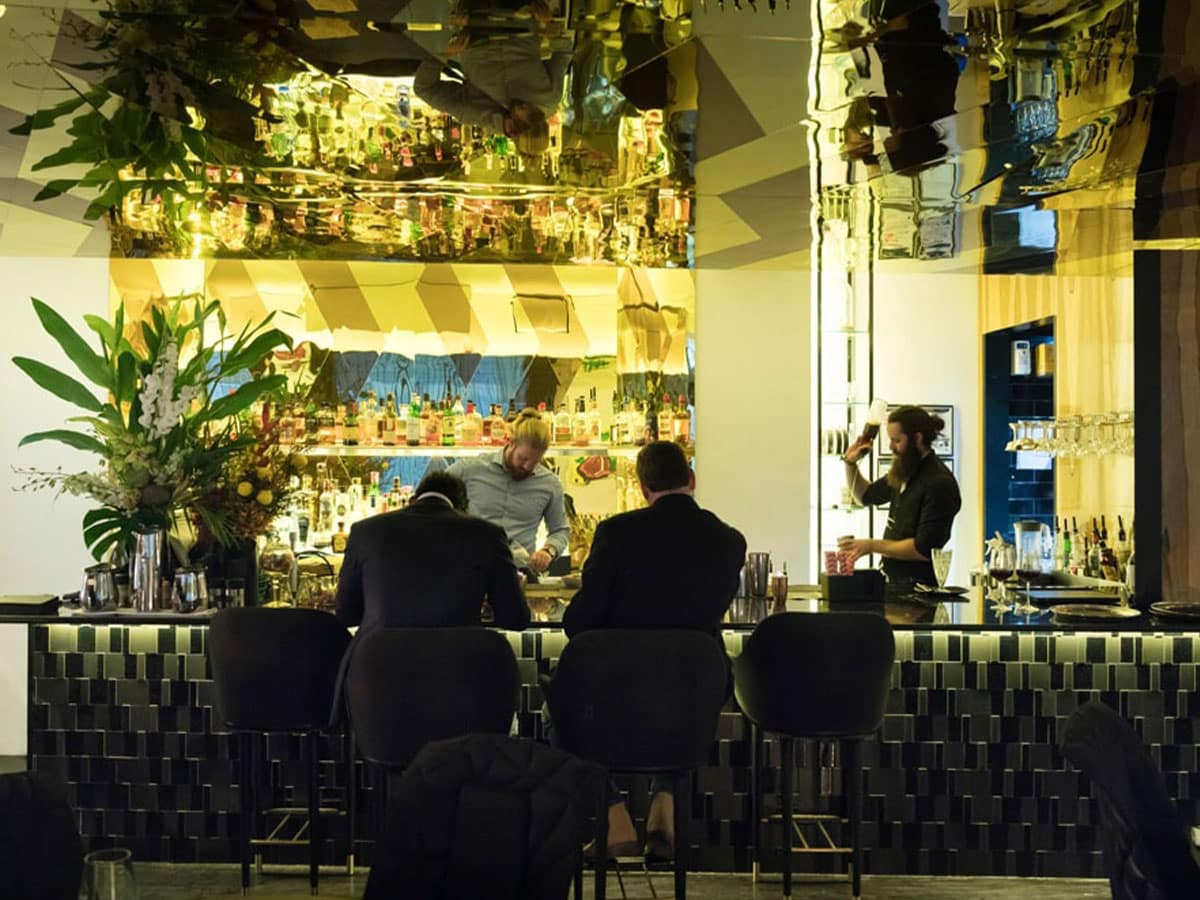 35. Go for Dessert at Om Nom Dessert Bar at the Adelphi Hotel
Check out the world's first dessert hotel with your date at the iconic Adelphi Hotel. It's the perfect place for sweet tooth's to taste the luxury desserts from Om Nom. Grab a cocktail and try some of the delicate and delectable desserts.
Address: 187 Flinders Lane, Melbourne VIC 3000
Phone: +61 3 8080 8827
Hours: Wednesday-Thursday 5 pm-10 pm, Friday 4 pm-11 pm, Saturday 12 pm -10 pm and Sunday High Tea from 12:30 pm-2:30 pm
Prices: There's no entry fee, however, there is Happy Hour on selected food and drink on Wednesdays
What We Like: The Adelphi Hotel is a perfect date idea backed by many with a sweet tooth and a love for cocktails. We love the desserts from Om Nom and know you'll enjoy a laidback and dessert-themed date.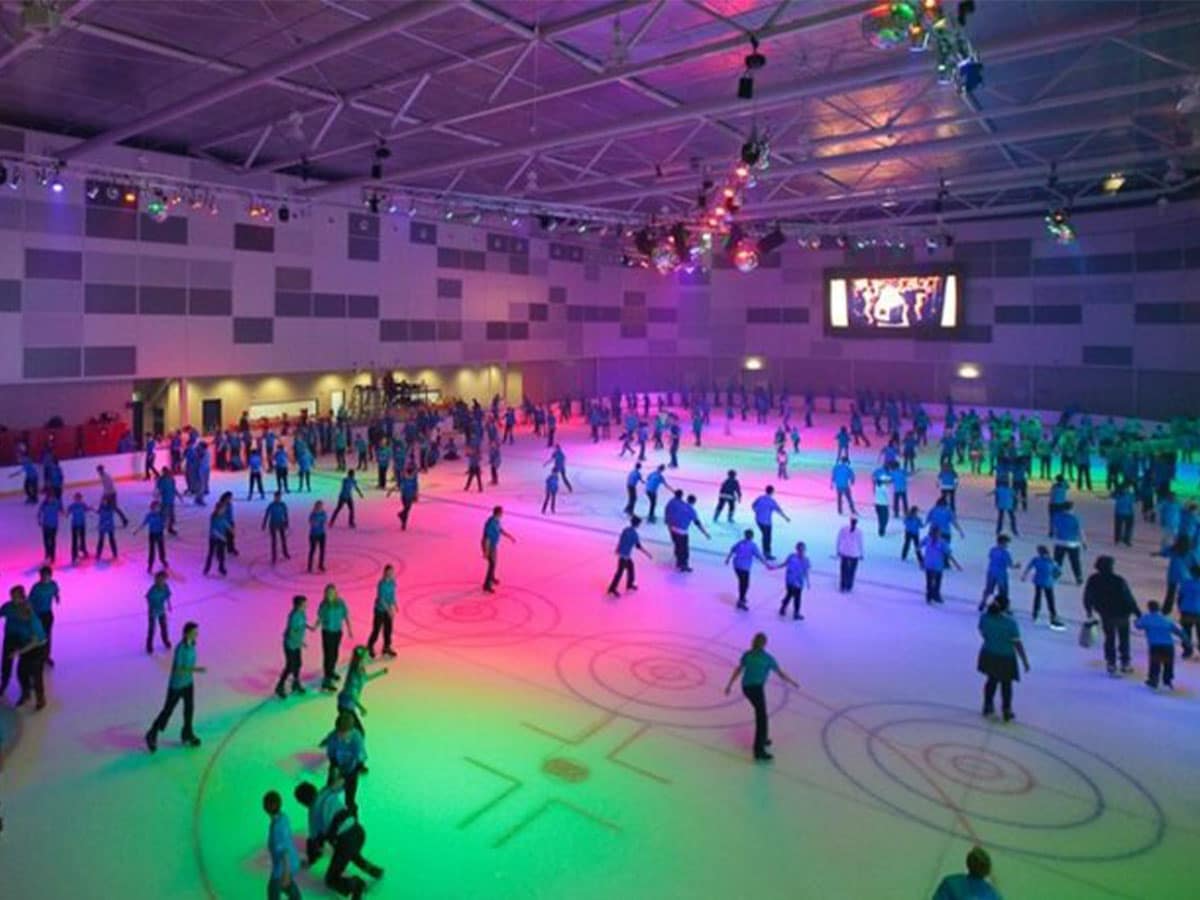 36. Ice Skating at O'Brien Icehouse
Are you looking for fun all year round? Go Ice Skating with your date and dress snugly and hit the ice. As far as date ideas go, Ice skating in Melbourne is a chilly first date. After you've worked up an appetite from all the skating, head to the café for warm drinks and snacks.
Address: 105 Pearl River Road, Docklands VIC 3008
Phone: +61 1300 756 699
Hours: Sun-Tue & Thu 9 am-10 pm, Fri-Sat 9 am-11 pm
Prices: $30 for one hour including skate hire, for online bookings.
What We Like: It's fun and humbling, and there's nothing more attractive than someone who can make fun of themselves and doesn't take themselves too seriously.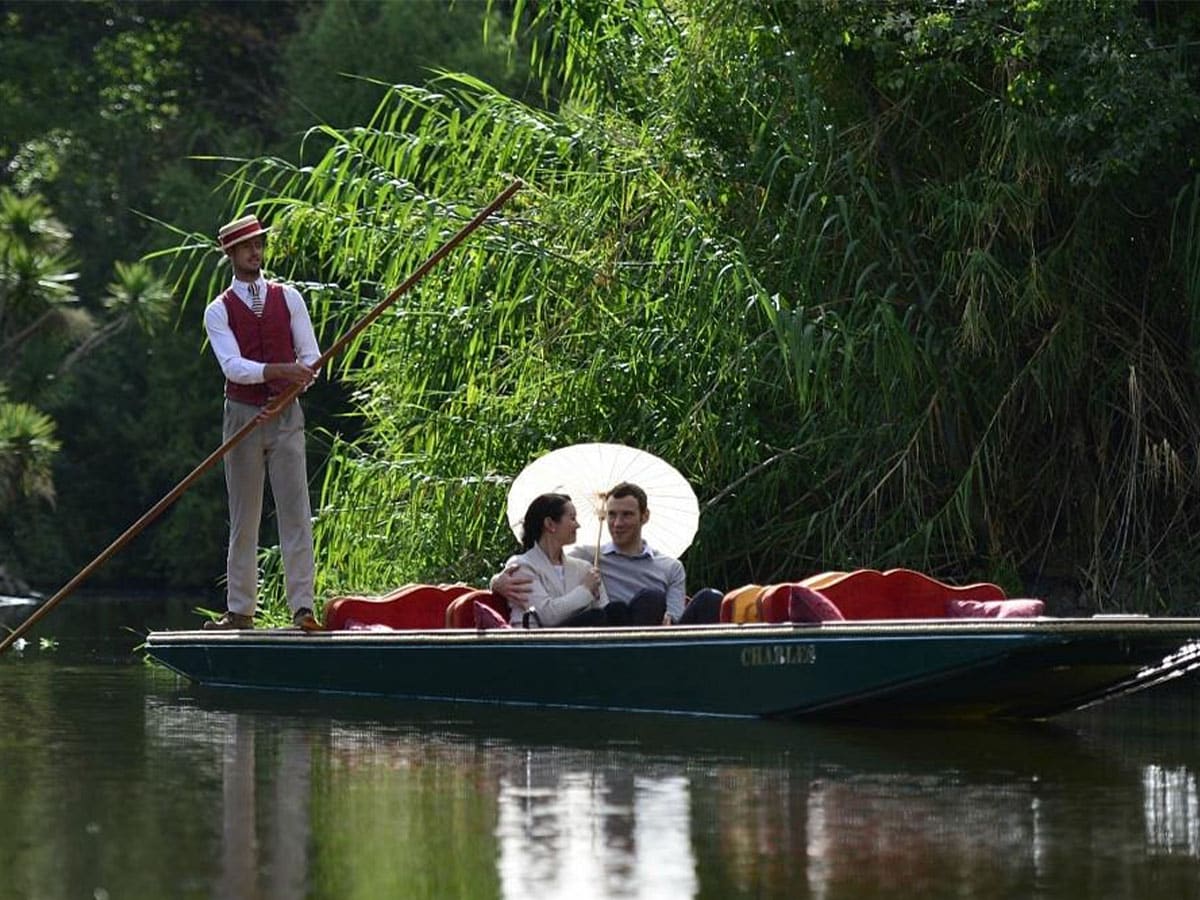 37. Go Cruising with Punting on the Lake
Punting On The Lake offers the perfect spot for a serene cruise with your love around the islands of beautiful Ornamental Lake in the scenic Royal Botanic Gardens. Take in the views of some of the finest gardens while the professional punter gives you a bit of a history lesson. Head for a walk after to get those legs going, or go for wine. 
Address: Corner Alexandra Avenue & Anderson Street, South Yarra VIC 3004
Phone: +61 481 455 410
Hours: September-May 10:30 am-5 pm
Prices: Up to 3 Adults: $75 boat for 30 minutes on a private guided boat tour
What We Like: Romantic date ideas like cruising on a wooden boat in the Botanic Gardens makes for a unique date that can set up another date after, on the same day.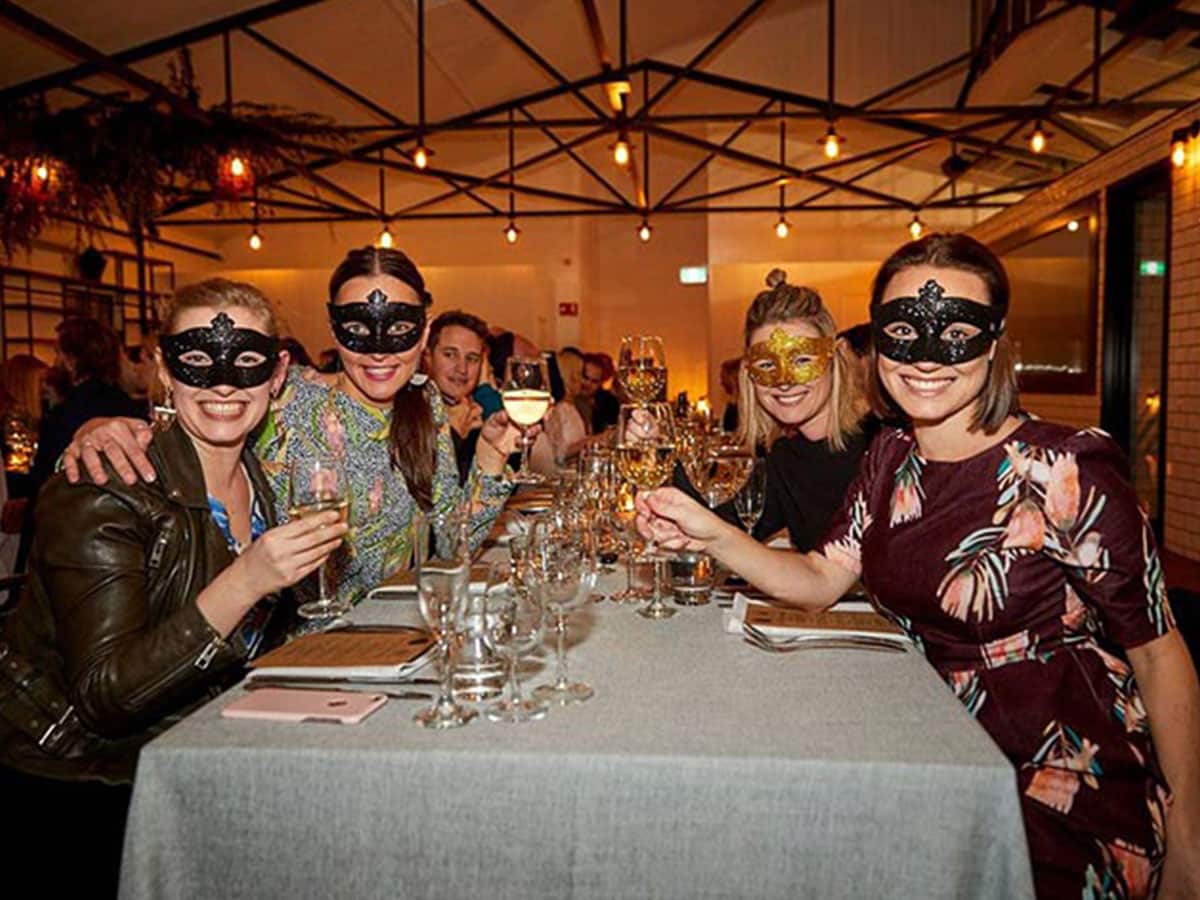 38. Join the Party at Secret Foodies
Join a Secret Foodies dinner party for a culinary adventure. Buy tickets for a themed dinner party, and you'll be given a secret location via text messages. Meet new people, taste amazing unique foods and discover new places around the city. Perfect for an adventurous couple who want to add a little mystery to the date.
Address: Secret Location, Melbourne VIC 3000
Phone: +61 422 667 488
Prices: Will vary based on what package you choose.
What We Like: This is one of the most Melbourne ideas we have ever found. Eat around Melbourne and discover the city's food scene, especially if your date is a foodie.
Secret Foodies
39. Take a Salsa Dancing Lesson
Hit the dance floor with the Salsa Foundation. This fun dating idea will work all year round in Melbourne. It's easy and accessible, meaning you'll learn salsa dancing, and do you want the best news of all? The beginner's salsa class is free.
Address: 600 Little Collins Street, Melbourne VIC 3000
Phone: +61 400 933 285
Hours: Mon-Thu 6 pm-10pm, Sun 3 pm-6pm
Prices: A complimentary beginner's class will prepare you for a private lesson valued at $90
What We Like: The Salsa Foundation knows how to spice your night up and bring out your inner artist. To shake things up, you may receive a free beginners class so you and your date can learn the art of 'the Salsa'.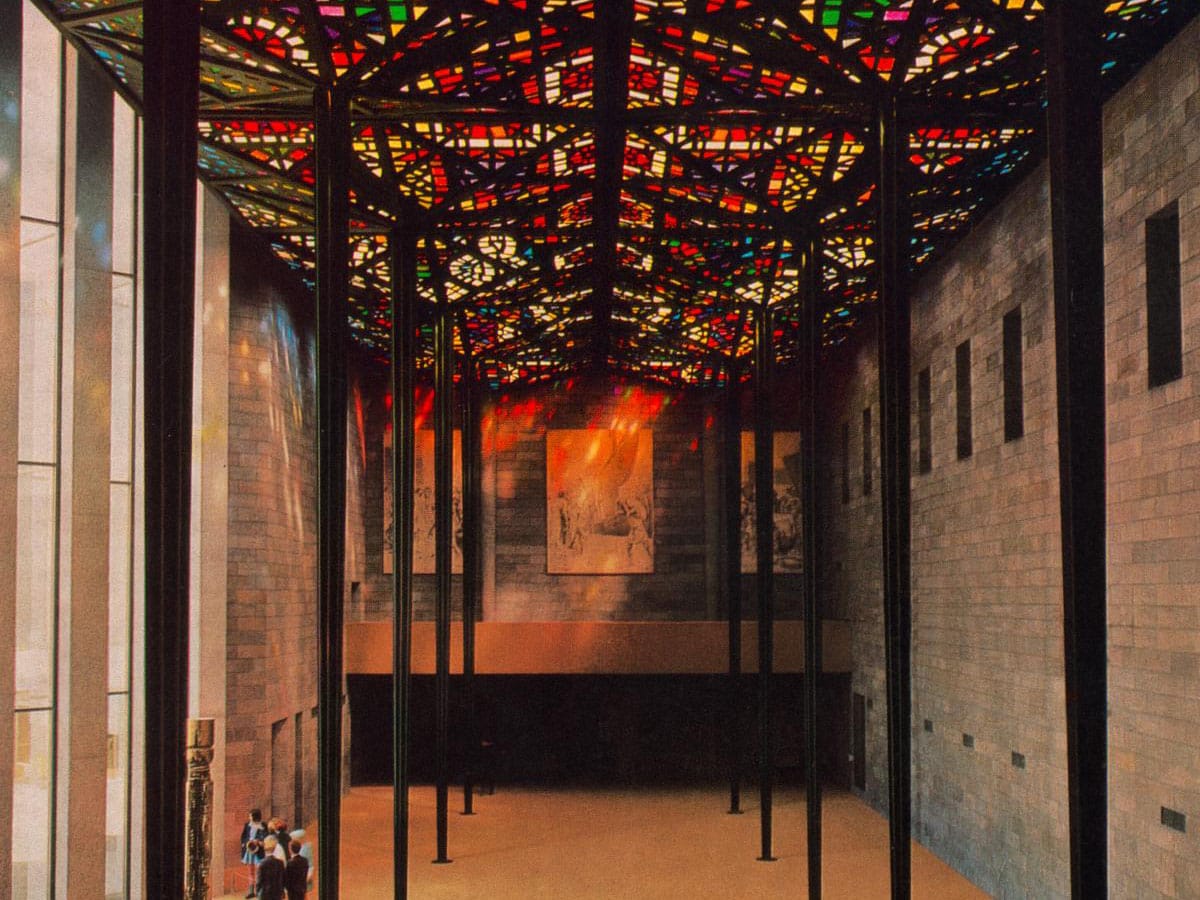 40. Visit An Art Gallery
Fewer date ideas are cooler than art gazing at the National Gallery of Victoria. There's a huge selection of exhibitions both from home and abroad over two separate buildings, the NGV International on St Kilda Road and the NGV Australia in Federation Square. You're in the city's heart and may even choose to visit the Melbourne Museum.
Locations:
NGV International, 180 St Kilda Road, Melbourne VIC 3000
NGV Australia, Federation Square, Melbourne VIC 3000
Phone: +61 3 8620 2222
Hours: Daily 10 am-5 pm
Prices: Free
What We Like: Visiting art galleries means it's usually free and a cheap option for a date that still shows thought and care. Those who visit Melbourne tend to head to Federation Square, so if you're from out of town, bring your date to the centre of the city for a night of exploration and fun.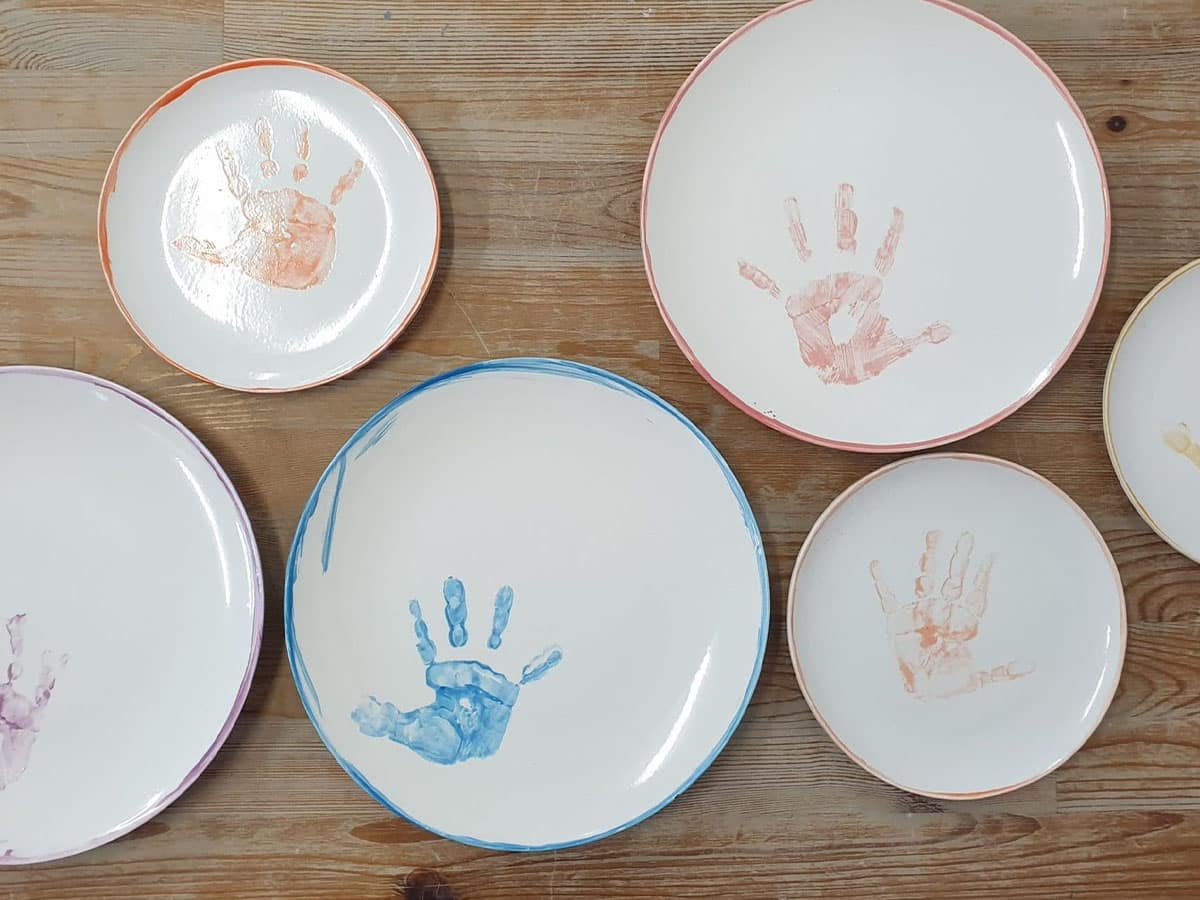 41. Paint Pots at Glaze It Studio
Paint some pots at Glaze It Studio for a quirky dating idea in Melbourne. The light-filled studio offers a creative and fun experience decorating ceramics and expressing your artistic side. Staff will guide you through the process, and you'll have a little keepsake to take home.
Address: 328A Glen Eira Road, Elsternwick VIC 3185
Phone: +61 433 723 433
Prices: Vary depending on the package you choose.
What We Like: While you aren't hitting dance floors, this pot painting activity is another way to impress your date without shaking your hips. Instead, channel your inner artist and show them what you've got.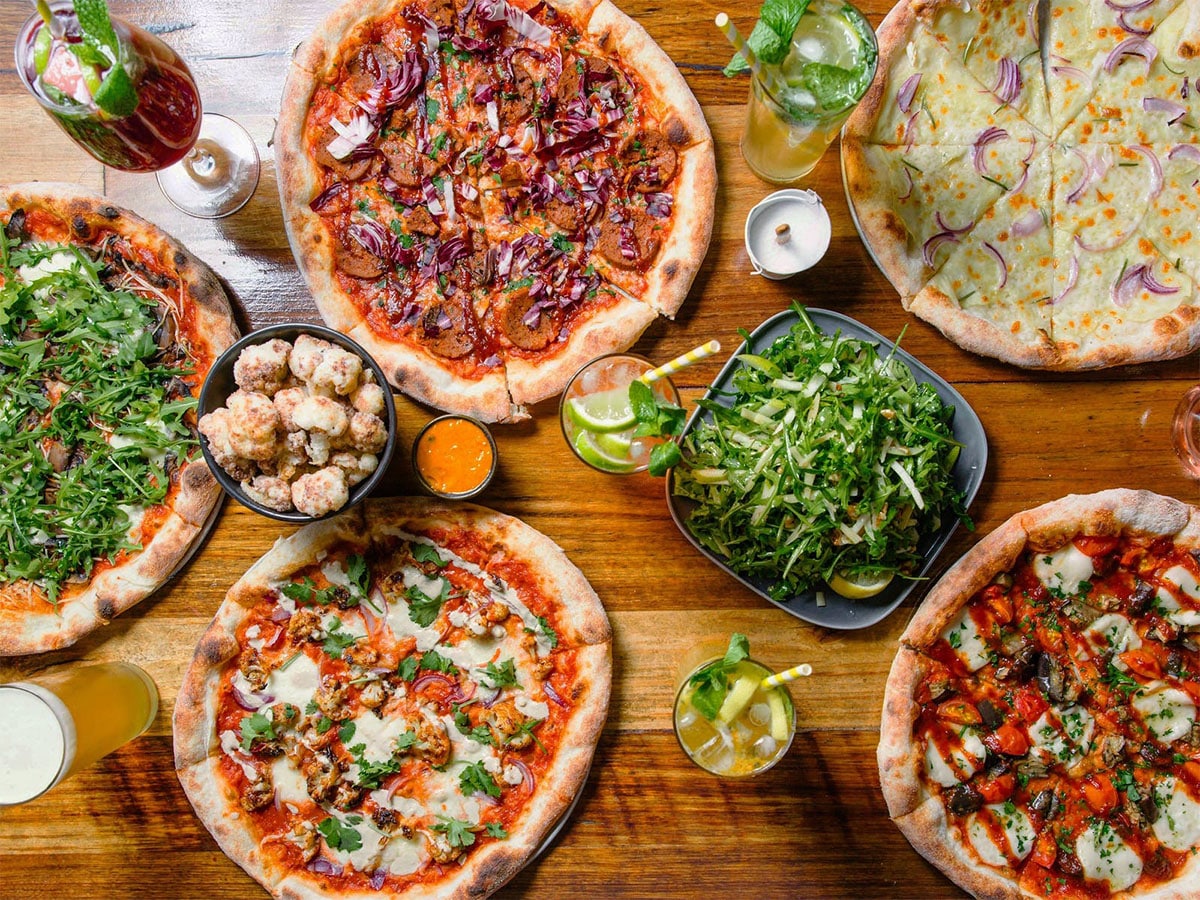 42. Eat Pizza in the Park
Small Print Pizza offers free deliveries to Victoria Gardens dog park. All you have to do is order, grab a rug and head to the park across the street. This is a friendly and easy date in Melbourne, as the guys at Small Print Pizza deliver you a tasty hot meal while you and your date relax and soak up the sun.
Address: 388 High Street, Windsor, VIC 3181
Phone: +61 3 9533 8402
Prices: Pizza prices vary however, they start at $23
Hours: Mon 5 pm-9 pm, Tue-Thu & Sat 4 pm-9:30 pm, Fri 4 pm-10pm, Sun 4 pm-9pm
What We Like: It's pizza, everyone loves pizza. Break the ice with the age-old debate of pineapple on pizza.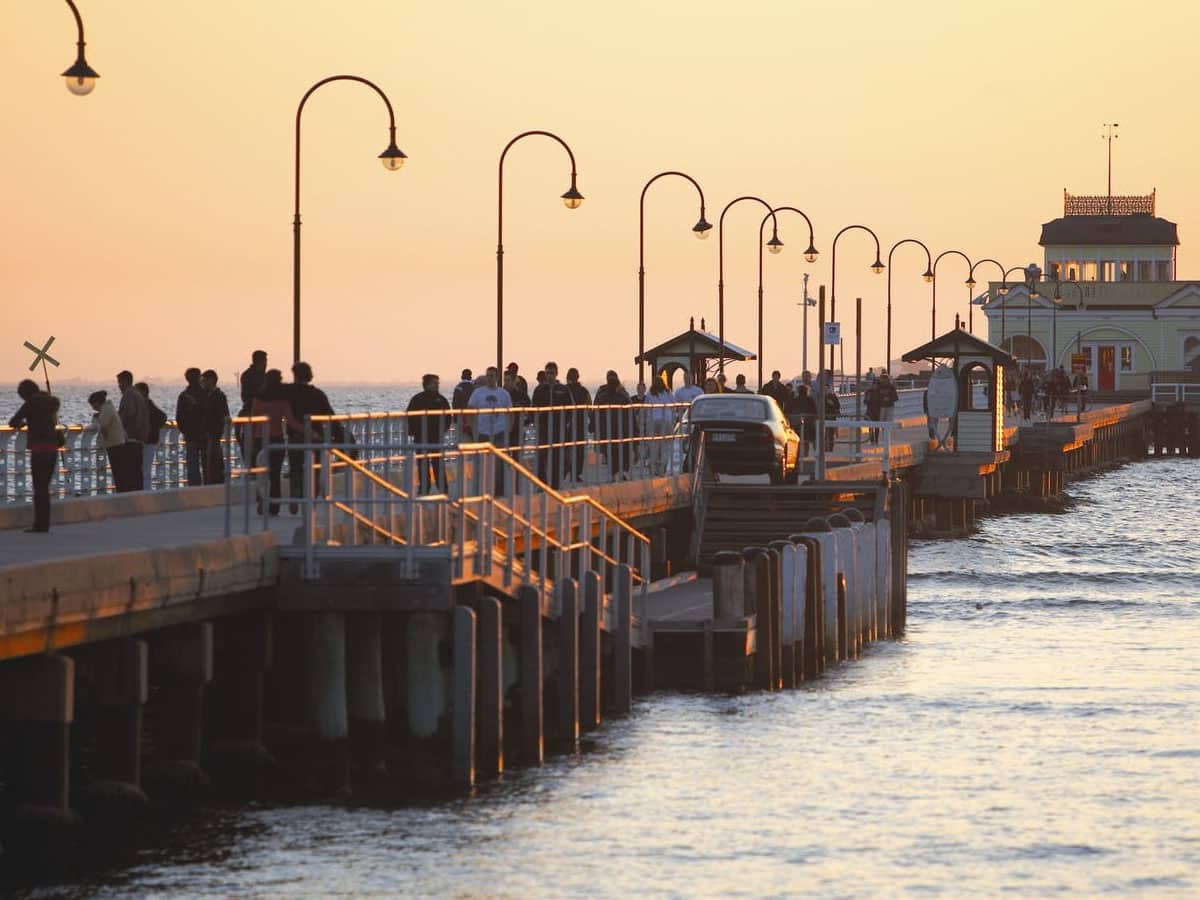 43. Walk Along St Kilda beach
This is a Melbourne classic. Walk along St Kilda Beach and the esplanade for a tremendous casual afternoon in the sun, or visit Luna Park. The long esplanade is perfect for a stroll, with so many rest stops and cafes to choose from along the way. Stop at the pier and take in the ocean views, turn around and do it all over on the return trip.
Address: St Kilda Beach, VIC 3182
What We Like: We love a good beach walk, and there are plenty of bars and eateries near St Kilda beach; just dress warmly and prepare for all seasons. You can also visit Melbourne's local theme park, Luna Park, for the most traditional Melbourne date.
Key Things to Consider for Date Night Ideas in Melbourne
The key factors to keep in mind when deciding where to go:
Location – Is it central for the perfect date?
Value – Is it value for money?
Service – Great service goes a long way, especially with big groups.
Venue – Atmosphere is vital for a fun things to do on date night.
Romance — Is it romantic?
Research — Do your research especially if you are going to visit Melbourne.
How Man of Many Chose The Best Date night ideas In Melbourne
With an editorial team full of foodies, Man of Many has had the unique opportunity to directly sample and experience perfect date spots in Melbourne. It is also based on our experience, in-depth research and customer reviews of date places in Melbourne. As expert journalists who guide people between competing products and services, we have provided our independent opinion in formulating Man of Many's selections. Man of Many has utilised Steve Kavakos' knowledge of his home city. Our editors have taken into account fun things, cute dates and romantic nights while also making a concerted effort to highlight a few spots outside of the CBD. You can review our editorial policy here surrounding how we maintain our independence in our editorial reviews.
Alternatives to Melbourne Date Ideas
If you're looking for other cuisines or food ideas in Melbourne, we've got you covered with some options listed below. You can also check out our list of Fun Thing To Do in Melbourne. If you're looking for a more specific cuisine, check out our list of Japanese Restaurants in Melbourne or the Best Italian Restaurants in Melbourne. If you've hit a food coma and want to get active, we can also show you the Best Camping sites in Victoria.
Dates Ideas in Melbourne FAQ
What should I do on a first date in Melbourne?
First dates are for getting to know each other. Do something that will make you both a bit vulnerable like skydiving. You'll be more likely to rely on and open up to each other.
What to do when you're bored in Melbourne?
Try something new that you've never done before like taking an art class, eating a cuisine you've never tried, learning a new hobby or skill.
What are some fun date ideas?
Skydiving, sailing, dance classes, axe throwing, trampolining, bowling, mini golf, ice skating.
Where do you take dates?
Take them somewhere special, that's somewhere new for both of you. Take them to a band you've been wanting to see, or to a unique restaurant you've been wanting to try.
You'll also like:
---
Featured Video from Man of Many