The Pescatarian Diet: A Beginner's Guide
Don't worry, if you're thinking — 'what's a pescatarian?' — you're not alone. Unlike a vegetarian or vegan diet, pescatarians are vegetarians that eat fish, seafood, dairy products and occasionally meats, all while maintaining healthy wellbeing.
Nowadays, veganism is the flavour of choice and vegetarianism is the longstanding middle-of-the-road diet, but the pescatarian diet is the healthy alternative that will skyrocket your expectations. Pescatarian meals are versatile; unlike vegetarians, they'll allow you to hog-out on a meaty meal every once in a while or when out with friends!
Put simply, the pescatarian dieting philosophy is to not feel like certain foods are forbidden, but rather to cut them out as much as possible.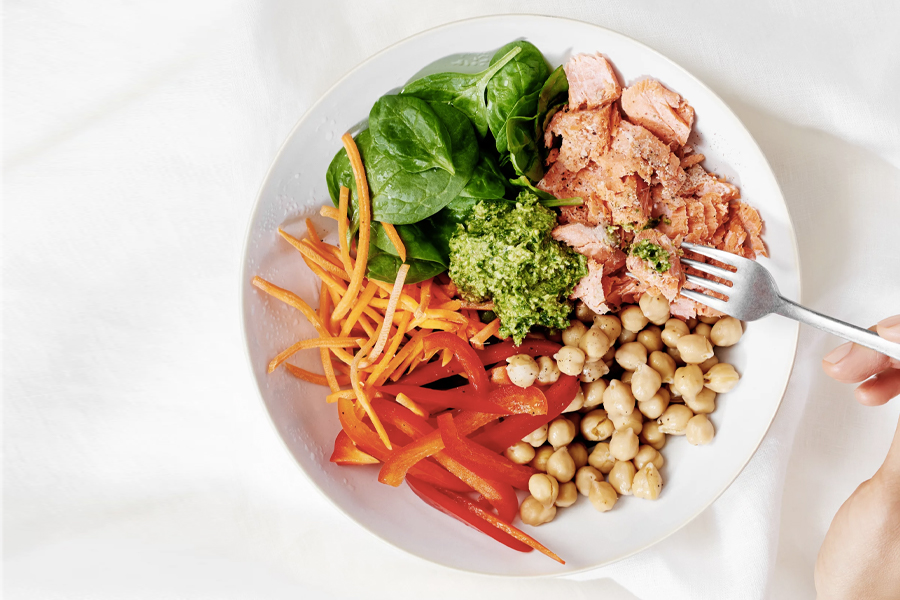 What is the Pescatarian Diet?
A pescatarian diet comprises of vegetables, grains, pasta, fish, other seafood, eggs, oats, nuts and healthy fats. Unlike the vegetarian diet, pescatarians are not completely restricted from meats and dairy. The diet prioritises fish and seafood as the primary protein source. If you're following this diet, you may also choose to include eggs and dairy in your meals and snacks which is what most pescatarians employ.
A common reason for the adoption of a pescatarian diet is to improve health; for eating fish, which contains omega-3 fatty acids, improves blood flow to the brain and can curb cerebral disease. But don't be fooled, this isn't an all-fish diet. Pescatarians usually have two or four seafood meals per week. Many of their weekly meals and snacks follow a Mediterranean diet.
Aside from its health benefits, people opt for a pescatarian diet out of ethical concerns. From an ecological standpoint, a pescatarian diet lowers one's dietary carbon footprint. Livestock is the world's largest user of land, representing almost 80 per cent of agricultural land. The consumption of beef alone comprises 24 per cent of the world's meat intake.
The environmental impact and amount of energy required to feed livestock exceed its nutritional value. Unlike a vegetarian diet, pescetarianism provides a multitude of ways to keep your diet interesting.
You'll also like:
A Beginners Guide to the Ketogenic Diet
Mighty Healthy – The Healthiest Meals on UberEATS
Everything You Need to Know About the Mediterranean Diet
---
Featured Video from Man of Many
---
Foods You Can You Eat on the Pescatarian Diet
Unlike the vegetarian regime, the pescatarian diet is not rigid, it permits followers to toy with food choices. For example, while pescatarians generally avoid meat, they may occasionally enjoy eating any meat-based meal on the weekend or any time during the week at a family gathering. The following are the typical foods that pescatarians eat:
Fish
Shellfish
Tofu
Milk
Eggs
Cheese
Fruit
Vegetables
Beans
Nuts and seeds
Whole grain pasta, bread, and brown rice
'Other' grains, such as quinoa and buckwheat
Foods to Avoid on the Pescatarian Diet
The following foods are not to be completely cut-out from your lifestyle like vegetarian or vegans per se, but one must minimise from the daily diet:
Beef
Pork
Chicken
Lamb
Turkey
Deli meat
Butter/ margarine
Alcohol
Trans-fatty foods
A Pescatarian Diet Meal Plan
For any of you starting on the pescatarian diet, it can be a discouraging task to prepare your meals. It's particularly easy to turn to lots of high carbohydrate meals, which isn't the best for anyone looking to maintain or enhance their wellbeing. Kate Save, a Dietitian, Exercise Physiologist and Diabetes Educator, recommends that "a low carb diet is preferable for anyone seeking weight loss or even weight management given that our lifestyles are far more sedentary than ever before, and our bodies simply can't handle the high-carb loads we put on them. Bulk up the low-starch veggies and salads, followed by lean protein sources and a moderate amount of healthy fats, but restrict the energy dense carbs such as wholegrains and cereals to around one handful at each mealtime, unless of course you are an athlete".
Kate also says that, "one of the benefits of the pescatarian diet is the heap of omega-3 fatty acids that you'll get from eating fish, which lowers inflammation. The pescatarian diet tends to have much lower levels of cholesterol which improves overall heart health".
So, if you're starting off this diet, give it a three-day trial.
Breakfast Day 1
Avocado Baked Eggs: a meal high in omega-3 fatty acids which means they're perfect as a breakfast meal, and they're packed with protein, fibre, vitamin C and A.
Lunch Day 1
Moroccan Stuffed Sweet Potato Skins: a lunch meal that's filling. Sweet potatoes contain loads of Vitamin A and Vitamin C, so they're full of benefits. This recipe is packed with fibre and if you add some cottage cheese you will bulk up the protein too whilst keeping it low in fat.
Dinner Day 1
Baked Tilapia with Parmesan Crust: is a pescatarians favourite. Baking the Parmesan as a crust really gives it a crunchy texture and the taste is mild enough that it doesn't overpower the flavour of the fish. Use a mix of olive oil and lemon juice to prep the fish before dipping it in the Parmesan mixture.
Breakfast Day 2
Huevos rancheros: a tasty Mexican breakfast meal loaded with carbs to get you through the day. If you want, you can serve the huevos rancheros up with some rice but a preferred method is to just have some wholegrain flatbread or tortillas to eat it with.
Lunch Day 2
Mackerel and green bean salad: make it with green beans, sugar snap peas and garden peas, so it's got a great crunch to it and has a zesty taste.
Dinner Day 2
Teriyaki tofu stir fry: a heavenly dish one can dine on. If you haven't got these exact ingredients in your refrigerator, no problem! Start with some firm chopped tofu, then choose some crunchy looking vegetables; carrots, cauliflower, bamboo shoots, bean sprouts and green beans and follow an online cooking recipe.
Breakfast Day 3
Avocado and sautéed mushroom toast: Avocado. Mushrooms. Wholegrain Sour Dough. Need I say any more? This is breakfast is right for anyone! If you'd rather tone down the carb intake then you can easily just remove the toast, or substitute for a protein bread made from almond meal, egg whites, plus other nuts and seeds and it will still be delicious.
Lunch Day 3
Greek chickpea salad: Chickpeas are a solid source of protein and they're one of those ingredients that both stay fresh for a long time and are cheap to buy. I'd put them into the 'store cupboard essentials' category. They go perfectly with feta and tomato and that makes this salad simply delicious.
Dinner Day 3
Red lentil curry and garlic and coriander naan: We eat a lot of lentils and this is curry, in particular, is one of our favourites. This is an optional side, but it's really tasty with lentil curry.
Enjoy it? Feel healthier? Then keep going! Here's a weekly diet pescatarian plan to follow:
Monday
Breakfast: Any choice of cereal and a banana
Lunch: Tuna salad
Dinner: Tuna pesto pasta
Dessert: 3x protein balls
Tuesday
Breakfast: 2 x blueberry & lemon muffins – Kate recommends substituting 1:1 ordinary flour with almond meal plus add extra egg to bind as this will boost protein, essential fatty acids and also reduce carbs
Lunch: Udon noodle soup
Dinner: Sweet & sticky salmon kebabs
Dessert: 4x carrot hummus cucumber cups
Wednesday
Breakfast: Avocado baked eggs
Lunch: Moroccan stuffed sweet potato skins
Dinner: Thai massaman curry
Dessert: Crème caramel – Kate recommends choosing a low calorie, high protein recipe which is made from eggs and skim milk which is set in the oven
Thursday
Breakfast: Coconut banana protein pancakes
Lunch: Mac n cheese – Kate recommends adding tuna for extra protein
Dinner: Baked tilapia with a parmesan crust
Dessert: Chocolate protein shake
Friday
Breakfast: Banana and Oats – Kate recommends adding some LSA meal for extra fibre and omega 3's too
Lunch: Mackerel & green bean salad
Dinner: Teriyaki Tofu stir fry
Dessert: Chocolate peanut butter protein ball
Saturday
Breakfast: Avocado & sautéed mushroom toast
Lunch: Greek chickpea salad
Dinner: Beef or chicken burger
Dessert: Greek yoghurt and berries
Sunday
Breakfast: Fresh sardine fillets on toast
Lunch: Veggie sub sandwich
Dinner: Steak, mashed potatoes and veggies
Dessert: Pudding – Kate recommends a high protein and no added sugar recipe which you can make from your favourite protein powder
Pescatarian Snacks
If you're tight on time or just a not-that-bothered type, then you won't have to worry; pescatarian snacks don't require a ton of prep. Many of these alternative snacks are savoury and inexpensive. Here are some of the popular options you can enjoy at work or when you're at home:
Sunflower seeds
Roasted almonds
Vegetable chips
Muesli bars
Canned salmon
Eggplant jerky
Canned tuna
Canned sardines
This article has been reviewed for accuracy by Kate Save. Kate is an Accredited Practicing Dietitian, Exercise Physiologist and Diabetes Educator plus the founder of Be Fit Food.
You'll also like:
A Beginners Guide to the Ketogenic Diet
10 Best Chicken Schnitzels in Australia by Wotif
Everything You Need to Know About the Mediterranean Diet
General FAQs
What does a pescatarian eat?
A pescatarian eats seafood, tofu, milk, eggs, cheese, fruits, vegetables, beans, nuts, seeds, whole grain pasta, bread, rice and generally excludes meat and consumes dairy modestly.
What do you call a vegetarian that eats fish?
Put simply, a vegetarian who can eat fish, other seafood and eggs, is called a pescatarian. The pescatarian dieting philosophy is to not feel like certain foods such as meats are forbidden, but rather to cut them out as much as possible.
What is a pescatarian?
A pescatarian adheres to a diet that incorporates seafood as the only source of meat in an otherwise vegetarian diet and is not entirely constricted from occasional meat consumption.
---
Featured Video from Man of Many