10 Best Chicken Schnitzels in Australia by Wotif
Nothing beats a pub feed. A smattering of salad, a scoop of chips and, of course, a big ole chicken shnitty. That's about as Aussie as it gets. But the thing is, every pub from here to Timbuktoo reckons it got the best schnitty in all the land and whilst they're all undoubtedly red hot chicken schnittys, there has never been a definitive list of Australia's best Chicken Schnitzel. That is, until now.
Just this morning, travel site Wotif released the winners of the 2020 people's choice Uniquely Aussie Awards – the annual guide to finding Australia's most underrated gems – and they've crowned the best pub schnitty in all of Australia. Now, clearly, this is a very contentious award and any winner would be subject to extreme scrutiny.
Here are the criteria and key things they considered for what makes a good schnitty.
Size matters. No pea-sized schnittys.
The crispiness and the crunch of the crumb is important.
Chips are key… soggy chips and you're out.
There better be a pub-special at least once a week.
Finally, taste is king.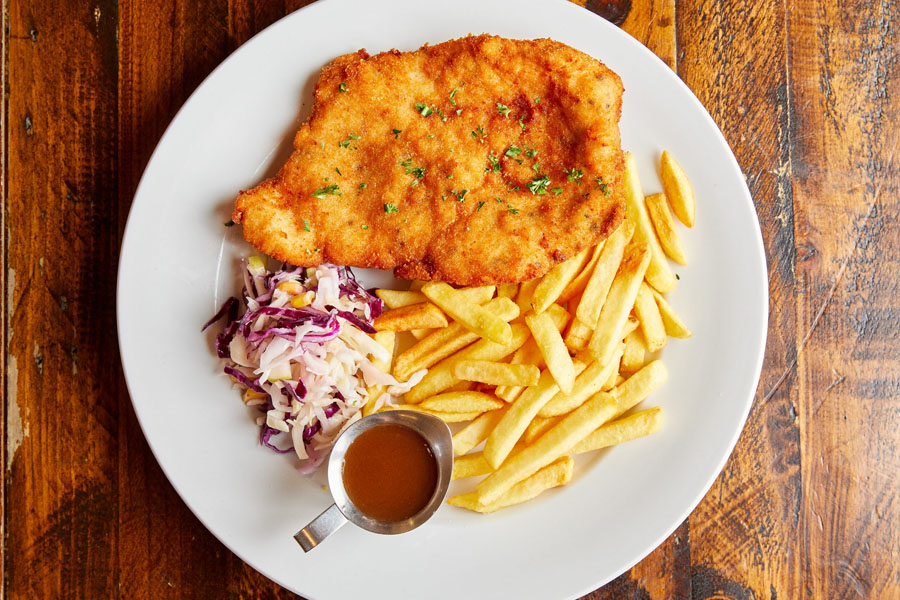 With this in mind. Here's the definitive list of the 10 Best Chicken Schnitzels in Australia:
Schnithouse, Rundle St, Adelaide, SA
Mrs Parma's, Melbourne, VIC
Shamrock Hotel, Alexandra, VIC
Una's, Darlinghurst, NSW
Seaview Tavern, Woolgoolga, NSW
North Wollongong Hotel, Wollongong, NSW
Tingalpa Hotel, Tingalpa, QLD
Settlers Inn, Port Macquarie, NSW
Palais Hotel, Semaphore, SA
OG Hotel, Klemzig, SA
General FAQ
What does Schnitty mean in Australia?
Schnitty is Australian slang for schnitzel, usually referring to a chicken schnitzel served at a pub with a side of chips and gravy.
What is a good side dish for schnitzel?
In Australia, chicken schnitzels are usually paired with a side of chips, salad, and gravy. They can also be eaten with mashed potatoes, coleslaw, or other veggies.