With the warmer weather fast approaching, we figured there's no better time to plan an amazing, long-weekend jaunt through some of the best spots Man of Many's hometown of Sydney has to offer. After all, ours is a city with some of the most beautiful beaches, iconic landmarks, and stylish eateries you'll find anywhere in the world.
With that in mind, we climbed behind the very stylish wheel of the MINI Countryman to do a practice run, hitting up some of the best restaurants, markets, exercise facilities and night spots this great city has to offer in the process. With the Countryman's surprisingly roomy interior and its sheer manoeuvrability as we navigate our city's streets, it's the perfect partner if you're keen to optimise your days off. Looking for some inspiration to make the most of your upcoming long weekend? Read on!
Day #1: Saturday
The Bay Run, Haberfield
Setting off from our Darlinghurst HQ on a beautiful sunny morning, we throw on our gym gear, start up the MINI Countryman and cruise over to the Bay Run in Sydney's Inner West. This picturesque jaunt around Iron Cove Bay is an ideal way to kick off the weekend when the sun's shining, and it'll give any four-legged friends accompanying you the chance to get some exercise too. Whether you're looking to break a sweat by upping the pace or more in the mood for a leisurely stroll, this is the perfect way to work up an appetite before heading to one of countless cafes nearby for breakfast.
Plunge 46, Summer Hill
Jumping back in the Countryman, we head 10 minutes up the road to one of Summer Hill's best coffee spots, Plunge 46. Offering a broad range of Mediterranean fare along with perfectly brewed cuppa, it's a very popular spot on Saturday mornings. Still, we manage to secure a table in the back courtyard. Boldly selecting the Tempura Fish Tacos for breakfast – trust us, if you do the same you won't regret it – we sit and sip our coffee with the lively locals.
Carriageworks Farmers Market, Redfern
Happily fed, it's time to load up the MINI Countryman's generously proportioned interior with some fresh produce. We zip over to the historic Sydney suburb of Redfern to visit the Carriageworks Farmers Market. Well and truly a Sydney institution, the Farmers Market offers up produce from over 70 farmers and food producers from around NSW and Australia more broadly. Whether you'd like to sample some artisan cheese, top-shelf meat products, or fresh fruit and veggies your local supermarket couldn't hope to match, the Carriageworks Farmers Market has you covered.
Little Bay Beach, Little Bay
After loading up on some cured meats and crumbly cheese, we can feel the call of the ocean. Fortunately, it's just a quick 30-minute hop across town in the MINI Countryman to one of Sydney's most underappreciated – and therefore comparably undisturbed – swimming spots. Passing Bondi, Bronte and even Maroubra without stopping, we find a grassy spot just above Little Bay Beach to enjoy our just-bought meats and cheese, nibbling away lazily before deciding to take a dip. It's a little chilly – summer's still a few months off, after all – but the water's beautifully clear.
Iggy's Bread, Bronte
Anticipating we might need some carbohydrates to enjoy with the remaining cured meats and cheese a little later on, as we head home we drop by Iggy's Bread, Bronte's premier dough kneader. Sadly, we find it closed, meaning Iggy's sold out for the day. It really shouldn't surprise us, given the quality of Iggy's breads, so we guess we'll have to get our fix of carbs by some other means.
Single O, Surry Hills
Scraping in just before the 3pm closing time – sorry to be those people – having nailed a lucky parking spot for the Countryman mere metres away, we get our afternoon caffeine hit from Surry Hills' best purveyor of sustainable coffee, Single O. Offering ethically sourced and locally made brews, Single O has been around since 2003 and has absolutely mastered the art of guilt-free coffee. Large double-shot flat white in hand, we return to the Countryman and head home to get ready for the evening.
Yen's Vietnamese, Waterloo
While Sydney's CBD has developed a not-entirely-undeserved reputation for being a little too quiet in the evening, that's where the Countryman comes in handy yet again. It only takes us about 12 minutes to get to Yen's, one of the most underrated eating establishments in Sydney. It may not look like much – linoleum floor and fluorescent lighting – but as a certain space smuggler once said, "She's got it where it counts, kid." Our top recommendation is the Pork Clay Pot – it'll change your life.
Earl's Juke Joint, Newtown
After wolfing down as much Vietnamese as we can handle, it's time for a quiet drink. We're sticking with the non-alcoholic variety of course in order to safely navigate the Countryman through the narrow streets of Sydney's Inner West, and we finally settle on Earl's. Serving up an atmosphere that's one part New Orleans saloon and another part prohibition speakeasy, we find a nice, quiet spot near the bar and settle in for a few hours before the MINI Countryman glides us home.
Day #2: Sunday
Some people like to have a quiet, lazy Sunday morning that sees them roll out of bed by 10 and shuffle out of the house by 12. We are not those people, and that's doubly true when we have the MINI Countryman at our disposal. We find it's always a pleasure hitting the road northbound before 8am on a Sunday, because doing so helps conjure the feeling that the Sydney Harbour Bridge was built for you and for you alone.
Double Cross Dining Room, Crows Nest
After passing through the weekend ghost town that is North Sydney, we make a quick pit stop in Crows Nest to grab some coffee and a bite. The Double Cross Dining Room serves up a sophisticated dining experience, but we don't have any time to eat in, so with coffee and croissant in hand, we're back in the MINI Countryman's supremely comfy seats and zipping down Military Road.
Manly Markets 2095, Manly
While Manly is famous for its beach – and the beloved or despised Sea Eagles, depending on where you stand – we're here for the markets, which offer up some of the best artisan products this side of Sydney Harbour. Whether you're after a vintage record, bespoke cologne, hand-made pottery, or just some flowers for the lady in your life, Manly Markets 2095 has just about everything you'd care to buy from a friendly stranger manning a stall.
Freshwater Beach, Freshwater
Only a fool heads north of the bridge without bringing a pair of boardies – or budgie smugglers if you're so inclined – and a towel, so we were sure to throw those in the Countryman's conveniently spacious boot along with a couple of boards before we left. We know Manly claims to be "world famous" but if we're going to take a dip over this side then Freshwater's where we'll be diving in. The aforementioned board's always a good shout too, as the headlands north and south of the beach can produce excellent surfing conditions. Alternatively, if the water's a little on the rough side, there's a large rock pool at the top end of the beach that provides a perfect place to get some laps in.
The Boathouse, Shelly Beach
Having well and truly burned through our croissant and coffee, we're in need of a top up, and The Boathouse at Shelly Beach is a perfect place to do so. This local institution serves up a range of dishes, but given the coastal location we recommend trying anything seafood-related, whether that's the Sydney rock oysters or – if you're in the mood for something a little heartier – the crumbed dory burger.
North Head Sanctuary, Manly
Returning to the Countryman, we start it up and take the leisurely 10-minute drive to North Head Sanctuary. Containing one of Sydney's most picturesque and dramatic hiking tracks, this nature reserve is where the bush arrives at the sea, with sheer cliffs dividing the two. Whether you're walking or biking, you'll come across a rich ecosystem of plants and animals, along with World War II military fortifications and the fascinating – if slightly grim – hints of Australia's early quarantine facilities.
Ripples, Chowder Bay
As the sun dips, our legs start to indicate that they've had quite enough of walking. So we stroll to the MINI and take off back over the Spit Bridge in order to make it in time for our dinner reservation at Ripples in Chowder Bay. There, as we look out over the water, we enjoy the frankly incredible live Tasmanian lobster spaghetti and beef tenderloin, while enjoying a few mojito mocktails, followed by the pear tart and coconut and lime panna cotta. With the night drawing to a close, one last spin in the MINI Countryman ends the evening on a high note as we savour not having to head to work the following day.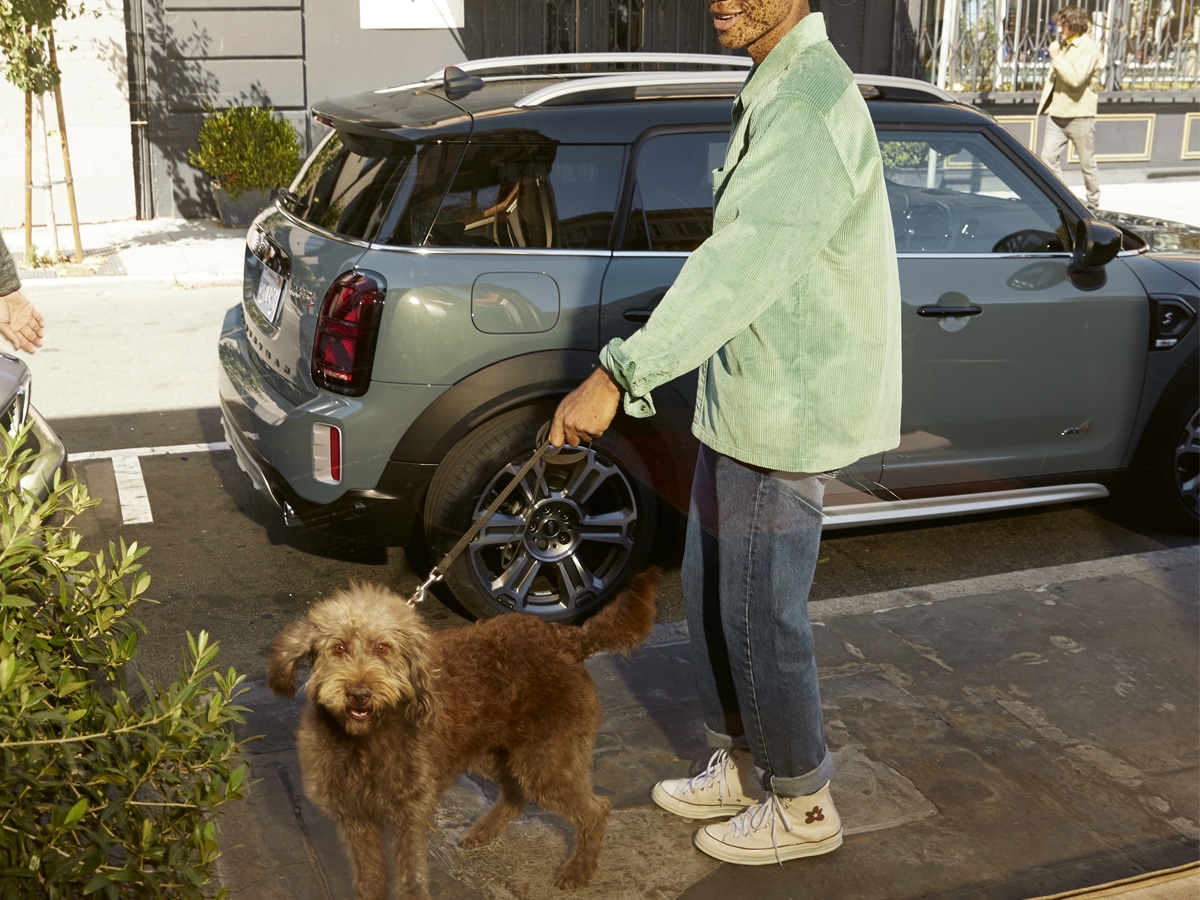 Day #3: Monday
Keen to make the most of the weekend, we're up and out the door before much of Sydney has even had a chance to put the kettle on. As always, we like to start the day by getting the heart rate up, so the MINI Countryman has us effortlessly cutting through Sydney's sleepy streets as we head over to Millers Point.
Observatory Hill Outdoor Gym, Millers Point
There are few places in the world that so sublimely combine a space to work out with a million-dollar location. The outdoor gym at Observatory Hill does just that, offering callisthenics equipment that lets us get some strength and cardio training in before the stunning view from the top of the hill inspires us to run down across the Harbour Bridge and back.
Sonoma Bakery, Glebe
Feeling satisfied that we've earned our breakfast, we take the MINI Countryman cruising around Darling Harbour and up past Wentworth Park into the heart of Glebe. There, we secure a parking spot that accommodates the Countryman's compact exterior – which through some sort of wizardry manages to contain its generous interior – and stroll up to Sonoma Bakery. There we order our beverages, made using Sonoma's roasted in-house coffee, and grab a couple of pastries, which we devour as we tour Glebe's vibrant high street.
Federal Park, Annandale
Pastries well and truly gone, we're taken by the mood to hang out with some four-legged friends. We coast in the Countryman down Annandale's Johnston Street to the off-leash Federal Park that looks out over the picturesque ANZAC Bridge. After purchasing ice creams from the van located in the park's carpark, we sit and watch dogs of all sizes chase balls in the shallows of the small beach at the park's western end.
Nomad, Surry Hills
While dogs may have endless energy, we certainly don't, and an hour spent throwing a ball for them to chase through the water is hungry work. After heading in a city-ward direction away from Annandale, we manage to nab a park for the Countryman near The Taphouse, before making the short stroll up to Nomad. There, we luxuriate in the restaurant's signature mix of Spanish, Moroccan and Middle Eastern fare, topping off a meal of murray cod and BBQ spatchcock with the olive oil ice cream sandwich for dessert – it sounds like a strange combo, but trust us, it's a killer.
The White Cockatoo, Petersham
With the long weekend almost wrapped, we point the Countryman in the direction of one of our favourite Inner West pubs, hoping to while away the final hours of the afternoon with a few beers – the non-alcoholic kind, of course. Parking by the majestic gumtree that sits across from the pub and whose inhabitants give it its name, we make our way into the courtyard and settle into the corner that's our go-to spot. Despite having eaten more than our share of delicious food throughout the weekend, we can't resist one final carb injection. We order the chilli and king prawn pasta, which arrives fresh and piping hot straight from the kitchen.
Having devoured this final gastronomic triumph, we jump back in the MINI Countryman for one final spin to top off the long weekend. Cruising through the streets of Sydney back toward home base, we're struck by the sheer amount we've managed to squeeze in across just three short days and the ease with which we were able to do it, thanks to the Countryman's agility and spaciousness, not to mention its endless capacity for turning heads.