Sleep Like You're at Home in the Haven Hammock Tent
Sure, hammock tents are cool and all, but if you're not one for the sleeping position required by these hanging tents, you might as well just be sleeping on the hard ground—rocks, cold, and all. Derek Tillotson experienced this inconvenience and set out to create a hammock tent that more closely mimicked you sleeping situation back home. The Haven Tent does exactly that by providing a flat platform in a hammock tent.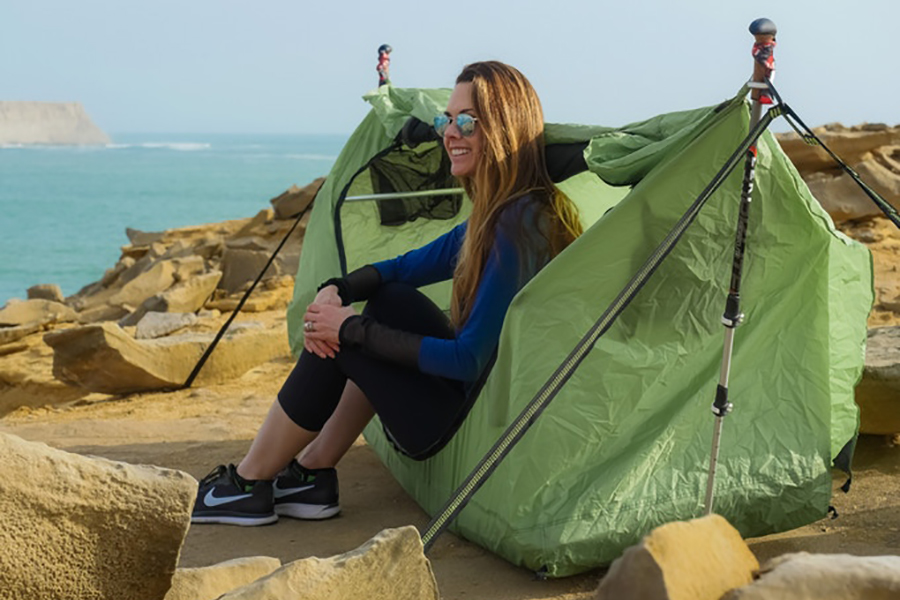 The idea revolves around using arcs similar to those used in suspension bridges. Haven Tent uses a single ridge-line that is anchored between two trees. Structural arcs on the bottom create a flat platform while spreader bars keep the interior open. The result is a rectangular tube that is suspended from the central line.
The tent includes an inflatable air mattress that has a built in air pump and is made of nylon. It can be inflated in just 60 seconds and can accommodate a person that is 6 feet 6 inches tall. The platform is 23 inches wide, so you have plenty of room to move around and it can hold up to 280 pounds. You can easily sleep on your back, side, or stomach—whatever is most comfortable to you. The low sidewall design makes entry and exit easier than that of a traditional hammock and it provides more space to hang your gear from the ridge line above. Haven Tent also comes with a bug net that zips onto the tent and a rainfly that can be pulled back to enjoy the night sky and the surroundings. The tent by itself weighs only 4 pounds 11 ounces, with an extra 19 ounces if you carry the bug net and rainfly.
Haven Tent is available through Kickstarter. With a pledge of $285, you can get a single tent, or pick up two for $550.
General FAQ
How much is a haven tent?
With a pledge of $285 on Kickstarter, you can get the Haven Tent with rainfly and netting.
How much does the Haven tent weigh?
The Haven Tent only weighs 6 pounds, making it perfect for a wildnerness adventure.