12 Best Glamping Spots Near Melbourne
Let's be real, camping isn't for everyone. It can be uncomfortable, dirty, and if you only have time for a weekend retreat to recharge the battery, you don't want to spend half the trip setting up. That's where Glamping comes in. Glamping, a portmanteau of 'glamorous' and 'camping', is exactly as the name implies – camping with all the luxuries you'd expect from a resort-style getaway.
If glamping sounds like your thing, you'll be glad to know that Melbourne is close to some of the best glamping Victoria has to offer! From cosy tents to vineyard retreats, you'll be sure to find the perfect spot to go glamping near Melbourne.
So if you're looking to swap the hustle and bustle of city life for a relaxing wilderness retreat, we've compiled a list of the best glamping near Melbourne.
You'll also like:
11 Best Melbourne Golf Courses
25 Best Craft Breweries in Melbourne
10 Best Ski and Snowboard Shops in Melbourne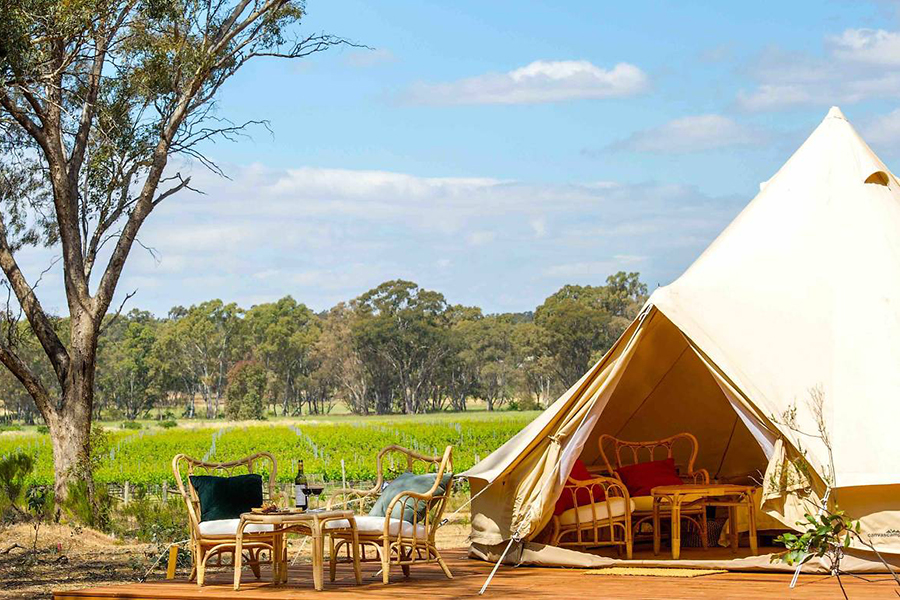 1. Balgownie Estate
In what could be the most unique glamping experience Victoria has to offer, this hidden winery retreat is the perfect adult getaway. Located in the vineyard of Balgownie Estate Winery just two hours north-east of Melbourne, this Glamping experience will see you nestled among the very vines you're drinking from.
Coupled with cellar door experiences and amazing food, this is sure to be a bucket-lister for the wine-lovers out there.
Address: 46 Hermitage Road, Bendigo VIC 3551 Australia
Phone: +61 3 5449 6222
Email: [email protected]
Cost: From $137 per night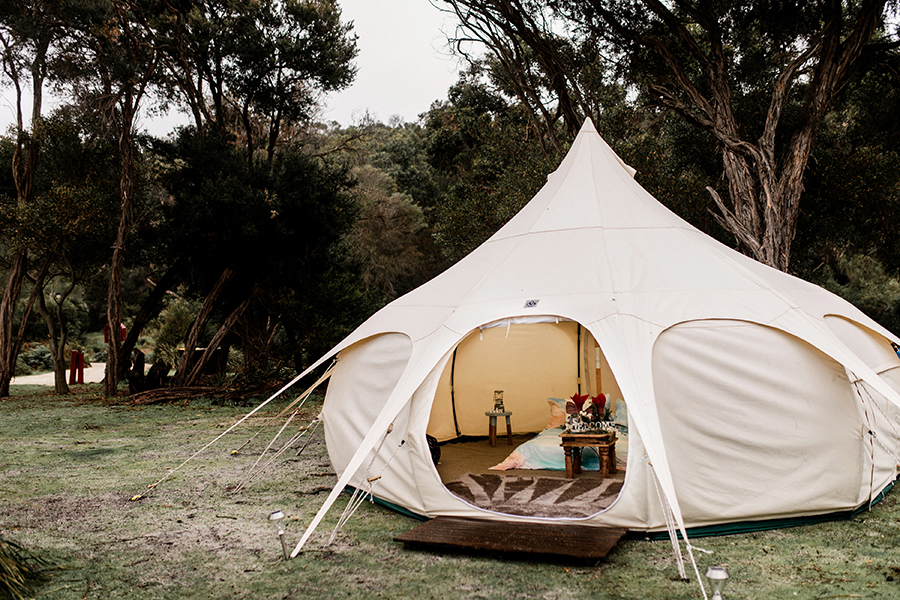 2. Prom Coast Eco Glamping
Prom Coast Eco Glamping offers some incredible locations in the South Gippsland region. Whether it's for a quick getaway or a longer stay, there's no better way to experience the Prom Coast than in a deluxe bell tent with all the creature comforts you could want.
The glamping tents are easy on the eye, beautiful inside, roomy and start from just $200 a night including set up and pack up.
Address: 1906 Tarra Valley Rd Tarra Valley
Phone: 0488 040 308
Email: [email protected]
Cost: From $80 per night plus set up fee ($120)
3. Cosy Tents
Tucked away on a private hillside property in the Hepburn Shire, Cosy Tents combines hotel luxury with a picturesque outdoor setting for an amazing getaway. A place where you can rug up next to a warm fire or relax in your own fully furnished bell tent, this is the perfect country retreat from city life.
Address: 6 Kanga Road, Yandoit, VIC 3461
Phone: 0411 322 937
Email: [email protected]
Cost: From $195 per night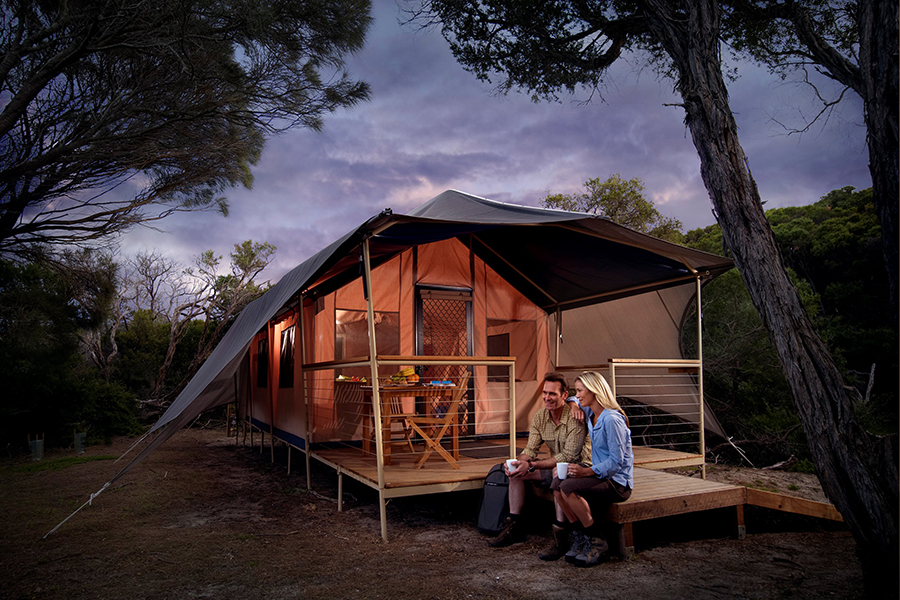 4. Wilderness Retreats
Located throughout the Gippsland national parks, these Wilderness Retreats offer high comfort, low impact safari tents. Operated by Parks Victoria, each site has wooden floors, a plump queen bed, and a variety of other features to make you feel at home in nature. With a communal kitchen and outdoor barbecue at this Victorian glamping spot, this is the perfect day to unwind after a day of exploring.
Address: Wilsons Promontory National Park, Cape Conran Coastal Park and Buchan Caves
Phone: 13 1963
Cost: From $195 per night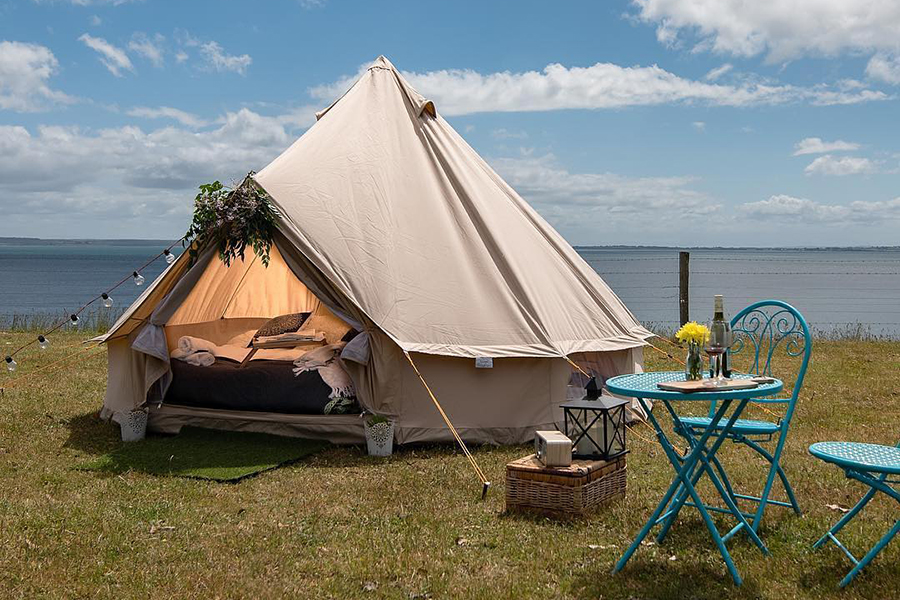 5. Phillip Island Glamping
Phillip Island Glamping offers mobile glamping near Melbourne, so you can make any campsite a tent hotel room. Whether you dream of pristine views of beaches, calming rivers or intimate wilderness, simply pick where you'd like to stay on the island, and they'll do the rest. When you arrive at your destination a 5-star treatment will be awaiting you in your luxury bell tent, packed full of comfort.
Address: Cowes VIC 3922
Phone: 0404 258 205
Email: online enquiry via website
Cost: From $150 per night + camping fee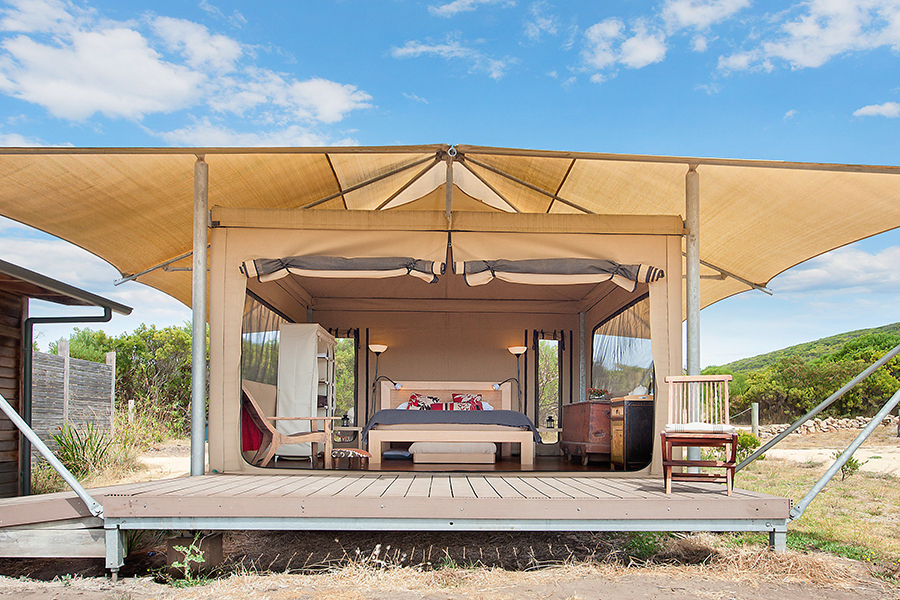 6. Pebble Point
Pebble Point is an exclusive bush retreat nestled behind the cliff tops and rock formations of the world-famous Twelve Apostles. Situated at the end of the Great Ocean Walk, Pebble Point has six spacious safari tents overlooking the ocean, the perfect place to finish your hikes or simply relax with an incredible view.
Address: Princetown, Great Ocean Road, VIC
Phone: +61 03 52433579
Email: [email protected]
Cost: From $160 per night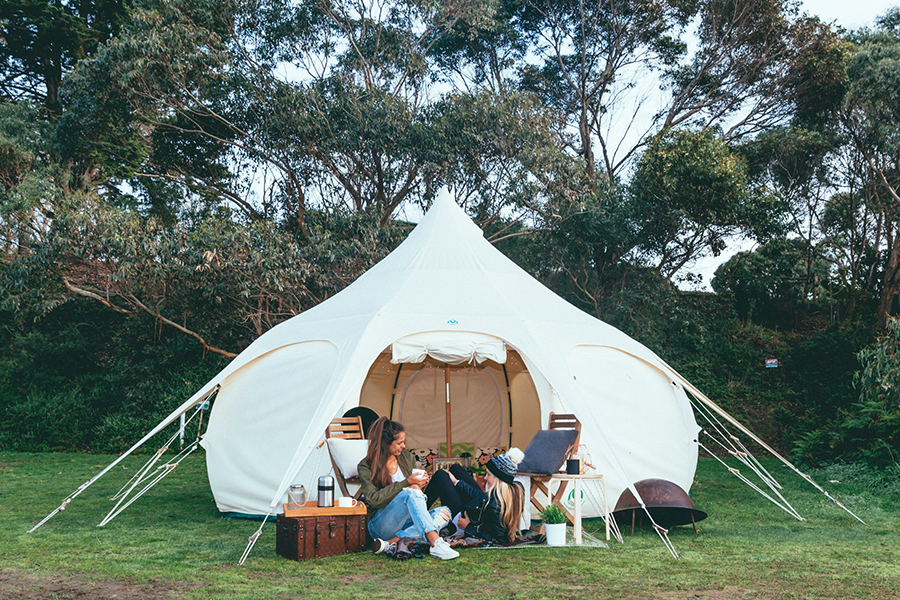 7. Happy Glamper
Happy Glamper caters to the beautiful Mornington Peninsula and offers a Melbourne glamping experience fit for a King. Simply choose where you'd like to stay and they will take care of the rest, having everything set up for you when you arrive.
Offering three different sized Yurk-style tents, Happy Glamper recommend stays at Point Leo Foreshore, Balnarring Beach Foreshore, Capel Sound Foreshore, or Shoreham Foreshore Campground. Or, if you have the hook-up, they'll even set you up on private land.
Address: Mobile, servicing the Mornington Peninsula
Phone: 1300 911 140
Email: [email protected]
Cost: From $290 for 2 nights plus site fees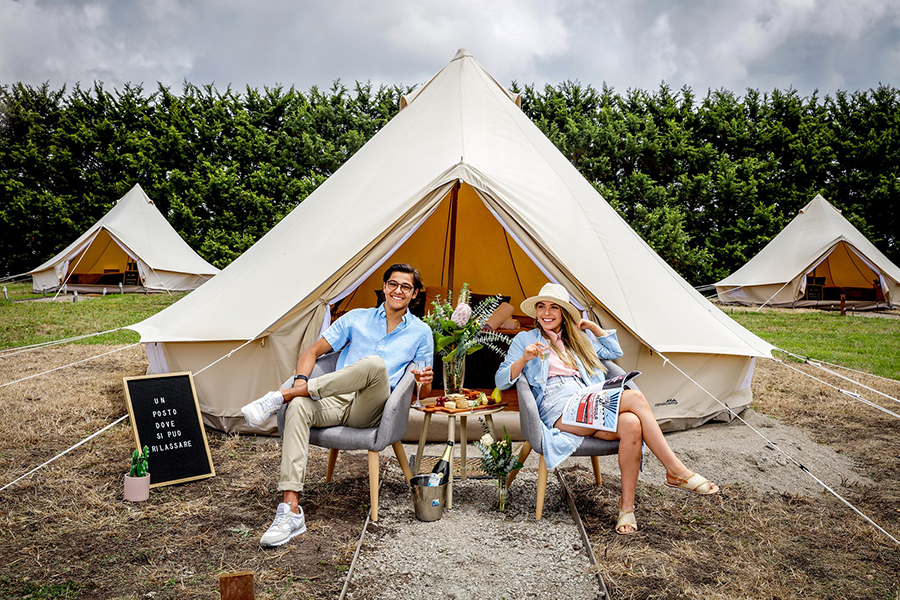 8. Mornington Peninsula Glamping
For adults-only glamping near Melbourne, MP Glamping offers a retreat set on the family-owned Blue Range Estate Vineyard. Consisting of 10 deluxe bell tents, the destination houses Italian inspired dining coupled with 180-degree panoramic views of Port Phillip Bay and Bass Strait to give you a taste of the Southern Italian lifestyle.
They also offer packages including admission to the nearby natural thermal mineral hot springs where you can experience over 20 globally-inspired bathing experiences. These include a cave pool, reflexology walk, Turkish steam bath (Hamam), underground sauna, cold plunge pools and hilltop pool, offering stunning 360-degree views of the region.
Address: 155 Gardens Road, Rosebud, Victoria
Email: [email protected]
Cost: Upon request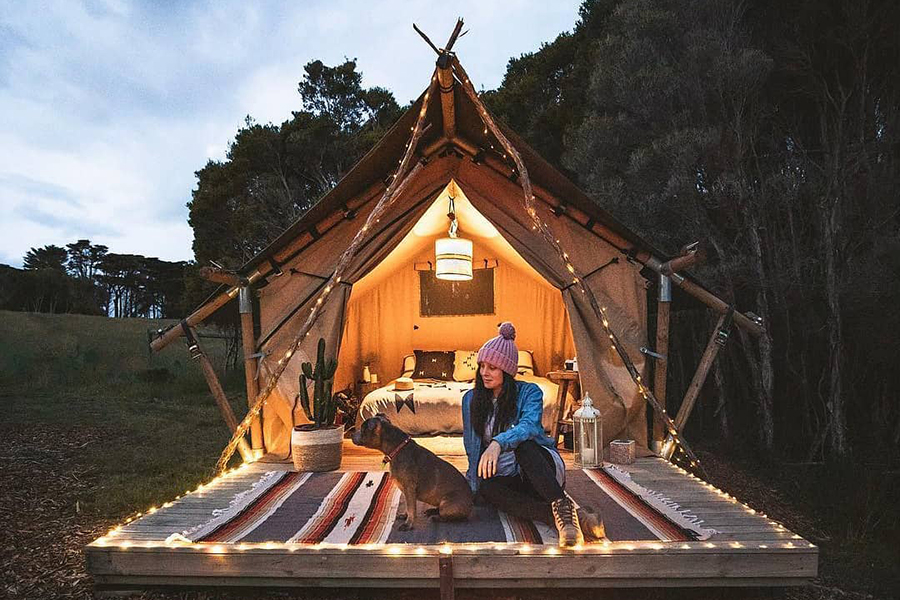 9. The Sheltered Glamping Company
If you're looking for tranquillity and a place to truly get 'off the grid', Sheltered Glamping have you covered. Set on a quiet parcel of land near a stream, this Glamping resort offers a special blend of luxury and sustainability to its guests.
With no light to pollute the night stars and just minutes from the beach, this is the perfect place to experience the essence of nature Phillip Island is known for.
Address: 493 Berrys Beach Rd, Ventnor, Phillip Island
Phone: +61 412 222 632
Email: [email protected]
Cost: From $220 per night
The Sheltered Glamping Company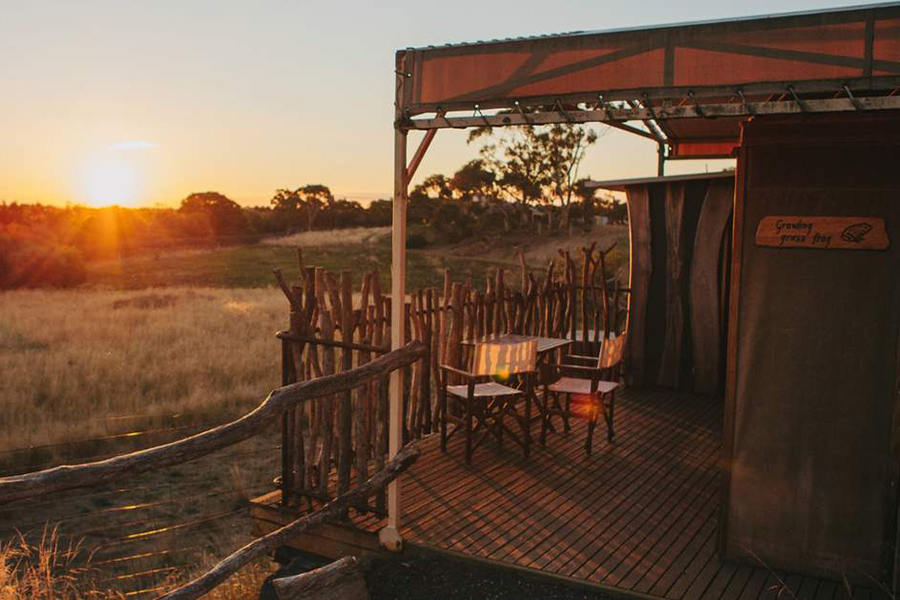 10. Werribee Open Range Zoo
Sip a sunset drink as you watch the sun go down on the zoo and its inhabitants from the verandah of your private Savannah-style tent. Perfect for kids big and small (including yourselves), Werribee Open Range Zoo offers awesome 'Slumber Safari' packages that families and friends alike will love. Including two days of zoo admission, exclusive wildlife viewings, and an overnight stay in one of the family-sized savannah tents, this Glamping experience is sure to be a massive hit with the kids.
Address: K Rd, Werribee South VIC 3030
Phone: 1300 966 784
Email: [email protected]
Cost: From $300 for Adults, $145 for Children including Zoo experience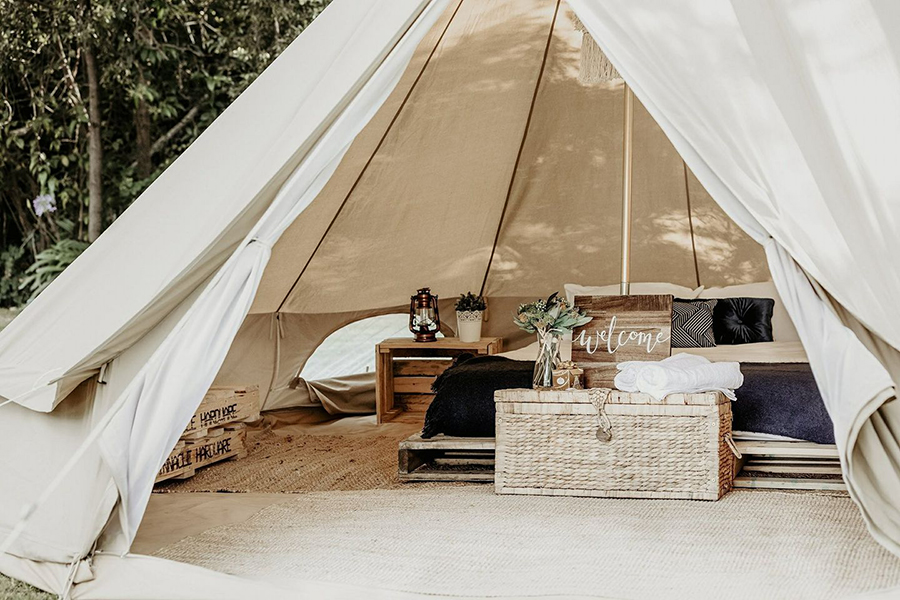 11. Into the Woods
Creating unique getaways and memorable experiences in Victoria's High Country, Into the Woods allows you to escape into nature in the picturesque town of Yackandandah. Nestled among beautiful evergreen trees at the foot of Yackandandah creek, the spacious emperor tents provide the nature escape you've been looking for without compromising on comfort.
With prices starting from $180 a night, there's no better place to sit back on your private verandah and listen to sounds of the bush around you.
Address: 1 Myrtleford-Yackandandah Road, Yackandandah, Victoria, 3749
Phone: +61 411 330 583
Email: [email protected]
Cost: From $180 per night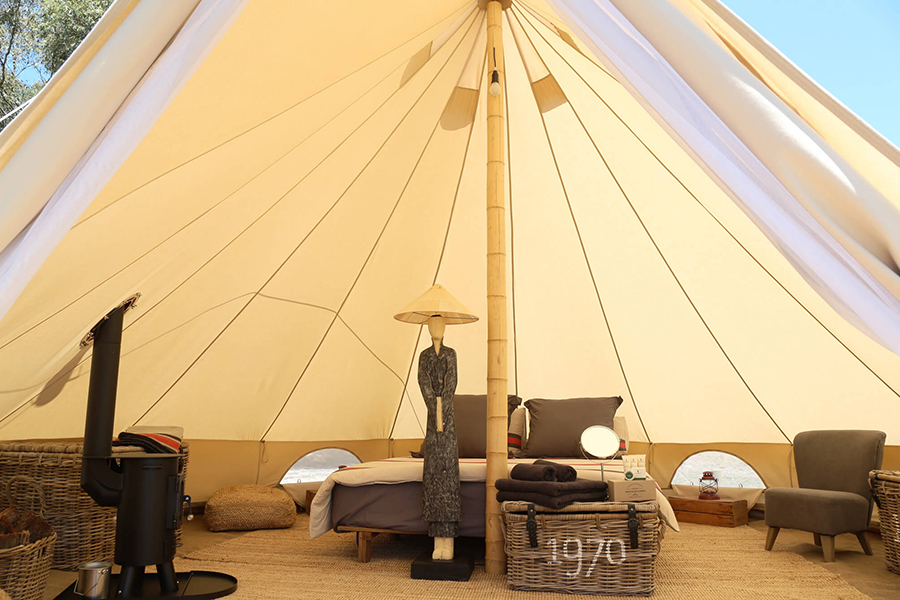 12. French Island Glamping
French Island Glamping is a unique experience situated on 100 acres of wilderness. Combining hotel comfort with camping exposure, the location offers a range of habitats to explore from native woodlands to coastal wetlands, enjoy amazing views across the rolling farms and bushland and the ocean as far as the eye can see. Enjoy the peace and serenity while you relax and unwind in your own private European canvas bell tent fully furnished with a queen-size bed, luxury bed linen, and all the creature comforts for you to kick back & relax and enjoy in style.
French Island is 61km off the Victorian Coast, and to get here you take a ferry ride from Phillip Island. In 1997, 70 per centof the island was declared a national park and is now known for its pristine coastlines and abundance of wildlife – including large populations of Koalas.
Address: 59 Barge Access Road, French Island
Phone: 0498 843 850
Email: [email protected]
Cost: From $265 per night
You'll also like:
11 Best Melbourne Golf Courses
25 Best Craft Breweries in Melbourne
10 Best Ski and Snowboard Shops in Melbourne
General FAQs
What is Glamping?
Glamping, a portmanteau of 'glamorous' and 'camping', is exactly as the name implies - camping with all the luxuries you'd expect from a resort-style getaway. Perfect for those who feel the allure of nature but don't want to leave comfort behind, Glamping is the insta-worthy accomodation option you'll love.
Where's the best Glamping near Melbourne?
There are a number of resort-style Glamping sites just a short drive from Melbourne. From Cosy Tents to Wilderness Retreats, Vineyard stays and beach hideaways, there's something for everyone. Check out our list of best Glamping near Melbourne for ideas!
How much does Glamping cost?
Depending on where you go and what accommodation style you choose, you can expect to pay anywhere from $130 - $500 per night for 2 people.