David Bowie & Jaguar E-Type – Two British Style Icons Combine
In Partnership with Jaguar and Land Rover
When the Jaguar E-Type was released in 1961, it was faster and more stunning than the supercars of the day, including examples from Aston, Maserati and Ferrari (Enzo Ferrari himself even famously remarked that it was "the most beautiful car in the world"). One glance over its thrusting hood, wire wheels and swooping fenders and you'd be hard-pressed to disagree.
It quickly became the must-have sports car, owned by stars the world over including Steve McQueen, Frank Sinatra, Roy Orbison and later David Bowie, who first fell in love with the car when he was 16 years-old (and eventually came to own a famous black 1968 series 1 .5 drop-top version).
The E-Type caused a stir when it first hit the streets, and became a British icon synonymous with '60s pop culture (remember Austin Powers' famous Jaguar Shaguar?) with a strong influence over car design to this day. Similarly, David Bowie with his own brand of innovation, reinvention and stagecraft over five decades became a British icon significantly influencing popular music and style.
So when Jaguar Australia approached renowned airbrush artist Daus von Roe (a.k.a Ryan Cribbin) to create a piece that represents the Jaguar spirit it was a connection he was quick to make.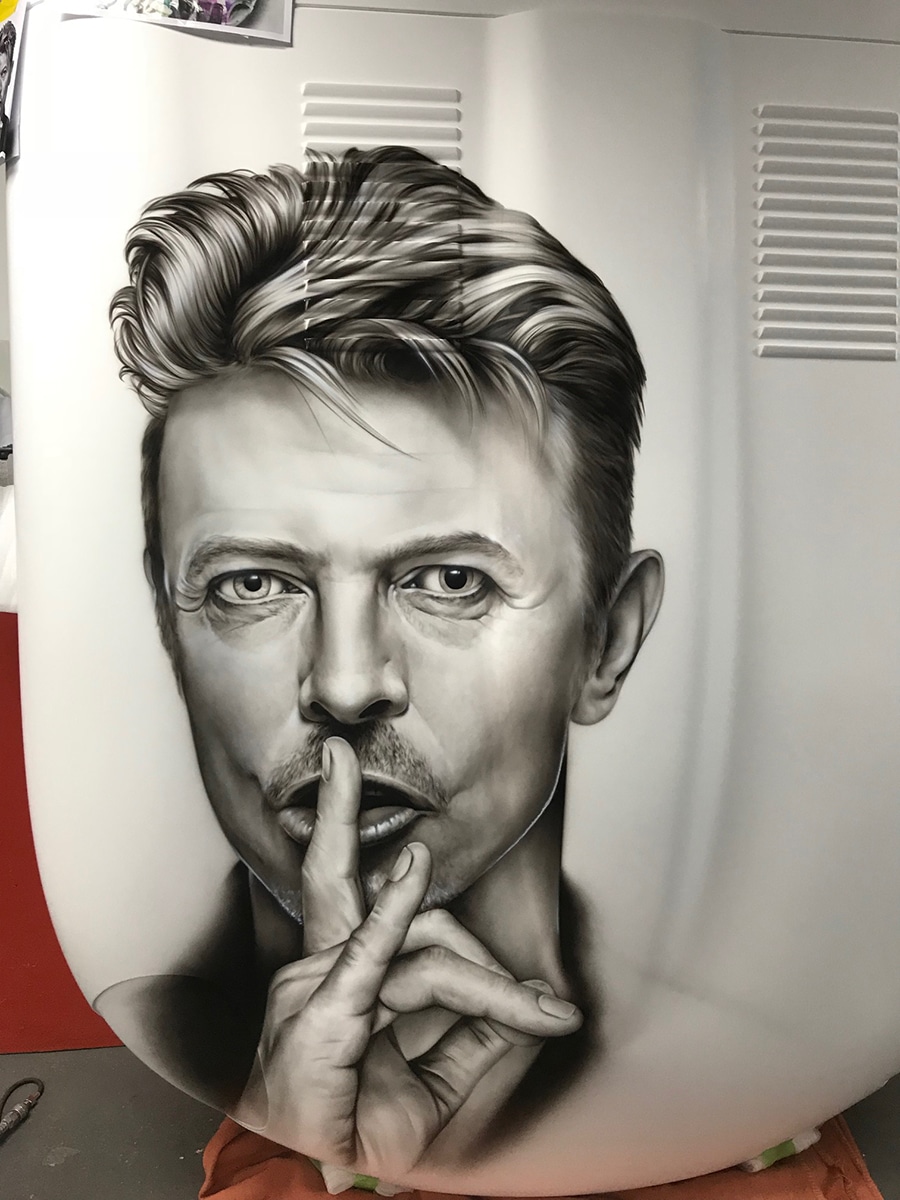 "Jaguar asked me to create a piece to celebrate the launch of their new Collection and for me nothing embodies the brand, it's British heritage and style more than the Jaguar E-Type and Bowie", says Cribbin.
"That's where the idea for the E-Type bonnet art came from".
Ryan's is currently working on a piece of bonnet art for the iconic marque (you can check out his progress below), which will be completed on the 10th of May, and you and a friend could be there to experience the exclusive event.
To be finished in a live demonstration at Jaguar's Collection launch at the Bondi Junction Jaguar retail store, Ryan will unveil his work in front of a crowd of dignitaries ands special guests.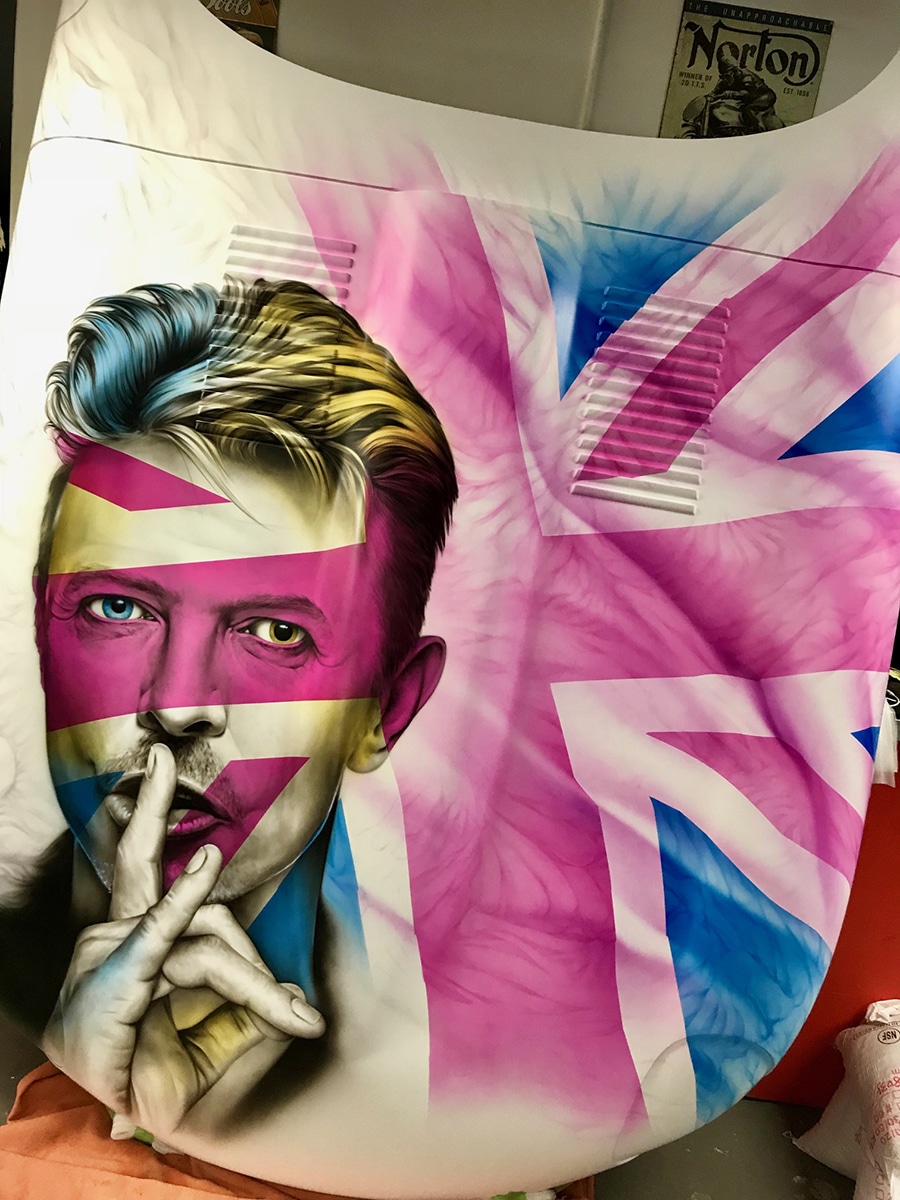 "I've seen Ryan painting live before and it's incredible", says Jaguar Land Rover Managing Director Matthew Wiesner.
"I'm amazed at the detail he can achieve using an airbrush and I like the Union Jack stripe crossing Bowie's face, reminiscent of Ziggy's lightning bolt".
The E-Type bonnet art will be on display at the Westfield Bondi Junction Jaguar Land Rover retail store from 11th – 13th May before it gets removed to have a clear coat applied and auctioned at an upcoming charity event. Visit the store, enjoy a complimentary coffee with the friendly staff and experience the artwork and the new Collection first hand.
WIN! 1 of 10 Passes to Jaguar and Land Rover Collections Exclusive Bondi Junction Launch Party
Man of Many is delighted to offer our readers double passes to the Jaguar Land Rover Collection Launch, 6:30pm Thursday 10th May at the Jaguar Land Rover Bondi Junction store.
WIN 1 of 2 Double Pass to the Launch of the Jaguar and Land Rover 2018 Collections

Visit Bondi Junction Jaguar Land Rover
Have you subscribed to Man of Many? You can also follow us on Facebook, Twitter, Instagram, and YouTube.