21 Best Cafe Racers You Can Buy Off the Lot
Cafe racers are the game-changing breed of motorcycle that is the halfway house of the naked and the classic. The featherweight of the motorbike industry is a tier below the standard bike division but a world above in performance. Of late, riding solo has become the escapism juggernaut, and if you're of the monoculture of folks who fetishize about coasting through life on a two-wheeled beast, then the cafe racer may be right up your alley.
Cafe Racers at a Glance
What makes this model rise above other distinguished motoring specimens? Agility, sleekness and fidelity to performance. Their comprehensiveness to riders; cut-rate price tags and stately power-to-weight ratio bolsters their exceptionality. Not to mention that they reek of retro hues and boast an avant-garde overtone, and it's no surprise.
The story of cafe racers dates way back to the 1960s, when British motorcycle enthusiasts began toying with their standard production bikes. Optimised for speed and handling for quick rides over short distances, the bikes culled the big and bulky sections in favour of sleek and minimalistic designs.
Generally, these bikes were parallel twin motorcycle with low-mounted clip-on or "Ace" handlebars with rear-set footrests. The side panels, rear chain enclosures and fenders were replaced by lighter items, or dispensed with altogether, giving a truly unique aesthetic.
Now, it must be said, the beauty of the cafe racer is a customisation potential. Classic bikes like the Honda CB Series and Yamaha XS Series have become favourites for cafe racer builds and projects, but in recent years, more garages have looked to offer complete, production cafe racers. That's what we're focusing on here. Sure, you can't beat a CB750 build on its own, but for those without the time and know-how, these bikes are the next best thing.  Feast your eyes on the best cafe racers you can buy off the lot.
You'll also like:
14 Best Electric Bikes Money Can Buy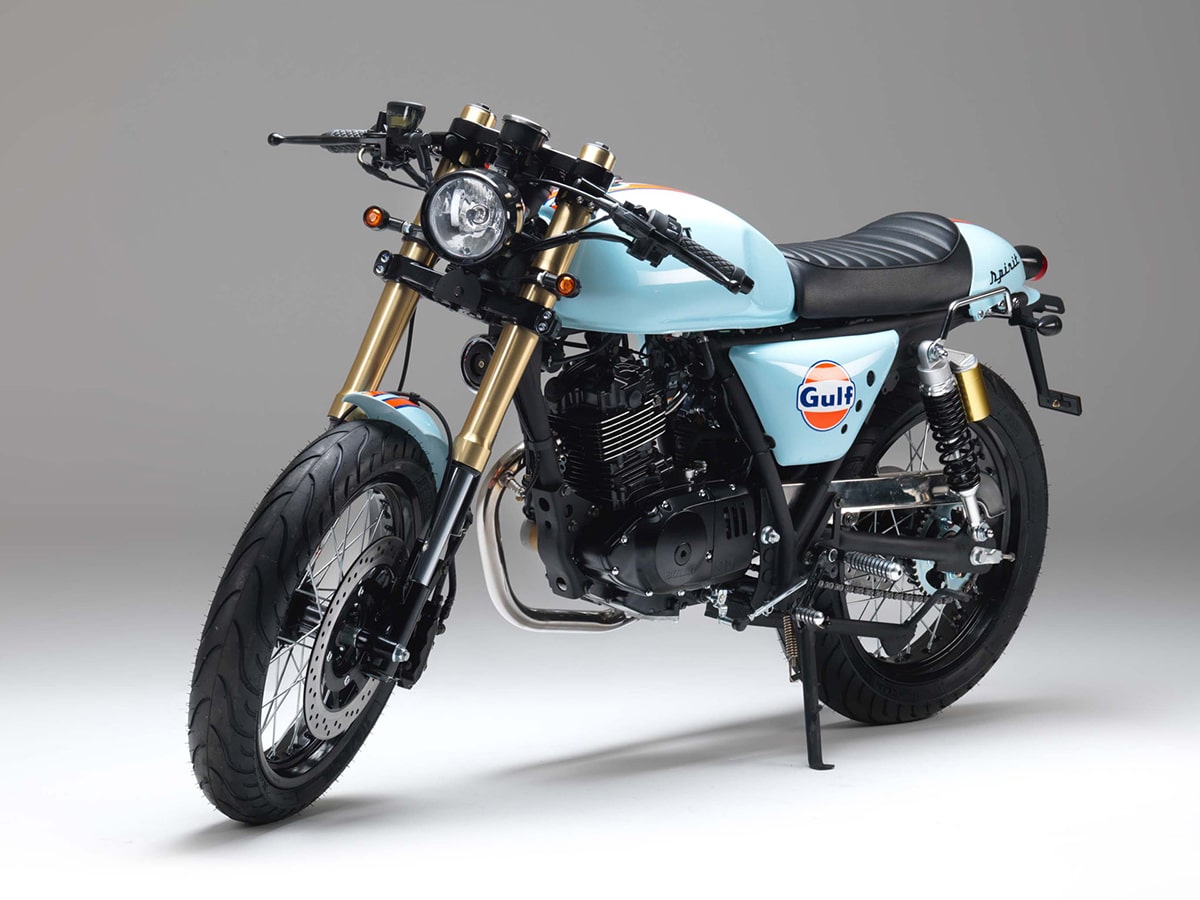 1. Bullit Spirit 125
The Bullit Spirit 125 pays homage to the classic British designs of the cafe racer. This limited-edition motorcycle is part of the 150 units forged by the esteemed British brand and is the symphony of craftsmanship, modern technology and high performance that creates an extraordinary riding experience. The Spirit 125 features upside forks, electronic fuel injection, an impressive combined braking system and is available in three arresting designs.
Motor: 125cc
Horsepower: 11.6 hp
Fuel capacity: 7 L
Top speed: 97 km/ 60 mph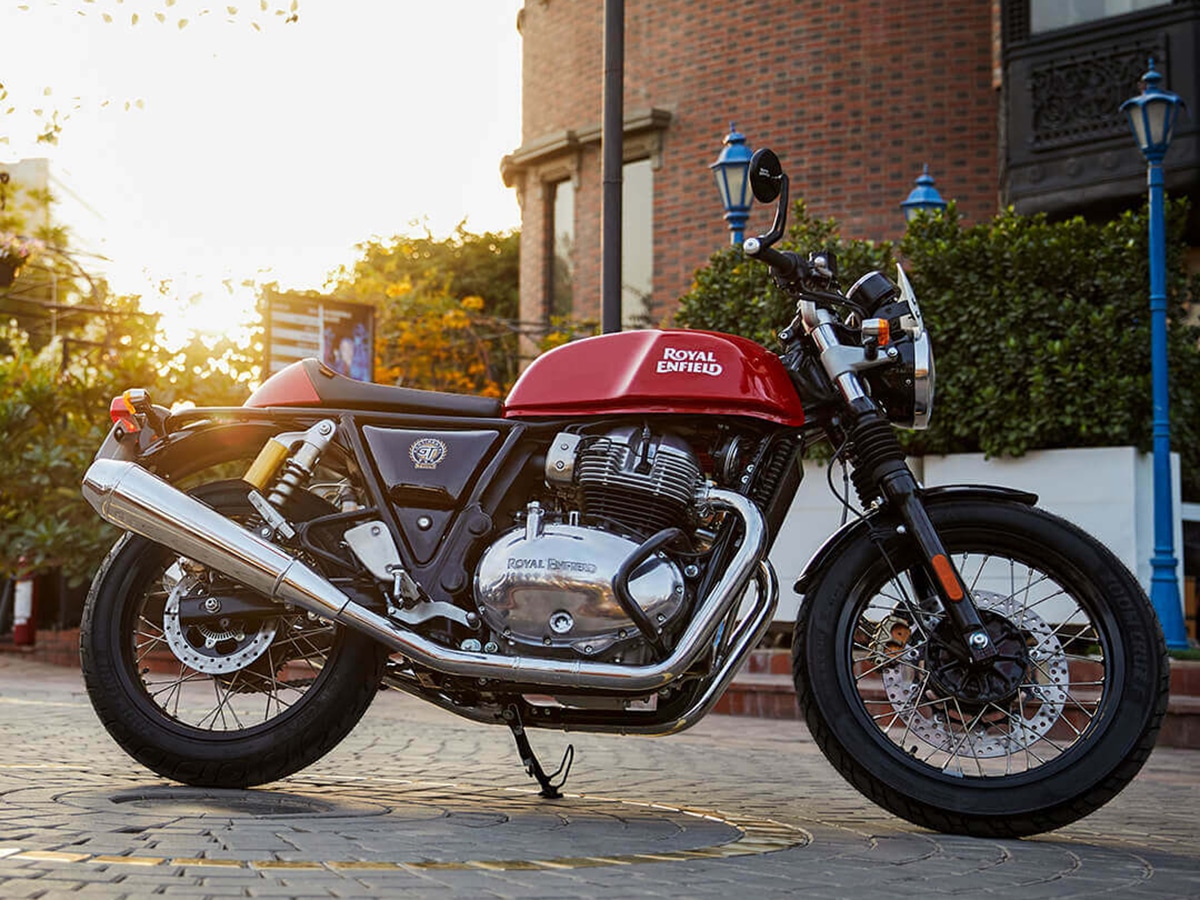 2. Royal Enfield Continental GT 650
While taking the leaf from the cafe racer culture of the '60s, the Royal Enfield Continental GT 650 is a whole new level of modern motoring. Its design is iconic; with its striking figure, aggressiveness and a tucked-in riding position, all features of the traditional cafe racer, but better. Coupled with its finely tuned suspension for the optimum blend of comfort & feel, the GT 650 guarantees a dynamic ride, through the suburban and city streets.
Motor: 650cc
Horsepower: 47 hp
Fuel capacity: 13.7 L
Top speed: 170 km/ 105 mph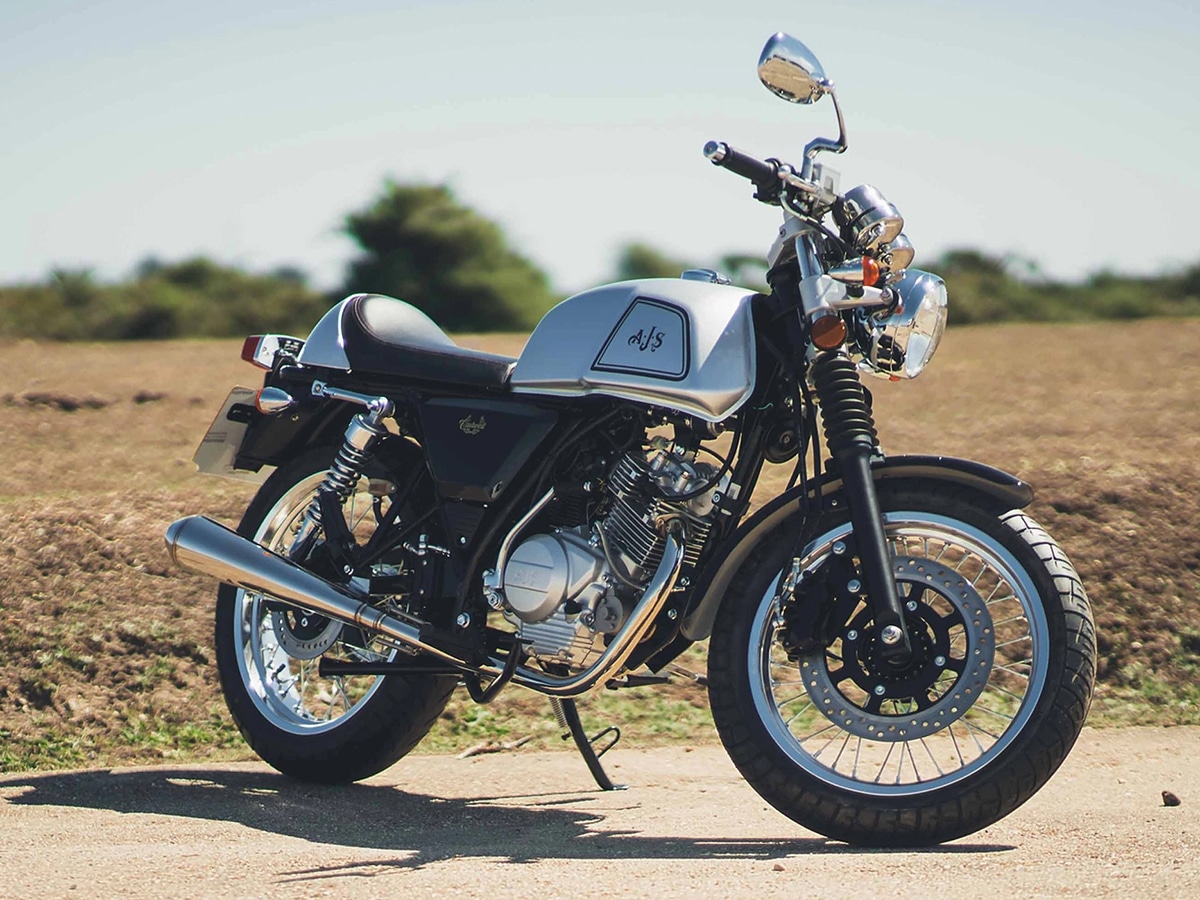 3. AJS Cadwell Clubman 125
The AJS Cadwell Clubman 125 is the pride of the Heritage range from the motoring brand. The Clubman encapsulates the '50s and '60s era of the classic and speedy cafe racers. Its scintillating gearbox, gentle power delivery and responsive brakes offer a surreal riding experience. Consider though, if you live in a place where this racer will be required to spend a heck of a time at max speed on roads, you won't get the most out of its performance. It's the back roads, towns and cities where you'll find its full potential.
Motor: 125cc
Max torque: 9.5 Nm
Fuel capacity: 11.2 L
Top speed: 97 km/ 60 mph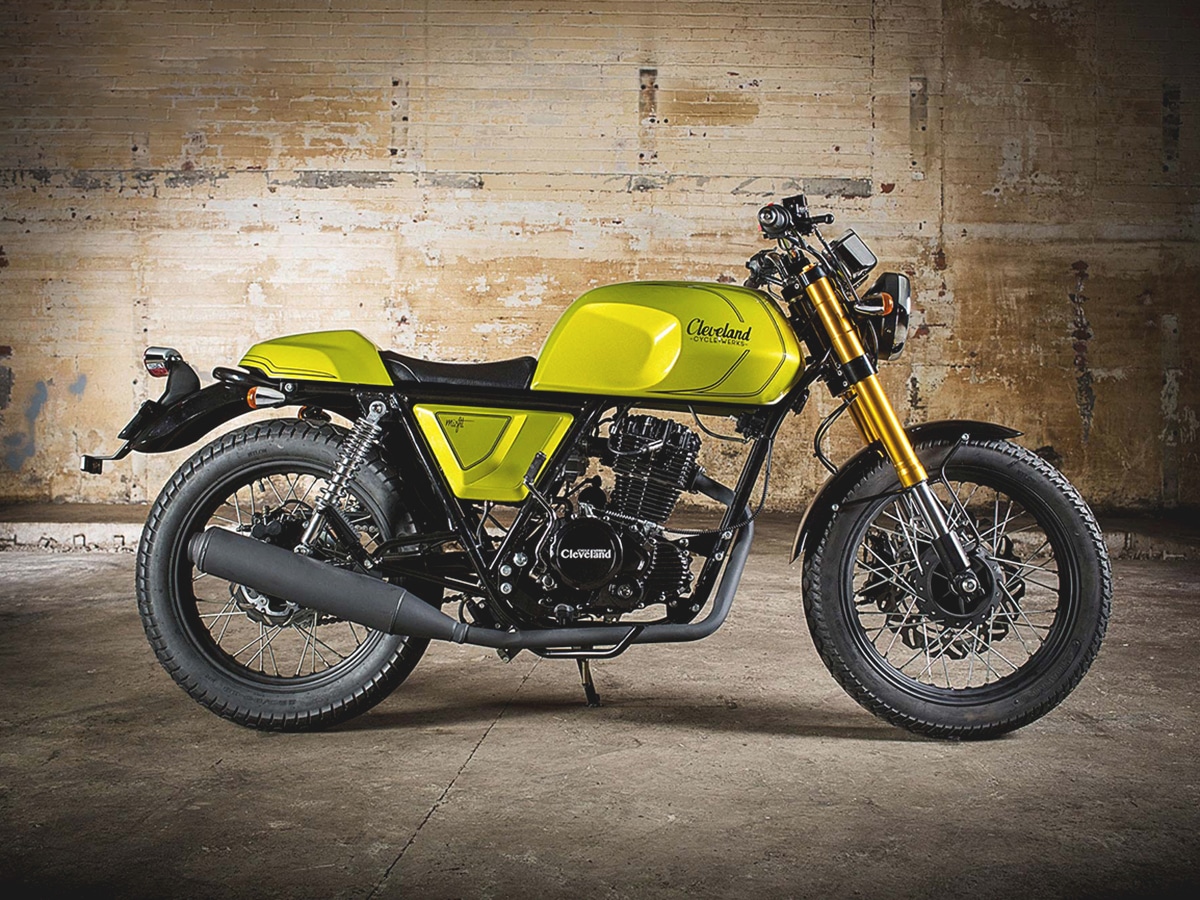 4. Cleveland CycleWerks Misfit 2
Cleveland continues to pump out motoring masterpieces and the Misfit 2 is a testament to this. While the Misfit Gen 1 is the embodiment of the '60s motorcycle culture of the 250cc GP bikes, the Misfit Gen 2 honours the past and couples it with newfangled features. Boasting top-grade chassis dynamics, deft handling and a sleek exterior a la Harley Davidson at a cut-rate price tag, you'd be bonkers for not mulling about owning this cafe racer. The Misfit is interestingly a sporty motorcycle that's primed for the city, highways and backend streets.
Motor: 250cc
Max torque: 16.0 Nm
Fuel capacity: 15 L
Top speed: 137 km/ 85 mph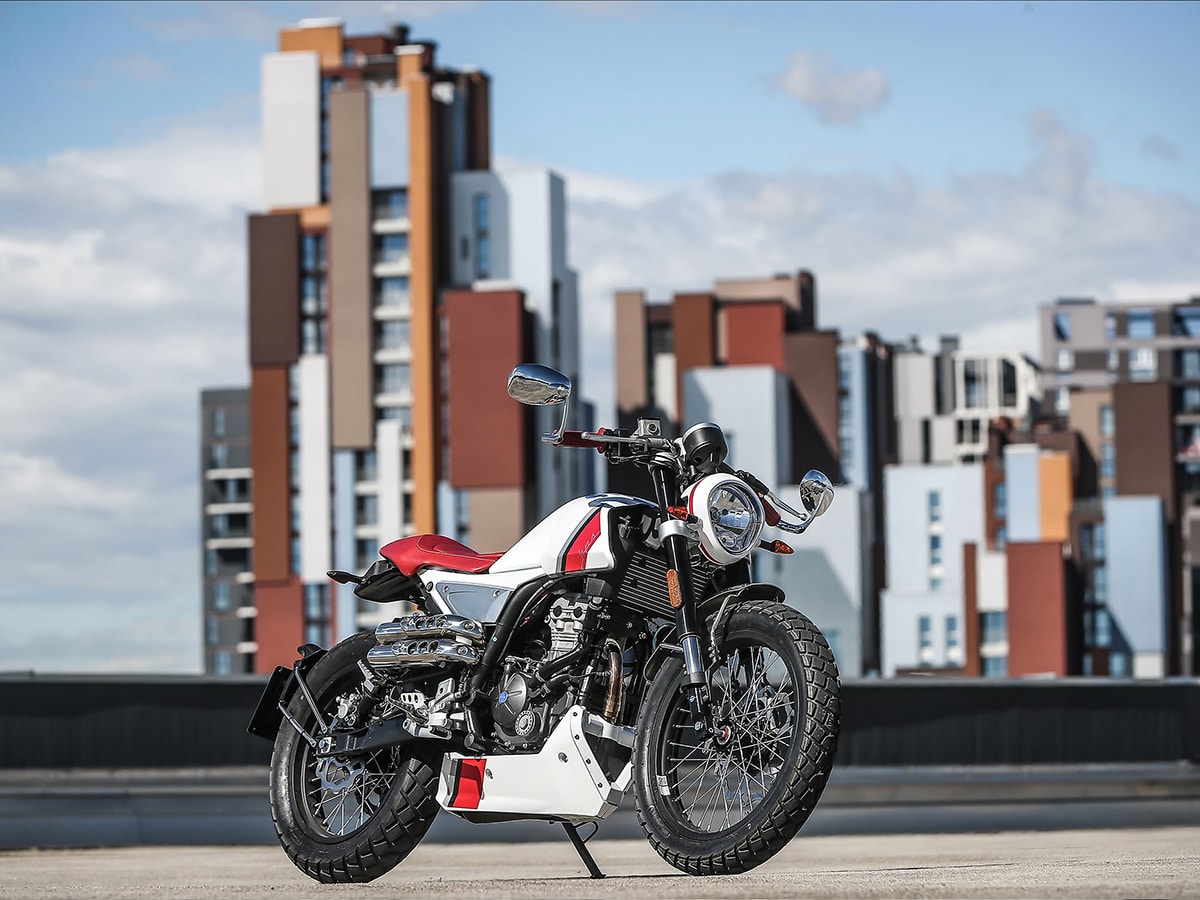 5. FB Mondial HPS125
No one pays attention to detail more than FB Mondial. Their HPS125 strikes the eye of flanking drivers and pedestrians. Their detailed study of the seat position now enables the rider to drive a classic motorcycle and enjoy the safety and reliability granted by its technology; which cinches the best driving experience on the highway, on small roads and city journeys. The design of HPS 125 is the premium mix of the iconic  F.B Mondial models and the novel technology of its 125cc liquid-cooled engine.
Motor: 125cc
Max torque: 10.5 Nm
Fuel capacity: 9.5 L
Horsepower: 14.8 hp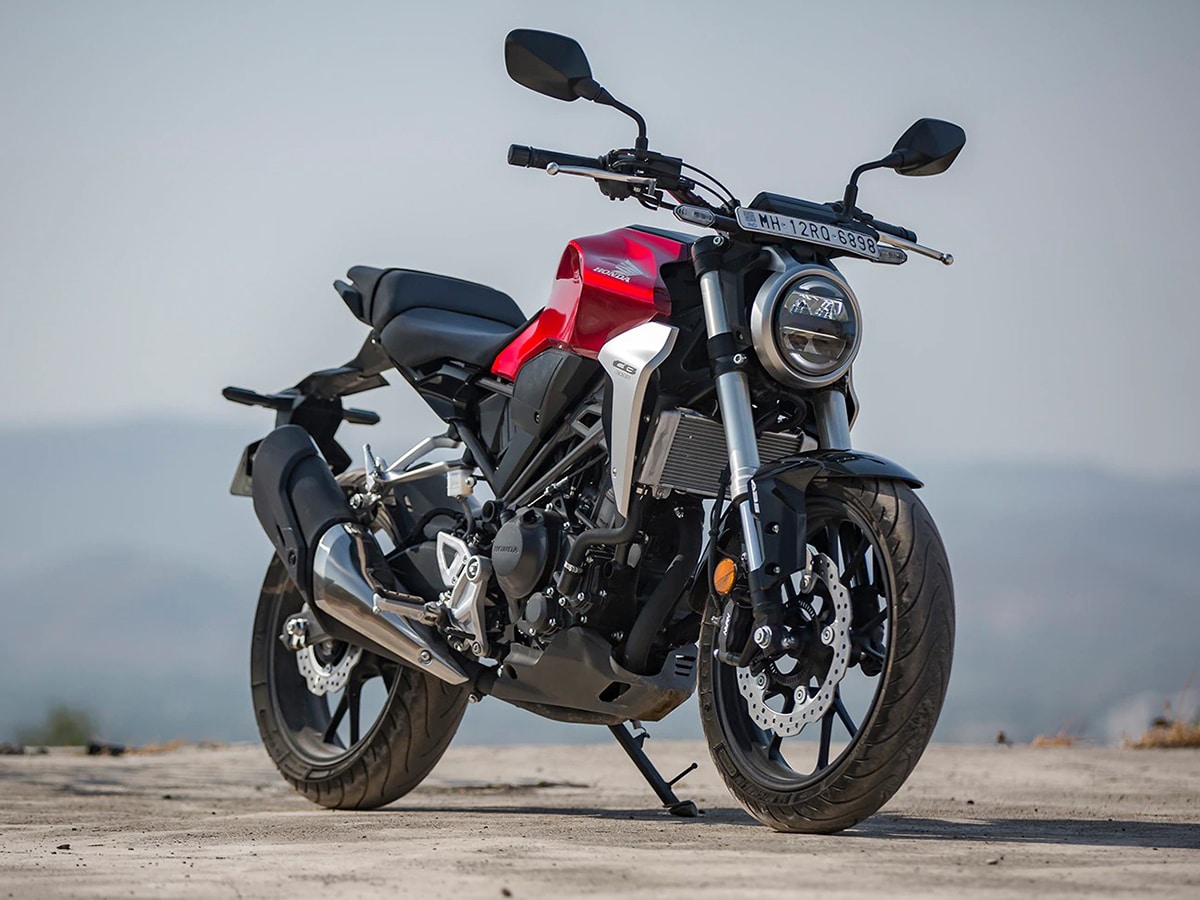 6. Honda CB300R
Honda's CB300R is light, aggressive and an economical stroke of genius that's a cut above its contemporaries. The motoring wonder is the mishmash of features that enable riders to experience the ultimate cruise for smooth and rough roads. This small street race bike borrows plenty of cues from the CB1000R. It has classic styling with plenty of modern touches. In addition, it's around 60-percent thinner than the outgoing one, giving it more engine rpm, speed and a higher fuel level.
Motor: 286cc
Max torque: 27.5 Nm
Fuel capacity: 10.2 L
Top speed: 145 km/ 90 mph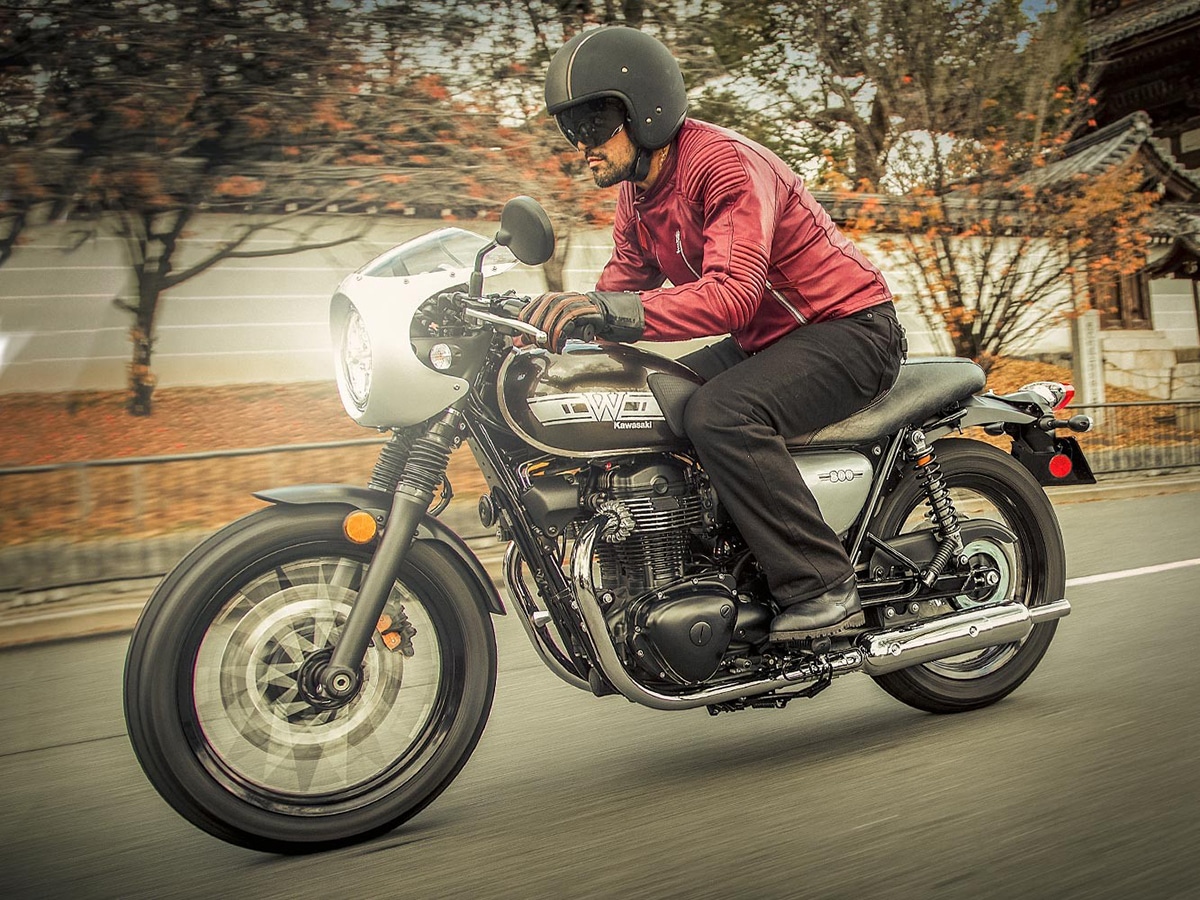 7. Kawasaki W800 Cafe
Kawasaki needs no introduction. The motoring manufacturing behemoth's W800 Cafe is only a tribute to its tradition. While riffing on the style of the '60s W1 model, riders will immediately gravitate towards the cafe racer's novel design and promising performance. Its lightly sprung assist-type clutch offers smooth engagement and fueling is spot-on. Coupled with its crank inertia that makes starting off on an upslope a cinch. The hallmarks of this beast are its throaty exhaust note and nimble handling.
Motor: 773cc
Horsepower: 47 hp
Fuel capacity: 15 L
Top speed: 180 km/ 110 mph
8. Husqvarna Vitpilen 401
The Vitpilen 401 is the premium cafe racer of the sub-500cc world. It's the Swedish manufacturer's golden boy that possesses futuristic design elements, aggressiveness and a more ergonomic character. With its 373cc single-cylinder engine and 17-inch wheels, you can tackle any urban and rustic road. The roadster is accessible to a variety of riders and its lightweight construction means the power-to-weight ratio is that of a Harley. While its design oozes European motoring flavour, it's a stand out from rest.
Motor: 373cc
Max torque: 37 Nm
Fuel capacity: 9.5 L
Top speed: 160 km/ 100 mph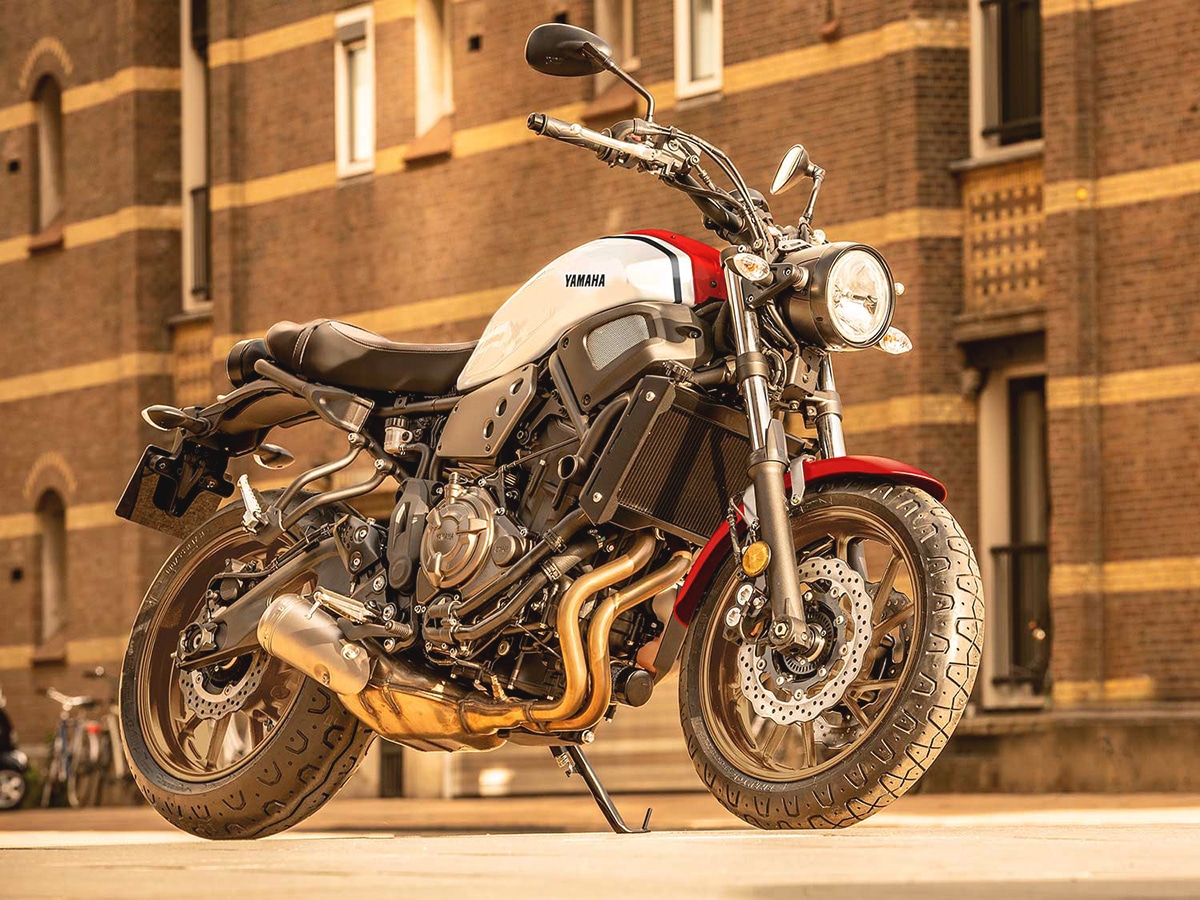 9. Yamaha XSR700
To say that the XSR700 is one of Yamaha's greatest production feats, would be an overstatement. But when you suss out its timeless style and specifications, it's hard not to hyperbolise. The XSR features a compact 2-cylinder engine that provides a unique power character with its outstanding torque and throttle response. Its compact, sporty design has a sport-oriented geometry to achieve deft handling with its minimalist weight and ergonomics.
Motor: 689cc
Max torque: 68 Nm
Fuel capacity: 14 L
Top speed: 195 km/ 120 mph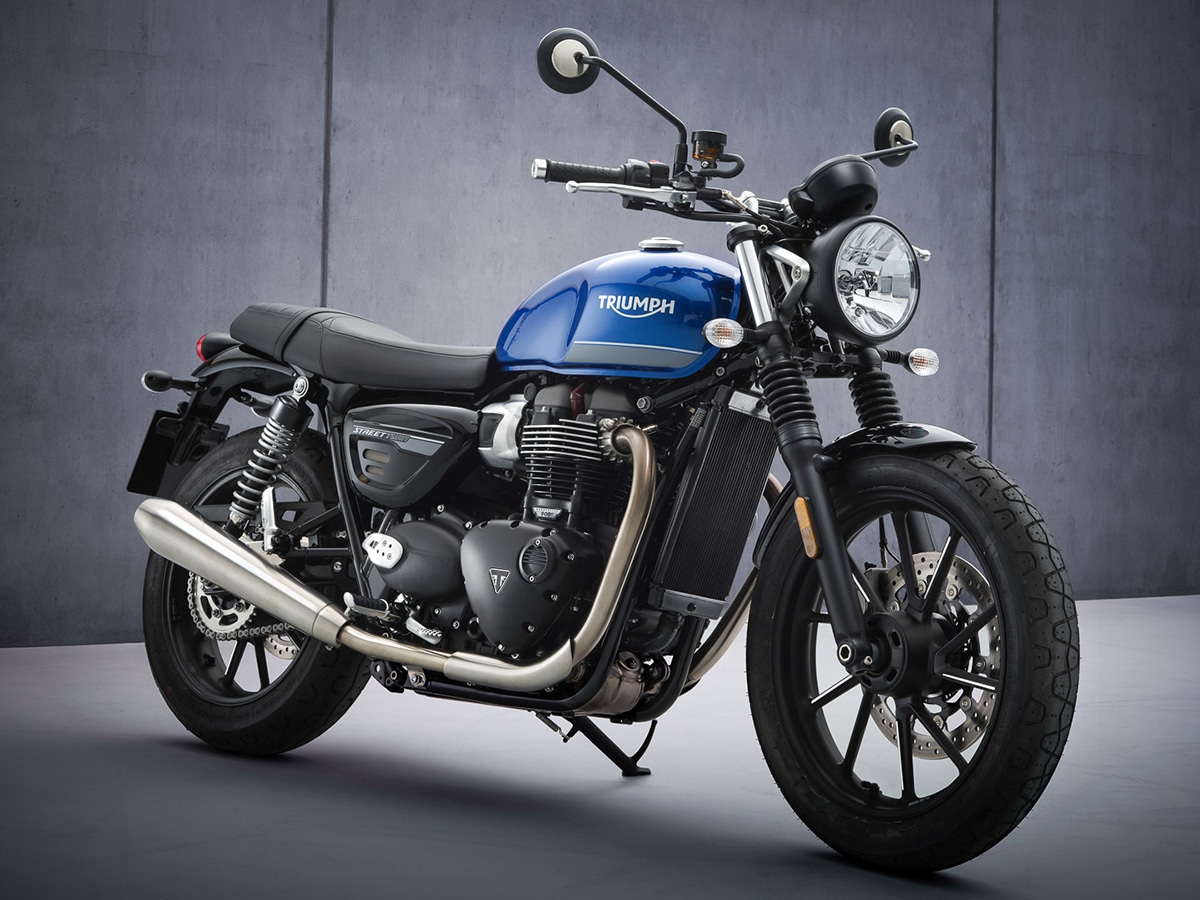 10. Triumph Street Twin
Triumph has left no stone unturned to make the heads turn with their bikes. The Street Twin is a distinguished racer boasting a parallel-twin four-stroke engine and is a modern classic best-seller with premium style and detailing. It has minor aesthetic overhauls and major engine revamps than its previous designs. The engine is now more aggressive and quicker in its acceleration and gives a smooth performance thanks to its Twin 900cc Bonneville engine.
Motor: 900cc
Max torque: 80 Nm
Fuel capacity: 12 L
Top speed: 180 km/ 110 mph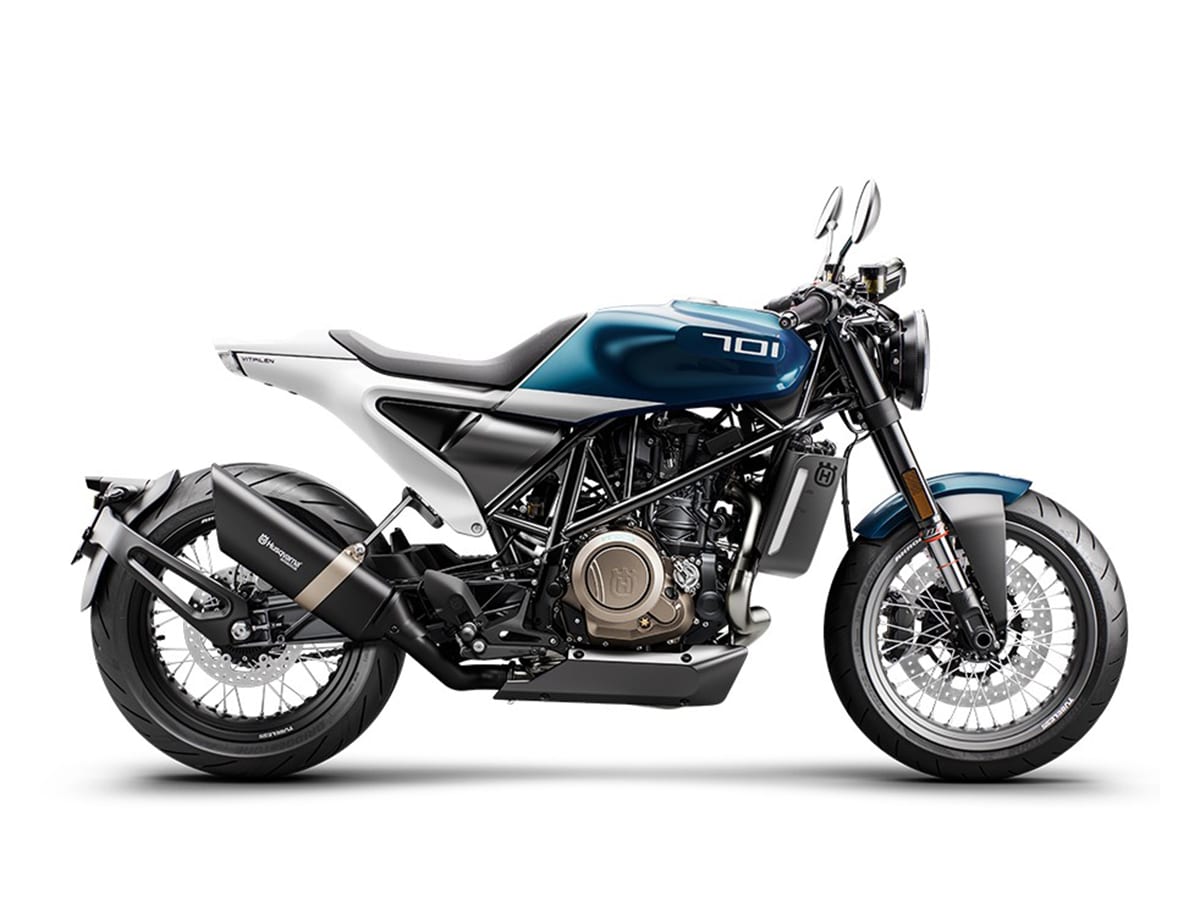 11. Husqvarna Vitpilen 701
Husqvarna's Vitpilen 701 is everything a gear head desires in a cafe racer and more. Powered by a modern 693 liquid-cooled single-cylinder engine, it's the latest design in electronic technology and bolsters a myriad of specs that instantiate its fidelity to high performance. Reduced to an authentic mix of classic thinking and modern design, the lightweight and narrow bodywork are shaped into the Vitpilen 701's progressive design and intelligently allows for effortless movement while riding.
Motor: 693cc
Max torque: 72 Nm
Fuel capacity: 11.2 L
Top speed: 185 km/ 115 mph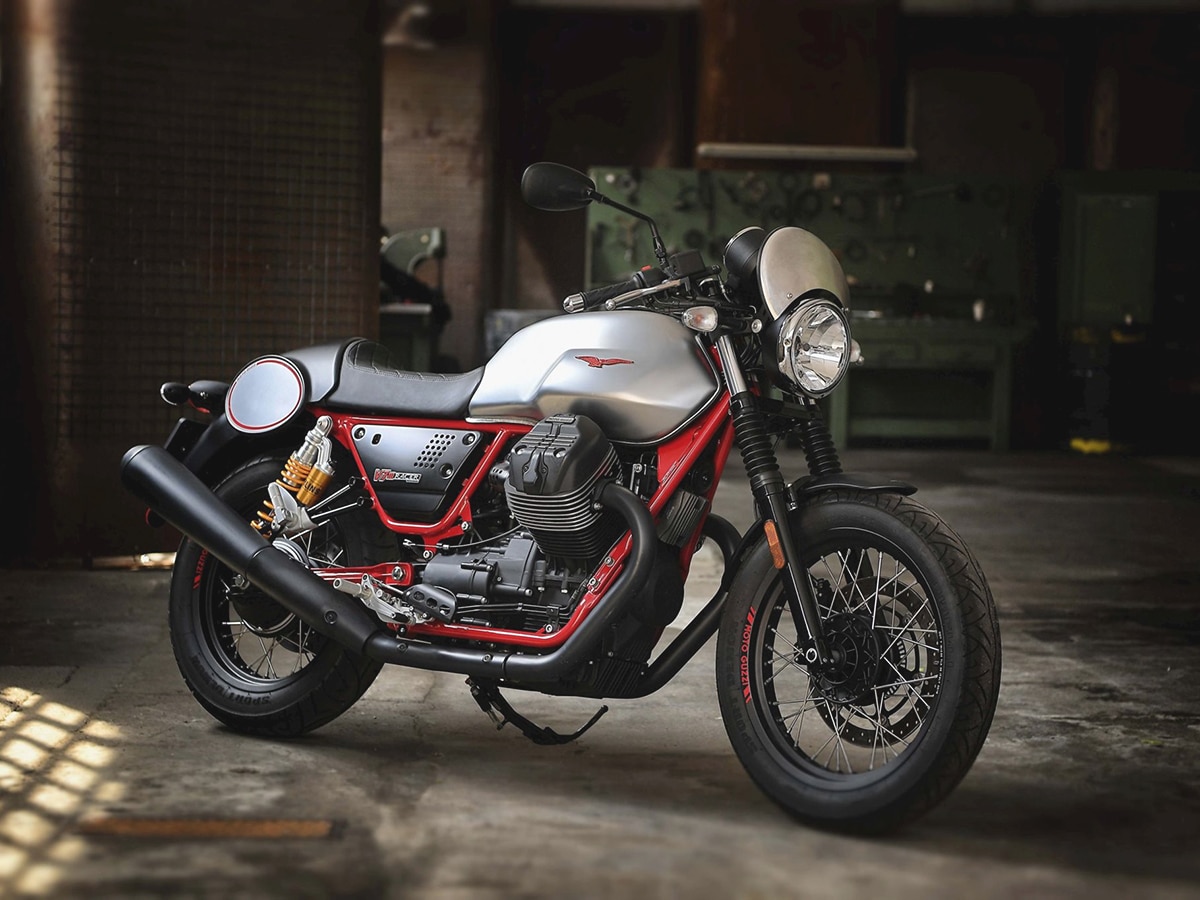 12. Moto Guzzi V7 III Racer Le
Marking half a century since its debut racer, Moto Guzzi gives you the V7 III Racer Le. The third generation cafe racer has been sharpened up to increase desirability and riding efficacy. The V7 is a standout of the product range and embodies the Italian company's ethos. The racer is the result of Moto Guzzi's modern passion and craftsmanship. With its 744cc twin-cylinder, it's a considerably different and more enjoyable bike to ride; giving riders more oomph when accelerating.
Motor: 744cc
Max torque: 60 Nm
Fuel capacity: 21 L
Horsepower: 52 hp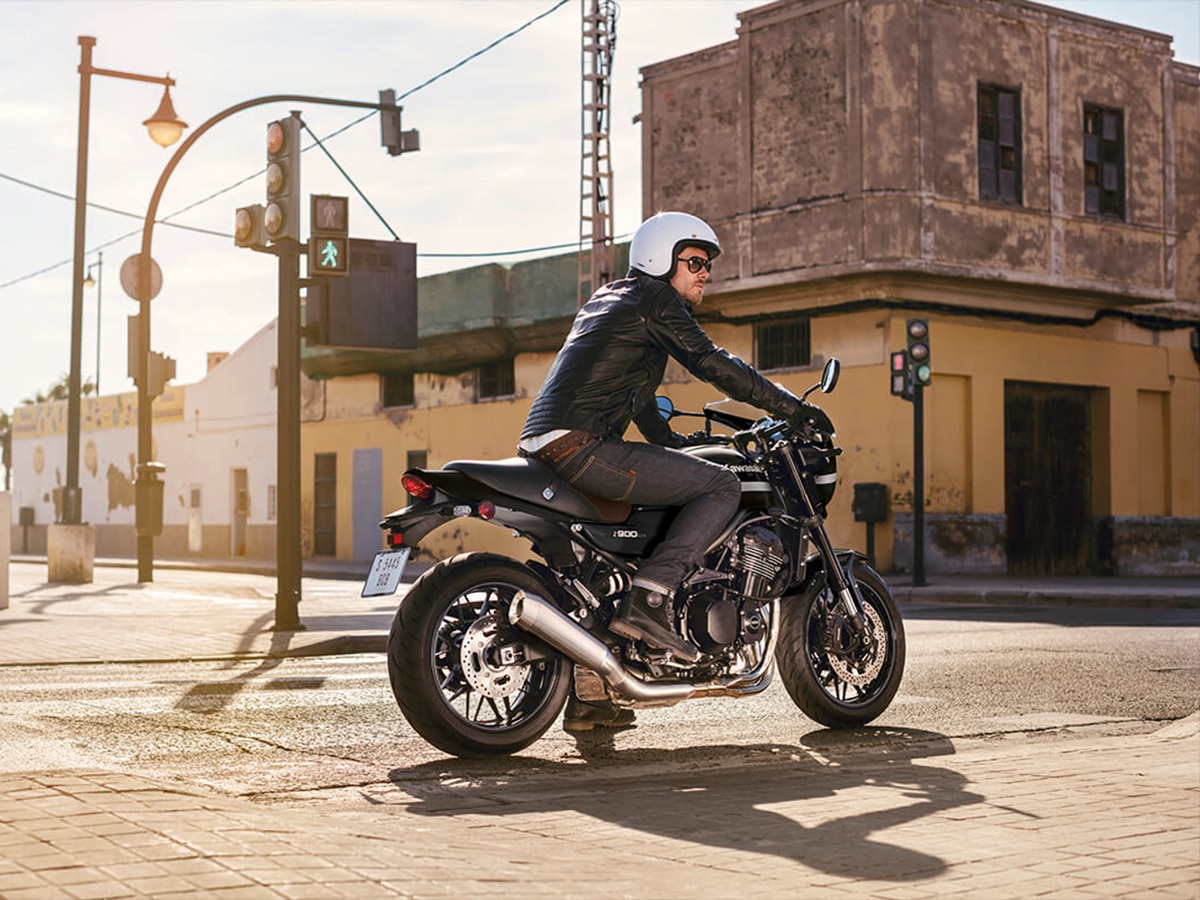 13. Kawasaki Z900RS Cafe
Does Kawasaki ever stop? The Z900RS is smooth, attractive and ready to burst into life when put into gear. It's the sort of build that will tease the bloke who persistently whines about how the brand's bikes design have fizzled out. The RS cafe screams street style before you start the engine. Admirers will be entranced by the racer's designs. The shape of the seat is built for comfort, the overall aesthetic oozes a '70s vibe and the brushed satin finish on the frame are drool-worthy.
Motor: 948cc
Max torque: 98.5 Nm
Fuel capacity: 17 L
Horsepower: 110 hp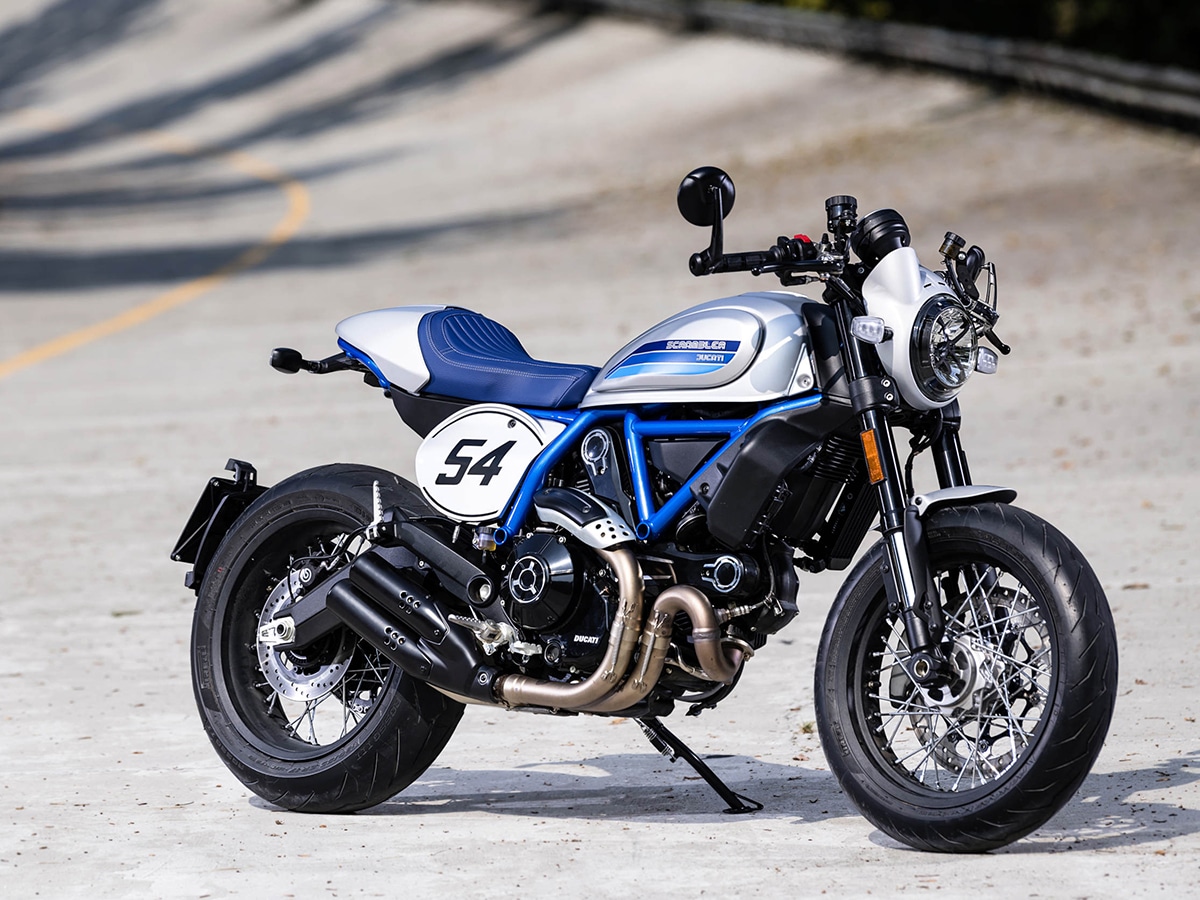 14. Ducati Scrambler Cafe Racer
Looking for a cafe racer with a sporty visage but that's fit for any road? Look no further. The Scrambler Cafe Racer is the sportiest and most aggressive of the family from an ergonomics perspective. The gold on the wheels isn't overpowering, it's a light shade that is matched by a pinstripe, like the detail on the tank sides. Its dark leather seat is elegantly crafted with the cowl featuring the same deep paint as the tank.
Motor: 803cc
Max torque: 67 Nm
Fuel capacity: 13.5 L
Top speed: 195 km/ 120 mph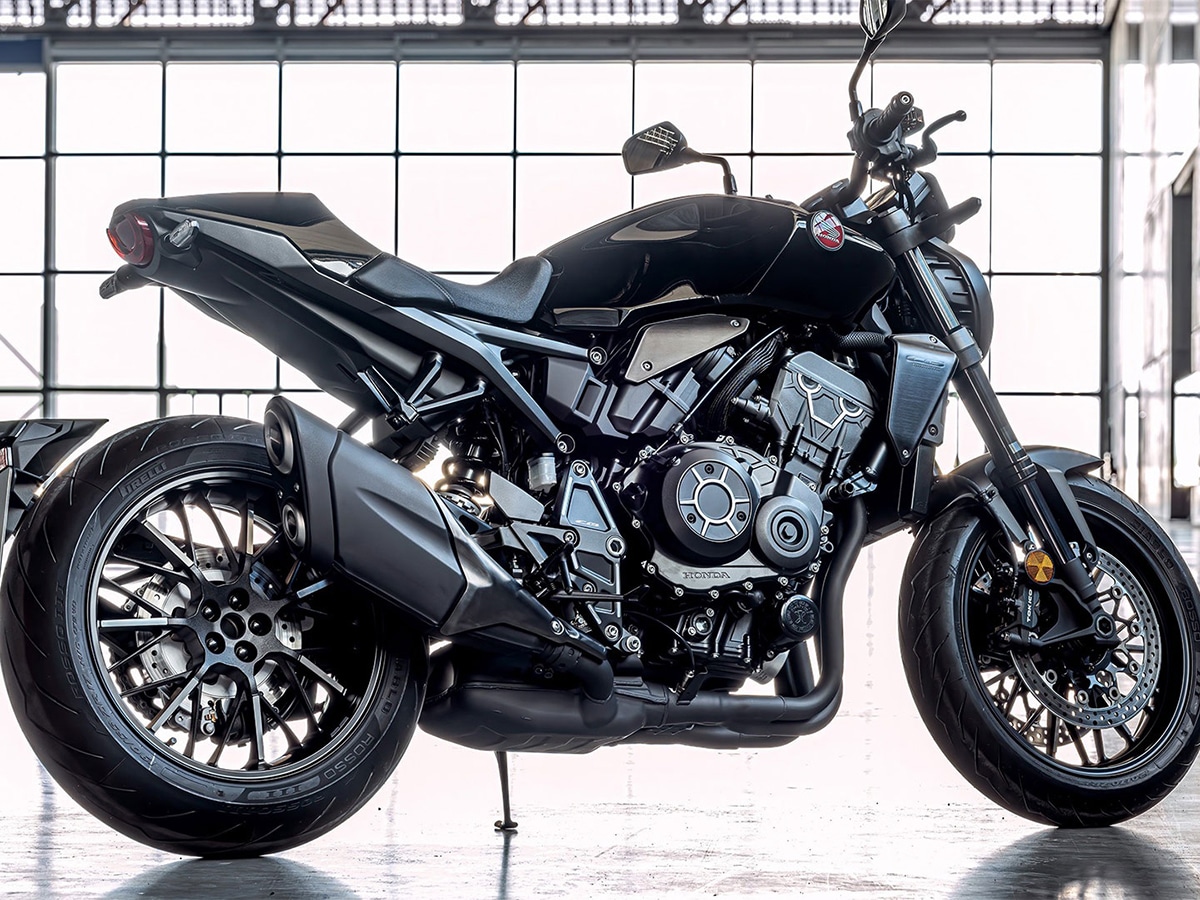 15. Honda CB1000R
The CB1000R is an alpha performer: it's dark, lightweight, enticing and potent. With a motor that just dips below 1000cc, a maximised torque and unrivalled top speed, Honda has churned out another benchmark cafe racer. Described as the best open-class naked streetfighter the brand has cranked out, its cutting-edge Neo-Sports Café styling and a high-revving four-cylinder engine are specially tuned for midrange and top-end power.
Motor: 988cc
Max torque: 104 Nm
Fuel capacity: 16 L
Top speed: 240 km/ 150 mph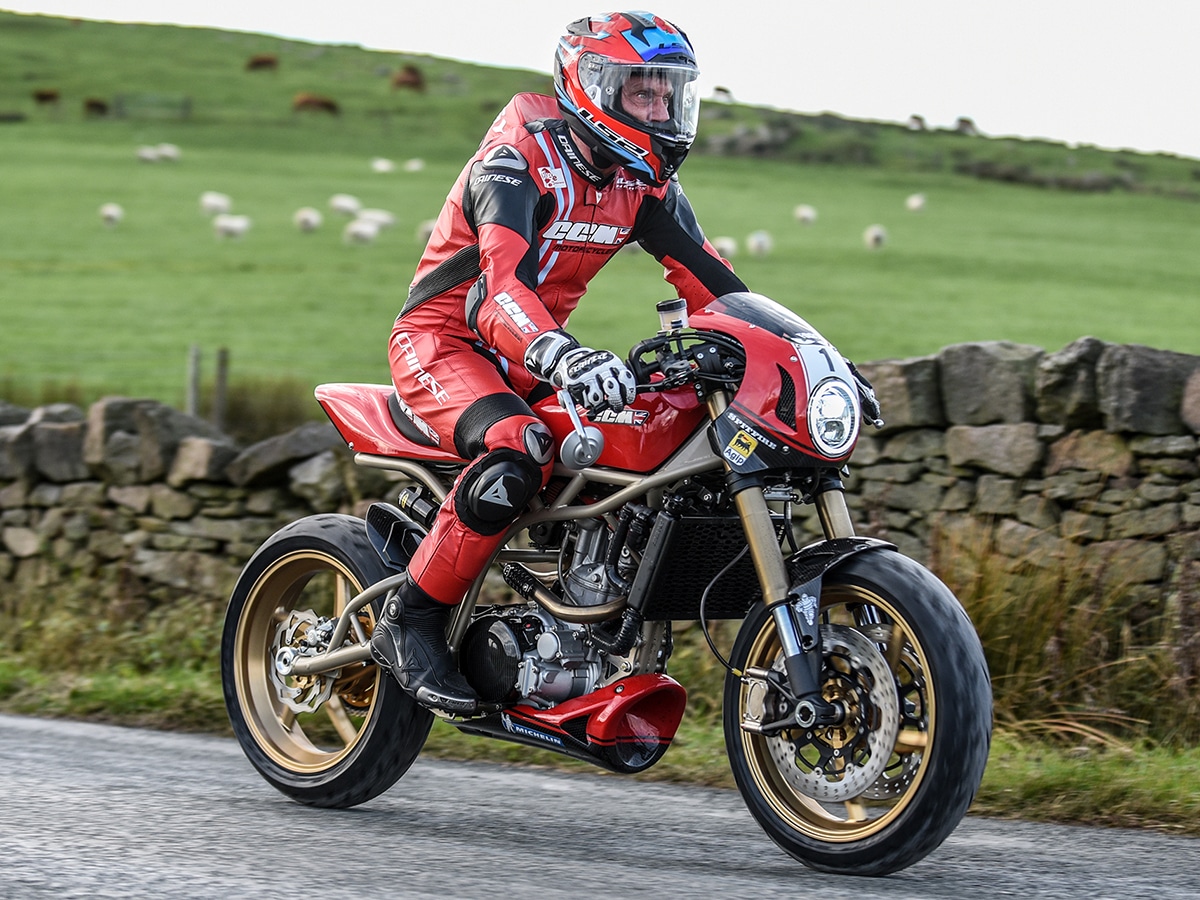 16. CCM Foggy Edition Spitfire
A total of 300 motorcycles across the trio of Foggy models were manufactured, and the Spitfire is the most brilliant thus far. Akin to a beefed-up dirt bike, the Spitfire echoes early biking life off-road. It weighs 142kg and produces 65hp and comes in deep red, golden frame body with black wheels. Its black Flat Track racing rubber wheels provide grip and agility to match the purposeful looks and boasts a carbon fibre bodywork with a myriad of elite performance specs.
Motor: 600cc
Max torque: 66 Nm
Fuel capacity: 14 L
Horsepower: 62 hp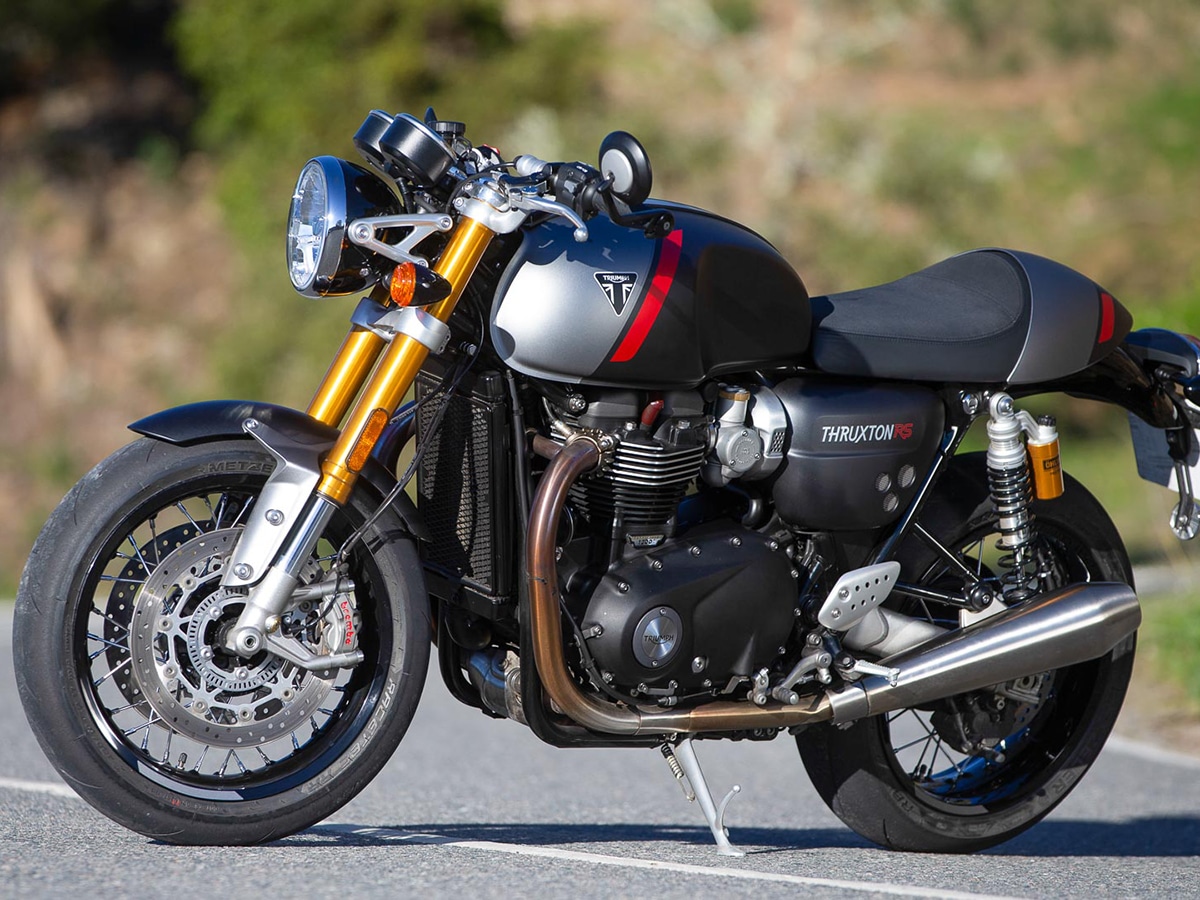 17. Triumph Thruxton RS
The Triumph Thruxton RS remixes the original cafe racer design flavour and the iconic style while pushing the envelope of performance. This baby is 6kg lighter than its previous sister, has more character and is perfect for riders who love the sporting purity and performance of a cafe racer. Flaunting a punchy engine, a top-notch chassis and an iconic aura, the Triumph Thruxton RS is one of the most coveted cafe racers on the road. It's the essential vehicle for exploring a city; and that by dint of its size and deft.
Motor: 1200cc
Max torque: 112 Nm
Fuel capacity: 14.5 L
Top speed: 220 km/ 135 mph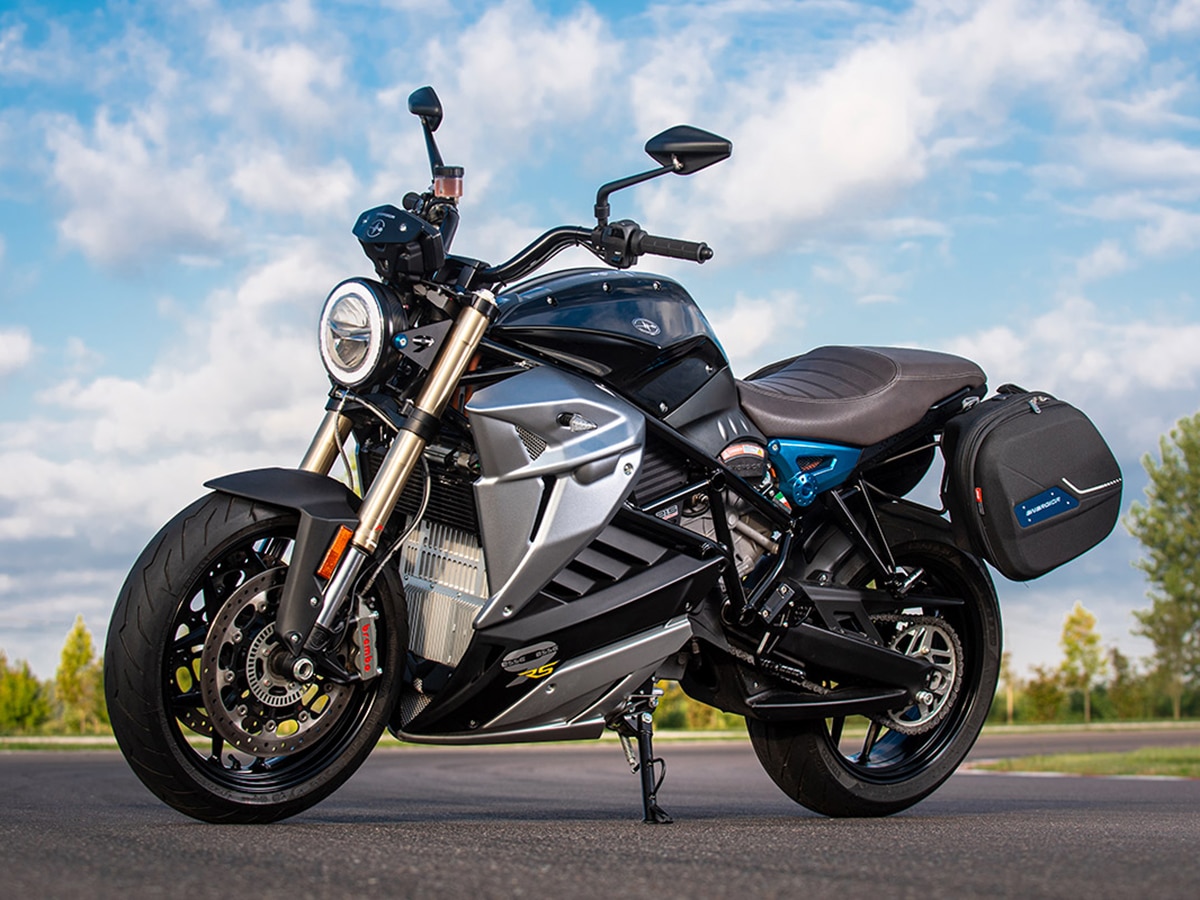 18. Energica Eva EsseEsse9
Roll out your red carpet for the first-ever retro-styled electric motorcycle. The Energica Eva EsseEsse9 is perfect for casual riding without the demanding hyper-performance of a regular cafe racer; it's also ideal for two-up riding and it's the preferred choice for long-distance electric wanderers. The bike has three charging options which means the longest range of any electric motorcycle: 420 km/ 261 miles of city range, 246 km/ 153 miles of combined city and highway range, and 198 km/ 123 miles of extra-urban riding.
Motor: Electric
Max torque: 180 Nm
Horsepower: 117 hp
Top speed: 200 km/ 125 mph
19. MV Agusta Superveloce 800
Superveloce 800 is the symphony of trailblazing designs and the classics of its rich racing heritage. It reveals the most modern technology, concentrated in its 173 kg, as well as leading electronics to satisfy the most demanding riders and has an essential function that's committed to staging shows. It's petite but promises a heck of a performance on any road.
Motor: 798cc
Max torque: 88 Nm
Fuel capacity: 16.5 L
Top speed: 240 km/ 150 mph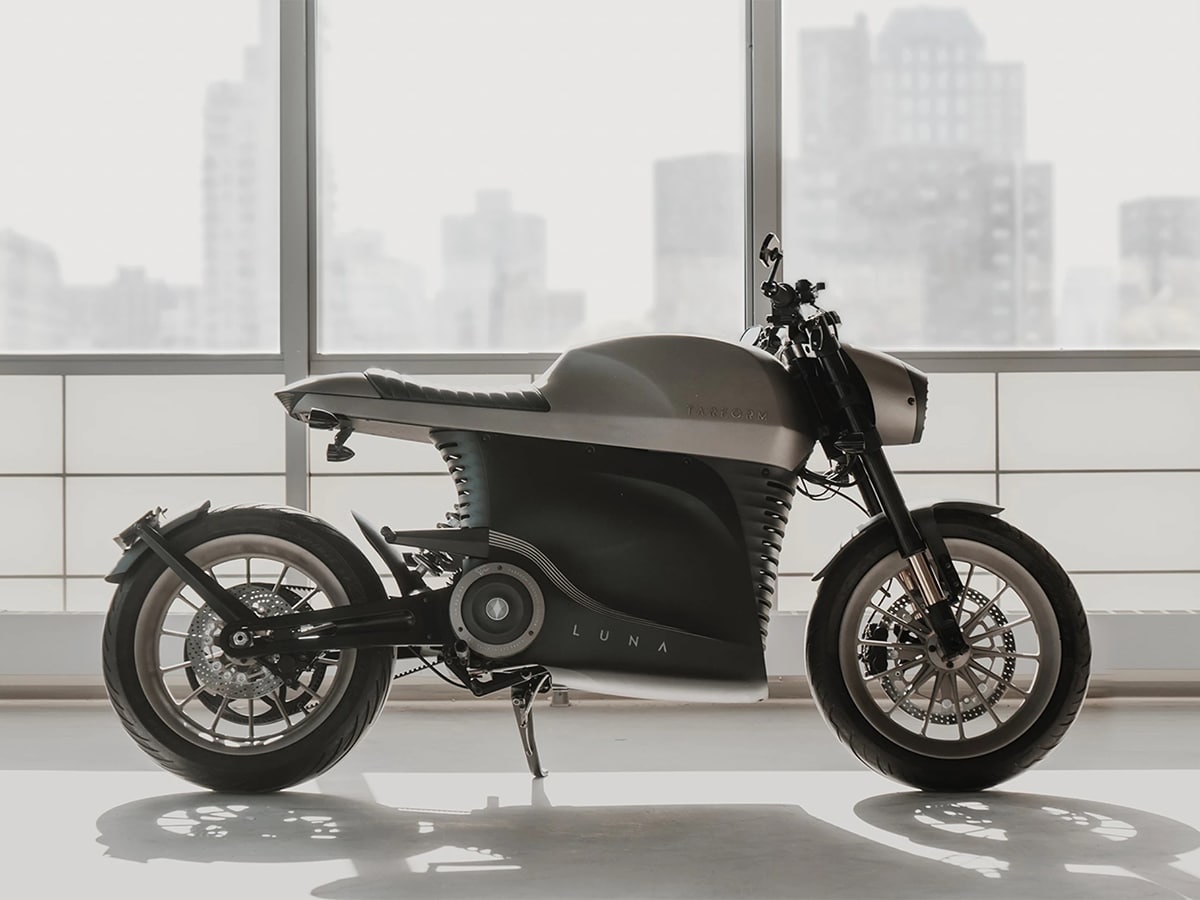 20. Tarform Luna Racer
Tarform has emphatically taken the leaf out of… well… nature when manufacturing the Luna Racer. The cafe racer comprises eco-friendly elements: flax fibres, upcycled aluminium and decomposable leather. And regarding its performance; it's the perfect blend of the stance of a scrambler and the acceleration of a sportbike. The simplicity of the electric powertrain facilitates have just over 20 parts operating simultaneously when riding, compared to over 1000 in non-economy efficient vehicles.
Motor: Electric
Horsepower: 55 hp
Top speed: 155 km/ 95 mph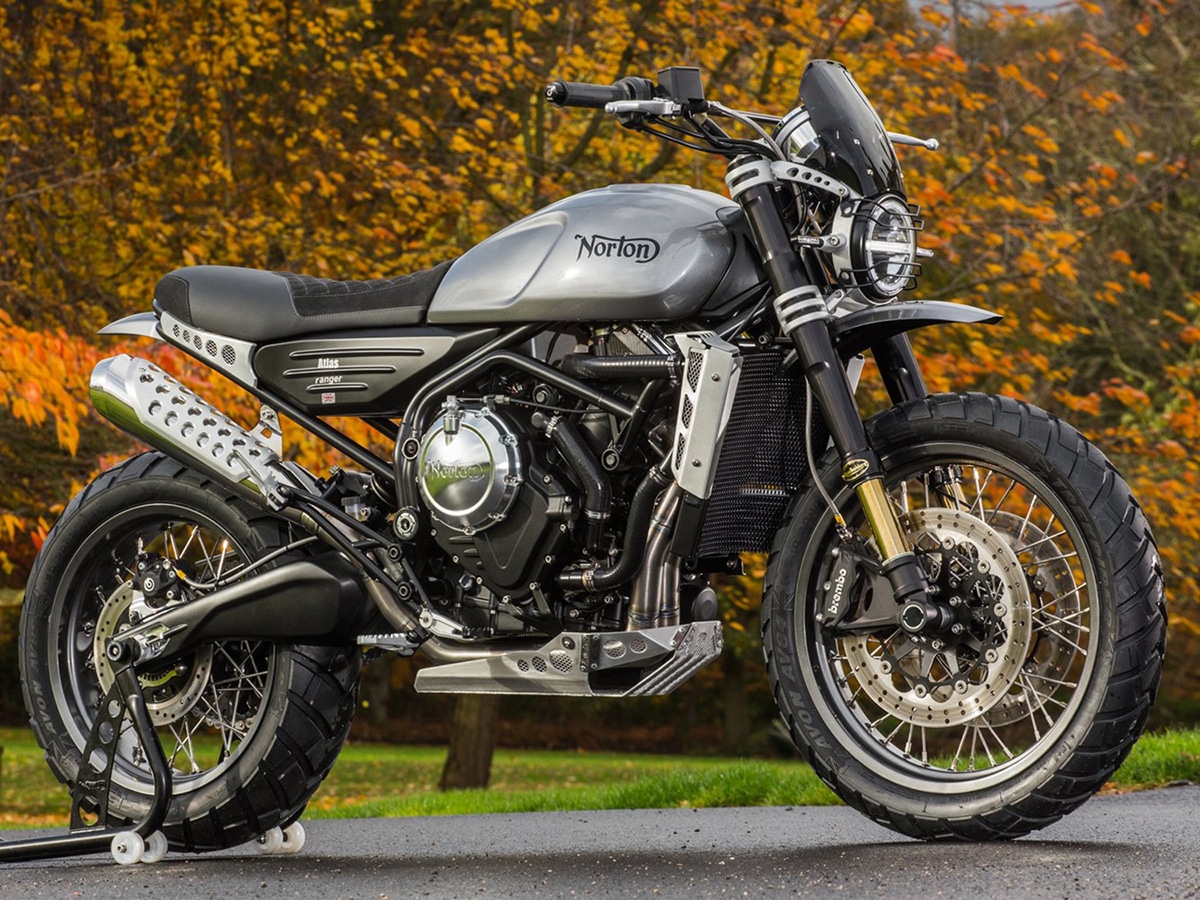 21. Norton Dominator
The Norton Dominator was forged by the Norton and is part of a string of cafe racers that are most illustrious in design and specifications. The Dominator is a statement of the brand's unparalleled handling capability, power and speed. This bike is part of the category of classic and the first model of the Norton dominator street generation that's designed for the road as well as for off-road adventures.
Motor: 961cc
Max torque: 90 Nm
Fuel capacity: 17 L
Top speed: 185 km/ 115 mph
You'll also like:
14 Best Electric Bikes Money Can Buy
11 Fastest Motorcycles You Can Actually Buy
12 Best Motorcycle Backpacks for the Daily Commute
General FAQs
What's the best cafe racer motorcycle?
The Bullit Spirit 125 is the best cafe racer on our list. The 125cc limited-edition motorcycle is part of the 150 units forged by the esteemed British brand for top performance.
What are the top cafe racer bikes?
The top cafe racer bikes include the Royal Enfield Continental GT 650, the AJS Cadwell Clubman 125, the Cleveland CycleWerks Misfit 2 and the FB Mondial HPS125.
What is the best 500 cc cafe racer?
There's a slew of beasts that from the 500cc + world. There's the 650cc Royal Enfield Continental GT 650, the 773cc Kawasaki W800 Cafe, the 689cc Yamaha XSR700, the 900cc Triumph Street Twin Motor and the 693cc Husqvarna Vitpilen 701.