Guy Creates Lawn-Mower Powered Harley-Davidson
It's got to be some sort of sin against humanity—at the very list against motorcycles the world over. Bikes and Beards took the 110 RevTech motor out of a 1995 Harley-Davidson Ultra Classic and replaced it with a Predator 6.5 horsepower motor from Harbor Freight lawn mower.
You'll also like:
Harley-Davidson's Fat Boy is Still a Terminator on the Road
BMW Splashes Down into the Cruiser Market with the New R18
Ironwood's BMW R1250GS is Part-Cybertruck, Part-Bladerunner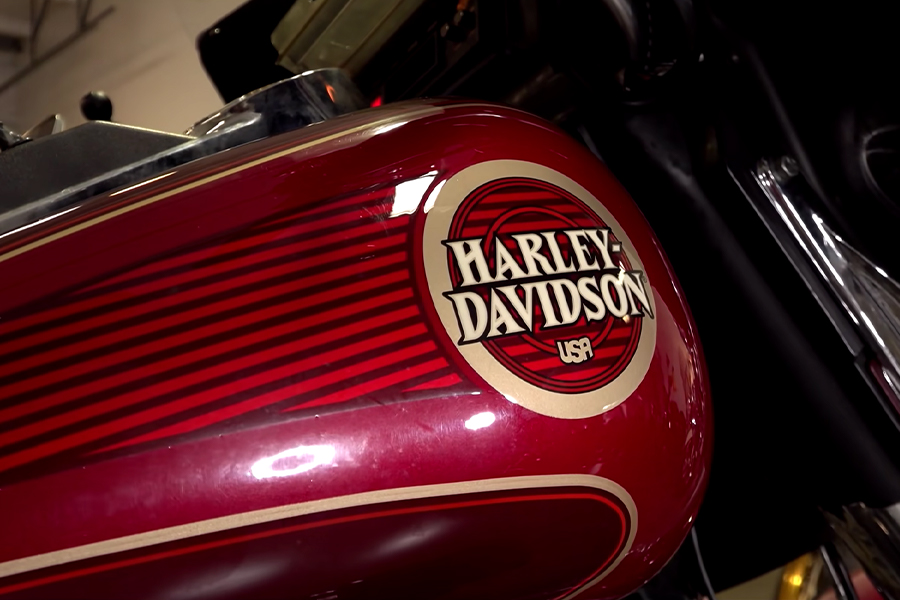 Evidently, viewers of Bikes and Beards' YouTube channel requested the abomination, and the guys were all too eager to comply. It's a sad sight to behold. From the hand-painted—or perhaps scribbled—Harley-Davidson logo scrawled on the smaller motor. The cavity left from all the space that the original engine borders on cavernous, evoking a great deal of pity for the bike. "The fact of the matter is, nobody wants horsepower anymore—well, not big horsepower," says Sean.
The 1995 Ultra Classic Harley-Davidson was purchased at auction for around USD$2,000. They took out the RevTech engine and went directly to Harbor Freight to purchase an engine directly off the shelf. The 110 cubic inch motor was replaced by a 12 cubic inch motor. Essentially it was just a drop-in transplant, with a bit of custom work to make the bike work. The engine ties directly into the original Harley-Davidson transmission. All the electronics still work, but to start the bike you have to pull start it rather than using the electric start.
The guys evaluated the bike based on five criteria: performance, fuel efficiency, public opinion, value, and reliability. For performance, the rebuilt bike took on the 0 to 60 test—which it never completed because it topped out at 53 miles per hour. Fuel economy came in at 37 miles per gallon, or the same as stock. Public opinion is about what you would expect—shocked disbelief, and even an unwillingness to even get on the bike at all. "I think somebody had too much time on their hands," was the general opinion. In terms of value, the bike cost just over USD$2,200, but was listed at no value on an online retail site. The bike's reliability wasn't that great as the manifold broke during the testing. But the crew hasn't given up on the Harbor-Davidson, so don't be surprised if you see it on the road. Or be surprised. Whichever.
You'll also like:
Harley-Davidson's Fat Boy is Still a Terminator on the Road
BMW Splashes Down into the Cruiser Market with the New R18
Ironwood's BMW R1250GS is Part-Cybertruck, Part-Bladerunner