Bose QuietComfort 45 Review: Headphones for Work and Play
As the proud owner of a Bose soundbar and first-generation SoundLink portable speaker, I had high expectations for QuietComfort 45. Following a few weeks of use, it's safe to say these wireless headphones do not disappoint.
Priced at AU $500, expect impressive noise-cancelling features, long-lasting comfort and 24 hours battery life. The crisp midrange soundscape should please those who skip between genres, but a few niggling elements hold back QC 45 from receiving top marks.
| What We Love | What We'd Change |
| --- | --- |
| Quality audio | Forced app integration |
| Long-lasting comfort | Screws presented as design elements |
| Quiet Mode | Hefty price tag |

Bose QuietComfort 45 Design
Bose QuietComfort 45 features a traditional over-ear design elevated through its surprisingly lightweight construction and extremely comfortable wear. Coming in at just 240 grams, these headphones certainly won't weigh you down, and the plush, foam earcups are a treat to wear for hours on end.
The earcups are not as large as some other headphones. Instead, they're sized only just larger than ears to provide a firm seal between you and what I assume is soft memory foam under synthetic leather. The tight seal does a great job of blocking external noises and assisting the noise cancellation features.
Bose constructed the headphones from mostly plastic which helps keep the weight down, and metal is used at the joints that swivel so you can fold the headphones and store them safely within the accompanying carry case. In addition, Bose claims to have placed glass-filled nylon within the headband to protect it against falls and help to maintain shape.
The same padding and faux leather are found under the headband and on top. I can't explain why foam on top would be beneficial, but it's a nice touch.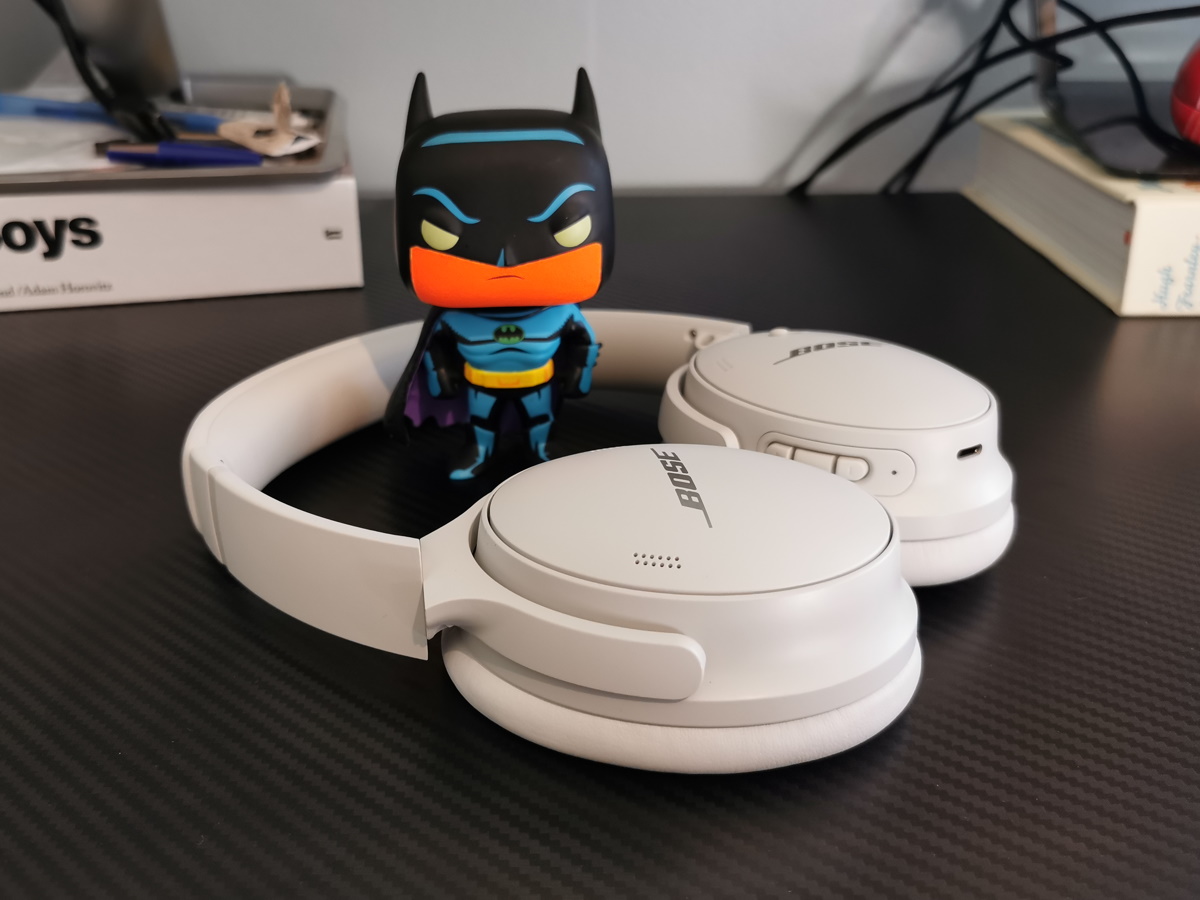 The one aspect of the folding design that I'm not fond of is the visible screws. Each of the joints presents a multitude of visible silver screws, and for me, this disrupts the otherwise elegant finish.
Playback is managed by a series of buttons on the right earcup. Volume up and down surrounds the pause/play button and reside behind the USB Type-C charging port. The earcup exterior is where you'll find a slide switch for power on/off. This is also where you can identify the subtle exterior microphones used for noise-cancelling.
Jump over to the right earcup, and there's a button at the back for switching between Aware Mode and Quiet Mode. Below this button at the base is the 2.5mm audio jack.
You can pick up Bose QuietComfort 45 headphones in your choice of two colourways: Black and White Smoke. The latter presents as an eggshell white.
Bose QuietComfort 45 Performance & Features
Equip a set of QuietComfort 45 and experience high-fidelity sound at all times. I sampled a variety of music and podcasts across Spotify, YouTube and directly from a Bluetooth turntable. These Bose headphones replicate a mid-range soundscape with the accuracy, and clarity one expects when paying a premium price tag.
Out of the box, the pre-configured bass levels are disappointing, but they can be quickly improved and set to your liking with the accompanying Bose Music app. The app is required for connecting via Bluetooth, and you will need to update the headphones via the app before receiving full access to these features.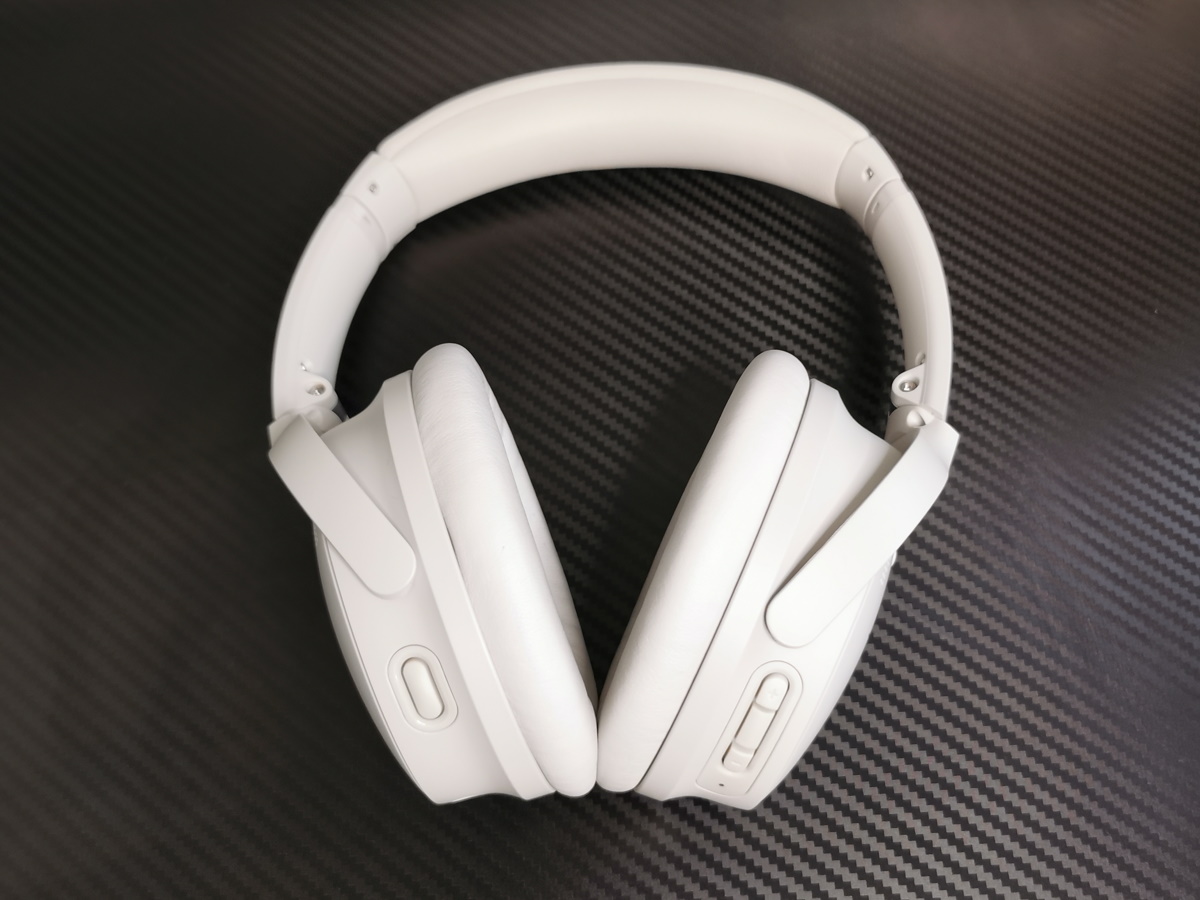 One of QC 45's key selling points is the new Aware Mode. These Bose headphones are equipped with acoustic noise cancelling that reacts to and blocks outside noise. Quiet Mode effectively shuts out everything, but press the button on the left earcup and Aware Mode lets in close sounds such as someone looking to get your attention.
This is useful if trying to block out a noisy cafe but still want to remain aware of the wait staff. I use Quiet Mode in the office to block out the radio but remain aware of the colleagues sitting on either side, then switch over to Quiet Mode when on the train. There's a lot of potential for these features to help improve focus and productivity without you snubbing everyone and everything.
Hands-free phone calls come through clear, and the internal microphones provide a suitable response for those on the receiving end. QuietComfort 45 has no onboard controls for a virtual assistant, which is no deal-breaker as I'm yet to meet anyone that relies heavily on this technology.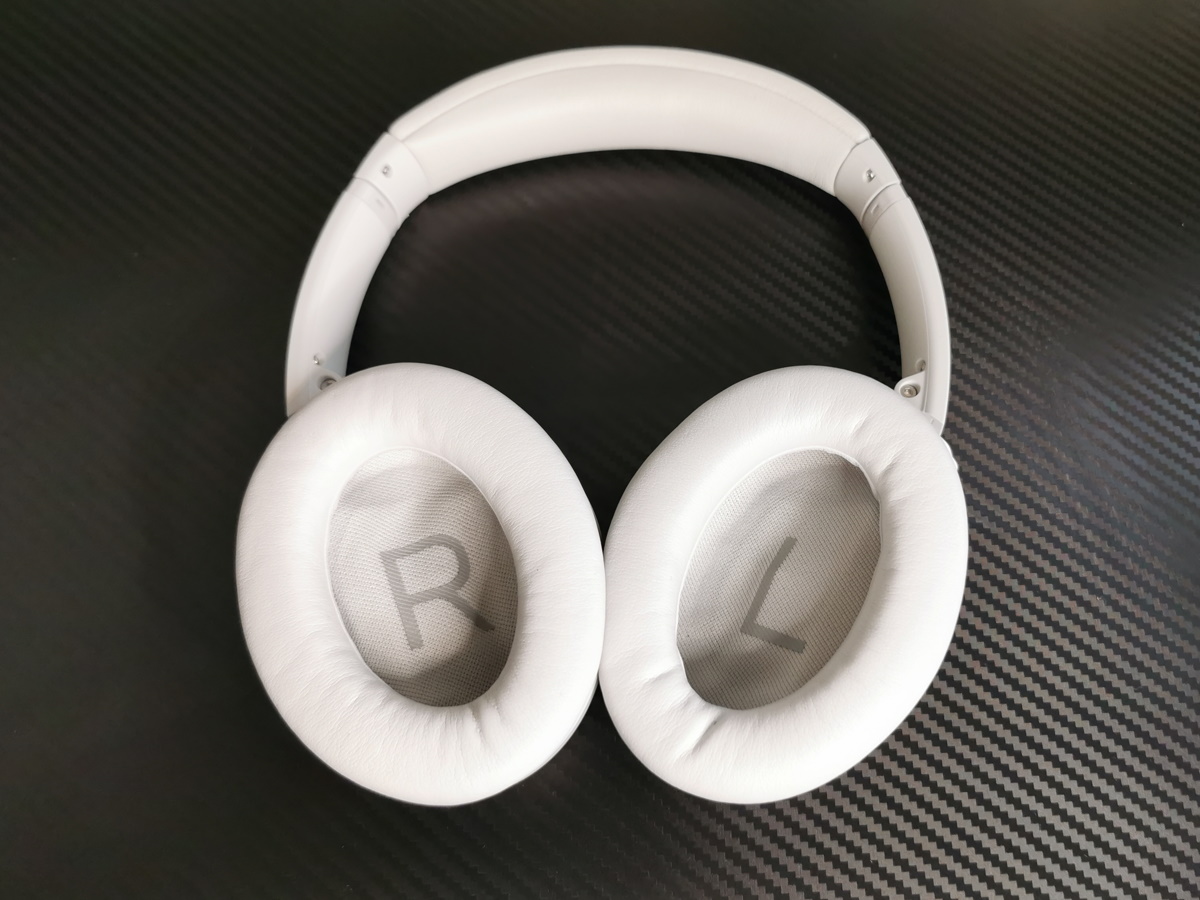 Bose remains tight-lipped on the internal components, including drivers, frequency response, etc. We've discovered that QC 45 features Bluetooth 5.1 with a range of up to 9 metres. The remaining internal specifications are a mystery.
Bose QuietComfort 45 Battery Life
QuietComfort 45 headphones offer around 24 hours of use on a single charge. Each time you activate the headphones, audio cues update you on the remaining percentage.
It takes approximately two and a half hours to charge the headphones fully, and you can score three hours of listening on a quick 15-minute charge. 24 hours of use is not as long as the battery life offered by some rival headphones but is still plenty long enough.
Bose Music App
Bose Music is an easy to use app for managing the settings of the brand's recent audio technologies. Without it, QC 45 headphone features are extremely limited.
The app is required for managing all Bluetooth connections. For example, I couldn't connect to my Bluetooth turntable without the phone app. It's frustrating that the headphones themselves cannot connect directly to a source, but I appreciate visualising connections instead of relying on audio cues.
The app also gives options for personalising bass and treble and indicates the remaining battery life.
The Verdict
$500 is no small sum to drop on headphones, so you'll want to know that they're ready to meet and hopefully exceed expectations. The good news is Bose QuietComfort 45 can make it happen. Solid audio reproduction pairs with long-lasting comfort and lengthy battery life for an all-around pleasant experience that I plan on revisiting every day for the foreseeable future. The noise-cancelling is just the icing on the cake.
My gripes with the design and app integration are superficial and won't affect the experience, but this is a review. It's my job to be critical. QuietComfort 45 retails for $499, although shop around and they can be found for under $400.
The writer received the headphones courtesy of the brand