30+ Best Among Us Memes on the Internet
Let's face it, 2020 has been one of those years we've all searched for an escape; some kind of distraction to keep us from the strangeness of the new decade. While puzzles and Animal Crossing kept us entertained for a little while there, it wasn't until late August that we finally got some real content.
If you've been on social media at all in the last month, no doubt you would have seen the mass increase in Among Us memes. The new mobile and PC game is absolutely destroying the download charts, creeping quickly into pop-culture and leaving a trail of glorious red and blue blob images in its wake. That's right, while you may have thought 2020 was the year of Fall Guys, Among Us is here to take back the mantle, through lies, deception and of course a healthy dose of Gen Z humour.
You'll also like:
The Best Memes From the 2020 US Presidential Debate
27 Best Memes of 2020 (So Far)
21 Best Tekashi 6ix9ine Memes on Him Snitching
What is Among Us?
On the outside, Among Us is a pretty simple concept, but then again, the best online games usually do. In a virtual 'who-dunnit' situation, players have to guess who among them is a murderer.
While the game has been out since 2018, Among Us only really rose to fame in the last few weeks. In fact, Steam Charts revealed that during its initial release, the game had a peak average player count of 2.3 people. Now, we're seeing that number upwards of 360,000. Creator, Innersloth last week announced 3.8 million concurrent users across PC and mobile, and a total of over 100 million downloads and 60 million daily active players. Safe to say, people are loving the hit online game.
How Do You Play Among Us?
Each game starts with a group of four to 10 players, with the team required to complete menial tasks aboard a rundown old spaceship. As time wears on,  the chosen impostor murders those on board, slowly sabotaging the team. If another member stumbles upon the body, they can report it and trigger a meeting between everyone on board, and this is where the fun really begins.
The meetings see questions about who was nearby and who saw what took place, putting to onus on the murderer to play it cool and keep hidden. It's true, here you find out which of your friends are good at lying and who you should never trust.
---
Featured Video from Man of Many
---
Once the meeting is over, teams can choose to vote off a player or skip voting for that round and everyone returns to the ship to finish their tasks. A player can also call an "emergency meeting" if they suspect they know who the imposter is.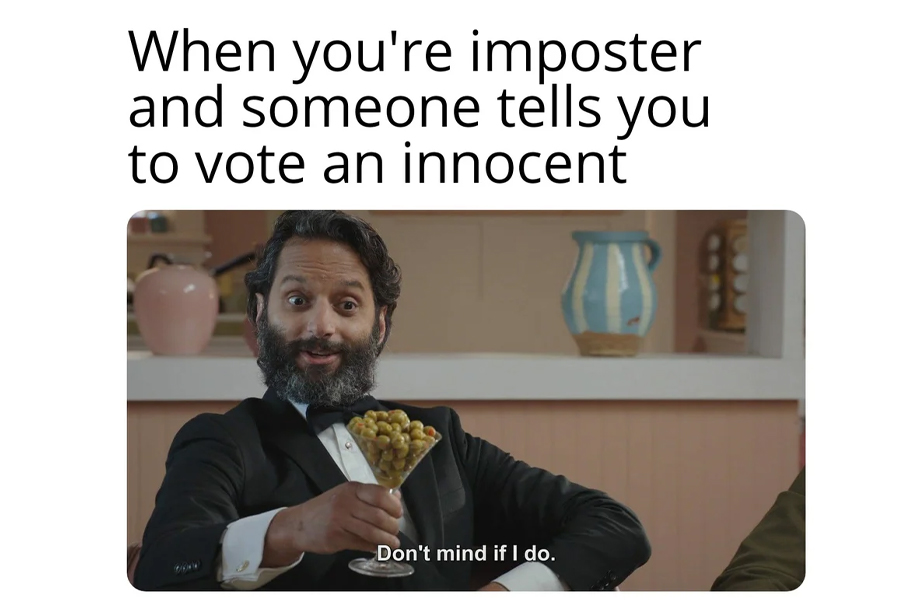 Where to Play Among Us
Among Us is an online game, so you will need either internet access or a data plan. Players can download the game for free on their mobile or pay around $5 to download it from Stream to play on a PC. Even better, you can host your own private games with friends or join online games with strangers.
Sure, testing out your deception skills against stranger is fun, but take it from us, pulling the wool over your friends' eyes is way more fun. What other game let's you live out your fantasy of cutting off your mate's oxygen?
Best Among Us Memes
While the game is fun and deceiving friends and family is a skill we should all practice, the biggest advantage of Among Us isn't even the game itself. Even if you've never played the hit online sensation, chances are you've been exposed to a wealth of Among Us memes, who have practically taken over Twitter and Instagram over the past few weeks. You might not have understood what you were seeing at the time, but after a brief rundown and journey into the world of deception, you now know how to pick the liars from the innocent and the best Among Us memes from the absolute worst.
Here, we've done the hard work for you and collated the best Among Us memes we could find. Enjoy it.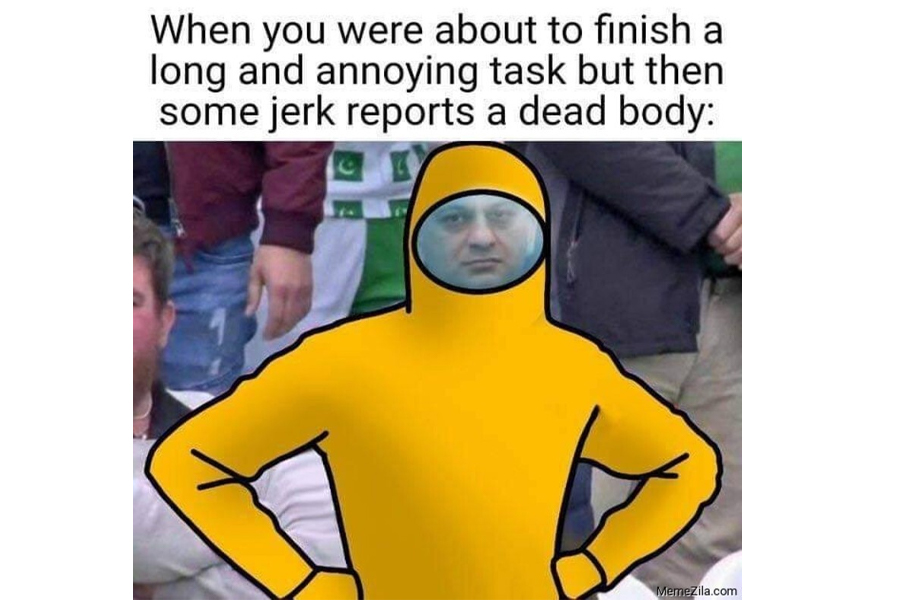 among us? if pretending to do tasks while everyone else does the work and hiding in vents to avoid social interaction makes me an 'imposter' then pass me the knife i'm sus

— Danny Howell (@danielhowell) September 25, 2020
the imposter me at work
in Among Us
🤝
pretending to engage
in tasks to avoid
general suspicion

— caitlin (@carboncaitlin) September 23, 2020
i am bitches

— jazz (@keigoluver) September 28, 2020
can you tell we're well past the honeymoon stage

— rose (@_notrose) September 26, 2020
Heart beat when you win your first game as an Impostor in #AmongUs pic.twitter.com/PyGZdXRSeo

— Kuee (@Kueeyt) October 4, 2020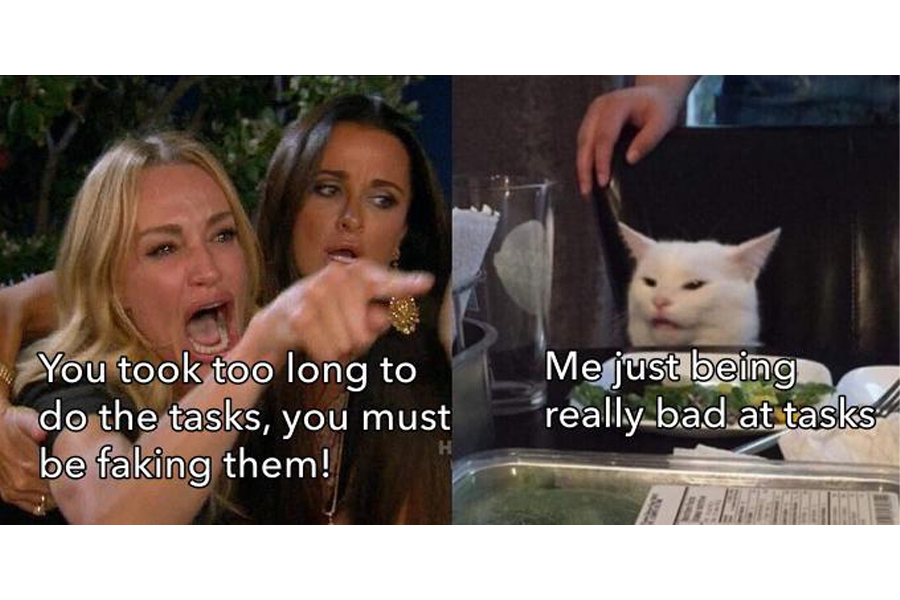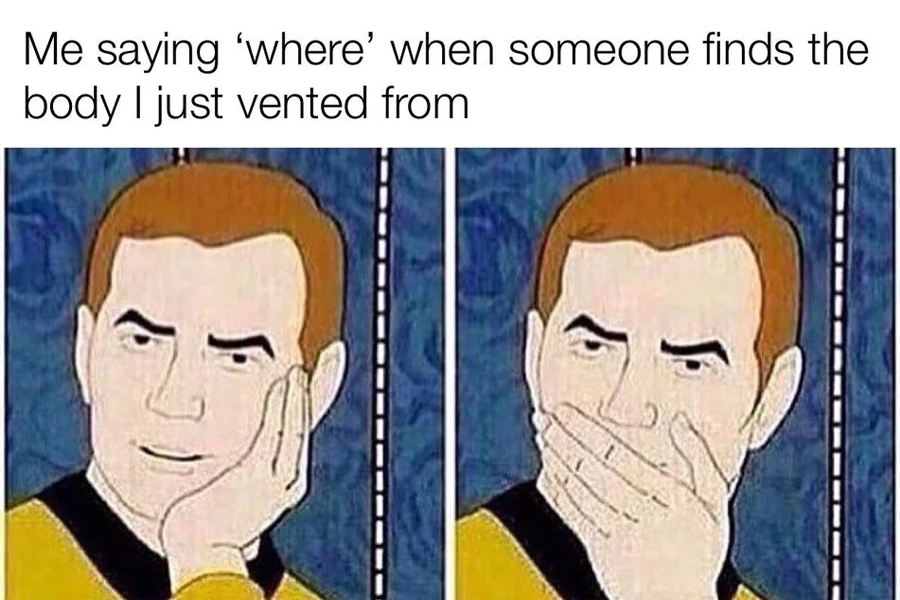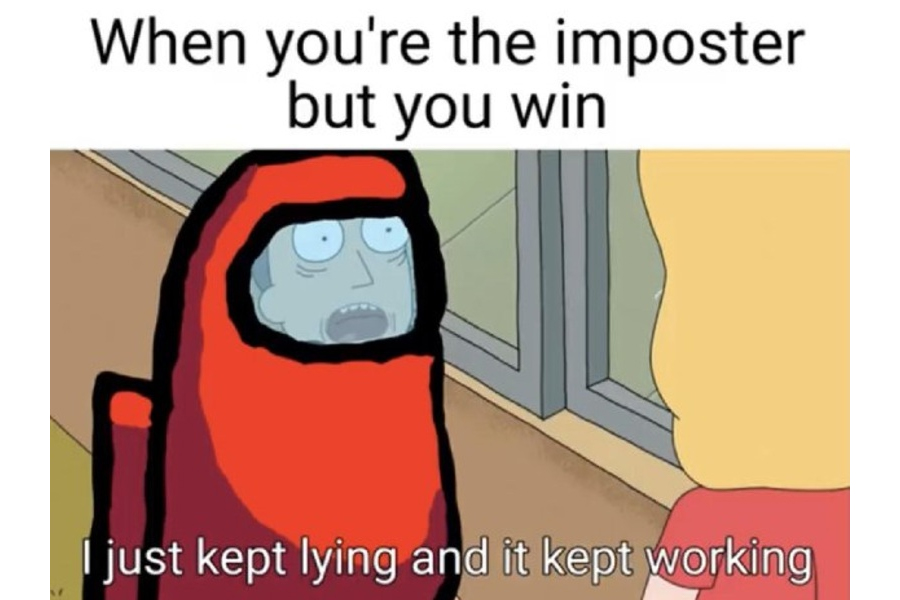 "I don't know, Red is pretty sus"
Me: #AmongUs pic.twitter.com/a81kTB7zgW

— NoContextAmongUs (@nocntxtamongus) October 4, 2020
Among us plush.. but its BIG#Amongus pic.twitter.com/wLxSLgnZ9D

— blob who likes to doodle (@KuroInkblots) October 4, 2020
Me after self reporting a body I just slaughtered 2 seconds ago as an imposter on among us pic.twitter.com/9iuJIAjoOe

— Jas? (@Jasssiex) September 22, 2020
Daily dose of humour😂😂.. #Amongus pic.twitter.com/UImSXvO14G

— PhreshNews (@Phresh_N) October 3, 2020
I hate electrical so much. 💀#AmongUs pic.twitter.com/eHhmobZ6aM

— KatGPT (@bladesftguns) October 3, 2020
Half of my Among us games start like this pic.twitter.com/GoP8yZQ88S

— Evan (@TheEvanEdits) September 12, 2020
me watching the person who killed me in among us say it's not them pic.twitter.com/gRfmYqCrfj

— ??? ? (@sadshrty) September 24, 2020
me pretending to do tasks on among us pic.twitter.com/wZPsUG9Tw7

— 🐺 estefania (@obikakashi) September 24, 2020
The meme of ALL memes #AmongUs pic.twitter.com/itDU2awLNz

— The Cutest Neko | Soon (@cutest_neko) October 4, 2020
This pumpkin seems kinda sus… #AmongUs #amongusart pic.twitter.com/izEmYHhFqw

— Shekye !! @ protect trans kids 🏳️‍⚧️ (@_Shekmate_) October 4, 2020
When you and the other imposter see 2 crewmates in specimen. #AmongUs pic.twitter.com/kDGpMJncxX

— Bucks (@Bucks_TBE) October 5, 2020
You'll also like:
The Best Memes From the 2020 US Presidential Debate
27 Best Memes of 2020 (So Far)
21 Best Tekashi 6ix9ine Memes on Him Snitching
General FAQs
What is Among Us?
Among Us is an online multiplayer social deduction game which was released in 2018. The game takes place in a space-themed setting where players each take on one of two roles, most being Crewmates, and a predetermined number being Impostors. The team must work together to identify which of them is the murderer.
What consoles is Among Us available on?
Among Us is available on PC, iOS, and Android now. According to reports, most people have downloaded the game through the Steam app.
How did among us become popular?
Despite being initially released in 2018, Among Us received very little mainstream attention. In 2020, the game exploded in popularity after many well-known Twitch streamers and YouTubers began playing the game. In response to the game's popularity, a sequel, Among Us 2, was announced in August 2020.
---
Featured Video from Man of Many