adidas Floating Tennis Court Hits Great Barrier Reef
You've played on the local overgrown and unkempt courts or maybe been lucky enough to have a rich friend with a penchant for greenery, but you've never seen a tennis court quite like this. In a stunning display of aqua ingenuity and design prowess, sportswear icon adidas has teamed up with Parley for the Oceans, in conjunction with the Australian Open, to unveil the world's most beautiful tennis court. But it's not just good looks that the new endeavour is serving up.
Placed within the Great Barrier Reef Marine Park atop a working barge, the new adidas x Parley tennis court is made entirely from recycled materials. Making a bold statement about the health of the Australian natural landmark, the two organisations have come together to show the viability of recycled material. According to adidas, the plastic provided by Parley for the Oceans was used in both the surface of the court and perhaps more impressively, in the sportswear brand's latest collection of tennis clothing.
Kicking off the new apparel line, adidas athletes took to the floating court to show off their skills. Olympic gold medal-winning canoer Jess Fox, NRL premiership winner Nathan Cleary, fitness legend Step Claire Smith and of course, Aussie icon Ian Thorpe were on-hand to test out the waters.
"adidas has worked side-by-side with GBRMPA (Great Barrier Reef Marine Park Authority) to transform the top surface of a working barge into a tennis court surface," the apparel brand wrote on Instagram. "The new tennis apparel range is inspired by the beauty and colours of the Great Barrier Reef and combines products from one of our sustainability innovators: Made With Parley Ocean Plastic. Designed with the reef in mind, the new collection highlights our commitment to help end plastic waste through product innovations and sustainable design."
While the floating tennis court is a major talking point, it is destined for greater things. adidas confirmed that the new court will eventually make its way to the nearby city of Townsville, where it will support youth sports initiatives. "The adidas tennis court surface will be fully recycled into a sports court, donated to a local Townsville school, paving the way for school kids to unite through sport," adidas said.
The new adidas x Parley Ocean Plastic apparel will feature prominently throughout the Australian Open in Melbourne this month, and is now available on the adidas AU website.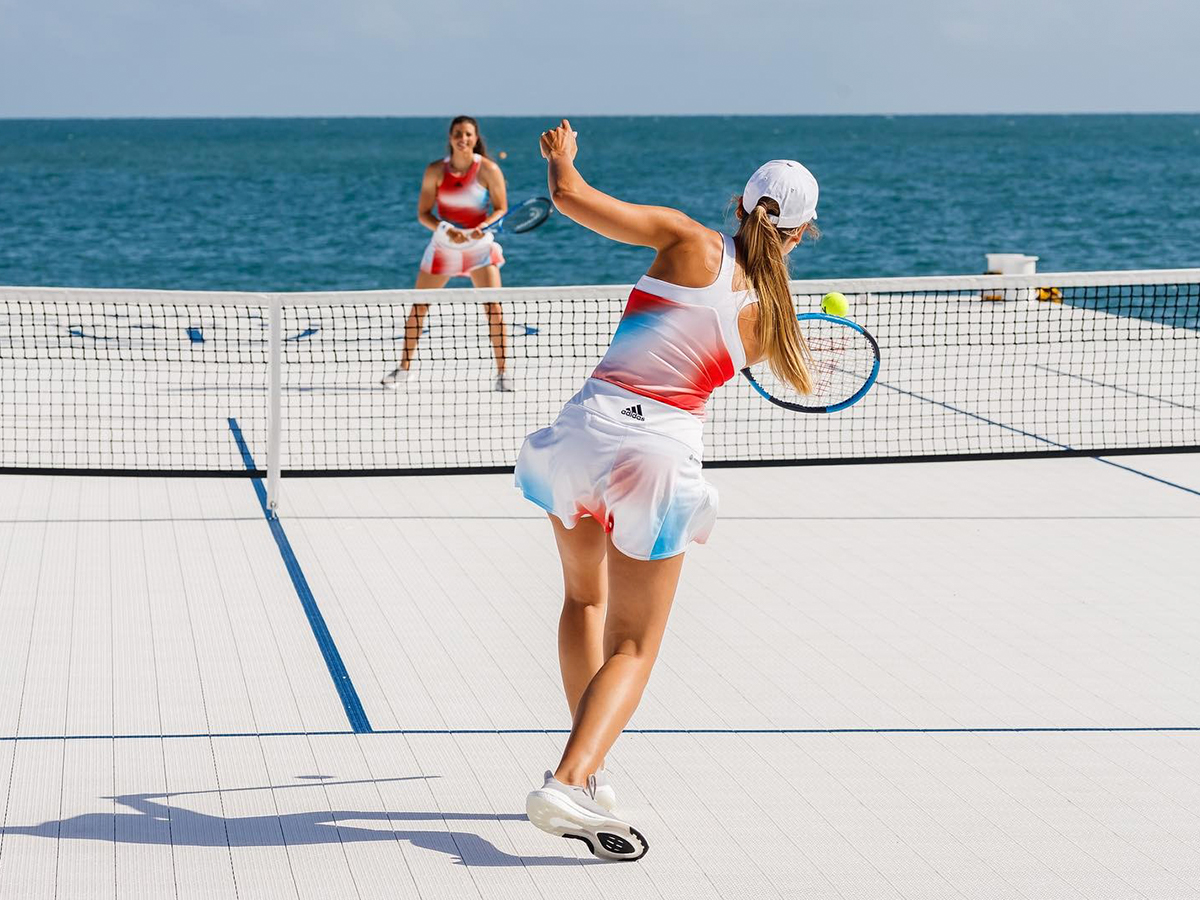 You'll also like:
Kia's EV Underdog Might Just Be a Grand Slam
10 Highest-Paid Tennis Players in the World Right Now
Ralph Lauren Returns as the Official Outfitter for the Australian Open 2022