2016 Christmas Gift Guide – The MAD Horologist
In partnership with MAD & Associates

While hugs, kisses, "likes" and the occasional holiday card are all great ways to tell someone you care, these gestures pale in comparison to giving someone a thoughtful, physical present. Yes, if you really want to tell a friend, significant other, close relative or random stranger that you're thinking of him or her this holiday season then let the giving do the talking and buy an actual gift he or she is not likely to forget. If the recipient happens to be male it should be a gift that caters to his love of gear, fashion and durability. In other words it should be functional and stylish.
Nothing quite says "functional and stylish" like a superb watch. We're talking about a watch that looks good, feels good and works well. It should emanate with both fashionable charm and trusty usability. However, even among superior timepieces the look, feel, function and cost can vary wildly. For example some watches trend toward a younger demographic while others appeal to the older crowd. Additionally, some designs aim for classic or even vintage dependability while others flaunt an outside-the-box aesthetic. Ultimately it's you, the gift giver, who must decide which timepiece makes for the perfect present.
But worry not, kind-hearted reader (and giver), because we're here to steer you in the right direction with our Christmas Gift Guide. Read on for a list that caters to all tastes, styles and budgets in the wide world of horology. Find the watch that will make the ideal gift and then do the following: click, buy, wrap, and hand it over to let someone know you actually care. Now you're truly celebrating the holidays in style!
You'll also like:
2016 Christmas Gift Guide – The Corporate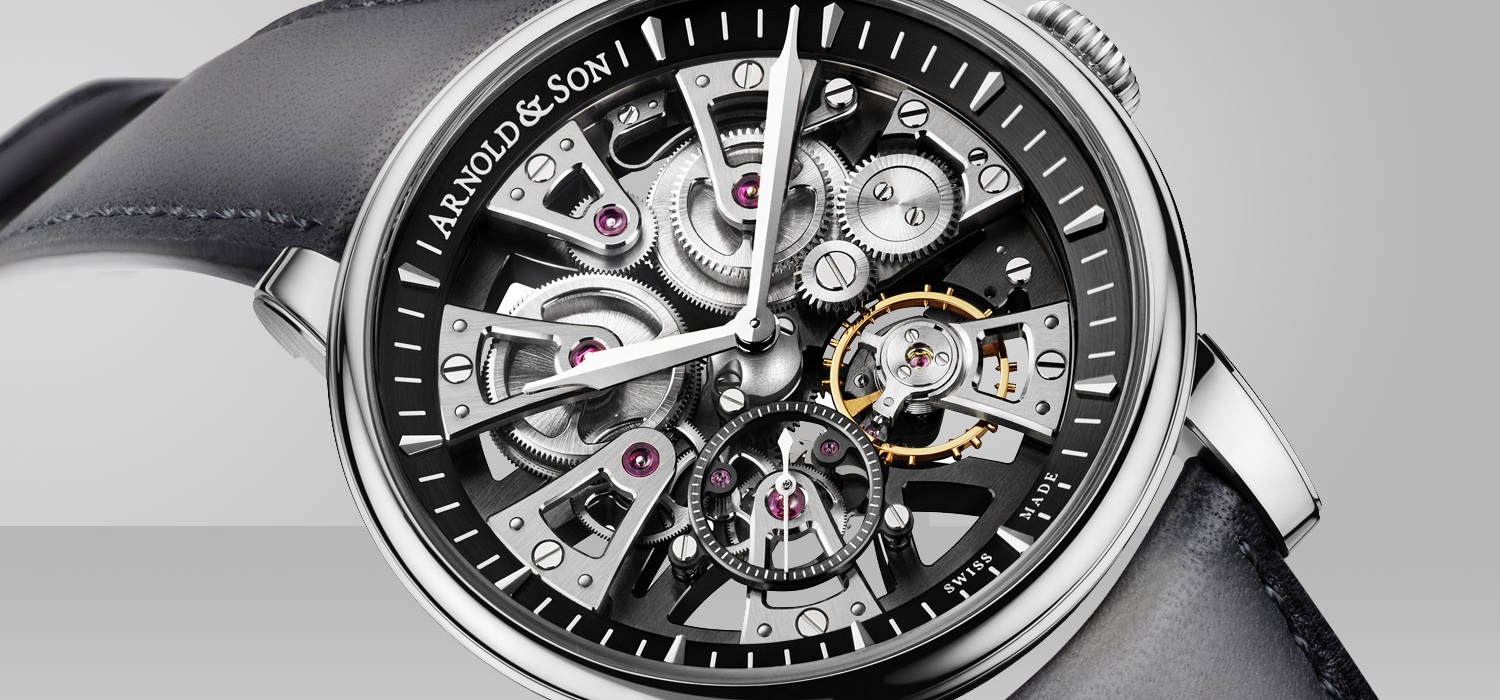 Arnold & Son Nebula
A watch named after instellar cosmic clouds is already the coolest of cool, but that's merely one thing among many going for the Nebula from seasoned brand Arnold & Sons. This veritable stunner features an eye-catching transparent face that allows you to see all those in-house manufactured gears and movements working their magic. Pair that with a symmetrical design and a 90 hour power supply courtesy of two mainspring barrels and you're looking at a product guaranteed to please.
With the Nebula you know you're in good hands (no pun intended) and that's because Arnold & Sons has been in the game since forever. The brilliant John Arnold founded the company in 1764. Among Arnold's slew of achievements was the honour of presenting the smallest repeating watch ever made to King George III himself, as well as manufacturing the first chronometer. The brand has also earned the title of "haute horlogerie", which is given only to the highest level of Swiss watchmakers.
Model: 1NEAS.B01A.D134A
Movement: Arnold & Son calibre A&S5101
Water Resistance: 30m/100ft
Case Diameter: 41.5mm

Bremont America's Cup Regatta AC-R/SS
Every now and then you want to show someone how truly special he is and to do so you need a product that is in and of itself "special". For that, look no further than the limited edition American's Cup Regatta AC-R/SS Chronograph from UK watch company Bremont. The watch was made in honour of America's Cup and only 235 were produced. It includes an unmistakable countdown chronograph and is C.O.S.C Chronometer tested and certified. Each piece is individually numbered and aviation focused, flaunting the best of British design and Swiss technology.
The result of all that superior engineering is a timepiece that's painstakingly reliable in construction, utterly precise in function and beautifully modest. Put another way: it looks damn good and eschews gimmicky flash for straightforward elegance. You cannot go wrong with this watch!
Model: AC-R/SS
Movement: Custom Bremont automatic movement
Water Resistance: 10 ATM, 100 metres
Case Diameter: 43mm
BREMONT AMERICA'S CUP REGATTA AC-R/SS

Bomberg BOLT68 Sapphire Denim
Do you know someone who loves sleek products that exude eye-catching design and top-shelf functionality? Then consider the BOLT68 Sapphire Denim Watch from Bomberg. Touting Swiss automatic movement and a breathtaking black profile beneath a dome of premium sapphire crystal, the BOLT68 exudes boldness and dynamism in equal measure. Giving the gear its blistering edge is a state of the art patented design that allows the wearer to detach the strap and transform the watch into a pocket-watch or desk clock in a matter of seconds. This deliriously unconventional timepiece takes you to the next frontier of flexibility. Buy one for a buddy and one for yourself so you don't end up getting jealous.
Model: BS45CHPBLGM.050-3.3
Movement: Ronda 3540.D
Water Resistance: 100m
Case Diameter: 45mm

Perrelet Diamond Flower Amytis A2065/5
For those who want to dole out true visual refinement, scope the Diamond Flower Amytis A2065/5 from Perrelet. Everything about it emanates with sophistication and class and that includes the unparalleled "flower" design adorning the face. The Diamond Flower Amytis is naturally as superb on the inside as it is on the outside, packing premium in-house manufactured movement and double rotor technology underneath the stainless steel and sapphire glass hood. Rounding out the timepiece's opulent charms are 19 Top Wesselton VS1 diamonds that will take your breath away.
Perrelet is another player that's been in the game forever with a ton of innovations and triumphs to show for it. The company invented the first automatic winding wrist-watch and all their movements are made in-house. Their products are often a highlight reel of sophisticated tech, using patented turbines and double rotors to deliver only the best in gear century after century.
Model: A2065/5
Movement: Mechanical automatic P-181-H / In-house caliber
Water Resistance: 5 ATM
Case Diameter: 36.5mm
PERRELET DIAMOND FLOWER AMYTIS A2065/5

Qlocktwo Classic Black Q3ENBI
Every holiday season there are at least some of you tasked with buying a gift for the "guy who has everything". Naturally, no average product will suffice and odds are he has a drawer full of watches that he rotates like clothing. But he doesn't have a Qlocktwo. This award winning wall clock boldly mocks convention by showing the time in words as if they bubble to surface amidst a backdrop of jumbled letters. Including interchangeable faces and a sleek black colour, Qlocktwo represents the constant pursuit of creativity and distinction. It's the answer to the perennial question of what to get the man who has everything.
Model: Q3ENBI
Movement: N/A
Water Resistance: N/A
Case Diameter: 450×450×20 mm

REC Cooper C3
The best brands and best gear usually come with the best back stories. If you want to slap a sure-fire conversation starter around your buddy's wrist, then by all means check out the REC Cooper C3. The timepiece was built using salvaged metal from an actual mini-cooper. There to drive the point home are stunning mini cooper stripes on the watch face.
The remarkable watch comes to us from REC, a Denmark-based company that takes sustainability to heart by using a variety of salvaged scrap metal pieces to build watch components. Their mantra is "RECOVER, RECYCLE, RECLAIM", but the emphasis doesn't sacrifice style one bit whereas between all that reclaimed metal is a bounty of diverse patterns. The REC Cooper C3 Watch is in fact so steeped in narrative that it comes with a story booklet and a VIN number from the car used as its source.
Everyone loves a winner and the Cooper C3 is a winner. It's stylish, rife with distinction and even environmentally proactive. Your friend will thank you when he sees it, and then really thank you when he starts telling the ladies about how his new gear is both sleek and eco-conscious.
Model: C3
Movement: Quartz Movement TMI VD78
Water Resistance: 5 ATM, 50 Meters
Case Diameter: 42mm

Angelus U40 Racing Tourbillion Skeleton
Angelus has been operating out of La Chaux-de-Fonds, aka the centre of Swiss (and by extension, global) watchmaking for over 100 years and that alone should tell you everything you need to know. The brand simply slays it with each timepiece, packing their products with the absolute best in material and design. The Angelus U40 Racing Tourbillion Skeleton boasts a drool-inducing name and then features that will put your jaw on the floor. We're talking in-house movement, supreme shock resistance, one-minute flying tourbillion, a grade 5 titanium shell and a skeletonised watch face putting all that top-shelf engineering in plain sight. This is horology at the mastermind level, the kind of product you buy to impress an expert who will most likely go crazy trying to match it when buying you a gift in return. When nothing but the best will suffice, accept no substitutes.
Model: u40
Movement: Angelus A-300, mechanical hand-winding tourbillon movement
Water Resistance: 30m
Case Diameter: 42mm
ANGELUS U40 RACING TOURBILLION SKELETON

Ressence Type 5
Mind. Blown. Expect those words to pour out of the recipient's mouth when he pulls this absolute game-changer out of the box. The Ressence Type 5 explores the possibilities of horology to their fullest potential, immersing 142 components in 37.5ml of oil to negate internal reflection and allow underwater viewing at all angles. The Ressence Type 5 is innovation you can't deny and thereby a total reinvention of timepiece technology. The gear does away with traditional hands to offer a watch face that's in constant and complete rotation. Even the folks in Switzerland got a look at this thing and started scratching their heads. Prepare to readjust your perception of time itself.
Model: Type 5
Movement: Patented ROCS 5 – Ressence Orbital Convex System
Water Resistance: 10 ATM
Case Diameter: 46mm

SevenFriday Q3/04 BULLRUSH RALLY Limited Edition
There's limited and then there's LIMITED. If only the latter will suffice then don't hesitate to snag the BULLRUSH Rally 2016 Watch from fearless lifestyle pioneers SevenFriday. Naturally, it's gear made for racing lovers but on the other hand it's so eye-catching that any horology enthusiast would be delighted to recieve it. With a PVD gun metal treated sandblasted stainless steel case and a watch face that looks as charged and primed for action as a racing car dashboard, there is little to no doubt the BULLRUSH Rally Limited Edition Watch is a keeper that will keep on keeping. When combined with an affordable price point, this slab of wearable tech becomes too good to be true. Get it before it's gone!
Model: Q3/04
Movement: Automatic Miyota 8219
Water Resistance: 3 ATM
Case Diameter: 44.3X49.7mm
SEVENFRIDAY Q3/04 BULLRUSH RALLY LIMITED EDITION

Creux Automatiq Ghost CA-01
Creux Automatiq was founded by the same people behind Sydney's acclaimed Culet Jewellery so it's safe to say they know a thing or two about high end visual appeal. The Ghost CA-01 Watch is another beauty unafraid to show off its insides. The Swiss made timepiece also straddles the line between fashion and function–it's both absolutely stunning to look at it and equipped with sturdy and even sporty features like water resistance up to 10atm and interchangeable straps. As such it represents the upper stratum of performance and aesthetic and truly embodies the word "quality" to its fullest extent. The Ghost CA-01 is limited to a mere 200 pieces so stop what you're doing and buy it already. Gifts don't get much better than this.
Model: CA-01
Movement: Swiss Made Hand-Wound
Water Resistance: 10 ATM
Case Diameter: 45mm
Win 1 of 5 Bomberg Bolt 68 Watches Valued at $1,590 Each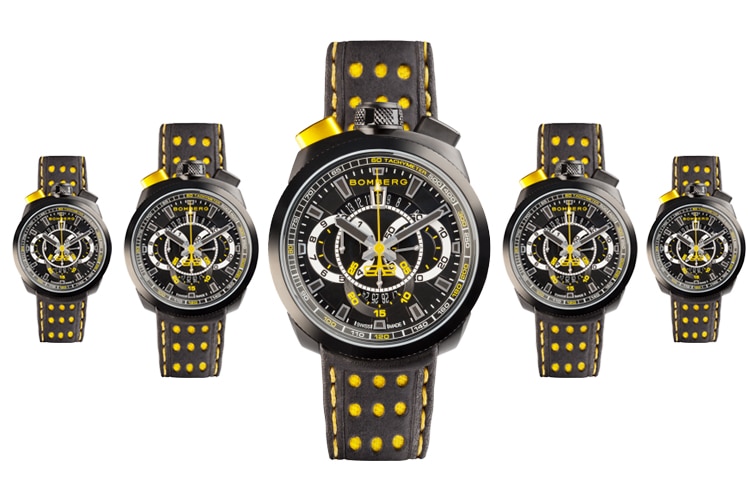 More Gift Guides:
2016 Christmas Gift Guide – The Outdoorsman
2016 Christmas Gift Guide – Tech Head
2016 Christmas Gift Guide – The Drone Enthusiast
View All Our 2016 Christmas Gift Guides