NATO watch straps have become an industry fixture thanks to a reputation for being durable, playful and interchangeable all at once. Sometimes referred to as "G10" straps (named after the forms that soldiers had to fill out just to get one), these are a great alternative to traditional leather and metal bands that can become irritating after a full day of use. You won't want to change out the distinguished NATO watch straps making our list, with premium options that will dress up even the nicest timepieces, as well as budget options that will get your foot in the NATO gate.
Change them out, don't change them out, what's important is that you check them out in the first place. What better place to start then an article dedicated to the 9 Best NATO Watch Straps.
You'll also like:
5 Affordable Watches for the Modern Collector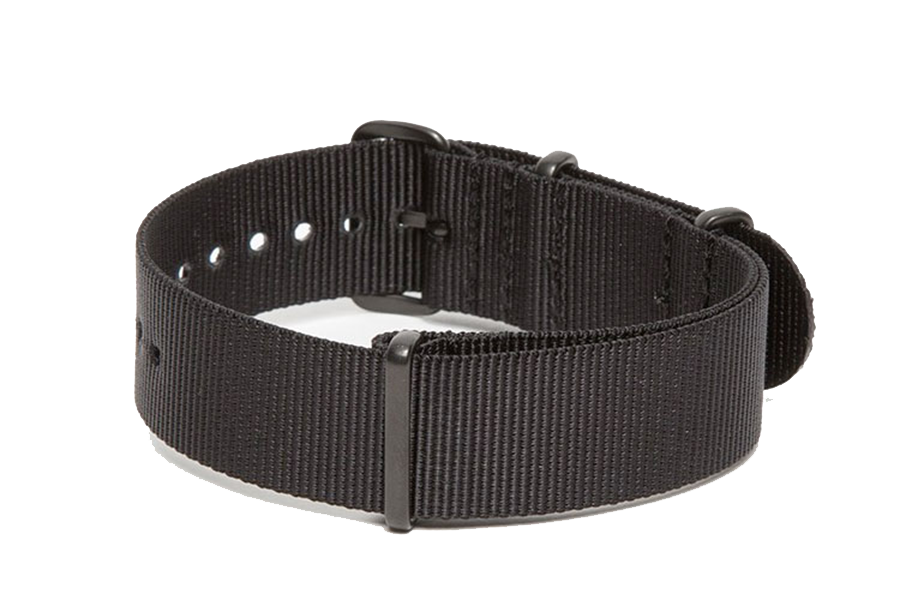 1. MWC NATO Watch Strap Ballistic Nylon
This NATO strap is Ministry of Defence (MOD) compliant. It features a classic 2 piece strap made from fast drying ballistic nylon webbing and stainless steel fasteners. This high tech material is suited for use in military situations thanks to its robust, comfortable and long-lasting design. The two-piece NATO strap is a great alternative to the one-piece variant and works better with some models.
Material: Straight cross-weave nylon ribbon, free from additives and irritation.
Width: 20mm
Fasteners: Stainless Steel
Construction: Joints, buckle and loop position heat-welded. Each strap is heat-sealed.
Price: AU$18
MWC NATO Military Watch Strap in Ballistic Nylon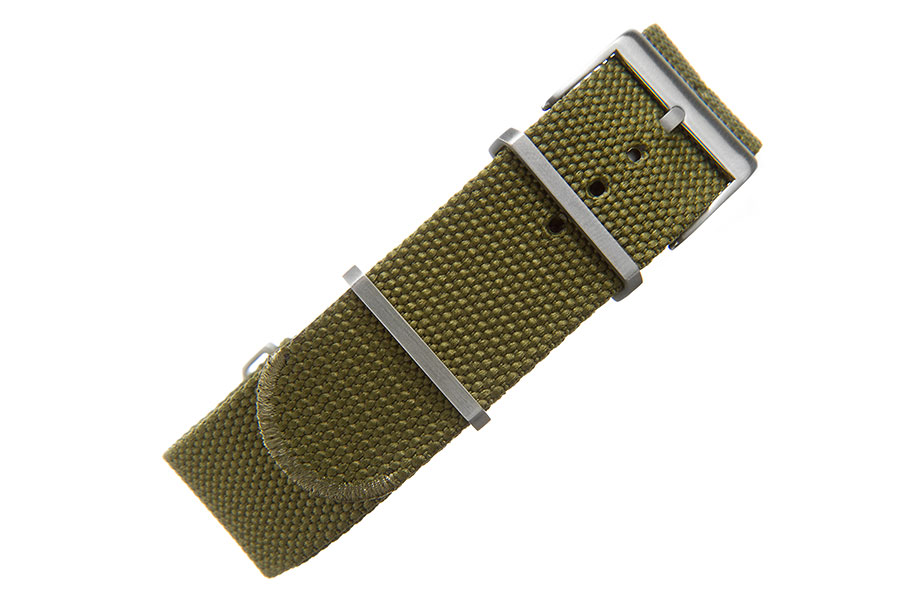 2. Crown & Buckle Supreme NATO
Crown & Buckle worked with a nylon factory to produce a brand new nylon weave that utilises a flat matte nylon thread. The result is a distinct look, notably missing the sheen that is typical of 'seatbelt style' nylon. The Crown & Buckle Supreme NATO is the perfect balance of quality and price.
Material: Nylon
Width: 19mm, 20mm, 21mm, 22mm
Buckle: Black PVD, Brushed
Construction: 316L stainless steel keepers with bevelled CNC machined buckle.
Price: US$28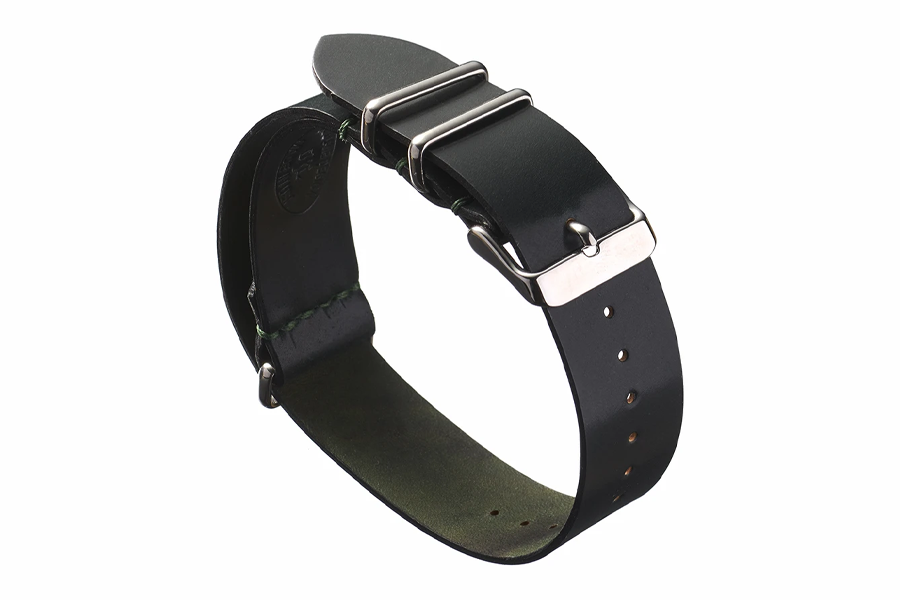 3. David Lane Design Cordovan NATO Strap
Completely made by hand, these NATO watch straps begin life as the best full-grain, vegetable-tanned shells which are selected for quality, colour, and texture. Each David Lane Design strap is left unlined for comfort and ease. Every strap is hand cut, hand sewn and the edges are burnished with several coats of custom coloured dye and finished with a thin layer of beeswax to remove the chance for irritation.
Material: Green Horween Shell Cordovan (USA), Green end stitch (France)
Width: 16mm, 18mm, 20mm, 22mm, 24mm
Length: 295mm
Buckle: Polished stainless steel pin buckle, Black hand-burnished edges 
Construction: Hand made with full-grain, vegetable-tanned shells.
Price: $179
David Lane Design Cordovan NATO Strap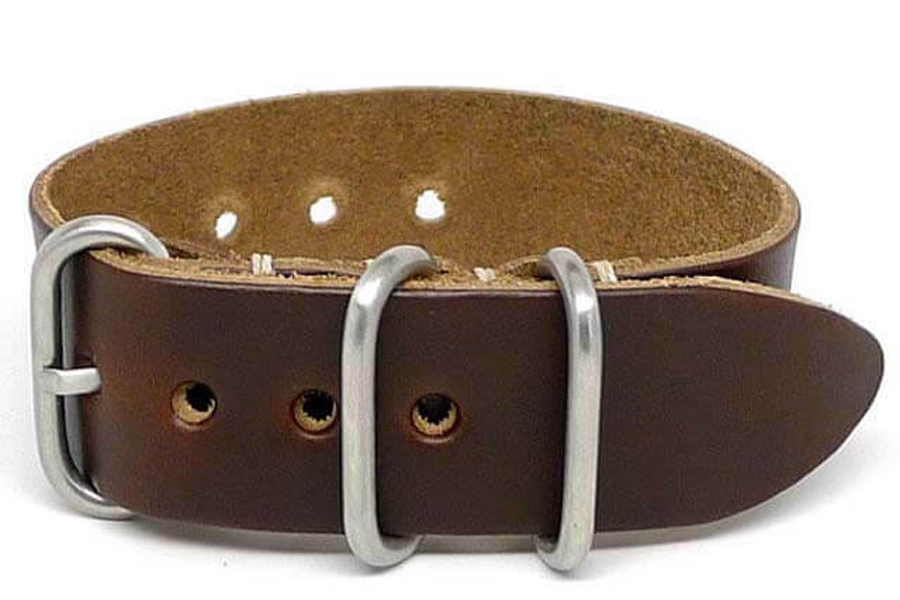 4. Da Luca 1 Piece Military Leather Watch Strap
Da Luca's NATO straps are handmade from Horween Chromexcel leather and come further equipped with an understated matte buckle. These straps are extremely comfortable, utilising premium leather that'll have you thinking twice before changing one out.
Material: Leather
Width: 18mm, 20mm, 22mm, 24mm, 26mm
Buckle: Matte
Construction: Handmade from Horween Chromexcel leather.
Price: US$74.99
Da Luca 1 Piece Military Leather Watch Strap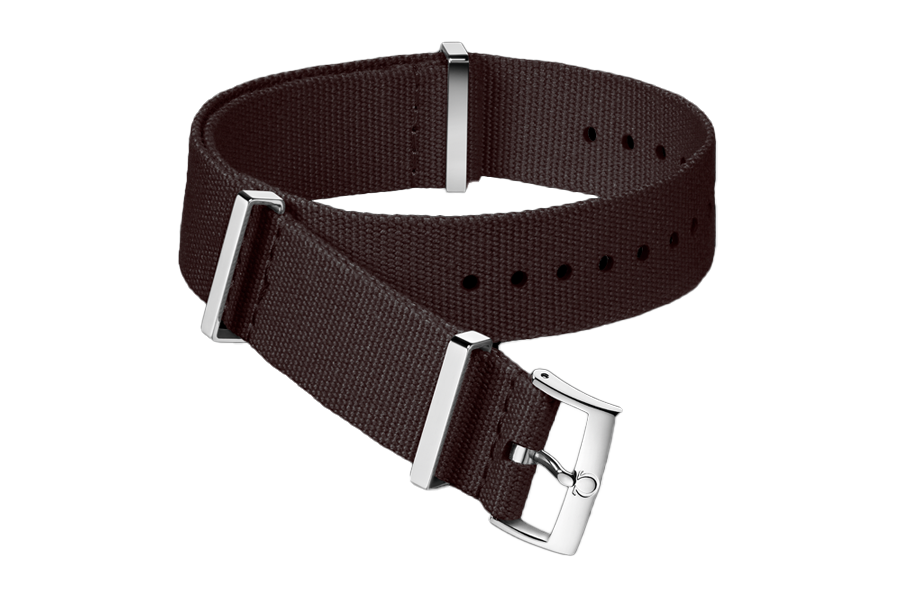 5. OMEGA NATO Strap
When you're working with a quality timepiece why skimp out on the strap? OMEGA's NATO straps are not only practical and comfortable to wear, but they perfectly match the most premium wrist wear on the market. This strap will add a casual, warm-weather style to your watch. The OMEGA range includes straps that are finished in high-quality polyamide or leather, and with a countless variety of patterns and colours to choose from, why not pick the best.
Material: Polyester
Width: 19-20mm, 21-22mm
Price: Contact dealer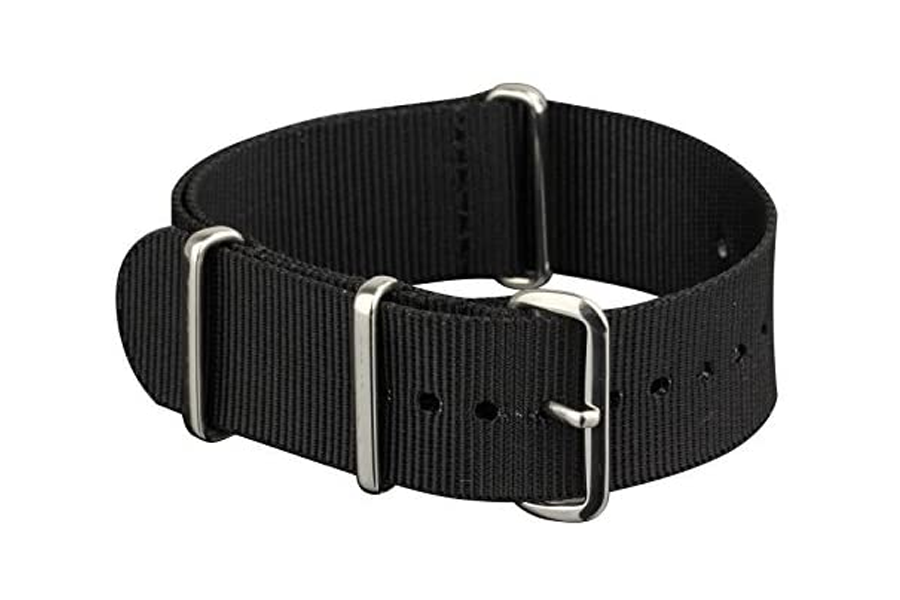 6. INFANTRY NATO Watch Strap
The INFANTRY NATO watch strap is the perfect first step into the NATO strap scene. This beginners NATO strap is constructed with USA military NATO nylon and features four rings and stainless steel buckles. The strap is easy to replace and is lightweight enough that you'll forget you're even wearing it.
Material: Durable USA military NATO nylon watch strap
Width: 20mm, 22mm
Buckle: 4 Rings stainless steel
Price: AU$20.73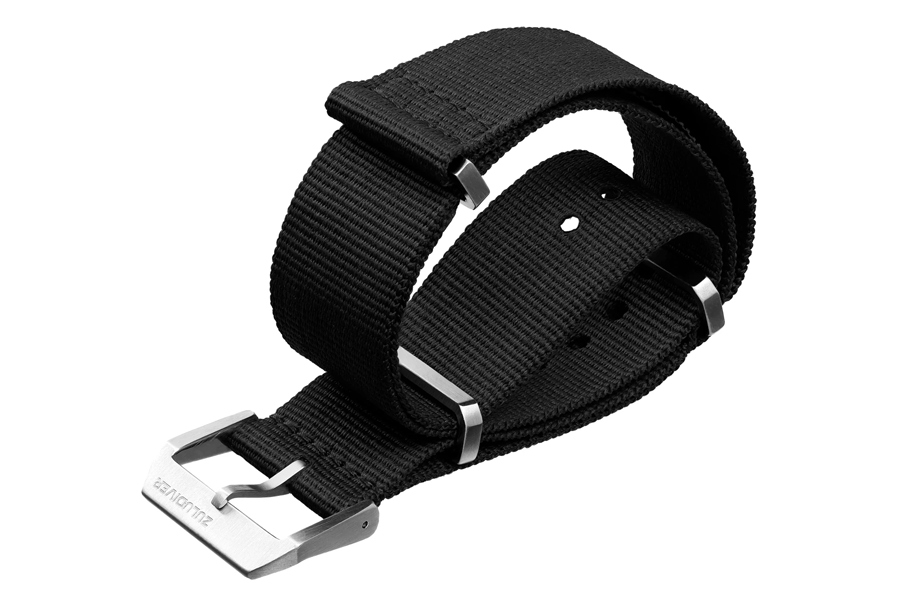 7. Premium ZULUDIVER NATO Watch Strap
This Swiss-style NATO is different from most. The design is different from other straps on the market, with a first stainless steel keeper that is movable to help you secure the strap tail exactly as you want. As with all ZULUDIVER NATOs, this is a great example of a classic military watch strap that has been carefully crafted with sturdy stitched joints for long service life.
Material: Nylon
Width: 20mm, 22mm
Fasteners: Stainless Steel Buckle
Construction: Double pass design movable keeper and ZULUDIVER Hardware.
Price: $57.99
Premium ZULUDIVER Swiss Style NATO Watch Strap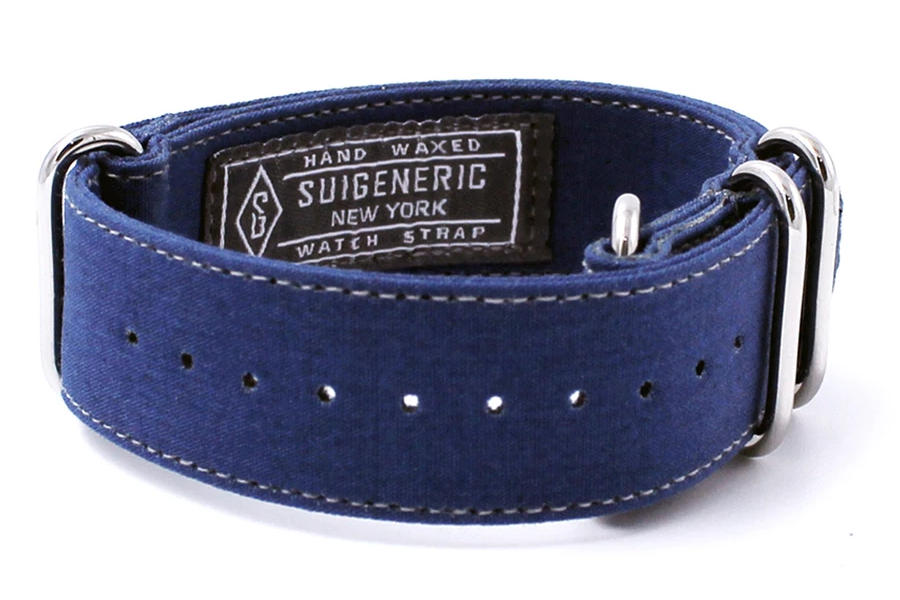 8. Suigeneric Solid
Suigeneric emphasizes the playful aspects of NATO watch straps with this hand-waxed cotton accessory. The strap flaunts a distinct navy colour and uses stainless steel hardware for the buckle. Expect some attention when securing this eye-catcher around your wrist.
Material: Hand Waxed Cotton
Width: 18mm, 20mm, 22mm
Length: 10.5inch 
Fasteners: Stainless Steel Hardware
Construction: Sturdy double layer construction with 2mm thickness
Price: US$30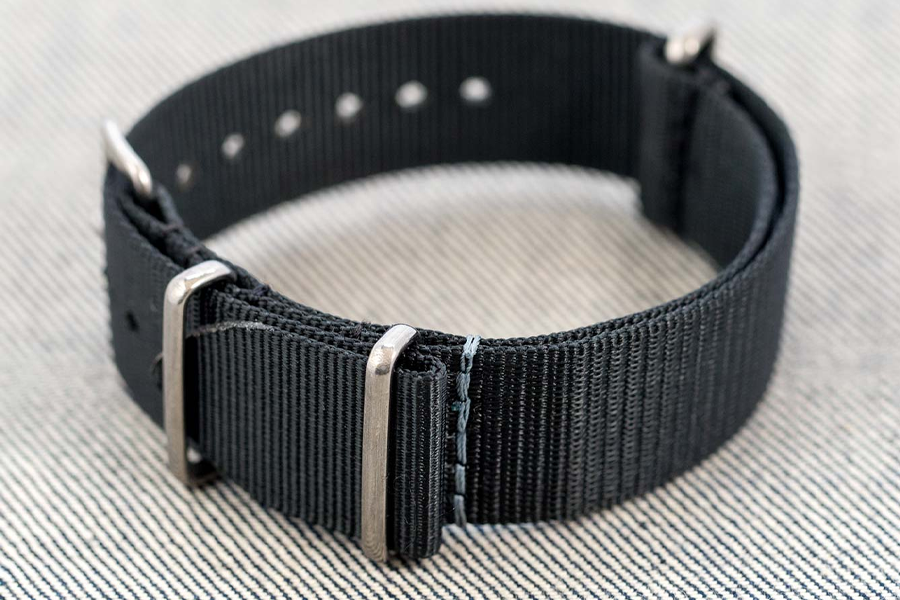 9. ADPT Strap
This is the military based watch for all-day use. Made with American-made nylon, this watch strap is comfortable and stylish and does a great job of keeping your watch on your wrist. Jog with it, ride your bike with it, swim with it, run errands with it, go to work with it and then wash it off and do it all again.
Material: Nylon Black 420D, US-made
Width: 18mm, 20mm, 22mm
Buckle: 316L Stainless Steel, US-made
Construction: Laser Cut, Assembled & Sewn in USA
Price: US$46
General FAQ
What is a NATO watch strap?
NATO watch straps originate from the British Ministry of Defence (MOD) Standard in 1973 where the NATO straps would be issued to soldiers who requested one.
Can you use a NATO strap on any watch?
Originally created for the military, NATO straps are single-pieces of leather or nylon which thread through your watch like a belt. Just like your belt does with your pants, they will work with all types of watches.
Are NATO watch straps cool?
NATO watch straps were very stylish from 2010 to around 2016. Today, you would only wear a NATO watch strap if you're looking to blend your Rolex with your cargo pants.
You'll also like:
Celebrity Watches of the Month – November 2020
5 Affordable Watches for the Modern Collector
Conor McGregor Lends His Skill to Reebok for ZIG Kinetica