Style Guide: How to Dress Like Jacob Elordi
After breaking hearts in The Kissing Booth and continuing to break hearts in Euphoria, Jacob Elordi is well on his way to being our biggest acting export of the past few decades. The 24-year-old Australian actor has come a long way since his breakout role as Noah Flynn in Netflix's teen film franchise, gracing magazine covers to popular ad campaigns and practically everything in between. It's no wonder why Jacob Elordi is the talk of the town.
But being the big dog comes with criticism, in particular with what you wear. Over the years, the Brisbane native's style has developed beyond the safe space, doubling in suiting, bold colour choices and seriously out-there trends. He has been known to favour a more uniform approach, in which he uses classic pieces as a base, allowing him to build on and add his unique flair to his outfit. No matter if Jacob's on the red carpet or just out for coffee, he never misses the mark. So let's explore our Jacob Elordi Style Guide. Where we'll give you tips on how to capture his style while also breaking down each of his best outfits.
Tips on How to Dress Like Jacob Elordi
Effortless Mess
One of the biggest things to pick up on with Jacob Elordi's style is his naturally wind-swept hair. While it was once a semi-flowing modern mullet, the cut has been transformed into a shorter, more versatile length. Celebrity stylist Amy Komorowski was responsible for styling Jacob Elordi's polished yet effortless hair at the 2022 Met Gala and revealed that the secret to his look is texture.
"For Jacob's MET Gala look this year, I wanted the hair to look polished yet effortless, with just the right about of volume and texture," she said. "I always start by prepping the hair, which creates a foundation for the rest of the styling products to build upon. I sprayed American Crew Prep & Prime Tonic evenly throughout the entire head of hair and used my fingers to refresh the hair. With a hairdryer on low speed, I continued to use my fingers to create lift at the roots. I continued to set and style the hair, until completely dry leaving the hair with effortless texture."

Vintage Hats and Golden Goose Sneakers
Whether he's strolling the streets of NYC or just out and about, you won't see Jacob without his trademark vintage style hats and cool pairs of sneakers. He's a visible fan of vintage style hats, often sporting baseball caps. The Aussie star has been seen rocking New York Yankees and Boston Red Socks caps, indicating that while he loves the aesthetic, he's probably not a big fan of the actual game. He's also a fan of sneakers, he's been seen wearing practically everything from Celine sneakers to adidas and Nike, however, Jacob's latest sneaker obsession is from the Italian brand Golden Goose. The Italian brand is known for its use of buttery Italian leather, iconic star insignia and ironically dirtied designs.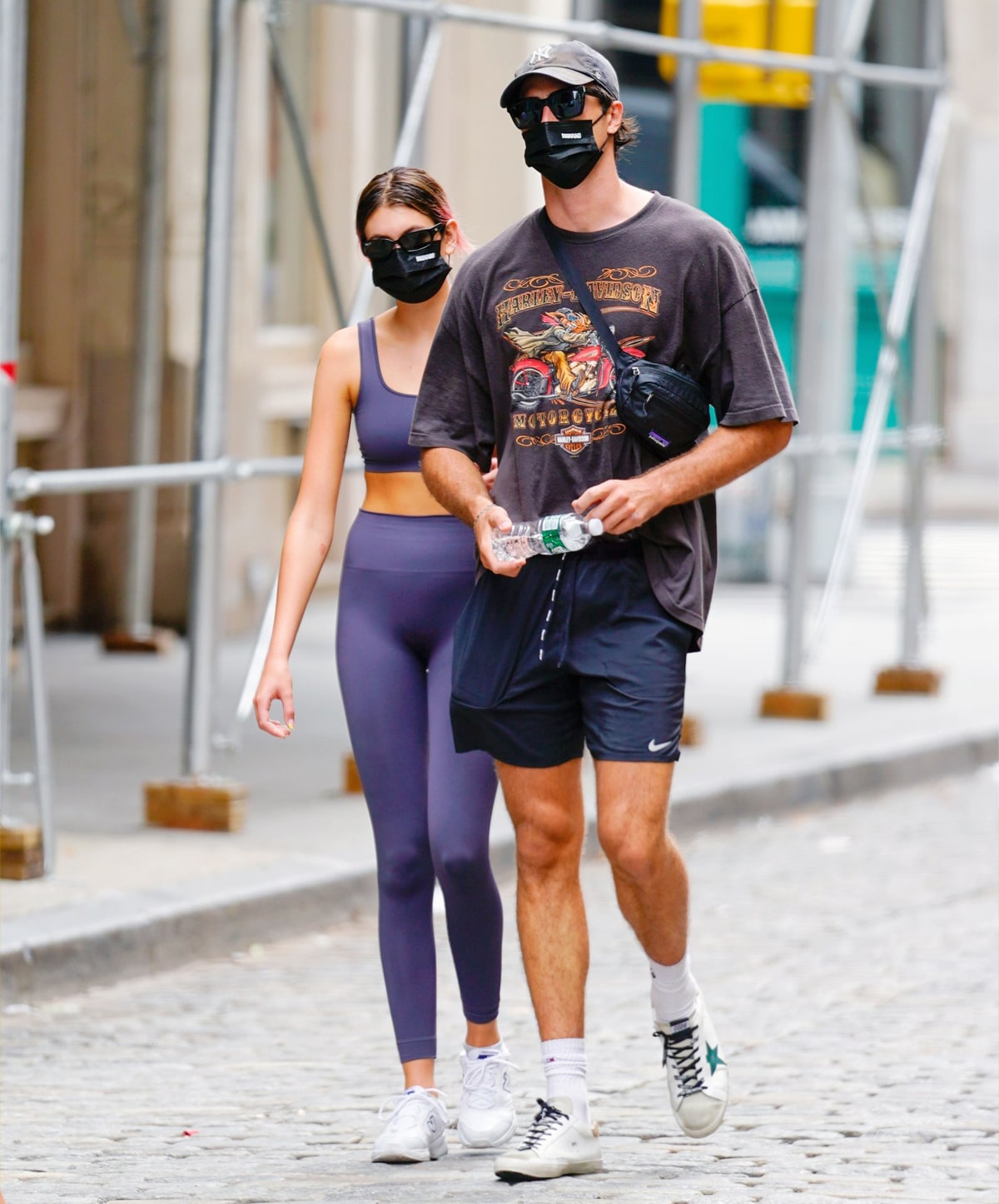 Oversized T-Shirts
You can never go wrong with a classic oversized t-shirt, they're perfect to dress up or dress down for that effortless chill look. Jacob's been seen out and about with oversized graphic t-shirts like this vintage Harley Davidson tee and the occasional plain white oversized t-shirt, he effortlessly pairs them with patterned chinos, classic suit pants, jeans and even in a pair of Patagonia or Nike shorts. It's clear that Jacob knows what he's doing when it comes to relaxed outfits.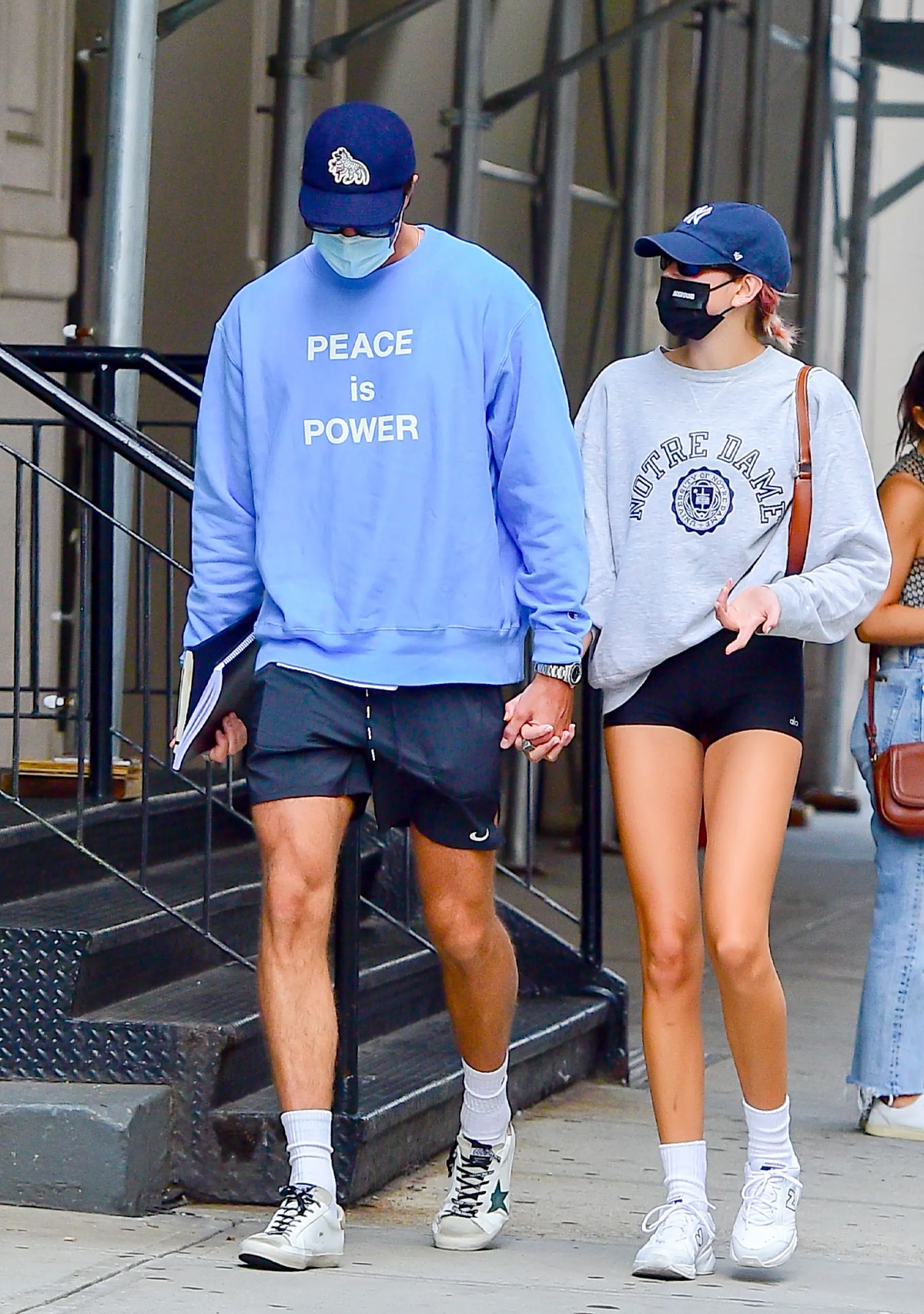 Bold Prints and Bold Colours
The Aussie star loves the uniform approach of using classic pieces as a base and then adding a statement piece. He uses classic pieces like denim jeans, Dickies 874s, trousers and even shorts, then mixes them with bold prints or bold colours to make them interesting. Like when he went to dinner with friend model Kaia Jordan Gerber. Elordi dressed casually, but still managed to make a bold statement with a floral Hawaiian button-up that was tucked into cuffed denim jeans and some rings, a bracelet and brown boots. He made another Bold statement when we wore a Bright blue sweatshirt from MoMa's design store with some Nike shorts.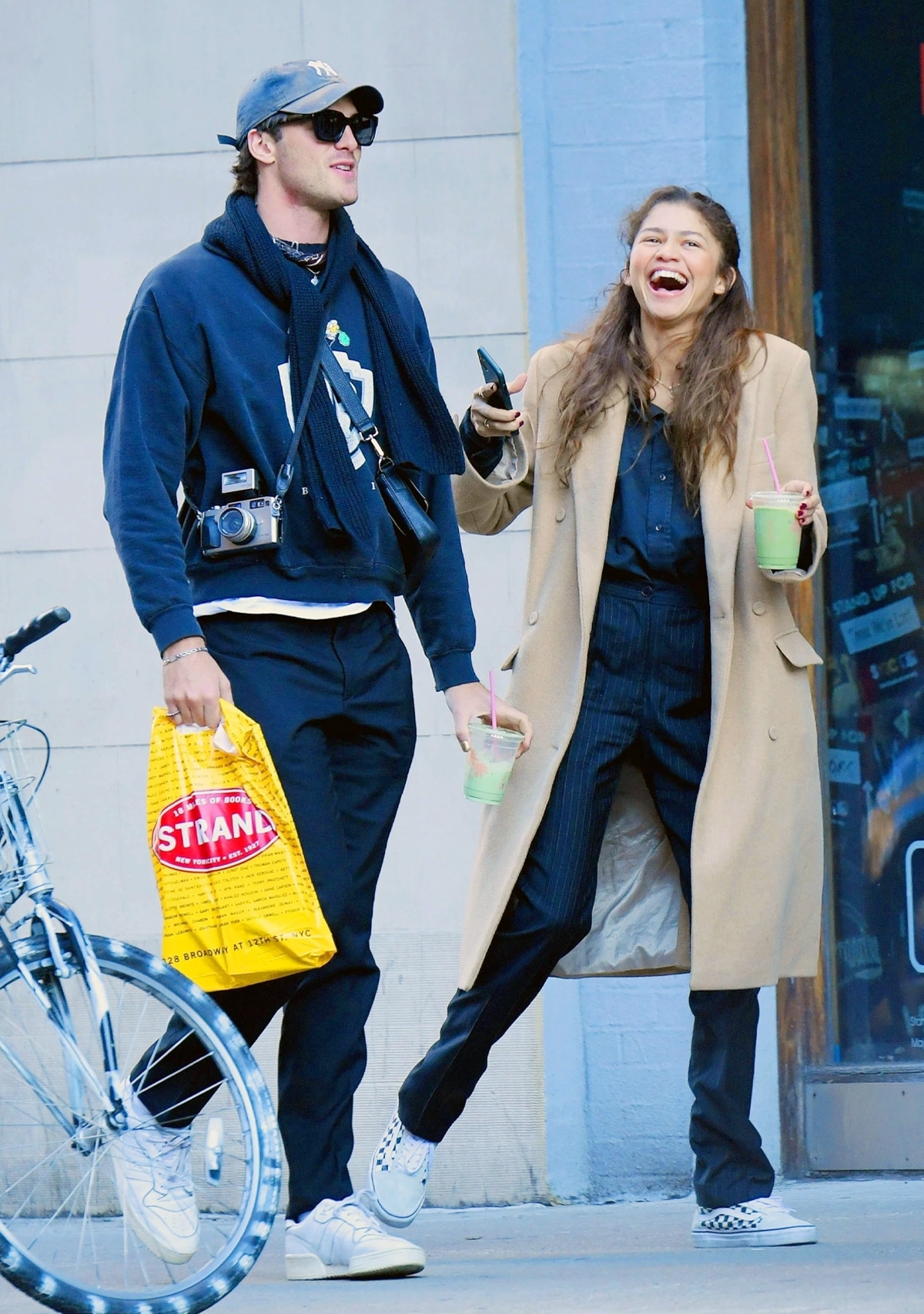 Side Bags and Neck Scarves
Jacob loves a good side bag, he's been seen wearing them to red carpet and fashion events, the beach and even just strolling around the city. He's used side bags from Celine, Baguette and House's Robin along with Patagonia bumbags. Along with his love of side bags, Jacob has become a fan of neck scarves. It is easy to see why as they work for both casual and smart-casual occasions. He has worn variations of long and short scarves with different colours or patterns. At Madison Square Garden he wore a long black and grey checkered scarf, while when he was strolling Los Angeles with Kaia Gerber He opted for a shorter floral patterned scarf.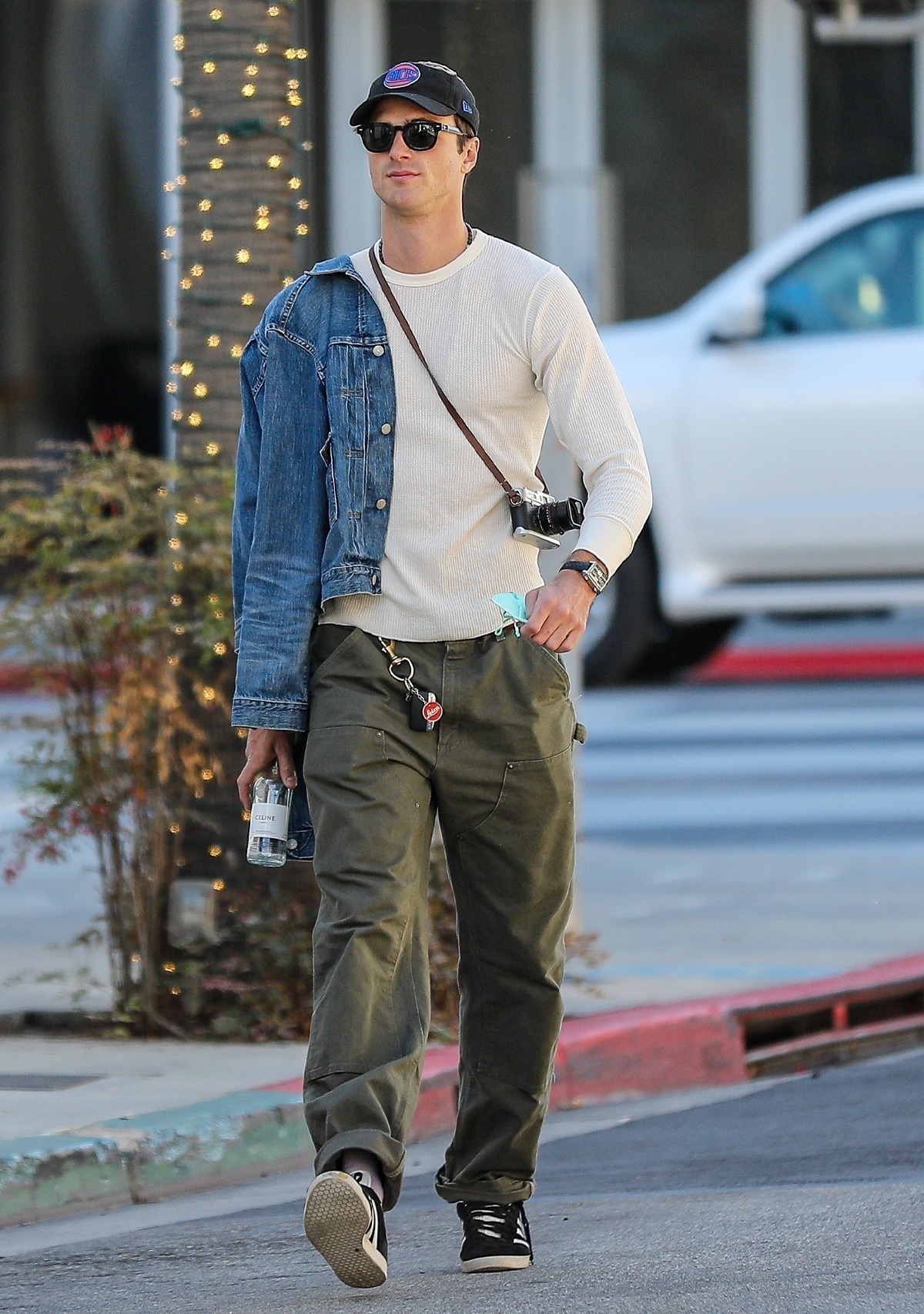 Always Accessorise
Ever since Jacob's rise to fame one thing that you notice is that with every outfit he wears, Jacob always has one or more accessories. From classic sunglasses to a range of different hats and everything else in between, the Aussie star knows that accessories not only complete an outfit but they can also add dimension to it too. Jacob is a talented photographer, so it is no surprise that he's been spotted many times accessorising his casual outfits with a classic DSLR camera slung across his chest. The Australian star is also an avid fan of jewellery. Plus he is not afraid to mix metals as we've seen him pair a thin chain bracelet and subtle pinky ring. He's also been seen with both gold and silver jewellery like bracelets, necklaces, rings and even the occasion earing.
Best Jacob Elordi Outfits of All Time
Now we've got a rundown of his style choices and aesthetic, it's time to take a look into the archives. Here are the five best Jacob Elordi outfits we've seen, from the red carpet to the sidewalk.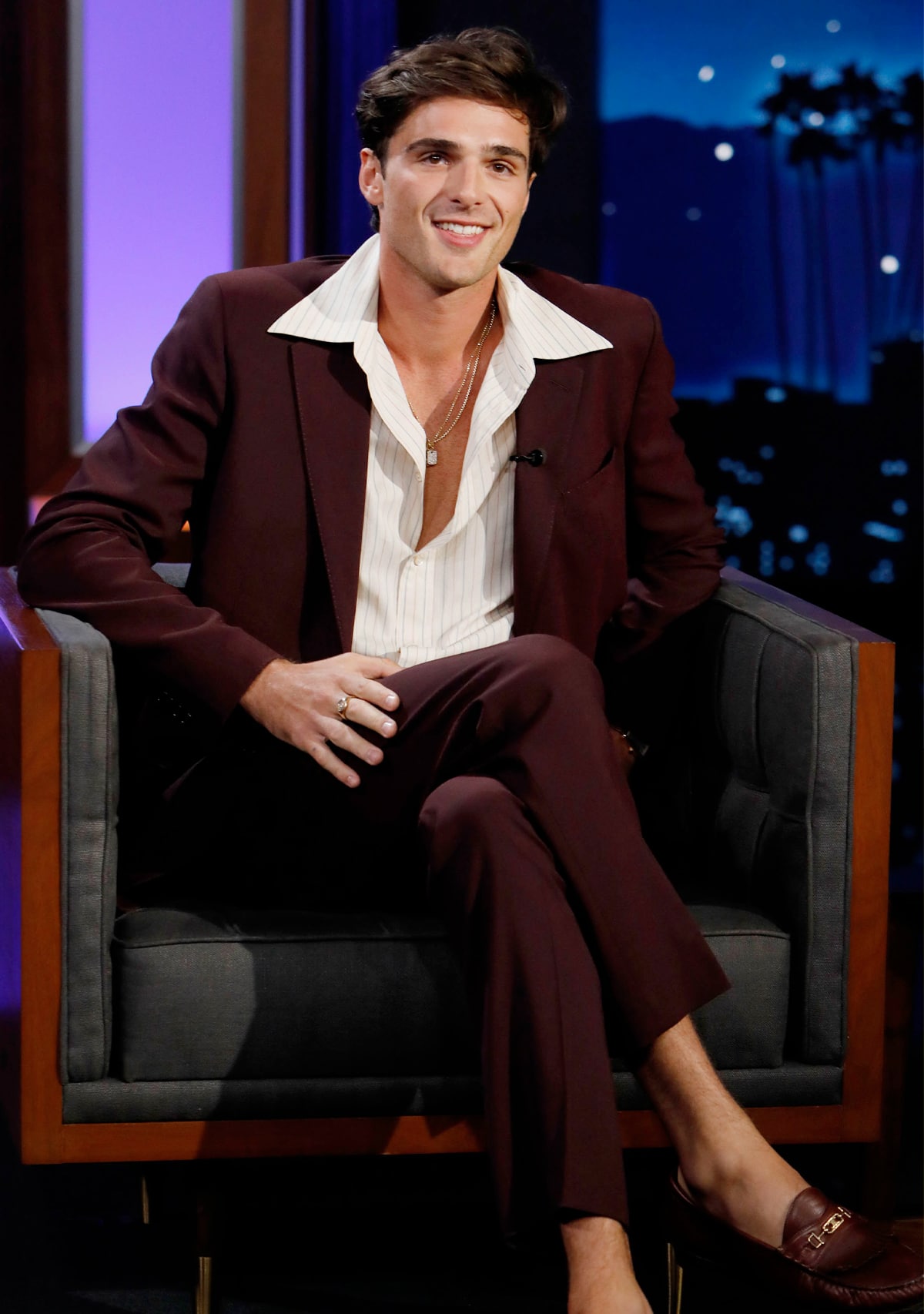 Suiting Mastery at Jimmy Kimmel Live!
Jacob Elordi practically stole the show at Jimmy Kimmel with his causal yet masterful suit. The star wore a crisp white loosely buttoned wide-collared pinstripe shirt, fitted perfectly under a wine red Hugo Boss suit from FW21. He accessorised the look with rings, necklaces and a burgundy strapped classic Cartier Tank watch. But he completed this amazing vintage '70s look pair of gorgeous horse-bit and kilted loafers that matched the wine red of his suit.
Shirt: White wide-collared pinstripe shirt
Jacket: Wine red Hugo Boss suit jacket
Trousers: Wine red Hugo Boss suit trousers
Shoes: Dark red horse-bit and kilted loafers
Watch: Burgundy Strapped Cartier Tank watch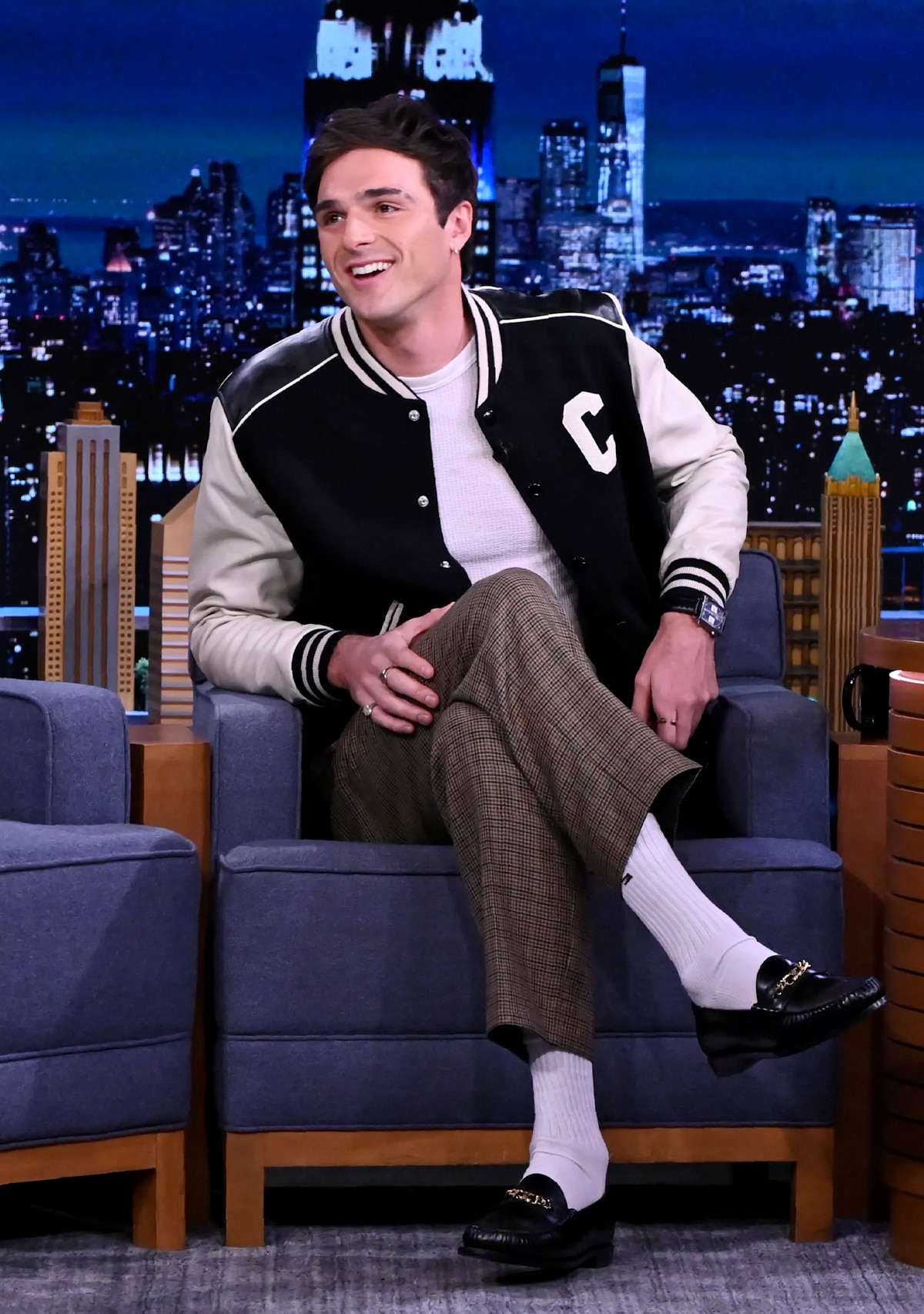 Head to Toe Celine on The Tonight Show
Jacob's Tonight Show outfit wasn't complicated, it was just classic. Elordi's complete Celine outfit was from Celine's Spring 2022 Collection. The outfit consisted of Celine's lux version of a Letterman jacket made with wool and leather detailing on the shoulders. This was paired with a crisp white t-shirt and Celine Slim-Fit Flared Prince of Wales Checked Wool Trousers. The look was finished with Celine's super low-profile penny loafers and white socks. He accessorised the Celine look with one of the most iconic watches of the past 60 years, a Monaco by Tag Heuer watch.
Shirt: Basic white t-shirt
Jacket: Celine Letterman jacket – Buy Here
Trousers: Celine Slim-Fit Flared Prince of Wales Checked Wool Trousers – Buy Here
Shoes: Celine penny loafers – Buy Here
Watch: Monaco by TAG Heuer watch – Buy Here
Jacob The Man About Town
Not only did Jacob make the cover of the Man About Town's SS21 issue, but we were also treated to some amazing outfits. But the standout look by far would have to be Jacob Elordi in the crisp white Louis Vuitton two-piece suit. The Suit was paired with a black button-up shirt, Black Jacques Mariemage sunglasses and completed with Australian made R.M. Williams Kintore Shoe made with black Burnished Leather and a Leather Sole. The full containing black and white look gave us a classic Miami vibe.
Shirt: Black button-up shirt
Jacket: Louis Vuitton White suit jacket from ss19 menswear collection
Trousers: Louis Vuitton White suit trousers from ss19 menswear collection
Glasses: Black Jacques Mariemage sunglasses
Shoes: R.M. Williams Kintore Shoe – Buy Here
All-Black at Bvlgari's NYFW 2020 Celebration
During New York Fashion Week, Bvlgari hosted its iconic Rock Party, where we saw Elordi dressed head to toe in an iconic all-black ensemble. The full black suit featured a fitted jacket paired with flared black suit trousers that were paired together with classic black leather loafers. The already elevated outfit was elevated with a silver bracelet, a gold ring as well as one of Bvlgari's vintage black neck scarves.
Shirt: Black button-up shirt
Jacket: Black fitted jacket
Trousers: Black flared suit trousers
Shoes: Black leather loafers
Scarf: Vintage black Bvlgari neck scarf
General FAQs
Where is Jacob Elordi from?
Euphoria star Jacob Elordi was born in Brisbane, Queensland, Australia, on 26 June 1997.
Did Jacob Elordi and Zendaya date?
While the two Euphoria co-stars never confirmed they were together several sources told E! Jacod Elordi and Zendaya were reomantically involved once they'd finished filming Euphoria, which would have been 2018 - 2019.