Louis Vuitton Presents Virgil Abloh's First Jewellery Collection
presents a new jewellery collection from Men's Artistic Director Virgil Abloh that draws inspiration from hip-hop, skate culture and classic Cuban chain links. The new collection reinterprets designs that first appeared during the men's show fixed to various accessories and leather goods.
A multi-hued chain is offered as a tribute to diversity. It showcases an array of exceptional finishes, techniques and materials, which are united together across the links. Coloured enamel is presented in orange and blue tones; the brass possesses an aged gold effect, with palladium finishing, monogram engraving, and crystal in a range of hues.
An alternative to this piece comes with an entirely palladium-finish and features the LV monogram artfully scattered across its surface. The collection also includes two prominent white ceramic pieces – a pendant and a signet ring embossed with monogram palladium-finished brass.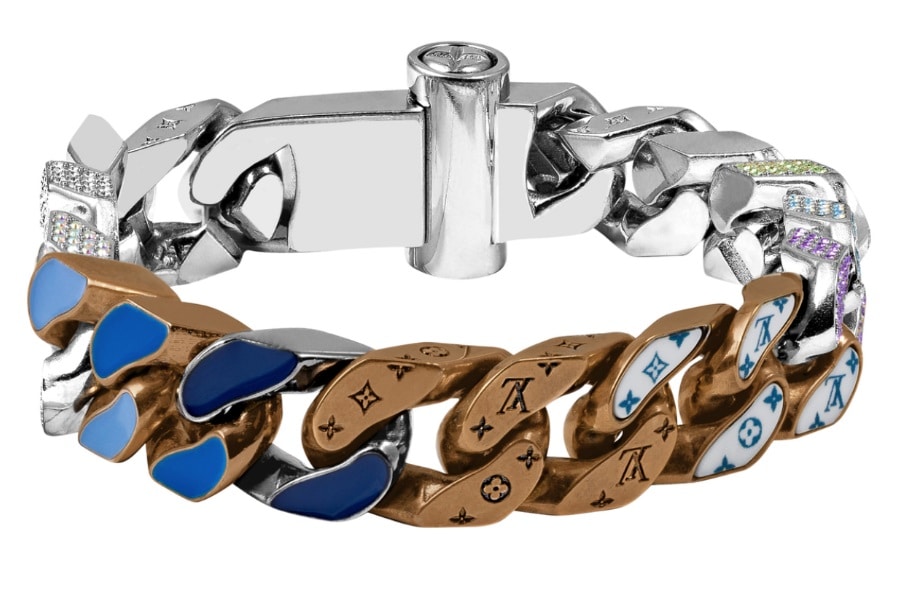 All chain necklaces and bracelets come with an innovative new system of closing; a cylindrical slide specially developed to ensure security.
The clasp comes embellished with Louis Vuitton branding and an "R" engraving. The trademark symbol is a detail that runs throughout the collection. Both aspects pay tribute to the Spring-Summer 2019 collection, where Virgil Abloh first introduced white ceramic jewellery.
The Louis Vuitton men's jewellery collection from Virgil Abloh is available now.