11 Best Messenger Bags for Style, Tech, and Travel
Whether you need a new bag to take to work, you're over lugging around a bulky backpack, or just love the sleek, stylish look of a messenger bag, we've tested and trialled them all to bring you our top picks. From crossbody bags perfect for if you prefer to get around by riding your bike, to leather messenger bags bound to impress everyone in the office, here are the best messenger bags for style, tech, and travel.
Best Messenger Bags at a Glance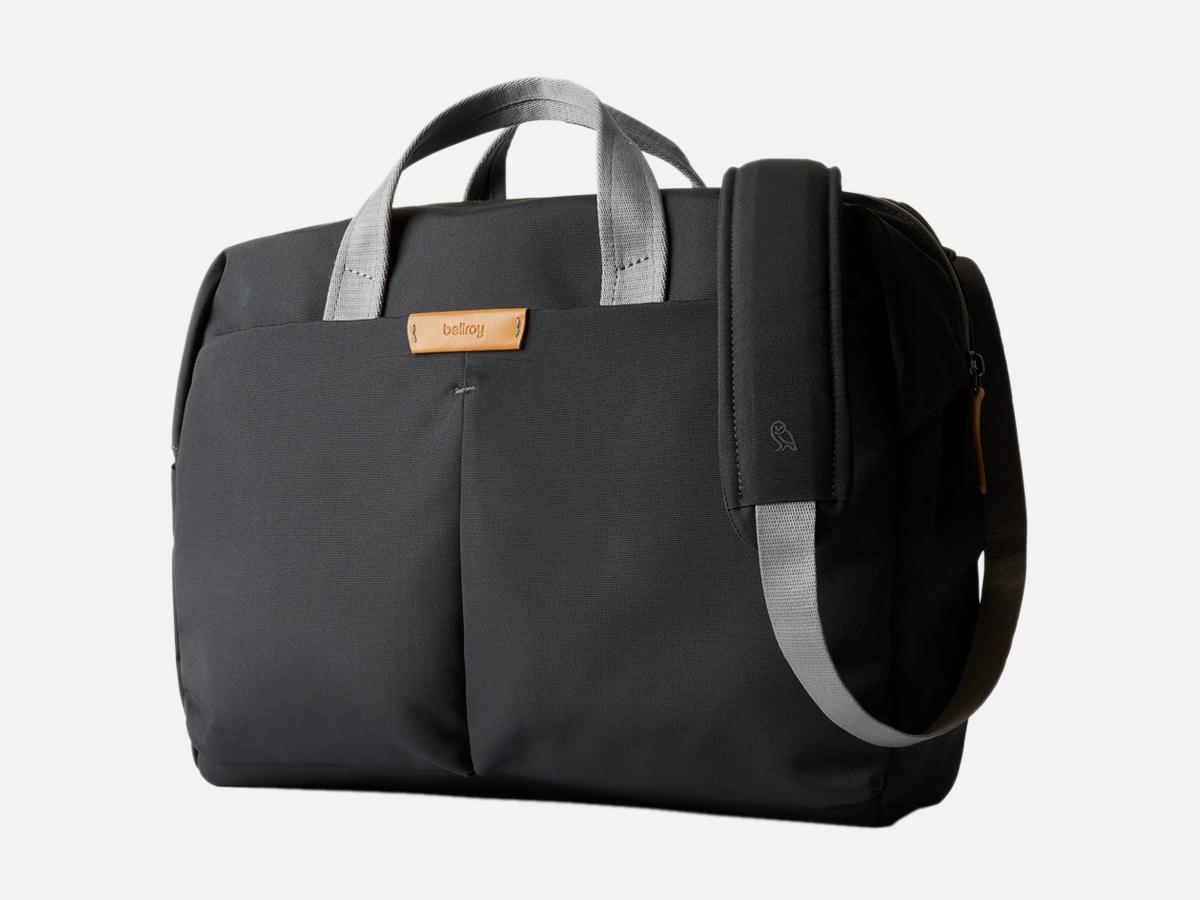 1. Bellroy Tokyo Work Bag
Weight: 880g
Activity: Everyday/Commute
Material: 100% recycled external fabric and linings, with eco-tanned leather accents
Price: AUD$289
In need of a new sling bag to take to work? Look no further than the Bellroy Tokyo Work Bag. Combining clean, minimalist design with functionality and clever use of space, we can't fault it. It features a padded 16" laptop sleeve, a side water bottle pocket and even a raised mesh sunglasses pocket. Best of all, Bellroy has adorned this messenger bag with a heap of extra padding, so even when we were running for the bus, our belongings weren't bouncing all over the place and getting damaged. With ample space and a detachable padded shoulder strap, what more could you ask for?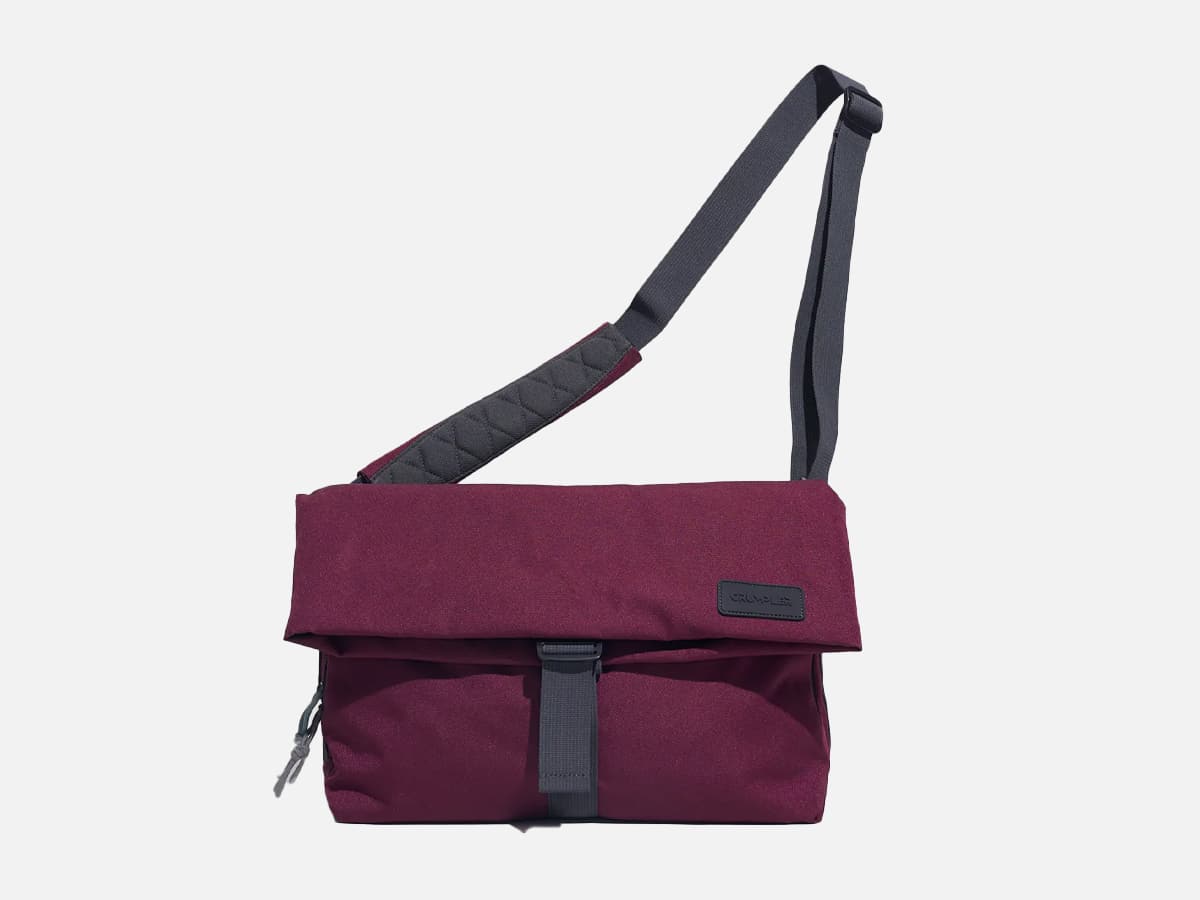 2. Crumpler Strength of Character
Weight: 700g
Activity: Everyday/Commute
Material: Canvas
Price: AUD$169
The Crumpler Strength of Character is one of the best messenger bags for men if you're all about versatility. It is large, robust and sturdy — pretty much the definition of 'jam-packed', with three closure options for the main compartment, a velcro sealed internal 15″ laptop sleeve and a large front pocket. It is also weather resistant and has a heavy-duty shoulder strap with removable padding.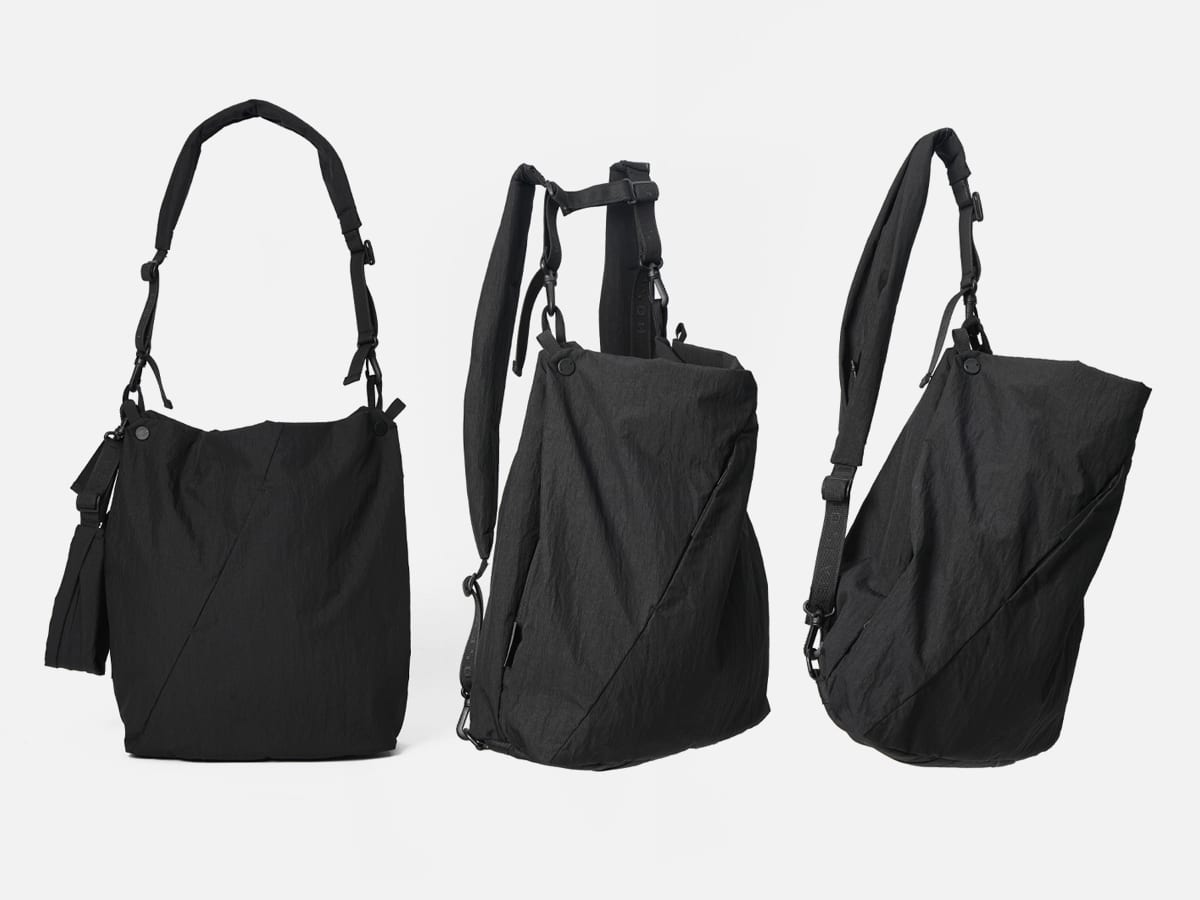 3. Sealson TE 3-Way Messenger Bag
Weight: 520g
Activity: Everyday/Commute
Material: 100% Ecoya nylon
Price: AUD$340
A large crossbody bag doubling as a backpack, the Sealson TE 3-Way Messenger Bag is definitely out of the ordinary, which is why we like it. At the forefront of utility and style, with plenty of capacity and now in a sleek charcoal colour, add this to any outfit and it will only elevate your look. This is also a great option if you're a bike rider, with a strap system that enables quick-rip access even in backpack mode.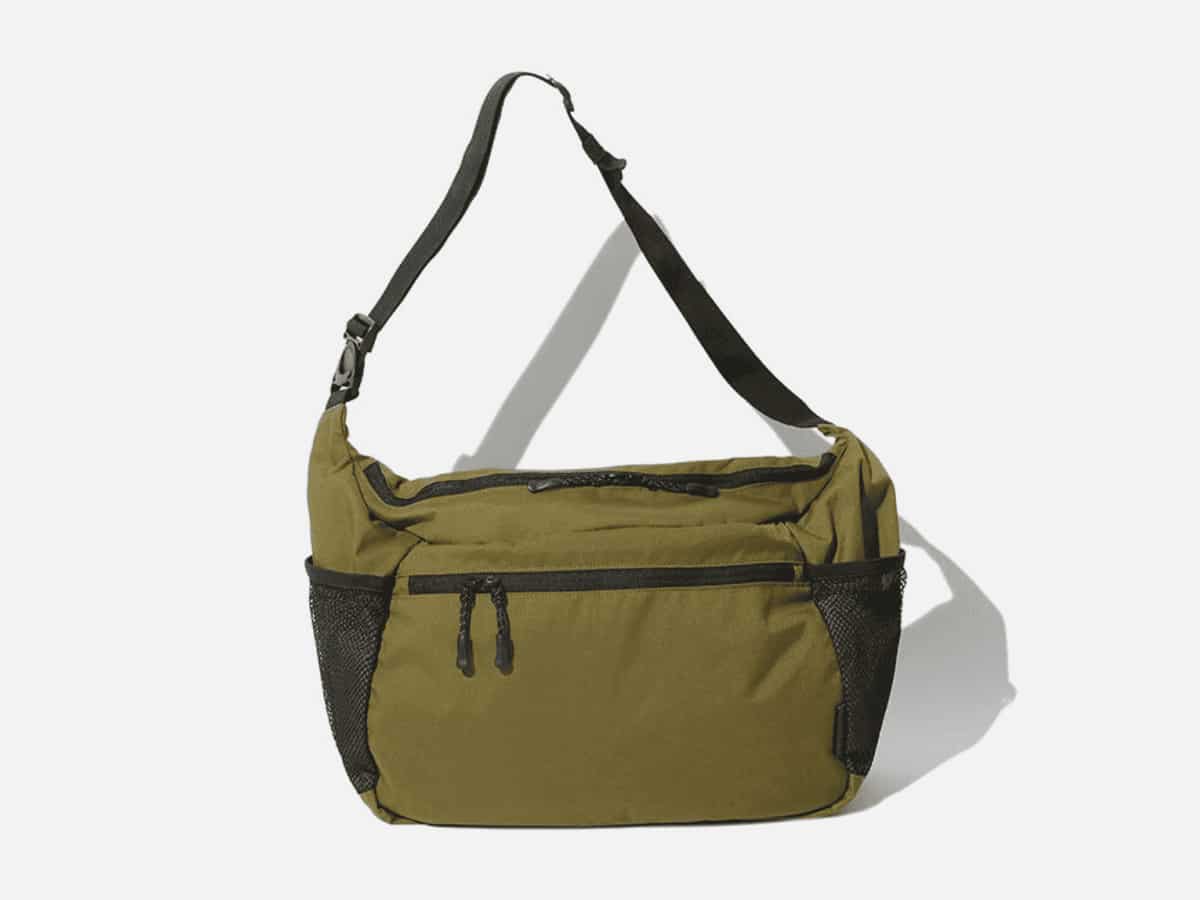 4. Snow Peak Shoulder Bag
Activity: Everyday/Commute
Material: 100% nylon
Price: AUD$165
Sturdy but flexible, this shoulder bag from Snow Peak is designed to be used. The outdoor lifestyle brand knows has proved they know how to design for functionality, and it's no different when it comes to its accessories — this bag is made of 100 per cent nylon, and features two external mesh pockets, an external zip pocket, and a detachable shoulder strap. With a 10L capacity, it's small but mighty, which is a surpirse for a sling bag. We found the Shoulder Bag from Snow Peak to be one of the more impressive messenger bags tested, due to it's extensive sotrage compartments and surprisngly versatile design.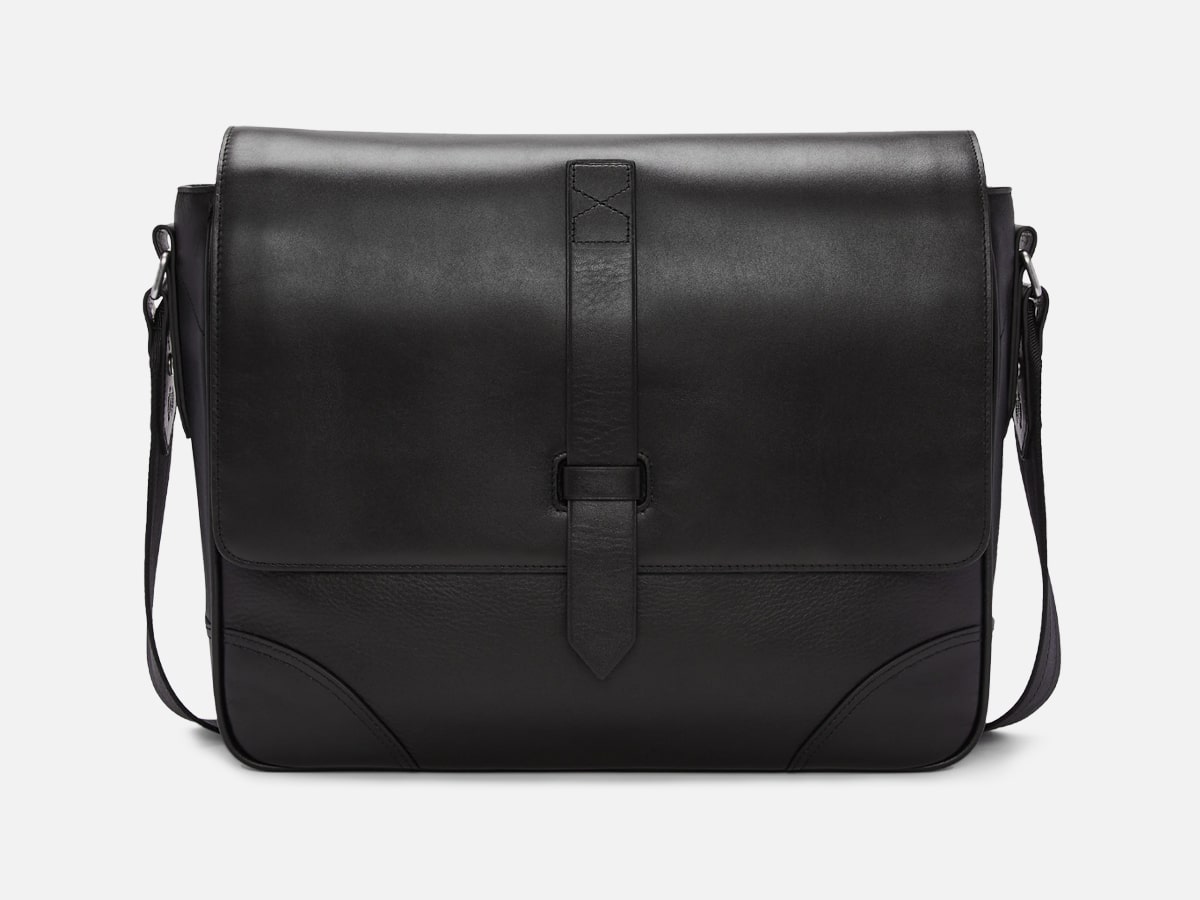 5. R.M. Williams Messenger Bag
Activity: Travel/Tech
Material: Premium full grain leather
Price: AUD$499
It may come as no surprise that R.M Williams has one of the best messenger bags for men on the market. The bag is crafted from premium full-grain leather and features an internal padded laptop sleeve, zip pocket and phone and pen holders, over-the-shoulder strap, tongue and loop closure and nickel hardware. In the signature R.M Williams look, this bag is the perfect accessory to complement your trusty RM boots.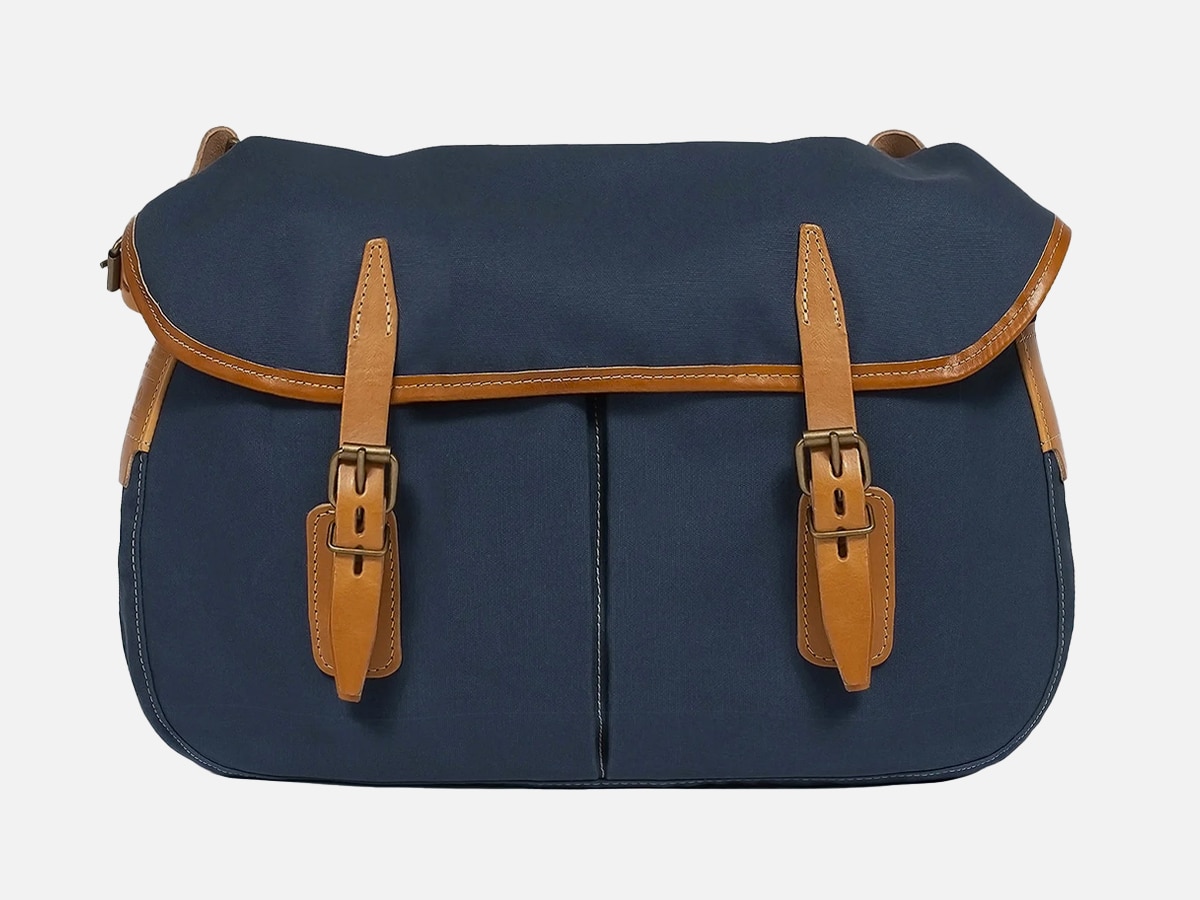 6. Bleu de Chauffe Fisherman's Musette M
Weight: 1kg
Activity: Travel/Luggage
Material: GOTS certified organic cotton canvas, vegetable-tanned leather
Price: AUD$242.91
A boujee side bag with a nautic touch, the Bleu de Chauffe Fisherman's Musette is one of a kind. Not only are you bound to be the only one in the office with this bag around your shoulder, but you'll be organised and looking the part, too, made from a blend of fine and rugged materials and with plenty of storage to keep you sorted. This premium messenger bag features three outside pockets: two on the flap with one patch pocket on the back. Best of all, it's super robust and durable, meaning that your laptops, electronics and wallet will be secure wherever you take this bag.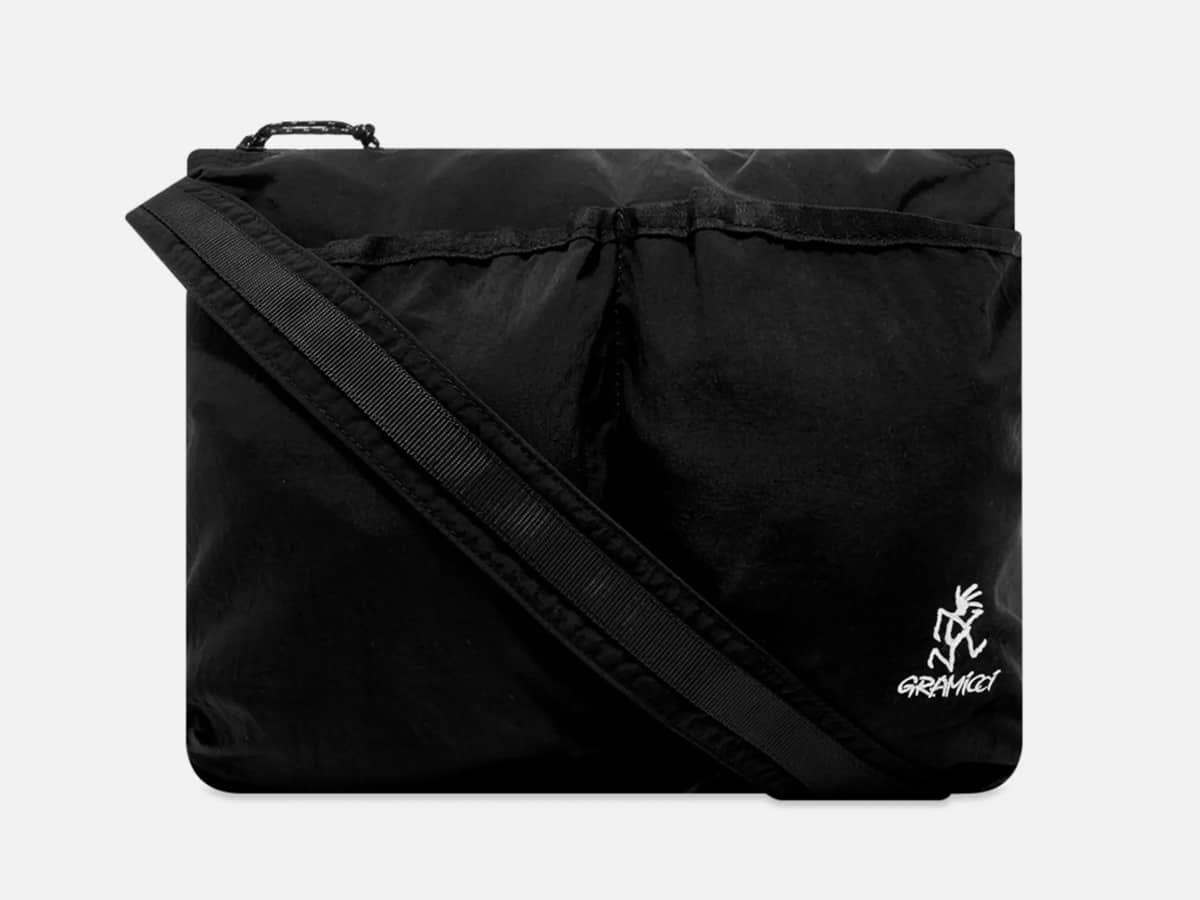 7. Gramicci Sacoche
Activity: Everyday/Commute
Material: 100% Nylon
Price: AUD$89
Ideal for those opting for a smaller, functional option, the Gramicci Sacoche is the way to go. Dedicated to long-lasting gear designed for the outdoors, Gramicci's messenger bag is functional beyond everything else, made from cotton corduroy with utilitarian-style mesh overlays, whilst stylistically paying ode to the brand's Japanese roots. If you are looking for a lightweight messenger bag, this is our top pick, however, the 100 per cent nylon construction isn't the best for protecting your belongings. Those planning to carry laptops and other electronics might find this option a little thin and would be better served with a more robust design.
---
Featured Video from Man of Many
---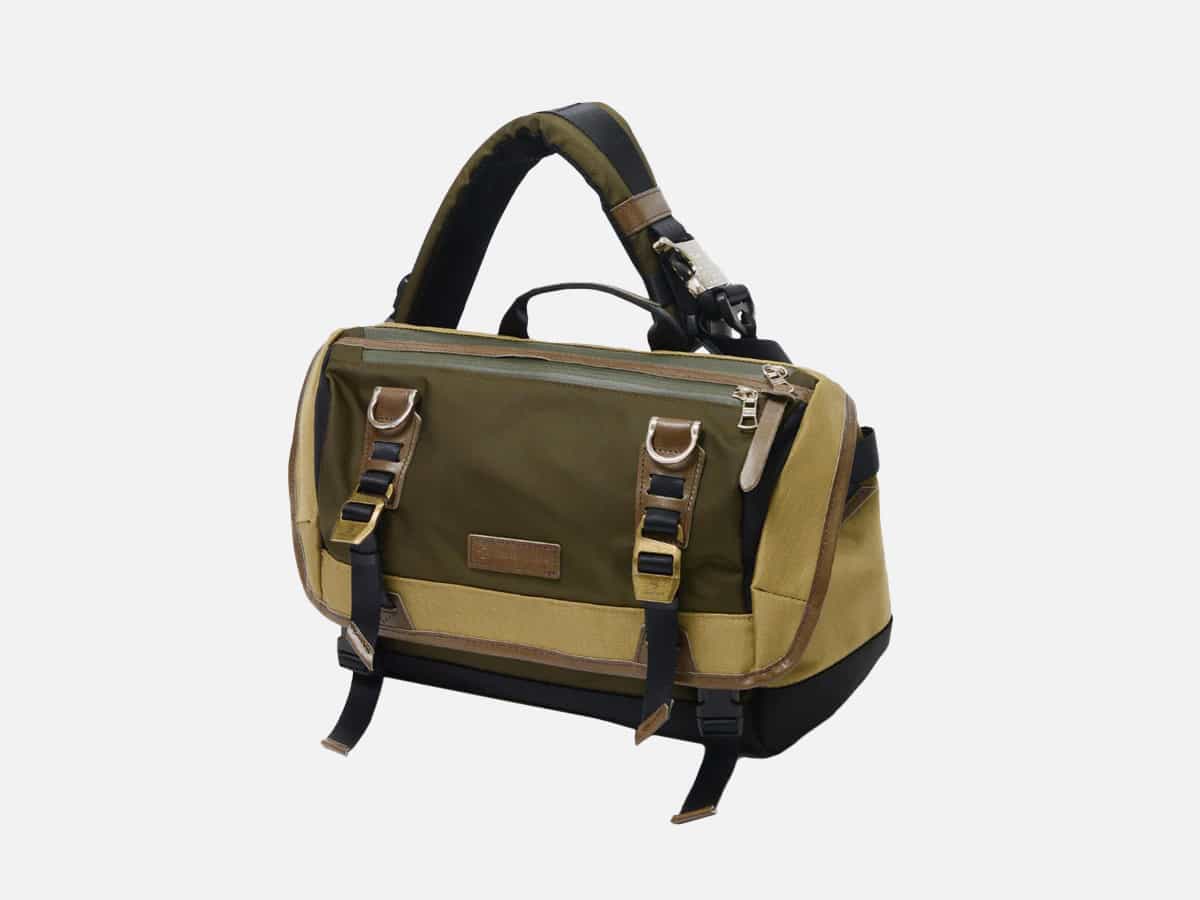 8. Master-Piece POTENTIAL Messenger Bag No.01756-V3
Weight: 1kg
Activity: Travel/Luggage
Material: CORDURA Ballistic 420d fabric 100% nylon breathable waterproof film L-Vent® laminated
Price: AUD$411
One of the best messenger bags for men if you're looking to make an impact, the POTENTIAL Messenger Bag is the epitome of blending functionality with style. The bag features a thin compartment, durable fabric, and is water-repellent, with a bold buckle that, we think, is what really makes the bag. This bag is a little more on the robust side and with a weight of around 1kg, it's not the most practical for everyday use. That being said, it's a great addition to your luggage rotation, as it is the perfect carry-on piece for your next overseas trip.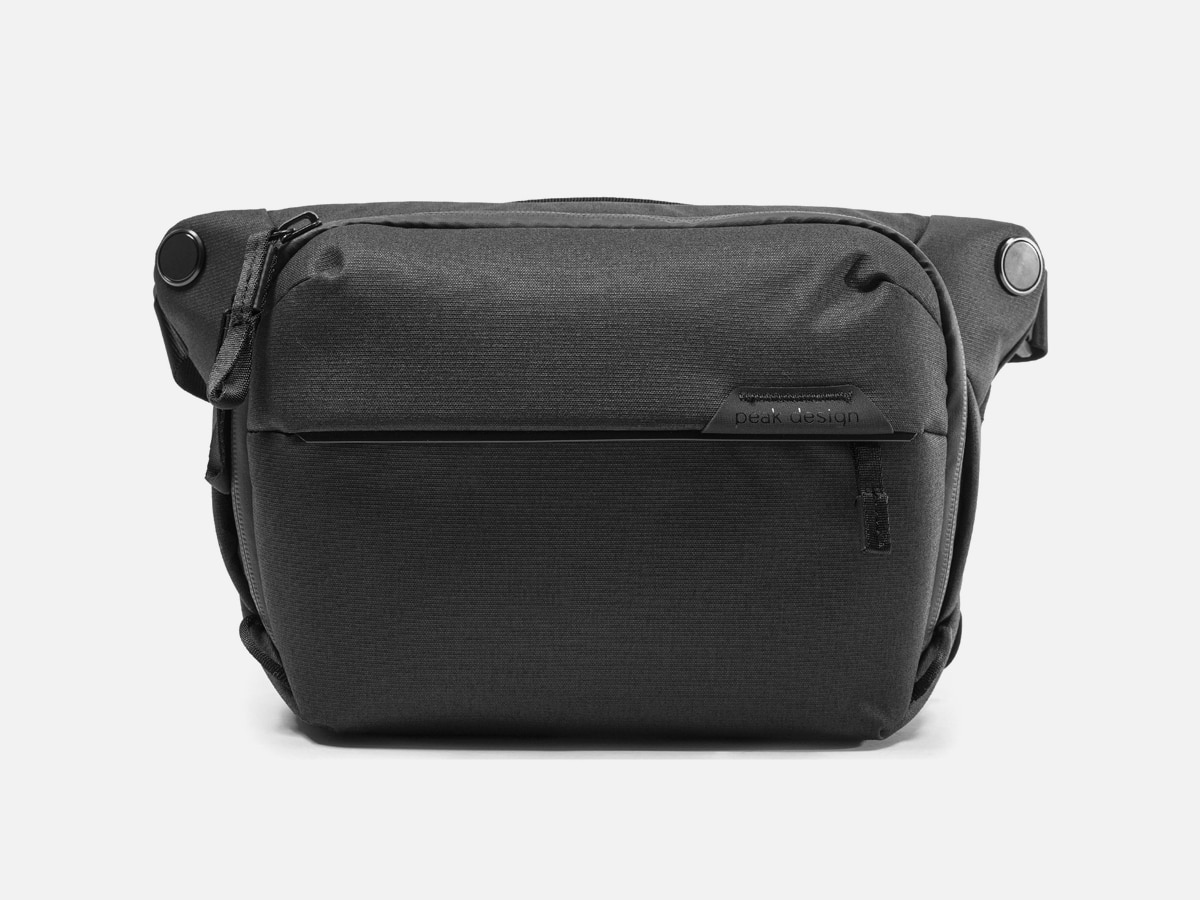 9. Peak Design Everyday Sling
Weight: 450g
Activity: Travel/Everyday
Material: 400D double poly-coated DWR-impregnated nylon canvas shell
Price: AUD$163.59
One of the most versatile canvas crossbody bags out there, The Peak Design Everyday Sling has been designed with every purpose and every person in mind. It comes in 3L, 6L, and 10L sizes so you can pick the perfect companion whether it's for your camera gear, drone or tablet or laptop. Plus, for the active among us, the padded cross-body strap features a quick adjuster that you can loosen when accessing gear and tighten when getting active. Importantly, Peak Design has gone all-in on sustainability, with the messenger bag crafted from 400D double poly-coated DWR-impregnated nylon canvas. This 100 per cent recycled post-consumer material ensures your belongings are safe and that you are doing right by the environment at the same time.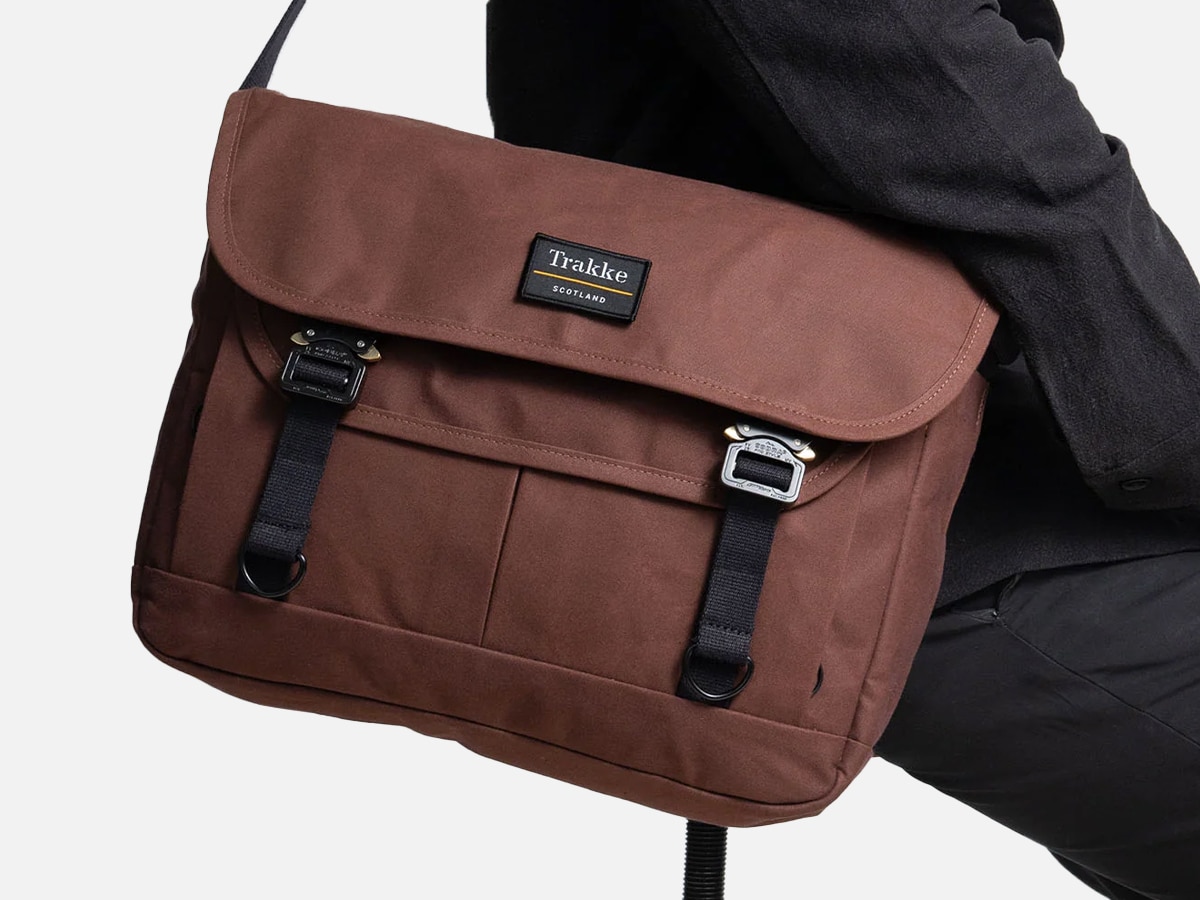 10. Trakke Bairn Messenger Bag
Weight: 1.3kg
Activity: Travel
Material: Durable dry-finish waxed canvas
Price: AUD$501
The best messenger bag for men for comfort and utility, Trakke have outdone itself with this little thing. With plenty of storage and organisation including an interior zip pocket and 13-inch laptop sleeve and supreme comfort thanks to adjustable straps and G-hook buckles for easy access, this bag is minimalist design re-defined.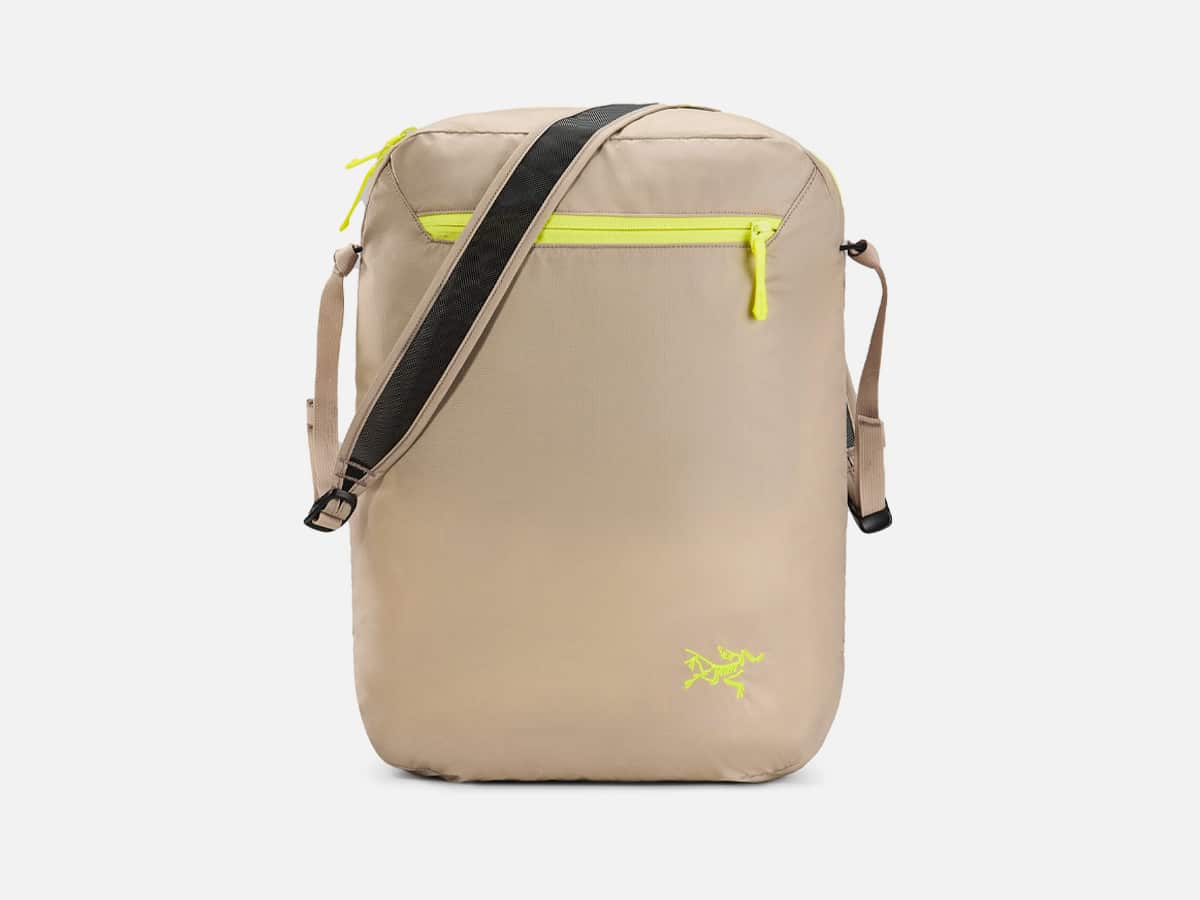 11. Arc-tyrex Heliad 12-litre Tote
Weight: 180g
Activity: Travel/Commute
Material: 100D Cordura Mini Ripstop
Price: AUD$90
Not your typical canvas crossbody bag, this silicone tote is the answer to the ultimate versatile messenger bag. Perfect for trips, work or adventure, it is also extremely functional. It has a small external pocket for your phone and wallet and a spacious rectangular design that makes packing easy, with a breathable mesh shoulder strap that makes everyday carrying nothing but comfortable.
Things to Consider for Messenger Bags
When it comes to selecting the best messenger bag for you, there are a few important factors to consider to ensure you choose the correct option to meet your needs and preferences. Here are some things to keep in mind:
Purpose and Use: As a functional purchase, we recommend making sure the product you are considering meets your everyday needs first and foremost, before looking at style. Here is what to consider when purchasing a messenger bag. Start out by determining the primary use for the bag – Are you using it for work, commuting, travel, or casual outings? Secondly, think about the products that you will need to carry, such as laptops, tablets and documents.
Size: Once you have figured out exactly what you need to carry, you'll have a better understanding of what size messenger bag is best for you. Don't be afraid to measure your belongings and check them against the specifications. It never hurts to be sure.
Material: Depending on where and how you plan on using the messenger bag, material and fabric can play an important role. If you walk or ride to work, you might be better off buying a messenger bag that has a weatherproof construction, rather than your standard canvas build. Additionally, consider the environmental impacts of the bag and weigh that up against your own personal thoughts.
Comfort and Design: While large and bulky messenger bags will ultimately give you more space to play with, going big isn't always the best option. Large, double-handle bags can be tricky to carry for long periods and conversely, sling bags will be the most comfortable, at the expense of real estate.
Alternatives to Messenger Bags
If messenger bags aren't quite your style, the options don't end there. There are a host of other great everyday bags that will help you carry your things to and from the office in style.
How Man of Many Chose This List of Messenger Bags
With over 10 years of experience reviewing travel products, fashion and everyday carry items, Man of Many's team of editors is committed to providing independent and objective reviews. All products were selected on the key criteria of taste, availability, style and user reviews. The review team has personally tasted many of the products on this list and where that was not possible, sought the advice of customers and users before publication for the official tick of approval. You can review our editorial policy here surrounding how we maintain our independence in our editorial reviews.
Messenger Bags FAQs
What is the best sling bag for men?
If you are looking for a quality sling bag, brands such as Peak Design and Bellroy have a range of quality over-the-shoulder options. For versatility and comfort, we recommend Peak Design Everyday Sling.
Which messenger bag is best for carrying a laptop?
With a number of handy pocket options and enough space to fit a full-size computer, the Bellroy Tokyo Work Bag is the best messenger bag for carrying a laptop. Additionally, the lightweight design and fabric construction allow you to travel without adding too much bulk.
What is the point of a messenger bag?
Designed as a stylish and more professional alternative to the backpack, messenger bags feature a series of useful compartments that make it easy to find what you want quickly. These bags are generally used to carry work essentials, such as a laptop, folder or smartphone.
---
Featured Video from Man of Many