American fashion label Tommy Hilfiger is getting nostalgic and stepping outside the box at the very same time with two new capsule collections. Both are firmly rooted in 1990s streetwear culture, though don't take that to mean the brand is running over familiar ground. On the contrary, the "Pop Drop" and Tommy Jeans x NBA capsules respectively reinvent the very movements that drove Hilfiger to meteoric success. In lieu of the signature red, white, and blue palette, wearers can expect bright colours and retro-themed athletic designs, all presented in the relaxed Tommy Jeans style.
You'll also like:
Tommy Jeans x AAPE Fuses Street Style and Prep for Everyday Staples
Tommy Hilfiger x Timberland Channels Clean '90s Workwear Aesthetic
Tommy Jeans' New Collection is the Real Deal, But the Model Isn't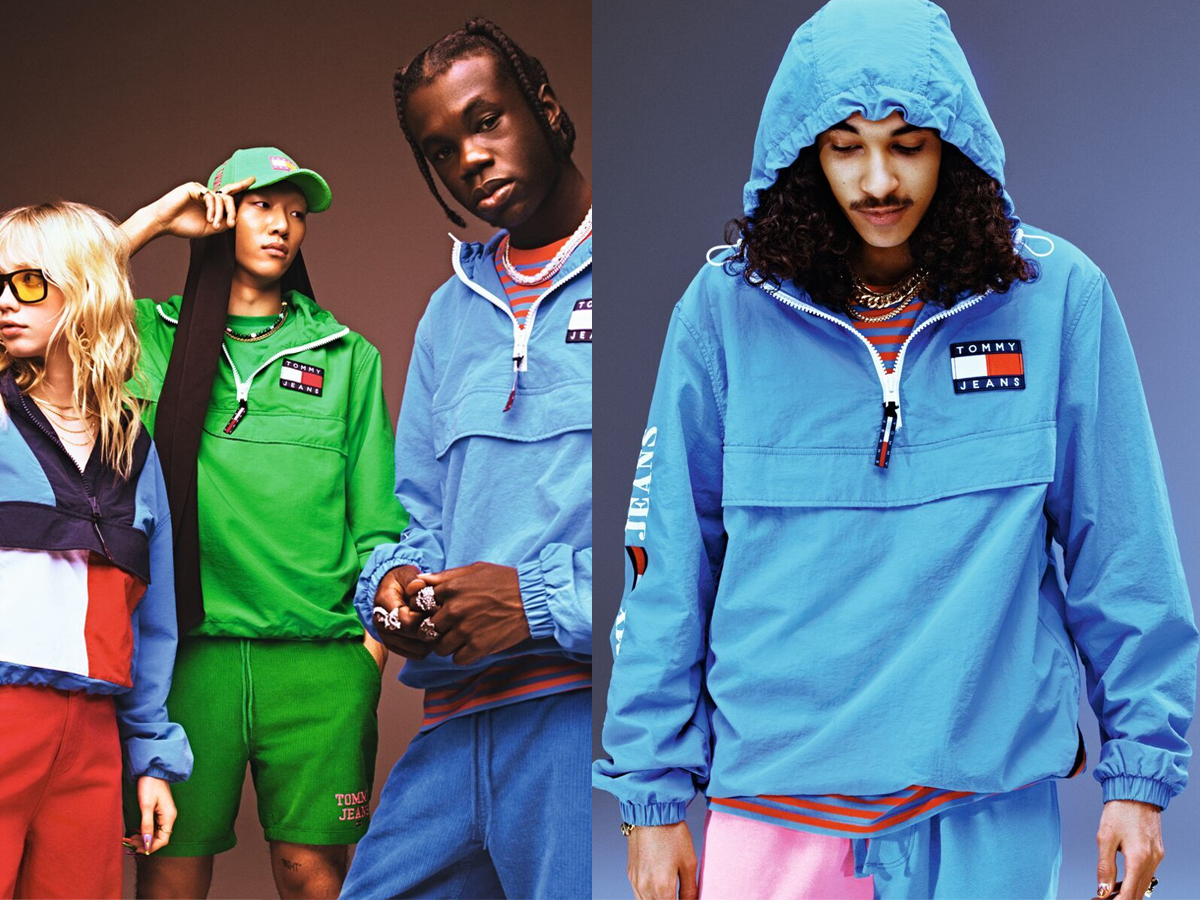 Pop Drop
Boundless creativity and raw energy lie at the heart of this bold capsule, which goes well beyond the traditional Tommy Hilfiger aesthetic in its resurrection of 1990s streetwear. Featuring both menswear and womenswear, "Pop Drop" delivers windbreakers, rugby shirts, hoodies, tees, sweatshirts, and sweatpants in an array of vibrant colours. Were it not for the relaxed Tommy Jeans cut and logo detailing, you might be searching for signs of familiarity and that's pretty much the point. Stepping far outside their wheelhouse, the brand ventures into a daring and experimental terrain. At the same time, a brilliant sense of nostalgia persists.
With help from photographer Jack Bridgland, Tommy Jeans is matching the capsule with a similarly colourful campaign: Play to Progress. It will likewise push creative boundaries whilst exploring the threshold between music, streetwear, and youth culture by way of 24/7 digital content drops. Through this campaign and the collection itself, the label hopes to inspire positive change and self-expression around the world. Friends and fans can join the community and conversation through #TommyJeans and @TommyJeans on the Tommy Jeans Instagram page.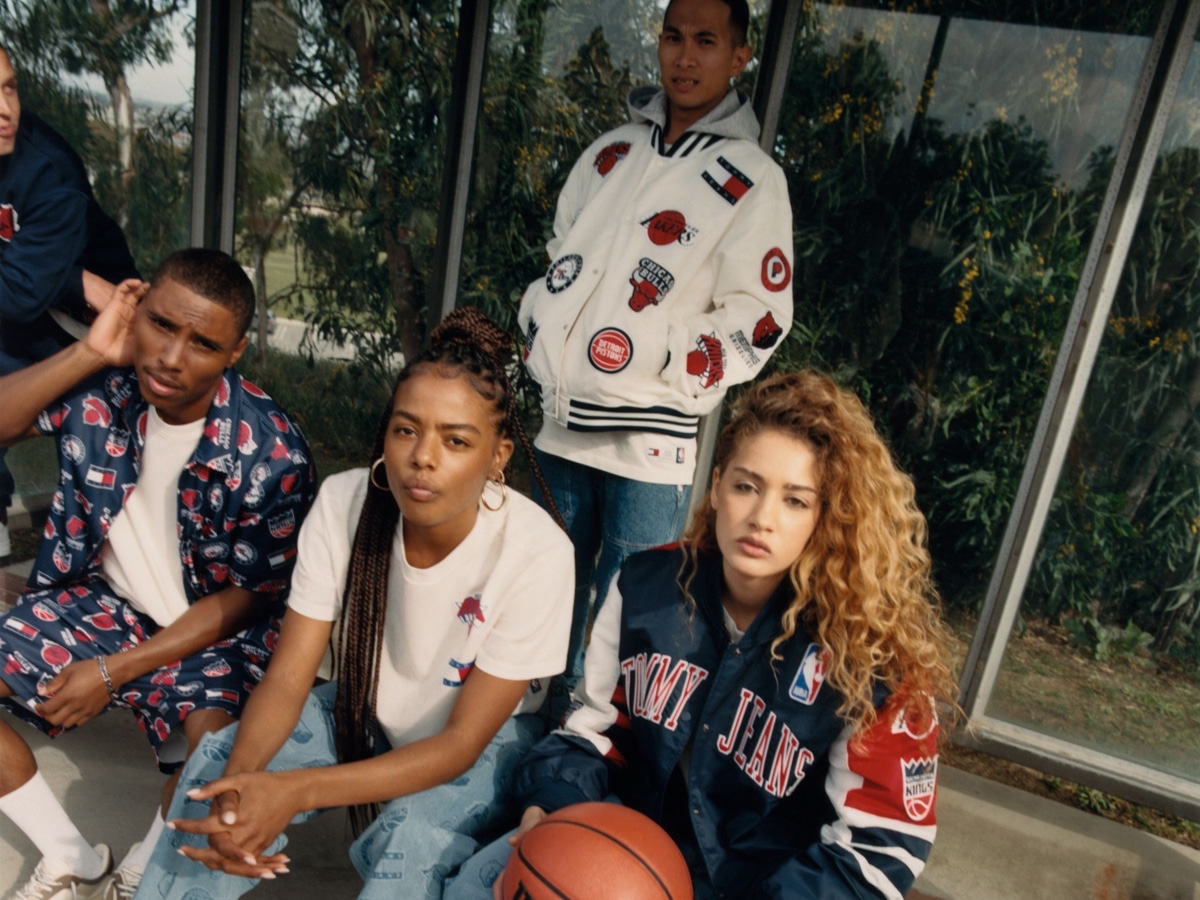 Tommy Jeans x NBA Capsule
Sports and street style continued to converge in the 1990s, when athletes like Michael Jordan ruled the world. In collaboration with the NBA, Tommy Jeans is bringing us all back to the decade in which the fashion label likewise became a cultural titan. Directly inspired by the unique energy of pro basketball and its related apparel, the capsule drapes relaxed silhouettes in a variety of iconic NBA team logos. Wearers are encouraged to mix and match between assorted hoodies, sweatpants, t-shirts, and shorts, as they either visit or revisit one of the most vital eras for athletics and streetwear alike.
From then to now, sports have remained a cornerstone of Tommy Hilfiger's brand identity and ongoing success. Hence, this latest capsule is a journey into the past but also a continuation for the label, which has recently partnered with superstar athletes like tennis legend Rafael Nadal and F1 racing champion Lewis Hamilton. It joins "Pop Drop" as part of the new Play to Progress campaign, celebrating personal creativity and universal progress through a series of digital content releases.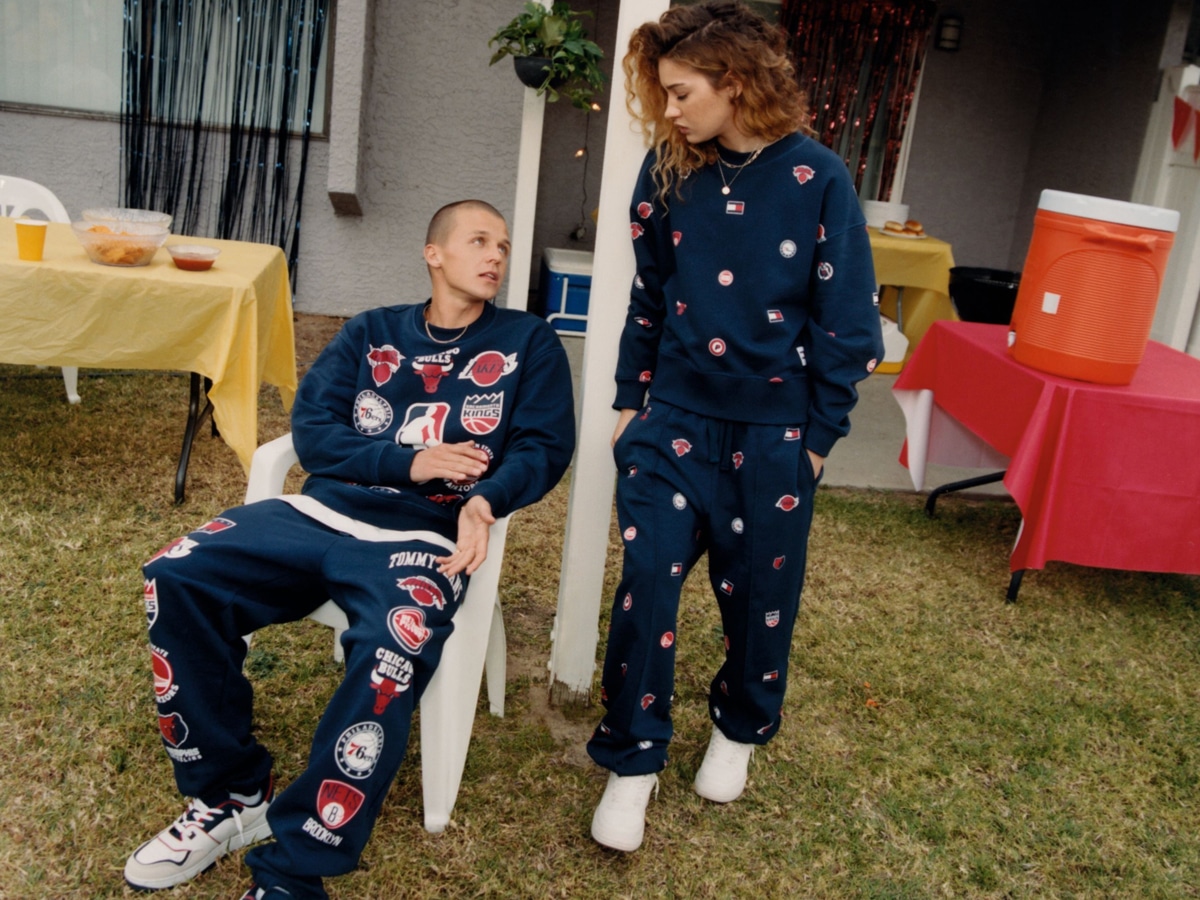 The "Pop Drop" and Tommy Jeans x NBA capsules resurrect and then reinvent the streetwear culture that turned Tommy Hilfiger into a household name. Rather than simply update previous silhouettes, however, the label offers something that's both drenched in nostalgia but resoundingly fresh at the same time. You can join or follow the Play to Progress campaign through the Tommy Jeans Instagram page and purchase pieces from both capsules on tommy.com, at Tommy Jeans stores worldwide, and through select wholesale partners.