Sneaker News #12 – Nike Reworks a Classic with Supreme and Teases another Travis Scott Collab
Welcome to Sneaker News #12. Nike collaborations are once again at the forefront of sneakers news. Following a big Travis Scott drop over the weekend, the rapper and Nike look to be prepping another Dunk Low SB. The brand is also teaming up with Supreme once again for a subtle redesign of the classic Air Force 1 set to be restocked each season. There are also notable new drops from Veja, Adidas, Salomon and more.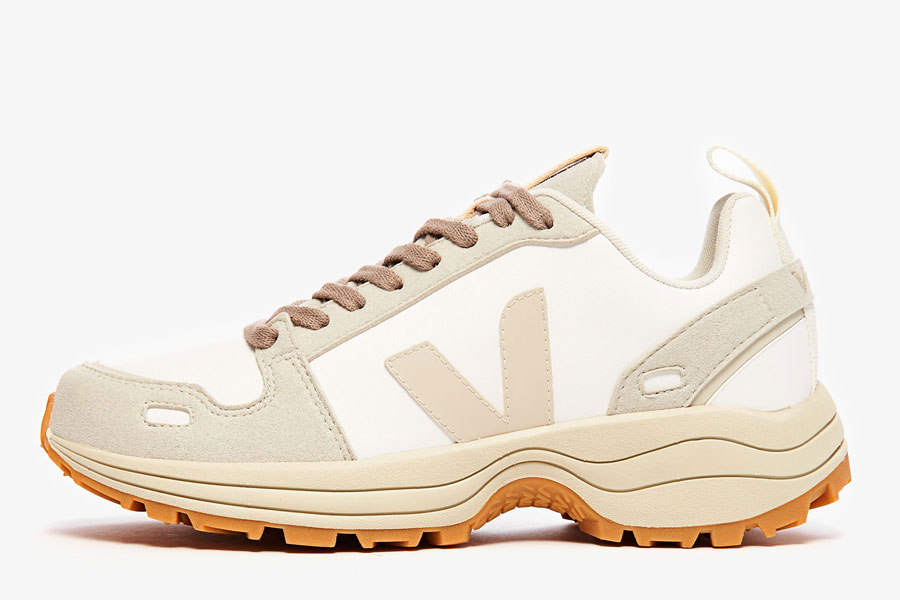 Veja x Rick Owens
Veja and Rick Owens have teamed up once again for their second collection of vegan sneakers. Offering two distinctly different shoes, the first is a new silhouette takings nods from the Dad sneaker. It features a white upper and grey overlays with a chunky outsole. The second shoe is an all-black affair, giving us a redesigned version of the performance runner from last year's collaboration. Both shoes are available to buy now from the Veja website.

Salomon Urban
Salomon began as a ski manufacturer in the French alps but it has expanded over the years into an innovative sneaker brand both for performance and design. For 2020, its Urban footwear arm has unleashed a string of silhouettes and colourways combining both fashion and functionality. Split into two categories, the Advance shoes bring the outdoors into fashion, keeping Salomon's performance capabilities and adding fresh, forward-thinking colourways. The Sneakers range focusses more specifically on running. The new range is available to buy now at select sneaker retailers including Sneakerboy, Subtype and Hype DC.

Nike x Supreme Air Force 1
Nike and Supreme have a long history of collaboration but this may be one of their most simple deliveries yet. Supreme has put its touches on the classic Airforce 1 leaving a subtle but noticeable mark on the shoe. Coming in both black and white colourways, the classic Supreme box logo features on the side of the heel while you can also choose to sport Supreme-heavy laces. An Australian drop date hasn't been confirmed just yet but it's launching on 5th March in the US online.

Travis Scott x Nike SB Dunk
Travis Scott dropped his Nike SB Dunk's over the weekend and as anticipated they sold out almost immediately. Scott's Nike collabs have become one of the brand's most successful pairings and it's showing no signs of slowing down. The shoe is currently reselling on StockX for over $1000 USD but it looks like there may be a new patterned SB Dunk on the way. Kylie Jenner teased the new shoe in a series of Instagram posts raising hype once again.

Coach CitySole
Coach has launched a new line of sneakers called CitySole and it has recruited some big names to be the face of it including Jennifer Lopez and Michael B. Jordan. The line is kicking off with three styles – CitySole Court, CitySole runner and CitySole Lowline. Inspired by different codes of American sportswear, the shoes boast enhanced comfort technology as well as sleek colourways including royal blues and rich reds. The three sneakers are currently available to buy at Coach.

Adidas Microbounce T1
Adidas is tapping into 00's nostalgia by bringing back a shoe from 2008. Brought back earlier this year, the Microbounce T1 is getting a new yellow colourway that feels even more nostalgic than the all-white shoe that came before it. It was initially made to be a runner with breathable, lightweight material and an outsole built for performance but we have a feeling it's going to be more about the fashion this time around. The shoe drops at Adidas on 6th March.

Nike Air Max 720 OBJ Slop 'Team Orange'
Odell Beckham Jr's Nike Air Max 720 is getting a new colourway, looking a lot like a nod to his Cleveland Browns colours. The laceless shoe features both leather and suede overlays with black accents and a black outsole. The dual strap criss-cross can be customised to your size and shape and elastic gussets ensure a sock-like fit. It's currently available to cop at select retailers right now.

Nike Dunk Low SP Orange
Nike is celebrating the 35th anniversary of its Nike college colours program which allowed fans to cop footwear in the colours of their chosen school basketball team. While 12 schools were initially featured, for the anniversary Nike is starting with an orange colourway as a nod to Syracuse University in NY. It's an entirely orange and white shoe right down to the laces and the outsole. It's due for release on Sunday 15th March at 9am at Subtype.