What You Can Do to Take a Stand Against Injustice
No justice, no peace.
It's the echo of inequality that has for too long defined a society marred with systemic violence and racism. Despite valiant attempts to pull us from our traditions, the inequity of man continues to draw us back in. The last seven days have brought feelings of intense emotion, disdain and betrayal to the surface, wreaking havoc in the process. If there is one thing we have learned, it's that almost sixty years after Martin Luther King made his iconic speech on the steps of the Lincoln Memorial, we still have a way to go. The senseless death of George Floyd at the hands of the Minnesota Police on May 25 was a call to action for many, but it isn't just George Floyd.
It's Ahmaud Arbery. It's Breonna Taylor. It's Mulrunji.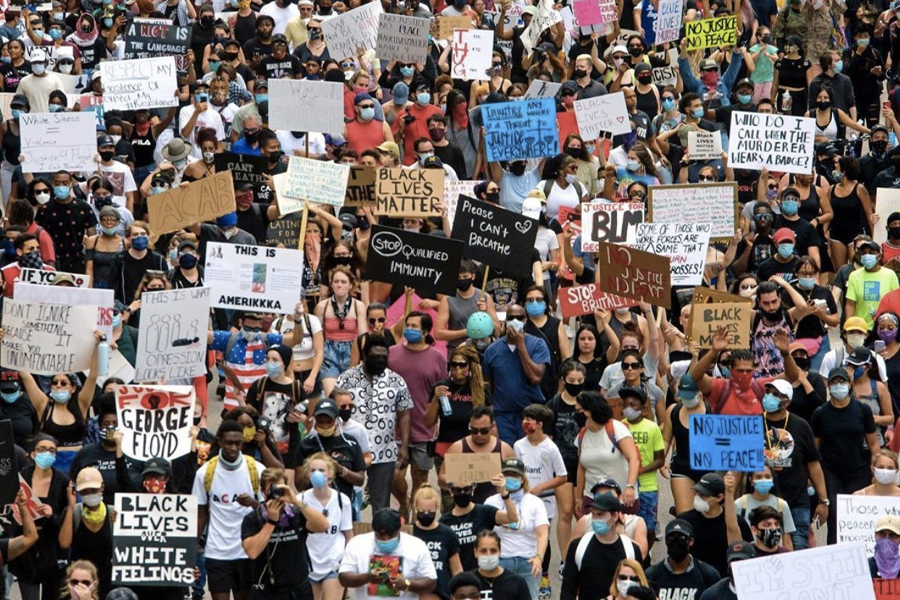 The world has a right to protest. The indisputable display of senseless violence has energised and mobilised us all. From peaceful protests in New York City to the violent demonstrations in Los Angeles, the world bears witness to a great societal shift; one that has the power to cross borders. In London, Black Lives Matter protestors clashed with police, in Germany, the Berlin wall was adorned with a mural to the late George Floyd. A world away, in Australia, we face our own issues.
Around 2,000 people gathered in Perth's CBD on Monday evening for the first of several planned Black Lives Matter protests. Marching in solidarity with demonstrators in the US, the local movement also brought attention to the treatment of Indigenous people in Australia.  Nearly 20 years since the Palm Island death in custody of Mulrunji and almost 40 years since the killing of Jon Pat by five police officers, the Indigenous community is still subjugated to a broken system. Despite only making up around 2 per cent of the national population, Aboriginal and Torres Strait Islander adults constitute 27 per cent of the national prison population. Even more shockingly, Aboriginal youths are 23 times more likely to be jailed than non-indigenous children. The statistics are damning, but rather than decay into mindless looting and violence, cultural leaders are calling on protestors to use their civil unrest to spark change, across the globe.
"It's natural to wish for life "to just get back to normal" as a pandemic and economic crisis upend everything around us. But we have to remember that for millions of Americans, being treated differently on account of race is tragically, painfully maddeningly "normal" – whether it's while dealing with the health care system, or interacting with the criminal justice system, or jogging down the street or just watching birds in the park," former US President Barack Obama wrote in an open letter to the public.
"This shouldn't be "normal" in 2020 America. It can't be "normal". If we want our children to grow up in a nation that lives up to its highest ideals, we can and must be better."
It would be easy to rest on our laurels and hide behind geography, but in a world where cameras and social media have brought us closer than ever, we must, as Obama says, be better. So, how can we encourage change and support the equality movement here in Australia? It's simple. Education, advocacy and tolerance.
Donate
There are a wealth of organisations that are desperate for funding, both in the US and here in Australia. By reaching into your pocket and giving, you could fund the fight against systemic violence and help ensure there isn't another senseless killing at the hands of police. Here are some great organisations in the US to donate to, simply click the name of each organisation to learn more and donate.
Back home in Australia, where we face our own issues, there are also avenues for donation. Here is a list of organisations that you can donate to show your support for racial equality.
Aboriginal Legal Services – Founded in 1970, ALS aids in criminal law, family law, and children's care and protection law.
The National Justice Project – Civil rights organisation, The National Justice Project fights systemic injustice and racism within government institutions. In addition to the enormous amount of work the organisation does with Indigenous people, it also advocates for the appropriate treatment for refugees in Australia.
Justice for David Dungay Junior – In a near mirror image of George Floyd's death, David Dungay was killed in 2015 while being detained by six corrective officers at the Long Bay Gaol. Despite the consistent cries that he couldn't breathe, the officers continued to pin him down until he eventually passed. A campaign has now been made in response to the acquittal of those officers, in an attempt to seek justice.
Advocate
As a lone voice, we are hard to hear, but as a collective movement, we are too loud to ignore. If you are upset by the events in Minnesota, or at the continuous mistreatment of Indigenous Australians, then it is your duty to join the fight for equality. Australia is a nation that was founded through dispossession. Over more than 200 years, Indigenous communities have faced incredible hardship as a result of colonisation. Raise your voice and speak up. Join the rallies here in your city and use your social media to raise the profile and build awareness for injustice both at home and abroad.
Educate
If the Black Lives Matter movement has proved anything, it's that as a society, we are unwilling to admit our faults. The first step in challenging social norms is to address and educate yourself on the situation. For non-Indigenous people, it can be hard to tackle the issue with any sort of knowledge or previous experience, but just because the injustice occurs outside the parameters of your cultural identity, does not mean you must be complicit. There are a wealth of resources that are readily available on the topic and here in 2020, they are poignant and political.
Books
In the wake of the George Floyd protests and movement, the need to read and learn is critical. For years, black writers and historians have been producing books that detail the plight of racial inequality among different communities. Here is a list of books you need to read to educate yourself on white privilege and racism;
Me and White Supremacy: A 28 Day Challenge to Combat Racism, Change the World, and Become a Good Ancestor – Written by Layla Saad, this book takes readers through a journey of understanding, explaining white privilege and passive participation in white supremacy. The text also includes strategies for becoming a better member of society and opening yourself up to psychological change.
How to be an Antiracist – This book from Dr Ibram X. Kendi redefines the conversation around racial injustice in America. But rather than simply point of the inequalities, Kendi introduces new ways of thinking that will help you to assess your current thoughts and perspective.
Podcasts
About Race – Hosted by Anna Holmes, Baratunde Thurston, Raquel Cepeda and Tanner Colby, this podcast explores the multi-racial issues of culture, power and privilege in the modern world.
Pod for the Cause – This podcast comes from the team behind The Leadership Conference on Civil and Human Rights. Promoting justice for all, this podcast delves deep into how we can change our societal values for the better.
Code Switch – Join a multi-racial, multi-generational team of journalists as they explore overlapping themes of race, ethnicity and culture, charting how they play out in our lives and communities.
Movies
The Hate U Give – This powerful film explores the community pressures felt by young African-Americans. When a teenage girl witnesses the shooting of her best friend by the police, she is forced to reassess her social views.
13th – Filmmaker Ava DuVernay explores the history of racial inequality in the US. The documentary reveals how American prisons are disproportionately filled with African-Americans.
I Am Not Your Negro – In 1979, James Baldwin wrote a letter to his literary agent describing his next project. The book, "Remember This House" was meant to be a revolutionary personal account of the lives and assassinations of his three close friends, Medgar Evers, Malcolm X and Martin Luther King, however, upon his death in 1987, Baldwin left behind only 30 completed pages of the manuscript. I Am Not Your Negro is filmmaker Raoul Peck's attempt to complete the tale Baldwin started.
Empathise
While it is easy to stand at a distance and call the actions of violence and looting in the US irrational, we must understand the response. Year on year, violence against black men and women remains and lives are lost in the process. We must empathise with the situation, but moreover, we must empathise with those who do not share our opinions. Racism is a learned trait, and as such, a trait that can be un-learned. When you encounter someone who is not angered by the senseless death of George Floyd or Jon Pat, don't meet them with hostility, match them with compassion. Psychological change is not something that can be encouraged by argument, but through understanding. Educate them, as you have yourself and we can, as a society, be better.