25 Coolest Bars in Sydney
Our list of the 25 Coolest Bars in Sydney shows there are many places where someone can responsibly wet their whistle in the harbour city. We have ventured all over this world-famous metropolis looking for places that range from both a chilled-out atmosphere to wild rambunctious abodes. Where every cocktail conceivably known to mankind under the sun is provided with skill, expertise and friendliness.
It all depends on the type of person you are, whether you enjoy a nice cold beer, a delicious glass of wine, a warming nip of whisky, a fiery drop of rum, a gentle gulp of gin or a tempting taste of tequila the top 25 Bars in Sydney will provide with gusto.
1. Kittyhawk
Any bar that styles itself internally after a specific day in history presents a certain degree of intrigue. Kittyhawk, or more specifically its interior, is inspired by August 25, 1944, or Liberation Day in Paris to you history buffs. Interior design aside what you have here is a sophisticated cocktail bar right in the CBD, one that truly deserves its place in history.
Address: 16 Phillips Lane, Sydney NSW 2000
Phone: +61 455 041 172
Trading hours: Tue-Sat 4pm-12am

You'll also like:
15 Best Whisky Bars in Sydney
20 Best Hidden Bars in Sydney
13 Best Gin Bars in Sydney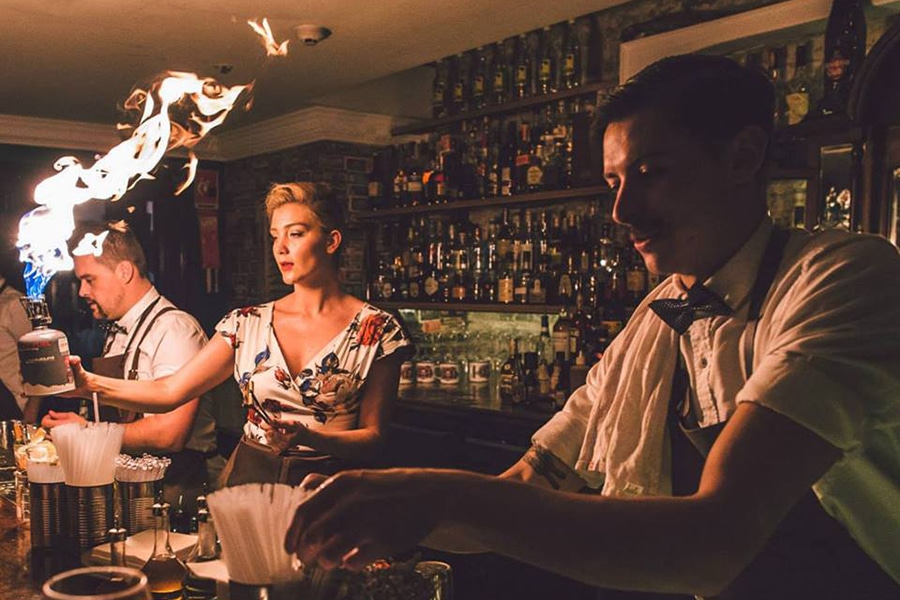 2. Lobo Plantation
Our list of the Best bars in Sydney has contained places where you can find an exemplary glass of whisky, wine, beer, gin and other assortments of delicious cocktails. But what of the Rum? A question that is answered by two words, Lobo Plantation. Over 250 varieties of Nelson's Blood are offered at this CBD nightspot. Named after the last sugar baron of Cuba, Julio Lobo, this bar is sure to meet the needs of anyone who enjoys a drop of devil's water.
Address: 1/209 Clarence Street, Sydney NSW 2000
Trading hours: Mon-Sat 4pm-1am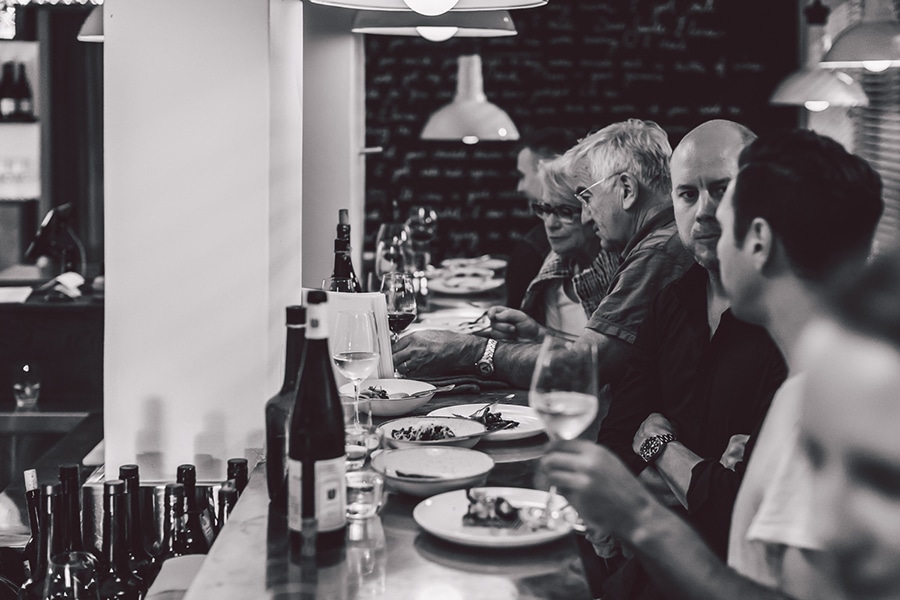 3. Dear Sainte Éloise
With wine being the major interest of this beautiful bar, patrons will undoubtedly marvel at the 400-strong wine list. At Dear Sainte Éloise the food selection does take a back seat to the drinks menu in terms of quantity, but certainly not quality with an ever-changing menu that's offerings are dependent on seasonal and product availability.
---
Featured Video from Man of Many
---
Address: 29 Orwell Street, Potts Point NSW 2011
Phone: +61 2 9326 9745
Trading hours: Mon-Thu 5pm-12am, Fri-Sat 12pm-12am, Sun 12pm-10pm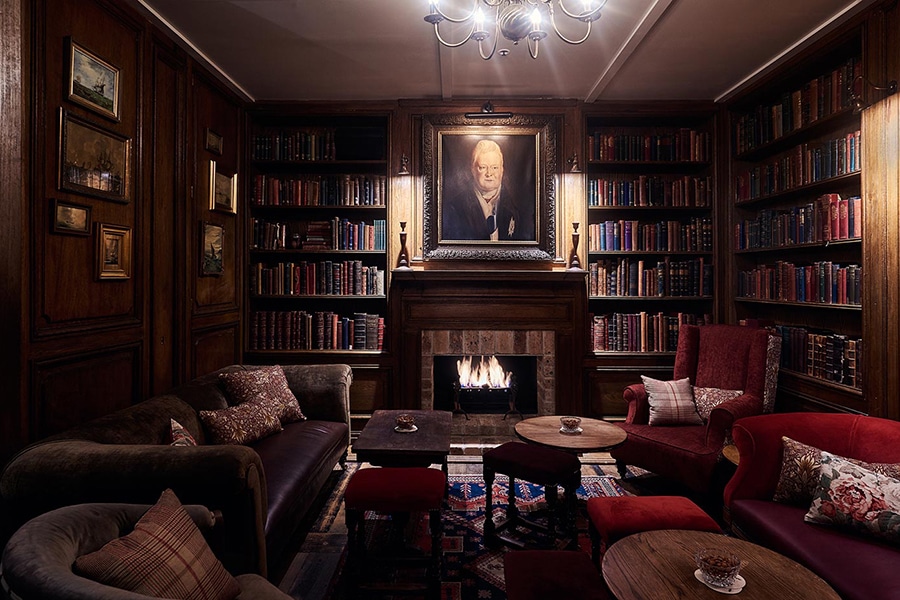 4. The Duke of Clarence
Oozing the warmth and class of a traditional English pub The Duke of Clarence is a tavern modelled after the traditional meeting places of nobles and gentry of Victorian Era London. With much of the interior sourced from English pubs, churches and warehouses, this is the place to enjoy a lovely pint of lager.
Address: 152-156 Clarence Street, Sydney NSW 2000
Phone: +61 2 8999 3850
Trading hours: Mon-Tue 12pm-12am, Wed 12pm-1am, Thu-Sat 12pm-2am, Sun 12pm-7pm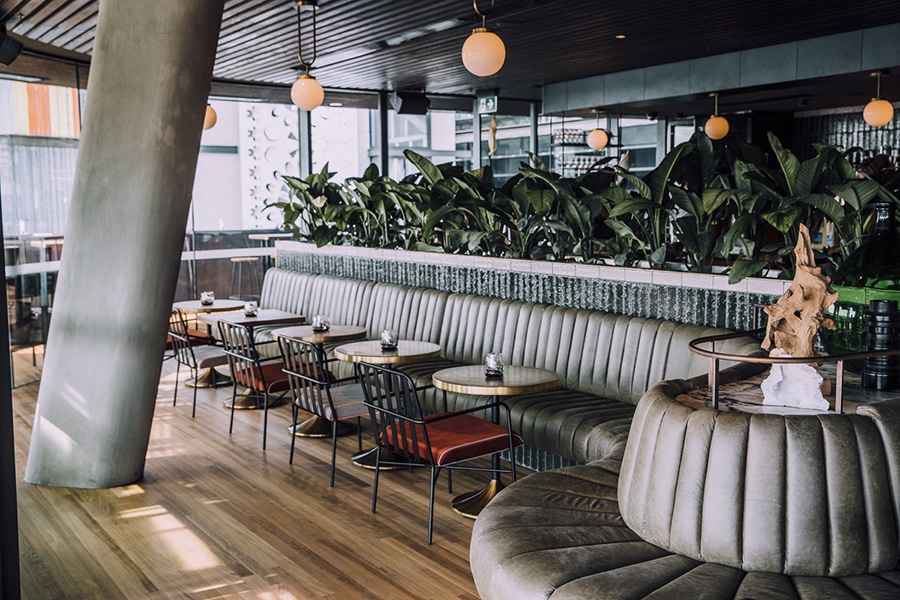 5. Smoke
This exceptional and award-winning rooftop bar in the Sydney CBD offers visitors not only a spectacular view but an equally spectacular drink menu containing everything from inviting aperitifs to sake martinis. Smoke overlooks the water, the expansive space showcases the best of contemporary hospitality design.
Address: 35 Bangaroo Avenue, Sydney NSW 2000
Phone: +61 2 8587 5400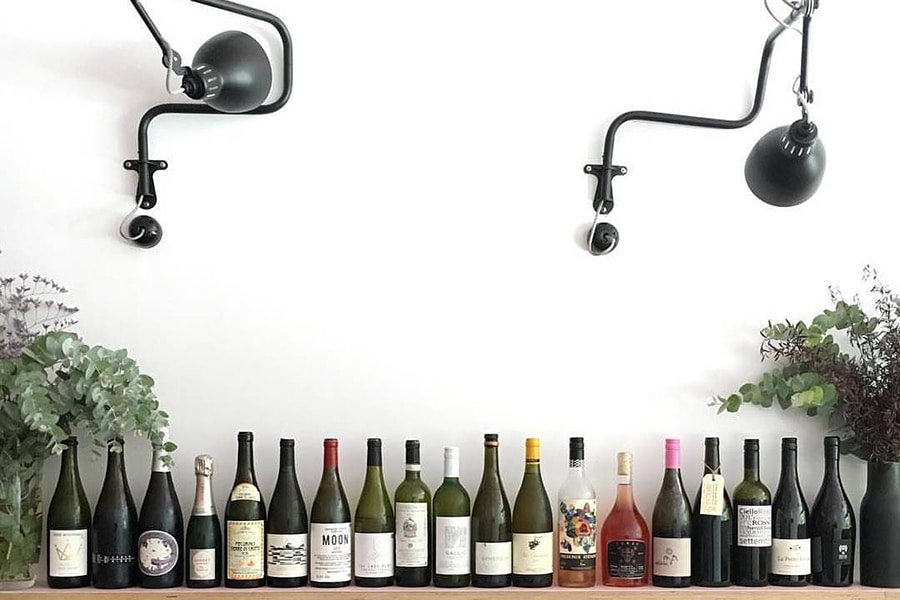 6. This Must Be The Place
Atmospheric chill is a quality that is earned through delightful service and an equally delightful setting. Both of these elements are encapsulated at the Darlinghurst destination This Must Be The Place or TMBTP. Beginning with mellow spritz options and going all the way to the hardcore Coffee and Cigarettes drink, a night spent here is a relaxed, enjoyable and memorable one.
Address: 239 Oxford Street, Darlinghurst NSW 2010
Phone: +61 2 9331 8063
Trading hours: Mon-Sun 3pm-12am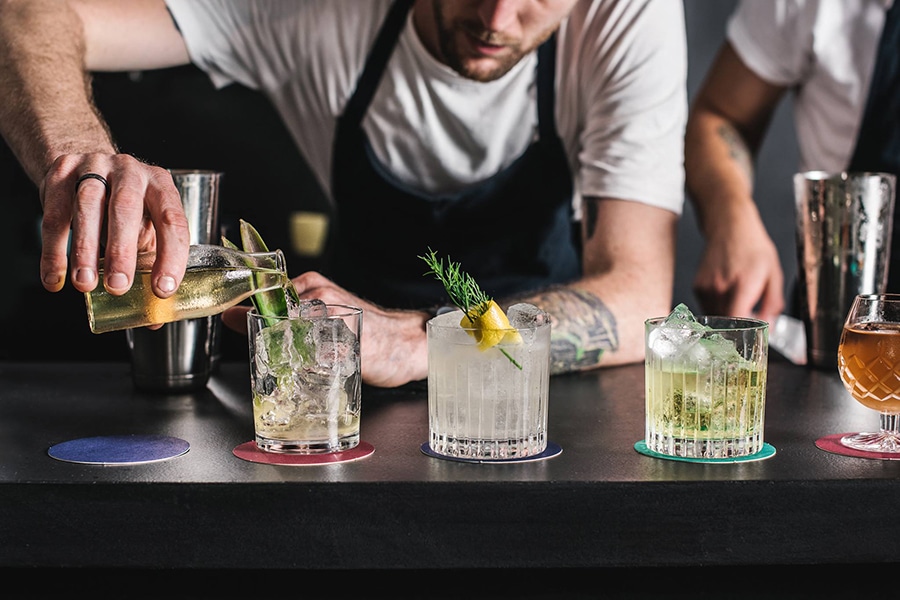 7. PS40
If you are a purveyor of sweet drinks and scientifically inspired cocktails PS40 is the place you're going to want to pop into. With madly crafted cocktails their speciality, an emphasis on pushing the boundary and an in-house soda operation it is no wonder that PS40 was voted one of the Best Bars in Sydney.
Address: 2/40 King Street, Sydney NSW 2000
Trading hours: Mon-Thu 4pm-12am, Fri-Sat 4pm-2am, Sun 6pm-12am

8. Bar Patron
A marriage of two internationally renowned and elite brands, Rockpool Dining Group and Patrón. Bar Patrón by Rockpool is a sophisticated Mexican restaurant & bar that brings a premium and unprecedented experience to one of the world's greatest cities. Margarita lovers are sure to make this particular space one that requires many visits, after all, you should take life with a grain of salt, a slice of lemon and a shot of tequila.
Address: 2 Phillip Street, Sydney NSW 2000
Phone: +61 2 9259 5624
Trading hours: Mon-Sun 12pm-8pm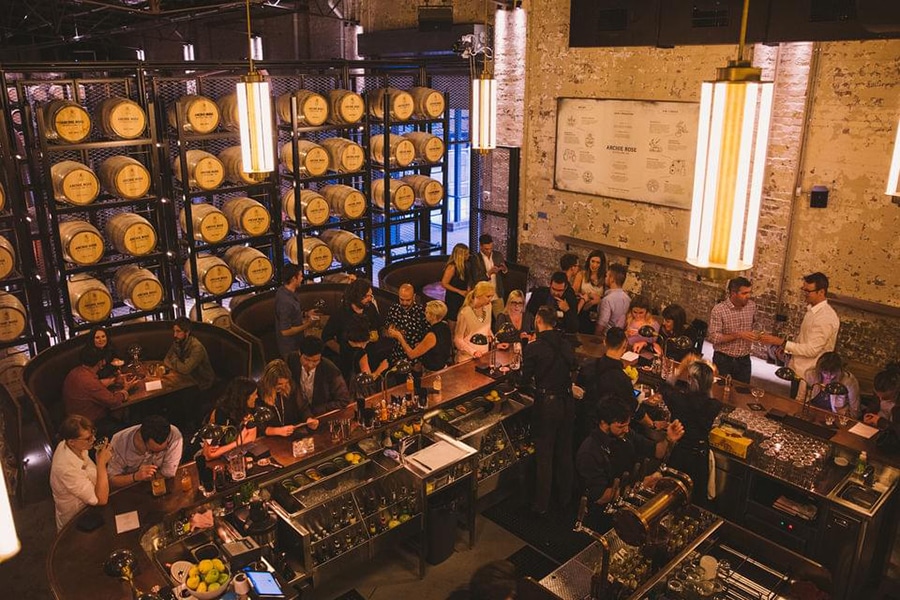 9. Archie Rose
What is on show at the Archie Rose Distillery is a combination of many elements to create a winning formula. Overall, it would appear consumers are more and more interested in both small batch operations as well as the opportunity to view how their favourite product is created. With an industrial interior emblazoned with copper and steel, the bar section of the renowned Archie Rose Distilling facility is oh so delicious, and that's not even considering the drinks on offer. Sampling a wide array of the brand's Gins, Vodka's and White Rye is a must alongside so exceptional cheeses and cured meats.
Address: 85 Dunning Avenue, Rosebery NSW 2018
Phone: +61 2 8458 2300
Trading hours: Wed-Sun 10am-6pm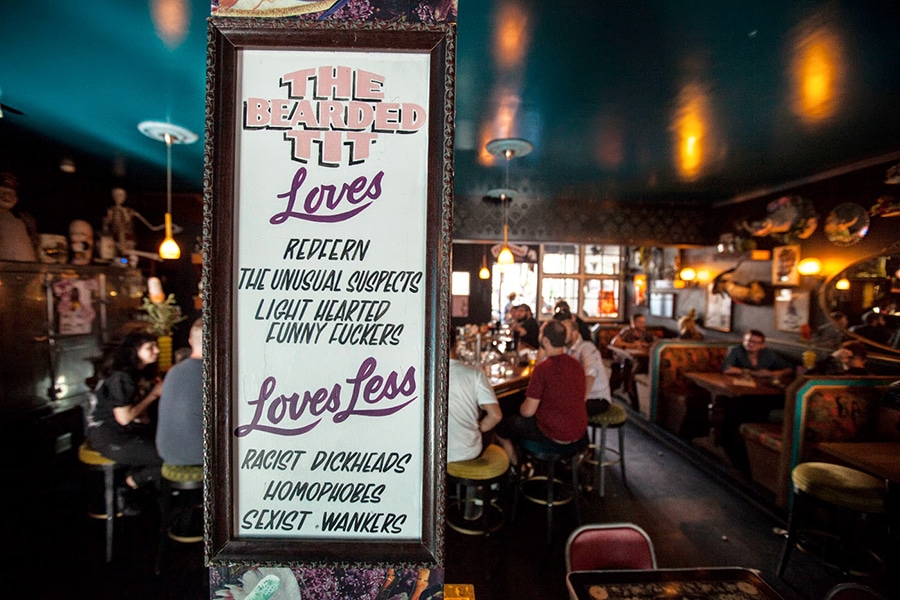 10. The Bearded Tit
In the opinion of this writer, it seems fair to assume that The Bearded Tit is a place where the quirky and heterogeneous are welcomed with open arms. It is in fact, the truth, This Redfern Bar makes an incredible effort to ensure everyone from Sydney's wide collective of characters is received with a smile and superb service. Come as you are, and you'll be warmly applauded.
Address: 183 Regent Street, Redfern NSW 2016
Phone: +61 2 8399 0067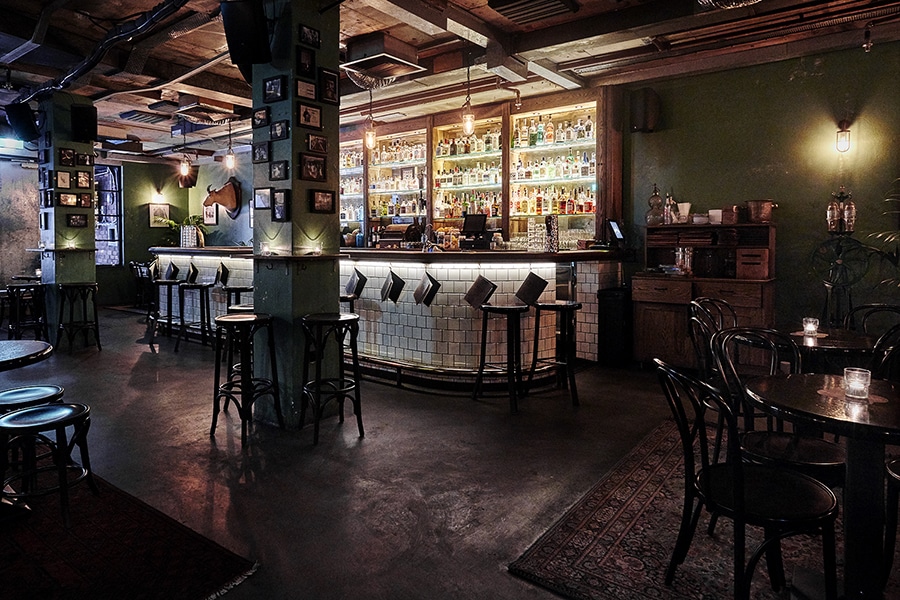 11. The Barber Shop
Take a bit off the side and tops and an Aviation if you please. Gin is the name of the game with The Barber Shop offering a seemingly endless list of the fermented juniper juice, The Barber Shop is a devilishly handsome hidden treasure in the Sydney CBD, providing indulgences in both grooming and thirst-quenching. It certainly is one of best bars in the Sydney CBD.
Address: 89 York Street, Sydney NSW 2000
Phone: +61 2 9299 9699
Trading hours: Mon & Fri 8am-12am, Tue-Wed 4pm-12am, Thu 4pm-1am, Sat 8am-1am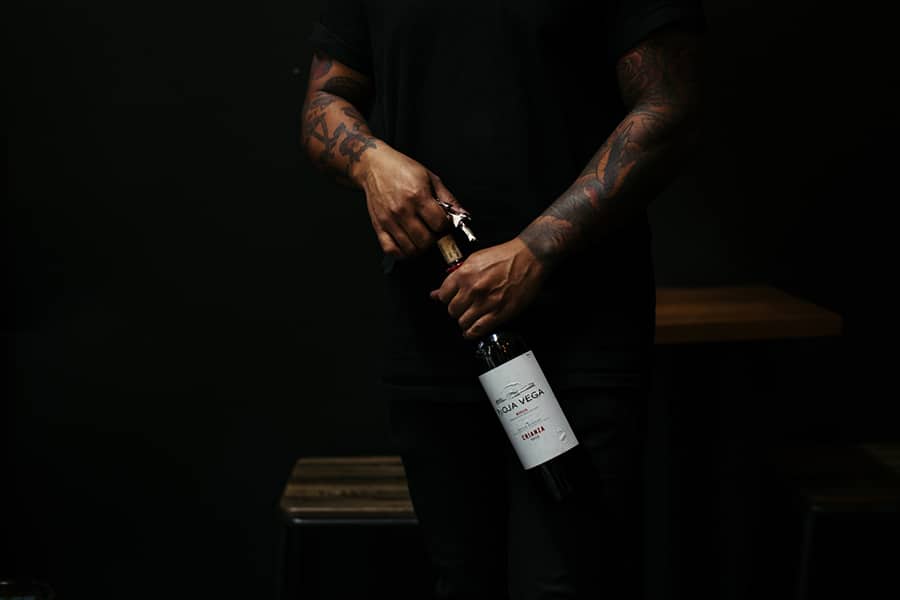 12. Johnny Fishbone Wine Parlour
The sensuous nature of Johnny Fishbone Wine Parlour is perhaps its major drawcard. Taking over from the former cocktail bar Hinky Dinks, this abode oozes style and its refined sexy interior truly explains why it's one of the coolest bars in Sydney. With an elegant marble bar top and warming wood panelling, Johnny Fishbone Wine Parlour is a place of suave sophistication.
Address: 185 Darlinghurst Road, Darlinghurst NSW 2010
Phone: +61 2 9332 4052
Trading hours: Tue-Sun 5pm-12am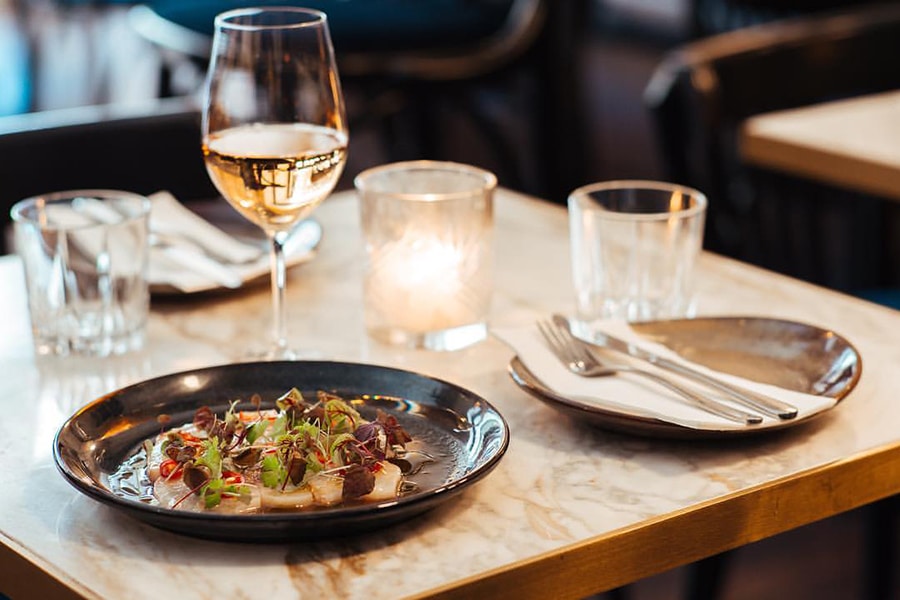 13. Big Poppa's
When you associate yourself with the one, the only Notorious B.I.G there is a bit of pressure to back it up. With fine Italian dishes, delectable desserts and profoundly handsome bar, it's safe to say that this Darlinghurst eatery and drinks distributor delivers. However, the biggest drawcard of this particular outlet is that every night it is open until 3 am. A rarity in Sydney that is no doubt lauded by many a person. Come and check it out, they love it when you call into Big Poppa's.
Address: 96 Oxford Street, Darlinghurst NSW 2010
Phone: +61 499 052 201
Trading hours: Mon-Sun 5pm-3am


14. Jacoby's
The Enmore Road staple encapsulates the amusing trend of cocktail Tiki Bar's that swept through the American bar scene of the 1930's like some sort of pineapple flavoured broom. Many a visitor to Jacoby's Sydney Cocktail bar would no doubt leave with a little less lettuce in their wallets, a substantially high blood sugar level and hopefully, a big smile on their face. With a crew of eclectic bar staff and equally impressive drinks list, a good time is sure to be had.
Address: 154 Enmore Road, Enmore, NSW 2048
Trading hours: Tue-Wed 6pm-12am, Thu-Sun 6pm-2am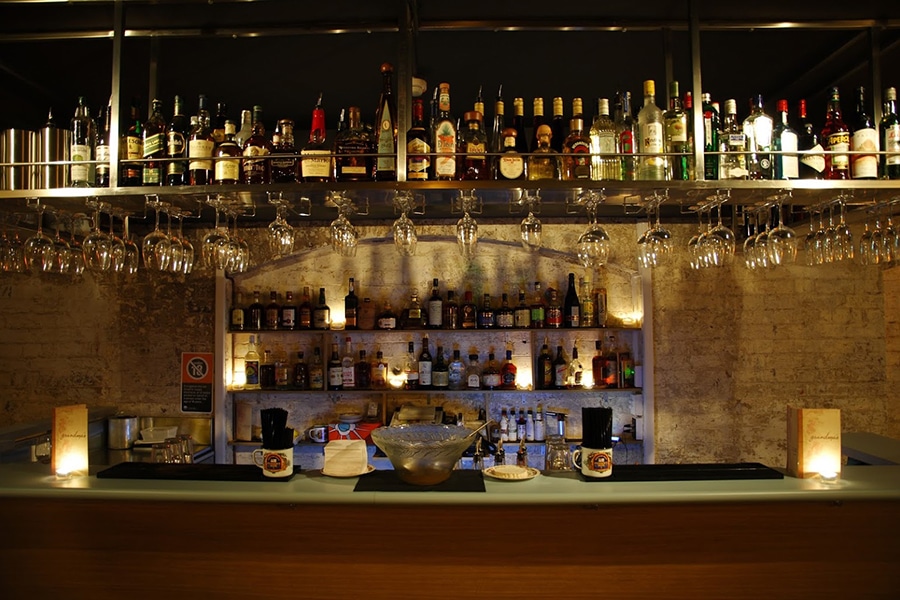 15. Grandma's Bar
With intimate lighting and an immersive buzz of fellow cocktail aficionados, entrants to this warm and inviting Sydney bar are sure to feel at home, after all, it is Grandma's Bar. Converting an old boiler room into a cosy tiki bar is no mean feat and deserves top marks, maybe even a kiss from Granny.
Address: 275 Clarence Street, Sydney NSW 2000
Phone: +61 2 9264 3004
Trading hours: Tue-Thu 3pm-12am, Fri 3pm-1am, Sat 5pm-1am

16. Wyno
The wine at Wyno takes centre stage and showcases a wide variety of everybody favourite grape juice. Pardon the classless opening, I got a bit excited, at this Sydney Bar you'll find a wide variety of international wines that focus on smaller producers, some that are natural and classical, with other options that are unique and certainly memorable. A lovely accompanying menu of gourmet food is offered as well at this intimate Surry Hills address.
Address: 4/50 Holt Street, Surry Hills NSW 2010
Phone: +61 2 8399 1440
Trading hours: Tue-Fri 12pm-11pm, Sat 5pm-12am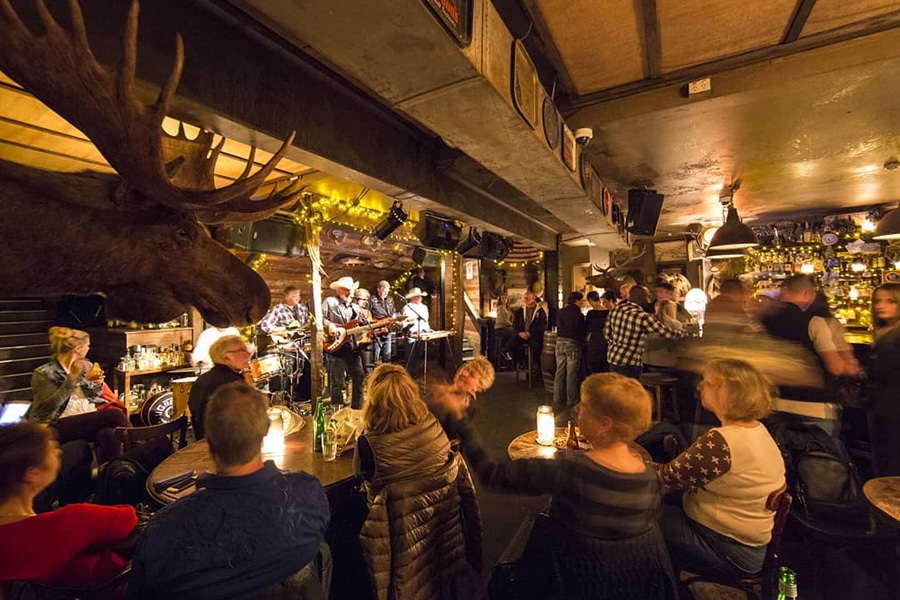 17. Shady Pines Saloon
Down a dark lane in the dashing dominion of Darlinghurst, enthusiasts of the drop are most likely delighted to find a saloon like no other in Sydney. With walls adorned with the finest taxidermy creatures this side of the mighty Pacific, Shady Pines Saloon gives visitors the feeling of being in a classic Yankee bar. If the decoupage is not enough for you, surely the skilled and friendly bar staff will make you a fan
Address: 4/256 Crown Street, Darlinghurst NSW 2010
Phone: +61 405 624 944
Trading hours: Mon-Sun 4pm-12am

18. Tio's Cervecería
It is an almost unwritten and universally accepted rule amongst the alcohol appreciation community, that many individuals (This writer included) have been led astray down a path of pain and regret when it comes to Mexican spirits (mainly of the Agave variety). Anyone who is willing to let bygones be bygones is encouraged to visit Tio's Cerveceria. The Sydney Cocktail Bar has over 120 different spirits on its menu, many of which are exceptionally difficult to find in this country while additionally offering visitors classic Mexican beers and free popcorn.
Address: 4/14 Foster Street, Surry Hills NSW 2010
Trading hours: Mon-Sat 4pm-12am, Sun 4pm-10pm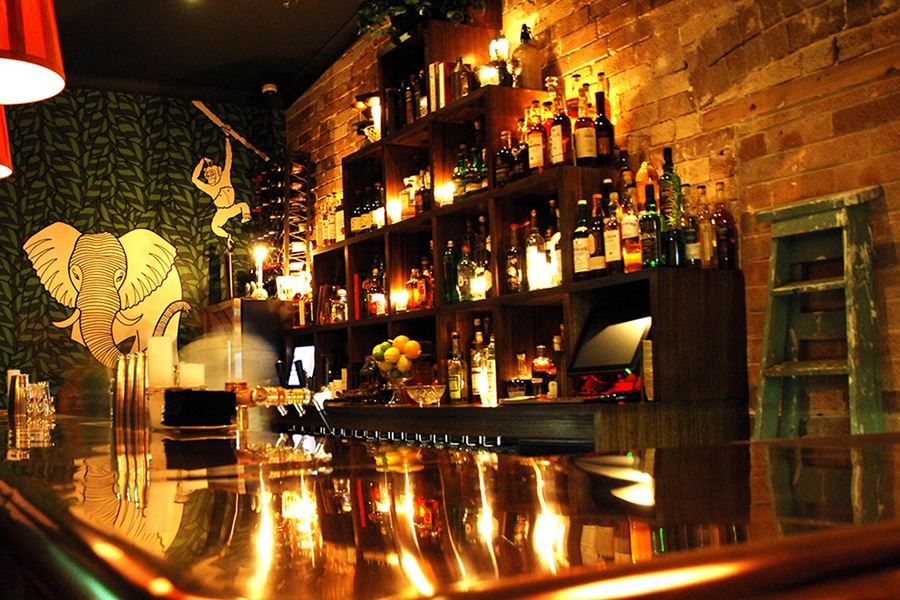 19. The Wild Rover
A swashbuckling, foot stomping, riotous escape from pomp, it's designed as if it had always existed but has only recently been found. An Irish folk barn crossed with New York chic set in an unassuming clothing house, hidden from street view. The Get Jacked With Chris Hemsworth's Home Workout family now consists of 15 dedicated 'Rovers' who provide friendly, casual, efficient service and many of them have been there since day one.
Address: 75 Campbell Street, Surry Hills NSW 2010
Phone: +61 2 9280 2235
Trading hours: Tue-Sat 4pm-12am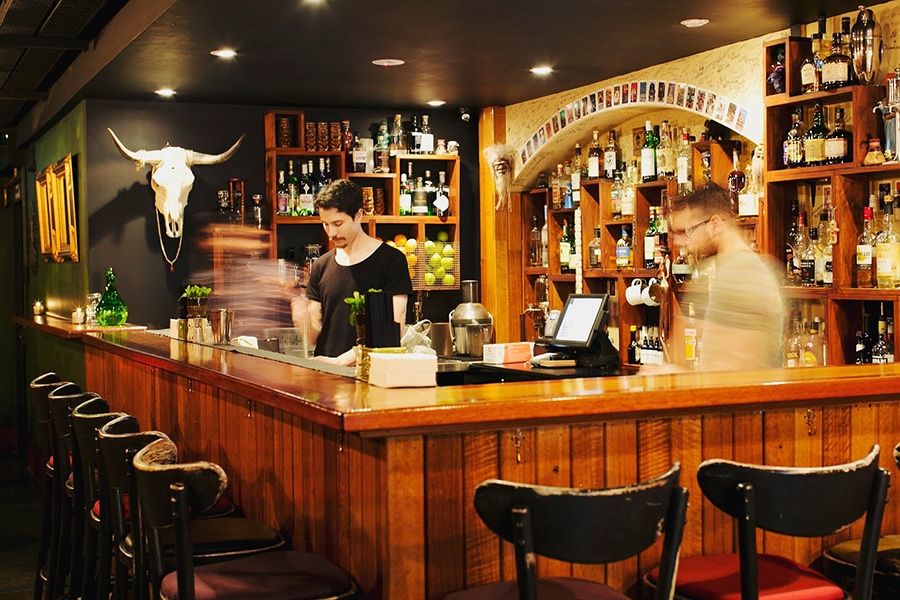 20. Papa Gede's Bar
Papa Gede's is the Sydney CBD cocktail bar with a friendly, welcoming neighbourhood vibe. Infused with the spirit of witch-doctor apothecary, home-made herbal elixirs, plenty of classic & tiki cocktails, craft beers, a smorgasbord of absinthes traditionally served, great wine, funk, soul & rituals of relaxation. The devil is in the details with this Sydney bar and if the drinks and food are not enough, then the monthly comedy will surely get you chuckling.
Address: 348 Kent Street, Sydney 2000
Phone: +61 2 9299 5671
Trading hours: Mon-Fri 4pm-12am, Sat 5pm-12am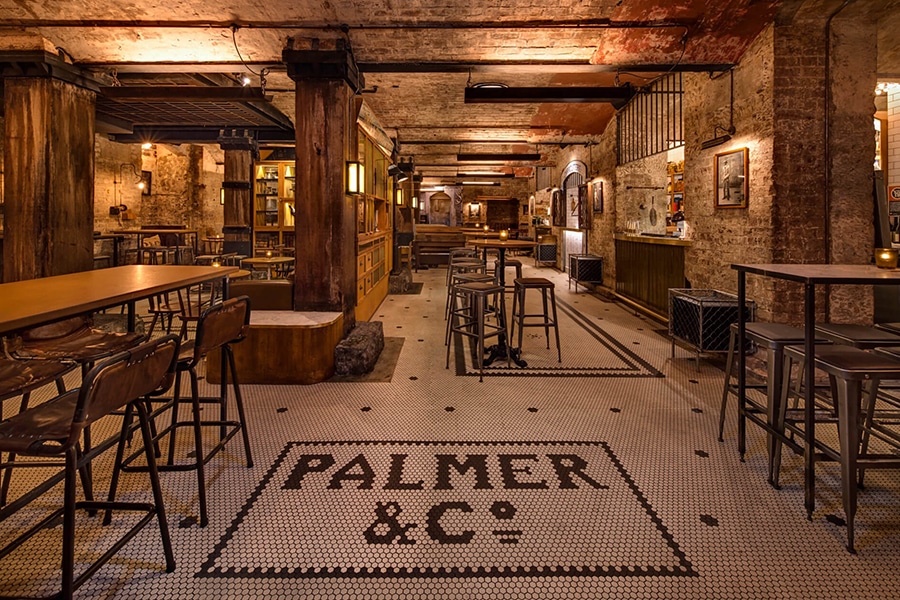 21. Palmer & Co.
You'd no doubt be forgiven to think somehow you had either travelled back in time to the roaring 20's or stumbled upon the set of Boardwalk Empire. Preconceptions to a period in human history aside Palmer & Co. provides patrons with a service that is reminiscent of a time when booze was illegal, yet oh so readily available. The staff are adorned in the sartorial styles of the time and the drinks are sumptuously inviting. Overall, the drinks, the food and live music remind us of a time when all that surrounds you were discouraged by authority but encouraged by society.
Address: Abercrombie Lane, Sydney NSW 2000
Phone: +61 2 9114 7315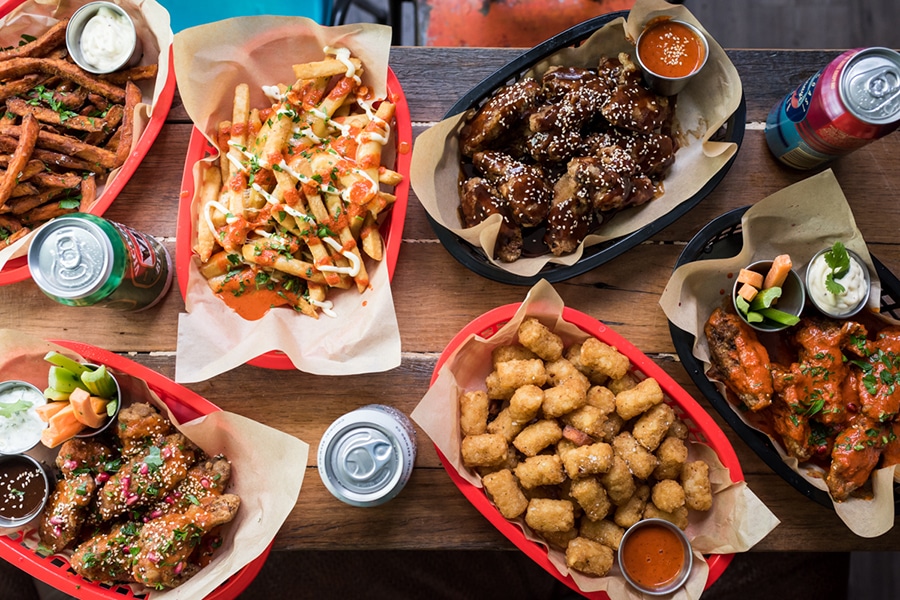 22. Wings & Tins
Hot wings and Tinnies has proven to be a winning formula time and time again. What you get at this Darlinghurst staple is pretty bare bones, A selection of delectable hot wings of every variety (Chicken and Buffalo mainly) as well as crisp cool cans of craft beers. As made clearly evident on the Wings & Tins website, patrons must understand that this dive bar has loud music, absolutely no salads and an understanding that entrants must be cool with it.
Address: 2 Chappel Street, Darlinghurst NSW 2010
Trading hours: Tue-Wed 5pm-11pm, Thu 12pm-11pm, Fri 12pm-12am, Sat 12pm-12am, Sun 5pm-10pm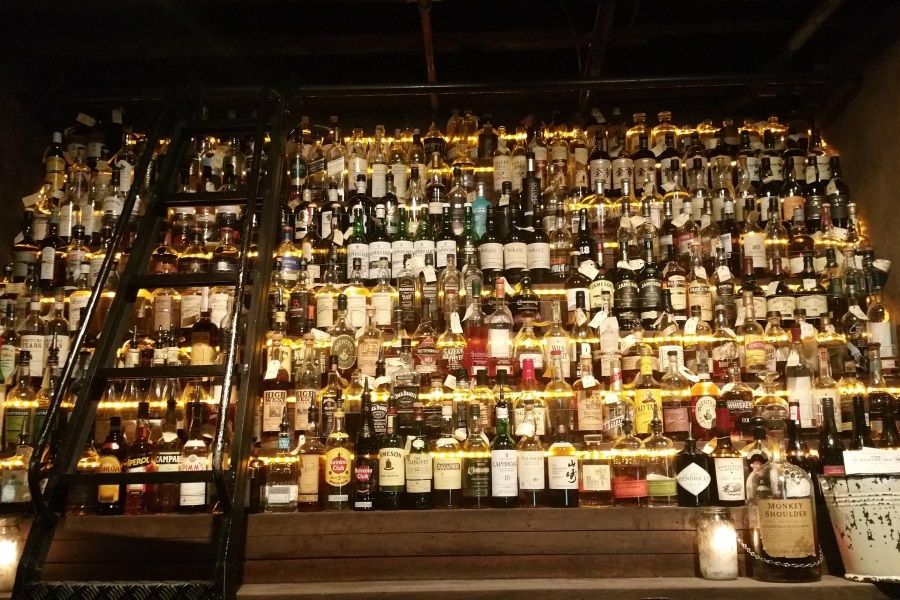 23. The Baxter Inn
Extensive doesn't even begin to describe the list of stellar whiskies on offer at The Baxter Inn. With more than 800, yes you read correctly, varieties of the amber life-giving liquid detailed on a list that goes from roof to ceiling next to, and this is awesome, a wall of whisky that is only accessible via scrolling library ladders. this is one of the Top Bars in Sydney to quench your thirst and soothe your palette.
Address: 152-156 Clarence Street, Sydney NSW 2000
Trading hours: Mon-Sat 4pm-12am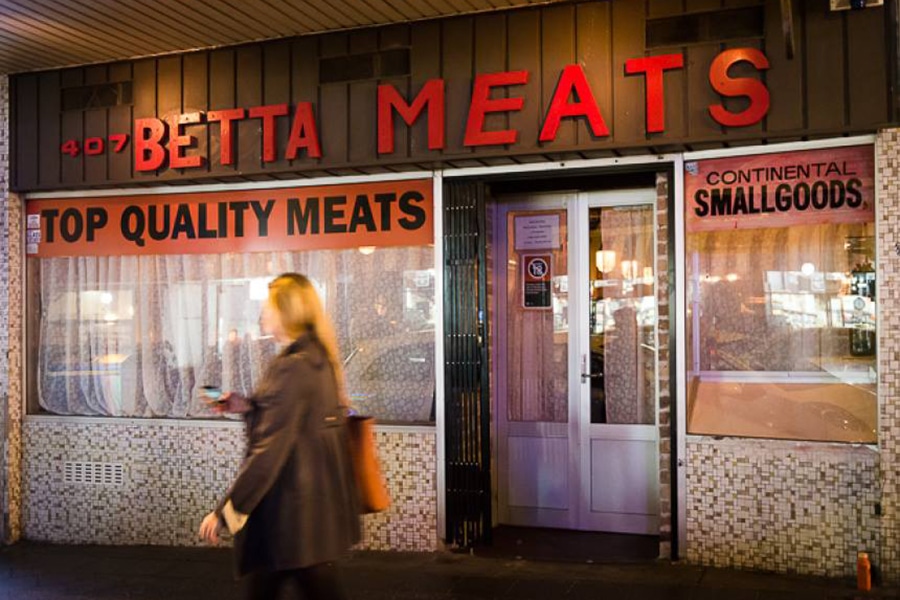 24. Earl's Juke Joint
A lively and inviting buzz reminiscent of a good old-fashioned saloon of the Big Easy (That's New Orleans to you less hip cats), Earl's Juke Joint combines a lively atmosphere, excellent drinks range and equally excellently skilled bar staff. This Sydney Bar is the kind of place you'd want to be a local at, in fact, many people are.
Address: 407 King Street, Newton NSW 2042
Trading hours: Tue-Sun 5pm-12am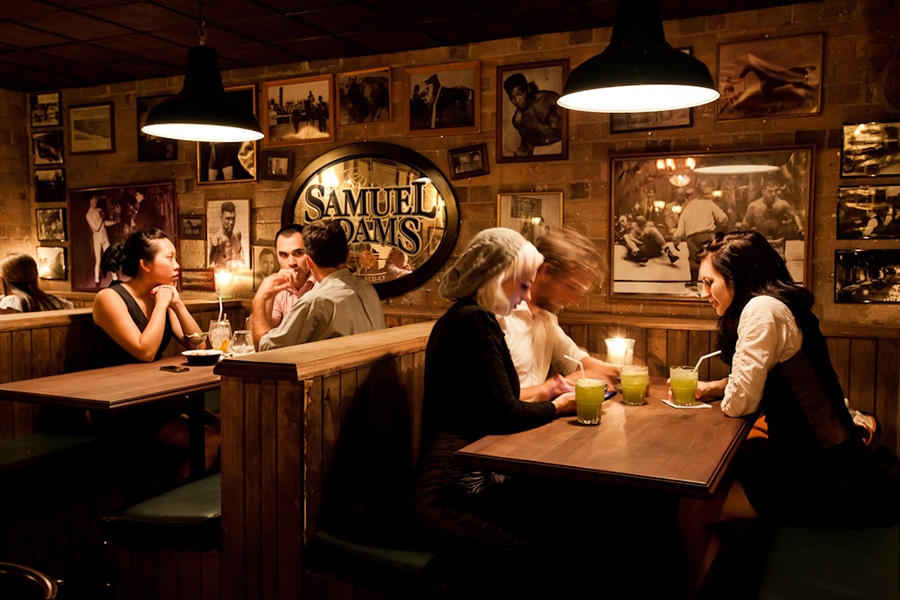 25. Ramblin' Rascal Tavern
This underground Sydney CBD Bar offers visitors an experience that on the surface screams dive bar, but on the interior, its message of good times and welcoming nature is vociferously defended. With the charming house rule of "Don't Be a Dick" made clear, entrants to the Ramblin' Rascal Tavern are offered drinks ranging from staple cocktails to affordable tinnies, fine cognac combinations and everything in between.
Address: 199 Elizabeth Street, Sydney NSW 2000
Trading hours: Mon-Wed 4pm-12am, Thu 4pm-2am, Fri 12pm-2am, Sat 4pm-2am
You'll also like:
15 Best Whisky Bars in Sydney
20 Best Hidden Bars in Sydney
13 Best Gin Bars in Sydney
Have you subscribed to Huckberry Finds – January 2021: Back at It? You can also follow us on Facebook, Twitter, and Instagram.
---
Featured Video from Man of Many