37 Best Live Music Venues in Sydney
It's been a shaky few years for Sydney nightlife. Thanks to the lockout laws and the fun police (and the real police) shutting down anything resembling a party within earshot of Town Hall, Australia's largest city has built a reputation recently for being a bit… boring. Throw in the recent COVID-19 restrictions and it's not looking great for live music down under.
To that, the venues on this list say, "not on our watch!"
The best live music venues in Sydney have endured a rough patch to ensure they provide punters and gig-goers with unforgettable experiences and nights out to remember. And with the lockout laws having been recently lifted, we've put together this list of the best pubs and bars to watch live music in Sydney as we enter the next chapter for live music in Sydney. As the coronavirus restrictions slowly lift and more shows begin the hit the city, these are the venues we'll need to support. Without live music, things can get a little dull, so once it's safe, we recommended grabbing some friends and having a socially distanced singalong.
Best Purpose Built Live Music Venues in Sydney
Here are the best live music bars, pubs, and concert venues helping usher Sydney into a new era and reclaim its former after-dark glory.
Let's get started with the best purpose-built live music venues in Sydney.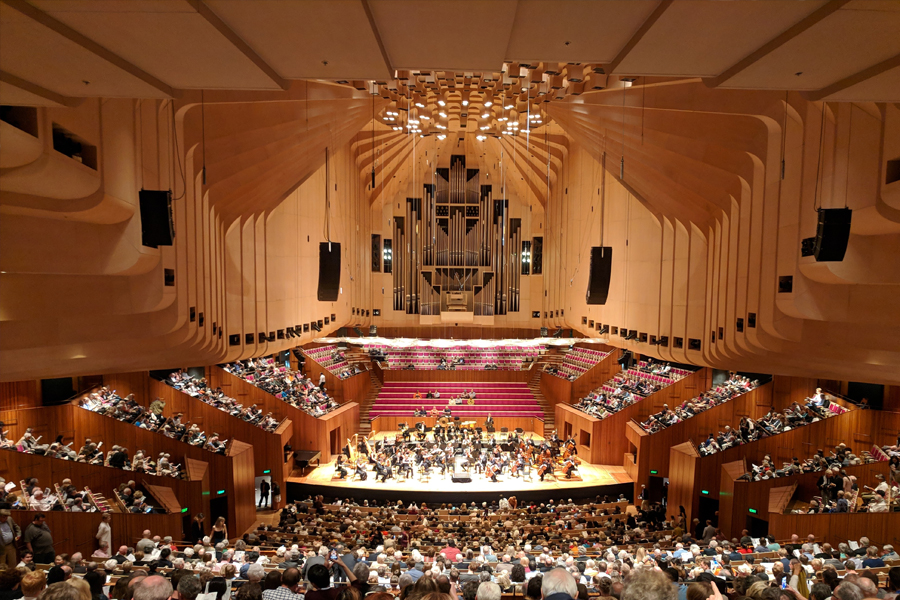 1. Sydney Opera House
The first venue on the list is about as iconic as it gets when it comes to live music in Sydney. The Sydney Opera House is renowned around the world for its distinctive soaring sails, dazzling architecture, and, most famously, the fur seal who's taken up residence on the steps going down to the water. Alongside theatre and opera performances, they regularly host contemporary artists.
Address: Bennelong Point, Sydney NSW 2000
Phone: +61 2 9250 7777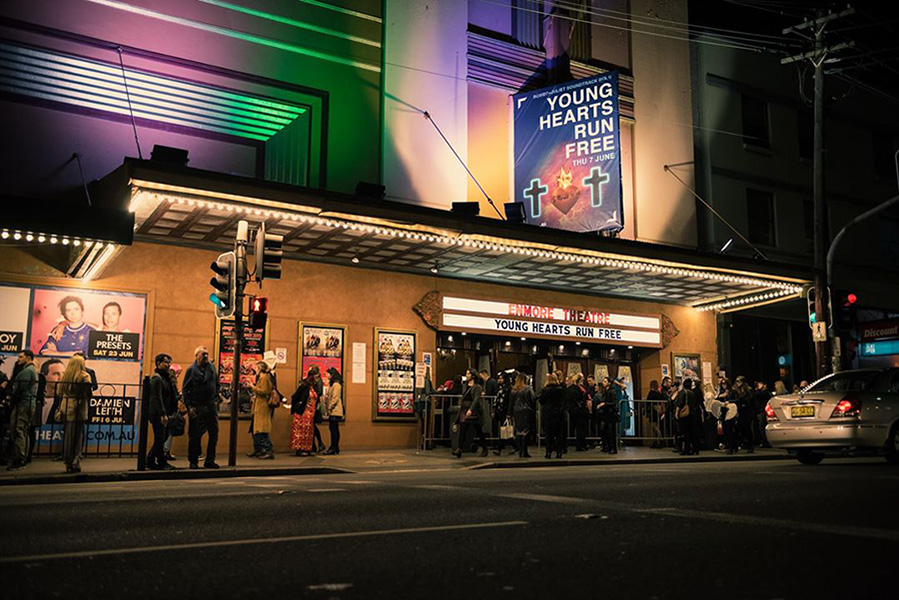 2. The Enmore Theatre
Situated in Newtown, the centre of Sydney's heartland of live music and performance, The Enmore Theatre is the longest-running live music venue in the state. The 110-year old venue has attracted some of the hottest bands in the world (including the hottest band in the world… KISS!) and continue to host top performers and comedians.
Address: 118-132 Enmore Rd, Newtown NSW 2042
Phone: +61 2 9550 3666
Capacity: 1,600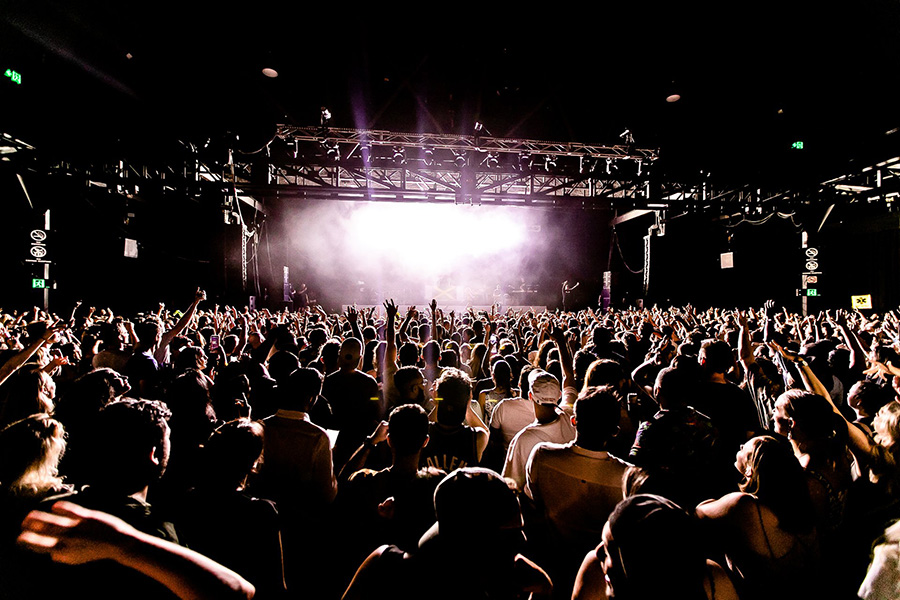 3. Hordern Pavilion
If you haven't seen a show at the Hordern, have you really seen live music in Sydney? Philosophical questions aside, when it comes to catching a gig in town, few venues do it like the Horden does. Capable of holding up to 5,500 punters, it's known for throwing some of the best rock shows and dance parties in the city.
Address: 1 Driver Ave, Moore Park NSW 2021
Phone: +61(0)2 9921 5333
Capacity: 5,500
Trading hours: Mon-Fri 9am-5pm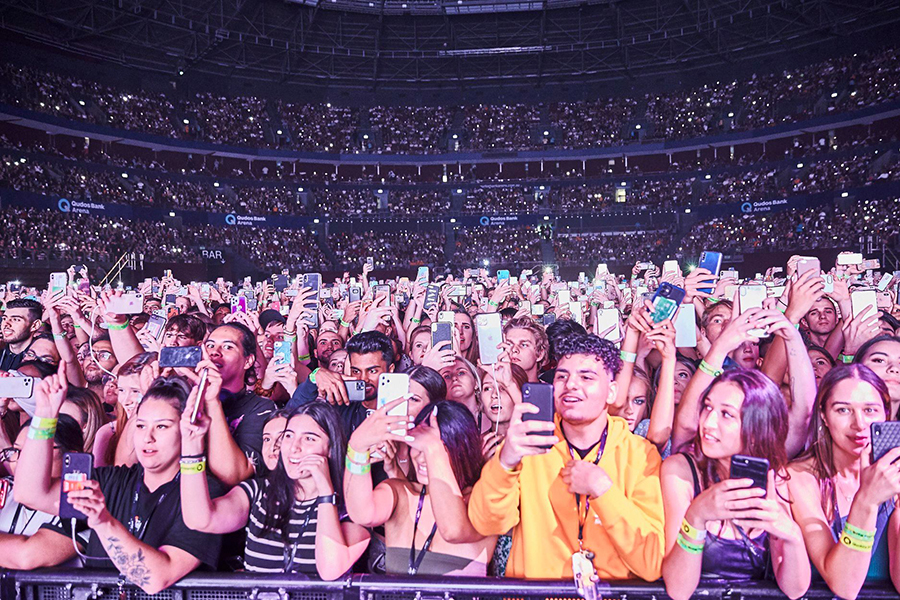 4. Qudos Bank Arena
Originally built for the 2000 Olympics, the Qudos Bank Arena (the arena formerly known as the Sydney Super Dome) is now used to host massive concerts. Architecturally, it's an impressive arena; the seating is so steep that if you're dancing a little too hard in the upper rows, you're at risk of tumbling over the edge and landing on the drum kit.
Address: 19 Edwin Flack Ave, Sydney Olympic Park NSW 2127
Phone: +61 2 8765 4321
Capacity: 21,000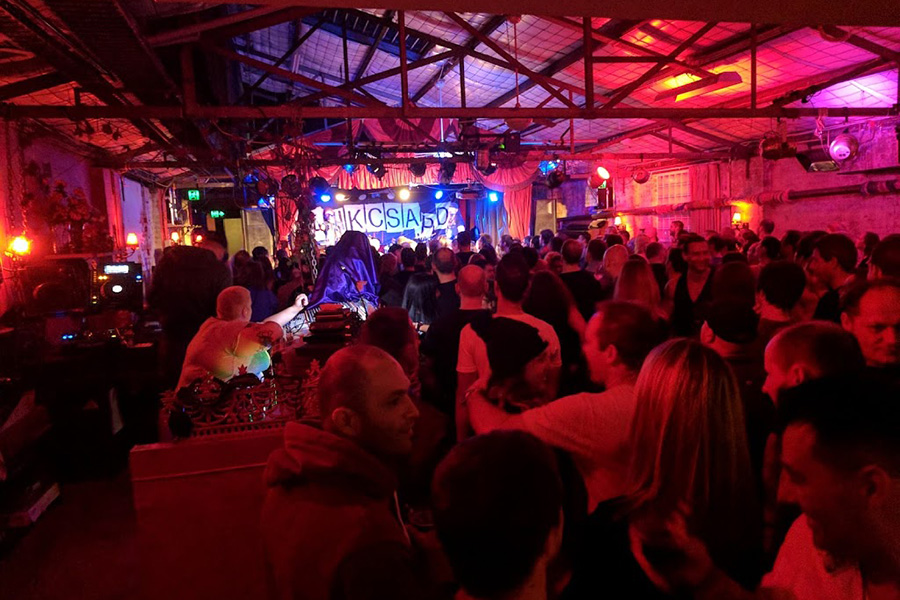 5. The Red Rattler
The folks behind the The Red Rattler have long been shaking things up in the Sydney live music scene. After years of red tape and shut down events, the Red Rattler opened in 2009 as the realisation of a dream of a legally operated, community run warehouse venue and artist hangout accessible to everyone.
Address: 6 Faversham St, Marrickville NSW 2204
Phone: +61 2 9565 1044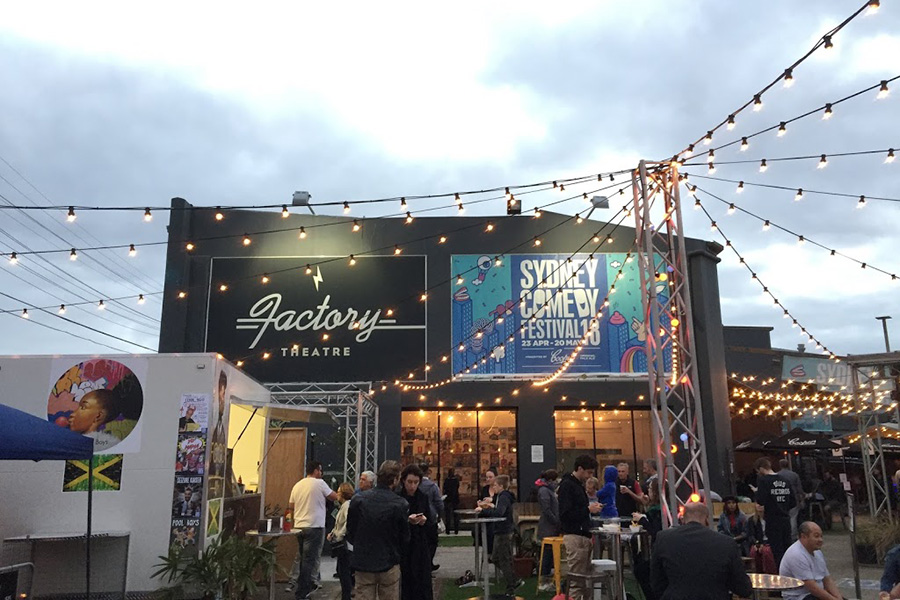 6. The Factory Theatre
One of Sydney's most happening spots, The Factory Theatre hosts killer live music and comedy performances. From international acts to budding local talent, they're dedicated to fanning the flames of Sydney's entertainment scene and nurturing the next generation of Aussie musical talent. Their bill is always stacked with shows most nights of the week.
Address: 105 Victoria Rd, Marrickville NSW 2204
Phone: +61 2 9550 3666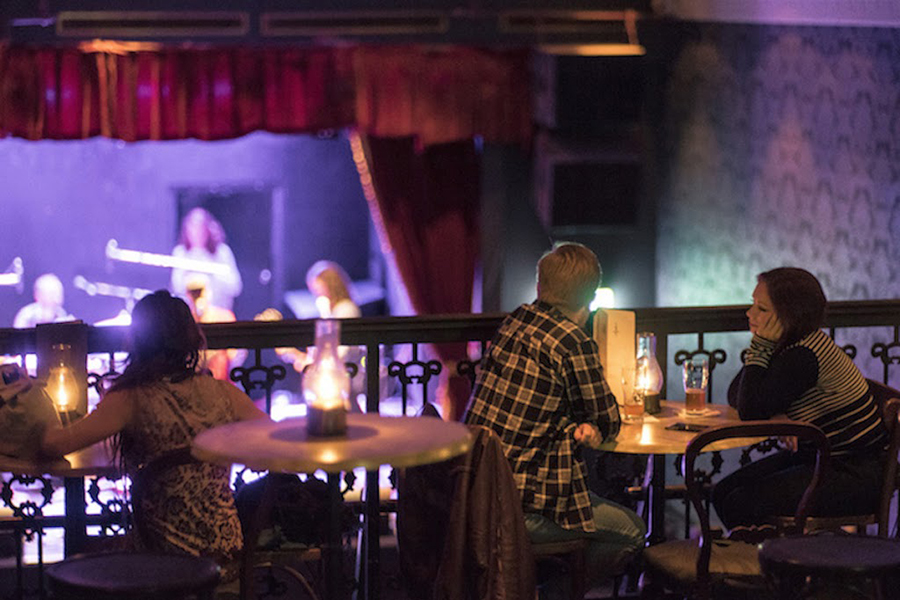 7. The Vanguard
With late night eats, a full-service bar, and top-notch live entertainment, The Vanguard was built with one purpose in mind: putting on a show to remember. Located on King St in Newtown, this live music venue is no stranger to the greats of local and international music.
Address: 42 King St, Newtown NSW 2042
Trading hours: Tue-Wed & Sun 6pm-12am, Thu-Sat 6pm-1am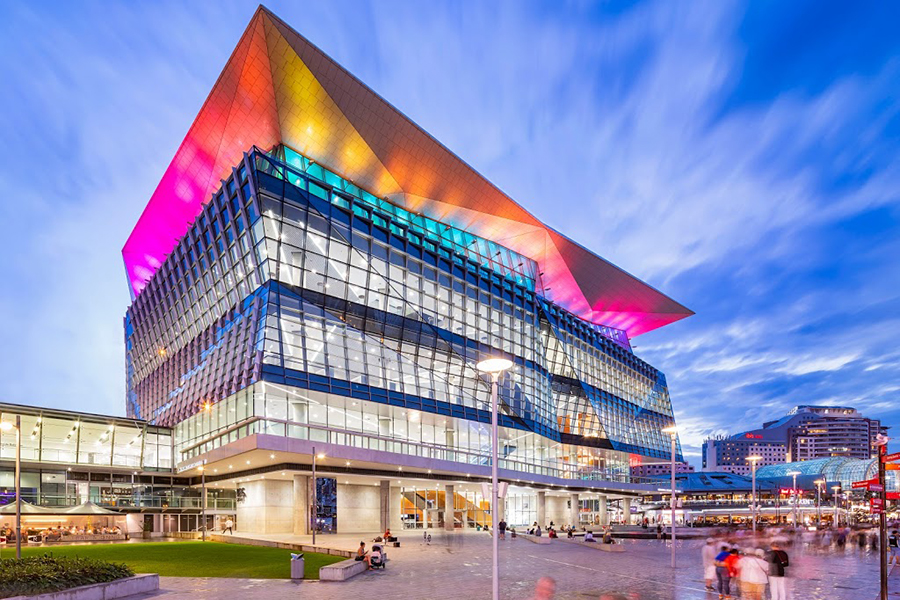 8. International Convention Centre
The International Convention Centre is Sydney's newest and most technically advanced convention, exhibition and entertainment centre. With an enviable location right on the water in Darling Harbour, they host all sorts of events and concerts in one of the three full-sized theatres.
Address: 14 Darling Dr, Sydney NSW 2000
Phone: +61 2 9215 7100
Capacity: 2,000
Trading hours: Mon-Fri 8:30am-5:30pm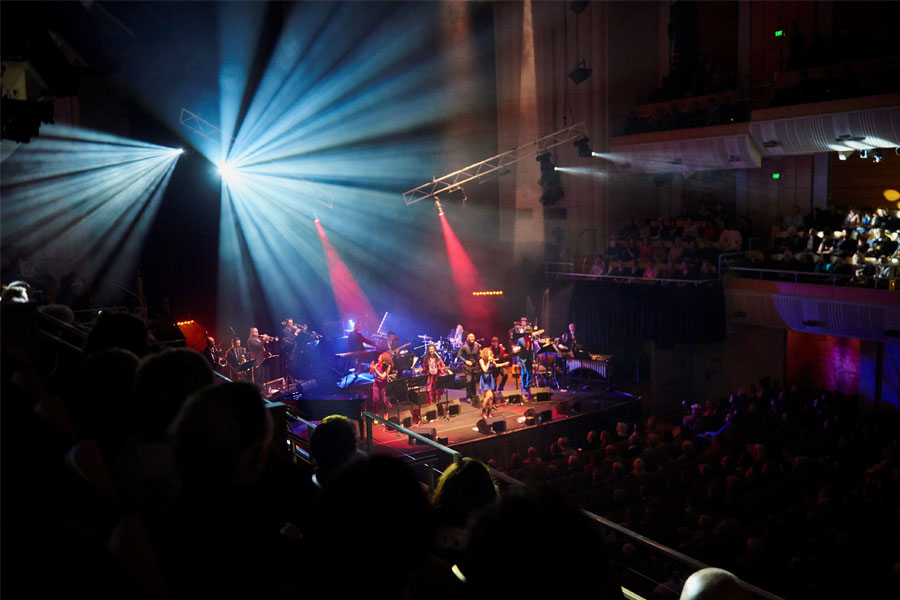 9. City Recital Hall
With a vision of being a must-visit cultural location in Sydney, the City Recital Hall plays host to a vibrant and diverse program of concerts and live music. The genre of the shows varies widely, spanning the spectrum from opera and orchestra to contemporary rock and hip hop. No matter your jam, these guys have a concert for you.
Address: 2 Angel Pl, Sydney NSW 2000
Phone: +61 2 8256 2222
Capacity: 1,238 guests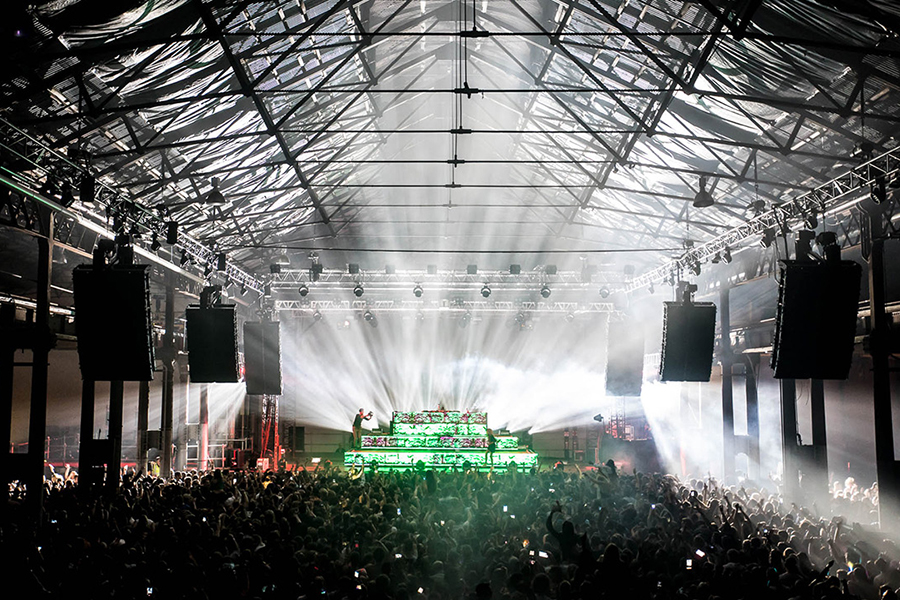 10. Carriageworks
Located in the old railway workshops in Redfern, what was once the beating heart of Australia's industrial boom is now one of Sydney's premier cultural locations. Carriageworks is the largest multi-arts centre in the country hosts millions of guests every year for performances from local and international artists.
Address: 245 Wilson St, Eveleigh NSW 2015
Phone: +61 2 8571 9099
Capacity: 5,000-seat
Trading hours: Mon-Sun 10am-6pm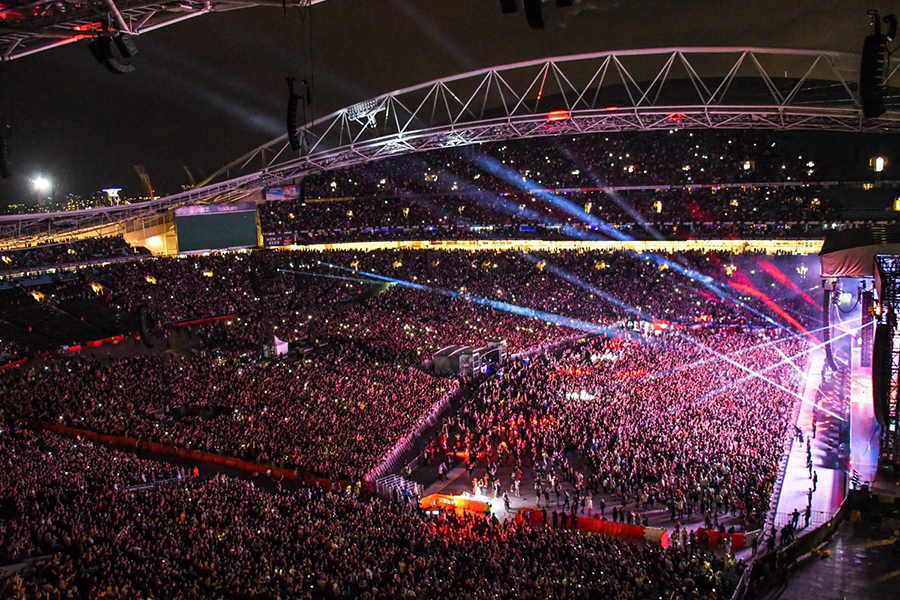 11. ANZ Stadium
While it's mainly home to sporting events, ANZ Stadium has been known to throw a party from time to time. They've hosted some huge names in music including Guns N' Roses, the Foo Fighters, and AC/DC. Most recently, the stadium hosted Fire Fight Australia, massive benefit concert for bushfire relief after a summer of deadly blazes, which attracted over 75,000 attendees.
Address: Edwin Flack Ave, Sydney Olympic Park NSW 2127
Phone: +61 2 8765 2000
Capacity: 83,500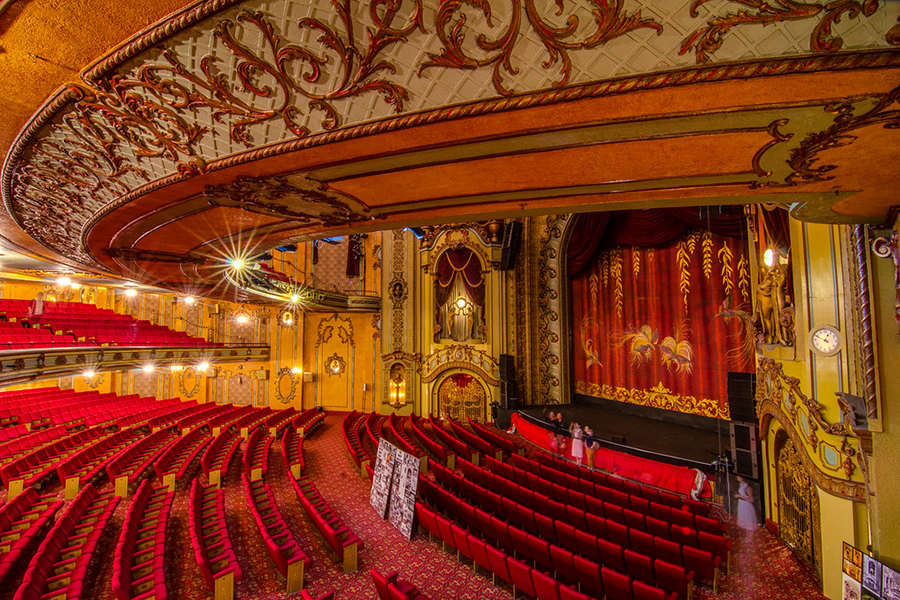 12. State Theatre
One of the more illustrious venues in the city, the State Theatre is a heritage-listed building in the heart of the CBD. Originally intended to be seen the "Empire's greatest theatre" (it was the 1920s, folks), it's now a regular host to film premieres, theatre performances, and world-class musicians.
Address: 49 Market St, Sydney NSW 2000
Phone: +61 2 9373 6655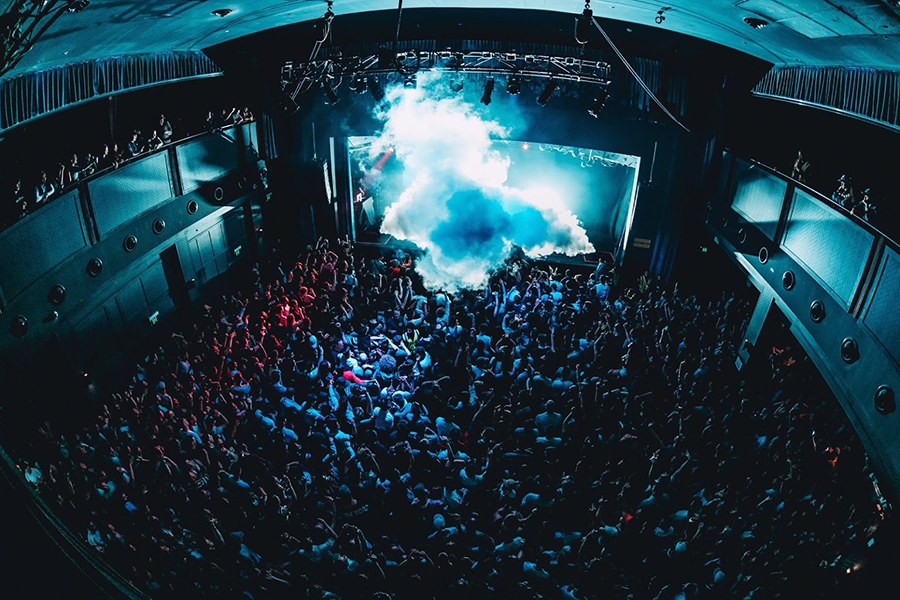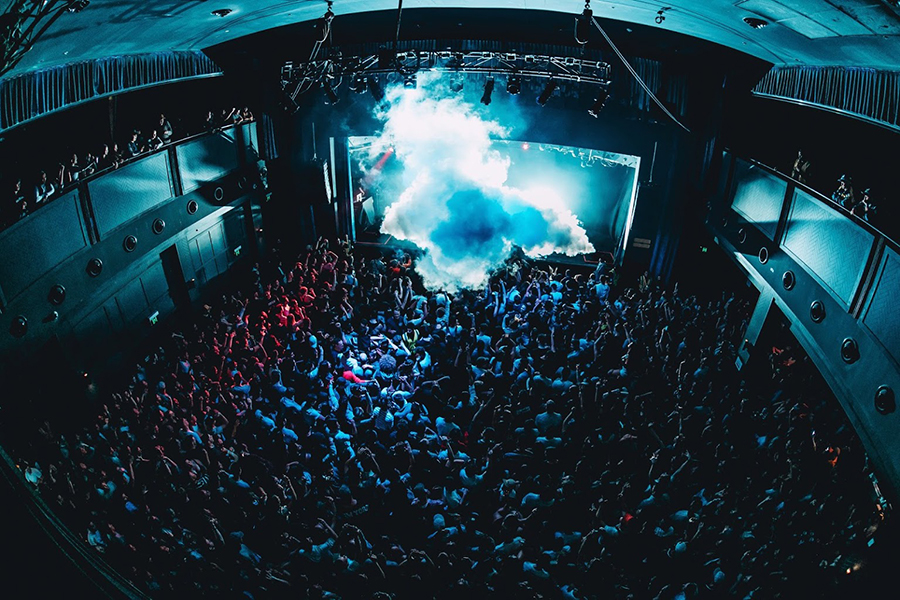 13. Max Watt's
Maximum wattage is the name, and maximum wattage is the game at Max Watt's. This 1500-capacity venue in the entertainment quarter is quickly building a reputation as one of the best live music venues in Sydney. They regularly host local and international talent that spans the musical gamut from alt rock to hip hop to EDM.
Address: 116-122, Building 220, The Entertainment Quarter, Lang Rd, Moore Park NSW 2021
Phone: +61 2 8302 1901
Capacity: 1,500
Trading hours: Mon-Fri 10am-6pm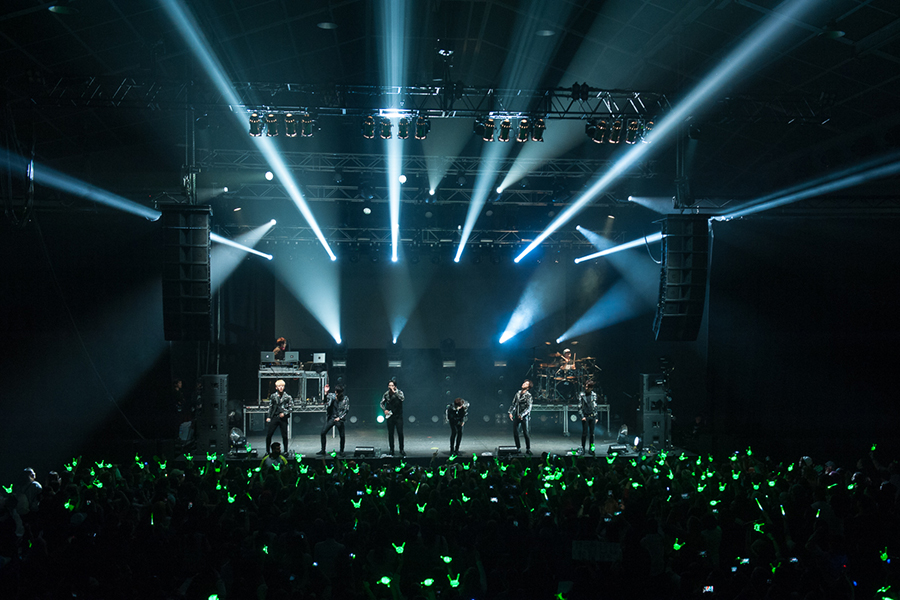 14. The Big Top
Looking from the outside in, you'd be forgiven thinking that Luna Park was an amusement park and not the home to one of Sydney's premier live music venues. But you'd also be incorrect. The Big Top, a multi-purpose entertainment venue within the harbourside theme park, throws some of the biggest concerts in the city on a regular basis.
Address: 1 Olympic Drive, Milsons Point NSW 2061
Phone: +61 1300 244 867
Capacity: 2,950
Trading hours: Mon-Sun 9am-5pm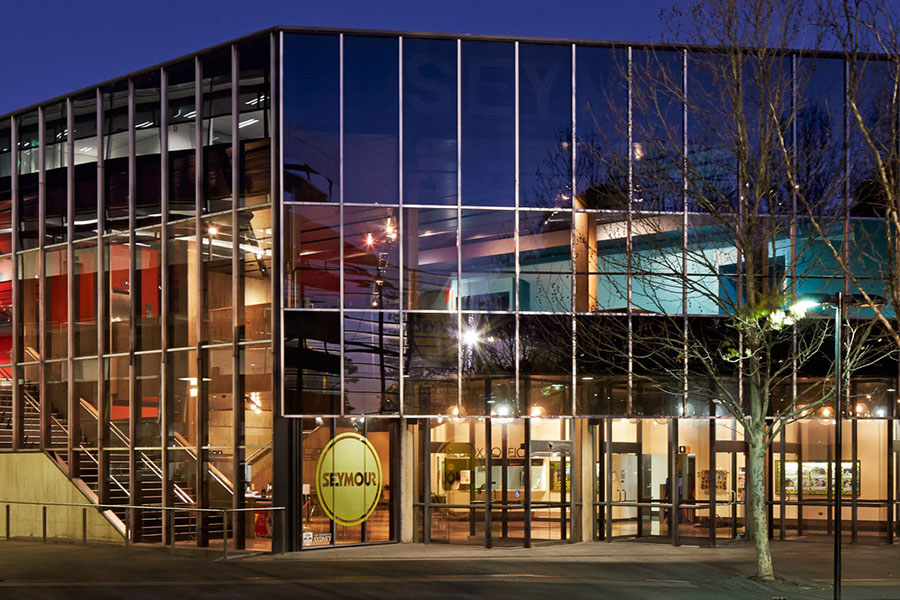 15. Seymour Centre
Located within the Darlington Campus of the University of Sydney, the Seymour Centre has hosted a wide array of musical talent in its 45-year history. Their program is always packed with big ideas and bigger events ranging from festivals to theatre performances to world-class live music performances.
Address: City Rd & Cleveland Street, Chippendale NSW 2008
Phone: +61 2 9061 5344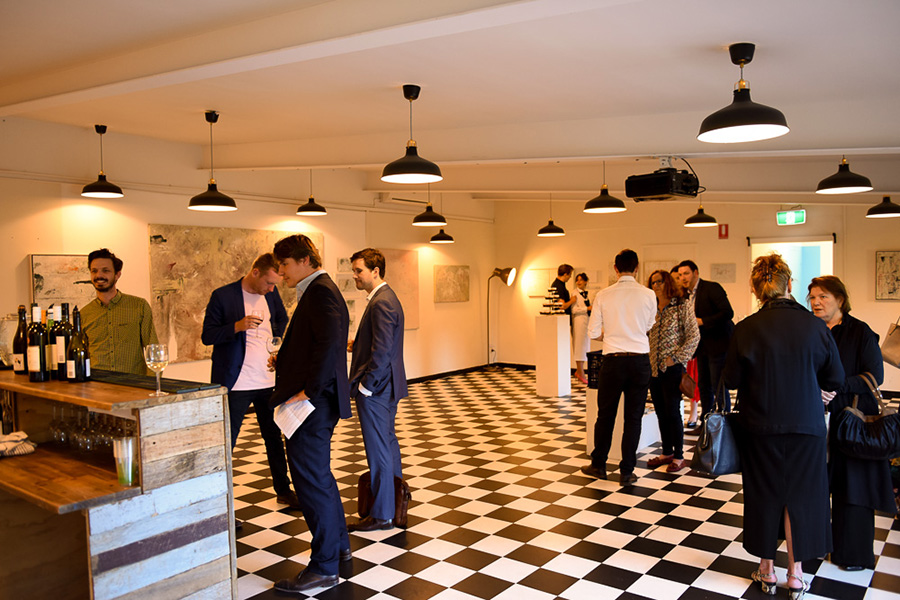 16. 107 Projects
A few short years ago this space was nothing more than a garage in Redfern. Now, it's a bustling non-profit, artist run creative hub playing host to some of the most talented folks in Sydney. 107 Projects regularly hosts art exhibitions, theatre, and live music from top artists both homegrown and international.
Address: 107 Redfern St, Redfern NSW 2016
Phone: +61 2 9167 6999
Sydney's Best Live Music Pubs & Bars
Right, on to the pubs. Because live music is always better with a beer in your hand and a belly full of pub grub.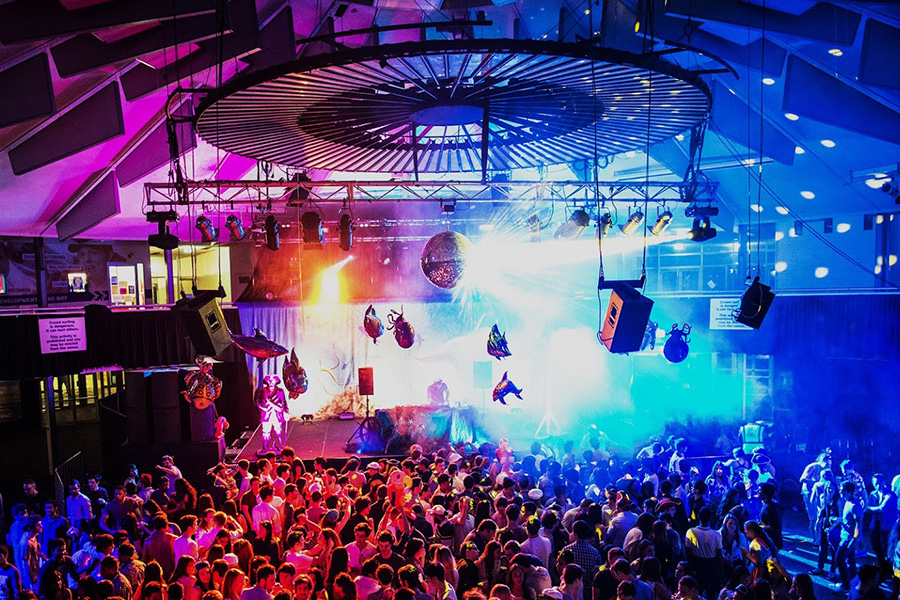 17. Roundhouse
Sydney's roundest venue has been keeping gig-goers hopping for over 50 years. Not only is the Roundhouse UNSW's favourite watering hole, it's also a fully equipped live music venue that's hosted a slew of major dance parties, comedy and theatre nights, sold-out shows.
Address: UNSW, Anzac Parade, Kensington NSW 2052
Phone: (02) 9385 7630
Capacity: 2,000
Trading hours: Mon-Fri 9am-5pm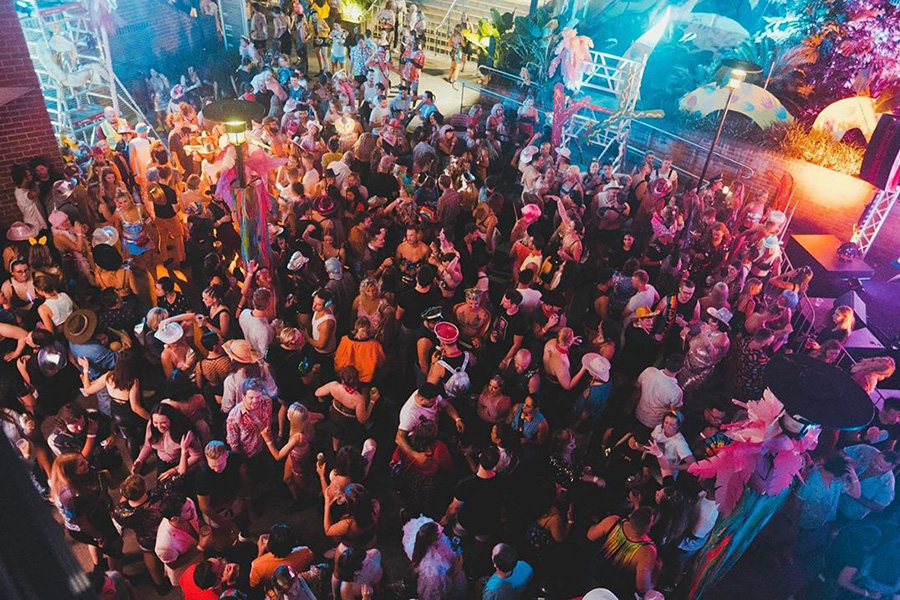 18. Manning Bar
Another venue proving Sydney Universities know how to throw a party, Manning Bar is a bar on the University of Sydney campus geared towards putting on top-notch shows. The venue has attracted top musical talent from around the world, including Gotye, Violent Soho, Ratatat, and heaps more.
Address: Manning House, Manning Rd, Camperdown NSW 2050
Phone: +61 2 9563 6000
Capacity: 950
Trading hours: Mon-Thu 10am-12am, Fri-Sat 10am-3am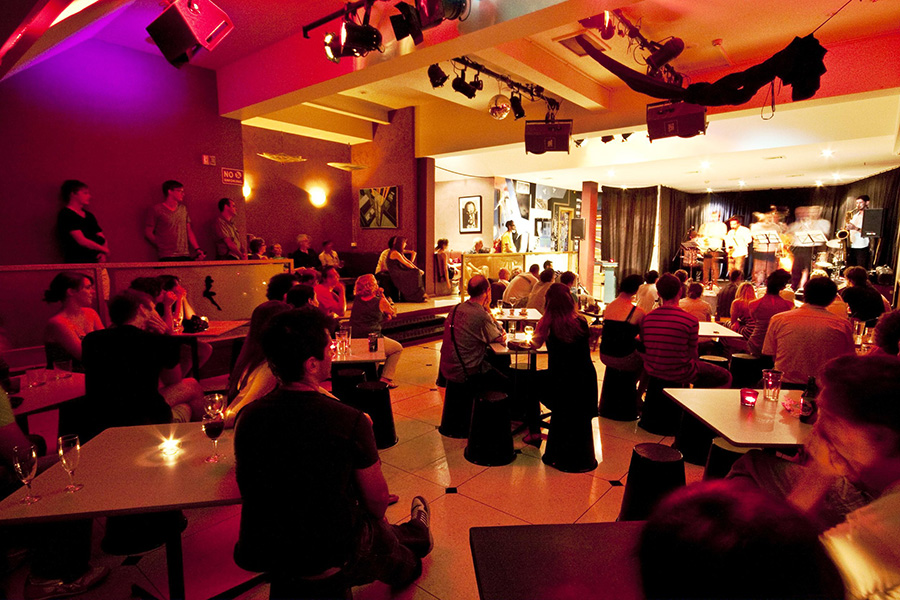 19. Venue 505
After bouncing around a few different digs, the folks behind Venue 505 have settled into the ballroom of the original Newtown School of the Arts. There's focus on jazz, funk, and contemporary sounds, but genres from all over the world have made an appearance on this stage.
Address: 5 Eliza St. 2010
Phone: +61 419 294 755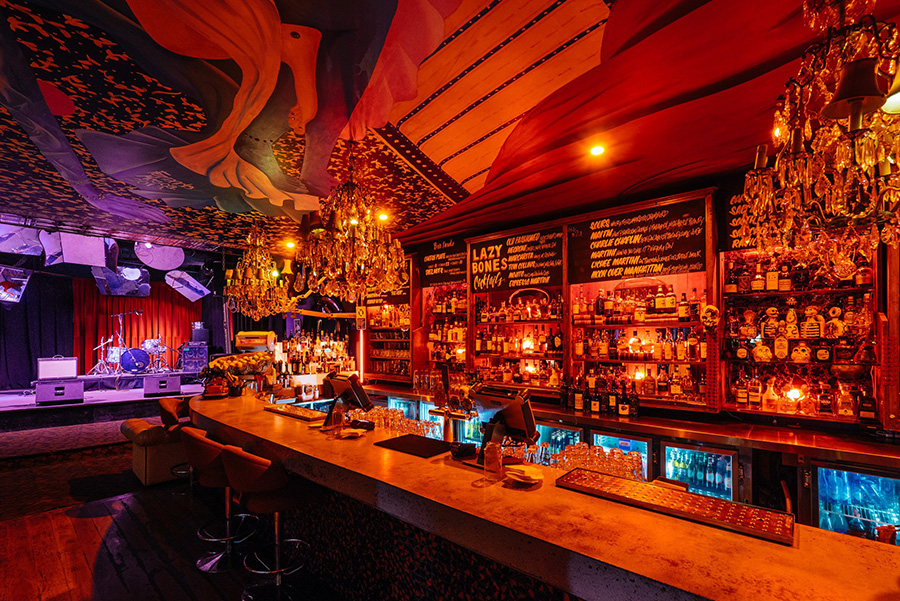 20. Lazybones Lounge
Live music 7 nights a week. A full-service bar and kitchen. An eclectic, dimly lit atmosphere. What's not to like about Lazybones Lounge? Located in the heart of Marrickville, this funky spot is a favourite among Sydney live music lovers.
Address: 294 Marrickville Rd, Marrickville NSW 2204
Phone: +61 450 008 563
Trading hours: Mon-Wed 7pm-12am, Thu-Sat 5pm-3am, Sun 5pm-10pm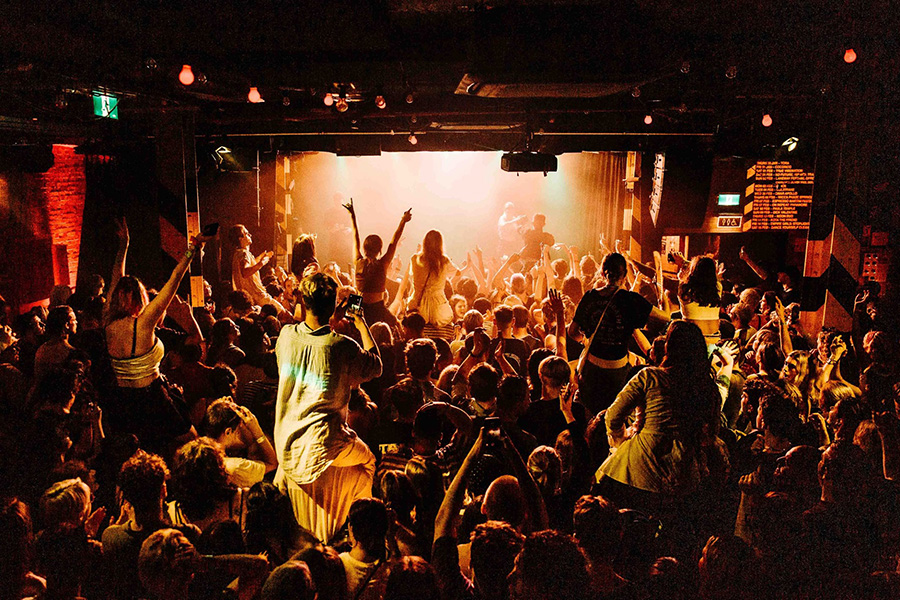 21. Oxford Art Factory
This long running Sydney institution helped write the playbook on the city's live music scene. Always a constant on the long and bumpy road that is the late-night entertainment industry in Sydney, the Oxford Art Factory have been hosting local and international artists on their world-class stage for a very long time—and they certainly know how to put on a show.
Address: Basement, 38-46 Oxford St, Darlinghurst, Sydney, NSW, Australia, 2010
Phone: (02) 9332 3711
Capacity: 500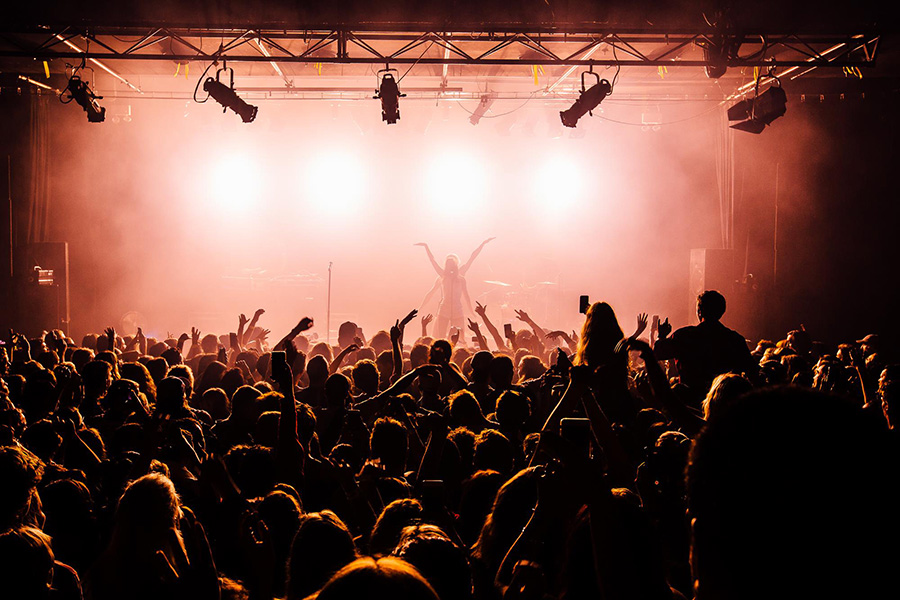 22. The Metro Theatre
The only thing The Metro Theatre does better than put on a killer rock show acting as a launching pad for up and coming acts as they break onto the scene. Over its long history this landmark venue has hosted some unforgettable shows and is well known as one of the best bars to watch live music in Sydney.
Address: 624 George St, Sydney NSW 2000
Phone: +61 2 9550 3666
23. The Lansdowne Hotel
This iconic pub had new life breathed into it back in 2017 and has been one of Sydney's best live music pubs ever since. With a show most nights of the week, an American diner, and a healthy selection of local booze, the Lansdowne is hands down one of the city's most iconic rock bars.
Address: 2-6 City Rd, Chippendale NSW 2008
Trading hours: Mon-Thu 4pm-3am, Fri-Sat 12pm-5am, Sun 12pm-12am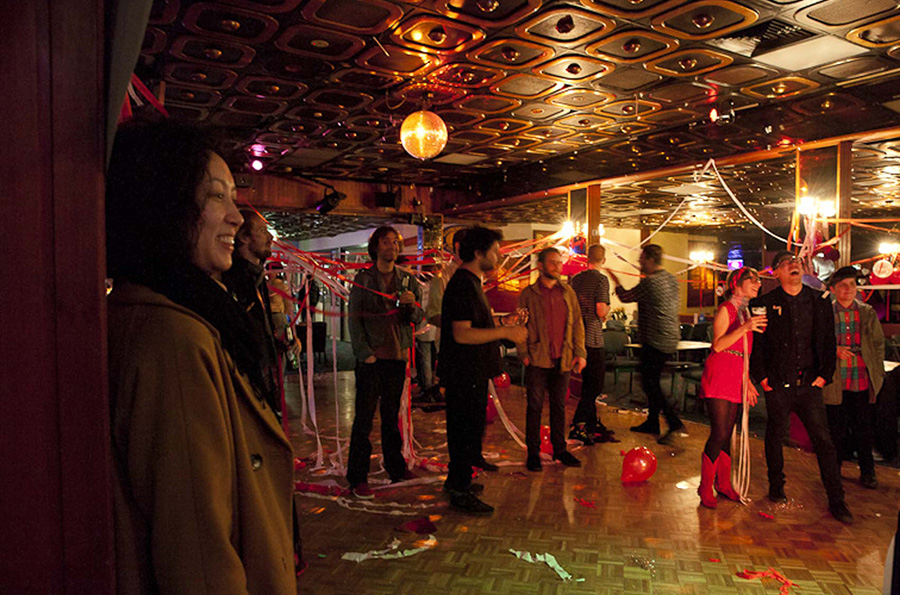 24. Marrickville Bowling Club
It may look like your run-of-the-mill bowlo on the outside, but for those in the know the Marrickville Bowling Club is a local favourite when it comes to catching a gig. Not too many live music venues in Sydney offer a game of barefoot bowls to whet your appetite for a show, that's for sure. In light of recent circumstances, the opening hours are fluctuating, but you can sure a good time is on offer every visit you make to this Inner-West institution.
Address: 91 Sydenham Rd, Marrickville NSW 2204
Phone: +61 2 9557 1185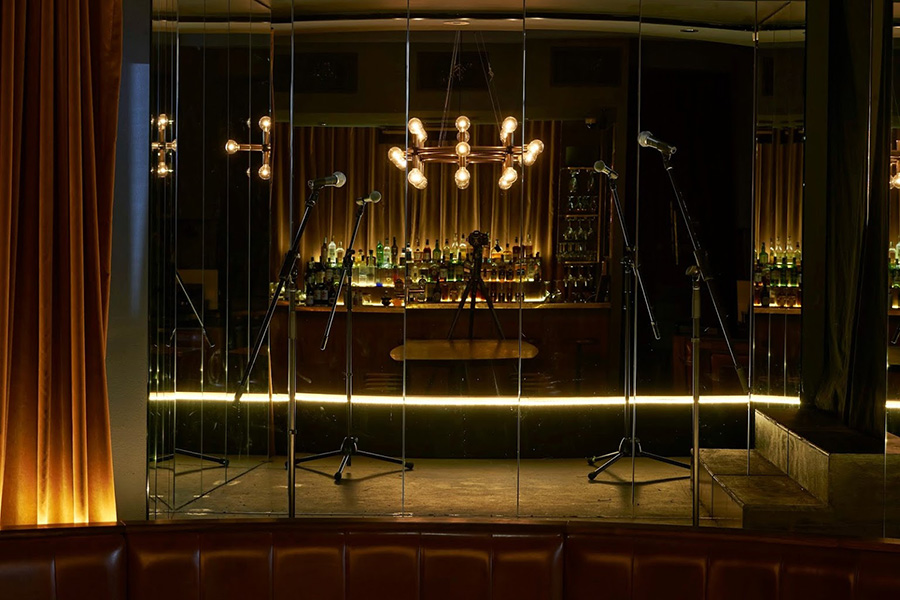 25. Golden Age Bar
Originally used as Sydney's home of Paramount Pictures for over 30 years, the Golden Age Bar is a modern tribute to a classic Hollywood in its heyday. There's live music on every Friday and Saturday featuring artists spanning from languid folk to experimental pop to independent rock and R&B.
Address: 80 Commonwealth St, Surry Hills NSW 2010
Phone: +61 2 9211 1556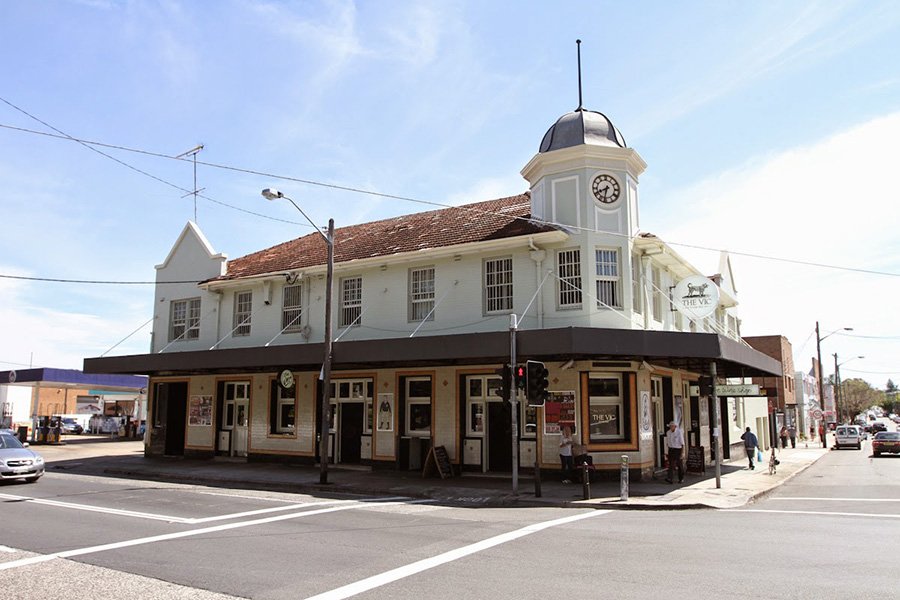 26. The Vic
Every man and their dog get down at The Vic. Seriously though, it's dog friendly. So bring your four-legged pal along the next time you're in the mood for a couple of beers on the sunny deck, a classic pub food feed, and a gig from your favourite local band.
Address: IVY, Level 2, 320-330 George St, Sydney NSW 2000
Phone: +61 2 9240 3000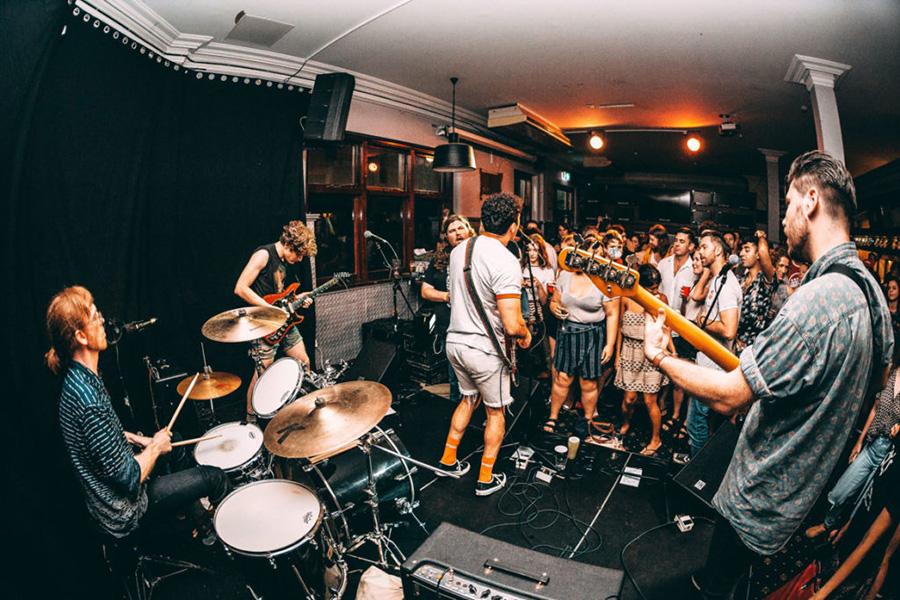 27. Botany View Hotel
This classic Aussie pub sitting on the corner of a busy Newtown intersection is living proof that an old dog can learn new tricks. The vibe at Botany View Hotel is laid back and inclusive, the kitchen and bar serve all your pub-grub classics, and the list of gigs is always stacked and always excellent.
Address: 597 King Street Newtown, New South Wales 2042
Phone: +61 2 9519 4501
Trading hours: Tue 4pm-12am, Wed-Thu 12pm-12am, Fri-Sat 10am-2am, Sun 10am-10am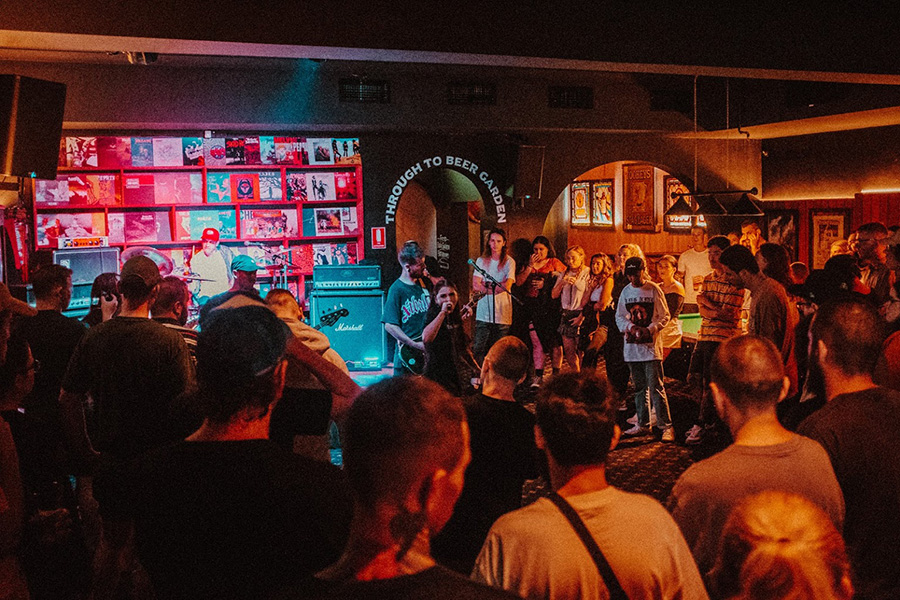 28. Crowbar
Crowbar is Sydney's home of the heavy. This live music dive bar is an icon for all things punk, hardcore, and metal and they're constantly hosting some of the best local, national, and international bands around. If your idea of a top night out involves cold beer and loud music, Crowbar is the spot for you.
Address: 345 Parramatta Road, Leichhardt Sydney, Australia 2040
Trading hours: Fri-Sat 12pm-7am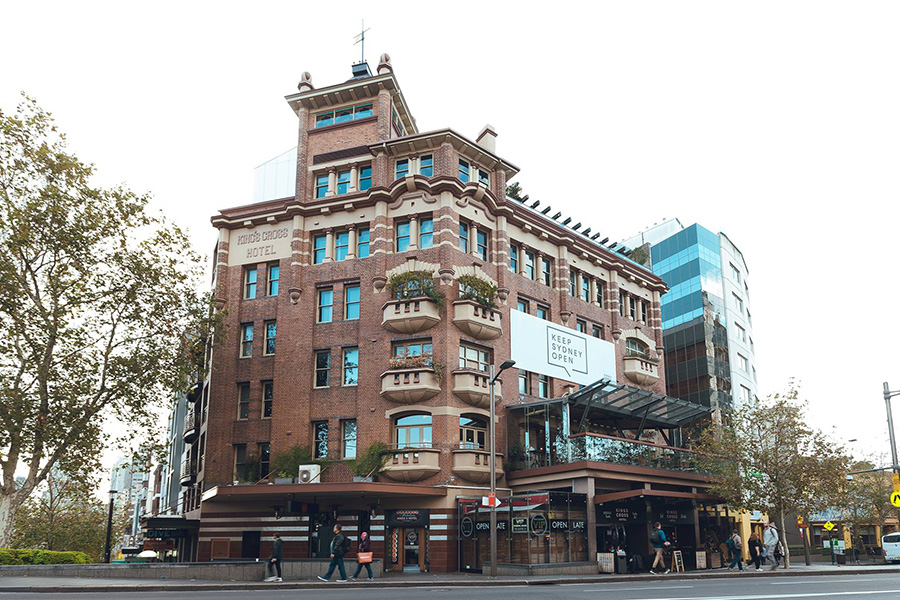 29. Kings Cross Hotel
Another iconic live music venue, this time in the historic epicenter and home of Sydney's nightlife—Kings Cross. Kings Cross Hotel has long hosted an eclectic roster of live entertainment and remains a loud and prominent voice in the struggle to renew and maintain the city's vibrant nightlife and culture.
Address: 244/248 William St, Potts Point NSW 2011
Phone: +61 2 9331 9900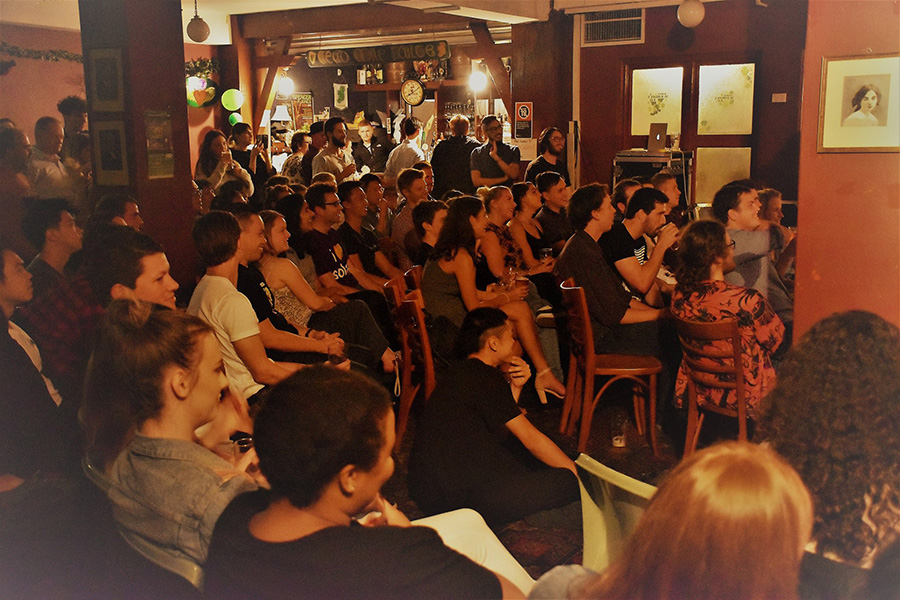 30. The Gaelic Club
The proud home of Irish culture in Sydney, The Gaelic Club welcomes one and all to their Friday sessions and Saturday night gigs. You'll come for the tunes but you'll and stay for the pints; always served with trademark Irish hospitality.
Address: 1/64 Devonshire St, Surry Hills NSW 2010
Phone: +61 2 9212 1587
Trading hours: Mon-Wed 5pm-9pm, Thu-Sun 6pm-12am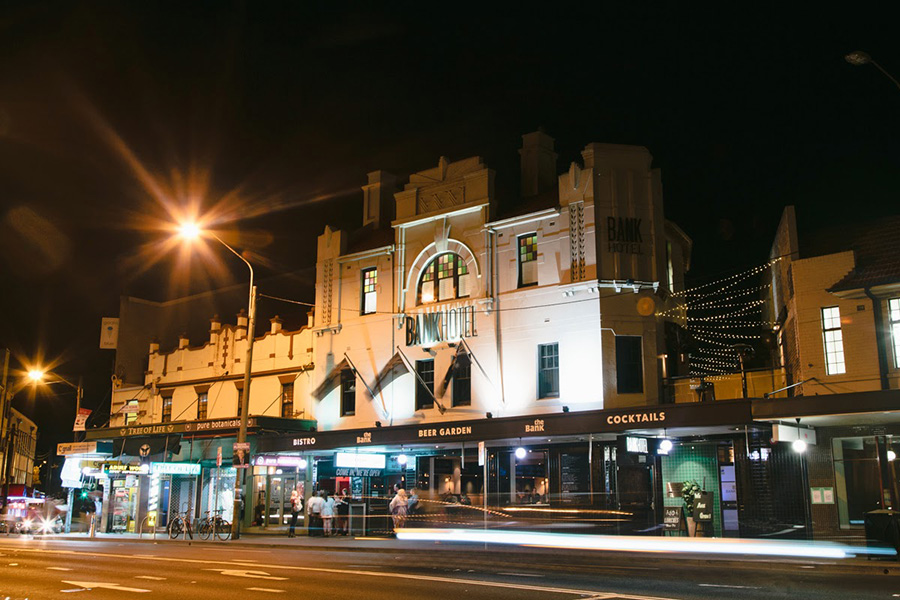 31. The Bank Hotel
Located a stone's throw from Newton train station on one of the suburb's busiest drags is The Bank Hotel, one of Sydney's best bars to watch live music. They're a major sponsor of Newtown Festival and dedicated to growing and nurturing the Inner West's bustling entertainment scene.
Address: 324 King St, Newtown NSW 2042
Phone: +61 2 8568 1905
Trading hours: Fri-Sat 8pm-4am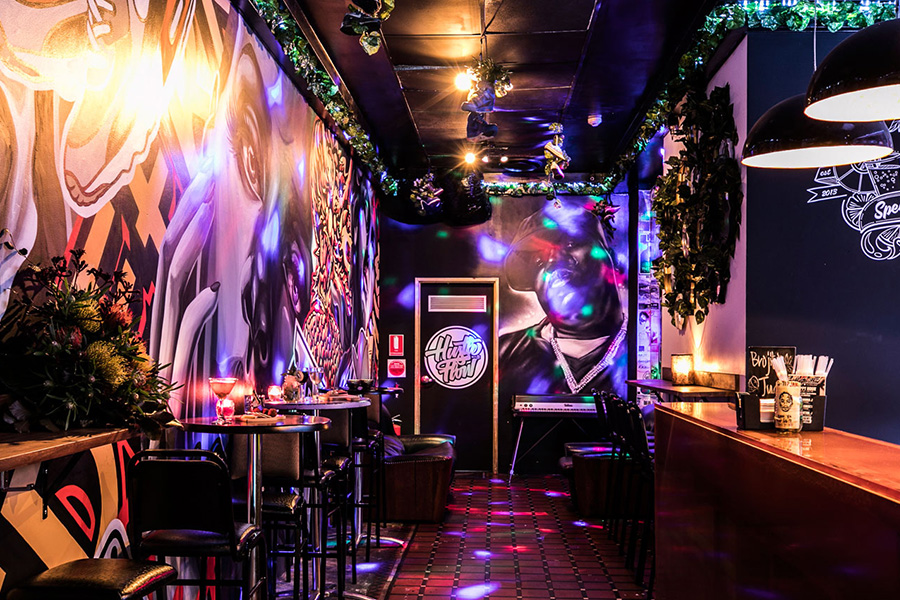 32. Hustle and Flow
We're all guilty of heading out for "a few quiet ones" on a Friday after work and end up staying till the lights come one. No? Just us? Well, Hustle and Flow is just the kinda place where such a thing happens. With a wide range of signature cocktails and craft beer, huge American-style burgers, and a unique line-up of DJs, bands, and jam nights, it'd be rude to leave early. Wouldn't it?
Address: 105 Regent St, Redfern NSW 2016
Phone: +61 2 8964 9392
Trading hours: Tue-Sat 5pm-12am, Sun 5pm-10pm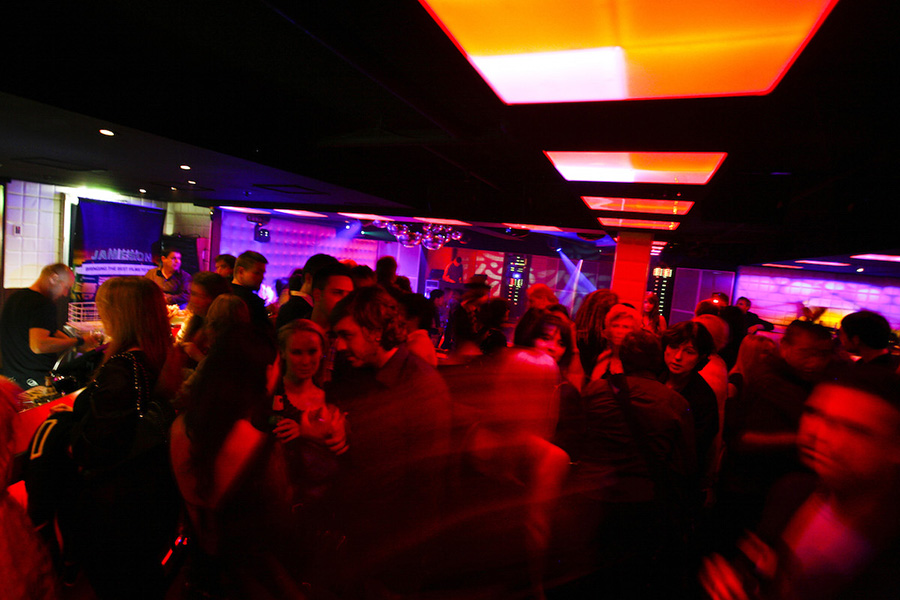 33. Civic Underground
The dancefloor is sunken, the lights are seductive, and the tunes are pumping. Civic Underground know what's up. Located beneath the Civic, the iconic pub in the heart of the CBD, the Underground is one of the premier gig venues in town to catch a show.
Address: 388 Pitt St, Sydney NSW 2000
Phone: +61 2 8080 7015
Trading hours: Mon-Sun 10am-4am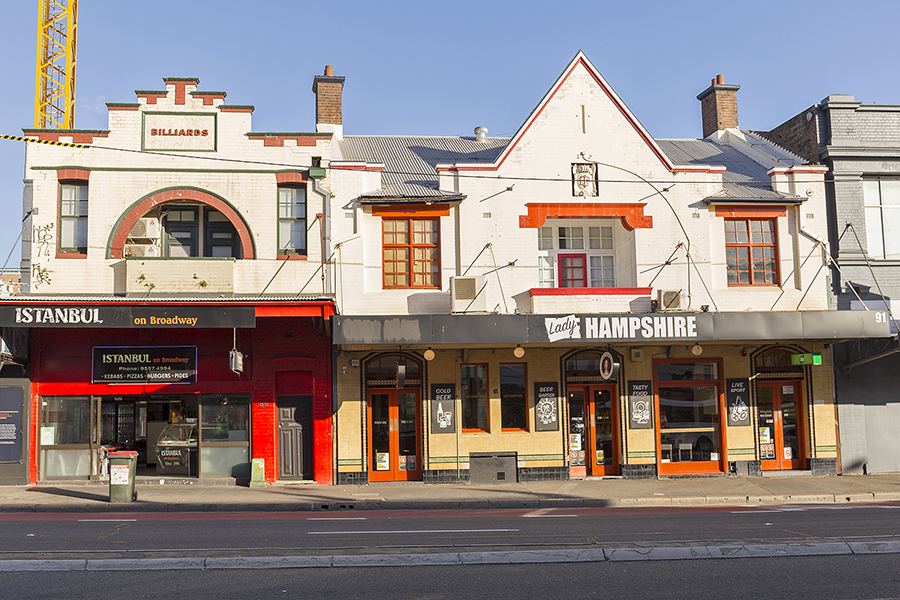 34. The Lady Hampshire
A visit to Camperdown would be incomplete without popping into visit The Lady Hampshire. It's a one-stop-shop for all things tacos, burgers, and beer, with a classic line up of taps and pub fare. They're also known to put on a hopping live show featuring some talented local acts.
Address: 91 Parramatta Rd, Camperdown NSW 2050
Phone: +61 2 8018 6885
Trading hours: Tue-Sun 5pm-10pm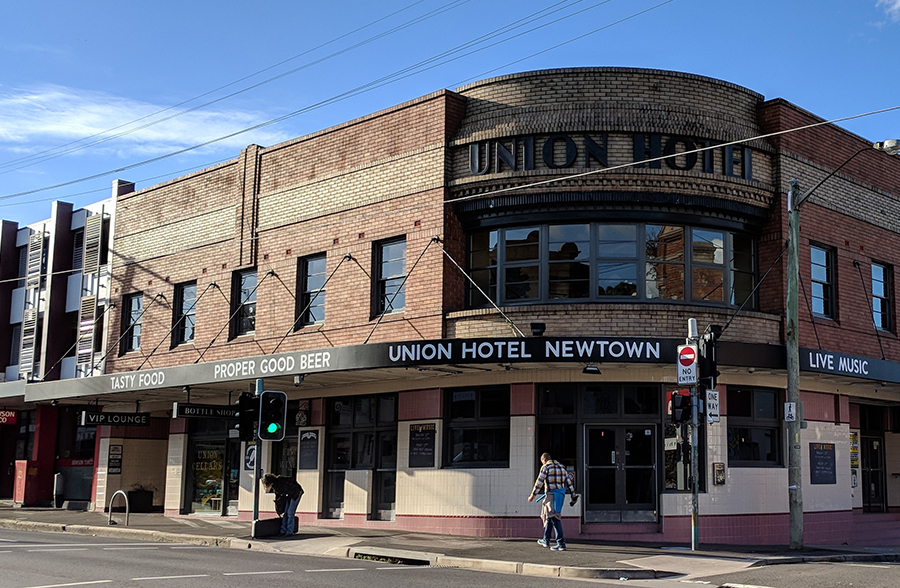 35. The Union Hotel Newtown
It's hard to go wrong at The Union Hotel Newtown. Whether you're settling in to watch the footy on the big screen, challenging your mates to a game of pool, or catching a live show, the Union's got you covered. Their regular line up of acts and bands is well worth keeping an eye on.
Address: 576 King St, Newtown NSW 2042
Phone: +61 2 9557 2989
Trading hours: Mon-Wed 10am-12am, Thu-Sat 10am-2am, Sun 10am-10pm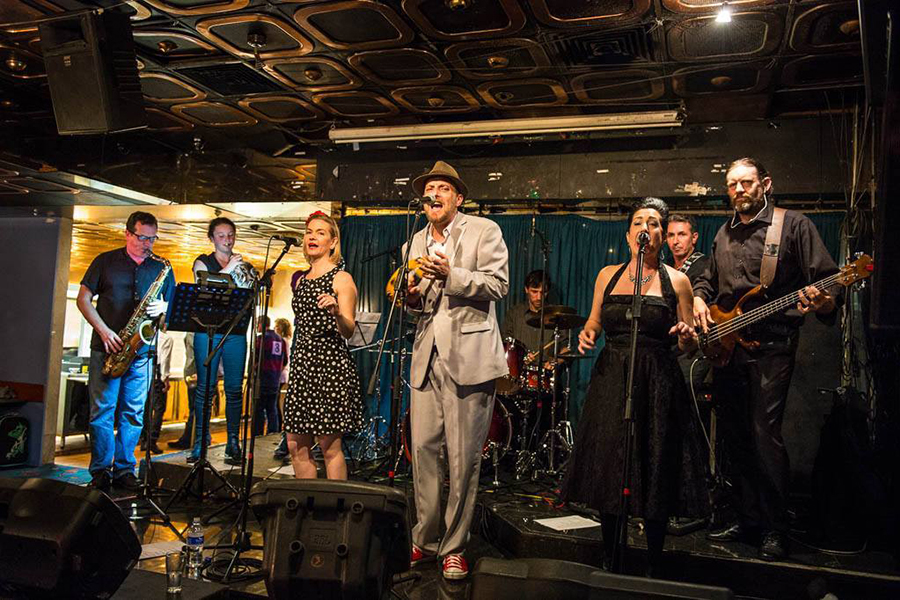 36. Petersham Bowling Club
With a history stretching back to 1896, the Petersham Bowling Club is one of the longest-running clubs in NSW. Alongside the bowlo classics (barefoot bowls, cold beer, and hearty grub) they're also a great spot to catch a gig.
Address: 77 Brighton St, Petersham NSW 2049
Phone: +61 2 9569 4639
Trading hours: Tue-Thu 5pm-10pm, Fri 4pm-11pm, Sat 12pm-12am, Sun 12pm-10pm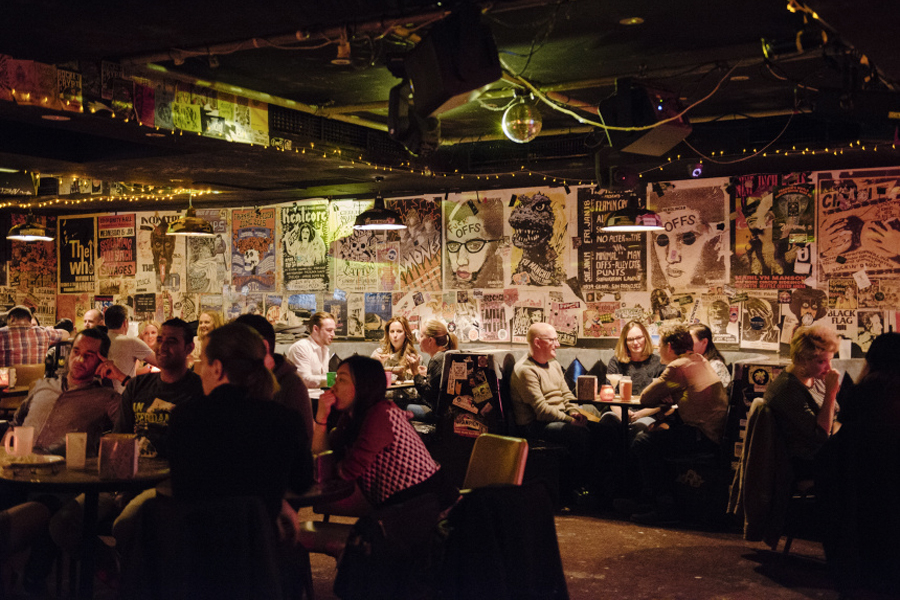 37. Frankie's Pizza
Walking down the steps to Frankie's Pizza, you're met with the stereotypical New York pizzeria aesthetic. With the old-wooden bar with the red and white checkerboard floor tiles, you'd be forgiven for thinking this was just your run-of-mill city pizza shop, but behind the back door is a one of Sydney's best live music venues. Playing an assortment of rock, metal, punk and alternative tunes, Frankie's has shows every night of the week, free and unrefined.
Address: 50 Hunter St, Sydney NSW 2000
Trading hours: Mon-Sun 4pm-3:30am
You'll also like:
20 Best Hidden Bars in Sydney
30 Best Pubs in Sydney with Food, Beer & Events!
16 Best Steak Restaurants in Sydney
General FAQ
What is the best area of Sydney for live music?
While you can find a lot of small bars in the CBD with live music, your best bet is to travel to the Inner West. Suburbs such as Camperdown, Marrickville and Newtown have a number of great venues.
What is the biggest live music venue in Sydney?
The biggest venue in Sydney is ANZ Stadium, with an overall capacity of around 83,500.
What is the best live music venue in Sydney?
According to Google Reviews, the top-rated live music venue in Sydney is the Sydney Opera House.