13 Best Coffee Shops in Melbourne
This article feature insights from Australian coffee expert and Campos Chief Coffee Officer, Adam Matheson.
Everyone has an opinion on the best coffee in Melbourne, but one thing we can all agree on is that it's more than just a necessary morning routine – it's an art. An art that has evolved over time to become one of man's most beloved rituals. The best coffee shops in Melbourne are renowned for producing some of the best coffee in the world. What cements this title is their pursuit of the highest quality beans, their constant research and learning of the best methods and practices and their commitment to serving the most nuanced and aromatic coffee available. These Melbourne coffee shops will satisfy the palate of even the most snobbish coffee drinkers.
You'll also like:
The Best Coffee in Australia: 17 Shops and Brands You Need to Know
26 Different Types of Coffee Explained: A Complete Guide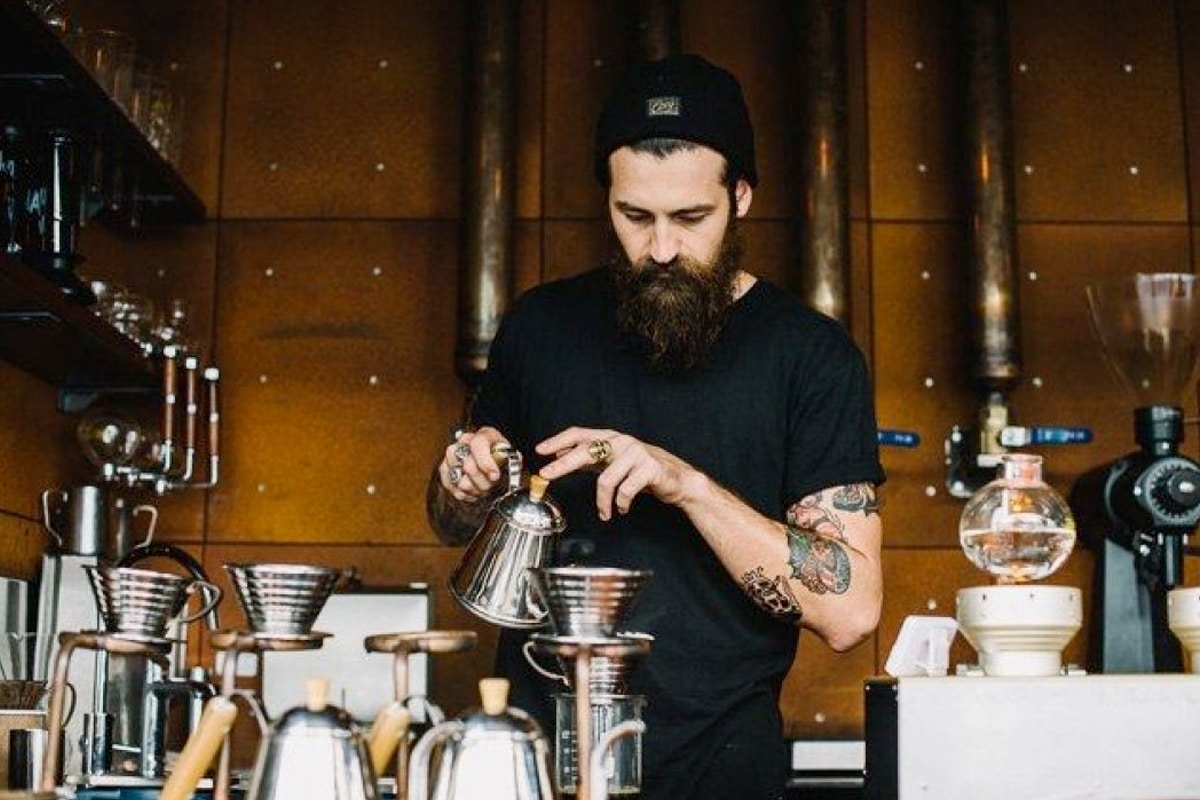 Melbourne Coffee Scene
Specialty coffee refers to the whole coffee process from growing to roasting and extracting; from farmer to mug. These Melbourne coffee shops take their coffee seriously and ensure that every stage of the process involves the utmost precision and care. Just be aware: once you taste the smooth, intoxicating single-origin coffees of the best coffee shops in Melbourne, you'll never go back.
As one of Australia's foremost destinations for bean juice, Melbourne is home to a vast assortment of coffee shops, each offering something different. But while every cafe has its own take on coffee, the Australian brew does have some common themes.
"Australian coffee is still largely milk-based. The Flat White, Cappuccino and Latte lovers have kept espresso-brewed coffee at the top of the pile, despite growing interest in lighter 'filter' brewed black coffee in more recent years," Adam Matheson, Campos Chief Coffee Officer tells Man of Many.
Leading the coffee revolution is Melbourne, with cafes such as Patricia and Market Lane helping to introduce innovative new techniques and roasting options to the mix. It's something that Australian coffee expert Matheson believes has been critical to the foundations of Melbourne as a world-renowned coffee destination.
"Whilst Australian coffee in the past was bitter, stale and too hot, fortunately now we find ourselves expecting, even demanding, that our coffee is smooth, well bodied, and naturally sweet," he says. "Flavours are typically built around a caramel and chocolate base but are generally complimented with floral and fruity notes that come from better sourcing knowledge and roasting techniques."
Best Coffee Shops in Melbourne
With that in mind, it's time to turn our attention to Melbourne's best coffee. Whether you are looking for a flat white, latte or batch brew, you'll find it at these hotspots. Here is a list of the best coffee shops in Melbourne.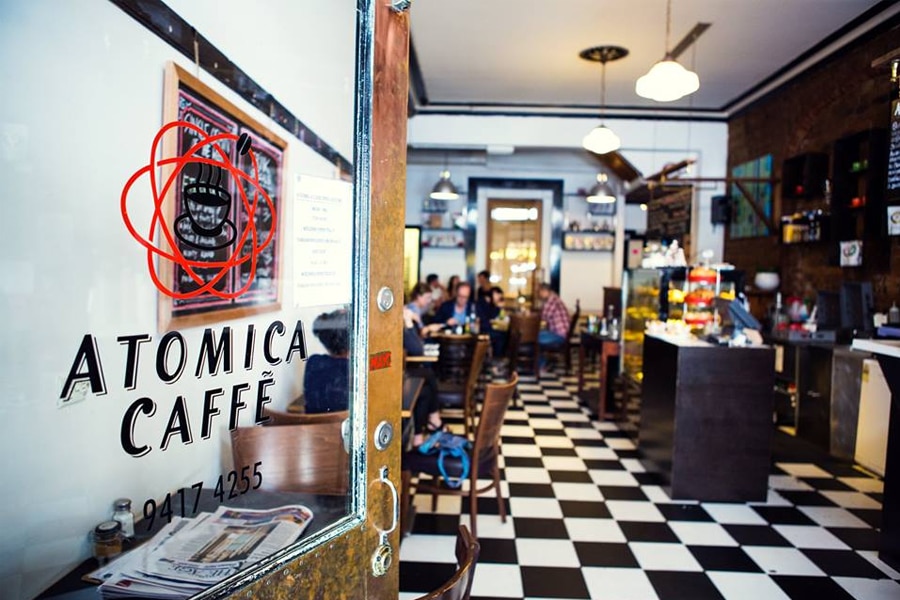 1. Atomica Coffee
As the first cafe in Melbourne to roast its own coffee in house, you won't question that Atomica Coffee produces the best coffee in Melbourne. They provide boutique coffee roasting and wholesaling to sate the most refined coffee palettes – and noses. They take no shortcuts on quality and always put the product first. The coffee roasters pay tribute to the past while always staying on top of new processes of extraction that are coming through. Their secret is individually roasting, which helps bring out the flavour of each bean.
Address: 14/167 Beavers Rd, Northcote VIC 3070, Australia
Phone: +61 3 9486 3008
Hours: Mon-Fri 8am-4pm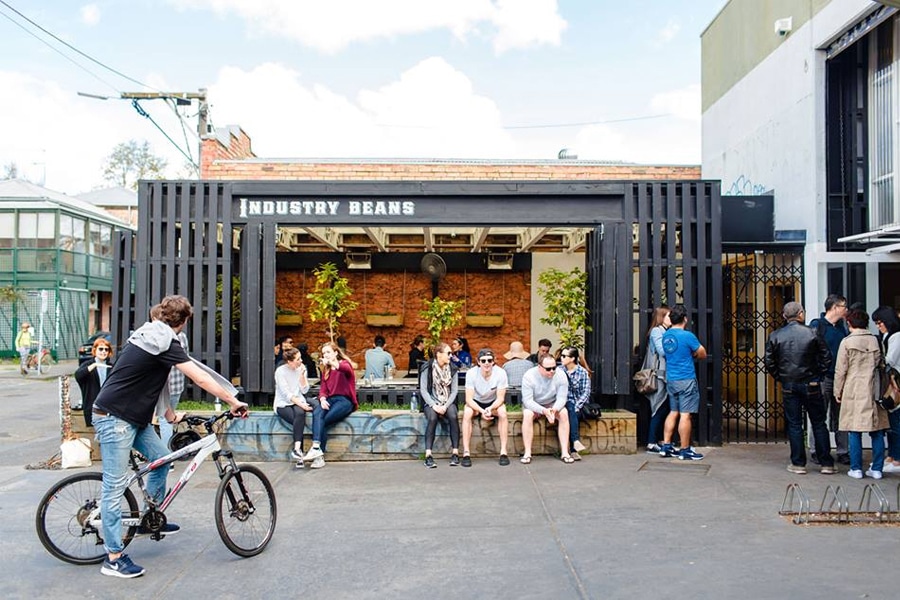 2. Industry Beans
Inspired by the movement known as the Third Wave of coffee roasters, Melbournians Steve and Trevor Simmons in 2010 set up a tiny garage and began roasting. Industry Beans has now established itself as one of the most internationally renowned Melbourne coffee shops. This Fitzroy warehouse is a popular coffee roastery, cafe and brew bar that delivers top-quality seasonal coffee from key growing regions in Central America, Africa and Asia.
Address: 3/62 Rose Street, Fitzroy VIC 3065
Phone:+61 3 9417 1034
Hours: Weekdays 7am-4pm, Weekends 8am-4pm
Industry Beans
3. Undercover Roasters HQ
Founded in 2011, Undercover Roasters has a passion for coffee, and it speaks in every single cup. Based in Melbourne and Bendigo, this specialty coffee shop sources only the freshest green beans from all over the world with an emphasis on coffee that is ethically grown, hand-picked and carefully processed.
With master roasters working world-class equipment to develop delicious taste profiles that showcase the beauty of each origin you'll never look at coffee the same way again. In October 2020, the brand opened the doors to a flagship HQ in Abbotsford. The menu is creative, served alongside the finest of coffees with specialty beans coming from all across the globe.
Address: 449 Victoria St, Abbotsford VIC 3067
Hours: Mon-Sun 7am-4pm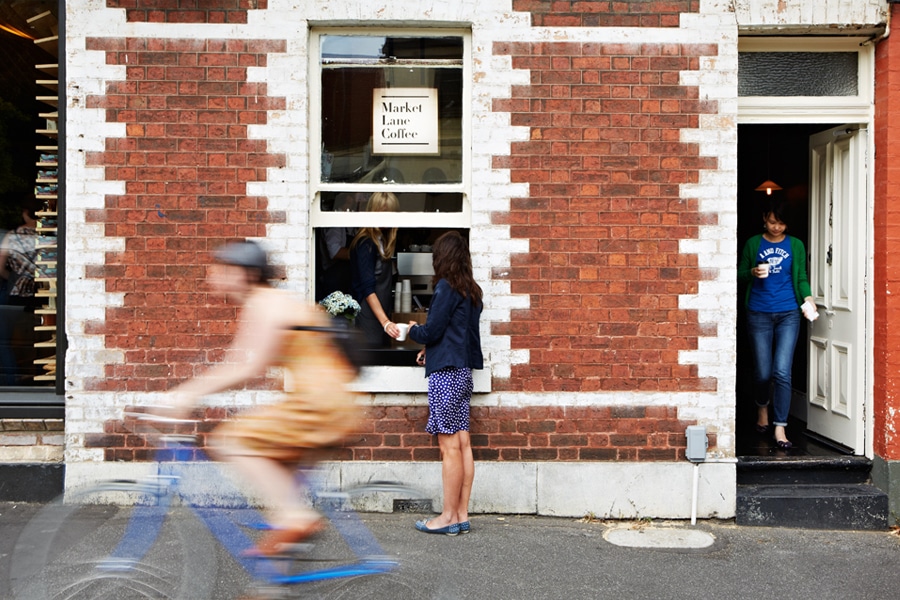 4. Market Lane Coffee
Market Lane Coffee hunts for the most distinctive and memorable coffee beans from around the world and roasts them carefully in small batches at their Prahran Market roastery. They only serve coffee that is in season and love to share the story behind each cup. Imagine that delectable cup of coffee you had at the boutique market stall and could never remember the name of – except Market Lane brews in five of the best coffee shops in Melbourne, making it easily accessible and exciting.
Address: Shop 13 Prahran Market, 163 Commercial Road, South Yarra VIC 3141
Phone: +61 3 9804 7434
Hours: Mon & Wed 7am-4pm, Tue & Thu-Sat 7am-5pm, Sun 8am-5pm
Market Lane Coffee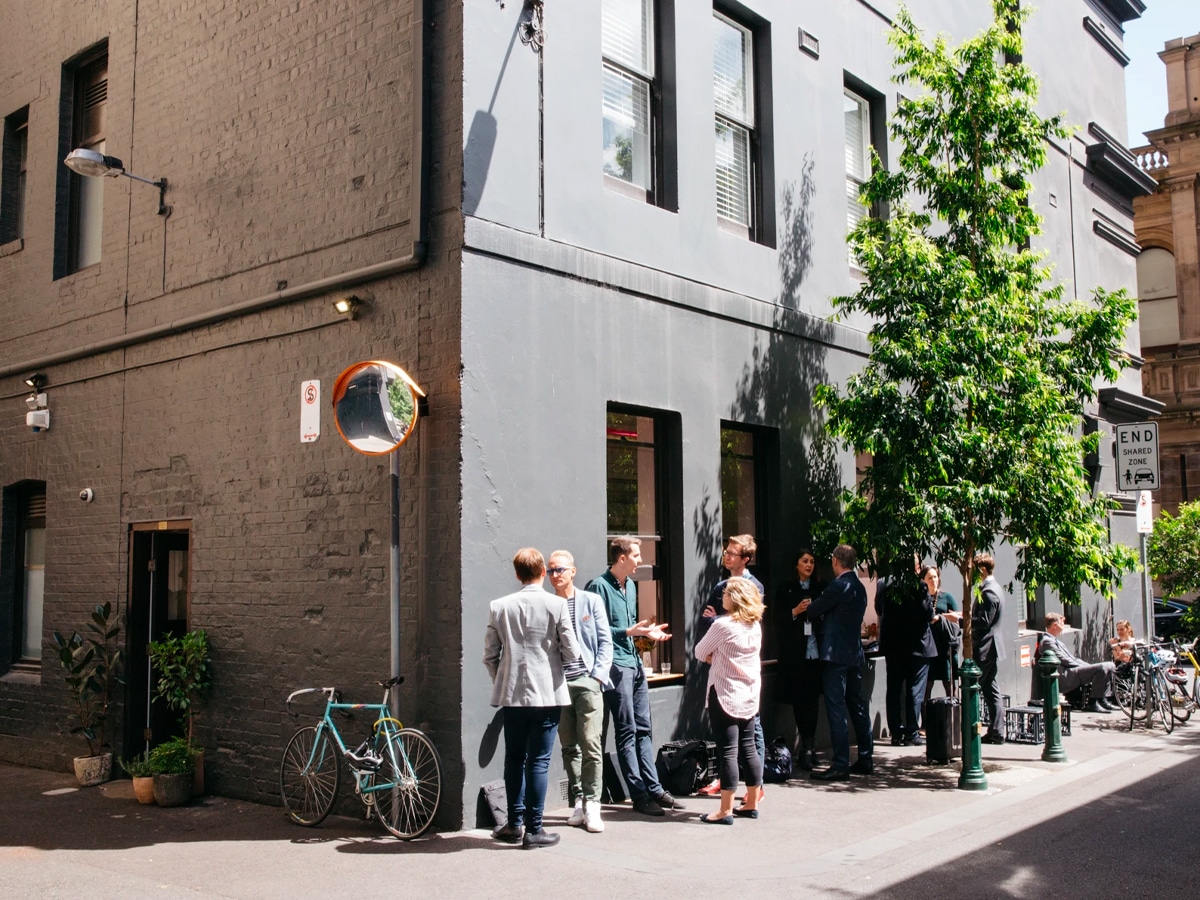 5. Patricia
The humble beginnings of Patricia from lawyer's office to shiny coffee bar back in 2012 shows that at this Melbourne coffee shop, the beans speak for themselves. Many a coffee blogger has stopped at this now beloved joint to rave about its smooth caffeinated beverages. The quaint space has the character of a European cafe with the contemporary feel (and outrageously good coffee) of the contemporary Melbourne specialty coffee scene.
Address: Cnr Little Bourke Street & Little William Street, Melbourne VIC 3000
Phone: +61 3 9642 2237
Hours: Mon-Fri 7am-4pm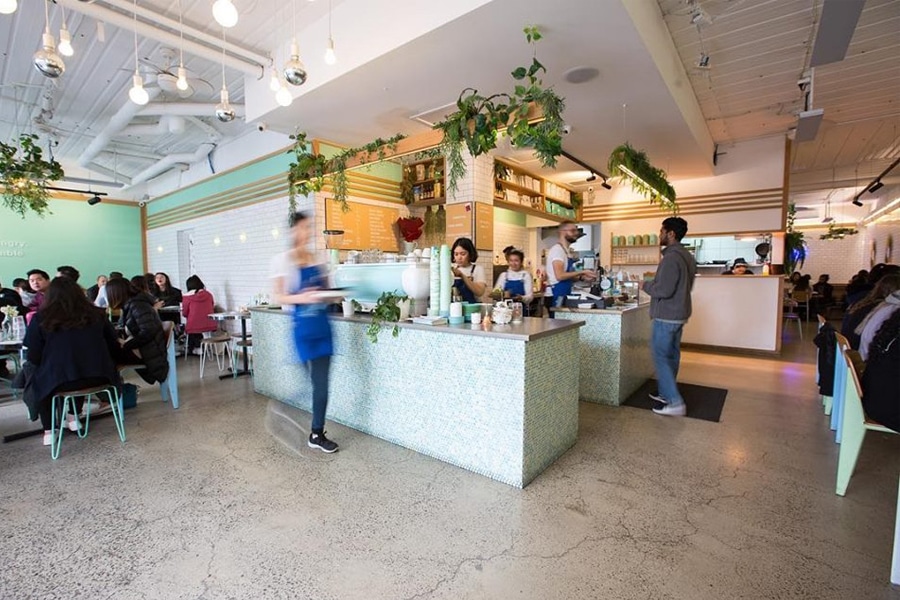 6. St Ali
While some people may consider the best coffee shops in Melbourne to be pretentious, St Ali believes themselves to be simply curious. Frontman Salvatore Malatesta says yes to things no one would have thought possible. In 2005 St Ali broke through the wall of specialty coffee in Melbourne and brought it to the masses. They are the original innovators, finding the rare finds and being led by the pursuit of the perfect product and process rather than by fads or trends.
Address: 12-18 Yarra Place, South Melbourne VIC 3205
Phone: +61 3 9686 2990
Hours: Mon-Sun 7am-6pm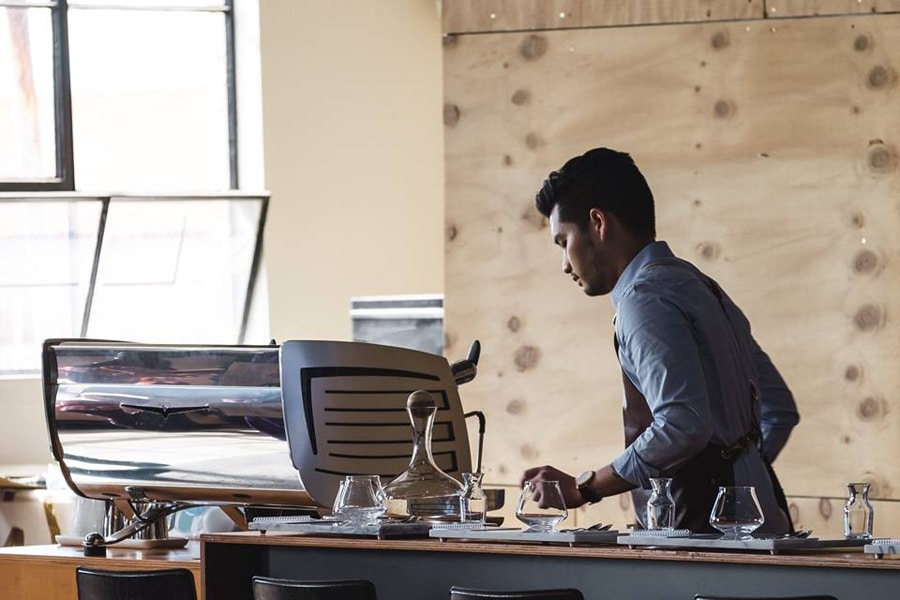 7. Proud Mary
Whether you visit for the fortnightly subscription, a one-off bag of delicious beans from El Salvador or just an exquisite cup of coffee from their in-house roasted blends, Proud Mary will provide you with some of the best coffee in Melbourne. They pride (that special Mary pride) themselves on delivering the good things in life. All-day breakfast, hearty lunches, fresh juices and homemade cakes are just a few of the things that complement their unparalleled coffee.
Address: 172 Oxford Street, Collingwood VIC 3066
Phone: +61 3 9417 5930
Hours: Mon-Fri 7am-4pm, Sat-Sun 8am-4pm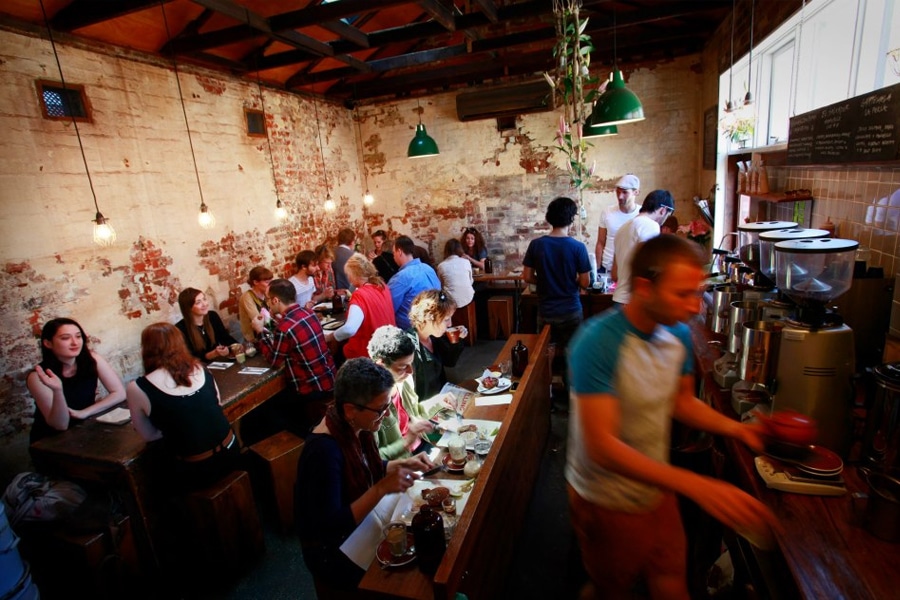 8. Monk Bodhi Dharma
Going to a boutique micro roastery is like travelling to the Italy to get the most authentic Italian cuisine – just without the flight, and for rich, authentic coffee. Monk Bodhi Dharma is one of the best coffee shops in Melbourne as they roast all their coffee in house and source seasonal and mostly single estate coffee through direct trade. Buy their seasonal coffee from the counter or let them roast it to perfection with your favourite brewing method.
Address: Rear 202 Carlisle Street, Balaclava VIC 3183
Phone: +61 3 9534 7250
Hours: Mon-Fri 7am-5pm, Sat-Sun 8am-5pm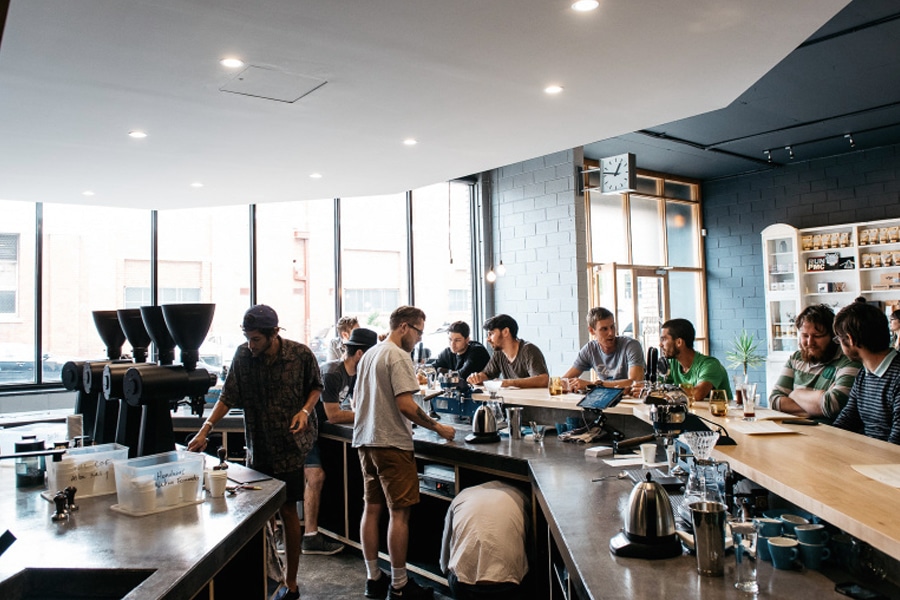 9. Aunty Pegs
Another Proud Coffee institution, Aunty Peg's serves some of the best coffee on the planet, let alone the best coffee in Melbourne. Aunty Pegs aims to be a welcoming, inclusive space in which your favourite coffee is brewed by a one-on-one barista. Their door is always open, their oven always on and their roasters exuding intoxicating coffee aromas.
Address: 200 Wellington Street, Collingwood VIC 3066
Phone: +61 3 9417 1333
Hours: Mon-Sun 9am-5pm
Aunty Pegs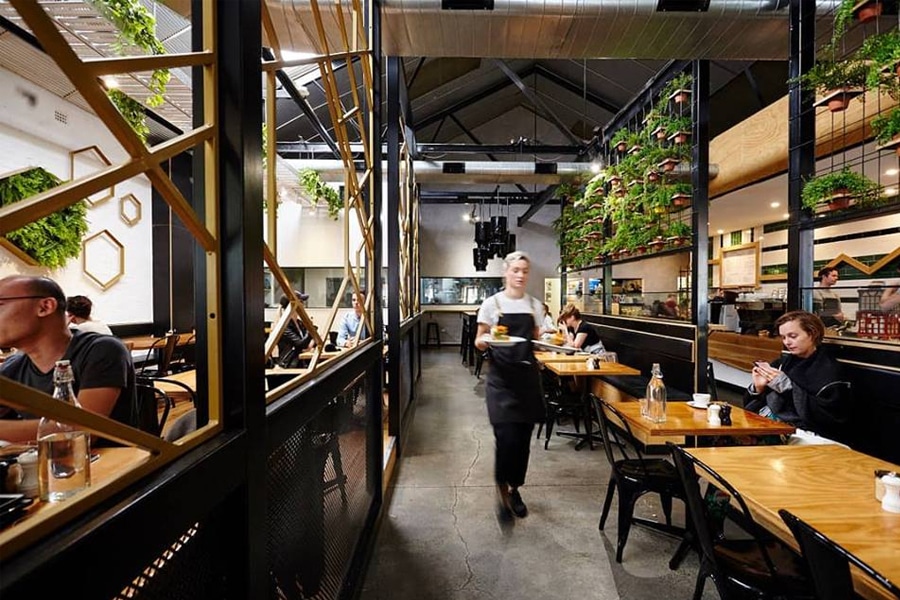 10. Axil
Axil promises a sustainably produced product that results in quality coffee in your cup. Their coffee is picked, roasted and served by hand to be enjoyed by you, mug in hand. Their baristas are always striving to learn more about the best coffee methods and products from around the globe, meaning you know Axil is one of the best coffee shops in Melbourne and beyond.
Address: 322 Burwood Road, Hawthorn VIC 3122
Phone: +61 3 9819 0091
Hours: Mon-Sun 7am-4pm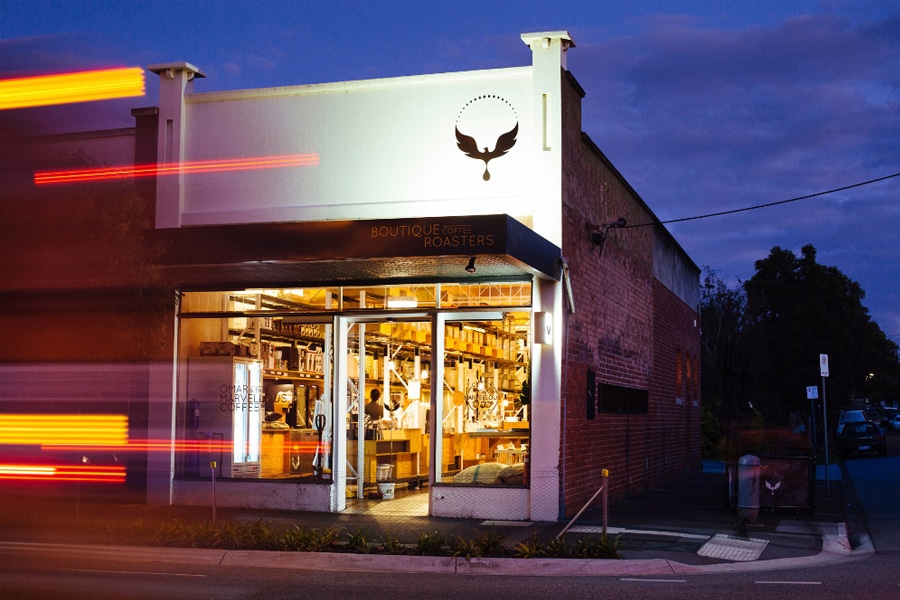 11. Omar and the Marvellous Coffee Bird
The traditional myth of the discoverer of the brew, Omar, inspires the founders of one of the top Melbourne coffee shops, Omar and the Marvellous Coffee Bird. Outcast and on the cusp of death, Omar received a bean-laden branch from a bird and upon boiling the beans and drinking the result was revitalised. Coffee is now the second most traded commodity in the world, inspiring drinkers and brewers around the world, none more so than founding owners Dean Atkins and Andy Gelman. They believe there should never be compromise on quality and if it's not the best it can be, they simply won't serve it. They want to get people excited about coffee and the many nuanced flavours that different beans and roasts elucidate.
Address: 124 Gardenvale Road, Gardenvale VIC 3185
Phone: +61 3 9596 4186
Hours: Mon-Fri 6am-4pm, Sat-Sun 7am-4pm
Omar and the Marvellous Coffee Bird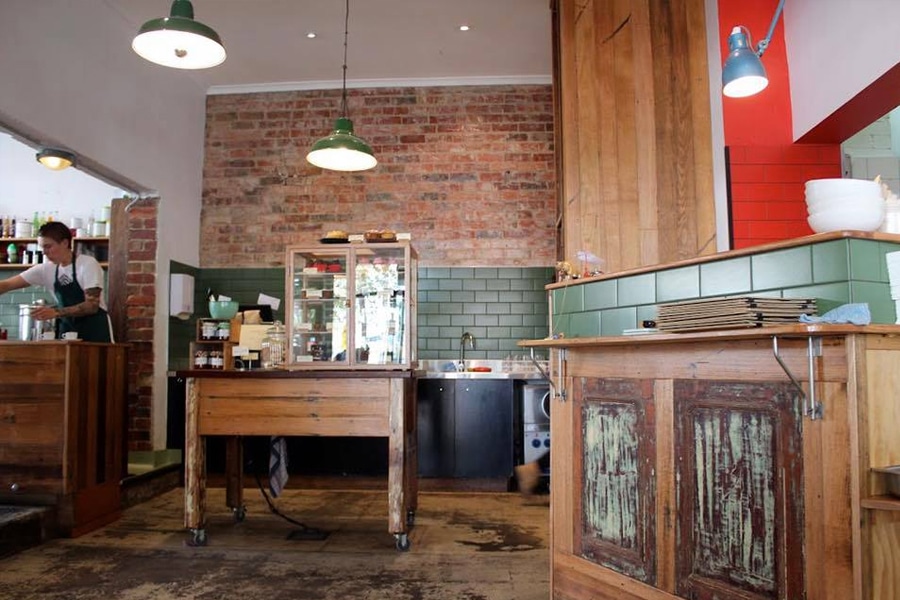 12. The Premises
If you want a cafe that understands the froth difference between a cappuccino and a flat white, with staff that don't scoff when you ask for your favourite South American blend, look no further than The Premises.  They've got the most scrumptious meals made with fresh, seasonal produce (the slow-roasted pulled pork with homemade chutney is a must) have friendly staff and of course some of the best coffee in Melbourne. Coffee industry veterans Alex Anderson and Kate Holloway use high quality beans from Seven Seeds and together with their team of baristas, create a homey cafe that is discerning with the top-notch coffee and food they serve, but not the customers they welcome. The premises might serve the best specialty coffee Melbourne has to offer.
Address: 202 Bellair Street, Kensington VIC 3031
Phone: +61 3 9376 7565
Hours: Mon-Fri 7am-3:30pm, Sat-Sun 8am-3pm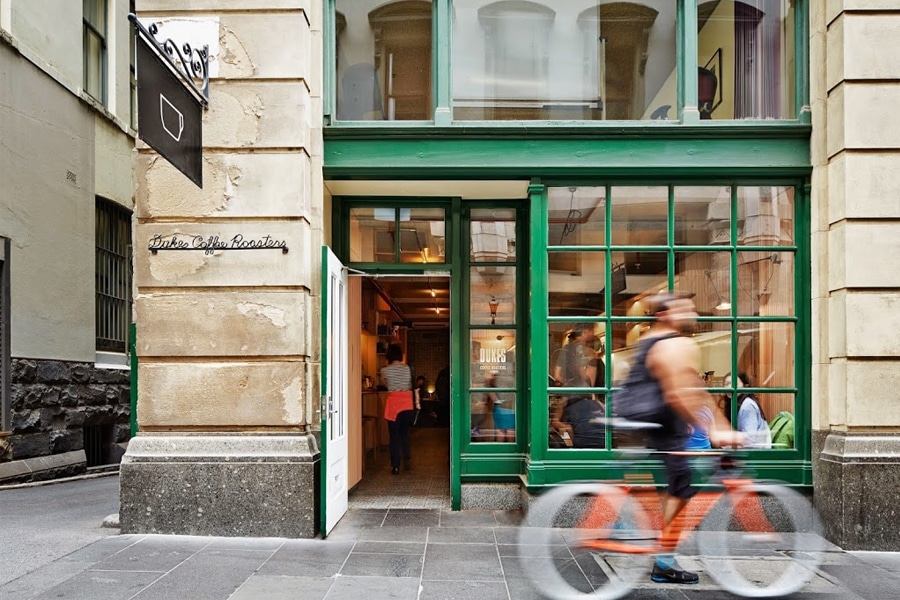 13. Dukes Coffee Roasters
Using the world's most innovative and methodic roasting practices isn't just what Dukes Coffee Roasters claim, it's what they do. They have the best selection of seasonal specialty coffee Melbourne has to offer. Their flagship store, Dukes at Ross House has been bringing Melbournians in the CBD their favourite coffees since 2013. All of their coffees are ethically traded and sourced from individuals farms or small cooperatives across Central and South America, Africa and Asia. They then roast fresh daily in Melbourne, producing the most intricate and delicate coffee flavours in the country.
Address: 247 Flinders Lane, Melbourne VIC 3000
Phone: +61 3 9417 5578
Hours: Mon-Fri 7am-4:30pm, Sat 9am-5pm
You'll also like:
The Best Coffee in Australia: 17 Shops and Brands You Need to Know
26 Different Types of Coffee Explained: A Complete Guide
General FAQ
Where can I find coffee near me in Melbourne?
Monk Bodhi Dharma, Axil and Dukes Coffee Roasters are just a few of the many coffee shops in Melbourne.
Where can I find the best coffee shop in Melbourne?
The Premises, Axil and Aunty Peg's serve some of the best coffee in Melbourne.
What makes a good coffee?
The preparation of the coffee beans themselves is important for a good coffee.