A Guide to Scotch Whisky Regions
You might fancy yourself an expensive single malt at the end of the day, but do you know your Scotland whisky regions? If not, we've put together a guide just for you. It covers the five whisky regions of Scotland (or is it six?), highlighting the qualities and characteristics of the spirits therein. From the smoky essence of Islay malts to the sweeter flavours produced by Northern Highlands' foremost distilleries, let's take a journey through this famously fruitful terrain, one region at a time.

According to The Scotch Whisky Association, there are five Scotch Whisky regions:
RELATED: Want to learn more about whisky? Check out our comprehensive guide to whisky here.
Does the Whisky Region Matter?
When it comes to flavours and profiles, there are definite overlaps between the various whisky regions of Scotland. However, don't take to mean each specific region doesn't render a unique influence upon the spirits produced within its borders. Hence, the short answer is yes, the whisky region matters, even if Scotland isn't all that large a country. To that end, everything from local production methods to terroirs to broader geographic factors will influence how the whisky smells and tastes.
Scotland Whisky Regions Map
Originally, Scotland broke down into four officially-recognised whisky regions: Highlands, Lowlands, Isle of Islay, and Campbeltown. Speyside was eventually brought into the fold and with good reason, as it has the country's largest number of distilleries. That raised the tally of unique regions to five, according to the Scotch Whisky Association (SWA).
Meanwhile, some folks consider the Islands—which refers to all the whisky-producing islands except Islay—to be a region unto itself. From an official perspective, however, the Islands make up part of the Highlands; more on that later.
Here's a map of Scotland's whisky regions: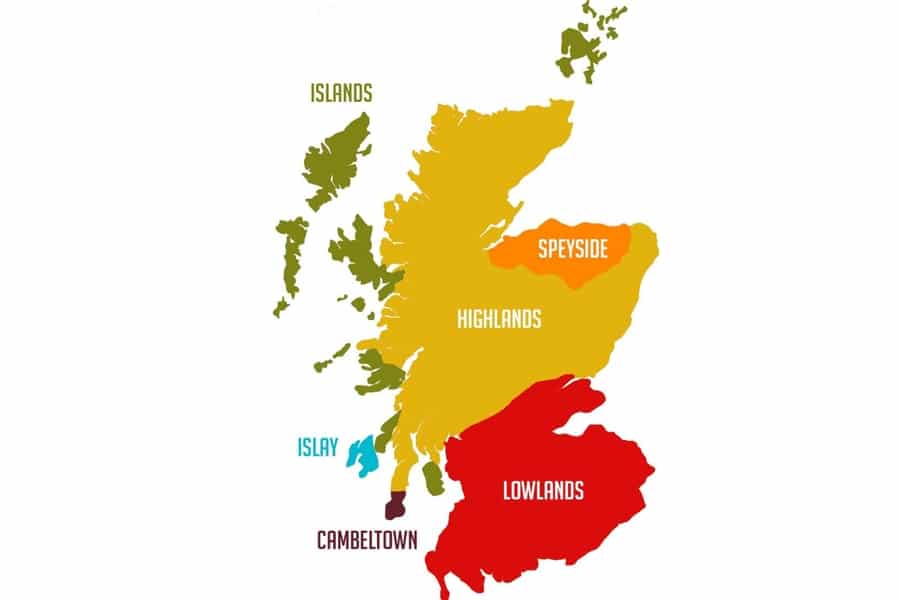 5 Whisky Regions of Scotland
As mentioned above, there are five official Scottish whisky regions and then one unofficial region. Being that most folks treat the Islands like its own region, we'll do the same, including it as a "bonus" toward the end. Also featured are some of the top distilleries from each respective whisky-producing region in Scotland. Let's get to it!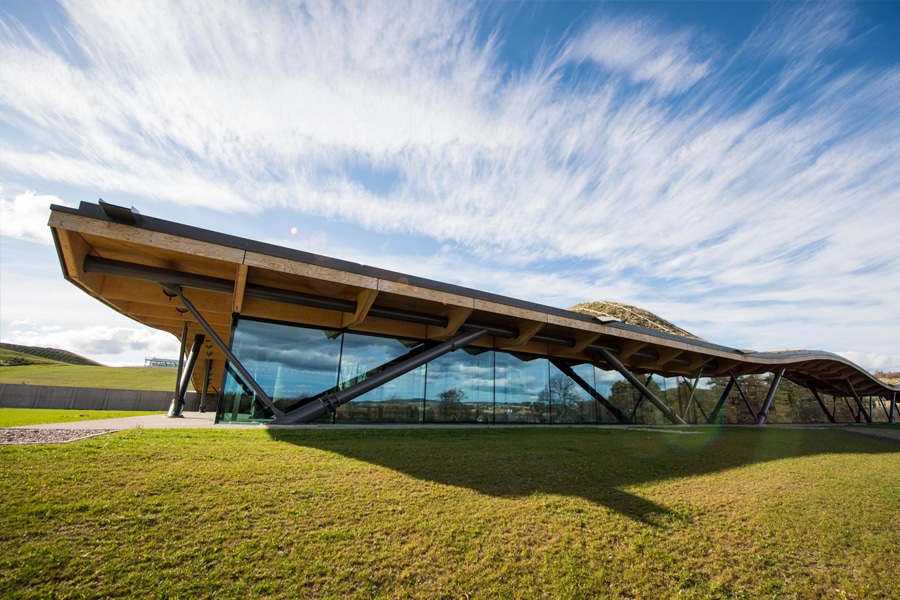 Speyside
Located at the northeastern end of Scotland, the Speyside whisky region is truly abundant in rivers, glens, history, and whisky. A veritable destination among locals and tourists alike, this heralded whisky-making region hosts about 60 per cent of the country's distilleries. As such, there's a ton of great stuff to be discovered here, including a number of smaller and lesser-known producers.
---
Featured Video from Man of Many
---
Along similar lines, you'll uncover a wonderfully diverse range of characteristics and flavours in these parts. That said, the region remains best-known for its well-rounded single malts, many of which undergo maturation in sherry casks. The use of peat is fairly uncommon in Speyside, though that doesn't mean you won't occasionally come across a smoky dram. Some of the region's best-known distilleries like The Glenlivet also deliver lighter and grassier fare.
Typically, most Speyside whisky is fruity, sweet, and nutty, featuring notes of apple, honey, vanilla, and spice. You can also expect to find the kind of malted barley essence that's synonymous with most Scotch whiskies. It all amounts to a classic and palatable spread of single malts, making the region itself ideal for novice drinkers and seasoned sippers and everyone in between.
Top 5 Speyside Distilleries:
The Macallan
Glenfiddich
Aberlour
Glenfarclas
Balvenie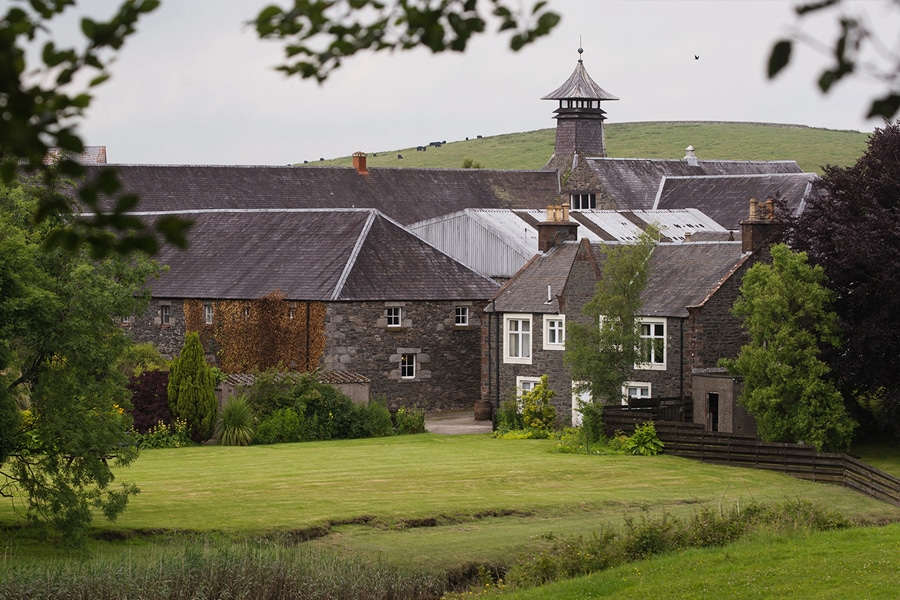 Lowlands
In the simplest terms, any (land-bound) distillery that's south of the Highlands and north of England classifies as a Lowlands distillery. From the perspective of pure land-mass, this region is the country's second-largest, though it doesn't have many distilleries to show for it. However, more and more operations continue to pop up, so that all might change over the course of subsequent years.
Generally, this region is synonymous with lighter and grassier whisky, most of which eschews peat. Because of the inland (i.e. non-coastal) geography, Lowlands whisky also tends to be absent of maritime notes like salt or brine. And while each distillery in the region used to practice triple distillation, Auchentoshan is the only one that still employs the method on each and every one of its expressions, thereby lending them an edge of citrus flavour.
If you like Scotch whisky of a smooth and somewhat neutral variety, then there's probably a Lowlands single malt out there with your name on it. Lingering just beneath the mellow veneer will be notes of cream, grass, cinnamon, and ginger. This region is also home to the 'Lowland Ladies,' a group of whiskies that famously impart with light and floral characteristics.
Top 5 Lowlands Distilleries:
Auchentoshan
Glenkinchie
Bladnoch
Daftmill
Girvan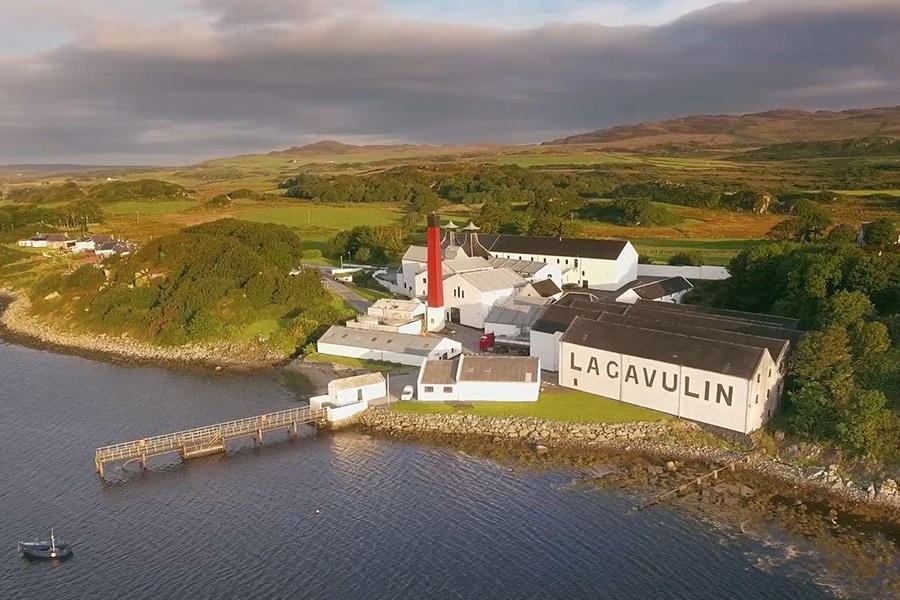 Isle of Islay
To summarise the whiskey from this island region in a word: peaty. Odds are you've smelled an Islay malt and then either recoiled or engaged, depending on your personal palate. Speaking strictly for ourselves, we love few things in life more than a smoky Islay malt. Rife with layers of complexity and character, the region's best expressions start at the mouth and go straight down to the ends of one's toes.
Due to Islay's rugged coastal terrain and windswept climate, it's a miracle there are any distilleries here at all, let alone nine of them. And what distilleries they are, hence the loyal and growing worldwide fanbase. Indeed, ask three devoted Scotch-lovers about their favourite dram and at least one of them will say "Lagavulin 16" in return. It's a show-stopper, gentlemen.
Suffice it to say, you'll know an Islay single malt at first whiff, as a blast of peat smoke hurdles up your nostrils. From there, your mileage may vary, as each distillery tends to have its own calling card. On some expressions, you'll pick up huge notes of iodine, chocolate, and ocean salt, while others play with pepper and moss to glorious effect. Try them all before deciding which one you like best, presuming you have a penchant for peat.
Top 5 Islay Distilleries:
Laphroaig
Lagavulin
Ardbeg
Bowmore
Bruichladdich

Campbeltown
What was once the self-proclaimed "whisky capital of the world" isn't exactly that these days, though the Campbeltown region is still good for a quality dram. At one point in time, there were over 30 distilleries in this remote town. Alas, that number is currently down to just three.
Nevertheless, the three distilleries still doing their thing are doing it quite well. In turn, the whisky strikes a properly distinctive accord, interweaving choice notes of dried fruit, vanilla, toffee, and brine within a dry and pungent body.
Top (and Only) 3 Campbeltown Distilleries:
Springbank
Glengyle
Glen Scotia

Highlands
As the largest whisky-producing region in Scotland, the Highlands accordingly delivers an epic range of flavours and characteristics. Because there's so much diversity to grapple with, most folks break the region down into four sub-regions, each of which has its own style of whisky.
The Northern Highlands is best known for its sweet and full-bodied single malts from labels such as Dalmore and Glenmorangie. Meanwhile, Eastern Highlands and Southern Highlands whiskies tend to be a tad lighter in texture than their Northern counterparts. Then there are Western Highlands distilleries such as Oban, which retain a much peatier influence.
As if this region's overall landmass weren't impressive enough, it's actually even bigger than most whisky maps might suggest. Technically, neighbours like Speyside and the Islands are both sub-regions of the Highlands. In fact, when you bring Speyside into the fold, you end up with about 85% of all the whisky production in Scotland.
For the sake of this guide, we'll treat the Highlands region as an entity that exists separate from Speyside or the Islands. Trust us when we say there are still tons of great distilleries to find within these parts, some of which dominate in both Scotland and around the world.
Top 5 Highlands Distilleries:
Oban
Glendronach
Glenmorangie
Dalmore
Aberfeldy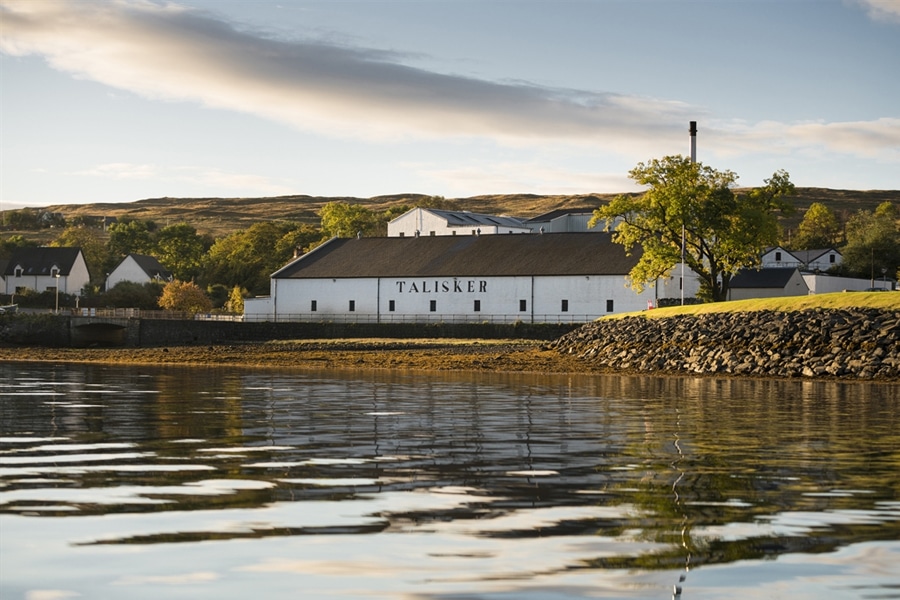 Bonus Region: Islands
We know, we know: there are supposed to be five whisky regions in Scotland (as per the SWA). What's up with this "bonus" sixth region called the Islands? The answer is pretty straightforward. Officially, the Islands is regarded as a sub-region of the Highlands, perhaps because the two words rhyme, though it more likely has to do with proximity.
It might also have to do with the fact that the Islands itself is a rather vague term, which describes a number of separate islands surrounding mainland Scotland. To be even more specific, if any of Scotland's 800 islands produce whisky and don't go by the name of Islay, then they're considered part of the Islands region.
As you can probably guess, there's a fair amount of diversity between the various Islands distilleries. However, there's also some consistency such as the presence of salinity and peat, making these whiskies loosely similar to Islay single malts. The profiles get broader from there, touching down on herbal, sweet, citrusy, and nutty characteristics. It's all lying in wait, should you go hopping from one island to the next by way of bottle or dram.
Thanks to their brilliant output, Islands distilleries like Talisker and Highland Park are hugely popular the world over. Put it all together and you end up with a region that's official in everything but designation, and well worth your time.
Top 5 Islands Distilleries:
Highland Park
Talisker
Arran
Jura
Skye
Interested in more Scotch whisky stories? Here are a few stories to get you started:
Alternatives to the Scotch Whisky Regions Guide
Whisky Guides
Whisky Types
Whisky Prices
Whisky Releases
Whisky Sales
You'll also like:
General FAQ
What are the 6 Whisky producing regions of Scotland?
The six whisky-producing regions in Scotland are the Highlands, Speyside, Lowlands, Campbeltown, Islay, and Islands.
What distilleries are in the Highlands of Scotland?
The top 5 whisky distilleries in the Scottish Highlands are Oban, Glendronach, Glenmorangie, Dalmore, and Aberfeldy.
---
Featured Video from Man of Many