The Johnnie Walker Whisky Hierarchy Explained
Even if you're a novice Scotch whisky drinker you've probably heard the name "Johnnie Walker" before. You might not even realise what type of whisky it is, but at least if someone says that name you can nod and smile as if you know what you're talking about. Well, after today, you'll be able to do much more than that. You might even be able to hold full conversations about the whisky brand, and better yet, it won't matter what level of whisky drinker you wind up speaking with.
This is because Johnnie Walker has colour-coded labels designating the different levels. It begins with Red Label, the cheapest, and moves on to Blue Label (one of the most expensive) and beyond. The brand keeps things easy with a range that starts with the cheapest, bargain expressions and ends at highly sought-after, expensive, award-winning drams. We suggest starting at the beginning and working your way up as your palate and expertise grow.
Johnnie Walker Hierarchy
Johnnie Walker Label Order
You have to start somewhere. Keep reading to see a simple explanation of the Johnnie Walker hierarchy from Red to Blue and beyond. You'll be happy you did.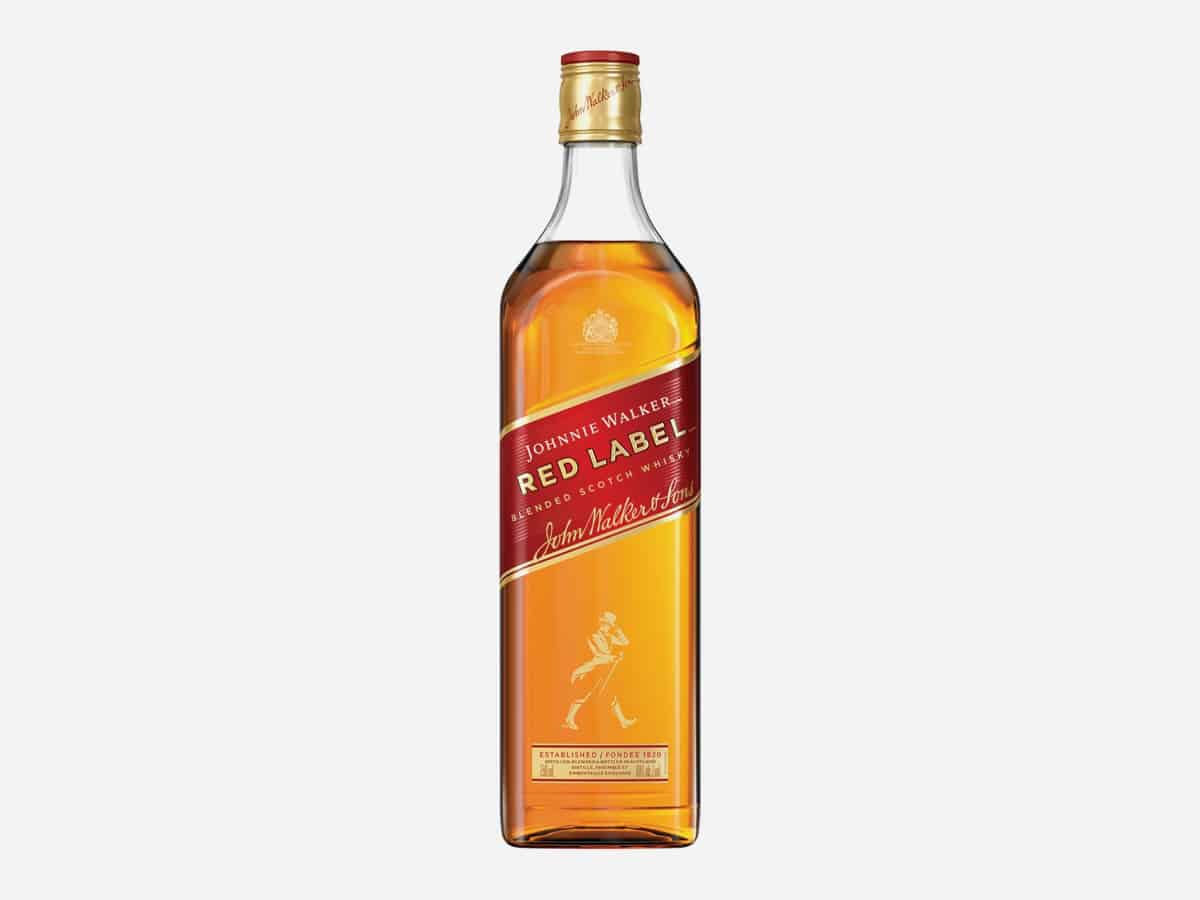 Johnnie Walker Red Label
The lowest, most inexpensive level of Johnnie Walker is the popular Red Label. This no-age-statement blend of grain and malt whiskies isn't known for its nuanced, sippable flavour profile. Primarily used as a mixer, it's been one of the best-selling blended whiskies for almost 100 years. It's known for its mix of honey, vanilla, and citrus, and its warming, borderline harsh finish. This is a classic mixer and that's all there is to it.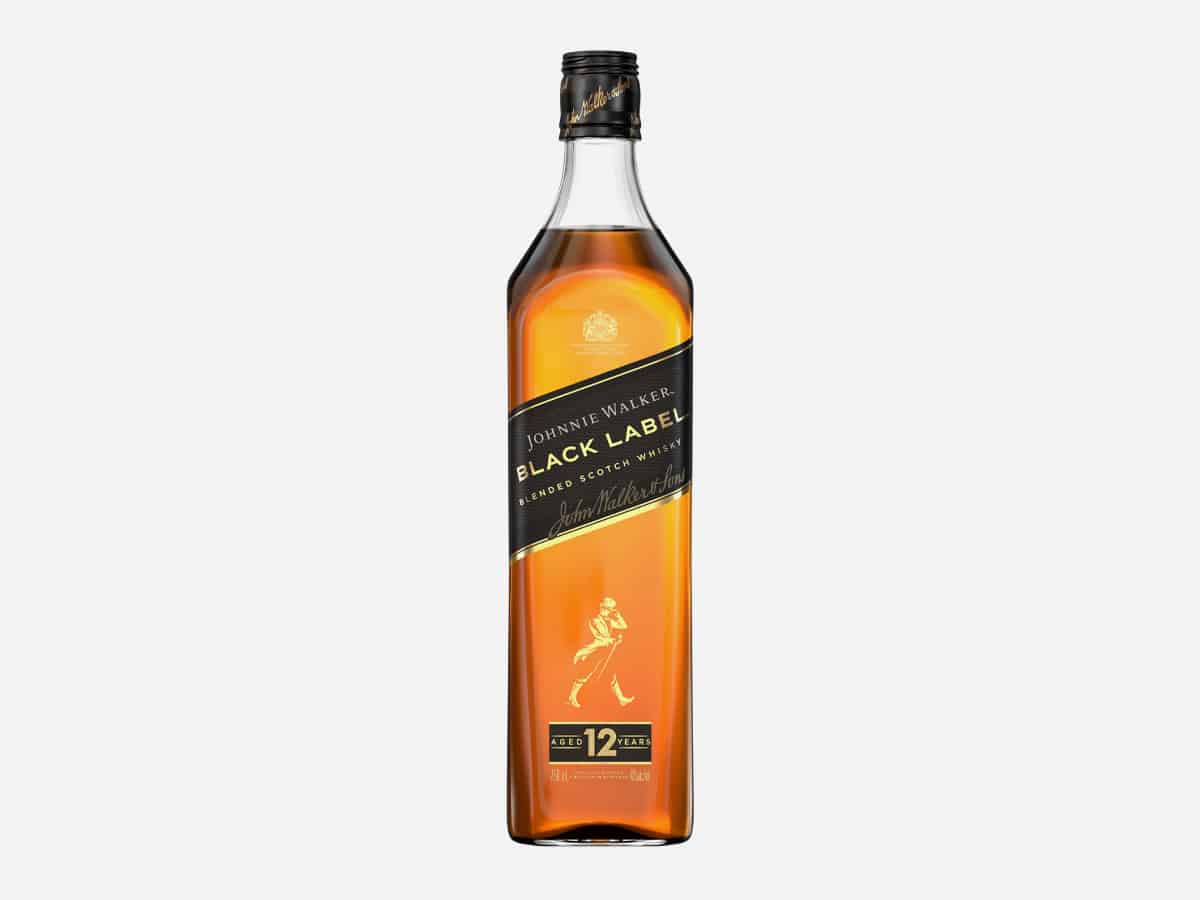 Johnnie Walker Black Label
The first bargain label you'll want to sip is Johnnie Walker Black Label. This blend of grain and single malt whiskies was matured for a minimum of twelve full years. The whiskies are drawn from distilleries throughout the country, giving it a broad, complex, balanced flavour profile featuring dried fruits, toasted vanilla beans, sweet treacle, and just a hint of smoke at the very end.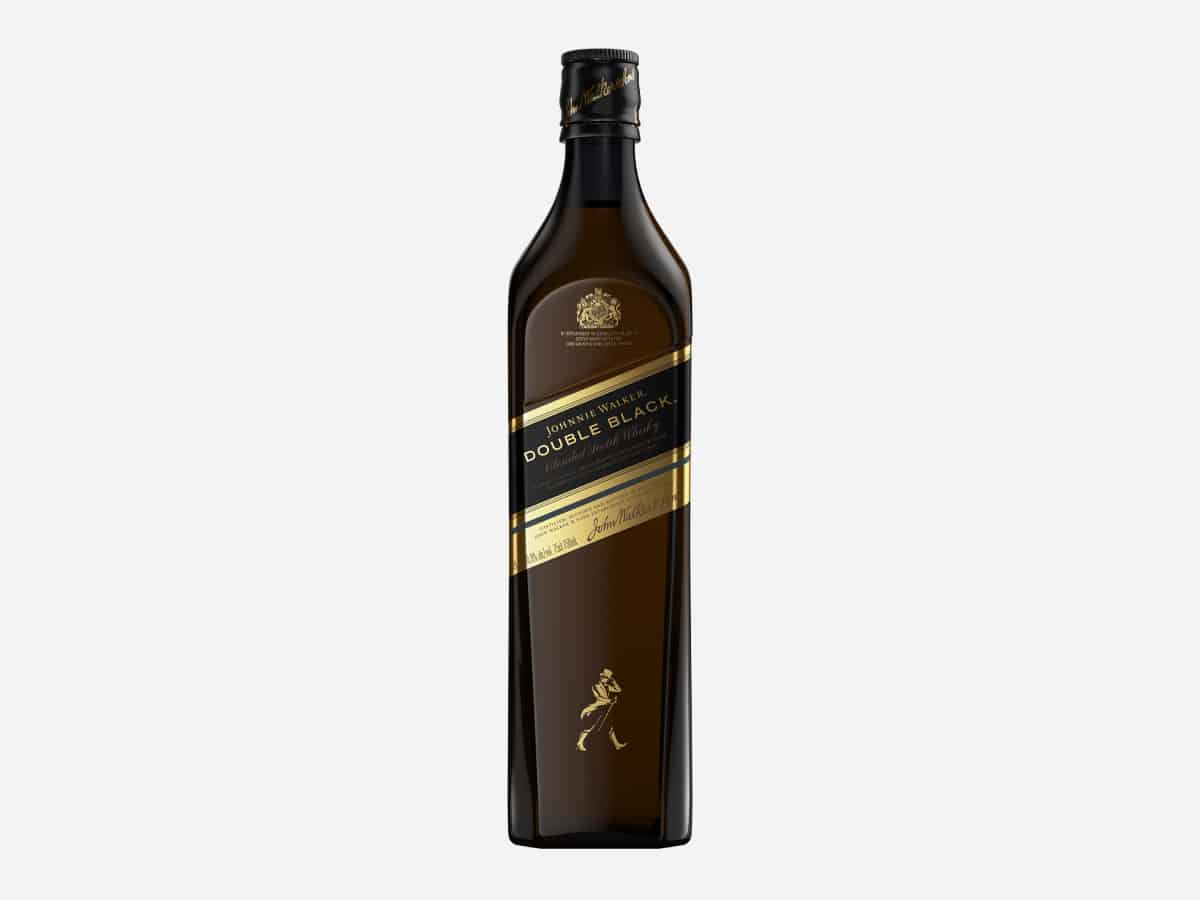 Johnnie Walker Double Black
First released to the public in 2011, Johnnie Walker Double Black is Black Label for fans of smoke. While the original Black Label finishes with a hint of smoke, Double Black is a peat monster. This blend of grain and single malt whiskies is centred on distilleries on Scotland's west coast. The blend begins with smoky, peated whiskies that are matured in heavily charred oak barrels. Smoky, sweet, and exceptionally indulgent. This is a not to be missed blend.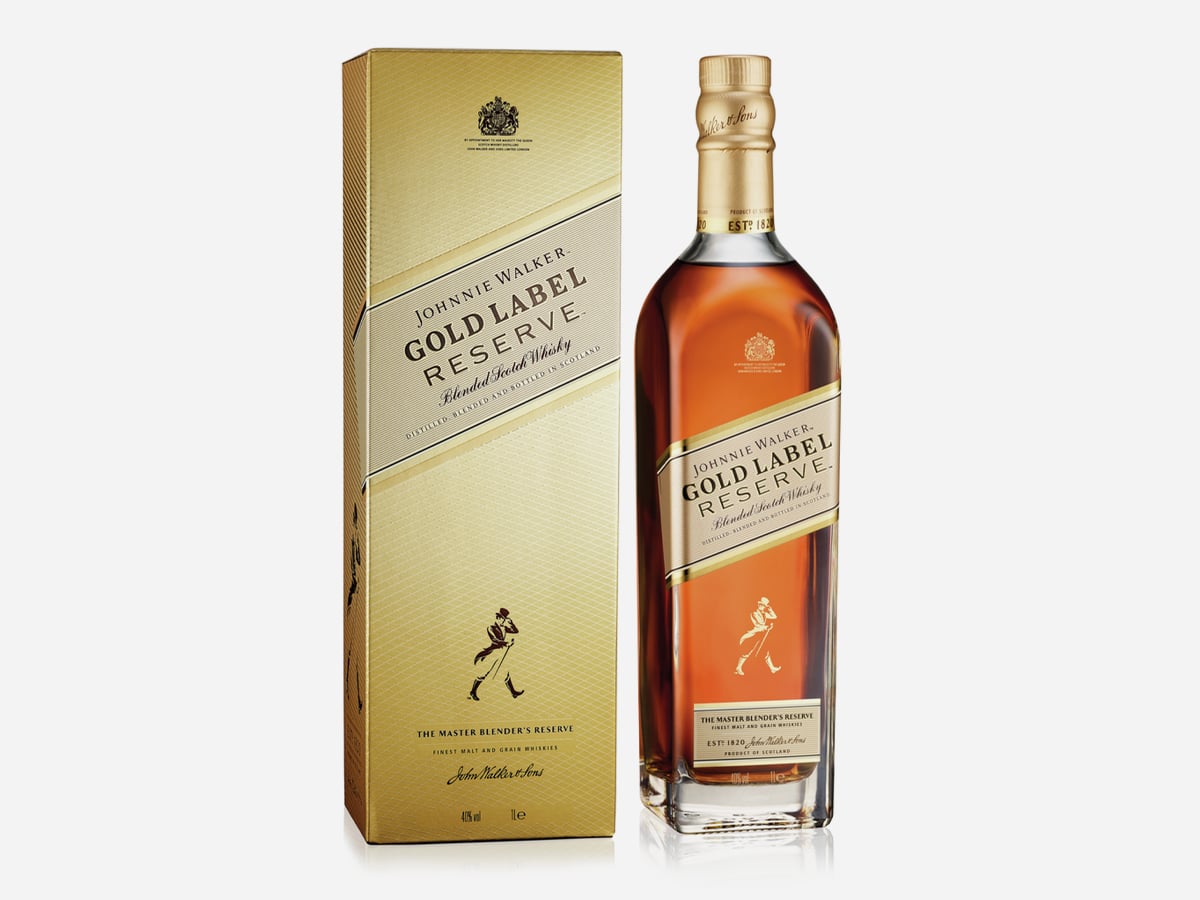 Johnnie Walker Gold Label Reserve
This blend of more than fifteen single malts and single-grain whiskies was originally created using Alexander Walker's blending notes and was launched to celebrate the brand's centenary. Once labelled as an 18-year-old blend, it now carries no age statement. That being said, it's a complex, flavourful blend loaded with aromas of honey, heather, and wood. Drinking it reveals flavours like vanilla beans, toffee, dried fruits, and a gently smoky, memorable finish.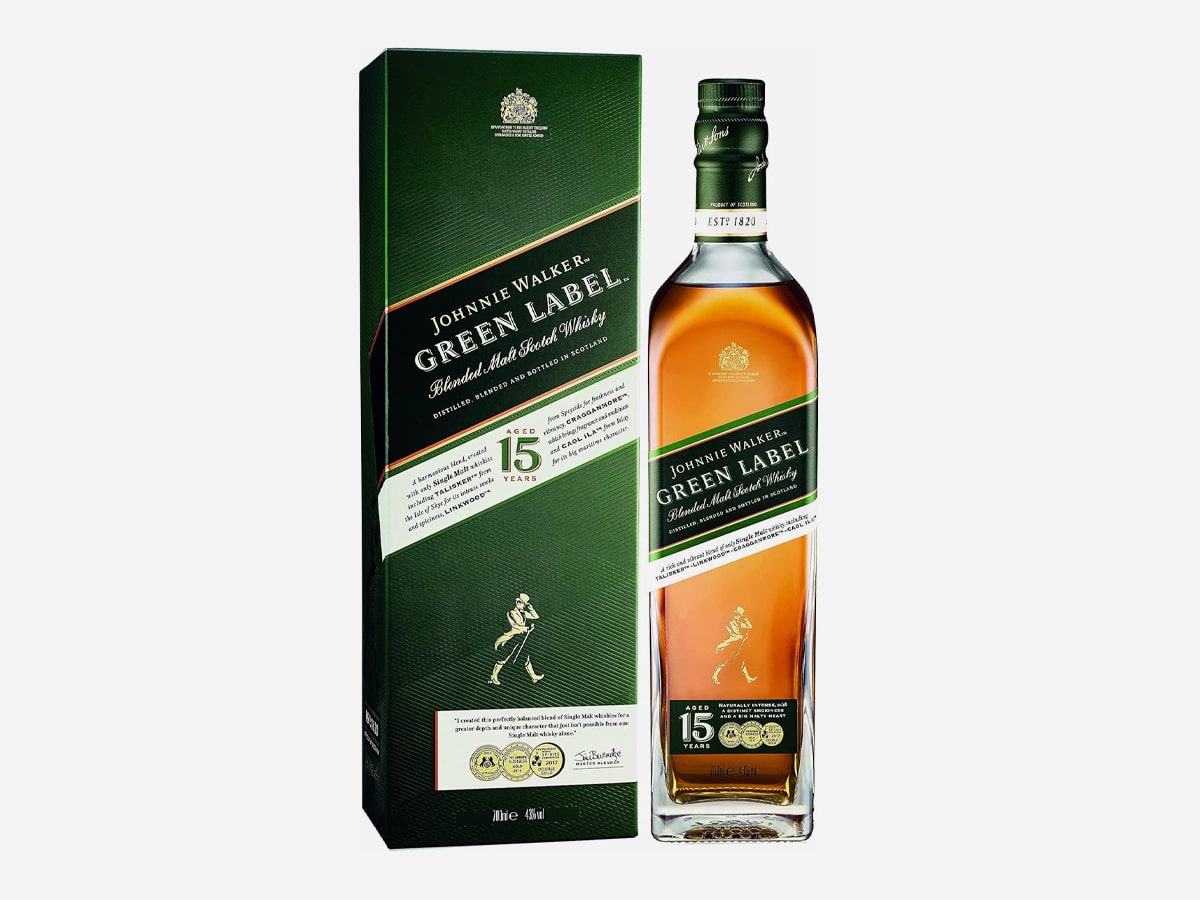 Johnnie Walker Green Label
This award-winning blend of single whiskies only (no grain whiskies are included in this blend) carries an age statement of fifteen years. It's made up of distilleries under the Diageo name from all over Scotland. The result is a surprisingly complex, balanced, flavourful whisky with a welcoming nose of honey, fresh flowers, and fruit. One sip will transport you to a world of rich oak, sweet vanilla, candied orange peels, salted caramel, and a nice kick of peat smoke. Sweet, smoky, and perfect for slow sipping on a cool evening.
---
Featured Video from Man of Many
---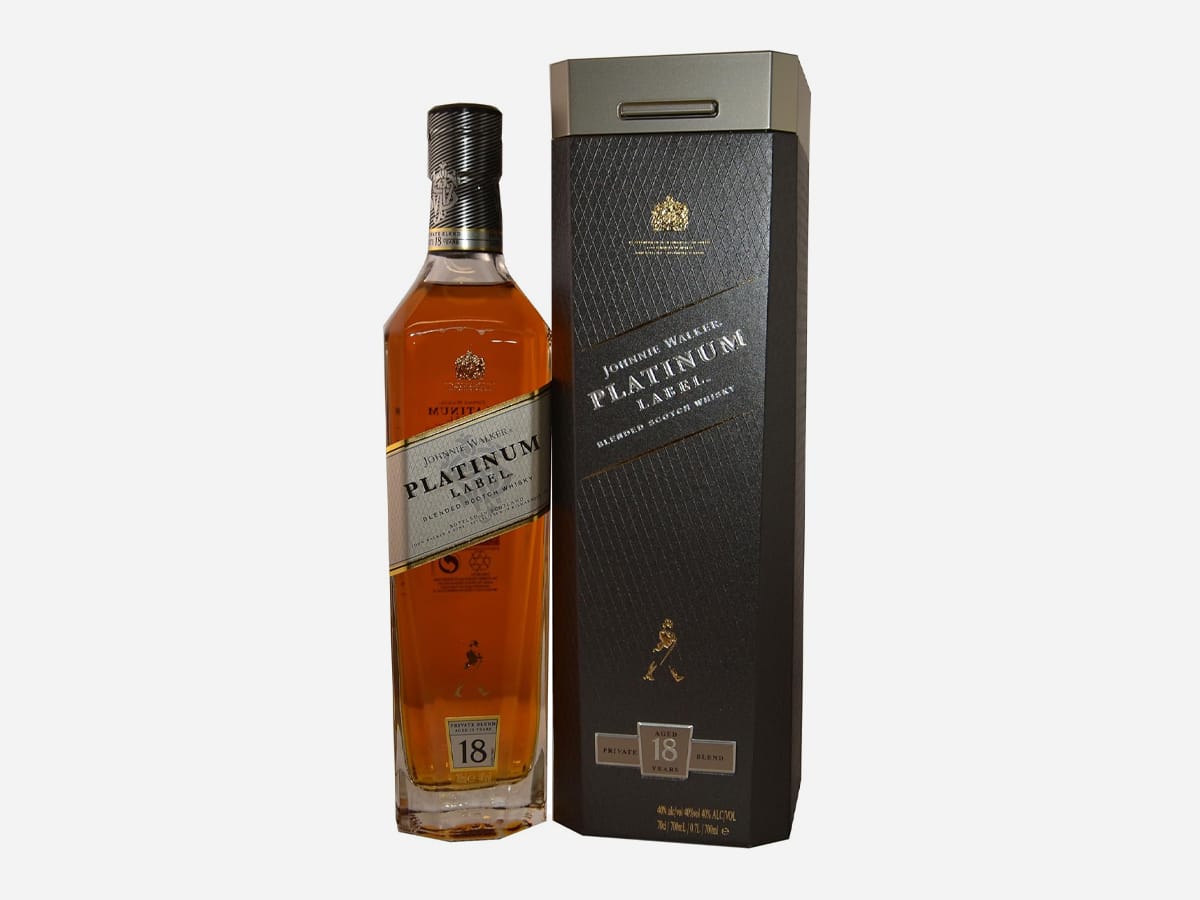 Johnnie Walker Platinum
When you get to the Platinum Level, you're starting to get to high-level, fairly expensive bottles. Johnnie Walker Platinum is made to pay homage to the classic private blends that have been made for family and friends of Johnnie Walker. This blend is a mix of whiskies that have all been matured for a minimum of eighteen years. A nose of almond cookies and dried orange peel greets you before your first sip. Drinking it is like enjoying a symphony of candied nuts, orange zest, toasted vanilla beans, butterscotch, and just a wisp of peat smoke at the finish.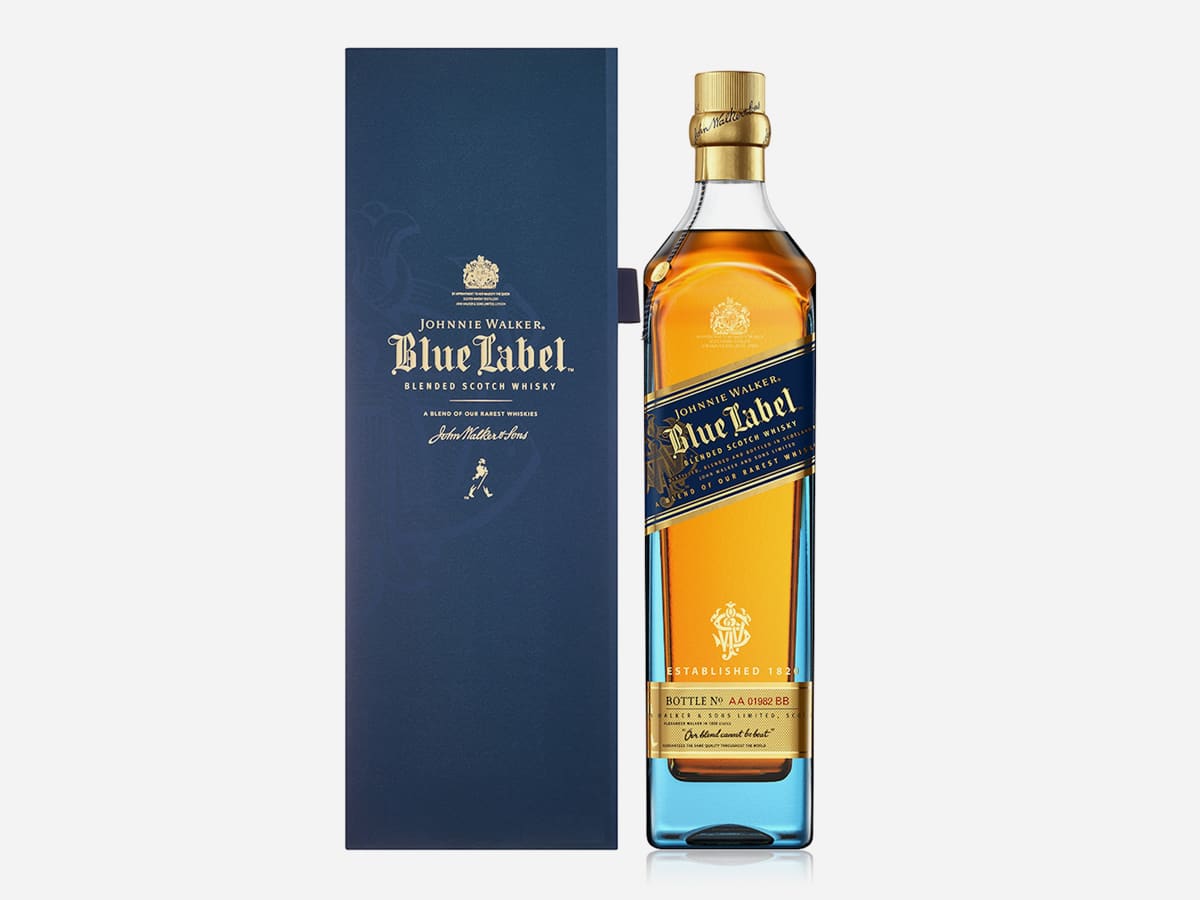 Johnnie Walker Blue Label
One of the most coveted and well-known Johnnie Walker varieties is Johnnie Walker Blue. While this expression carries no age statement, it's a blend made from some of Johnnie Walker's rarest and most special barrels. It's known for its mellow, smooth, indulgent flavour profile. It all begins with a nose of vanilla beans, clover honey, and gentle wintry spices. Sipping it brings forth notes of hazelnuts, dark chocolate, sticky toffee pudding, and gentle campfire smoke. It's the kind of whisky you'll want to sip slowly, adding a drop or two of water along the way to help open it up.
Other Johnnie Walker Levels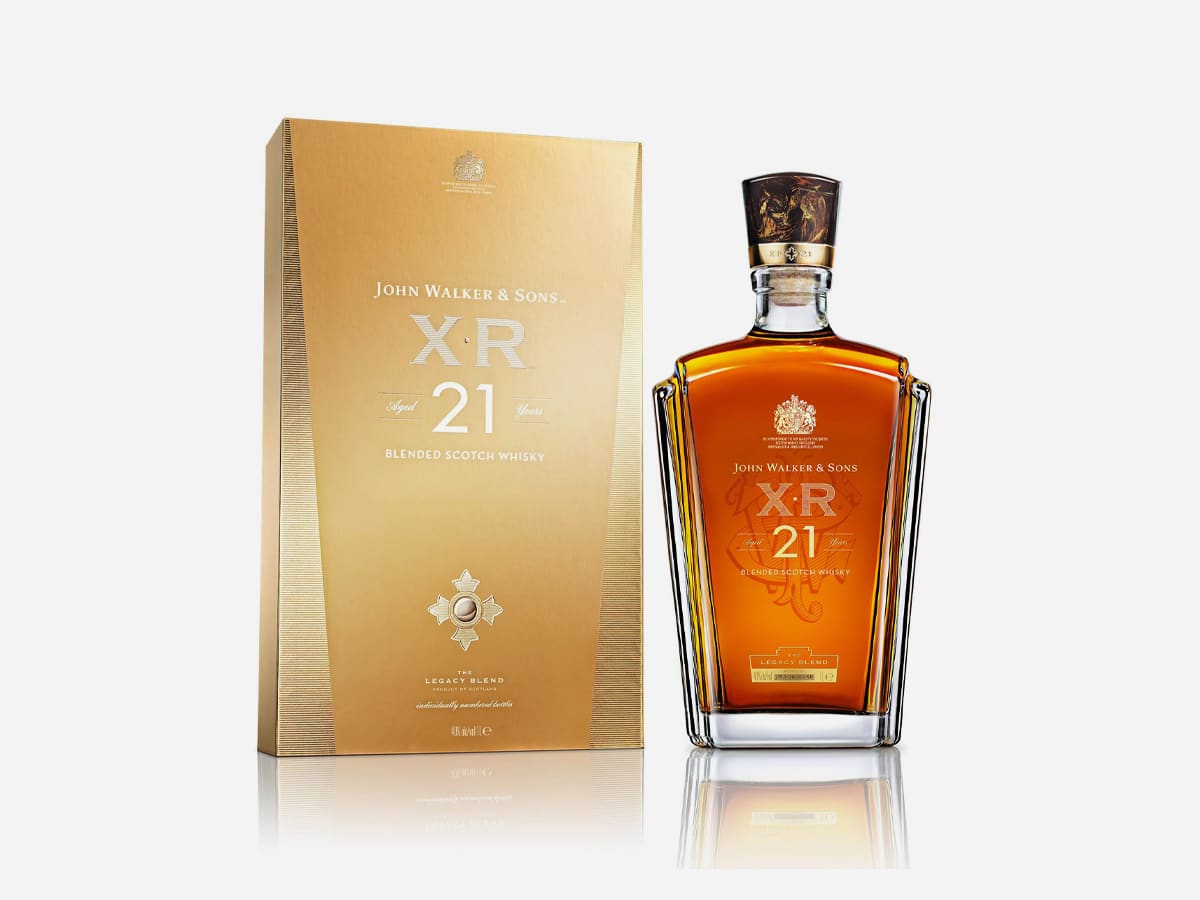 John Walker & Sons
John Walker & Sons is a range of exclusive blends. One example is John Walker & Sons XR 21, a blend of exclusive, rare whiskies that have all been matured for at least 21 years. John Walker & Sons Private Collection 2014 is a limited-edition blend made from only 29 specially selected barrels. It's well-known for its bold, robust, smoky flavour profile. These aren't the only whiskies in this range though. There are many rarer and limited-edition expressions as well.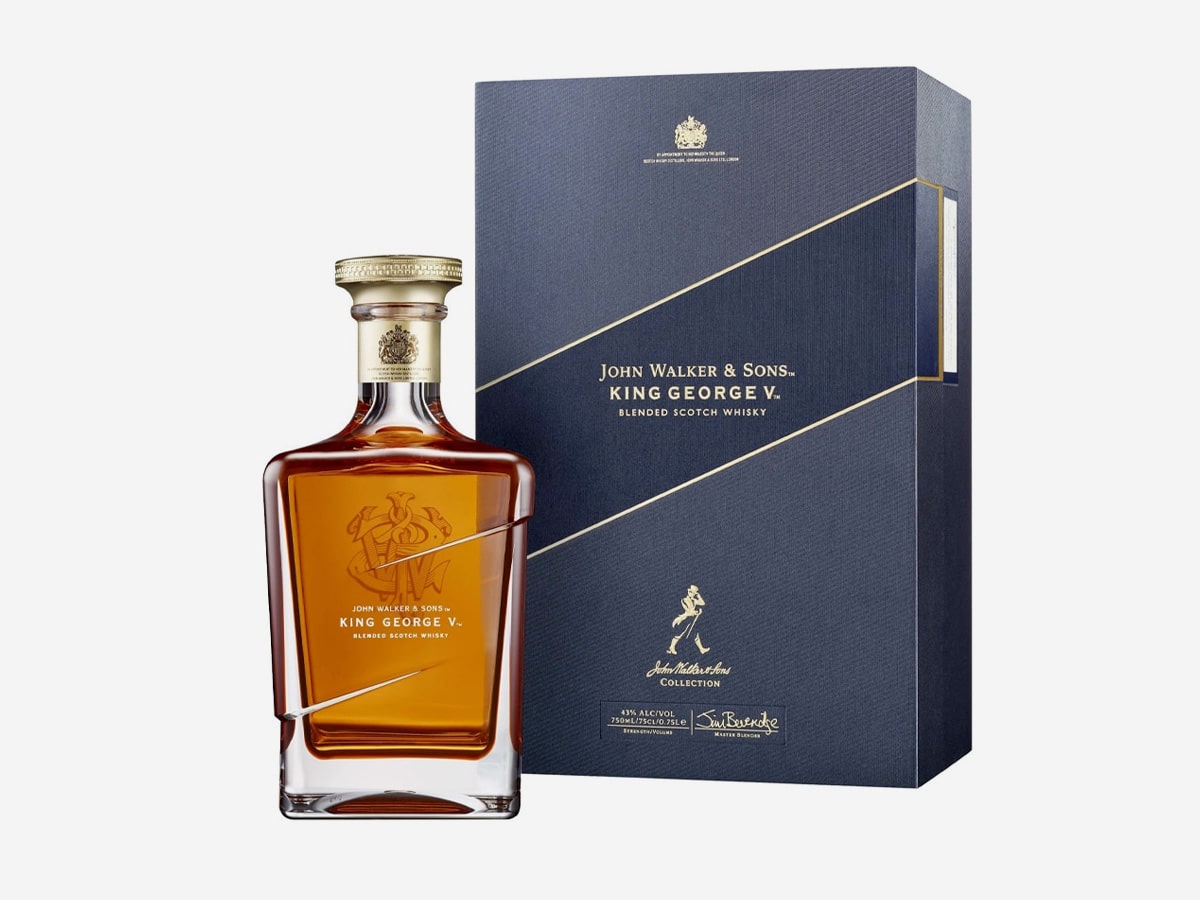 Johnnie Walker King George V
This blend was created to pay tribute to John Walker & Sons receiving its first Royal Warrant from King George V back in 1934. It's a blend of Johnnie Walker's rarest whiskies, including those from the now-closed Port Ellen Distillery (although it's opening again soon). It all begins with a nose of salted caramel, orange peels, raisins, and cinnamon before moving into a palate of vanilla beans, candied nuts, toffee, and dried fruits. The finish is a mellow, warming mix of sweetness and peaty smoke.
Johnnie Walker Master's Edition
This is one of the most unique, expensive whiskies you're going to find from Johnnie Walker. This is a blend of the rarest whiskies in Diageo's portfolio, each aged for at least fifty years (yes, you read that right). Only 100 bottles were ever made of this truly unique whisky. Bottled in Baccarat Crystal, it's known for its flavours of caramel apples, vanilla, honey, spices, and gentle smoke.
What You Need to Know About Johnnie Walker
For those unaware, Johnnie Walker is a line of blended Scotch whiskies. The blends are a melding of grain and malt whiskies from various distilleries under the Diageo umbrella. Named for a former grocer named (you guessed it) John Walker, the brand was founded in Kilmarnock in 1820. There's a big reason you know the name even if you're not a big whisky drinker. That's because it's the top-selling blended whisky in the world.
Scotch whisky in general might seem overwhelming for novice drinkers. There are single malt whiskies, grain whiskies, blended whiskies, and more. There are also currently more than 140 distilleries crafting whisky in Scotland (with many more opening soon). That's enough to get someone to be wary of even getting started. But as daunting as it seems, Johnnie Walker is a great brand to start with.
Johnnie Walker FAQs
Which Johnnie Walker is the most expensive?
Jonnie Walker & Sons Diamond Jubilee is the most expensive expression made by the brand. If you can even find a bottle, expect to pay more than $250,000. Released in 2012 to celebrate Queen Elizabeth's sixty years on the throne, all whiskies included were distilled before 1952. This sublime whisky is known for its nose of honey, caramel, and vanilla and palate of toasted vanilla beans, creamy caramel, and light campfire smoke.
What are the levels of Johnnie Walker?
There are various levels of Johnnie Walker blends. The lowest level and also the cheapest and least nuanced in Johnnie Walker Red Label. The range slowly works its way up to Black Label, Double Black, Gold Label Reserve, Green Label, Platinum, Blue Label, and beyond.
Which Johnnie Walker label is the best?
It's difficult to pinpoint which Johnnie Walker label is the best as it all comes down to your ideal price-to-flavour ratio. Some ridiculously old, expensive blends are fantastic. But if you're going for value to quality, you can't beat Johnnie Walker Blue Label with its mellow mix of sweetness and smoke.
Why is the Johnnie Walker Blue label so expensive?
Johnnie Walker Blue might seem expensive if you're new to whisky and if you look at Johnnie Walker's range as a whole. It's expensive because it's a blend of some of the rarest whiskies in Diageo's portfolio. While the brand doesn't list the age of the whiskies in the blend, it's believed that the youngest whiskies included are around 28 years old with the oldest maturing as long as 60 years. It's a truly decadent, easy-drinking, memorable blended whisky that you'll go back to again and again (as long as you can afford the price tag of around $200-250).
---
Featured Video from Man of Many