You might not immediately recognise the name Sir Peter Blake, but you definitely recognise his work. Since the 1950s, the British artist has been exploring the threshold between pop culture and fine art across a slew of mediums. His singular vision has led to some truly iconic output, including the cover design for a little album called "Sgt. Pepper's Lonely Hearts Club Band." Perhaps you've heard of it. And with The Macallan's Anecdotes of Ages Collection of fine whisky, Blake's brilliant legacy lives on.
Consisting of 13 unique bottle designs, The Macallan's new limited edition range represents their third collaboration with Sir Peter Blake in as many decades. Each label, signed by Sir Peter Blake, features vivid collage art and tells a unique story that was inspired by the distillery's local geography and long history. That's counter-balanced by the classic but unexpected qualities of the juice within, which was crafted as a direct nod to Blake's similarly distinctive character.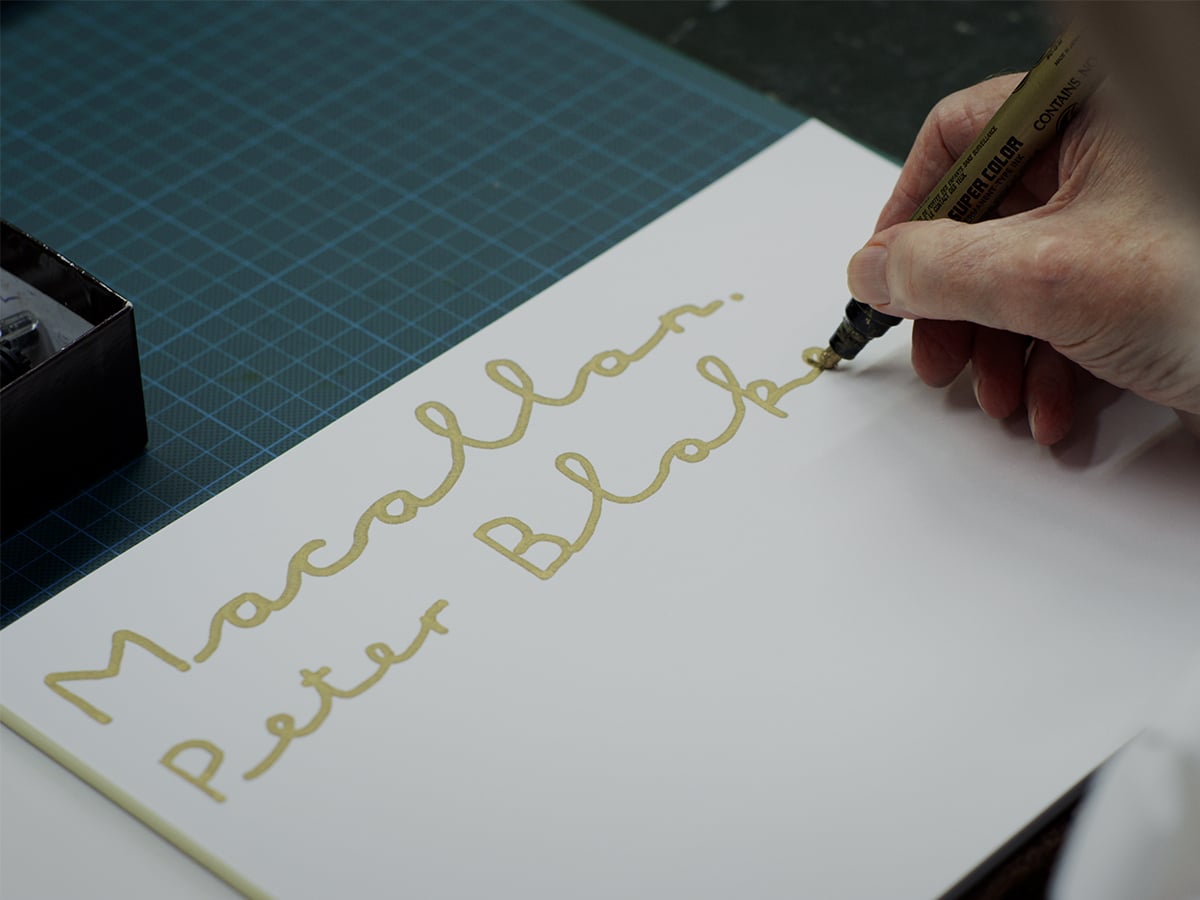 When creating the whisky, the distillery carefully chose from select casks so as to achieve a complex but balanced profile. Cinnamon in colour, it opens on a nose of dried fruit and spice with aromatic accents of orange and clove. Dried fruit carries through to the palate, where it's joined by surprising notes of cracked pepper and treacle along with hints of vanilla and orange oil. The rich and oaky finish layers in cinnamon and chocolate to leave a warm and toasty essence in its wake.
The Anecdotes of Ages Collection is an art exhibition in bottle design. Then we have the whisky within, which one could likewise describe as a work of art. Indeed, crafting an identifiable single malt often requires the same set of skills that a veteran artist might employ, blending various components and influences to create a unique and seamless whole. And like a work of art, the whisky is part of a thriving heritage, even as it stands on its own two feet.
The Macallan has also released a Virtual Art Exhibit through their website as an accompanying experience. After a short introductory video, viewers are welcomed into an immersive digital art gallery. Using keyboard controls, one can navigate their way through the room, stopping to gaze upon works of art the same way they would in an actual exhibit. Click on the "hotspots" and a respective video will spring to life, celebrating the new collection whilst bringing you even further into Blake's world.
At the heart of this new collection is a sense of palpable respect between two iconic entities and their enduring crafts. The collage art of each label design directly relates to The Macallan's legendary history and the natural landscape of their estate near Craigellachie in the Speyside region. Inside every bottle is a similarly distinctive whisky, which offers the kind of signature complexity and supreme balance that one might find in Blake's work or in the man himself.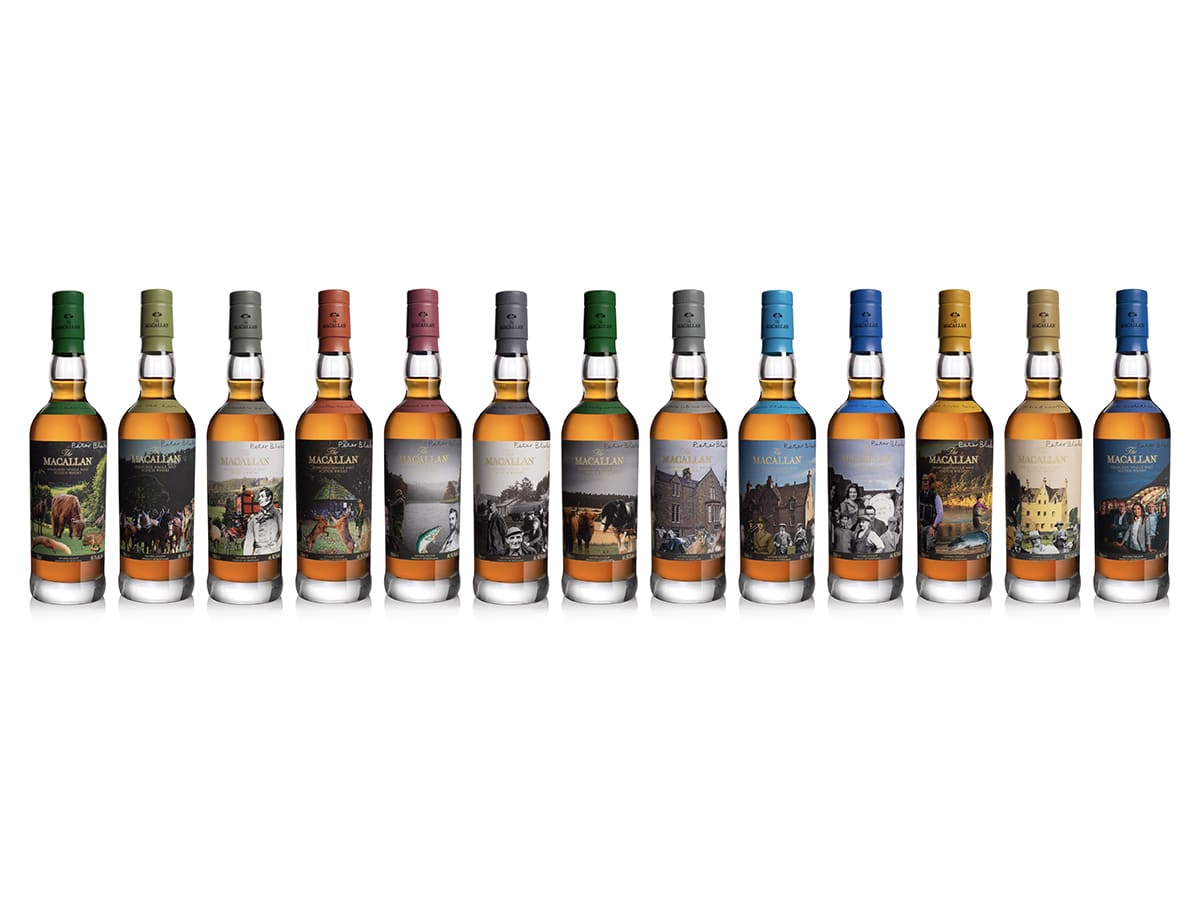 On 13th March 2021, Sotheby's New York auctioned off one of the original 13 bottles from the Anecdotes of Ages Collection. Dubbed "A New Era of Advertising," the one-of-a-kind bottle fetched an astounding final price of US$437,500 (hammer price $350,000), with the auction proceeds going toward the Guggenheim Museum's diversity, equity, access, and inclusion initiative.
The Macallan have also released a highly limited-edition bottle in conjunction with their latest collaboration, which commemorates Sir Peter Blake's visit to the distillery's estate on the River Spey. It goes by the name of An Estate, A Community and A Distillery. This one comes in a massive custom box inspired by Sir Peter Blake's artwork, with a certificate that explains the inspirational underpinnings as well as Sir Peter Blake's artwork printed on a scroll. It's being offered for a suggested retail price of AUD $1,600.
The rest of the Anecdotes of Ages Collection is available to purchase through The Macallan or participating retailers. Score yourself a bottle and sip on something special whilst you explore the Virtual Art Exhibit, indulging your senses on multiple fronts. Alas, if only every art exhibit could come with its own premium whisky pairing!