The Macallan Celebrates Six Decades of James Bond With New Whisky Collection
James Bond loves himself a good martini (shaken, not stirred) but we're partial to whisky, especially when it comes from The Macallan. The long-running Speyside distillery is celebrating six decades of the blockbuster film franchise with a limited edition collection of single malts. Dubbed The Macallan James Bond 60th Anniversary Release, it consists of six limited-edition bottles, each one with its own signature colour and design. Inside is a high-quality spirit that's no less iconic or impressive than the very thing it's commemorating. And so two truly enduring forces collide.
Want to learn more about whisky in all its forms? Check out our comprehensive guide to whisky regions, styles, flavours and types.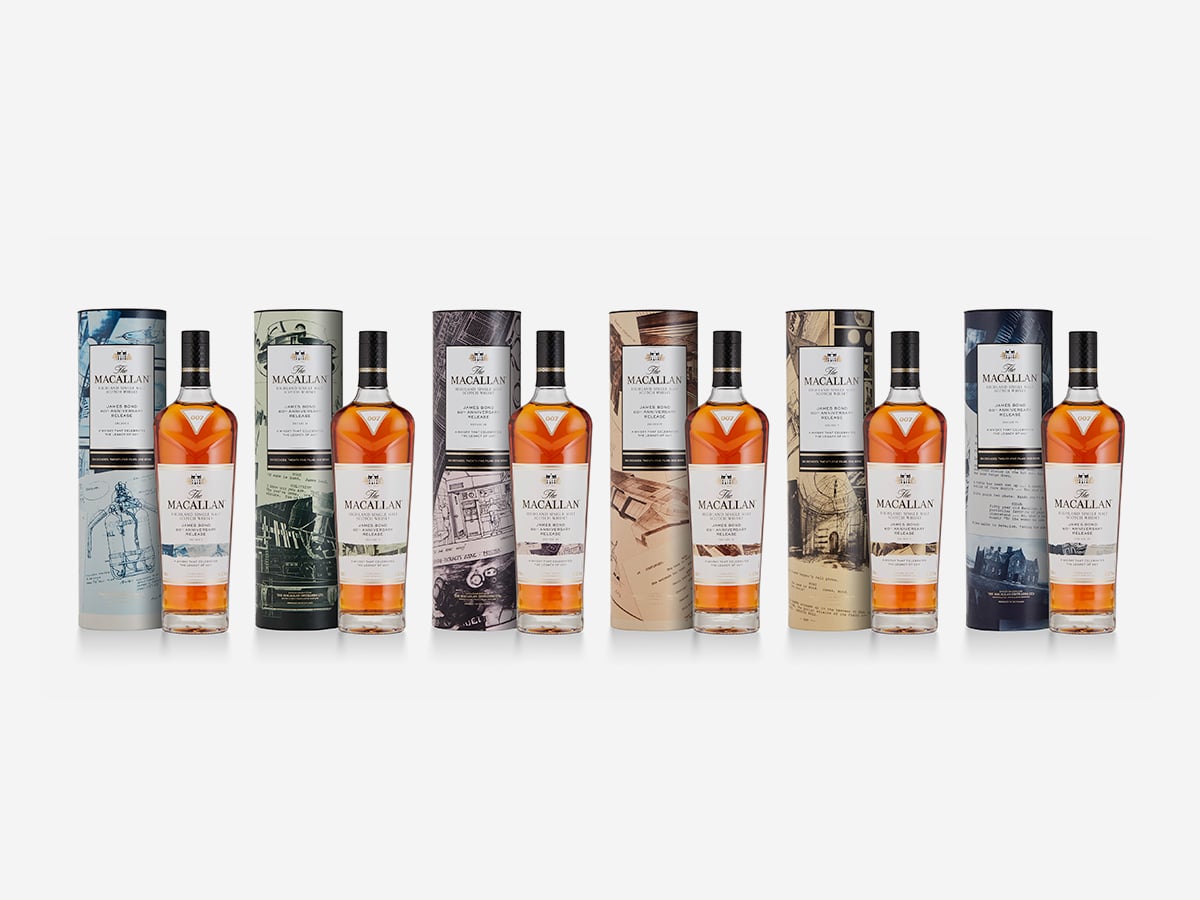 The Macallan James Bond 60th Anniversary Release
We don't need to bring you up to speed on the James Bond film franchise, which kicked off with Dr No in 1962 and has been killing bad guys and box offices ever since. But did you know that Bond's father hailed from Glen Coe in Scotland, as revealed by author Ian Fleming in the novel On Her Majesty's Secret Service (upon which the subsequent movie was based)? What's more, Sean Connery—the first actor to play Agent 007 on the big screen—was about as Scottish as they come.
When tasked with creating The Macallan James Bond 60th Anniversary Release, Master Whisky Maker Kirsteen Campbell connected the spy's unique bloodline with the distillery's own Scottish heritage. She found further common ground by examining the growth of Bond's charming character over time, whereas style and maturity are likewise essential to the production of fine whisky.
From this wellspring of inspiration came a single malt of natural Suisse gold colour and an ABV of 43.7% (a direct nod to Bond's agent number of 007). It opens on notes of fresh citrus, sparkling sherbert, and mild ginger spice before revealing a deep and complex heart of dark chocolate, figs, baked apple tart, and warm honey. The finish is long, sweet, and sophisticated, perhaps in homage to Bond's emotional vulnerabilities as we've come to know them in recent instalments.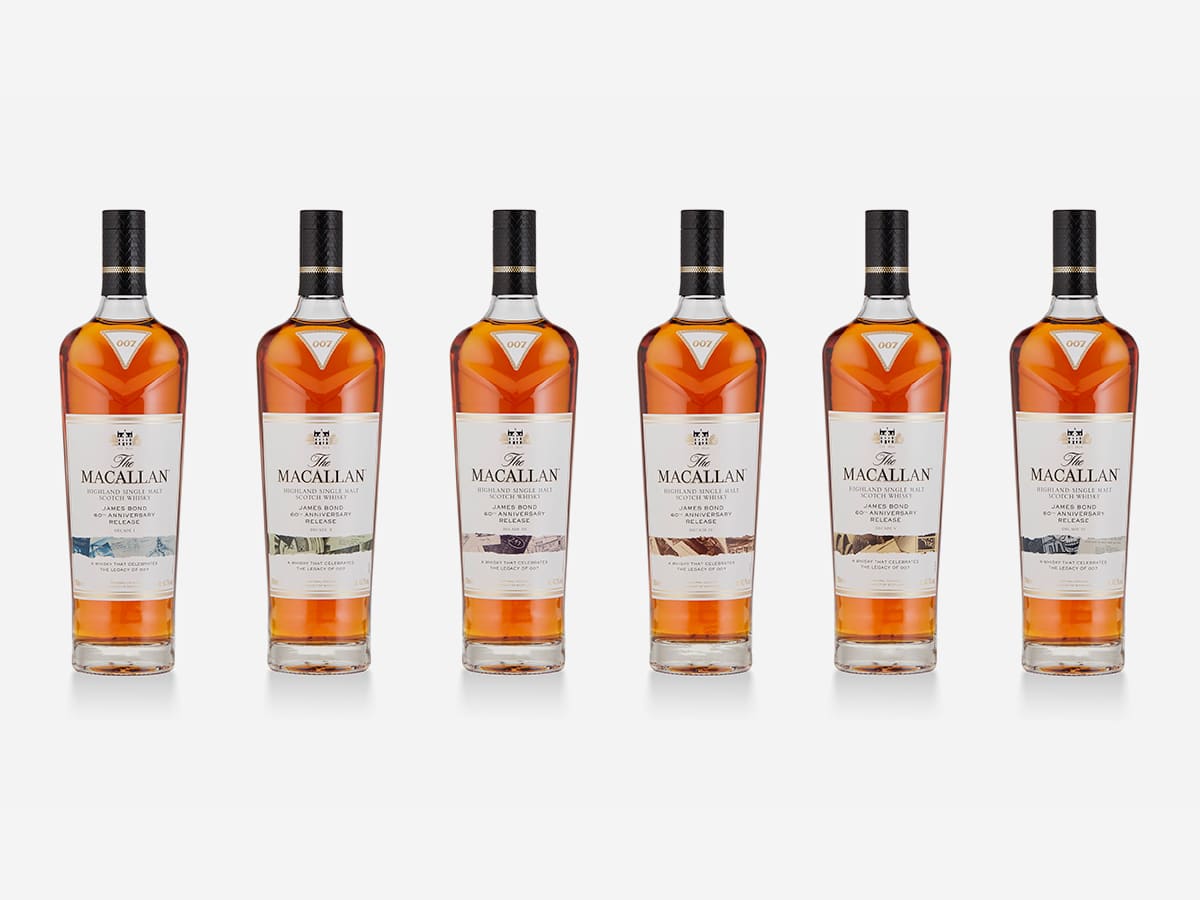 Six Bottles For Six Decades
Just as cultural and cinematic trends change over time, so too has the James Bond film franchise. In a fitting ode, The Macallan James Bond 60th Anniversary Release consists of six limited-edition bottles of similar distinction. Each one features a signature illustrative design and colour to signify the respective decade it's commemorating, all while remaining tastefully understated in true 007 fashion.
"James Bond celebrates its 60th anniversary, making it the longest-running and one of the most loved franchises in the world of entertainment, comprising 25 films over six decades and six lead actors over time," said The Macallan global creative director Jaume Ferras. "The Macallan is James Bond's whisky of choice and as two renowned global brands, we share many synergies, most notably as modern innovators linked by our Scottish heritage."
The Macallan James Bond 60th Anniversary Release arrives in limited supply at a retail price of approximately $2,020. Visit The Macallan for further availability and stockist details and get sipping like a super spy.
---
Featured Video from Man of Many
---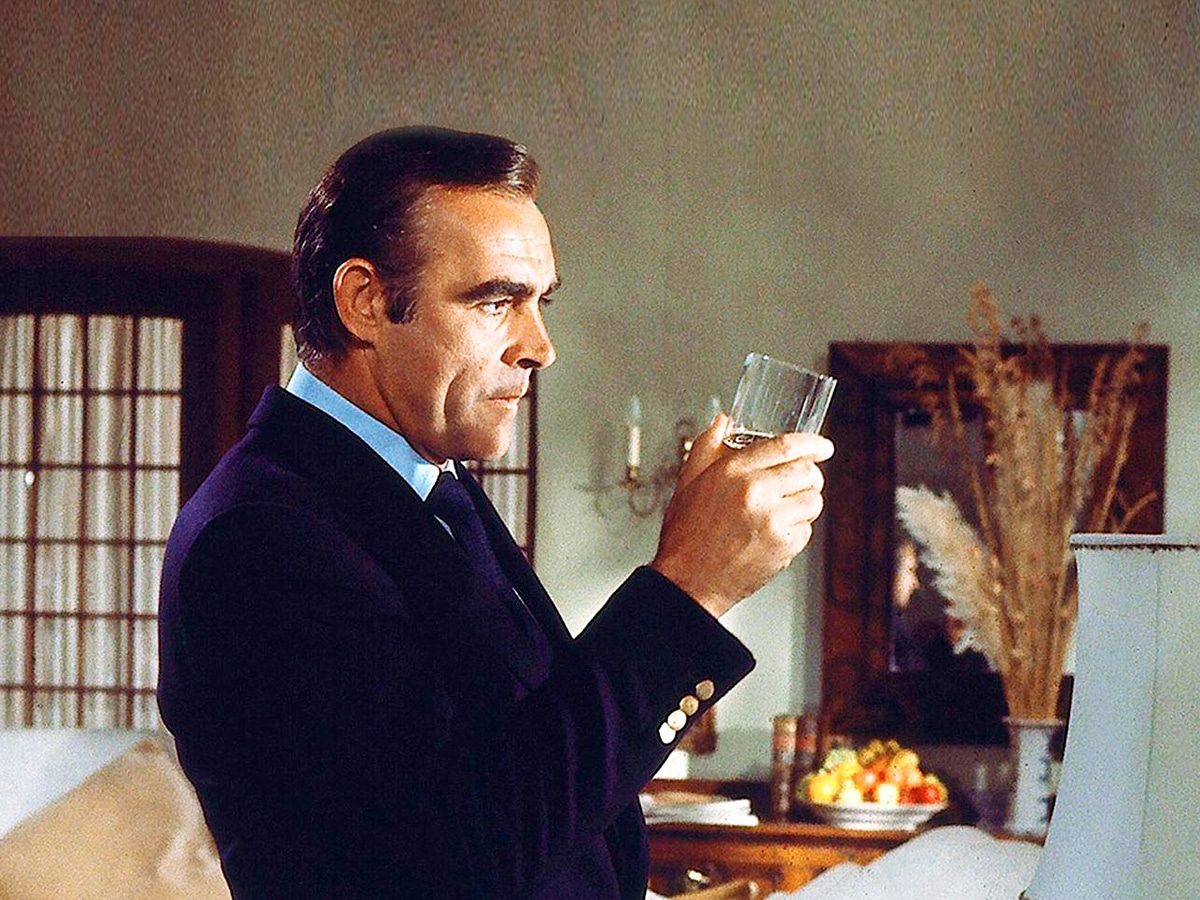 ---
Featured Video from Man of Many