26 Best Brunch Spots in Sydney
Looking for the best brunch Sydney has to offer? You're in luck. With a passion for smashed avo and quality coffee, you can easily find quality breakfast in any given corner of Sydney. So, for all those people that argue the harbour city has no culture, after a visit to these places, you'll be left second-guessing. Here's our guide to the best brunch in Sydney.
Related: Heading out earlier in the morning? These are the best cafes in Sydney.
Best brunch spots in Sydney at a glance
Our list of best places for brunch in Sydney goes like this.
Now we've rounded up our favourites, let's check out the full list.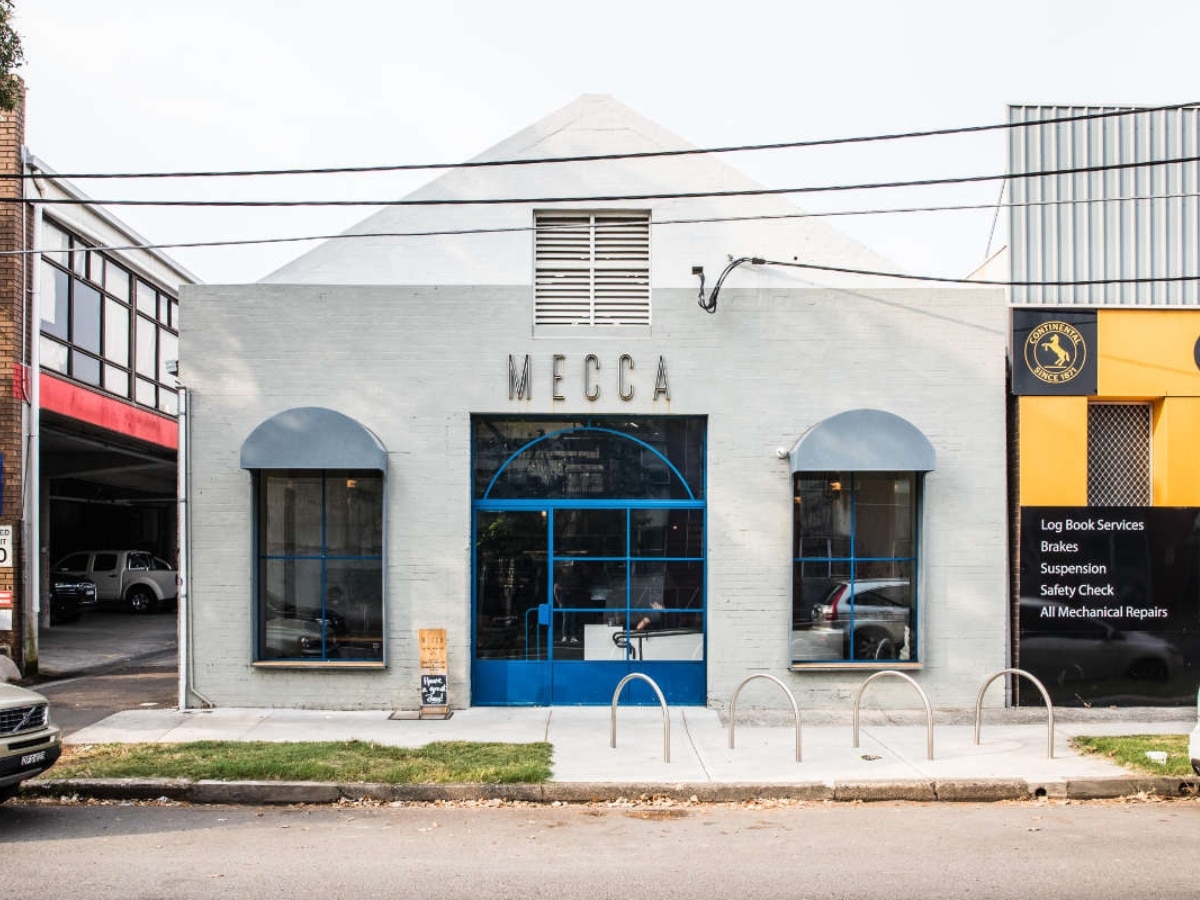 1. Mecca Coffee
As you'd expect from one of Sydney's leading coffee roasters, it's all about the coffee here, however, you can still feel confident you'll get some tasty bites to eat as well. With a menu full of your classics and some exciting options like a roasted pumpkin salad with cous cous and blood orange, everything is made on-site and bread and pastries are sourced across the pond from Brickfields and Flour and Stone. We also love the space — think high ceilings and long tables — the perfect backdrop for your morning cup of joe.
Address: 26 Bourke Rd, Alexandria NSW 2015
Phone: (02) 9698 8448
Hours: Mon-Wed & Fri 7:30am-3pm, Sat-Sun 8am-3pm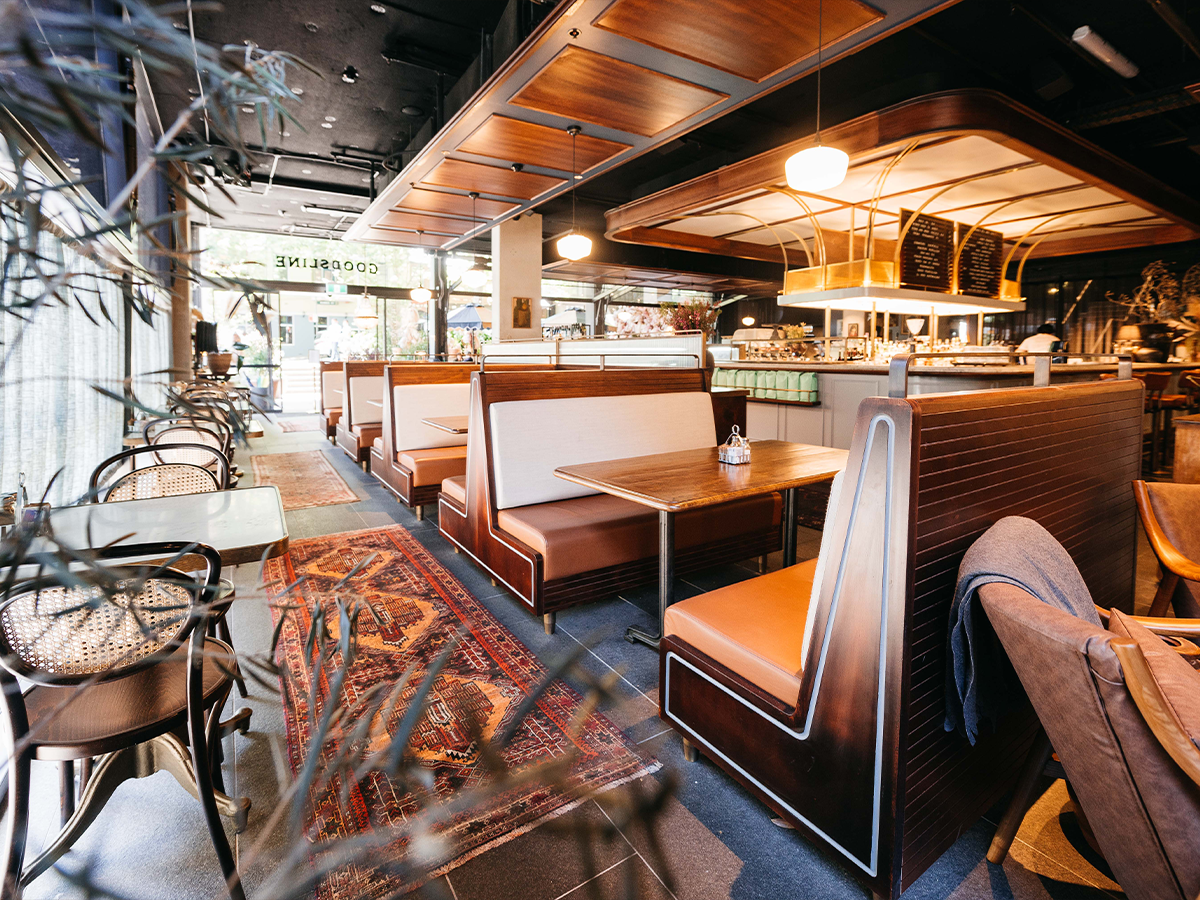 2. The Goodsline Eatery
At the Goodsline Eatery in Pyrmont, you can find speciality coffee and food without any of the pretentiousness, which is why we love it. With a long history of great coffee-making behind its belt, founder Jack Hanna the 2007 World Latte Art Champion and part of creating some of the biggest coffee brands in Australia, including The Grounds, you can trust these guys know what they're doing. Serving up The Beanstalker blend from The Grounds Roastery, the coffee is accompanied by a world-class menu curated by hatted head chef 'AC' Acagra that focuses on seasonality and fresh produce.
Address: 19A Harris St, Pyrmont NSW 2009
Hours: Mon-Wed 7:30 am–3 pm, Thur-Fri 7:30am-9:30pm, Sat-Sun 8am-3pm
Phone: (02) 8488 1557
Visit The Goodsline Eatery The Goodsline Eatery Menu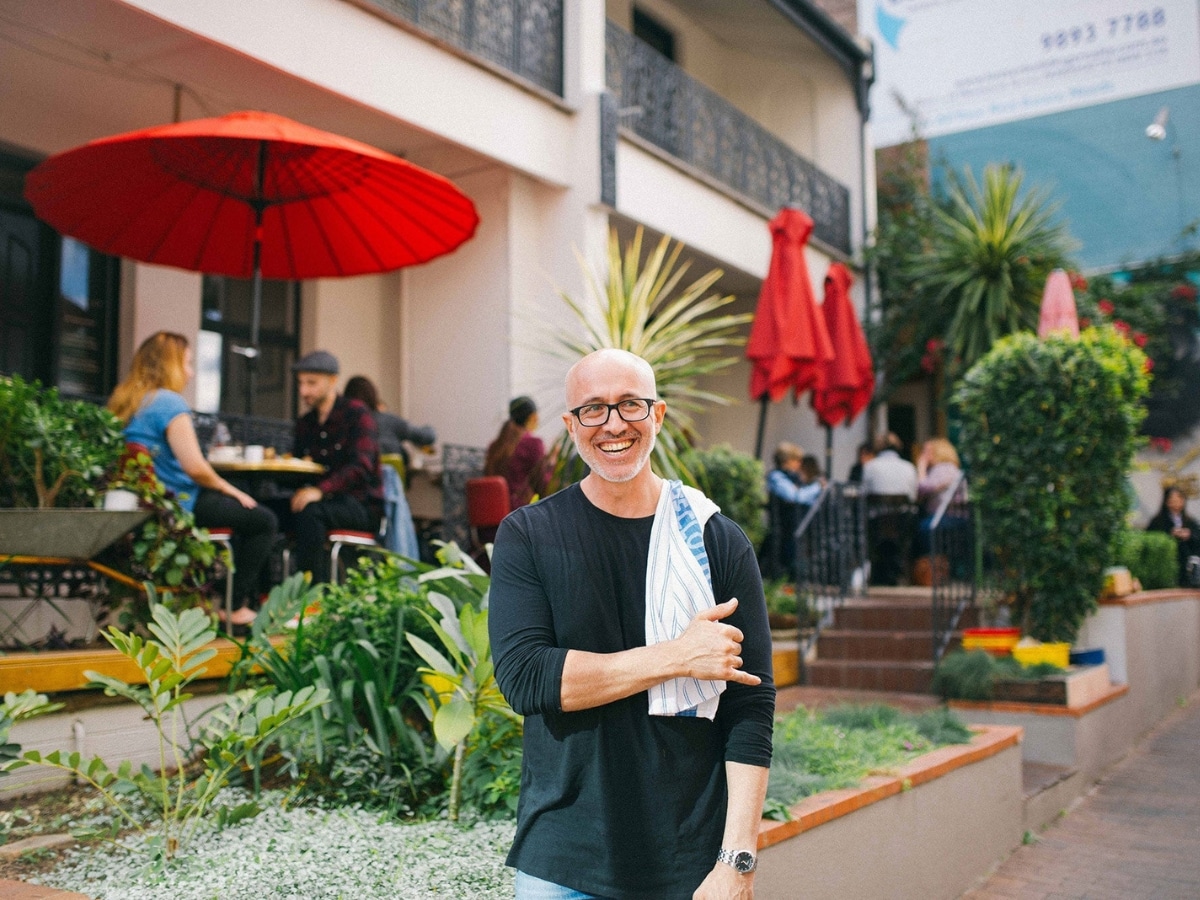 3. Circa Espresso
With a menu inspired by the vibrant flavours and textures of the Middle East, Circa Espresso is Paramatta's answer to cosy vibes and comfort food. Alongside some of the best coffee west of the CBD you will find a menu that is bound to make an impact — we can't say no to the ottoman eggs and crispy sourdough waffle. This is also a good option if you're a fan of shared plates for brunch.
Address: 21 Wentworth St, Parramatta NSW 2150
Hours: Mon-Fri 7am-2:30pm, Sat-Sun 8am-2:30pm
Visit Circa Espresso Circa Espresso Instagram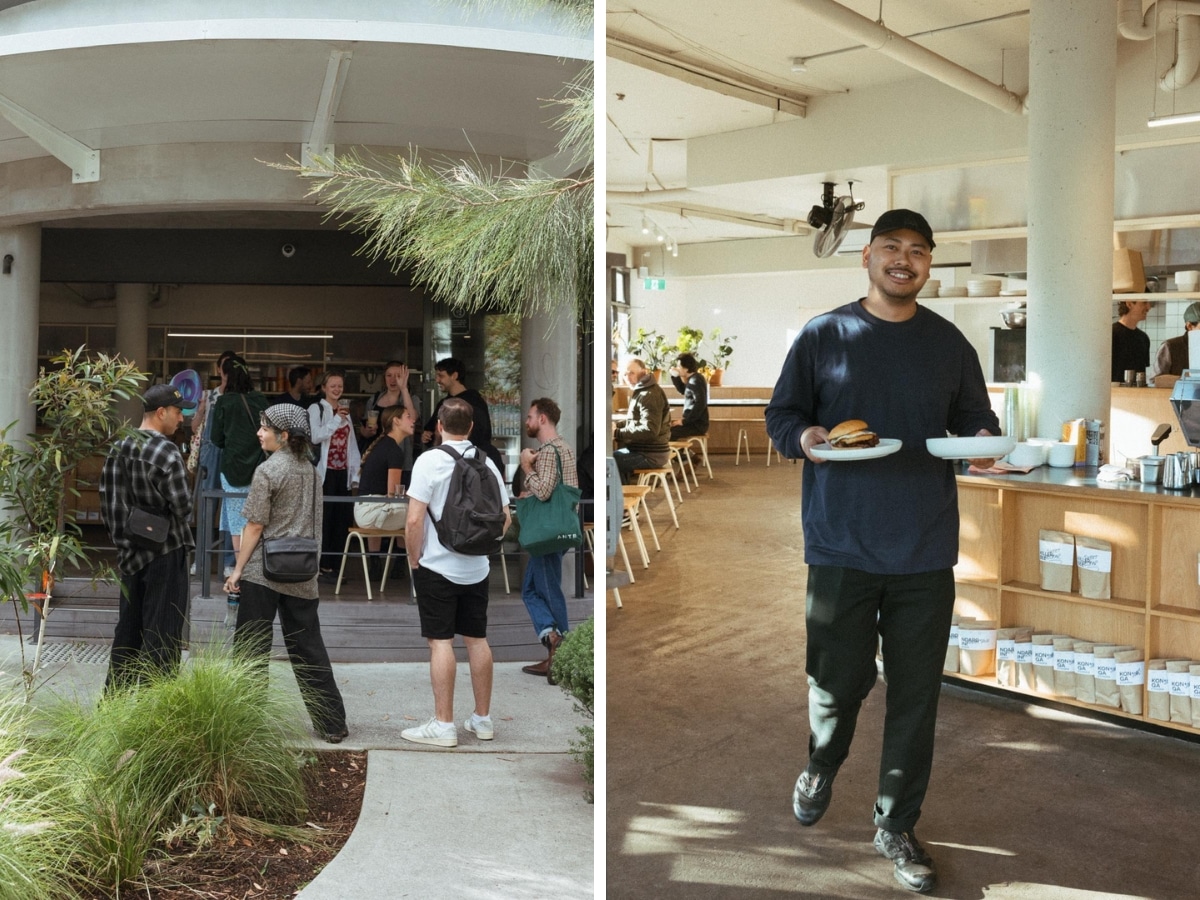 4. Soulmate Coffee
Not just another Newtown brunch spot to add to the repertoire, Soulmate Coffee manages to stand out, and for good reason, too. At Soulmate, things are kept nice and simple, with an all-day menu that caters to those mid-week cravings—think toast, rolls, salads and sangas, with plenty of brews and a damn delicious green smoothie that is just what you need to refuel. You can even grab a locally brewed beer to enjoy alongside your brunch if you feel inclined.
Address: Unit 12/39 Phillip St, Newtown NSW 2042
Hours: Mon-Wed & Fri 7am-3pm, Sat-Sun 8am-3pm
Phone: 0411 267 916
Visit Soulmate Coffee Soulmate Coffee Menu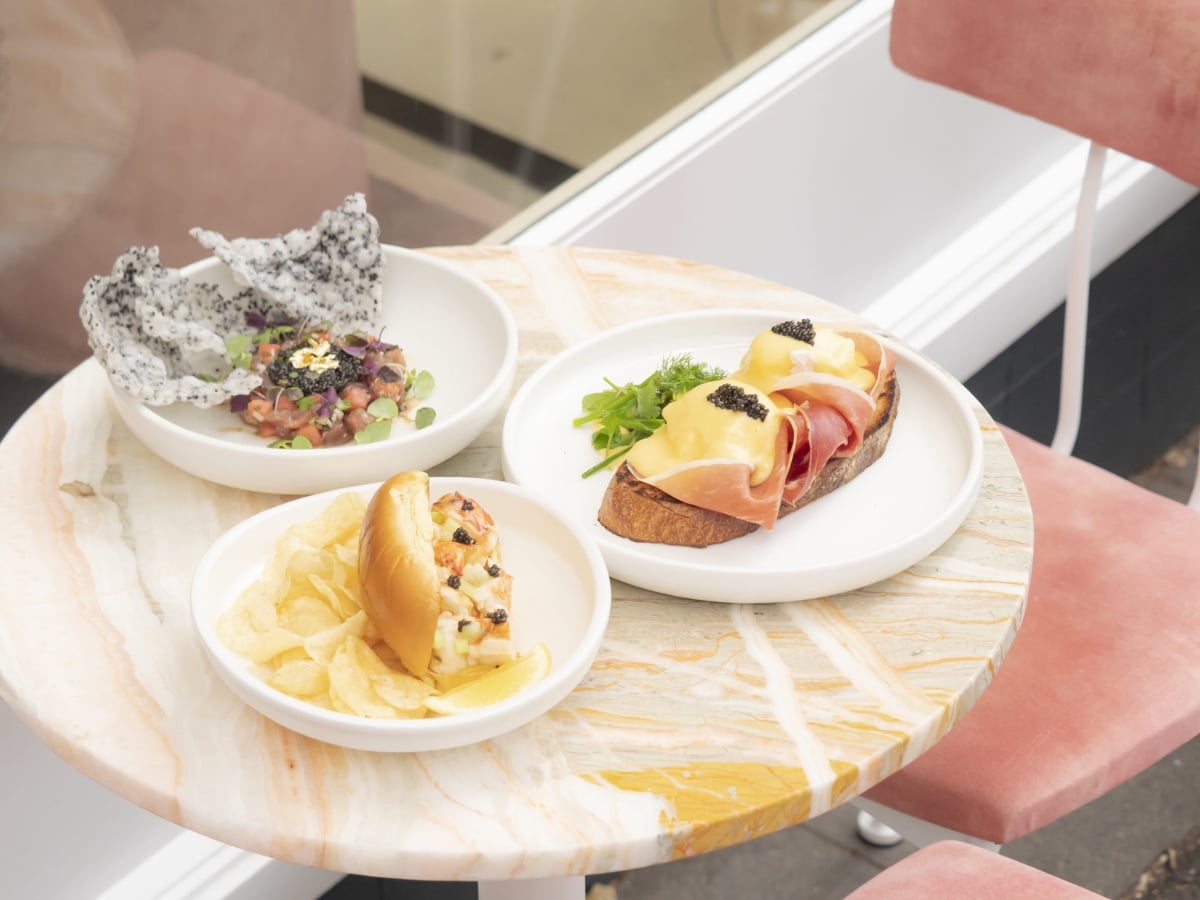 5. The Mayflower
Did someone say caviar? Yes, that's right, The Mayflower, located in the heart of Sydney's buzzing Darlinghurst serves up brunch options including caviar and Croque monsieur, perfect for those who only know how to do things the boujee way. The space is just as enticing as the menu—designed in collaboration with a number of recognised Australian Artists, Designers and Florists, bringing the Mayflower's history as an Art Deco Florist in the 1990s to life, with an intimate, floral-drenched dining room to boot.
Address: 2/303A Liverpool St, Darlinghurst NSW 2010
Hours: Mon-Sun 7am-3:30pm
Phone: 0497 305 475
Visit The Mayflower The Mayflower Menu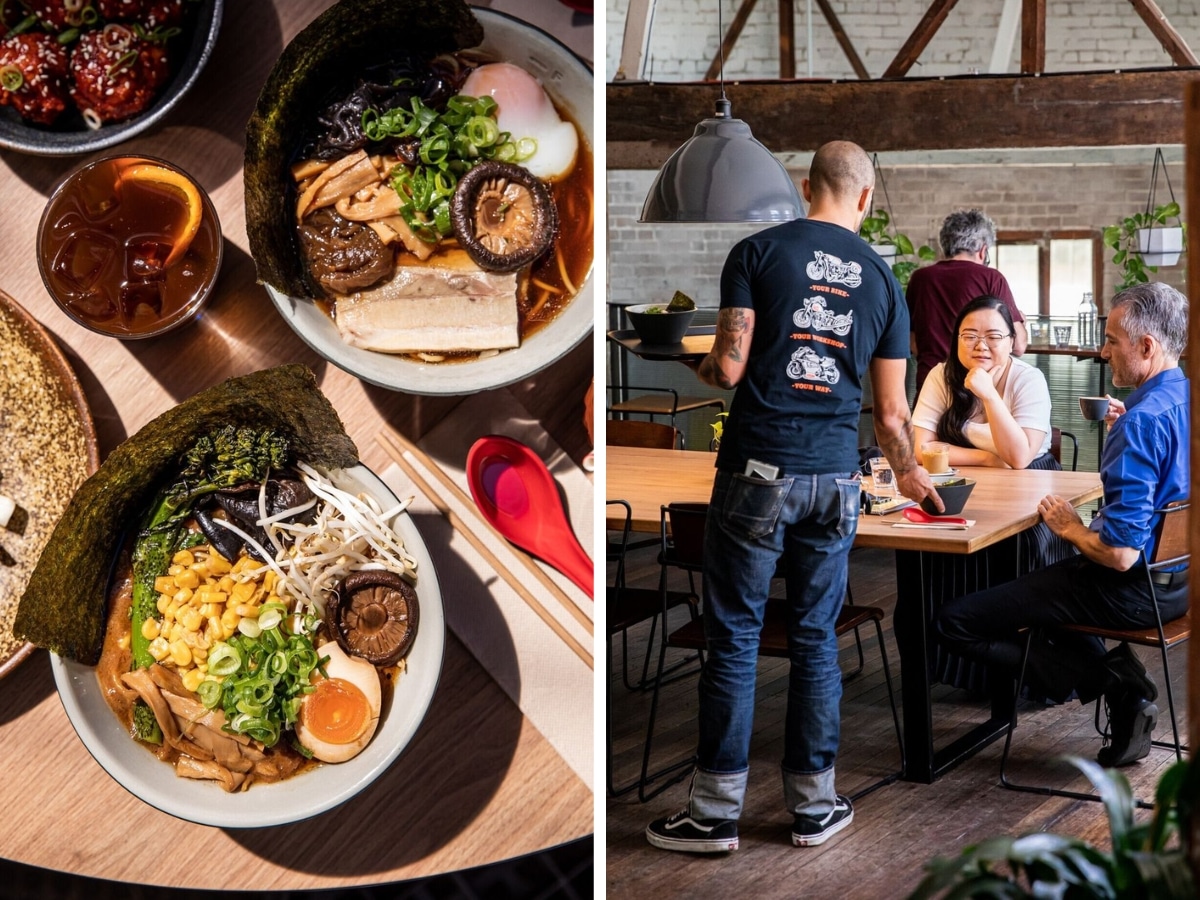 6. Rising Sun Workshop
Not your average cafe, Rising Sun Workshop is a communal motorcycle workshop meets restaurant, and we're here for it. The menu takes inspiration from Asia, with countless ramen options for lunch and bánh mìs for dinner. If this isn't enough to get you planning your visit, the space itself should do it—with two levels sprawled over a vibrant dining zone and a buzzing workspace down below.
Address: 1C Whateley St, Newtown NSW 2042
Hours: Fri-Wed & Fri 8am-4pm, Sat-Sun 8 am–3 pm
Phone: (02) 9550 3891
Visit Rising Sun Workshop Rising Sun Workshop Menu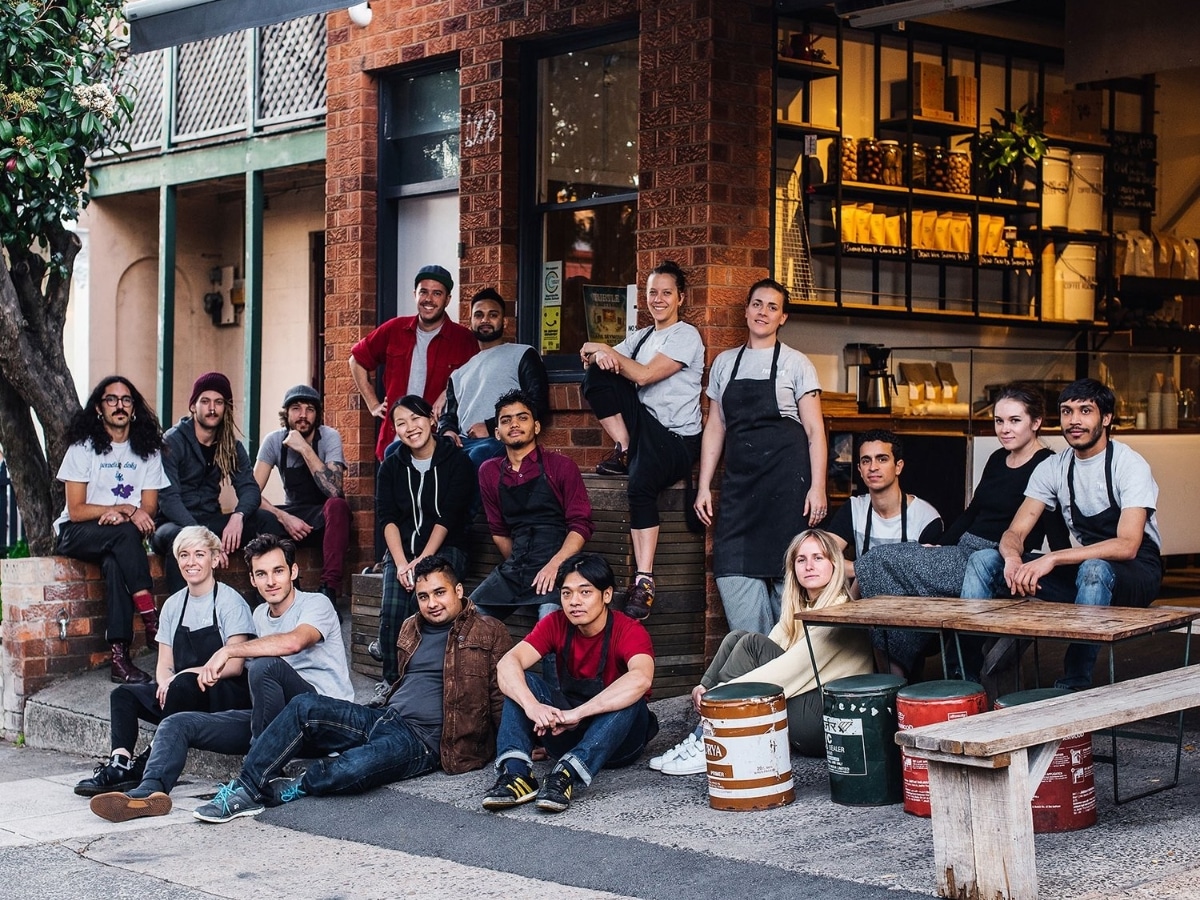 7. Two Chaps
Located in Sydney's trendy Marrickville, Two Chaps offers up delectable pastries by day and decadent pasta by night, and who can say no to that? The menu is constantly evolving, making for new surprises every time you visit. All the bread and pastry are made by hand, daily, using sustainable and organic Australian flours. Coffee is roasted nearby by Single O Coffee Roasters, oh, and the pasta is handmade, too.
Address: 122 Chapel St, Marrickville NSW 2204
Hours: Mon-Wed 7:30 am–3 pm
Phone: (02) 9572 8858
Visit Two Chaps Two Chaps Menu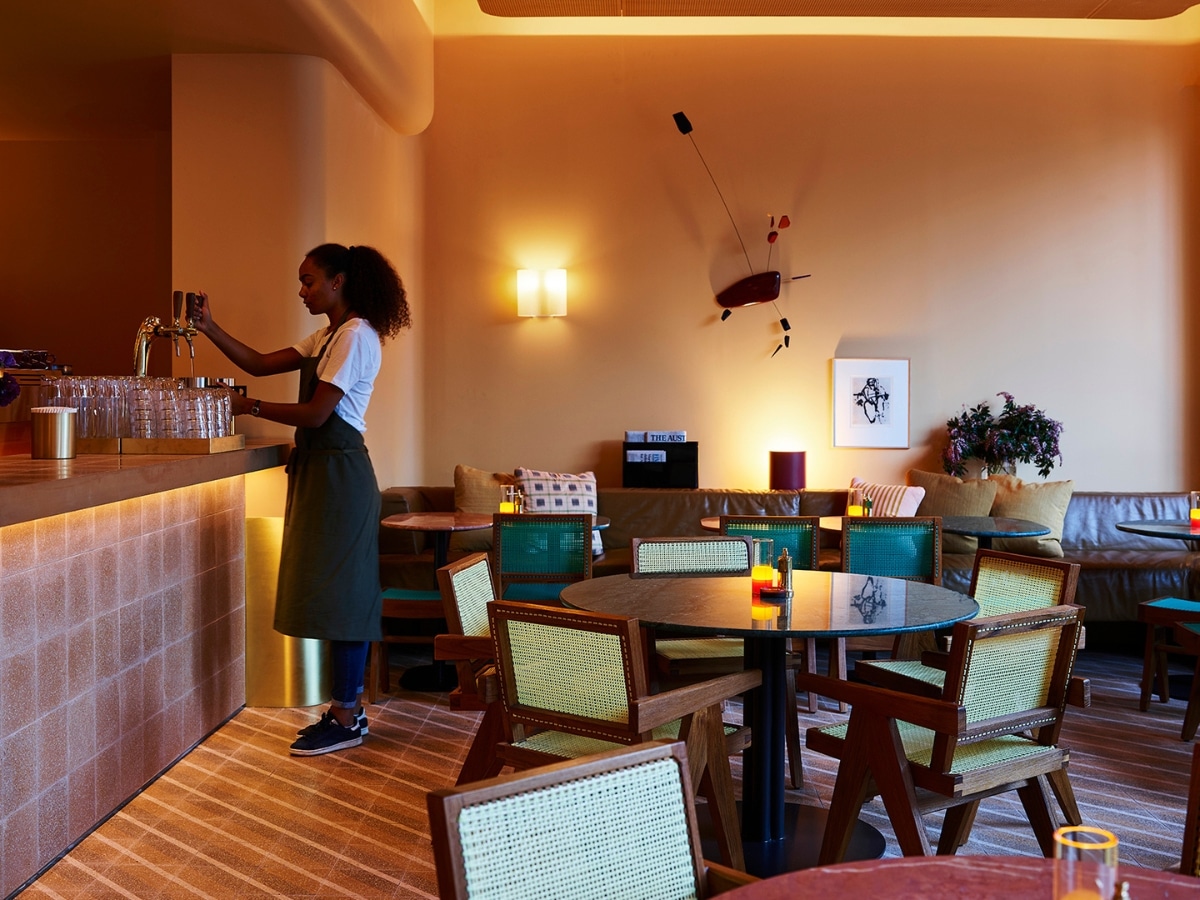 8. bills
A Bondi institution in its own right, Bills offers one of the best brunch spreads in Sydney. Bills are famous for their delicious take on traditional favourites like corn fritters and scrambled eggs. Be warned, on weekends a long wait to grab brunch at this Sydney café is pretty much guaranteed. Our favourite dishes on the menu? That would have to be the gravadlax toast with labneh, celery, tomatoes, pickles and capers.
Address: 355 Crown St, Surry Hills NSW 2010
Hours: Mon-Sun 7am-10pm
Phone: (02) 9360 4762
Address: 433 Liverpool St, Darlinghurst NSW 2010
Hours: Mon-Sun 7:30am-3pm
Phone: (02) 9360 9631
Address: 16 Cross St, Double Bay NSW 2028
Hours: Mon-Sun 7am-10pm
Phone: (02) 8412 1144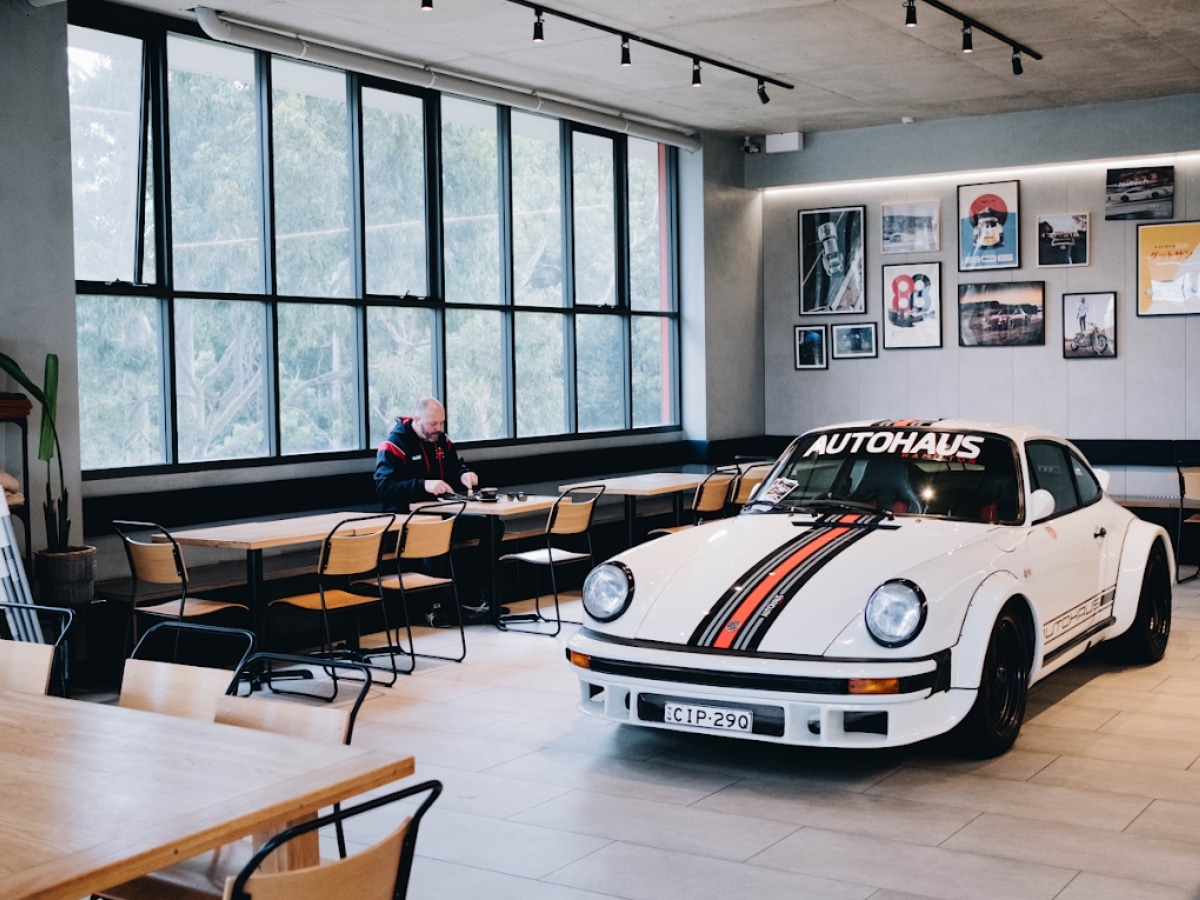 9. Benzin Cafe
This one is for the more adventurous brunch-goers. Situated in the semi-rural Dural in Sydney's North West, Benzin means fuel in German. Serving up Gabriel Coffee, this is the perfect spot to fuel up and fill up with their variety of brunch options when you find yourself in Sydney's northern suburbs. We love it here because it's laid-back, peaceful and the perfect place to fuel up when you're feeling extra hungry. The batch brew is always a winner, and the classic 'Benzin Eggs' with salmon and hashbrowns are simply next-level.
Address: 1/242 New Line Rd, Dural NSW 2158
Hours: Mon-Fri 7am-2pm, Sat 7am-3pm, Sun 8am-3pm
Phone: (02) 9653 9370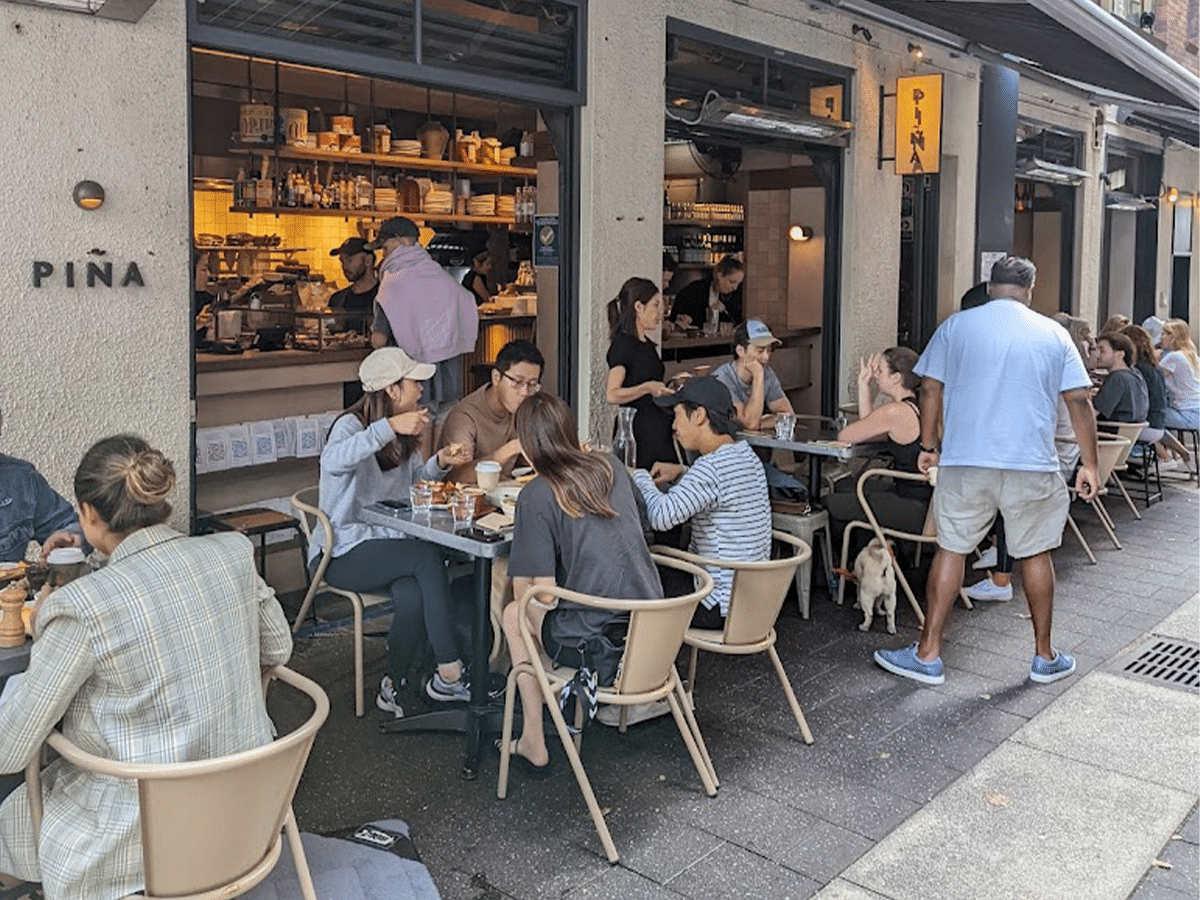 10. Pina Potts Point
The perfect spot for your casual brunch, Pina Potts Point has become Sydney's most popular brunch spot. Tucked away down a quiet Darlinghurst side street, Pina serves some of the best coffee, brunch, and lunch to Sydney's trendiest celebrities and influencers. It's a cosy spot that gets extremely busy so expect long waits. We can't go past their bacon and egg roll, it could be the best in Sydney.
Address: 4/29 Orwell St, Potts Point NSW 2011
Hours: Mon-Sun 7am-3pm
Phone: 0432 445 342
Visit Pina Potts Point Pina Potts Point Menu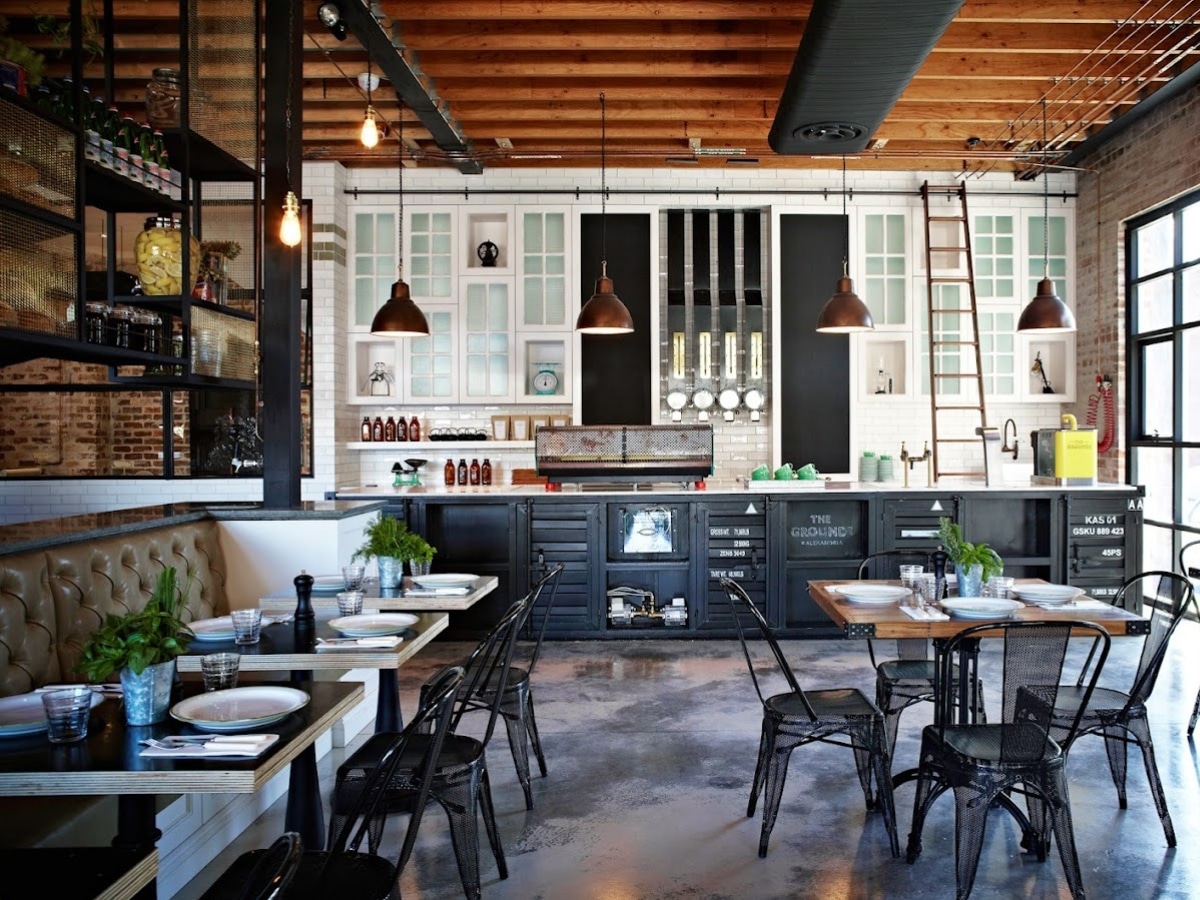 11. The Grounds of Alexandria
The queen of Sydney brunch fare, this multi-layered café and restaurant in Sydney's Alexandria has it all – even farm animals! An innovative and sustainable initiative, the café covers a huge outdoor space with various sections, like a café, a restaurant, lemonade stand and an organic garden. We recommend hopping between the different cafes and stalls for the ultimate Grounds experience.
Located in: The Mill
Address: 7a/2 Huntley St, Alexandria NSW 2015
Hours: Mon-Thur 7am-9pm, Fri 7am-9:30pm, Sat-Sun 7:30am-9:30pm
Phone: (02) 9699 2225
Visit The Grounds of Alexandria The Grounds of Alexandria Menu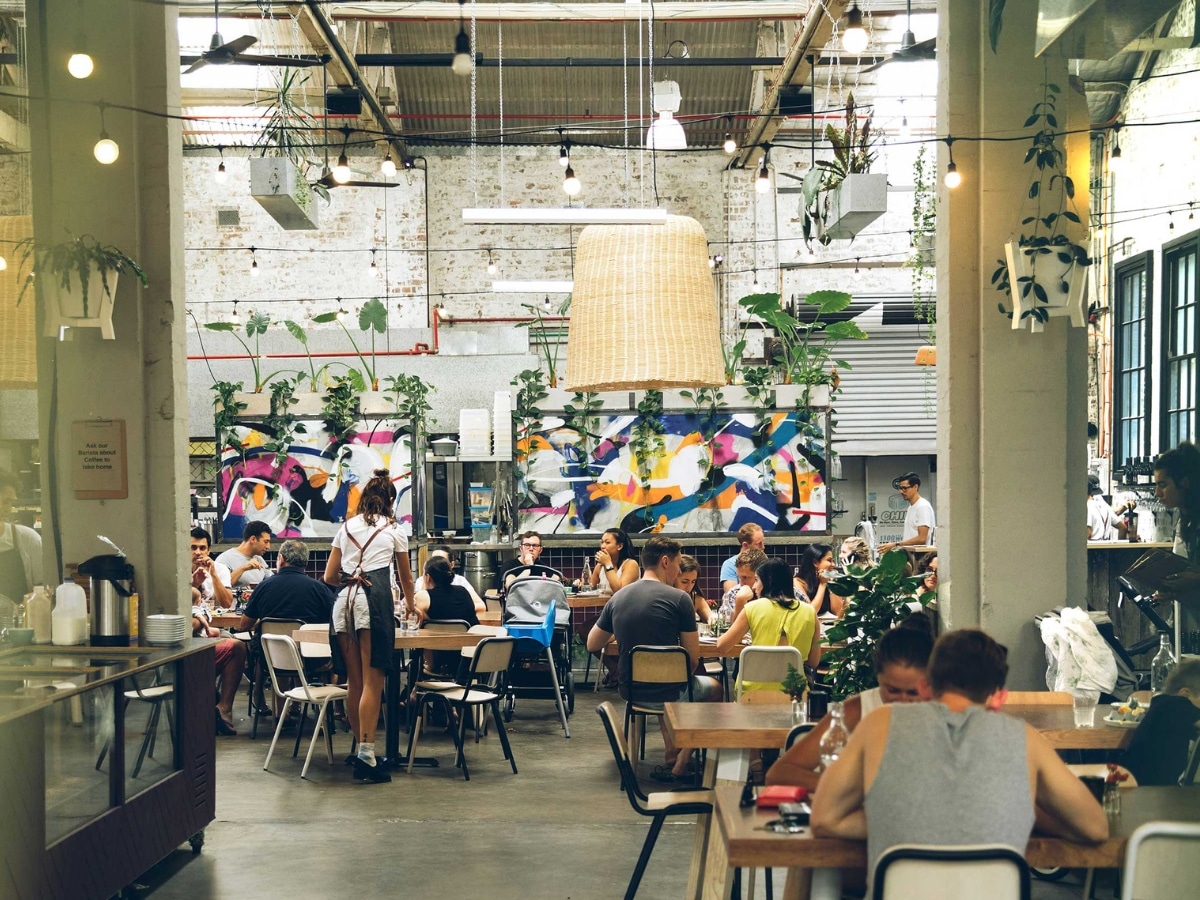 12. Three Blue Ducks
A former convenience store transformed into a busy beachside café, Three Blue Ducks is a favourite spot for brunch in Sydney. Not only does this place do top-quality breakfast and brunch, but also is a restaurant by night and prides itself in keeping things sustainable. We love this place for the good vibes, fresh food and rural feel—they even have a backyard kitchen garden with their very own banana trees and chooks!
Located in: The Cannery
Address: 1/85 Dunning Ave, Rosebery NSW 2018
Hours: Tue-Wed & Fri 2–2:30 pm, 5:30–8:30 pm, Sat 8:30am-1:30pm, Sun 8:30am-2:30pm
Phone: (02) 7251 8662
Visit Three Blue Ducks Three Blue Ducks Menu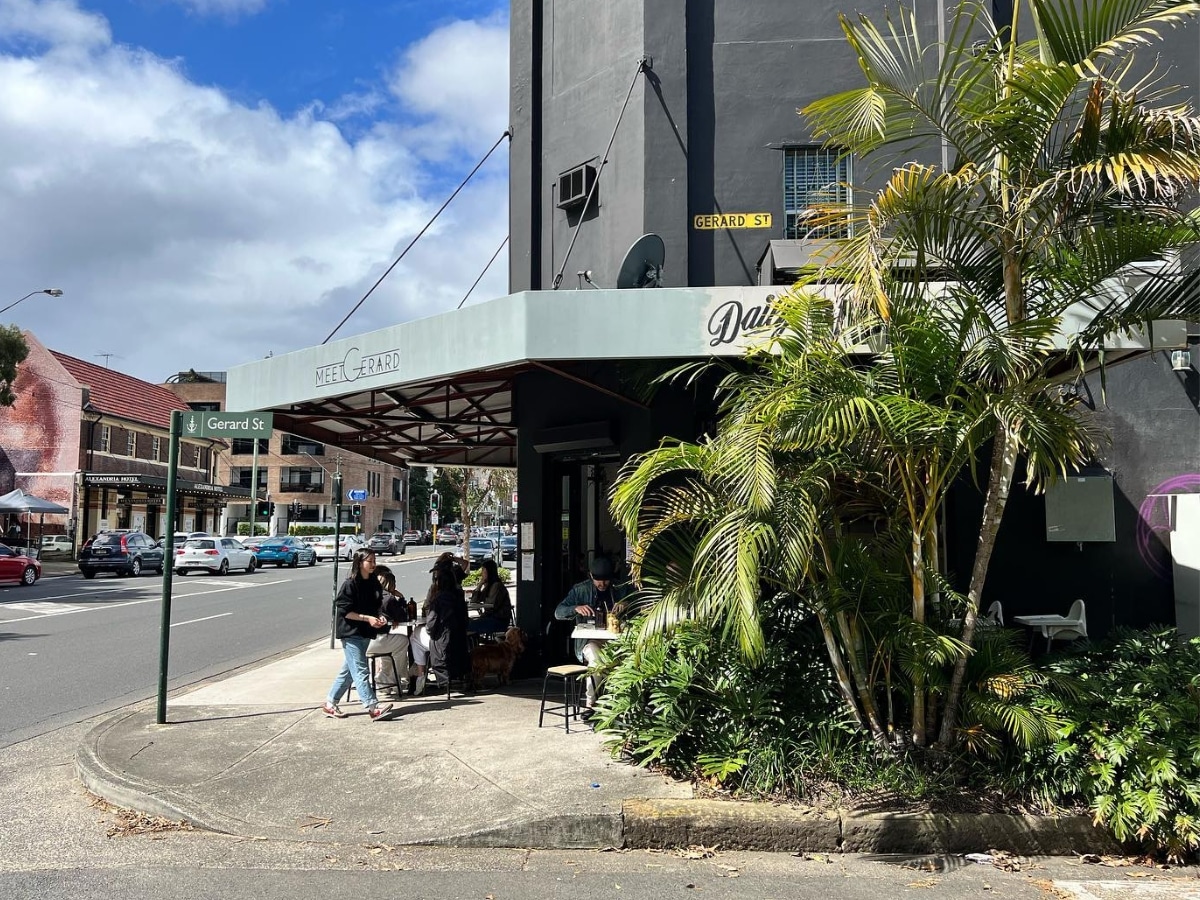 13. Meet Gerard
This Alexandria corner café loves to put a twist on our classic brekky favourites. The smashed avo has additions of house-pickled chilli and yuzu sesame seeds, turning the traditional favourite into a flavour extravaganza. Quality coffee is also guaranteed, offering a house blend designed by Coffee Alchemy. We love their take on Turkish Cilbir Eggs, with chilli, halloumi, mushrooms, yoghurt and toast.
Address: 54 Henderson Rd, Alexandria NSW 2015
Hours: Mon-Sat 7am-2pm, Sun 8am-2pm
Phone: (02) 8021 7211
Visit Meet Gerard Meet Gerard Menu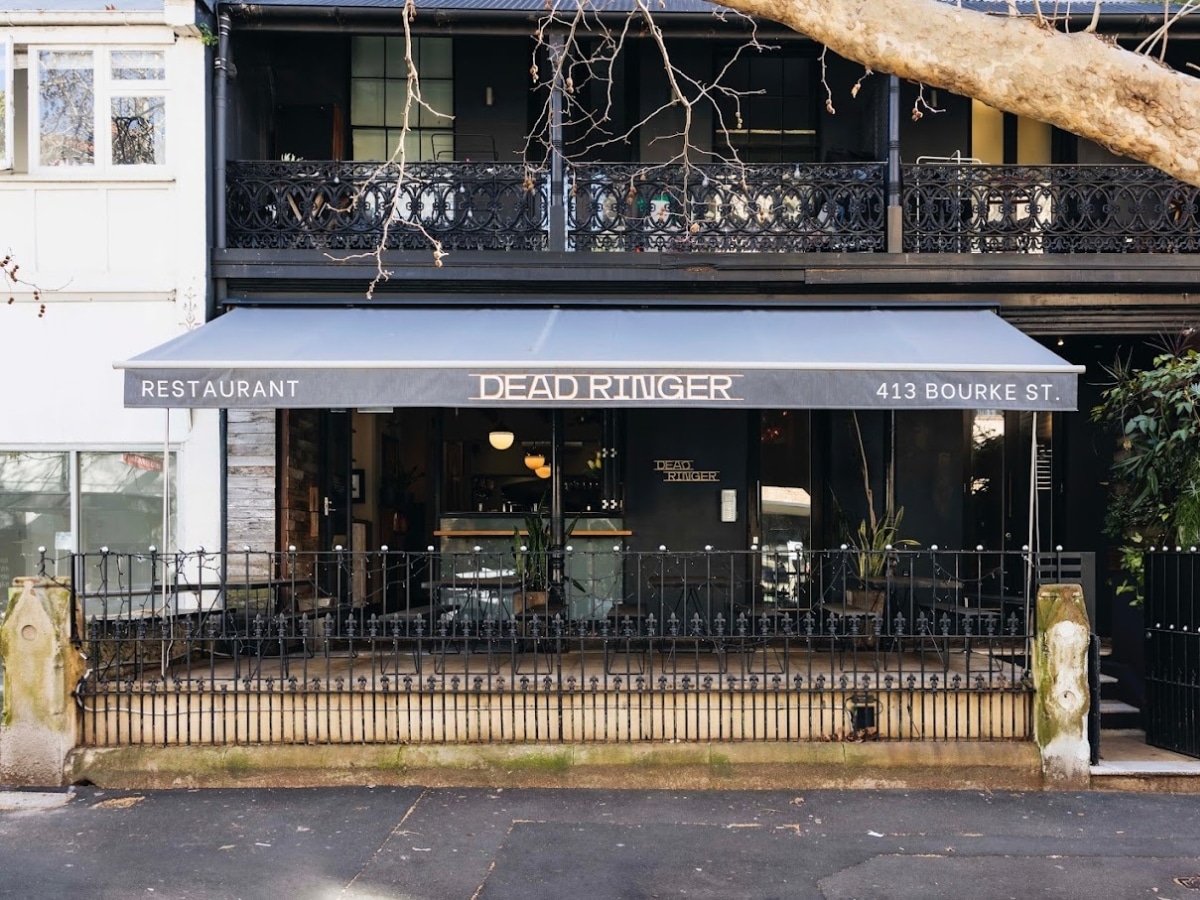 14. Dead Ringer
This vibrant Surry Hills bar and restaurant also has one of the best boozy brunches Sydney has to offer. You'll find the menu isn't limited to breakfast foods, but things you'd often expect to see in the dinner menu. Coffee is not the beverage of choice at this Sydney Brunch spot, but rather a refreshing cocktail or killer wine. Why do we love it? Boozy brunch. Say no more.
Address: 413 Bourke St, Surry Hills NSW 2010
Hours: Sat 11am-12am, Sun 11am-10pm
Phone: (02) 9046 8460
Visit Dead Ringer Dead Ringer Menu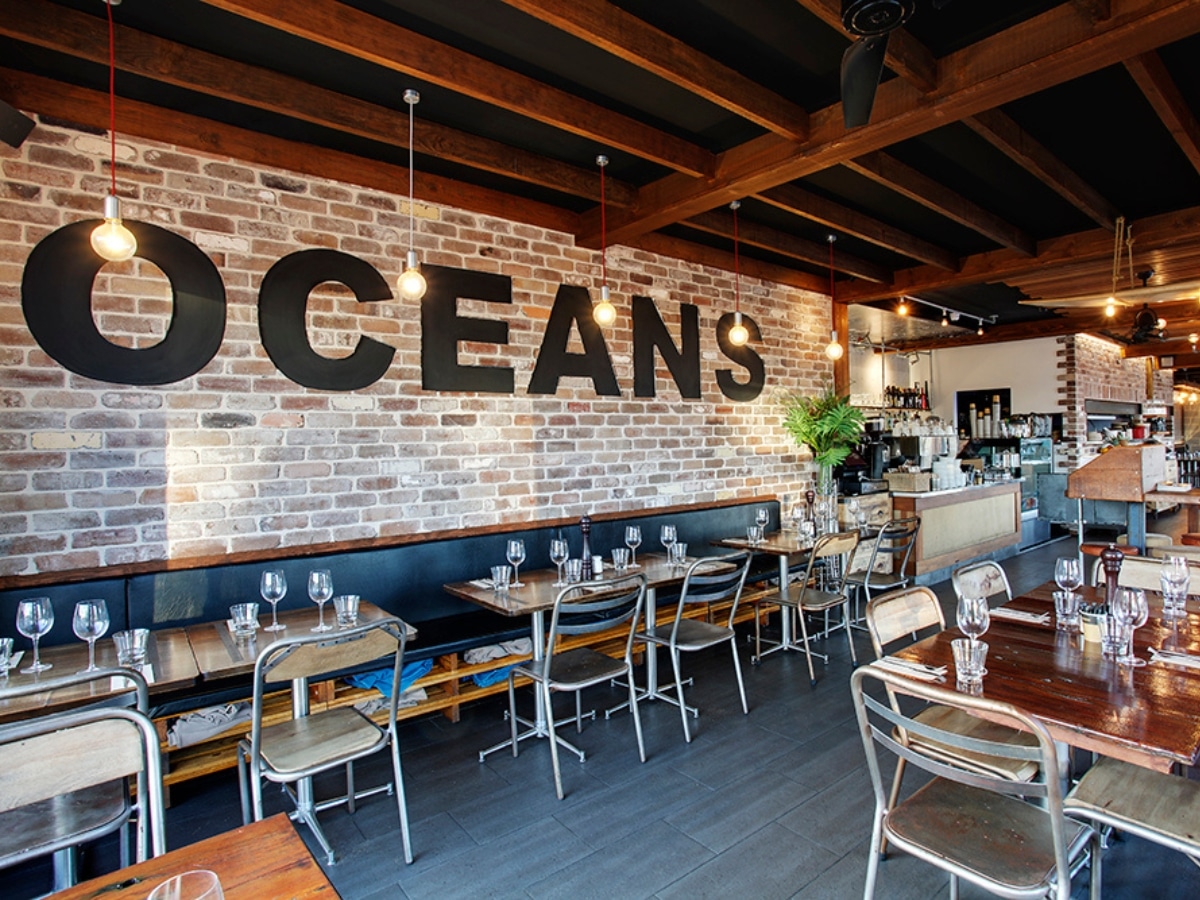 15. Oceans Narrabeen
Fancy a trip to Sydney's stunning northern beaches? Stop by Oceans in Narrabeen. Their extensive menu has something for everyone, with plenty of fresh seafood options to complement the ocean breeze. The location makes all the difference for an enjoyable meal here. Try the acai bowl and pair it with cold-pressed juice for the perfect post-swim feed.
Address: Cnr Ocean &, 1 Malcolm St, Narrabeen NSW 2101
Hours: Mon 6:30am-3pm, Tue-Fri 6:30am-10pm, Sat-Sun 7am-10pm
Phone: (02) 9970 6262
Visit Oceans Narrabeen Oceans Narrabeen Menu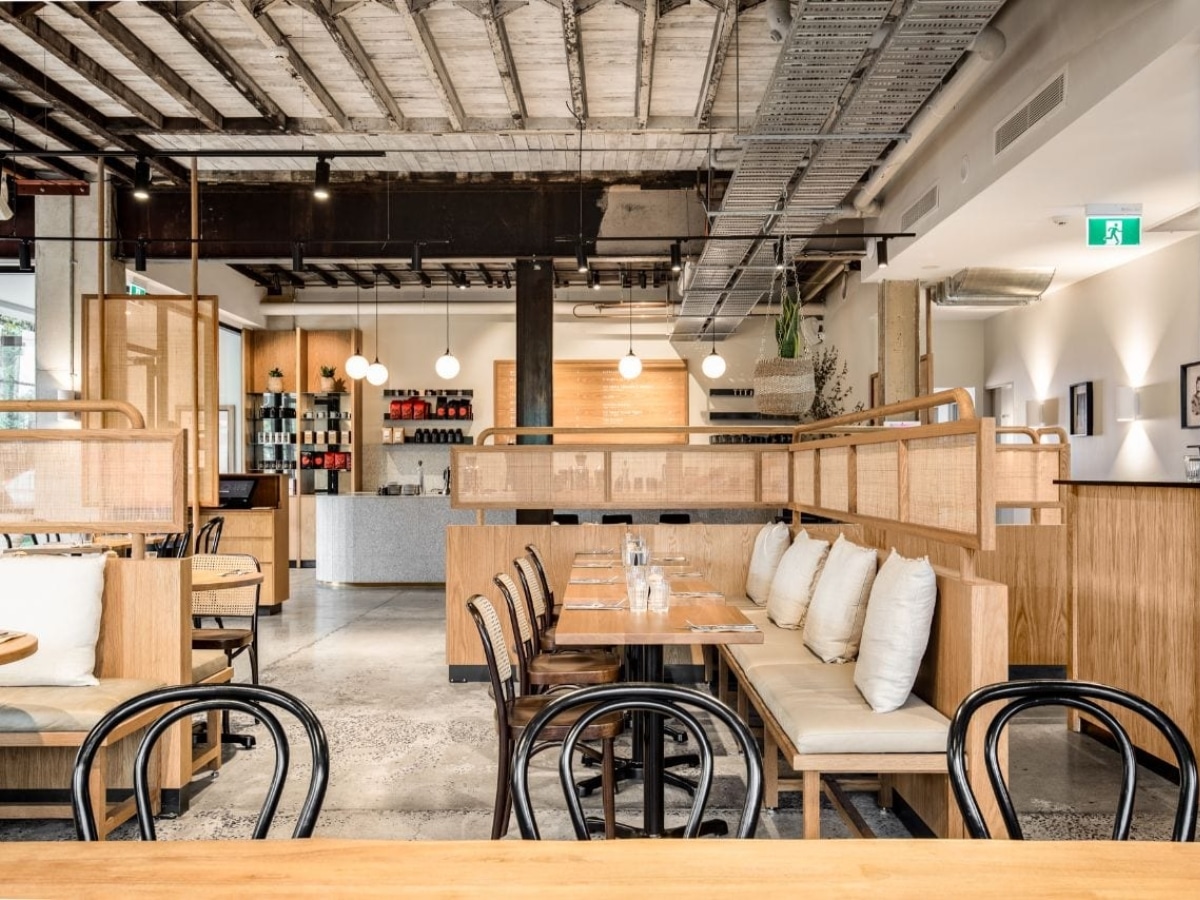 16. Went to See The Gypsy
This huge warehouse space houses one of the best breakfast spots in Sydney. With unusual takes on traditional café fare, combined with a serious approach to quality coffee, all coffee here is roasted around the corner at Gypsy's roaster and coffee school. When it comes to the menu, you really can't go wrong, but if we had to pick our favourite menu item, it would have to be the white truffle mushroom bruschetta, because who doesn't love truffle? The interior is designed by The Guru Projects, and almost outdoes the coffee in taste!
Address: 76 Mitchell Rd, Alexandria NSW 2015
Hours: Mon-Wed & Fri 7am-3pm, Sat-Sun 8am-4pm
Phone: (02) 9319 2826
Visit Went to See The Gypsy Went to See The Gypsy Menu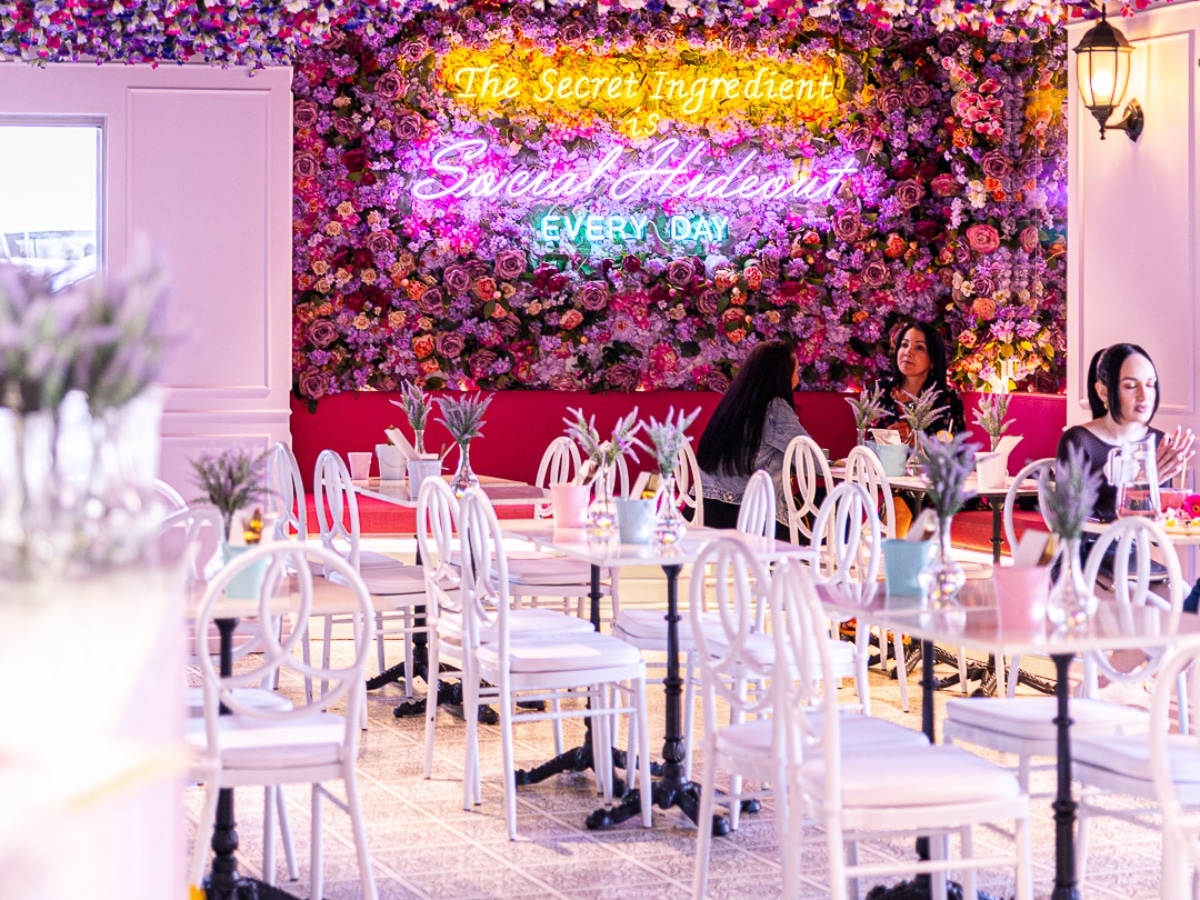 17. Social Hideout
Social Hideout is fondly known as one of Sydney's prettiest, most Instagrammable cafes. With locations in Paramatta and Waterloo, the food is so pretty it almost makes it a crime to bite in and ruin it. Their main attraction besides the flowered ceilings is the bright purple taro hotcakes, a visual and taste extravaganza. We love this place for its pretty, cosy vibes.
Address: Shop 4/5/25-33 Allen St, Waterloo NSW 2017
Hours: Mon-Sun 8am-3pm
Phone: (02) 8068 4482
Address: 2a/20 Victoria Rd, Parramatta NSW 2150
Hours: Mon-Sun 6:30am-3pm
Phone: (02) 8677 5226
Visit Social Hideout Social Hideout Menu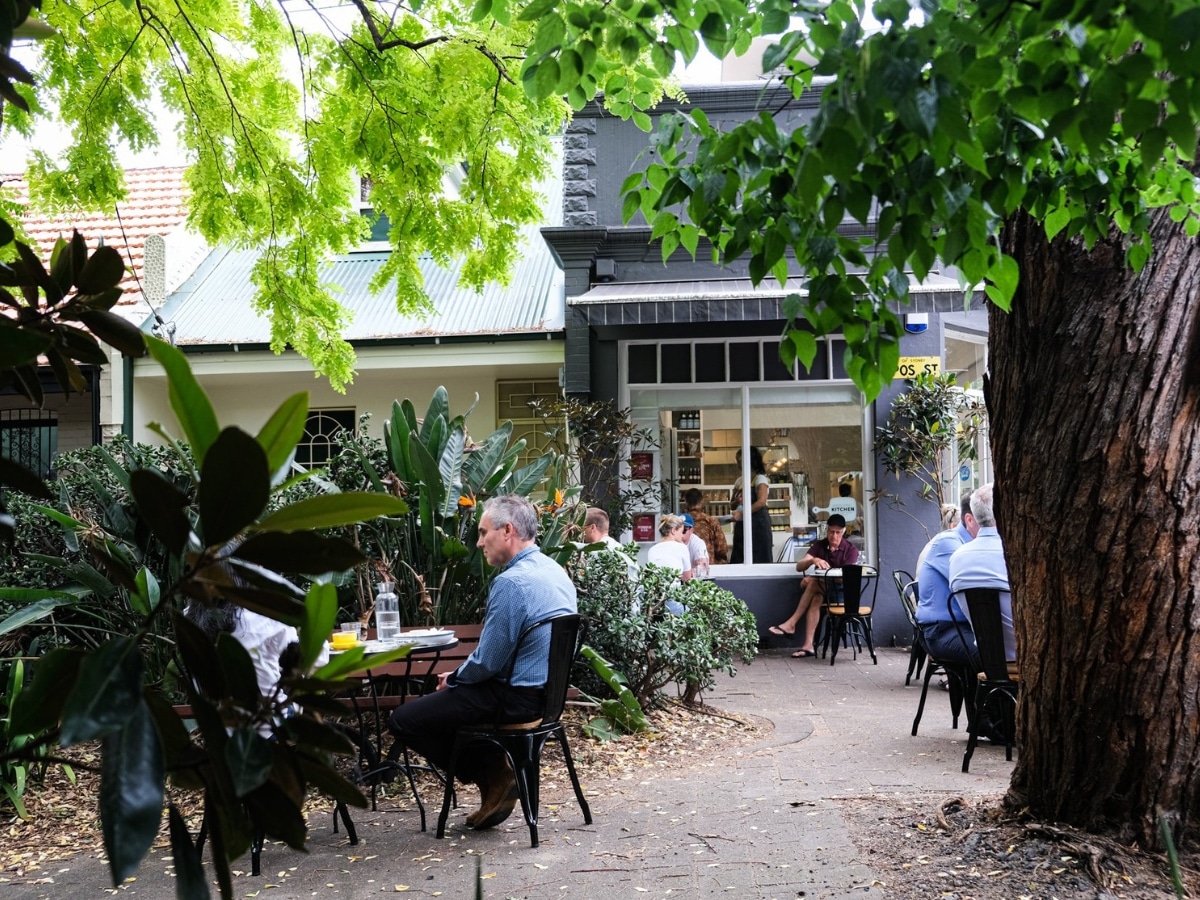 18. Kepos Street Kitchen
Sitting on one of the sunniest corners of Redfern, Kepos Street Kitchen is prized real estate for that Sunday hangover brunch cure, and the long lines show for it. Stocked with coffee from the Ground Roasters and plenty of variations of café classics with a Mediterranean and Middle Eastern twist on the menu, you'll be leaving feeling full and well-nourished. Try the Sardines on rye toast, pesto, pickled onions, kipflers, dukkah, soft boiled egg, for something different.
Address: 96 Kepos St, Redfern NSW 2016
Hours: Mon-Sun 8am-3pm
Phone: (02) 9319 3919
Visit Kepos Street Kitchen Kepos Street Kitchen Menu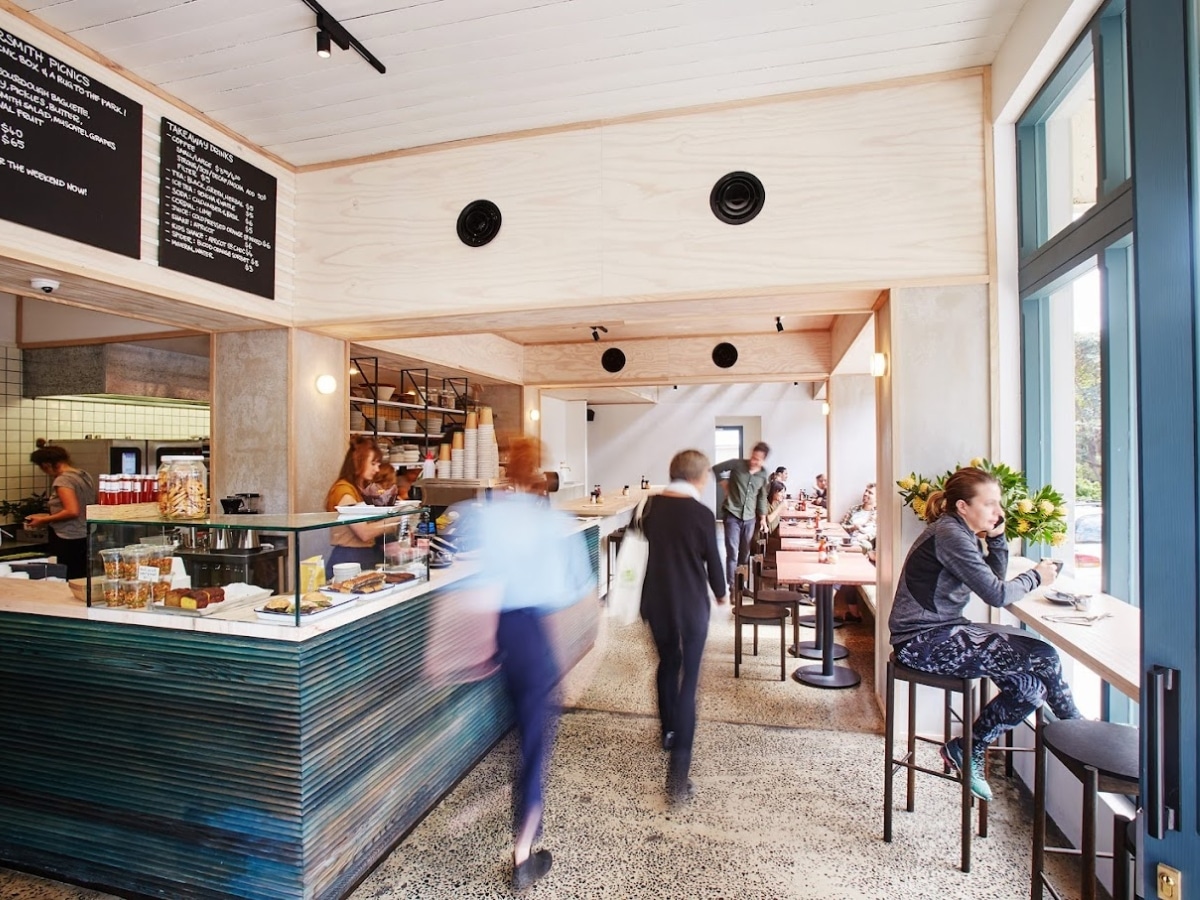 19. Cornersmith
The perfect spot for a coffee while you work, you never know who you may get chatting with at the large communal table. On a quiet corner opposite a quaint playground, grab some food and coffee to go and have the kids occupied too. The menu changes seasonally, so regular visits are a must. We love the location of this little nook—the quintessential neighbourhood corner cafe lives on.
Address: 88 View St, Annandale NSW 2038
Hours: Mon-Fri 7am-2pm, Sat-Sun 8am-2pm
Phone: (02) 9660 4346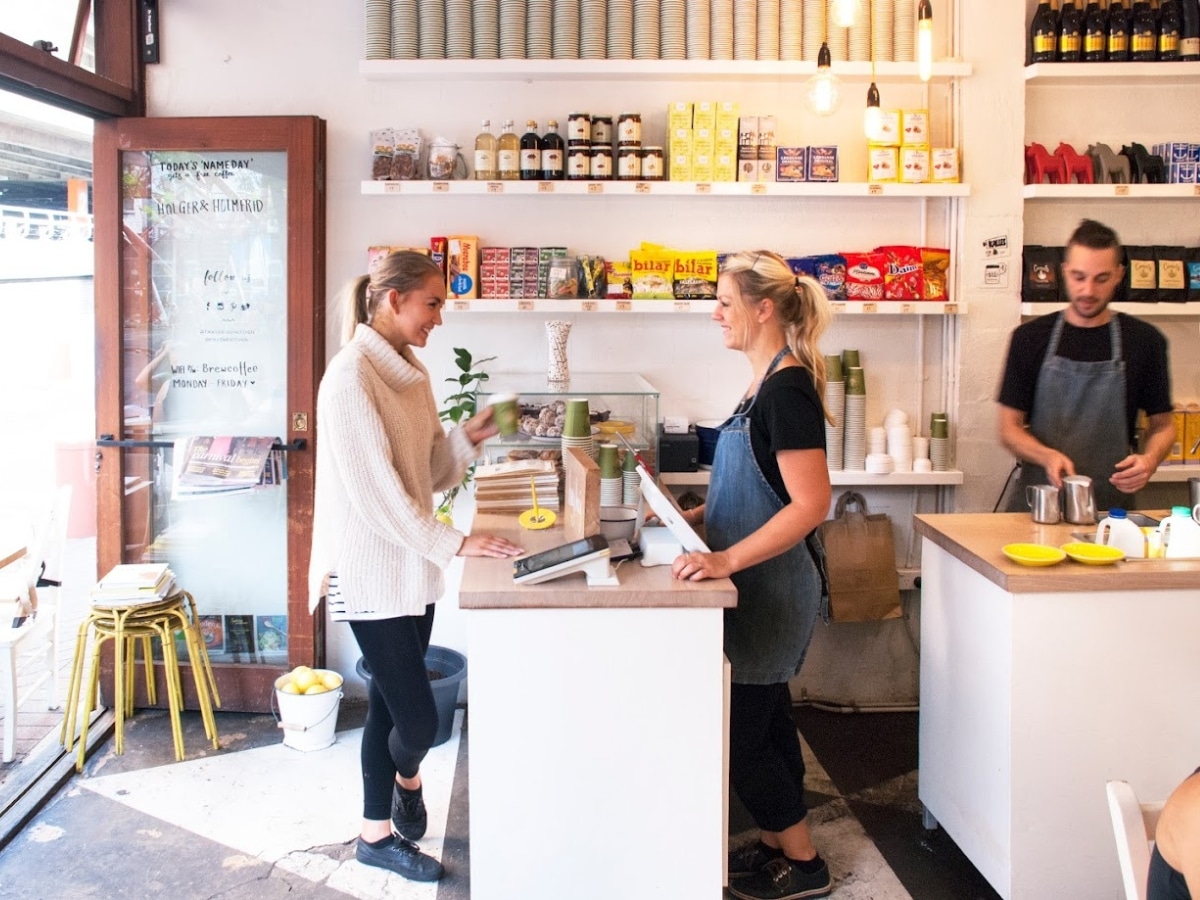 20. Fika Manly
Fika Swedish Kitchen is a Swedish café with coastal locations in both Manly and Bondi. The café serves a menu of homemade Swedish classics like meatballs and the famous fika pastry. If you've ever been to Sweden, this place will take you right back to the narrow, cobbled streets and will leave you feeling full and happy.
Address: 5B Market Pl, Manly NSW 2095
Hours: Fri-Wed 7am-2pm
Visit Fika Manly Fika Manly Menu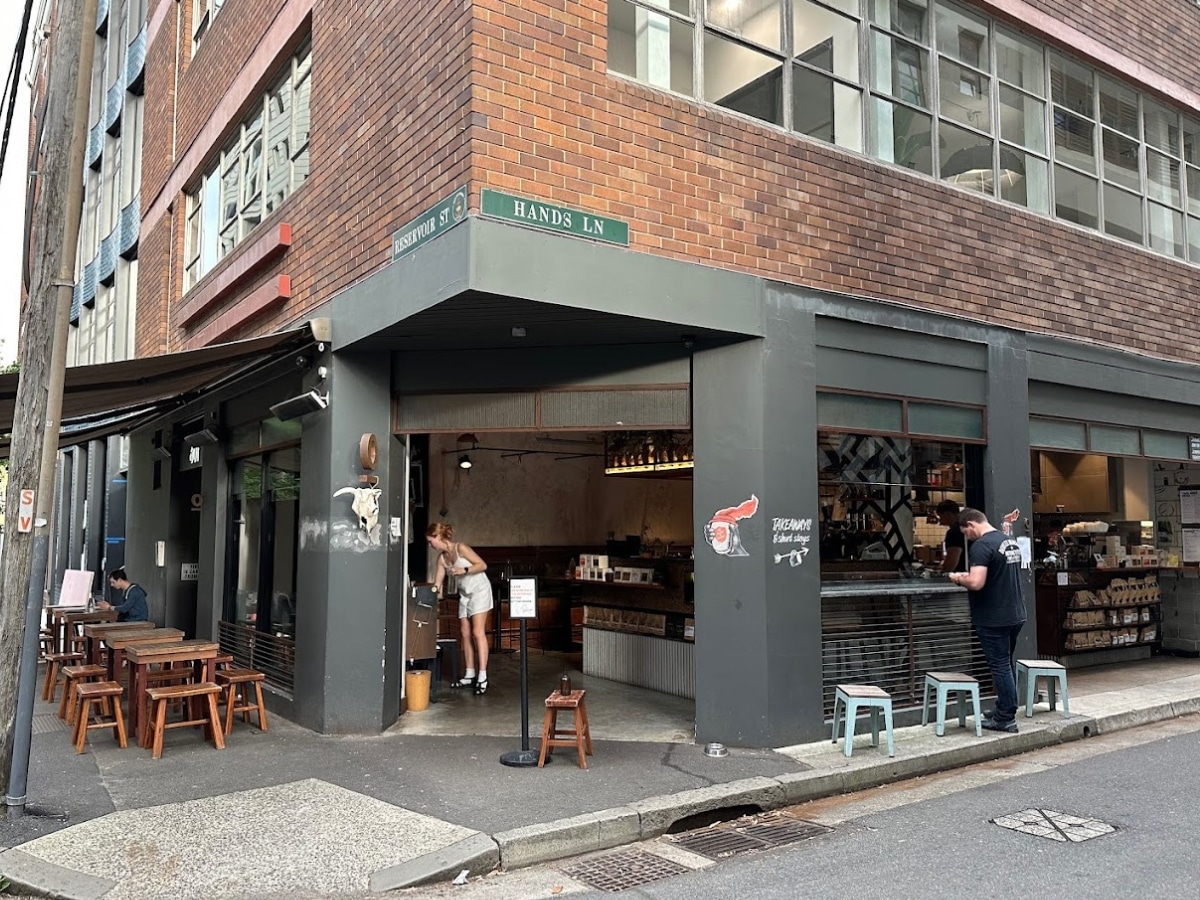 21. Single O
In terms of an all-rounder Brunch in Sydney, Single O is one of the pioneers in the Sydney Breakfast revolution. The café has a self-serve batch brew bar as well as a seasonal menu. Compact and cosy, Single O's dedication to quality coffee means it's the perfect spot to bring your Melbourne coffee snobs pals on their annual visit to Sydney. We can't go past their Mothership Bowl, packed to the brim with poached eggs, red rice, avo, sweet potato cheese, red kraut, pickled cauli and greens.
Address: 60-64 Reservoir St, Surry Hills NSW 2010
Hours: Mon-Fri 7am-3pm, Sat-Sun 8am-3pm
Phone: (02) 9211 0665
22. Reuben Hills
Reuben Hills has become a must-visit in the Sydney brunch scene. With offerings of quality coffee and hearty sandwiches, grab a takeaway or sit down in the industrial-style café. Sourcing coffee beans from Central and South America, the menu follows a similar suite – the NOT Reuben sandwich is our personal favourite.
Address: 61 Albion St, Surry Hills NSW 2010
Hours: Mon-Wed & Fri 7am-4pm, Thu 8am-3pm, Sat-Sun 7:30am-4pm
Phone: (02) 9211 5556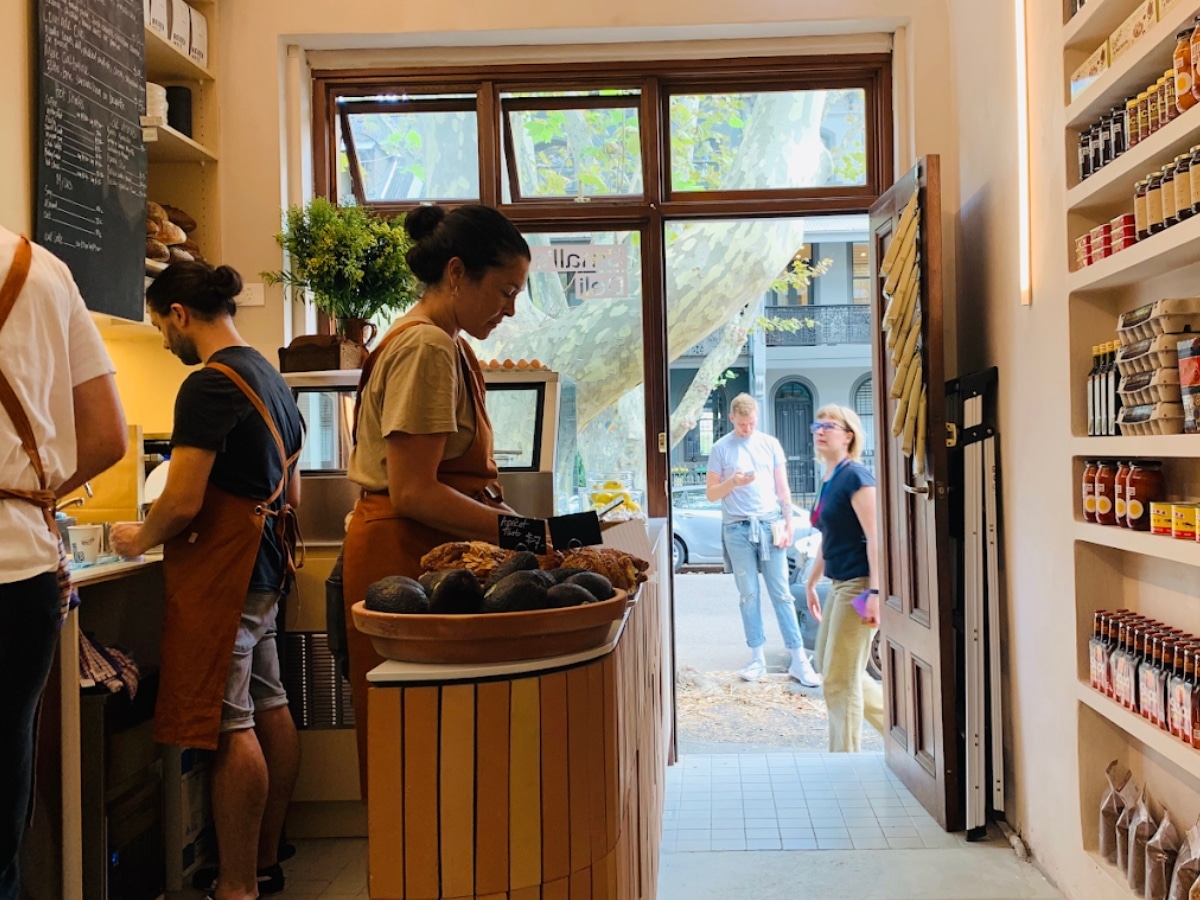 23. Smalls Deli
This deli-style café prides itself on the many sandwiches on offer which change regularly to mix it up. They go down a treat alongside a Reuben Hills coffee, which is the coffee that is sold here. Our favourite is the Al green vegan sanga, with kale puree, avocado, lettuce, apple, pepita and alfalfa on a fresh panini.
Address: 1/166 Victoria St, Potts Point NSW 2011
Hours: Tues-Wed & Fri-Sat 8:30am-2:30pm, Sun 8:30am-2pm
Phone: (02) 8592 5597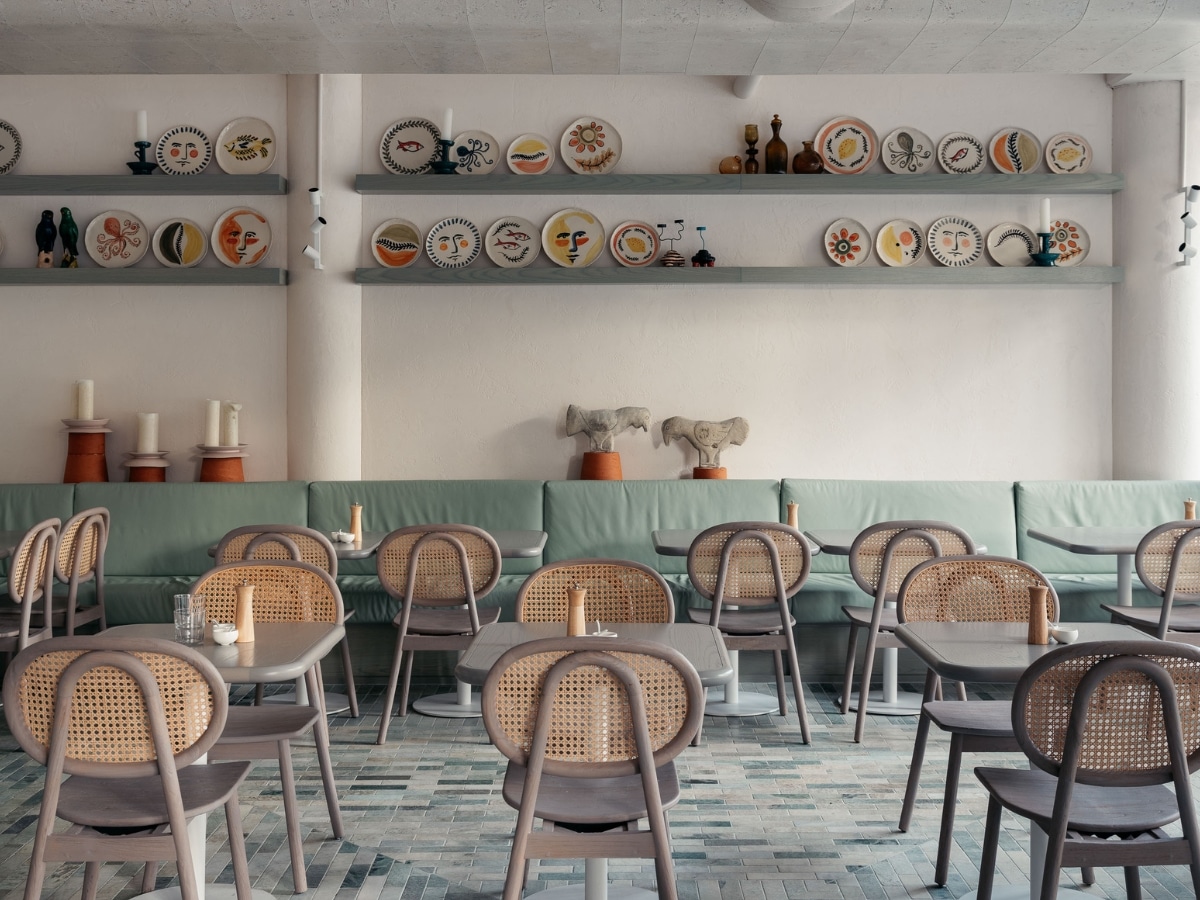 24. Blackwood Pantry
Three mates from the shire opened up Blackwood Pantry intending to create a relaxing, communal space in Cronulla, which they have achieved to a tee. With exceptional food inspired by Europe and Australia's fine dining scenes and quality coffee, this café offers good times and effortlessly nurtures a sense of community through café culture.
Address: Shop 3/87-89 Glenayr Ave, Bondi Beach NSW 2026
Hours: Mon-Thur 7am-3pm, Fri-Sat 7am-10pm, Sun 7am-8pm
Phone: (02) 9544 4857
Address: 5/33 Surf Ln, Cronulla NSW 2230
Hours: Mon-Sun 7am-3pm
Phone: (02) 9544 4857
Visit Blackwood Pantry Blackwood Pantry Menu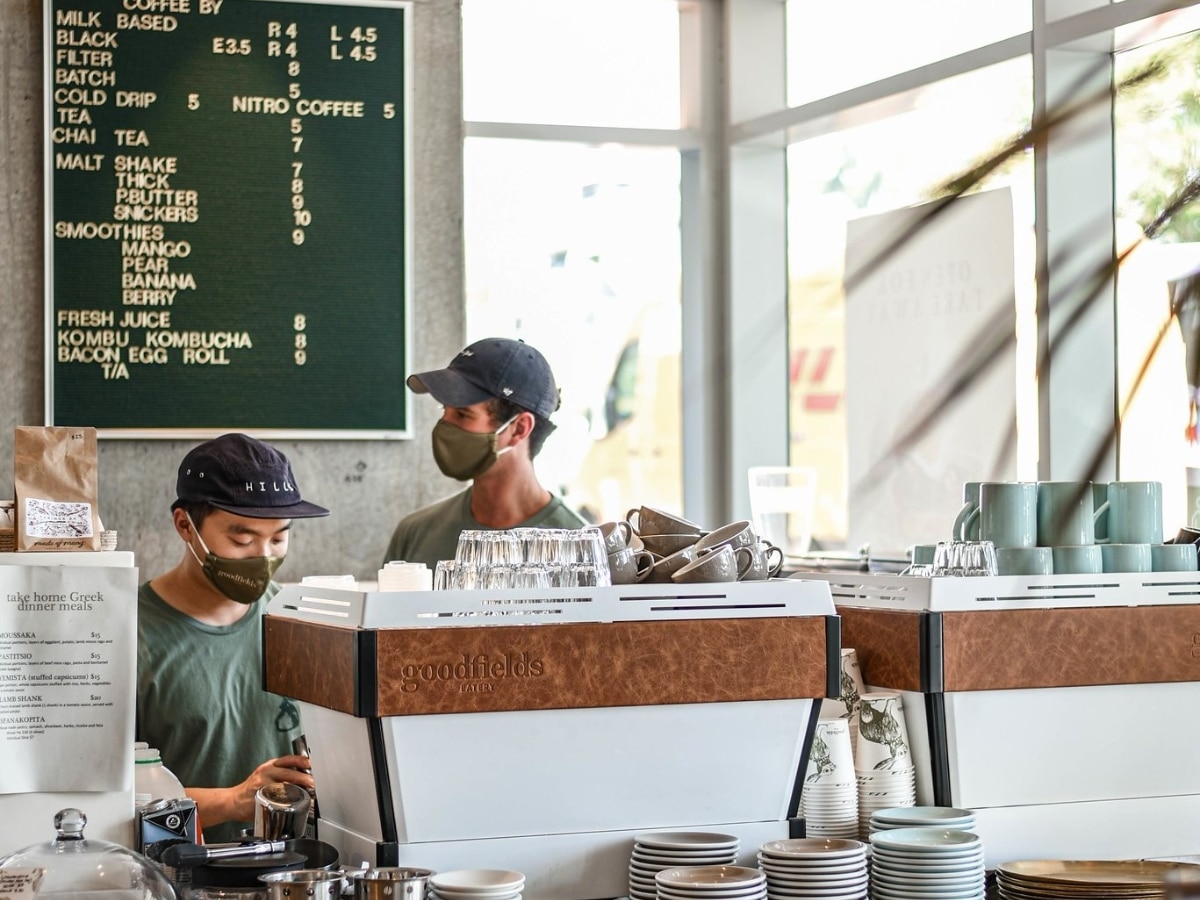 25. Goodfields Eatery
A fine addition to the infamous north shore brunch scene, Goodfields Eatery is a trendy addition to the leafy suburb. The all-day breakfast menu is a huge drawing card for the industrial café. Our favourite is the crumbed eggplant that comes with poached eggs, labneh and coriander.
Located in: Lindfield Shopping Village
Address: Shop 4/5 37 Lindfield Ave, Lindfield NSW 2070
Hours: Mon-Sun 6am-5pm
Phone: (02) 9415 6716
Visit Goodfields EateryGoodfields Eatery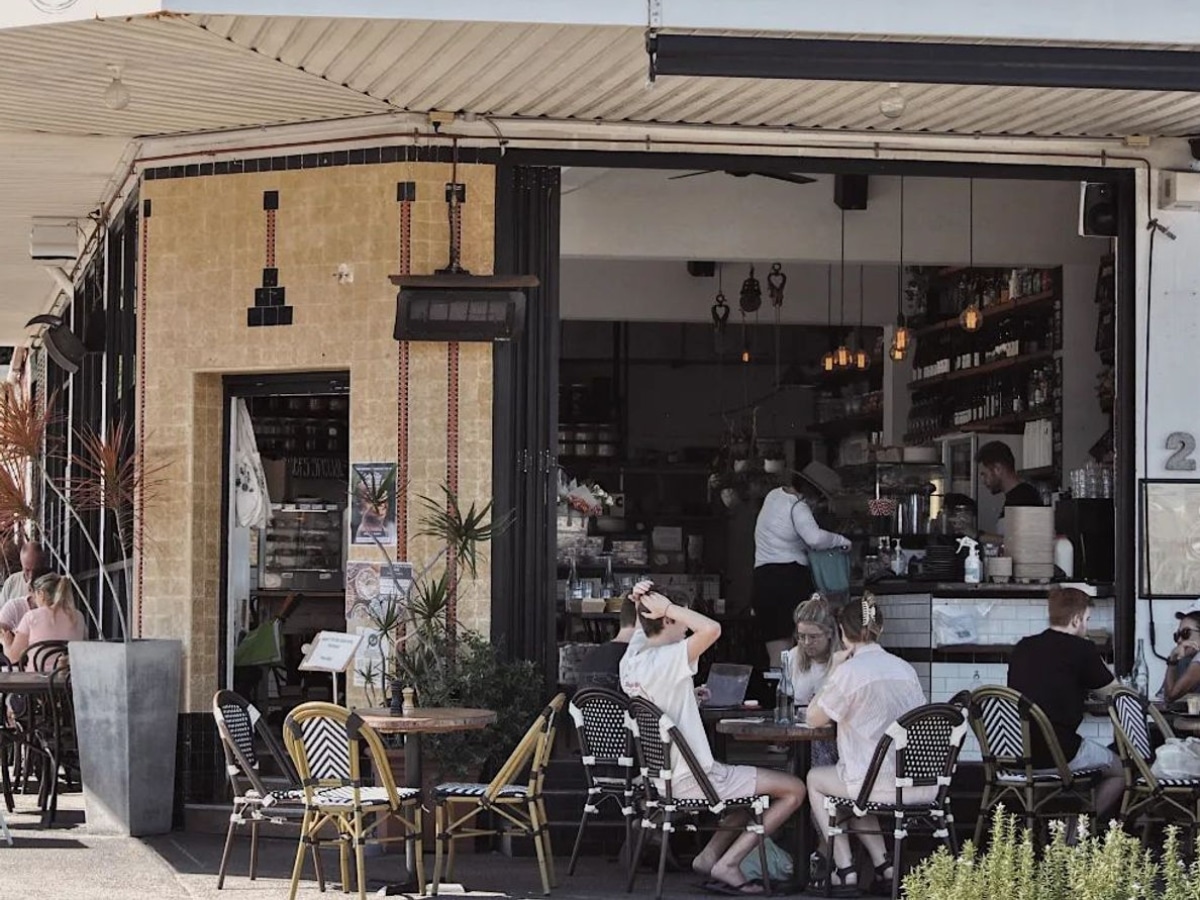 26. SHUK
We all know how delectable an Israeli breakfast can be, and Shuk knows this all too well. The café is renowned for its healthy twist on the Israeli classics we love. Our recommendation is to try the shakshuka, we bet it will be some of the most authentic you've ever had.
Address: Various locations
How Man of Many chose the best brunch spots in Sydney
With an office situated right in the heart of Sydney and a team of keen foodies, Man of Many has the unique opportunity to sample brunch from the best spots in Sydney. Where they haven't had a chance to visit, they've turned to food critics and expert reviews in compiling their list. Man of Many's editors have taken into account, price points, coffee, and food choices, while also making a concerted effort to highlight a few brunch spots outside the CBD. Now, let's check out the list below.
Brunch spots in Sydney FAQs
What are some good brunch spots in Sydney?
Our favourite Sydney brunch spots include Cornersmith, Grounds of Alexandria and Reuben Hills.
Are there any vegetarian breakfast spots in Sydney?
Most brunch spots in Sydney have plenty of vegetarian options, but Yellow in Potts Point is our favourite vegetarian breakfast spot in Sydney.
Where can I get a champagne breakfast in Sydney?
Lox Stock and Barrel, Dead Ringer and Nour are great spots for a boozy Sydney brunch.
You'll also like: