50+ Best Halloween Costume Ideas for 2022
With spooky season just around the corner, you might have your Halloween costume ideas sorted, but for some of us, the threat of getting it wrong is infinitely more terrifying. There's nothing worse than rocking up at a party only to be hit with 'What are you meant to be?". It's true, October 31 is a time to showcase your pop-culture knowledge, show off a little skin and get ghoulish in the best ways. Don't settle for another year as a sexy ghost, it's time to be a little creative. After all, if 2022 didn't give you enough nightmare fuel to get the DIY Halloween costume wheel turning, what will?
What Makes a Good Halloween Costume?
The great thing about Halloween is that you have a wide range of possibilities available. You can pretty much use anything you have at home or get online to make a DIY Halloween costume, and in some cases, a poorly-made budget rendition is better than the store-bought. There are three goal rules to nailing a good Halloween costume.
Relevance – When it comes to funny Halloween costumes, timeliness is everything. Think about the mad pop-culture events that occurred this year and see if you can recreate them.
Design – Great design is form meets function, but in the Halloween costume world, it's all about effort. A mummy just wrapped in toilet paper is still a mummy and that's all that matters.
We've broken up of last-minute list into four parts: Funny, DIY, Cute and finally Couple, however, there are some omissions you will note. While we're sure you've seen the wealth of interest in Jeffrey Dahmer, we've decided to take the same approach as eBay for this year and canned the costume. The popular e-commerce website confirmed that it has put a ban on Dahmer costumes because they violate its policy on violent and violent criminals and we tend to agree. So with that out of the way, let's jump into some last-minute Halloween costume ideas for 2022.
Funny Halloween Costumes
Slap-Happy Will Smith
The obvious answer, 2022's biggest pop-culture event hit the headlines with a bang. Just hours before picking up Best Actor at the 2022 Academy Awards, former-nice guy Will Smith slapped the living sh*t out of presenter Chris Rock. Emerging from the crowd after a seemingly harmless joke directed at his wife Jada Pinkett Smith, Smith walked on stage and planted a full five-finger greeting on the left side of Rock's face.
The images were beamed all around the globe and led to some serious for Smith, who copped a 10-year ban from the event for disrespecting the rules. For Halloween this year, why not recreate the iconic moment Will Smith somehow managed to do the impossible – have both the best and worst night of your life simultaneously? Now that's a costume that slaps.
What you'll need: Tuxedo, Bow tie, Fragile ego
G.I. Jane
It's been a little while since the 1997 Demi Moore-led action flick G.I. Jane made headlines, but 2022 marked a serious comeback courtesy of, you guessed it, Will Smith. The very joke that saw the Fresh Prince place some Fresh Handprints on Chris Rock's face, the reference to Jada Pickett Smith's shaved head raised some eyebrows and got some people hot under the collar. For this one, all you'll need is a shaved head, some army gear and a lasting legacy.
What you'll need: Shaved head, army greens, boots
Harry Styles' Spit-Ball
Did he? Didn't he? Chris Pine claims Harry Styles did not spit on him at the premiere of the pair's 2022 film Don't Worry Darling, but the jury is still out. The musician-turned (almost) actor made headlines back in September for allegedly hocking a loogie on his co-star. In the footage, you can see Pine immediately stop clapping and look down at his pants in disgust, however, his reaction may have just been in reference to the film itself. Olivia Wilde's sophomore effort is garnering some mixed reviews from critics and fans alike, following a tumultuous press run that included: infidelity, a Shia Labeouf casting drama, spit-gate and a lead actor with an accent that refused to stay in its lane.
What you'll need: Ridiculous suiting, High-waisted trousers, An angry co-star
Amber Heard's Bed Grumpy
Trial by TikTok in full effect – Johnny Depp vs Amber Heard set the internet ablaze when the two (ok, one) of Hollywood elites' private lives were laid bare in true stinky fashion. Aside from the cheating scandals and drug-use revelations, the biggest surprise came when Depp accused his former lover of leaving a 'Grumpy' in their bed.
After finding poop found in their bed after a fight, Deep blamed the disgusting act on Heard, who in turn, claimed it was the dog's fault. Depp, who previously played a detective in both From Hell and Sleepy Hollow, donned his investigative hat and deduced that the dumps each weight 4 pounds, were far too large to have come from their small dogs. Thus, the culprit must have been Heard. For Halloween this year, why not take things to the bedroom and make a fecal-focused costume?
What you'll need: Brown clothing, Corn kernels stuck to it
Sleepy Ben Affleck
The second iteration of Bennifer became official earlier this year when A-listers Ben Affleck and Jennifer Lopez tied the knot. However, while wedding photos usually take the cake in terms of candid celebrity fodder, the images that caught our attention were of Affleck, 10 beers deep, passed out on a superyacht. After living it up and making the most of married life, the Batman star put up his feet and took a well-earned nap. How do you like them apples?
What you'll need: Blue button-up, Jeans, Sneakers, A comfortable chair
Tom Cruise in Top Gun: Maverick
It was hyped as the biggest movie event of the year and somehow Top Gun: Maverick still managed to surpass expectations. The Tom Cruise-led sequel to the 1986 epic saw Maverick back in the cockpit of a fighter jet continuing to do death-defying stunts all in the name of Defence Force propaganda support.  You can expect to see a bunch of Top Gun pilots at Halloween parties this year, presumably all sporting glorious moustaches. If you want to really make the most of the Hollywood spectacle, grab a pair of army green Dickies coveralls and slap some aviators on to complete the look.
What you'll need: Green coveralls, Patches, Aviators, Killer moustache, Abs
Bo Cruz
The Cruz Missile took the world by storm this year, following the release of the Netflix film Hustle. Starring Adam Sandler as the down-out-out NBA scout, Stanley Sugerman, the film follows his journey to unearth the next great superstar, which arrives in the form of Spanish unknown Bo Cruz. The rags-to-riches story was elevated by a series of cameos from current and former NBA stars, however, Cruz himself steals the show. Played by active NBA player Juancho Hernangómez, the Cruz Missile shot into superstardom upon the film's release and it somehow translated into his play. The Spanish forward dropped 27 points including seven three-pointers to guide Spain to a convincing win at the 2022 EuroBasket Competition.
What you'll need: Sleeve tattoo, Basketball, Flip-flops, 7-foot wingspan (preferred)
Shakira in Jail
Her hips may not lie but apparently, her accountant does. Colombian music superstar Shakira has found herself in hot water, facing up to eight years in jail for tax avoidance stemming from allegations she failed to pay 14.5 million euros ($21.6 million) in income tax between 2012 and 2014. While the singer has maintained her innocence (she's expected to get off lightly), you can expect to see a few Shakira jailbird costumes this year. Strap on a skin-tight dress, preferably with a nice black and white vertical stripe arrangement, grab your pan-pipes and sentence your fellow-goers to 8-10 years of fun.
What you'll need: Skin-tight outfit, Long wavy brown wig, Wristbands, $21 million in undeclared income
Fat Elvis
Austin Butler's turn as The King in Baz Luhrman's epic Elvis was surprisingly solid, much like the man himself in later years. While we often picture Elvis Presley as the taut, panty-dropping superstar of the 1950s and '60s, his frame in the '70s was a lot more…robust. In the film, which was one of 2022's biggest releases, Butler dons a fat suit and shows the real burden of fame. Towards the end of his life, Elvis weighed a reported 158kg, thanks in part to a lifelong love of Southern food. He famously consumed a whopping 10,000 to 12,000 calories per day, more than five times the average expectations.
What you'll need: Sparkly suit, Slick back hair, Microphone, Guitar, More than a bit of junk in the trunk
Emo Batman
Robert Pattinson's long-awaited take on The Batman landed this year and for the most part, it was a triumph. The film was commercially successful, Pattinson was solid and the storyline was fresh and modern, but for all The Batman's success, one thing couldn't be overlooked. Pattinson's moody and brooding Bruce Wayne landed closer to emo kid from the suburbs than the suave and sophisticated billionaire playboy we're used to seeing. Rather than doing the stock-standard Batman Halloween costume you do every year, why not jazz it up with some thick black eyeliner, Converse and a copy of Nirvana's Nevermind on vinyl?
What you'll need: Black Batman suit, Smudged eyeliner, Converse, Feels
Julia Fox – Denim Icon
She came out of nowhere to become the world's most interesting pop-culture icon and Julia Fox isn't going anywhere. After a starring role in the Safdie brothers' high-octane flick Uncut Gems, Fox emerged as a breakout favourite. From there, her high-profile stint as Kanye West's muse, followed by a series of interesting outfit choices only served to make her more of a star. Grab a pair of jeans and rip the living sh*t out of them
What you'll need: Almost a pair of jeans
Wordle
Five letters, one word, a multitude of potential options. Wordle took the internet by storm this year, setting off a major chain reaction that saw every single person rush to solve the word game in time. This Halloween costume is a little more abstract than most, so put your creative hat on and start arting and crafting.
What you'll need: Black outfit, Sandwich board
The Tinder Swindler
Simon Leviev captured global attention earlier this year when a Netflix true-crime docuseries revealed him to be a serial love rat. Dubbed 'The Tinder Swindler', Leviev managed to con a group of women into giving him millions of dollars, all under the guise that he was a billionaire playboy with the means to pay them back. To their shock and horror, it turns out he was a common crook (allegedly). For this pop-culture Halloween costume, slap on a pair of Dolce & Gabbana sunglasses, loafers with no socks, a Gucci polo and raise a toast to the women you've duped
What you'll need: Gucci shirt, Gucci belt, Sunglasses, Expensive watch
Big Sexy Daemon
Game of Thrones prequel House of the Dragon is pretty much the best thing since sliced bread, and it's not just for the steamy (incestual) sex scenes. The breakout character in the series is villain Daemon Targaryen, played by former Doctor Who Matt Smith, thanks in part to a legion of fans that want to jump his bones. Since the show first premiered, social media has been flooded with posts about the Daemon Daddy, which both confuses and surprises the producers. During an interview with The Hollywood Reporter, producer Sarah Hess says that the outpouring of love for Daemon online makes no sense.
"He's become Internet Boyfriend in a way that baffles me," said Hess. "Not that Matt isn't incredibly charismatic and wonderful, and he's incredible in the role. But Daemon himself is… I don't want him to be my boyfriend!"
Nevertheless, if you want to make an impression at Halloween this year, get your best long blonde wig out and start hitting on your niece. Just kidding, definitely don't do that.
What you'll need: Long blonde/white wig, Black cloak, Boats, Sword
Culturally Ambiguous Marilyn Monroe
Look, it was an odd choice to cast Cuban actor Ana de Armas as fabled American icon Marilyn Monroe in the film Blonde, but we were here for it. The Blade Runner star has managed to carve out a chameleon-like character appearing different in seemingly every role she's been in, so we were cautiously optimistic she'd nail the part. Spoiler alert – she didn't, but it wasn't all her fault.
Many viewers took opposition to her accent sounding nothing like the real Marilyn, while others questioned the motives behind the completely false abortion storyline, not to mention the talking fetus. Either way, Blonde was a bit of a disaster, which makes it a prime candidate for a 2022 Halloween costume. Prep yourself with a blonde wig, white dress and don't worry about getting the accent right!
What you'll need: Blonde wig, White dress, High heels
Liz Truss
A reign that lasted less than two months yet somehow managed to survive two monarchs, Liz Truss officially called time on her British Prime Ministership after just 45 days. To celebrate her disastrous run at the top, pop Liz Truss on your Halloween costume ideas list. It's simple to do, easily forgotten and remarkably, not quite as popular as the Boris costume from last year.
What you'll need: Pantsuit, High heels, Blonde wig, Out-of-touch budget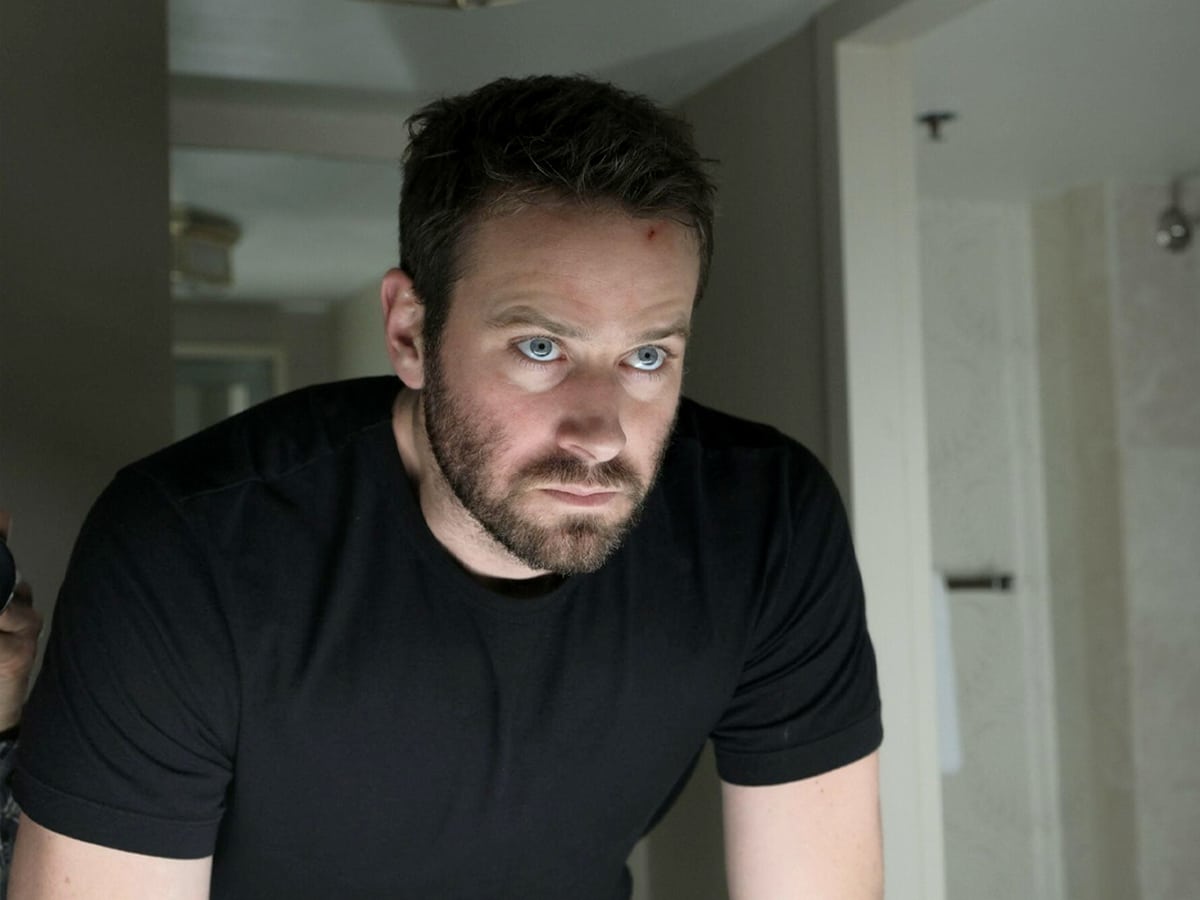 100% A Cannibal Armie Hammer
It's an oldie but a goodie. When Hollywood actor Armie Hammer was revealed to be "100% a cannibal" the world went into collective hysteria. The Social Network star's bizarre fetish was laid bare for the world to see after a string of abuse allegations put him in the hot seat. Since then, a docu-series about his family has premiered, revealing the sordid details of the wealthy household and confirming that the hammer doesn't fall far from the tree.
What you'll need: Rugged good looks, Suit, Kinky fetishes
DM-Lord Adam Levine
The memes just write themselves sometimes. If you want to make a splash with your Halloween costume this year, try your hand at Maroon 5 frontman Adam Levine. The former Voice judge made headlines earlier this year when his alleged DMs were leaked to the world, revealing his god-awful sexting game. With genius pick-up lines that included "I may need to see the booty" and "I'd buy it a steak dinner and whisper sweet nothings to it", it's really hard to wrap your head around this one.
What you'll need: Bad tattoos just chucked on your body in no discernable order, No shirt, Skinny jeans, Super high-pitched voice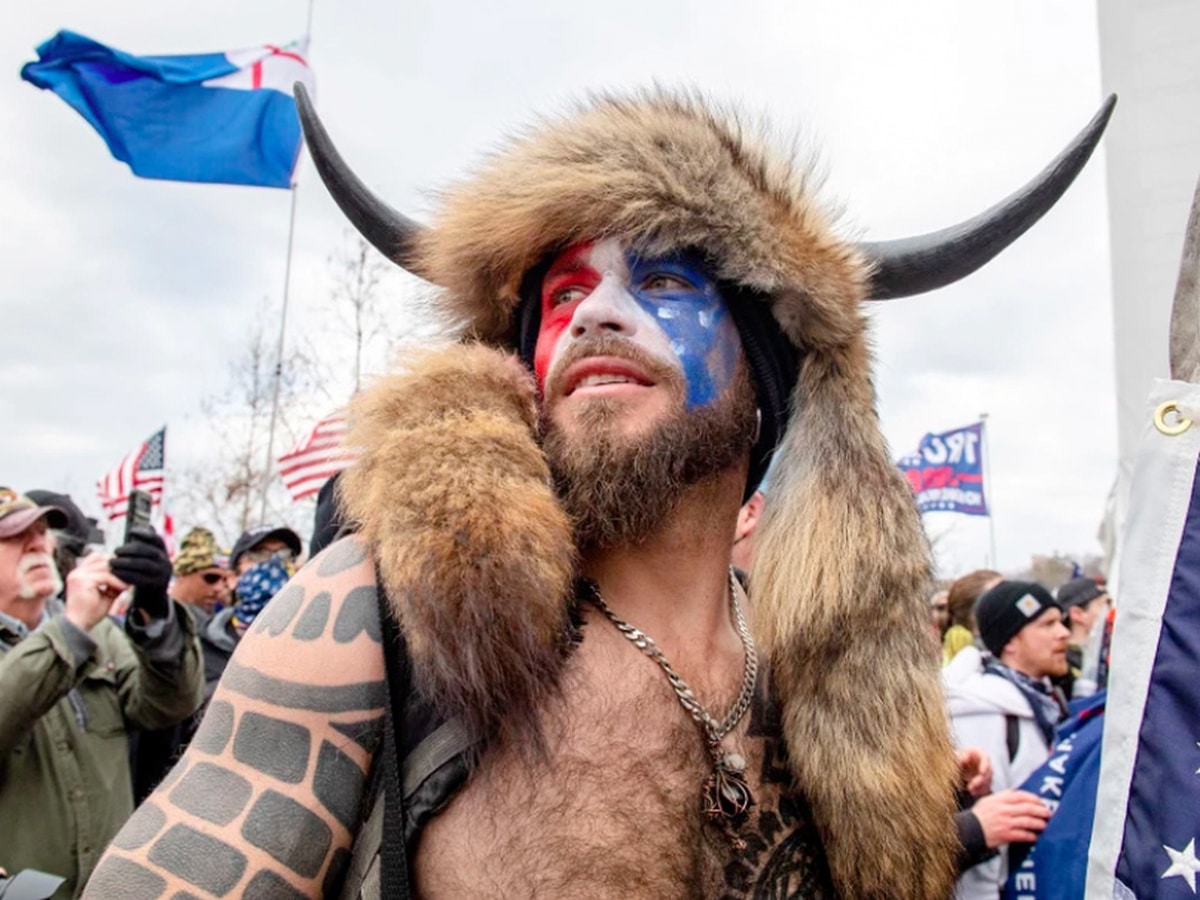 QAnon Shaman
When news broke that a band of domestic terrorists had stormed the Capitol, the last thing anyone expected to see was the Yellowstone Wolf. "QAnon shaman" Jacob Chansley was seen shirtless, wielding a spear, wearing face paint and a fur hat with horns, making him the perfect candidate for some good old-fashioned mockery.
What you'll need: Face paint, Horns, No Shirt, Racoon tails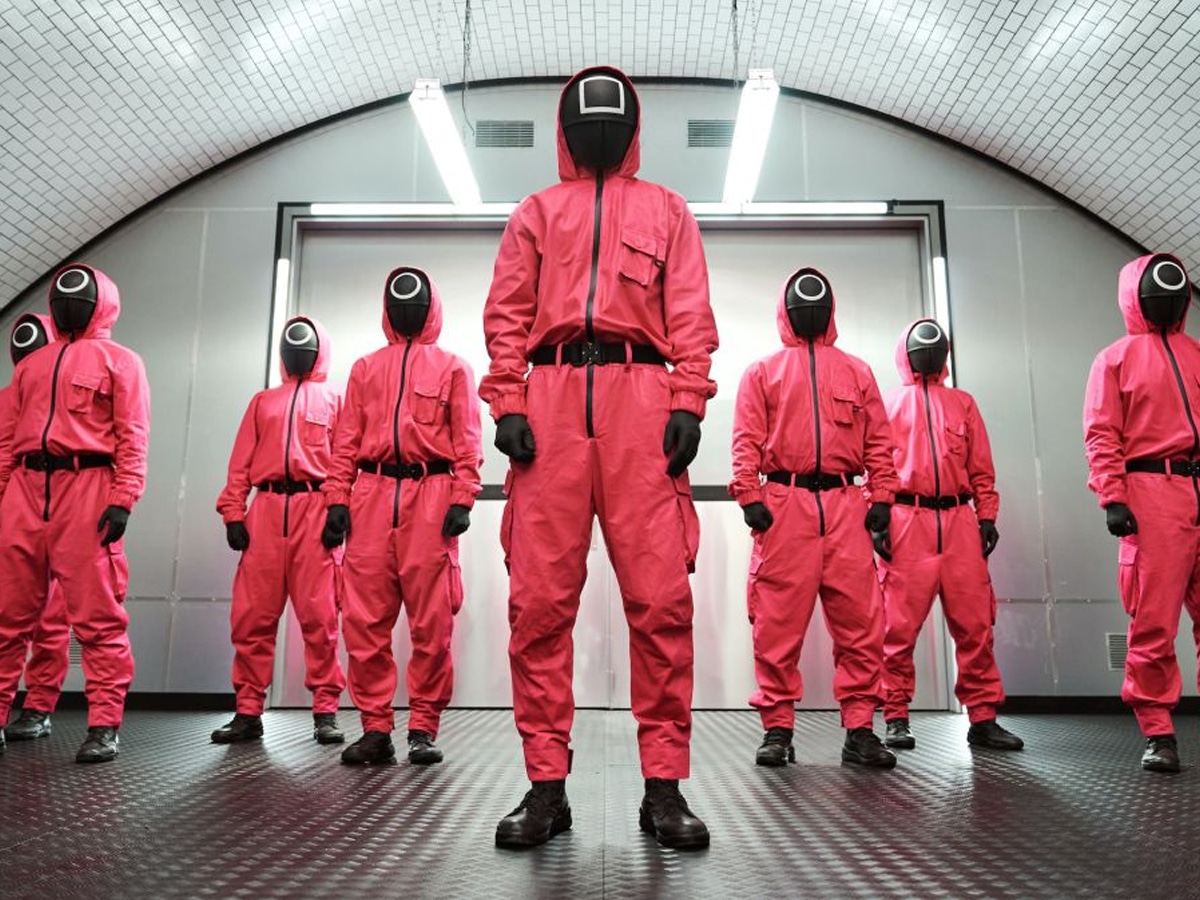 Squid Game
Easily one of the most popular costumes for this year, the popular Netflix series Squid Game has taken over Netflix and will most likely take over Halloween. The series has many characters to recreate this Halloween, from players to soldiers to everyone in between. Considering this was probably the biggest Halloween costume idea for 2021, you might want to consider recycling it.
What you'll need: Pink or green tracksuit, Mask,, Black Boots, Black Belt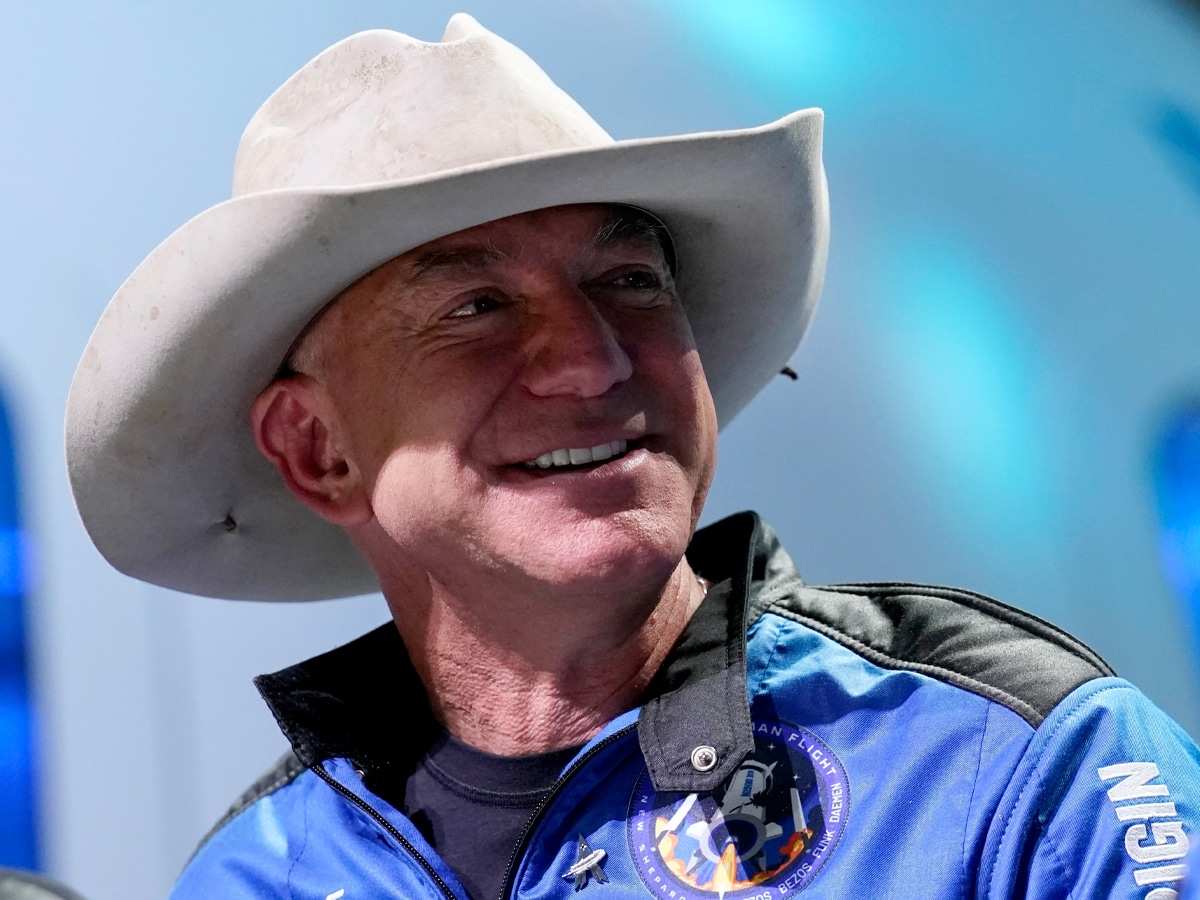 Jeff Bezos in Space
If you didn't know multi-billionaire Jeff Bezos went to space. You might be wondering what makes this a worthy costume. Well, the Billionaire and Amazon CEO not only travelled to space but he did it all while wearing a cowboy hat. You can recreate this easy space cowboy look, with a blue space suit and a pale stone cowboy hat. All of which can be found on Amazon, how convenient.
What you'll need: Cowboy hat, Blue Tracksuit, $200 billion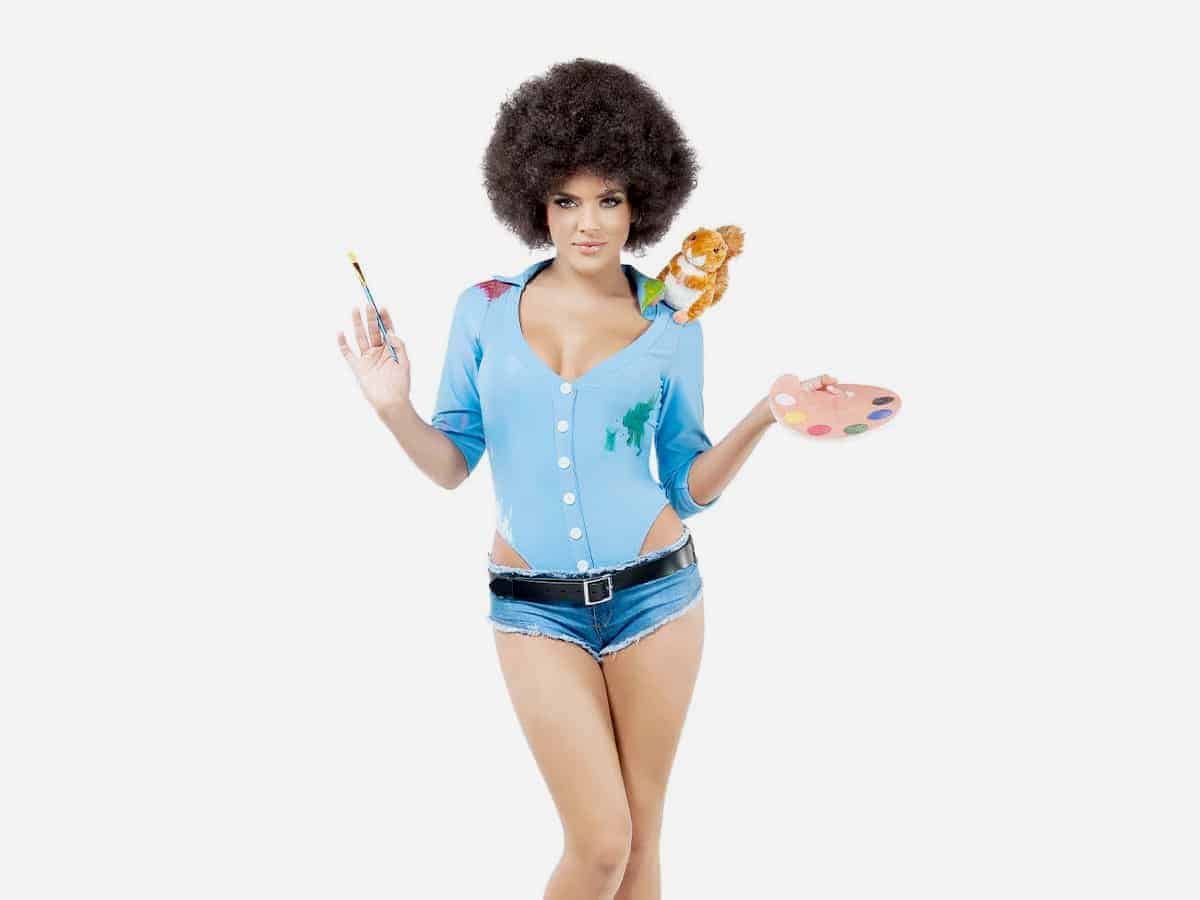 Sexy Bob Ross
Who doesn't love Bob Ross, the man's a legend not just for his art but his inspirational quotes too. For this costume, you'll need a fake beard if you don't have a real one, a blue chambray shirt, an 80s-style curly wig and finally a paint palette and a paintbrush.
What you'll need: Curly wig, Paint brush, Palete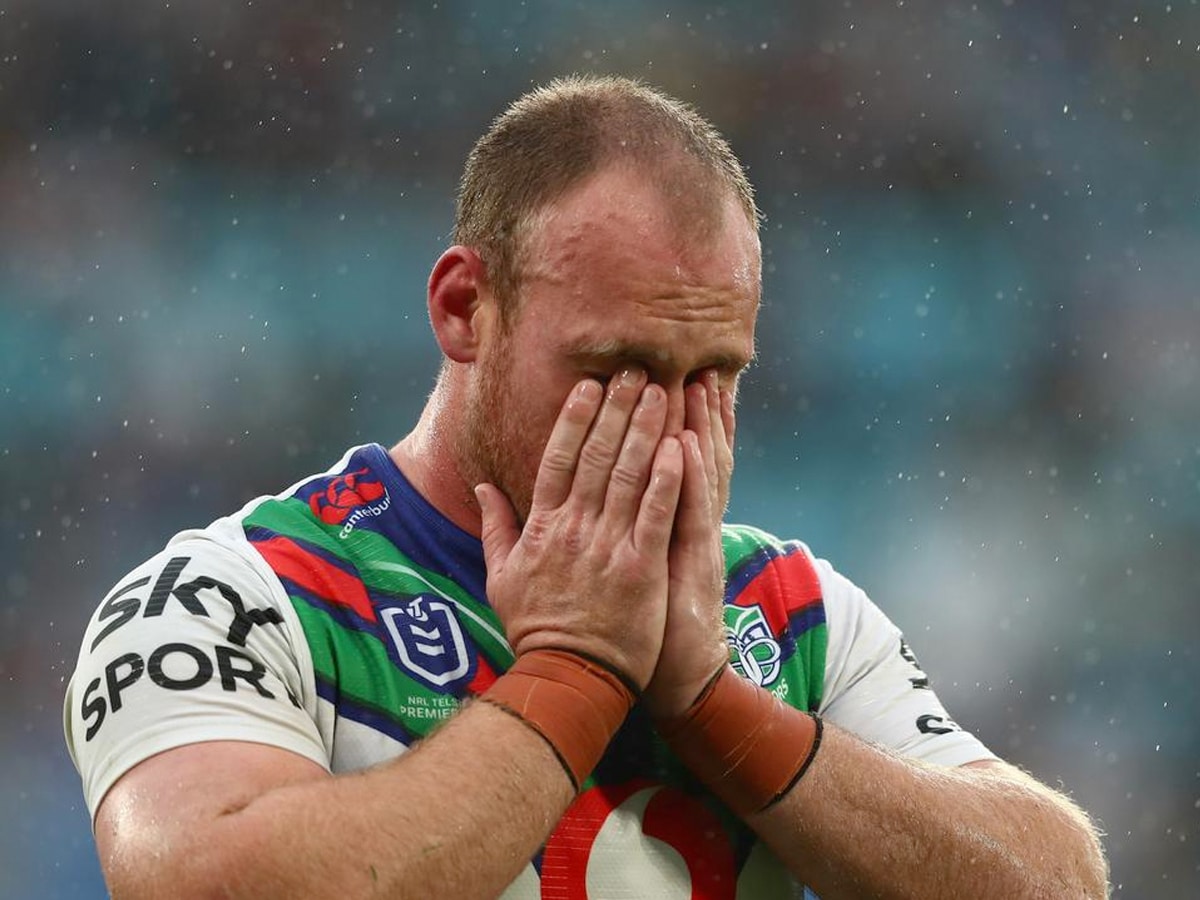 An Apologising NRL player
This costume is open to a lot of interpretation making it a good last-minute costume. There are a couple of NRL players you could choose from or just make up your own. All you'll need to do is just throw on your NRL jersey and a pair of footy shorts or just wear a black suit and grab a fake mic. You can make a sorry sign or just start apologising around the party, why not try walking around with a fake mic and issue a statement.
What you'll need: Microphone, NRL jersey, Boots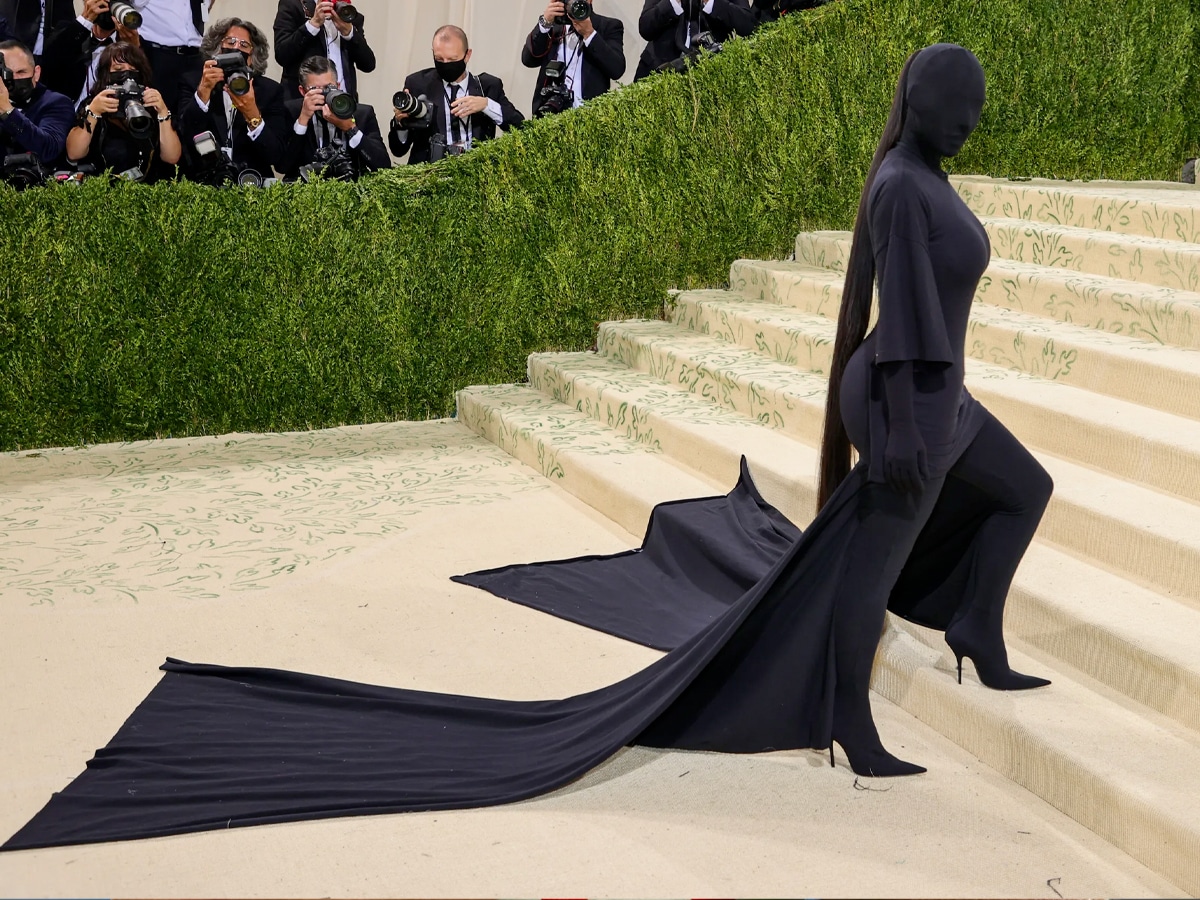 Kim K at the Met Gala
Since Kim K's appearance at this year's Met Gala, her Balenciaga look has become a meme and has now become your last-minute Halloween costume for 2021. Some online stores have started to make their versions of this costume, but for those looking to make their own version, you'll need a black dress, a floor-length cape, some opaque tights, long gloves and you can't forget the breathable black facial hood.
What you'll need: Full-length black dress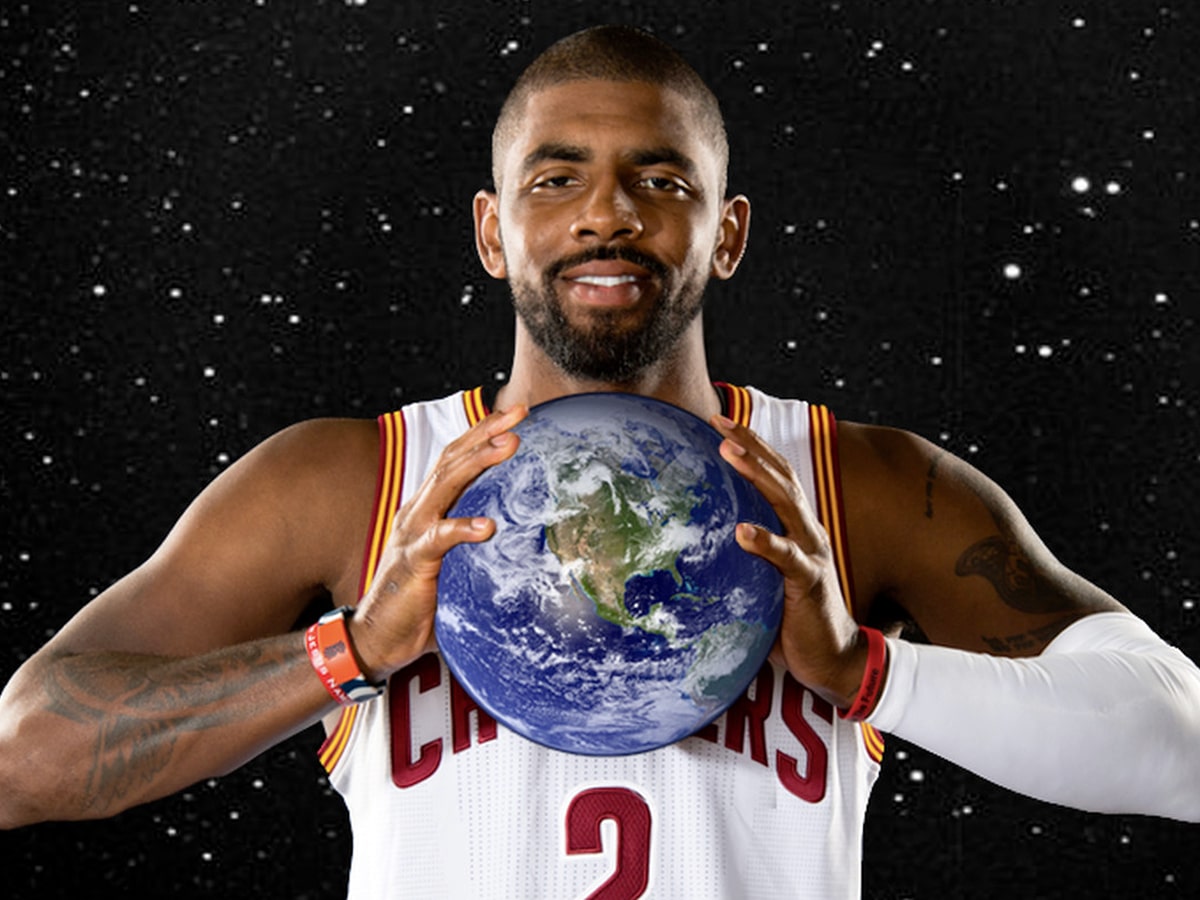 Conspiracy Theory Kyrie Irving
Brooklyn Nets NBA star Kyrie Irving is known for being seriously outspoken, but his off-the-wall method of showing often comes under criticism. Whatever you think of the All-Star, the footage of him cleansing his former home-court in Boston with a sage ceremony is the kind of thing Halloween costume designers live for.
What you'll need: Basketball jersey, Basketball, Sage sticks
Broken Leg Conor McGregor
Talk sh*t, get your leg broken. Apparently, that's what we learned from UFC star Conor McGregor this year. If you want to recreate the infamous injury that saw him go down, slap on some boxer trunks and bandage up that leg.
What you'll need: No shirt, UFC gloves, Borken leg, Tattoos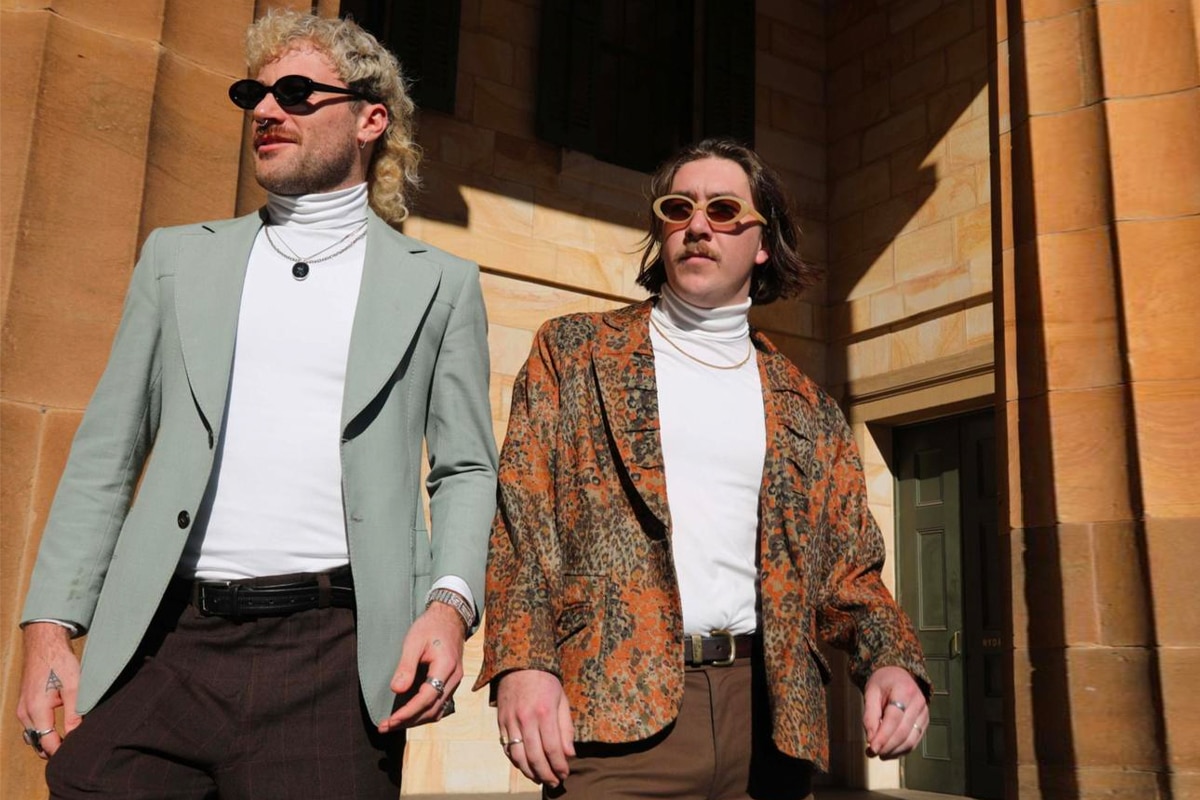 The Big Bird Bandits
When two young men stole a giant Big Bird costume from a circus in Adelaide fronted court, we never expected them to become style icons, but that's Tasman Binder and Cody Milne did. Charged with unlawfully being on-premises and theft of the Sesame Street character worth $160,000, the pair wore matching turtleneck skivvies, 'Sesh Sunnies' and extravagant vintage jackets as they strutted out of the Adelaide Magistrates Court.
What you'll need: Turtlenecks, Pastel suits, Mullet, A lot of confidence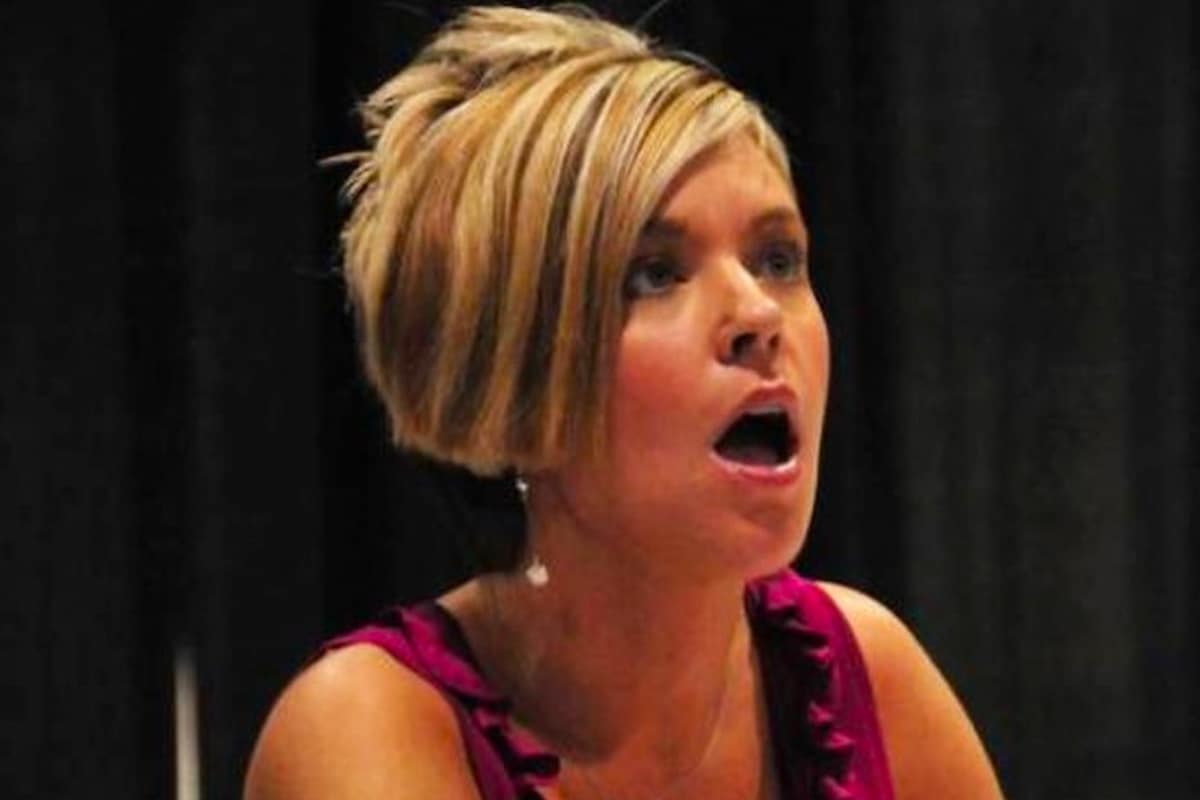 A Karen
You do want to speak to the manager. You do deserve a refund. You do abuse wait staff for an order that you actually stuffed up.
What you'll need: To see the manager
DIY Halloween Costumes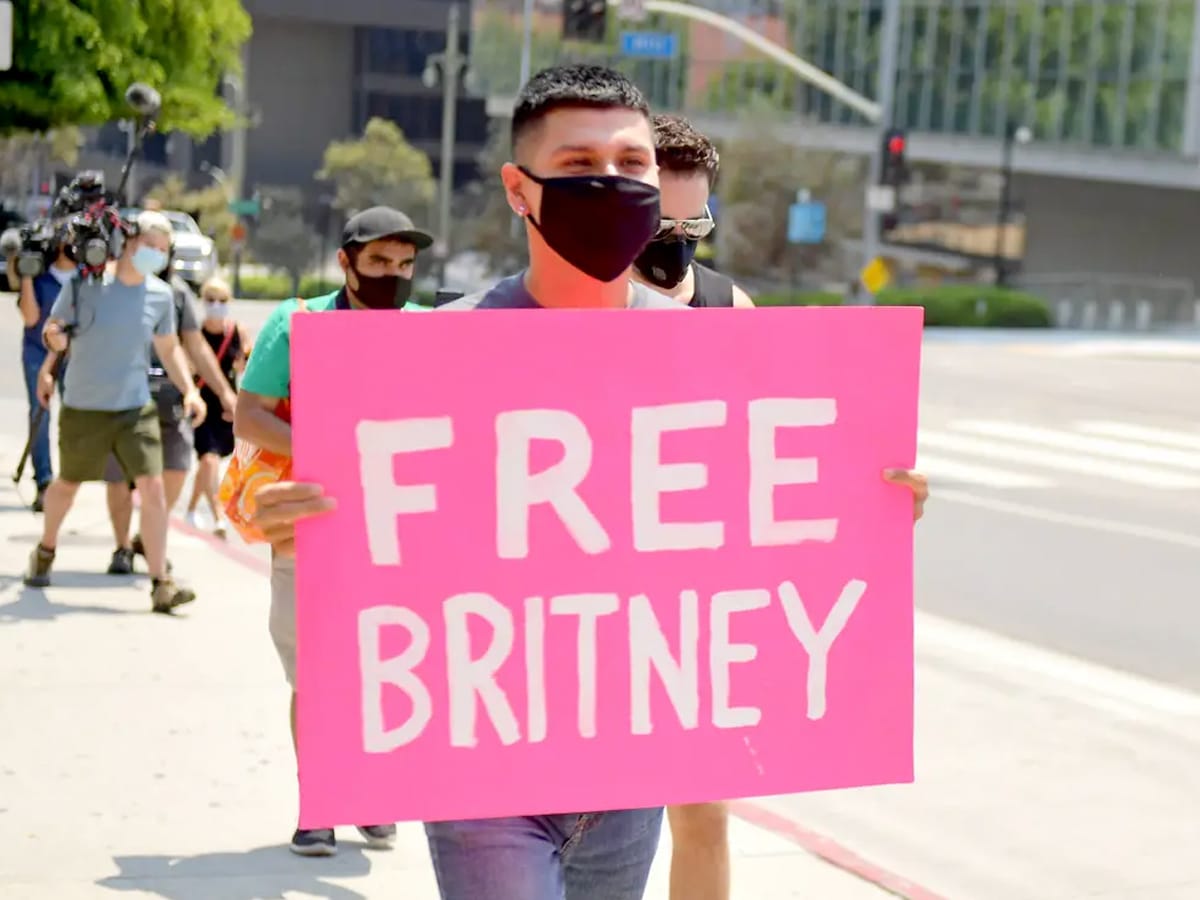 Free Britney Advocate
Britney has been fighting for her autonomy for as long as we can remember. She and her fans are definitely frustrated and upset about this ongoing situation. So for this Halloween why not show your support. All you'll need for this costume is a DIY "Free Britney" shirt or sign.
What you'll need: Britney memorabilia, Sign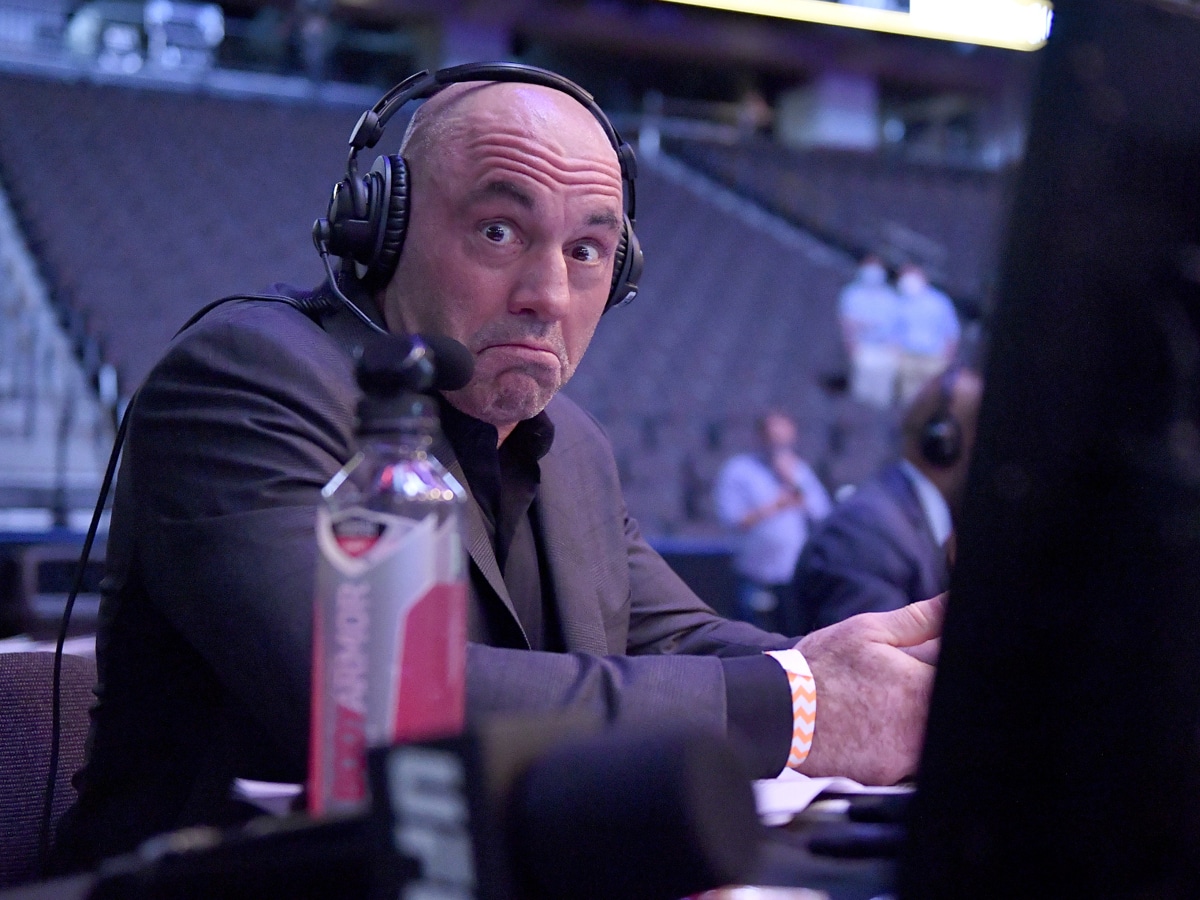 Joe Rogan with Ivermectin
You know the story, millionaire podcaster known for riling up dudes jumps on the Ivermectin bandwagon, only to catch COVID weeks later. Sure, Rogan may not have actually used the horse dewormer to treat the virus, but it still makes a good Halloween costume idea. All you need is a fake pill bottle, some elk meat and an above-average inclination to try DMT.
What you'll need: Bald head, Questionable views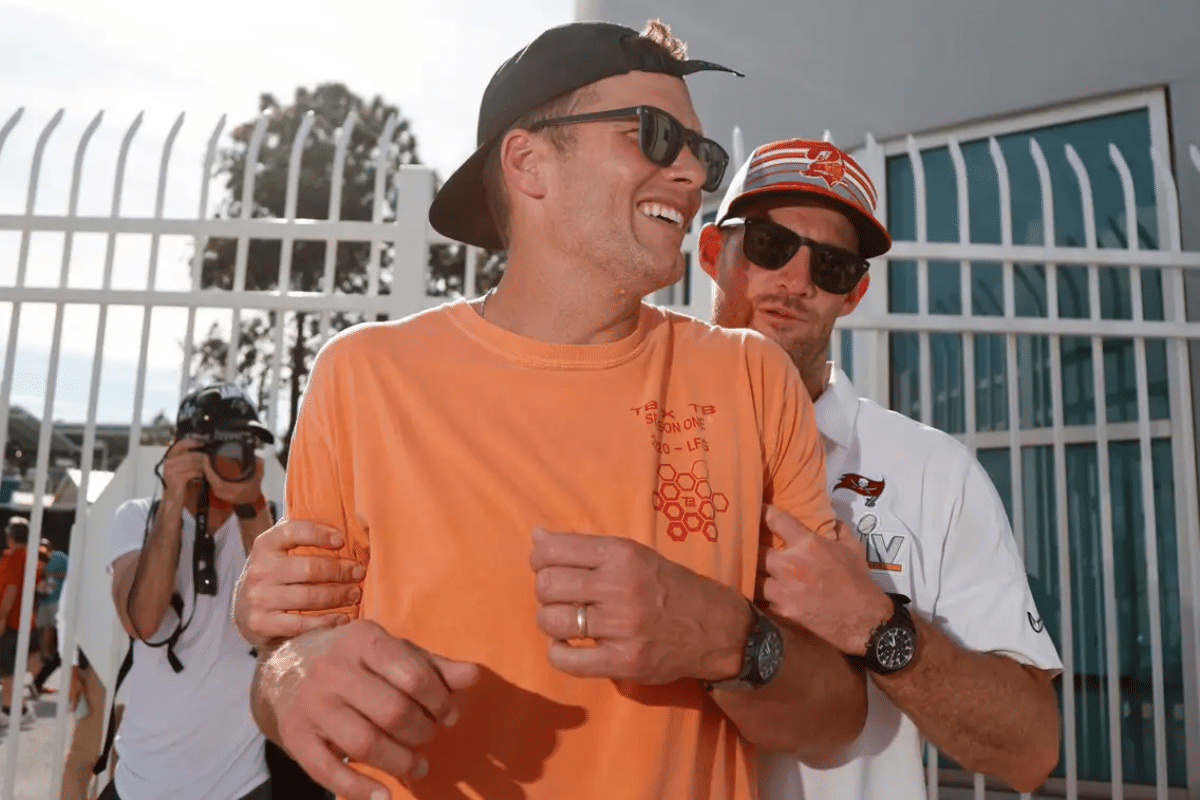 Drunk Tom Brady
In February last year, legendary quarterback Tom Brady won a seventh Superbowl ring, this time with the Tampa Bay Buccaneers and to celebrate, he got obliterated. Footage of the future Hall of Famer tossing the Lombardi Trophy from his boat to another made the rounds and it was clear, this moment would be etched in our memories for years.
What you'll need: Orange shirt, Cap, Sunglasses, IWC watch, 48 drinks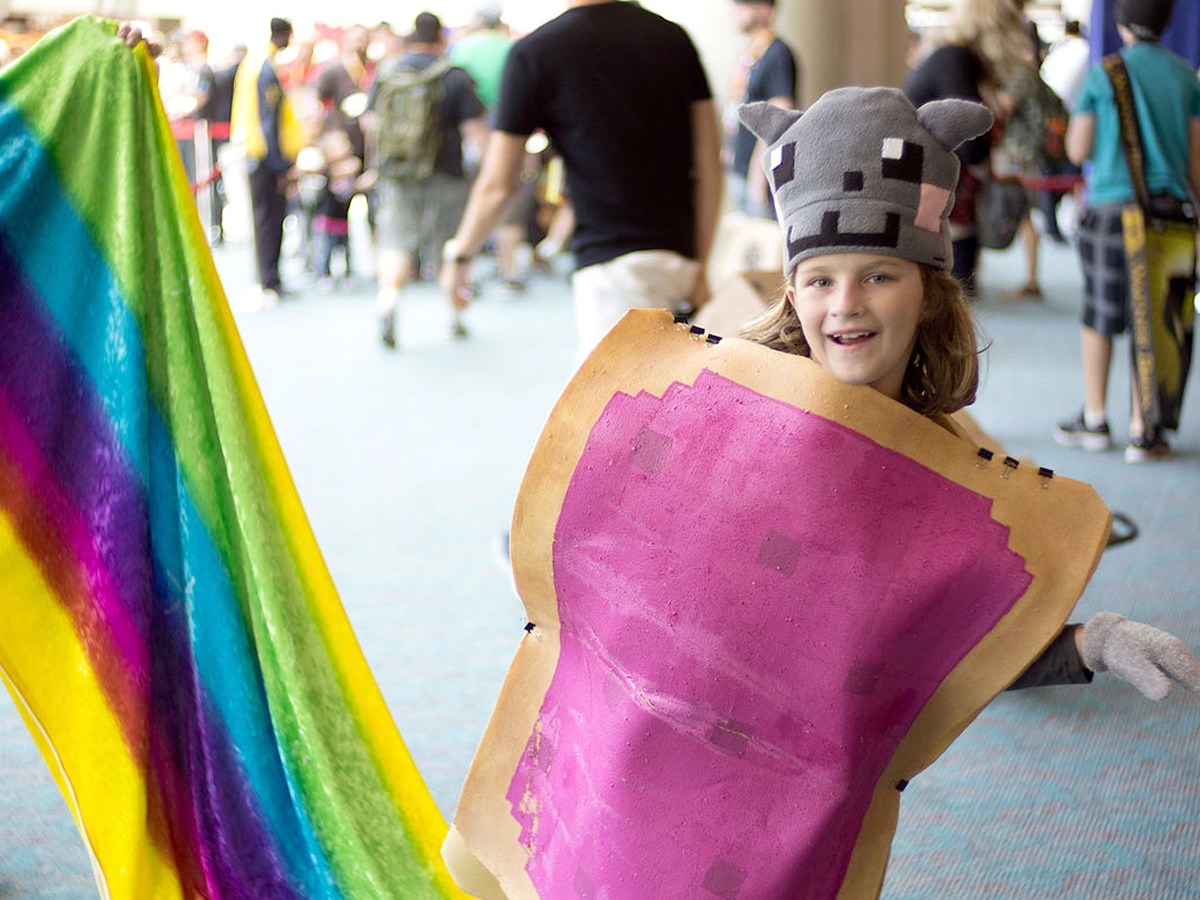 An NFT
NFTs also known as non-fungible tokens have been all the rage this year. Most of these have been in the news for being sold for hundreds of thousands of dollars. For this creative DIY costume, why not make your own NFT and then display it by wearing a frame around your neck with your NFT or your favourite NFT.
What you'll need: A lot of time on your hands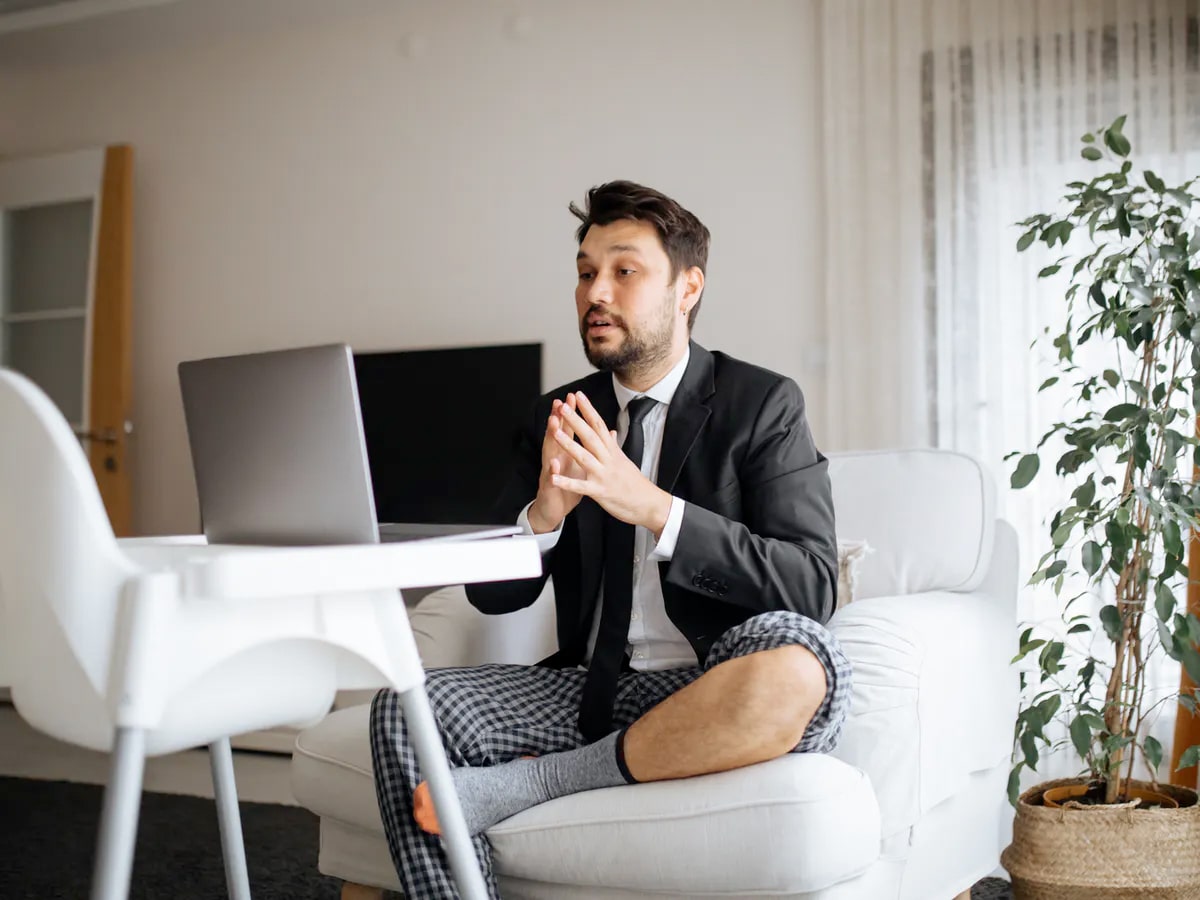 Work-From-Home Employee
For those looking for a Last Last-minute costume why not wear the unofficial 2021 uniform your work-from-home uniform? As a lot of us have been working home, you're guaranteed to have everything you need for this costume at home. All you'll need is your laptop, a coffee mug and literally anything you wore during those work zoom meetings whether it's PJs or a button-up shirt and trackies.
What you'll need: Suit jacket, Button-on, No pants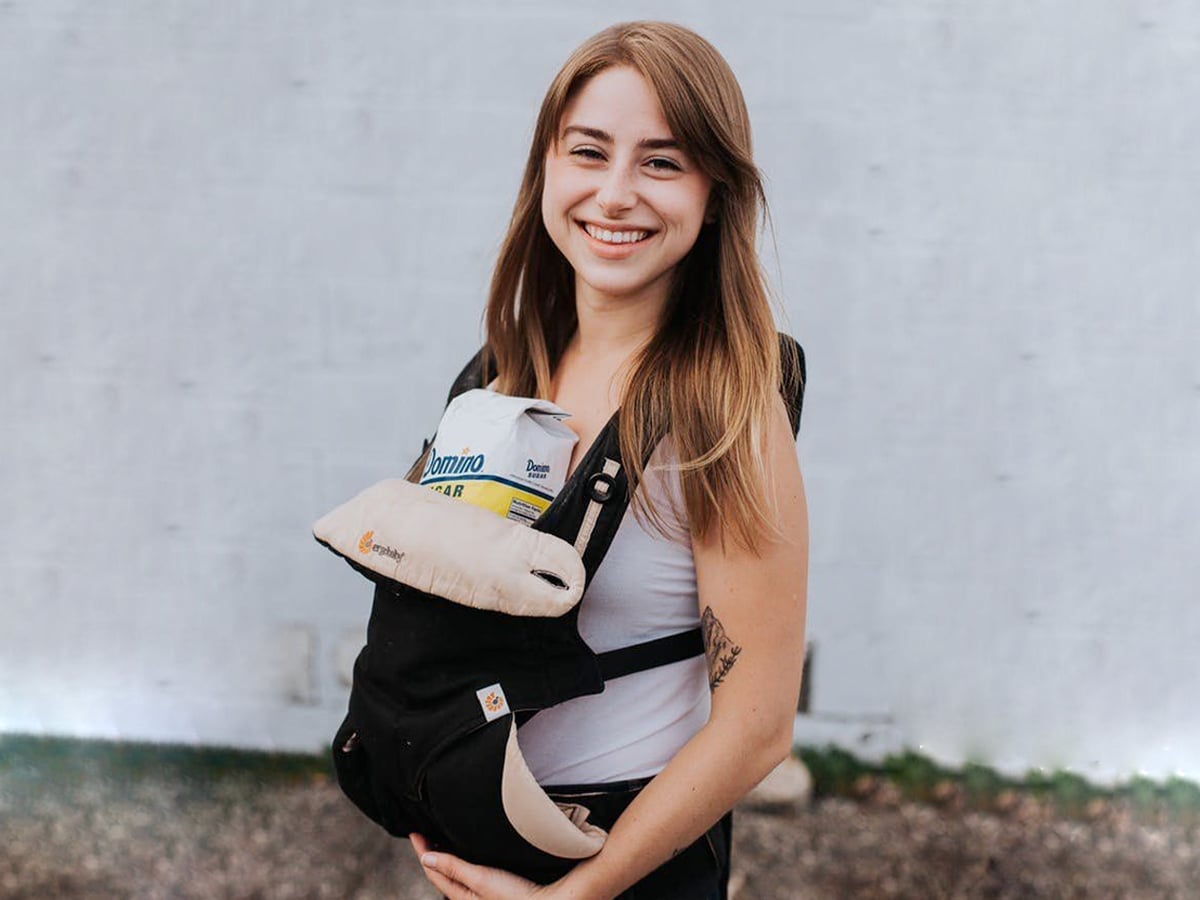 Sugar Mama
Another easy and fun costume is this punny take on this sugar mama costume. All you'll need for this costume is a baby carrier and a bag of sugar. It's simple, easy and sure to make people laugh. Plus this costume can also be repurposed for a "sugar daddy".
What you'll need: Baby carrier, Bag of sugar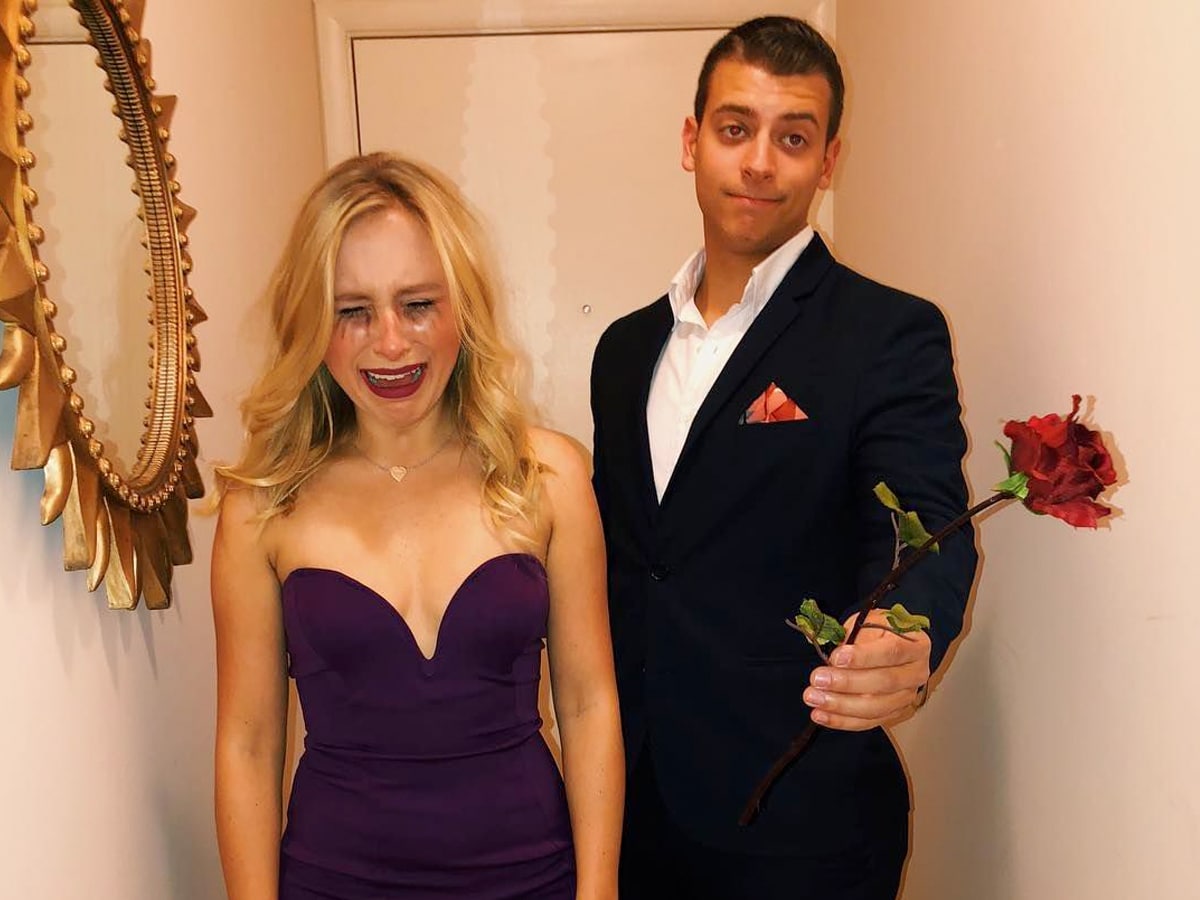 The Bachelor
With millions of viewers across the world and many spin-off shows, why not be the eligible Bachelor you are this Halloween. For this sophisticated yet easy costume, all you need is a suit of any colour and a bunch of red roses to hand out at your impromptu rose ceremony.
What you'll need: Tuxedo, Bow tie, 12 women pining over you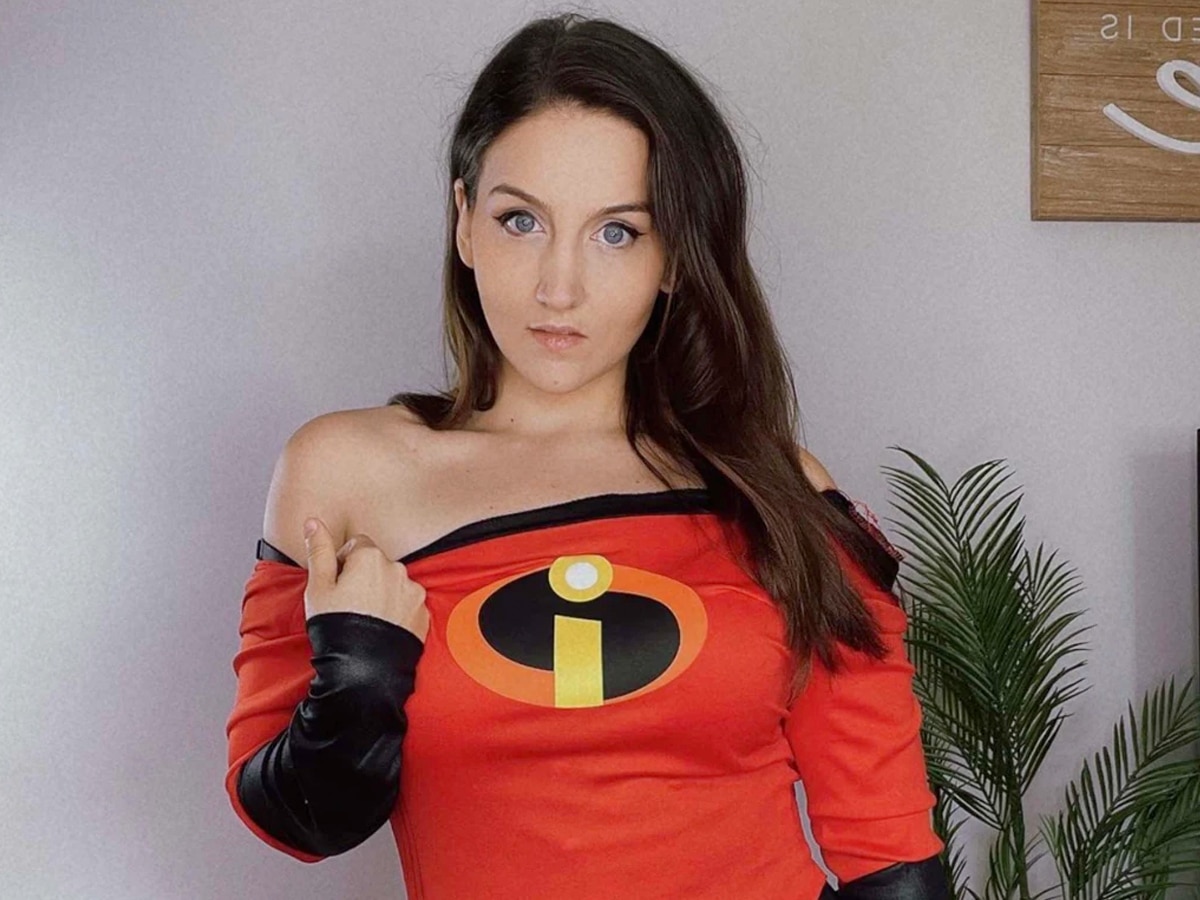 OnlyFans Girl
Taking DIY Halloween costumes to the extreme, the OnlyFans girl option is great if you've got 10 minutes to pull together something. Grab some lingerie and a coat, and you're good to go. Unlesss, of course, OnlyFans tries to ban adult content again. Geez, what a move.
What you'll need: Lingerie, Coat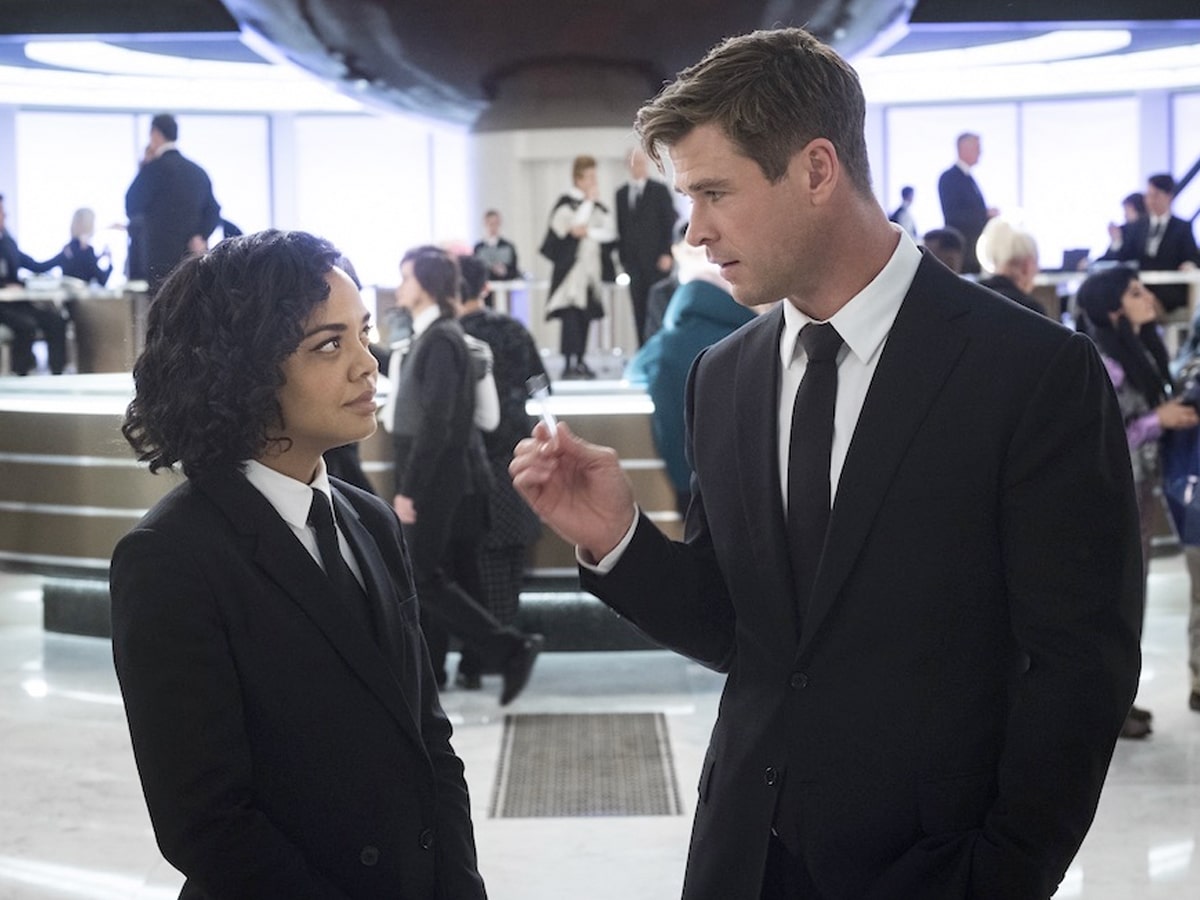 Men in Black
The Men In Black movie franchise can be used for the perfect last-minute costume that doesn't look last-minute. Whether you want to base your costume on the original movies or the newer version, this costume is perfect for both best friends and couples. All you need for this costume is an all-black suit, black ties and a pair of black sunglasses.
What you'll need: Blak suit, White shirt, Elecctric Toothbrush (to wipe people's memory)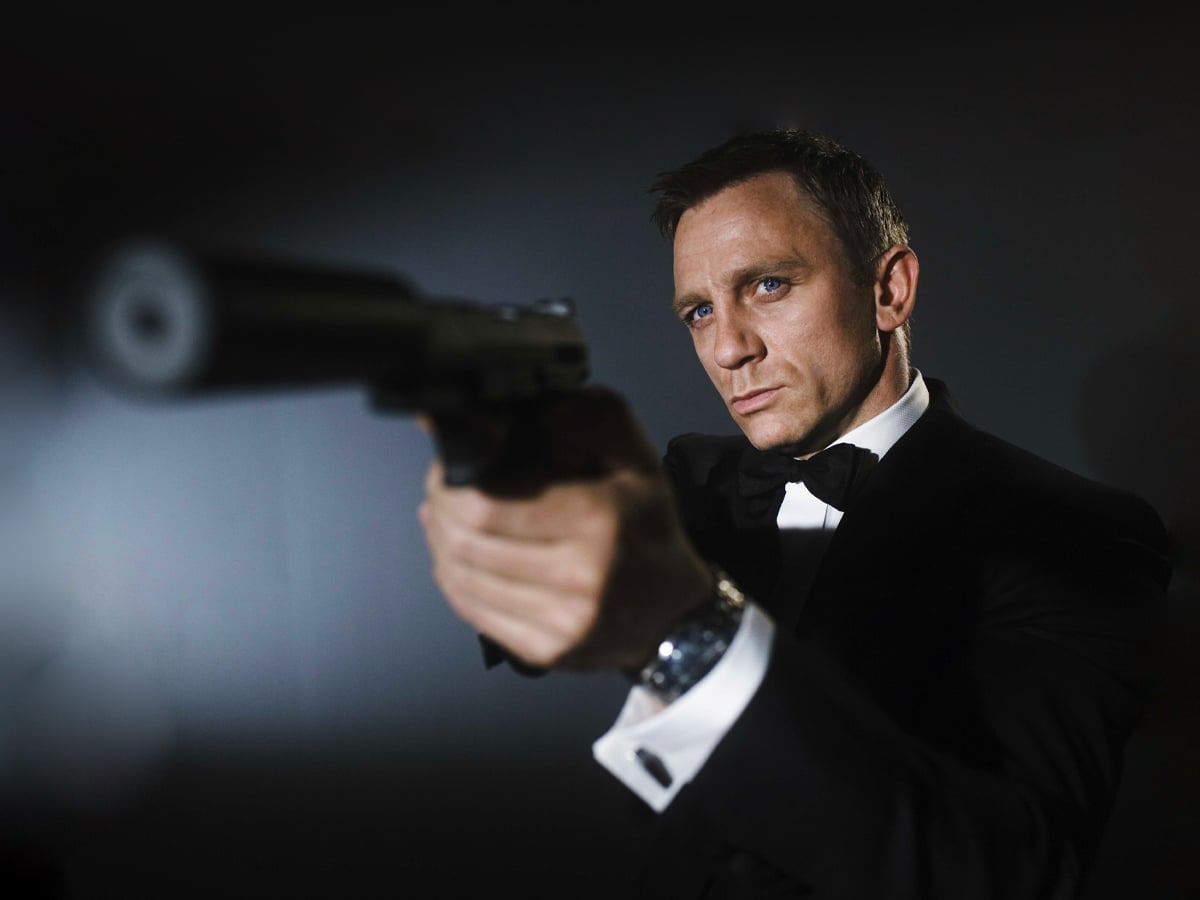 James Bond
Is there anything more classic than James Bond, well we don't think so? Embody the stylish super spy this year with your costume. With so many classic looks to choose from, there are plenty of choices. You can go classic bond with a classic full black suit or shake it up with the white jacket and black pants combo. For something extra why not have a martini, but remember it's shaken not stirred.
What you'll need: Tuxedo, Bow tie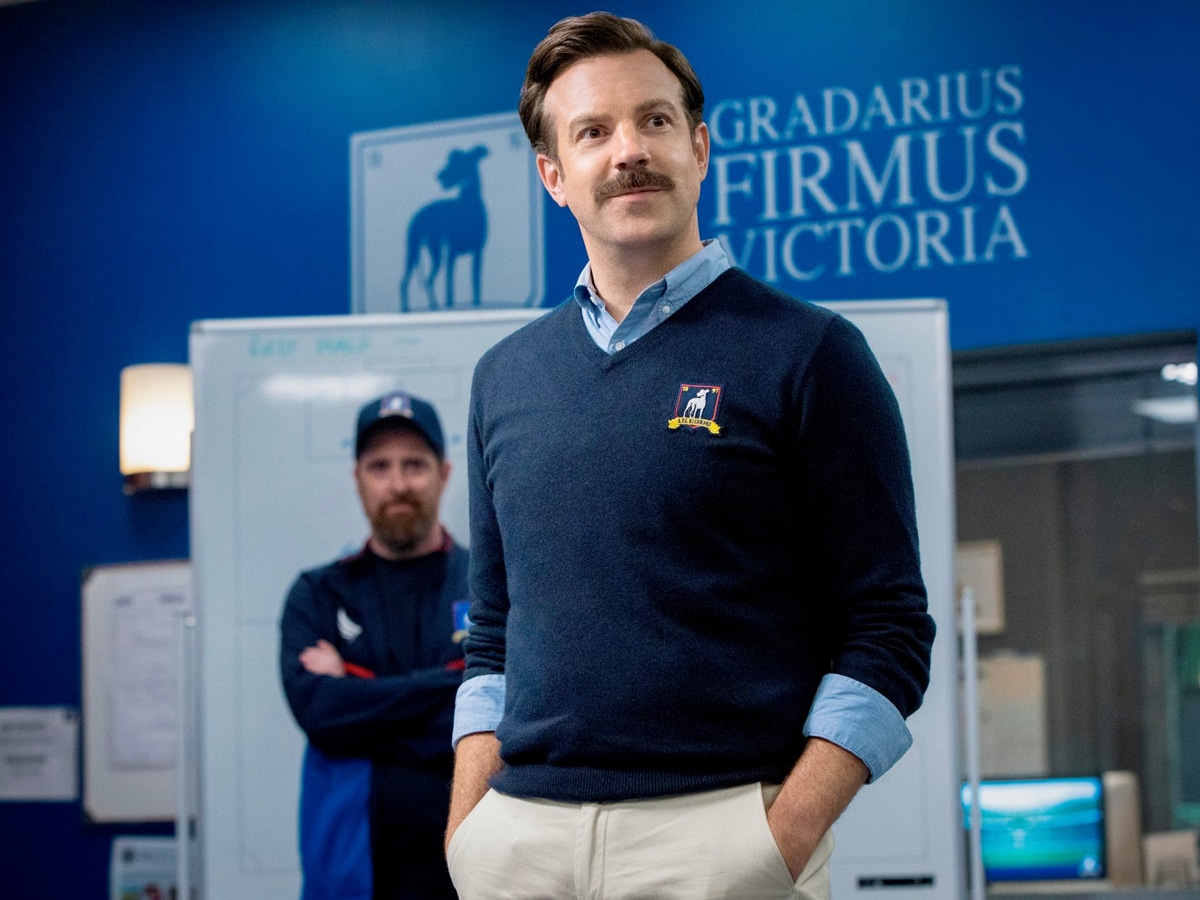 Ted Lasso
The Apple TV+ original show Ted Lasso quickly became a favourite among many people. This Halloween dress up like the American football coach Ted Lasso, with this easy DIY costume. All you'll need is a blue button-up, a blue sweater, stone-coloured pants, a whistle, Nike shoes and most importantly the moustache, you can get a fake one or grow one if you're lucky.
What you'll need: Moustache, Side-part hairstyle, Blue sweater, Blue oxford, Chinos, PMA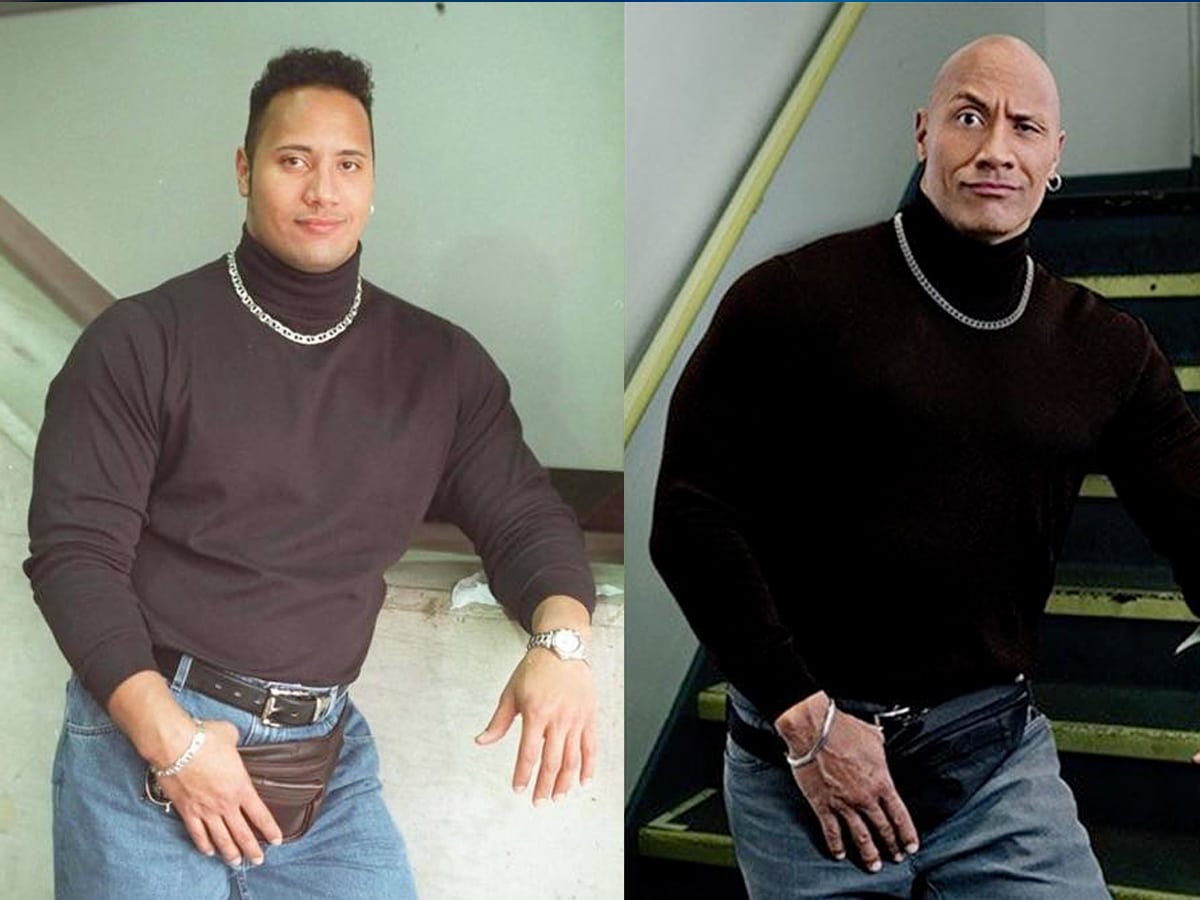 The Rock with Fanny Pack
We've all seen this famous picture of the rock. with tones of memes and even a recreation of the pic by the rock himself. This classic but easy costume can be done with four things that most of us already have a home. All you need for its costume is a silver chain, a black turtleneck, a black fanny pack and blue-washed jeans.
What you'll need: Black turtleneck, Fanny pack, Jeans, Chain
Cute Halloween Costumes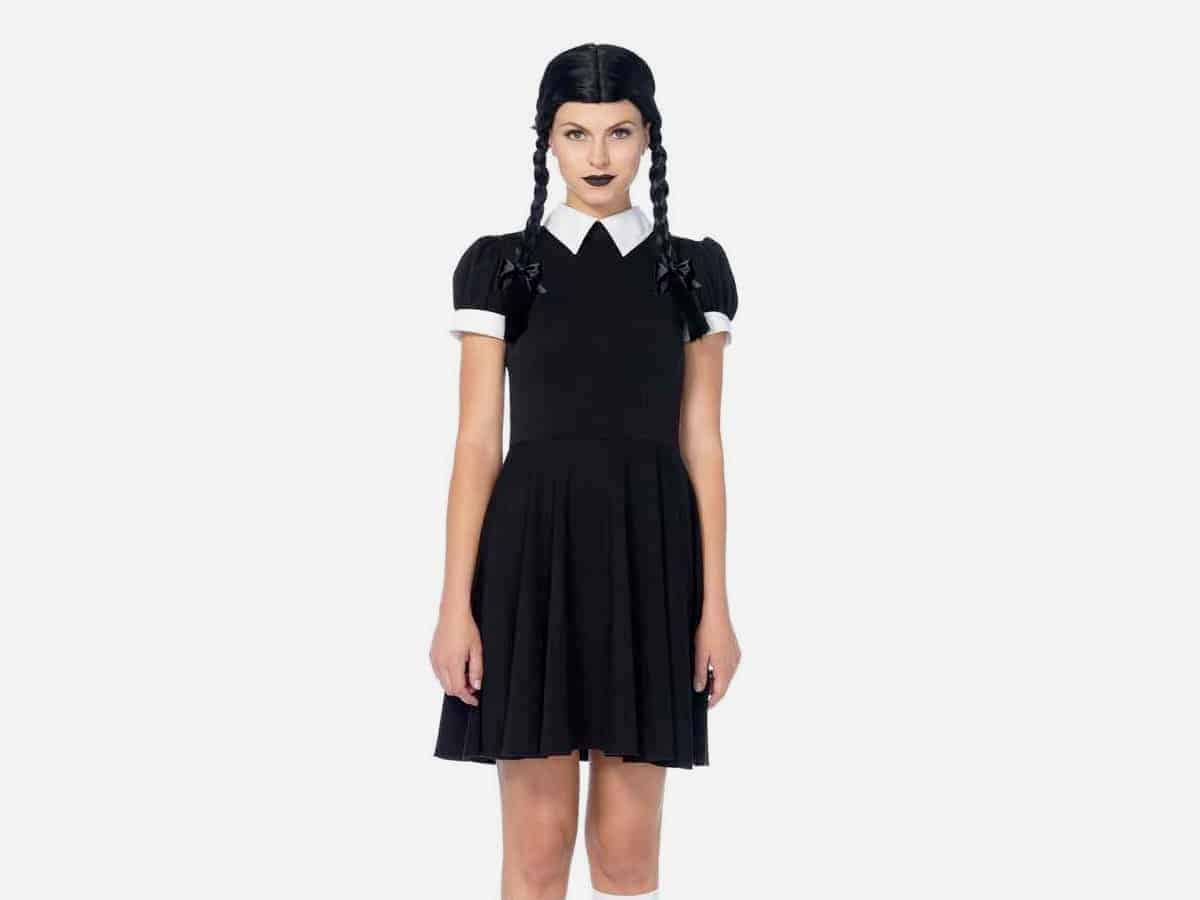 Wednesday Addams
Wednesday Addams from The Addams Family is arguably one of the simplest yet most loved costumes for Halloween. All you'll need to create this iconic costume is a black dress, a detachable white collar and black tights and black boots or heels. For those with long hair, you can do middle-parted braids or if it's easier just buy the wig version.
What you'll need: Black wig in braids, Black dress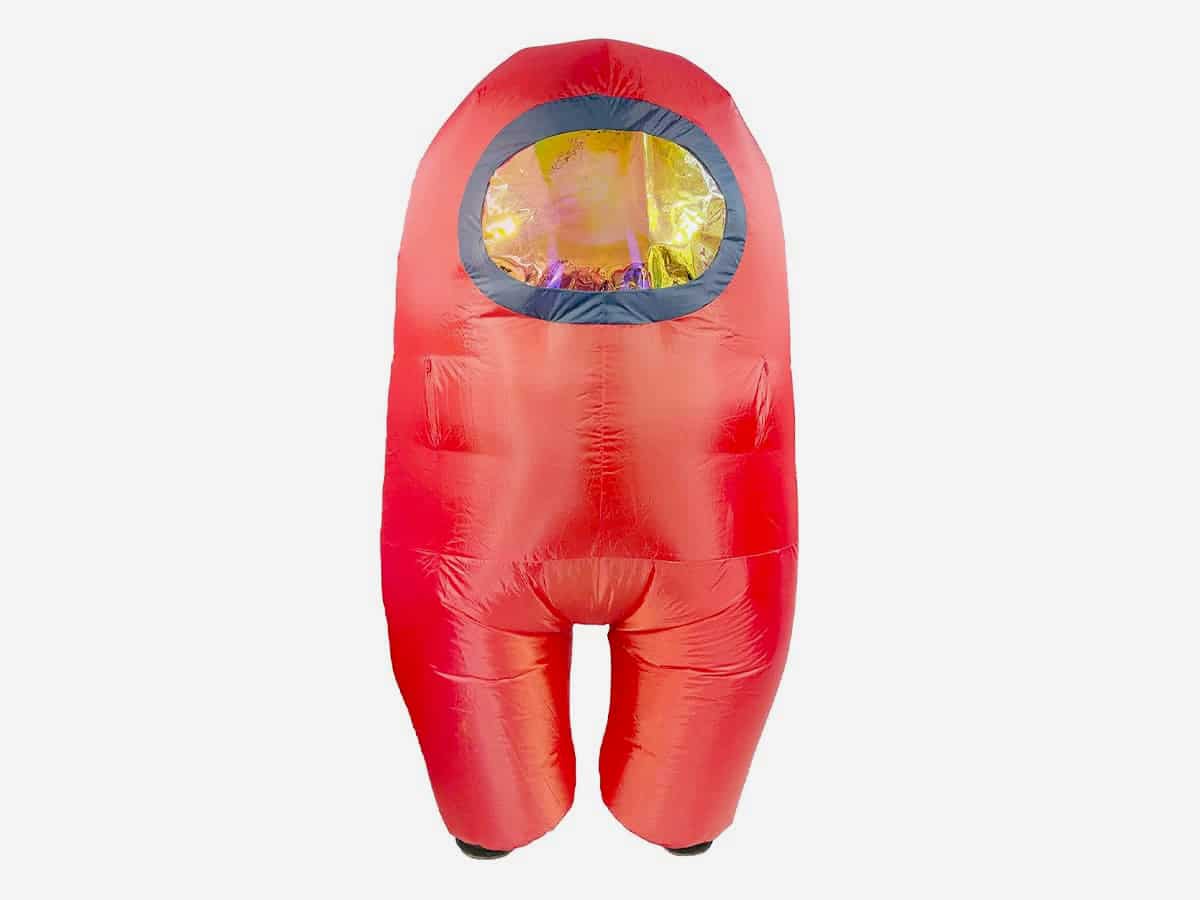 Among Us Character
Possibly one of the biggest games of the year Among Us could be seen everywhere, there really was no escape from them. For this fun costume, all you'll need is a colourful spacesuit and a bunch of colourful props. It's really that simple, just don't choose red, cause red is sus. This costume is also perfect for couples and groups.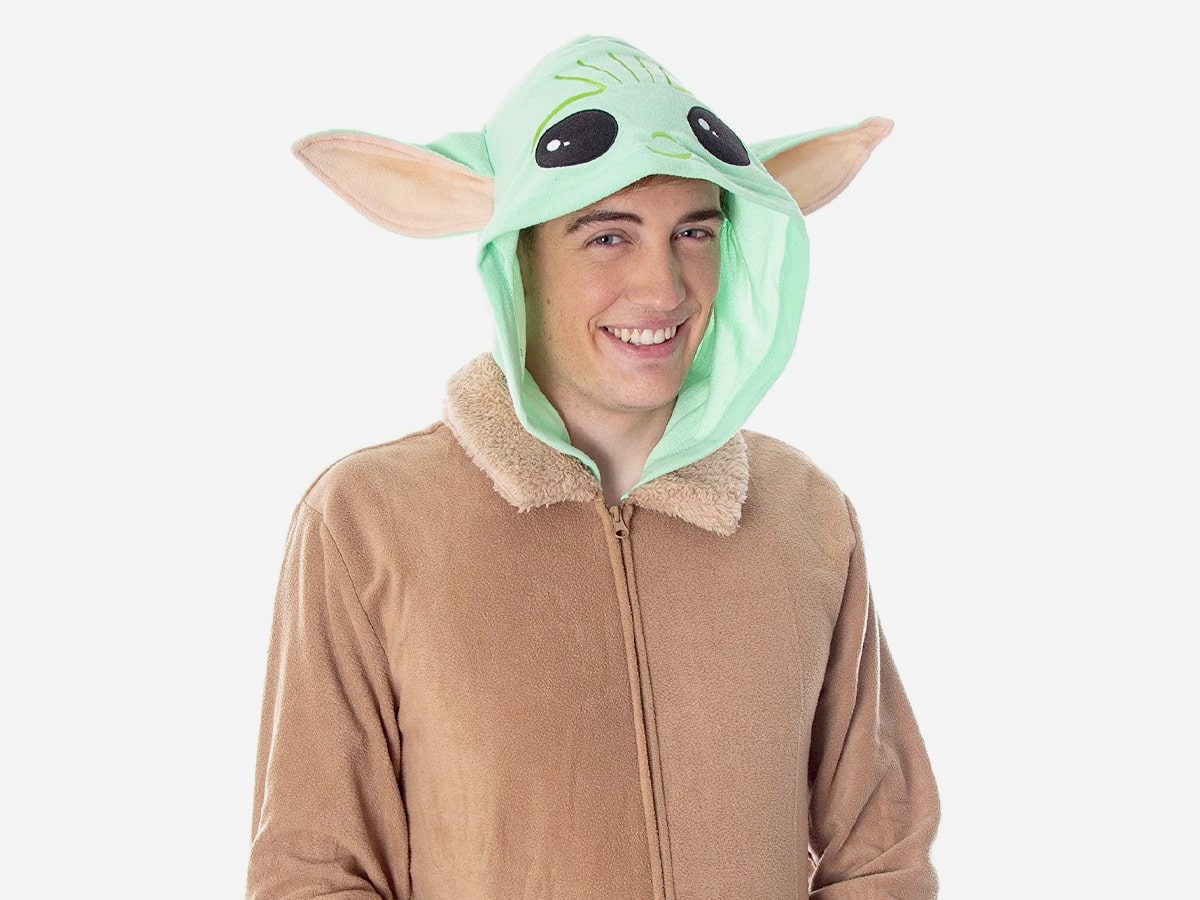 Baby Yoda
Baby Yoda is possibly the cutest thing in the galaxy. The popular Disney+ original television series The Mandalorian introduced us to Grogu. There are many ways to recreate the cutest being in the galaxy, you can order a costume online or you can try an make it yourself with a brown and a place green bennie with pointy ears attached.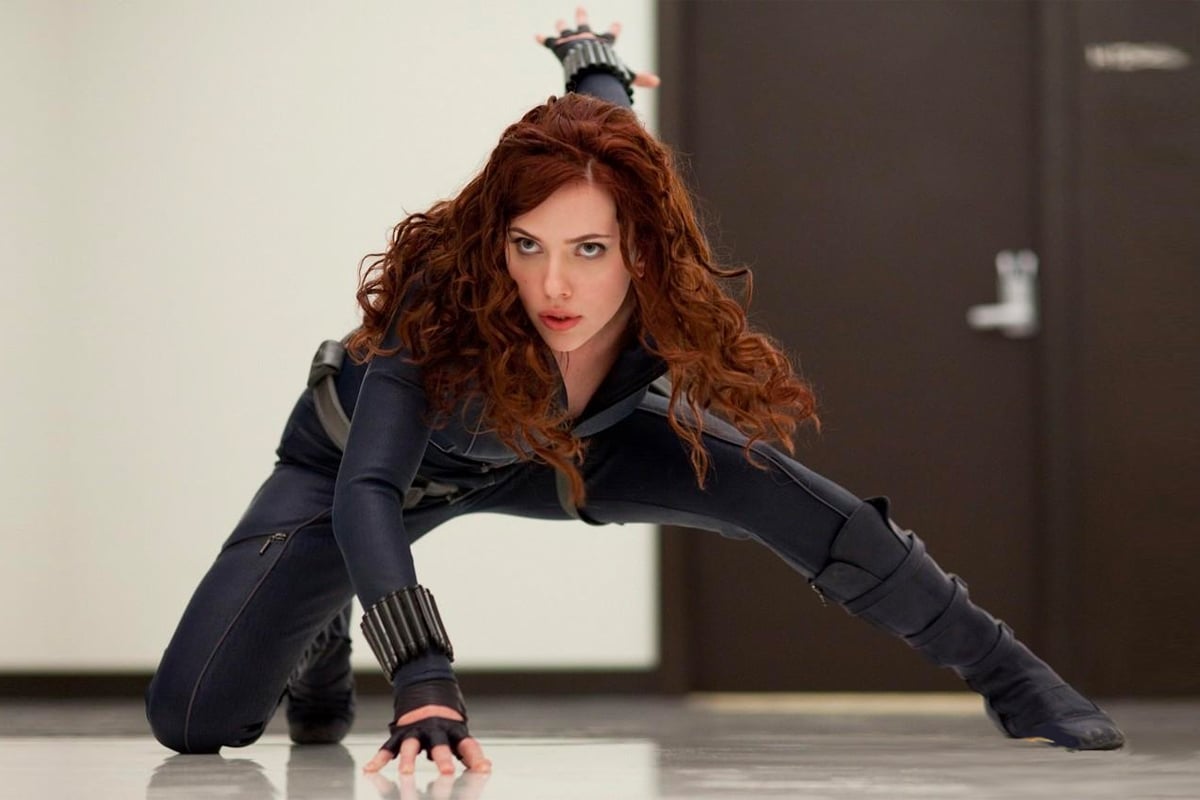 Black Widow
Natasha Romanoff aka Black Widow is probably one of the greatest spies in the Marvel universe. This year we saw the release of her solo film, so it's no surprise that she's a popular choice for Halloween this year. To become the black widow this year, all you'll need is a black leather jacket and pants, a red wig (unless you've already got long red hair, Black fingerless gloves, gun holders and a toy gun. If you don't wanna do DIY, there's plenty of costumes you can buy online.
What you'll need: Black skin-tight leather suit, redhead wig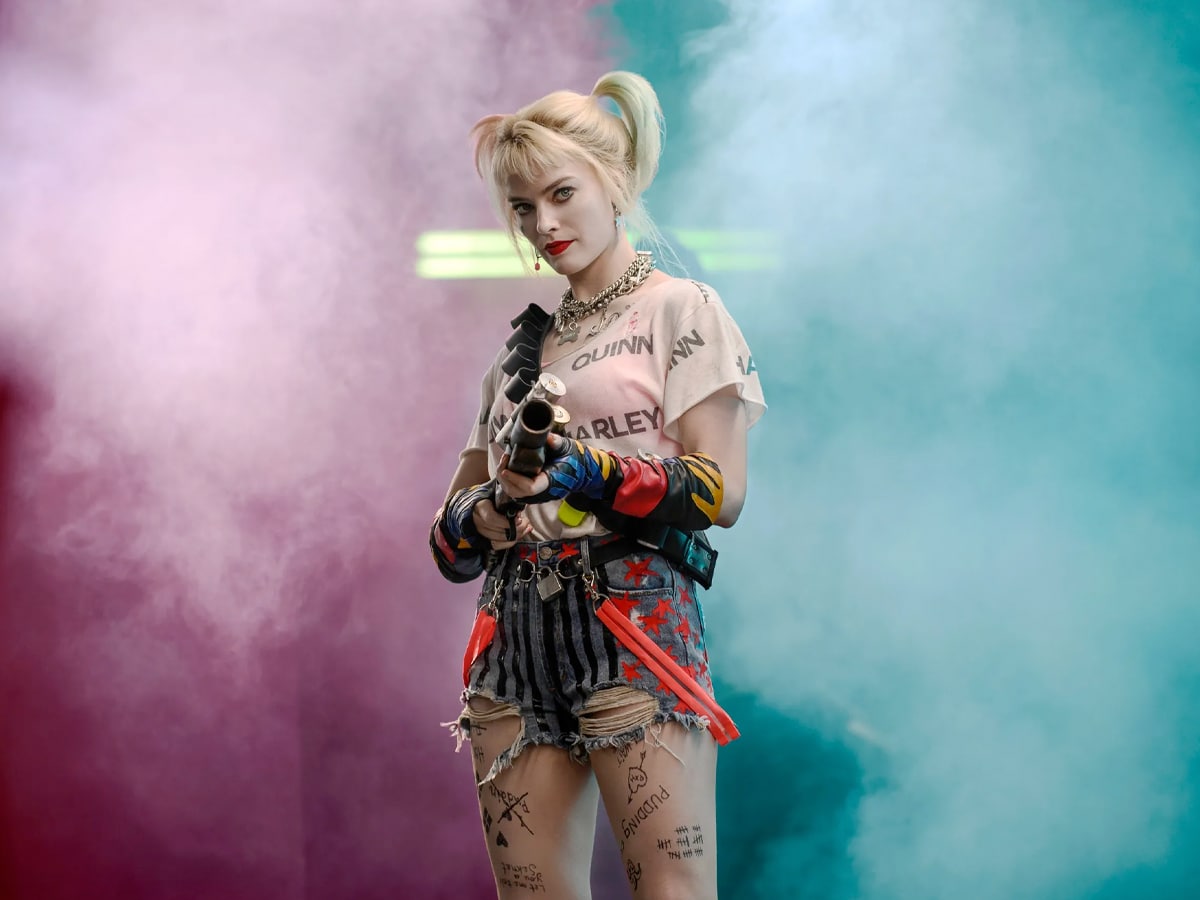 Harley Quinn
Harleen Frances Quinzel otherwise known as Harley Quinn has seen a revival in recent months and years. she was once the Joker's abused girlfriend/sidekick but she has recently evolved into an antihero in both comics and movies. Harley has been portrayed in many different costumes and versions so it's easy to see why many love to dress up like here. To become this popular character you can find various costumes online or make your own, just don't forget her signature "Daddy's Lil Monster" tee and her iconic blue and red pigtails, colourful makeup and her trusty baseball bat.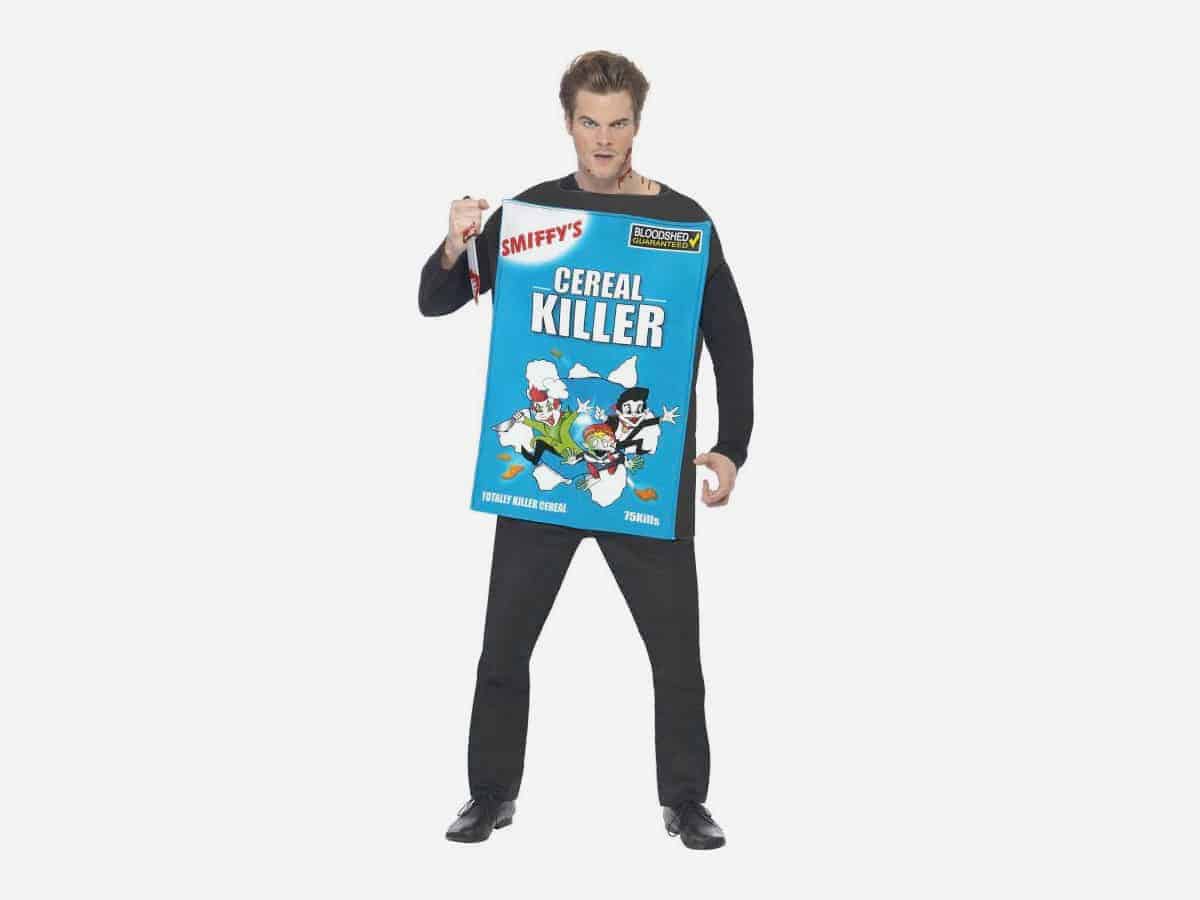 Cereal Killer
Nothing is funnier than a classic pun. So why not embody one of the classics, for this Cereal Killer costume all you need for this punny costume is some fabric glue, a T-shirt, some mini or full-size cereal boxes, plastic forks and maybe some fake blood if you'd like. All you need to do is secure the boxes, some cereal onto your shirt with some fabric glue. If you want added drama glue or poke some plastic forks and then splatter some fake blood.
Couple Costume Ideas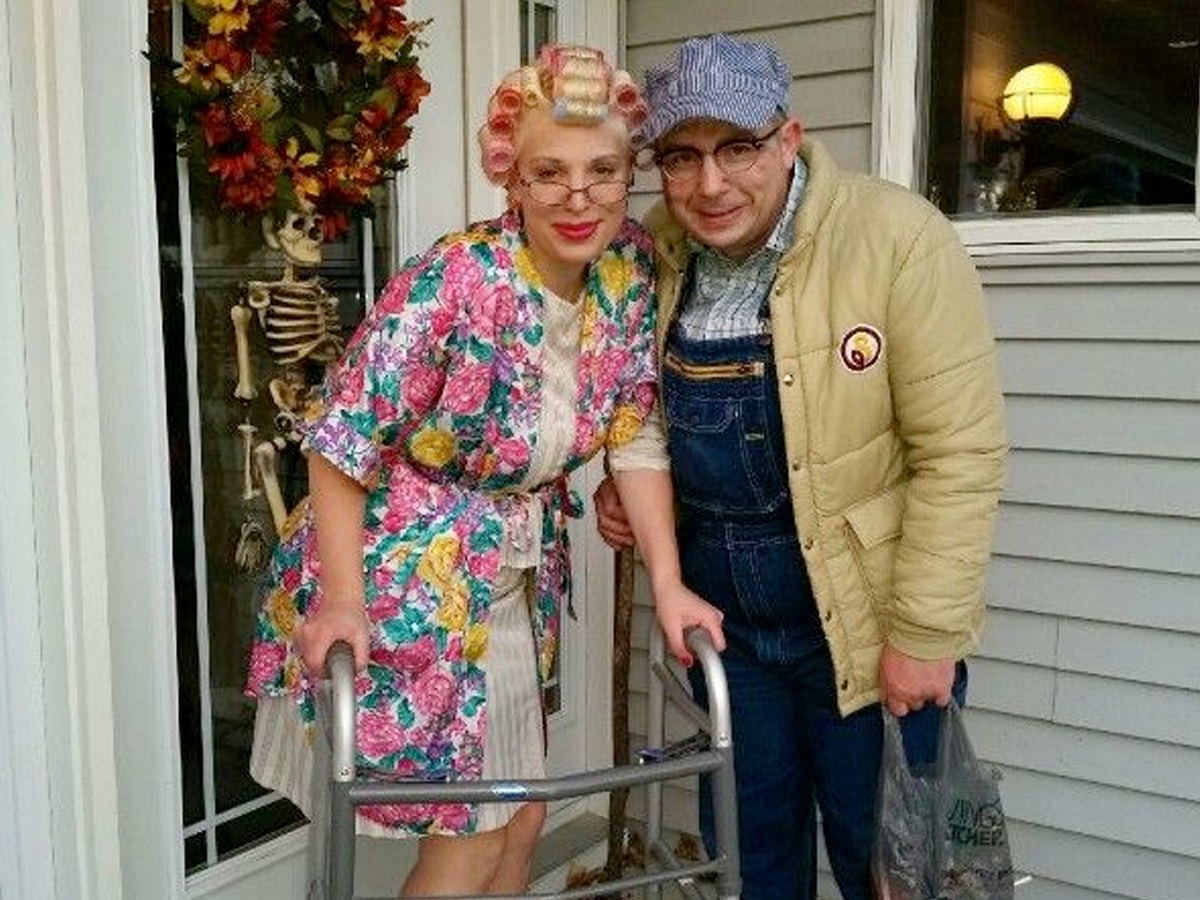 Old Married Couple
This is a classic couple costume. You might be thinking it's been done before, but what makes this costume so popular is the fact that it is up to your interpretation. What does an old married couple look like? What do they dress like?. The best thing is you can wear old vintage clothes and grey hair wigs or you can be that trendy old married couple known for their bold style.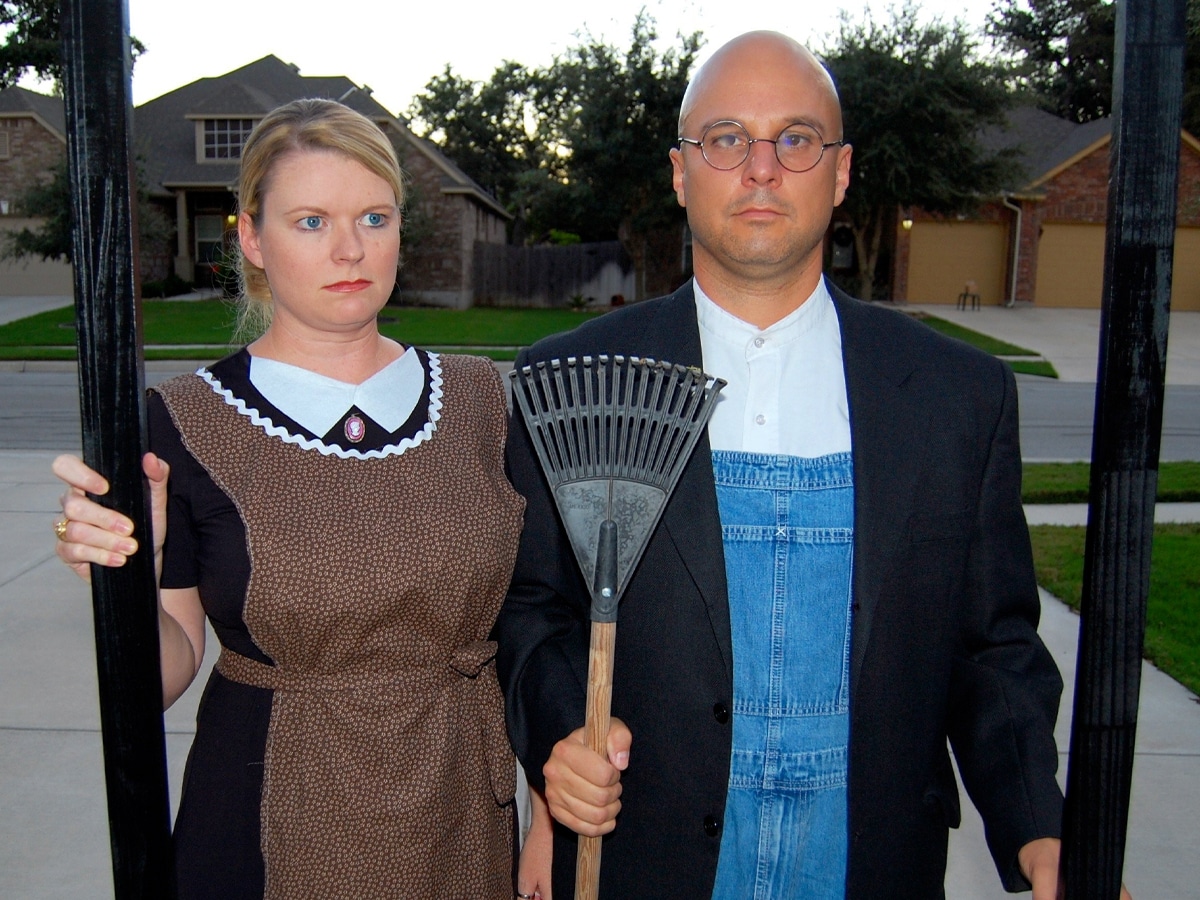 American Gothic
Recreate Grant Wood's iconic American Gothic painting this year, with this simple DIY couples costume. just get a print-out of the painting and cut a hole in it for your face and your partners face. Another way to recreate this is to slip the painting into two parts, so when you and you're SO are standing together you can become Grant Wood's iconic painting.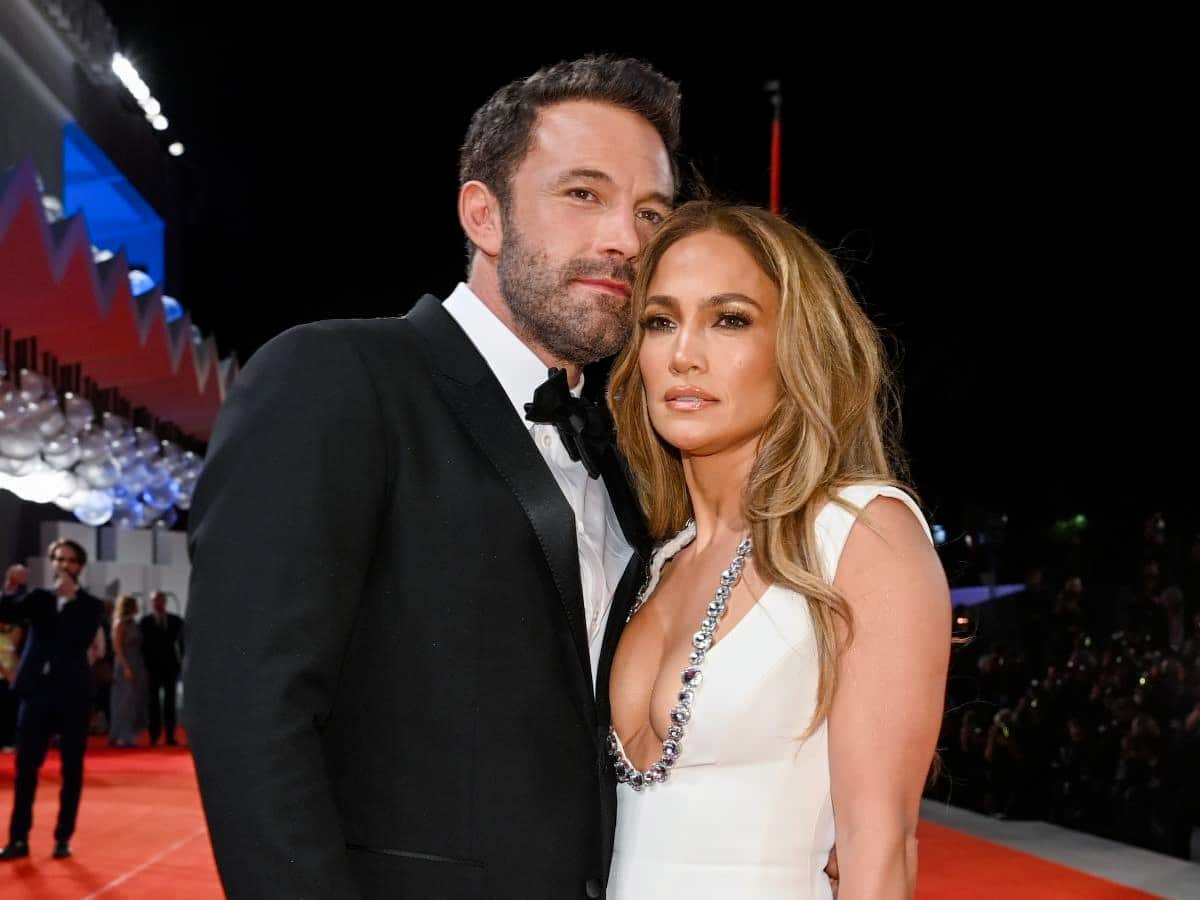 Bennifer
Embody arguably the hottest couple's costume this year by becoming Bennifer. With so many pictures and plenty of iconic fashion moments to recreate of the iconic couple you really are spoiled for choice. Why not give their 2003 Street Style moment a try this year, all you need is a white tank top and jeans for J-Lo and a white button-down and khakis for Ben.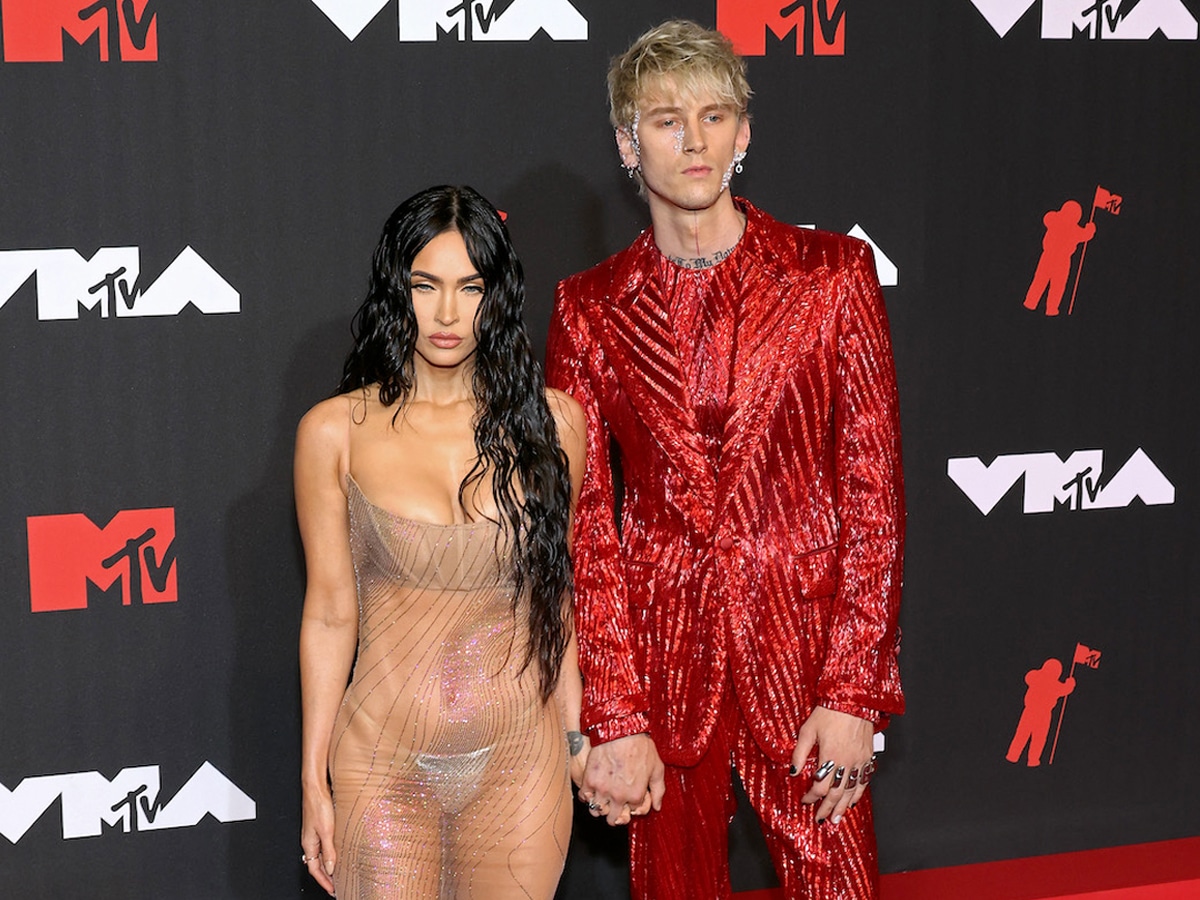 Megan Fox and Machine Gun Kelly
Arguably this year's power couple, we have seen this pair all over our social and on our screens. Make a statement and have some fun this year by becoming MGK and Megan Fox, although there are many outfits to recreate most outfits are pretty straightforward as both tend to pick simple, sexy statement pieces. Give there iHeart Radio Music Awards look a go this year. To capture this power couple's vibe you'll need a pink satin jumpsuit for Megan Fox and for MGK you'll need a two-piece silver suit and a white turtle neck.
General FAQs
What are some good pop-culture Halloween costumes for 2021?
This year we were treated to a large number of memorable pop-culture moments, the best moments to recreate this Halloween is Kim K's Met Gala look, Nicki's cousin's friend in Trinidad and finally the Free Britney movement.
What are some Halloween costume ideas for couples?
There's plenty of choices when it comes to couples costumes, however, our favourites include Benifer, MGK and Megan Fox and why not give old married couple a try.
What Halloween costumes can I make at home?
For those looking for last-minute DIY costumes, you're in luck. Some easy costumes to make from home this year is the punny Cereal Killer costume, Men in black, James bond or give an NFT costume a try.
---
Featured Video from Man of Many