5 Ways to Create the Ultimate Outdoor Oasis During Isolation
So, you've got a bit of time on your hands, and you've been spending more hours at home than ever before, sounds blissful, right? Maybe for a week or two but we're now entering week four of what seems to be an unrelenting lockdown experience. All the little cracks and minor imperfections in your home decor that you regularly gloss over are starting to become unavoidably noticeable. Time for isolation update.
Staring at the blank canvas of a backyard wondering what you could do with it isn't going to get you anywhere; why not make a start now? But if you, like us, have absolutely no idea what to do when it comes to outdoor decorating and handyman work, it can be hard to know where to begin. That's why we turned to celebrity tradie, Tom Williams for a bit of advice. Before becoming a TV presenter, model and dancer, Tom was a star on the construction site, which led to his first big break on the Channel Seven program Room for Improvement.
Here, Tom shares his top 5 tips for an easy backyard renovation.

1. Transform Your Backyard with Colour and Light
Seems simple enough, but adding a bit of colour can completely transform the space. Tom suggests using light as an easy solution. "Bringing coloured light into your backyard is an easy way to set the mood and add some flair," he says. "I've recently installed the new Philips Hue Outdoor smart lighting range in my backyard to bring it to life. It offers over 16 million colours to choose from, allowing us to adapt the ambience of our backyard to suit any occasion. The kids love changing the garden colours to pinks and purples to create their own 'fairy gardens', keeping them entertained for hours, and then in the evening, we change the colours to shades of blues to help me unwind with my wife and relax."

2. Install a Hanging Chair
Everybody loves a hanging chair for its look, and for good reason. Tom says a well-placed chair can draw your attention and elevate the outdoor environment. "To add some decorative fun to your backyard, install a hanging chair. Find a stable spot in your backyard, install the hook or suspension plate, then tie it up," he says. "For those who don't have anywhere suitable for hanging, try purchasing a chair with its own stand. A hanging chair is always the first piece of furniture everyone gravitates towards, and sitting on it adds a bit of fun to your backyard."
We recommend this Modway swinging chair. Its neutral tone and contemporary style make it an ideal feature for your outdoor oasis.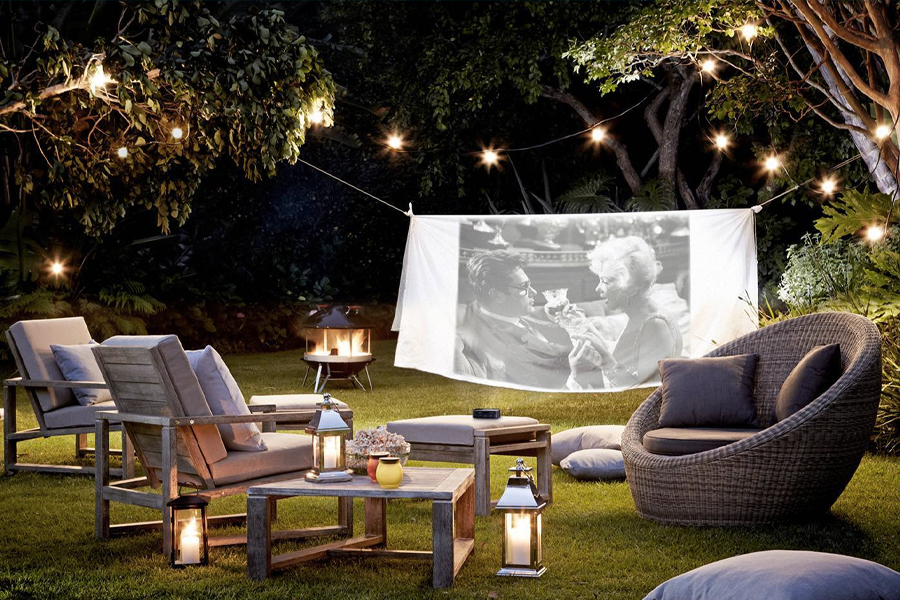 3. Set up an Outdoor Cinema
Once you've got your lights and chairs set up, you're two-thirds of the way to an awesome outdoor theatre…well, sort of. Just grab a sheet, crack out the marshmallows and make the most of your quasi-quarantine camp-out.
"I've lined the projector with coloured strip lights to add that extra level of flair,"
Tom says. "Plus, we have access to controls from my phone so the girls tend to change the colours when the movie is getting intense, they love it! In a time when we can't really travel, this is the next best thing, giving us time away from our house."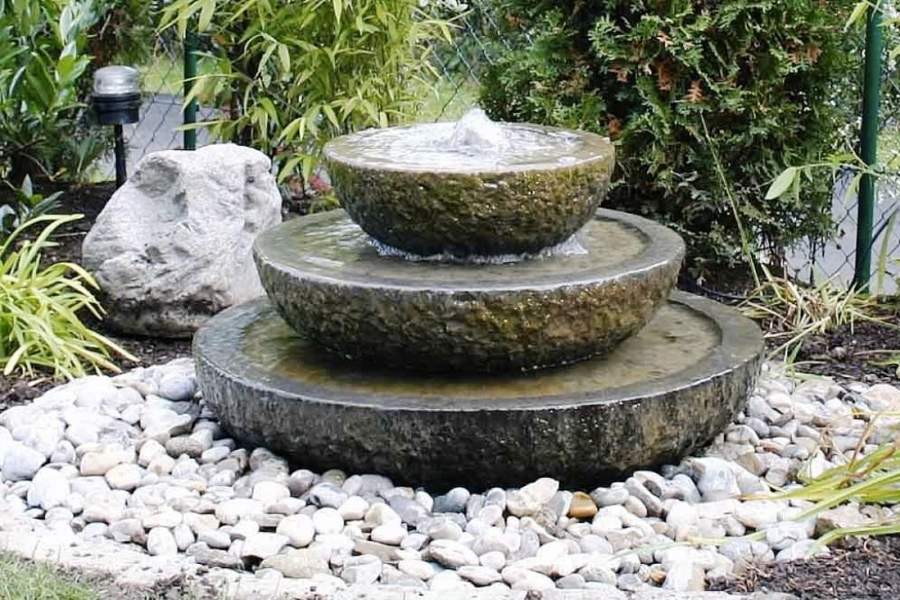 4. Make a Water Feature to Bring in the Natural
"Water has a calming effect and is a small addition that can make your backyard sing," Tom says. While it may sound intimidating for the novice handymen amongst us, the addition isn't actually that difficult. "Building your own DIY water feature is as simple as heading down to your local hardware store, picking up a decorative urn and filling it with water. To kick it up another level, try stacking three pots from smallest to largest, and filling these with water. You can also pick up a reticulated water pump so the water can continually trickle from the top pot down. Place this in your garden to create the ultimate Zen zone."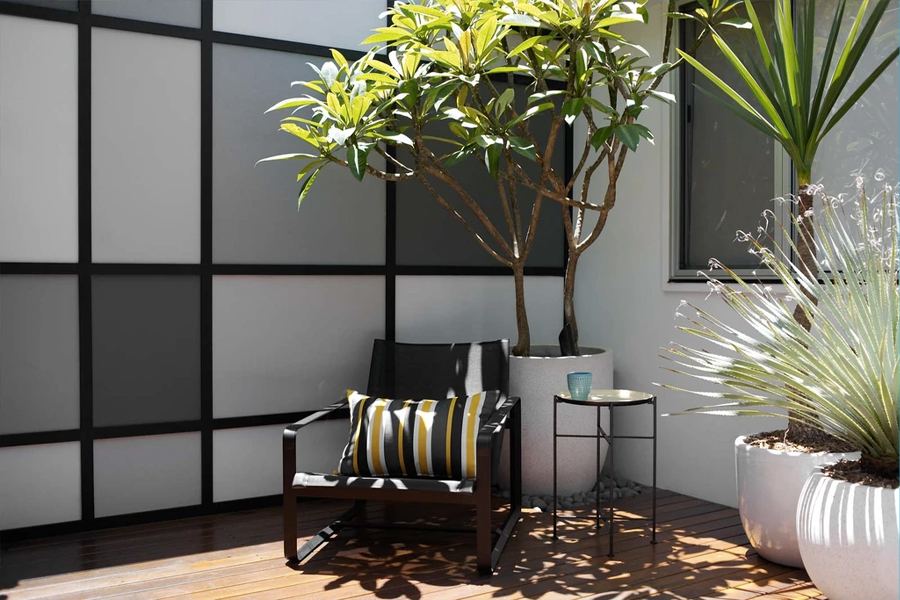 5. Build a Quiet Space to Get-Away
It seems funny, in an era defined by unprecedented amounts of spare time and homestay, we still need somewhere to get away. But it doesn't necessarily have to be a change of scenery, particularly as the old road trip is off the table at the moment. Instead, it can be something far more simple. "Something I've incorporated into my backyard is a book nook. I set my Hue Outdoor spotlights to gentle shades of blues to really amplify this. Although it's getting cooler, the backyard can still be that place for quiet relaxation," Tom says. "In the cooler months, getting outside is still important for lots of us, so throw out a rug and some cushions and kick back and read a book."
Look, when it comes to a home renovation, it's rarely a simple job, but small updates can be enough to elevate your outdoor experience. Through lighting, ambience and a few sneaky additions, you can turn your dreary old deck into a hidden oasis, and what better time to start than now?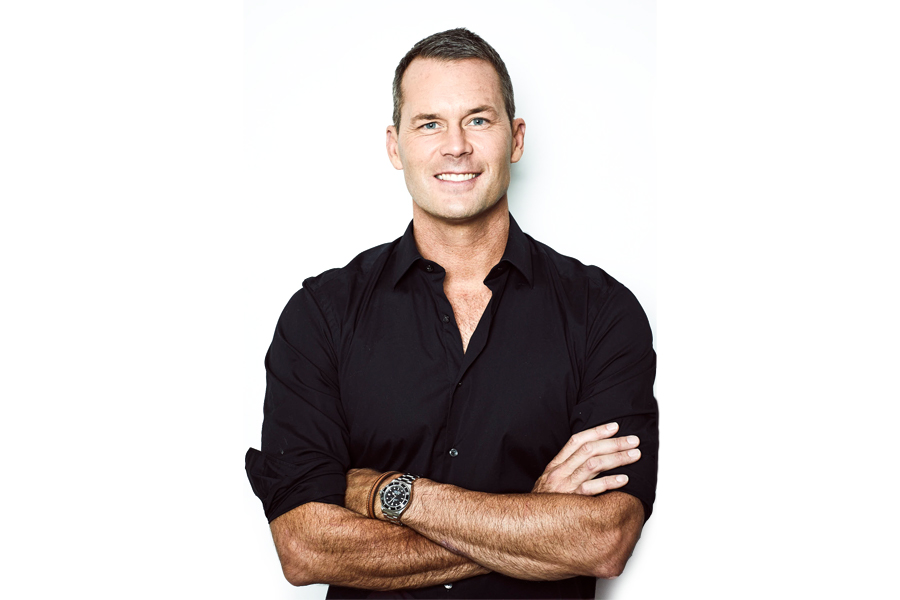 You'll also like:
Uncrate Supply #1 – Home Chef
Stykka's StayTheF***Home Cardboard Desk is Perfect For the Home Office
The World's Most Crowdfunded Heater is Now Available