Controversial Map Reveals Queensland as Australia's Sexiest State
The great state of Queensland has laid claim to many titles over the years. The Sweatiest State. The Most Racist State. The State Most Likely To Contain Clive Palmer At Any Given Moment.
But the Sexiest State?
Such a proposition seems on the face of it to make about as much sense as calling Tasmania the Birthplace of Jazz. And yet, the results are in: Queensland is, apparently, the hottest, sauciest, friskiest bit of Australia, statistically speaking.
The astonishing declaration comes from a sex map released by the "sexual happiness retailer" (nudge nudge) Lovehoney. Lovehoney's research sought to discover which towns and cities in Australia were the most up for it, based on analysis of residents' purchasing and searching habits, among other sexy factors.
What they found was that among the top ten hottest places to live in Australia, a full five were among the hottest places to live in Australia, if you get our drift.
That is, they were in Queensland.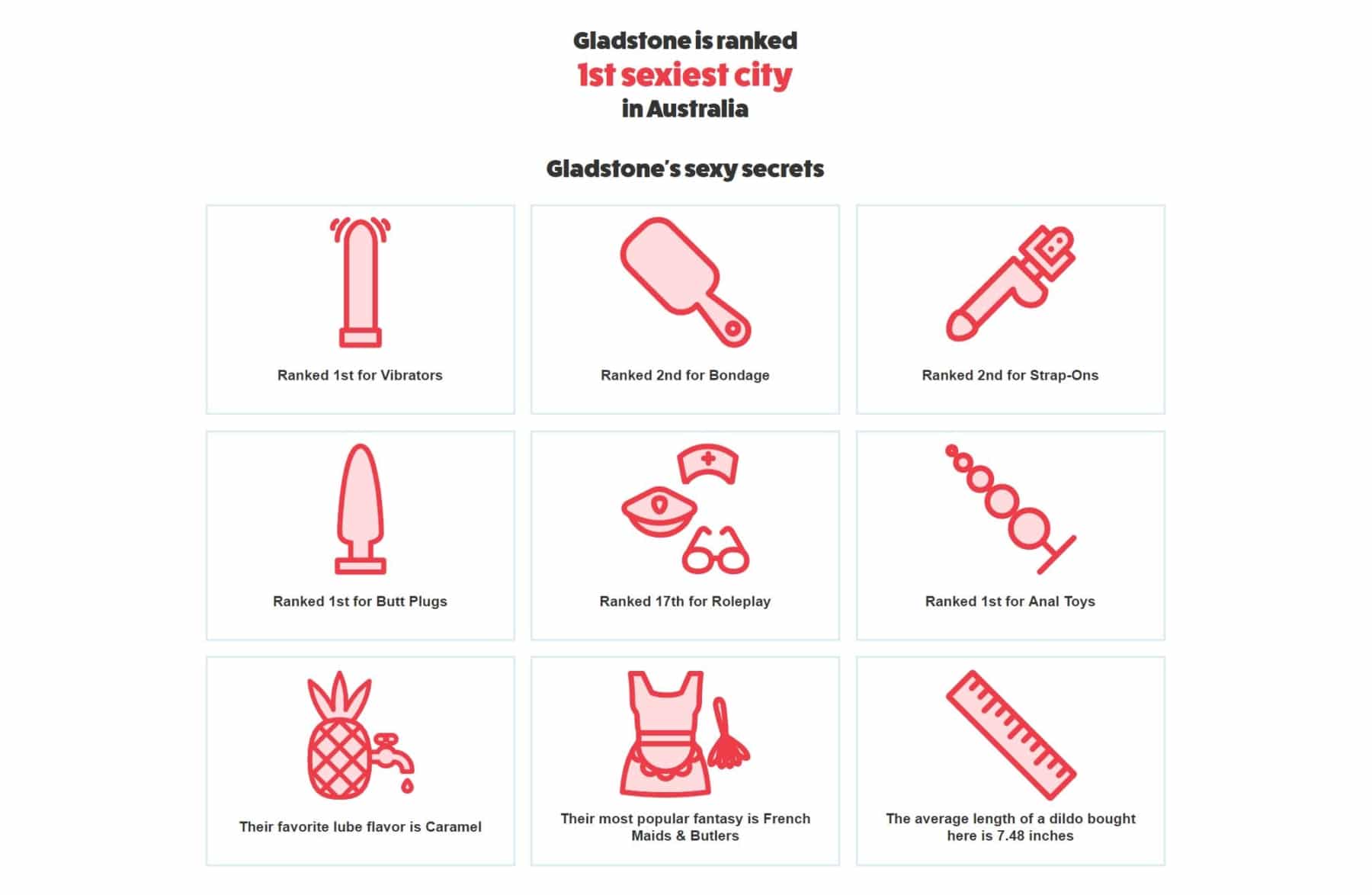 Amazingly, the sexiest town of all was the sleepy Queensland berg of Gladstone, a place hitherto best known for nobody quite knowing where it is – including most of its inhabitants. That'll all change now: with the news out of just how horny Gladstonians can get, randy roamers will be bussing it in in their hundreds.
Brisbane, Townsville, Mackay and Rockhampton also made the top ten from Queensland, prompting the question: what is in the water up there? Which of course prompts the answer: mud. But who cares what you're drinking when the vibrator trade is booming like that.
DARWIN UNSEXY? BULL-F**KING-SHIT. IT JUST MEANS PEOPLE IN QUEENSLAND CAN'T GET A ROOT AND HAVE TO ROGER THEMSELVES WITH RUBBER. PS: NT NEWS NOW AT WAR WITH DILDO MANUFACTURER. @Lovehoney pic.twitter.com/8fe32ZPxko

— The NT News (@TheNTNews) June 12, 2019
The sex map's other great revelation was that Alice Springs is in the top ten for sexy times, while fellow Northern Territory metropolis Darwin languishes right down the bottom of the table. Which proves the old aphorism: sunshine can put you in the mood, but getting eaten by a crocodile will kill it.
That last bit of news, by the way, has resulted in Australia's loudest newspaper, the NT News, getting its knickers in a right twist. Follow the Twitter war here.